7 Funny Wedding Videos on the Internet That'll Split Your Sides
Wedding videos are great to cherish or sometimes just to laugh at! Take a look at these funny wedding videos from the Internet that went viral. Enjoy!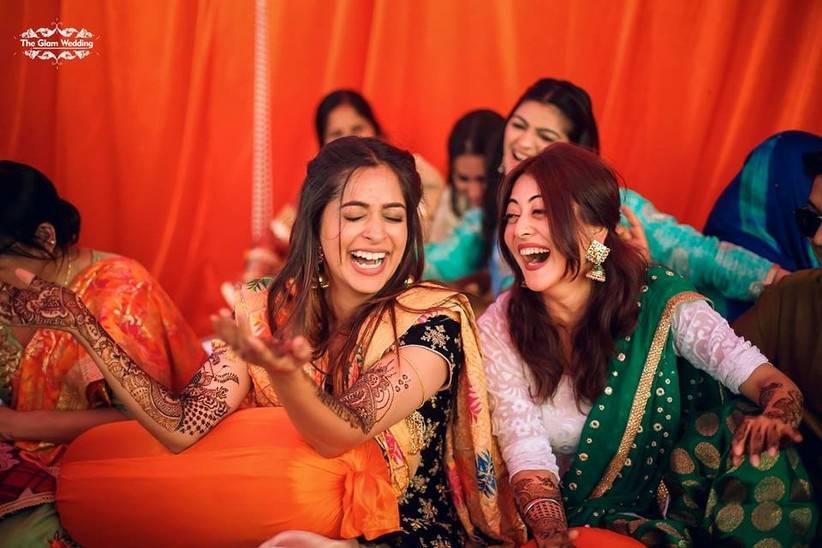 The internet, in today's times, is the most dependable part of our everyday life and it often keeps us wondering how did we come this far! However, what you cannot deny is the fact that it is full of entertainment and will never let you have a dull moment. If you are bored while the Mehendi preps are on, or while you wait for your makeup artist, or maybe you're getting those jitters before you walk down the aisle, no worries! These funny wedding videos have got your back.
So, to make your day brighter and funnier, we have listed out some of our favourite funny wedding videos, some hilarious, some bloopers, and some just happy ones that will surely make it worth the watch.
The Groom Climbed The Roof
At a ribbon-cutting ceremony that is a part of a Sikh Wedding ceremony, where the bridesmaids kept demanding more money, the groom's friends helped him climb the roof! The bride was waiting on the first floor and could not hold her excitement so she peeped out of the window and the next thing you see is a royal Sikh groom climbing on the roof and getting in through the window with his bride leaving everyone wondering! This groom walking on the roof is an epic funny Indian video clip!
Ek Do Teen by Groom and Groomsmen
On the top of our list is this sportingly funny video of the groom and groomsmen dressing up in skirts to groove to Ek Do Teen. While this is one of the most entertaining and yet funny wedding videos, there is a sort of charm in their thumkas that make you go 'aww' at the same time. Also, who said boys can't do the latkas-jhatkas like women, these boys are truly going to prove you wrong while putting a smile on your face.
Couple Singing Punjabi Tappe
Tappa, as you might know, is a form of semi-classical vocal music famous in the south of Asia. In this latest viral funny wedding video, a Punjabi couple is singing tappa to profess their love while also taking a dig at each other. Apart from the lyrics being funny this one truly steals your heart because of how cute the couple is and how madly in love they look.
The Wrestlemilnia
Heard of WrestleMania? Well, this is the Punjabi wrestlemilnia which is hilarious milni moments put together to give you a great laugh. Milni is an Indian tradition where the bride and groom's family meet each other and here as an icebreaker, some family members are attempting to lift each other. The idea is to declare the lifter as victorious and having the upper hand. However, the attempt to lift the other is not just funny but and entertaining to watch as well.
Sister of the Groom's Funny Speech
Next on our list, is this heart touching and funny speech by the sister of the groom. While she is heard talking only good things about her sister in law, she does occasionally take a dig at her brother by talking about some of the hilarious moments they shared together and also mentioning how he's always been a kid for her and that he still wants his pancakes to be cut by someone else. This is one of the sweet but funny wedding videos that you are sure to watch over and over again.
Funny Wedding Vows with the Groom
This is surely one of my favourite funny wedding videos where the wedding anchor makes the groom take a few vows in front of everybody on the stage. The vows are not just taking a dig at the groom but also at his family in a good spirit that gets the entire audience laughing to bits. From promising the bride foreign trips every month to assuring her to apologize first every time they fight, the groom in this video is surely looking adorable while taking these funny wedding vows.
Uncle's Energetic Dance
While there are all kinds of performers at Indian weddings, some just stay in your head forever because of how confident and fun they were. Here is one such video that is extremely funny and cute with an uncle giving his 200% to the dance along with solid expressions on an old peppy song. For all those of you dancing in the next wedding, here's the funny wedding video that you need your inspiration from.
Awkward Wedding Film in Fast Forward
While this one is one of the funniest wedding videos on the internet, it is also one that will leave you laughing for quite some time. This video's funny bone is the fast forward part that sped up the playback and all the awkward moments that were caught on camera is just the cherry on top. Who knew fast forwarded videos can be this hilarious! This is definitely funnier than most of the blooper videos that you have ever seen.
While each of the wedding videos is funny in their own way, we are sure you are going to find some better than the other. While our only purpose is to put a smile on your face, we hope you get some ideas on how to make funny wedding videos at your own wedding or any of your family or friends. Take a cue because these funny wedding videos get viral really quickly and can make you famous instantly, just like that uncle who danced on 'aap ke aa jaane se' or the couple that sang Punjabi tappa on their wedding and were loved by the entire country.
Tell us in comments which of the funny wedding videos did you enjoy the most or add some more to our list if you have one to share! Get in touch with our videographers who will make sure to capture everything - even these behind the scenes, if any!