Watch These Couple Dance Videos for Inspiration for Your Sangeet Night
Want to make an epic Sangeet performance? You need to up your choreography game! Check out these inspiring couple dance videos & set the dance floor on fire.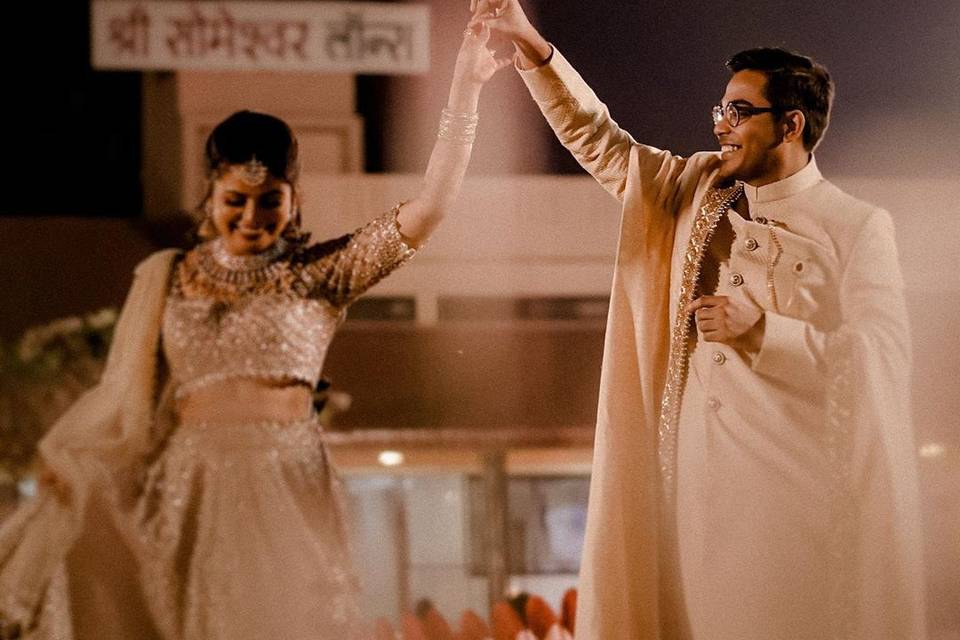 Dance is believed to be one of the most romantic ways to bond with your partner. And if it's your first romantic Sangeet couple dance, you need to pay extra attention! From choosing the right romantic Bollywood songs, choreography to sangeet outfits, you just can't leave any stone unturned! Before you hire your wedding choreographer, let's take a moment and think about how you want to go forward with your dance. So, here are some of the most inspiring Couple Dance Videos we assembled for you. Watch them, pick out your favourites, learn a step or two, and just get the party started!
Chaand Chhupa+High Rated Gabru+Lagdi Punjab Di
Check out this stunning couple dance video choreographed & videographer by Team Aperina Studios. This beautiful San Jose couple Sahil and Natasha danced on a Bollywood mashup of three songs- Chaand Chhupa, high rated Gabru, and Lagdi Punjab di gradually changing the pace and style of dance moves. Starting off with a slow romantic couple dance eventually merging into Punjabi beats and a few Bhangra steps for a rocking ending. Take fashion cues from Natasha who chose an ivory fish cut gown with red Chura and diamond jewellery.
SRK Mashup & More
This cute couple chose the golden era of the 90's Bollywood, along with a few latest surprises to perform on their reception night! This is a couple dance video that you must watch for the sheer fluidity in their dance and song collection. From soft evergreen romantic songs like "Tere Liye" for their first couple dance to fun peppy songs like "Chhaiyya Chaiyya" and "Banke Tera Jogi", Smiti and Nilesh danced to some of the bests of SRK. Masterfully videographed by Recall Pictures, this video could be your inspiration on many levels. Don't miss Smiti's white lehenga with heavy mirror work!
Thinking Out Loud By Ed Sheeran
Be prepared to get totally blown by this couple dance video that would take you right to a fairytale world! This gorgeous looking couple Natasha and Chris simply nailed the Ed Sheeran number "Thinking out loud" with their fantastic dancing. If you're looking for English songs for your first dance after the wedding, we say, take a clue from these two! The snow-white wedding gown, the perfect posture & moves, and the brilliant chemistry between the two- all these factors together make it one of the most viewed wedding dance videos and rightfully so!
Lamborghini
If your heart beats faster with the Desi music, check out this couple dance video who went totally Punjabi with their choice of Sangeet song! The original music of this song is based on one of the most popular Punjabi folk songs Chitta Kukkad and there is hardly any Indian wedding where you wouldn't hear this. Brush up your Thumkas and Gidda moves to own the floor. This would be an ideal song for a fun Sangeet day. Sport a lightweight pastel lehenga and a white pair of Kurta pajama for the performance.
Dil Diyaan Gallan
Looking for something romantic and sensational for your first dance as an engaged couple? Try replicating a few moves from this couple dance video who performed on the beautiful Hindi song "Dil Diyan Gallan" on their engagement. Mix Bollywood dancing with a few ballroom dance steps, do the dip and the lift, and simply let your body sway to the music! Go for a light green lehenga with stonework and a pink blouse.
Tose Naina+Tum Jo Aaye+Nazm Nazm
What happens when you mix three ultimate romantic Hindi songs for your first dance as a couple? It exudes magic! Like it happened in this couple dance video! The glam couple Kripa and Yash chose to give a stellar Sangeet performance on this medley of songs that completely stole every heart in the wedding venue! Take fashion cues from Kripa if you want to incorporate similar magic on your Sangeet night. Rock a silver lehenga with tassels on the sleeves. Make sure you have apt Sangeet decorations to go with your breathtaking dance performance.
Bridal Solo+Couple Dance
Here's a couple dance video that can help you choreograph both your bridal solo as well as dance with your partner. Begin your Sangeet performance with a bridal solo song and then bringing a surprise element to the act, let the groom make a grand entry! The lovely song collection and blending of two performances into one is what works like a magic in this video! Don't miss the bride's magnificent blue lehenga and heavy stone jewellery.
When you're looking at these couple dance videos, make sure you pick the dance moves that you're comfortable with. Consult with your choreographer, communicate what you're looking for and what are the possible options. Professional choreographers have certain song mashup collections ready with them. You could use one of those or ask for customised mashups. Either way, rehearse your steps to feel more confident. Choose comfortable Sangeet outfits in which you can breathe and dance well. And most importantly, have loads of fun while dancing. Enjoy your performance because the more fun you have, the better is the final result!
If you're looking for your wedding choreographer, take a look at our vendors' list!