Bollywood Dance Numbers: Add These 10 Songs to Your Playlist Now
From dance numbers for the bride and groom to the oldies at the wedding, we have got one Bollywood dance number for everyone. Take your pick!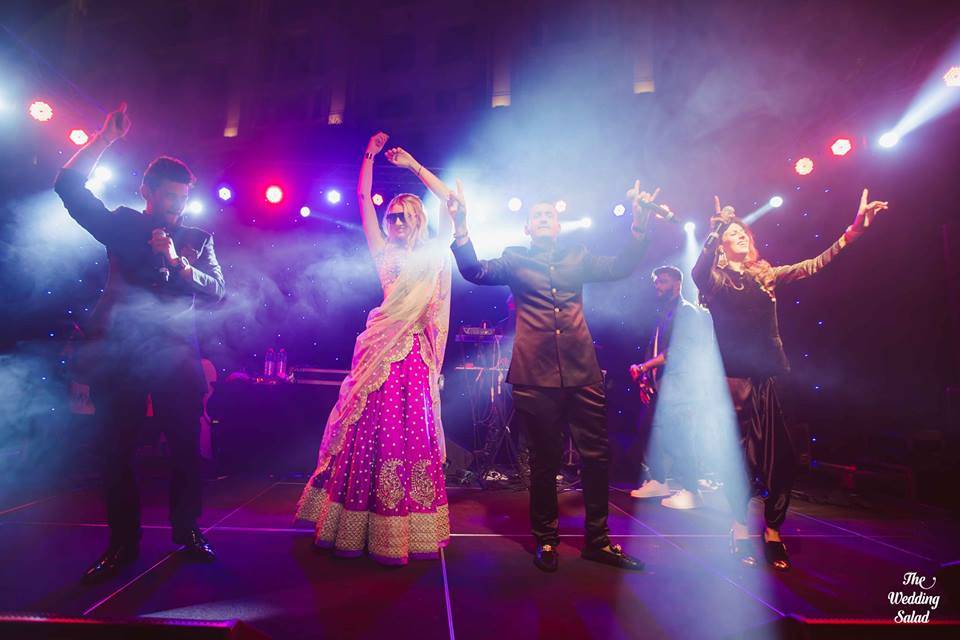 The great big and fat Indian wedding is a time for merrymaking and celebrating. It's the biggest day in the lives of not only the bride and groom but also their respective families. No Indian wedding can truly be called festive unless it's accompanied by good music and loads of dancing.
Peppy songs and romantic dance numbers are an integral part of any pre-wedding function like Sangeet. It's here that Bollywood dance numbers come to your rescue. How to choose them, you may wonder? Well, here is a list to take you out of this dilemma.
Bollywood dance numbers for bride and groom
Every bride and groom dream of dancing together on their sangeet day. Sangeet is the time when both can flaunt their dancing skills and also steal away a few intimate moments for themselves. Check out these numbers:
1. Pehli Nazar from Race
Among all Bollywood dance numbers, the song that is danced upon by a maximum number of couples is this melodious song. It's so romantic that you don't have to try to dance. Steps come naturally to you! Sung by Atif Aslam, the song is heart touching and perfect to show your love to your sweetheart.
2. Teri Ore from Singh is King
While Shreya Ghoshal has lent her heavenly voice to Katrina Kaif, Akshay Kumar's playback has been done by Rahat Fateh Ali Khan in this super romantic Bollywood song from the movie Singh is King. Such is the haunting voice of both the singers that it whisks you away from the present to a land of love and dreams.
3. Gerua from Dilwale
If you wish to sizzle with each other on the dance floor, then this is the song for you both. The song is mind-blowing and sizzles with passion. Make your moves like Kajol if you want to create a rippling effect on your man. This is the song meant especially for the couple. It's melodious as well as easy to dance on.
Bollywood dance numbers for uncles and aunts
A wedding is a festive occasion for not just the couple but their family members as well. At a sangeet function, it's the uncles and aunties that are more eager to flaunt their dance moves. And why shouldn't they? Everybody deserves a chance on the dance floor! Look at these songs that are rounded below:
4. Sasural Genda Phool from Delhi 6
Catchy and foot tapping, this is one of the most popular Bollywood dance numbers for uncles and their aunties! The song boasts of great playback singing from the singer Rekha Bhardwaj and famous actors like Wahida Rehman and Abhishek Bachchan. It's a song that is easy to dance to and involves very innocent steps.
5. Navraai Maajhi from English Vinglish
This song is a fast Marathi song and is sung beautifully by Sunidhi Chauhan and a host of other talented singers. Ideal for weddings, the song can be danced on easily and you can invite many of your uncles and aunts to the stage along with your better half. It's a feel-good song and will make the ambience cheerful.
6. Gudiya re Gudiya from Yeh Jawani Hai Deewani
Sung marvellously by Harshdeep Kaur and Arijit Singh, this Bollywood song is a real emotional one where uncles and aunties of the bride make her feel the most special person in their lives. It's a very touching song that will force you to shed many buckets of tears.
7. Maahi Ve from Kal ho na ho
A very romantic and peppy number to choose for your mehndi or sangeet ceremony. This melodious song is still ruling the charts and can be easily choreographed using most members of the couple's family, and is a treat to watch on stage.
Bollywood dance numbers for oldies
Why must elders be left behind on your Sangeet day when others are busy dancing on the stage? Well, here are a few dance numbers they can dance on, and with aplomb!
8. Aaj kal tere mere pyaar ke charche from Brahmachari
If it's not this song, then what else will motivate your grandpas and grandmas for a dance show on the stage? This is an all-time classic song mostly loved by oldies. Try this one and see your grandparents steal the show from all!
9. Aye Mere Zohra Jabeen from Waqt
What can be more romantic than looking at your grandpa declare his passionate love for granny darling! No doubt, this number is still being played at weddings and is always a hit among the crowd. Sung by Manna Dey, it's the most romantic song sung ever!
Bollywood dance numbers for young couples
Let the other young couples in the family make a few groovy moves on the floor with this amazing Bollywood number:
10. Shake it like Shammi from Hasee to Phasee
Get the groove on with this song and let your hair down like never before!
These are some romantic Bollywood dance numbers that are just perfect for Indian weddings. Pick the one you like and start practising now! So, now that you have your hands on a listicle of Bollywood dance numbers, what are you waiting for?
Which is your favourite Bollywood number from our listicle of Bollywood dance numbers? Let us know through comments.