Bollywood Songs Mashup - Old VS New Bollywood Remix Songs for Wedding Performances
Family dance performances are a must in every Sangeet night. So here are some smashing Bollywood songs mashup ideas exclusively for family members to perform on!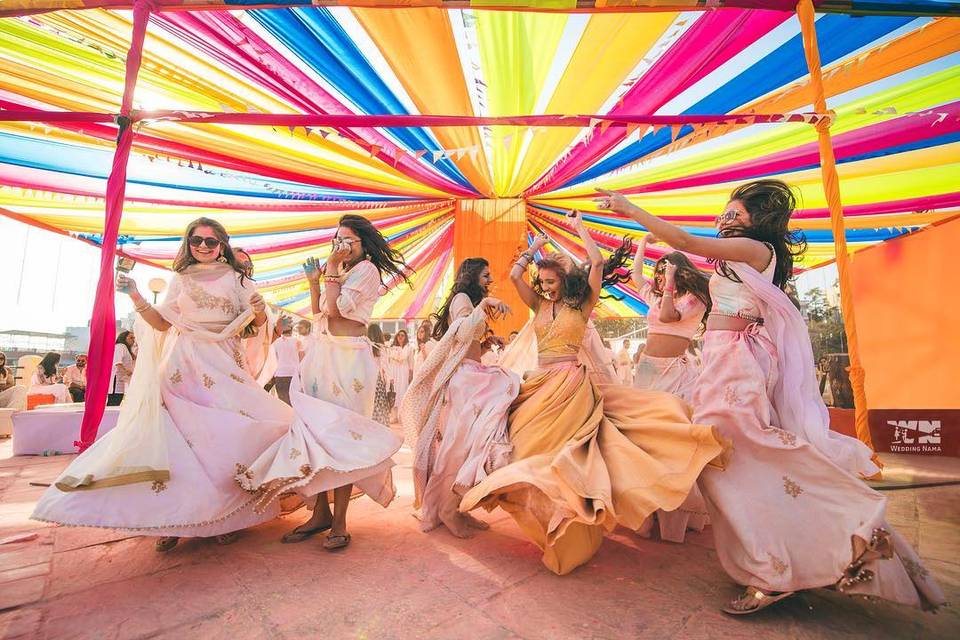 A wedding Sangeet night is a grand platform for both the families to get together, break all ice and have a musical blast. Dance offs between the bride squad and groom squad, Antakshari contests, Sangeet games and a whole lot of unlimited fun amongst family and friends. And when it comes to the dance performances, there has to be special song lists for everyone!
So all the cousins, uncles, aunts and siblings put on your dancing shoes! Because today we have an exclusive Bollywood songs mashup list just for the family! From old Hindi songs to 90's Bollywood mashup to latest foot-tapping numbers, here is a complete playlist you could shake your leg to. Check out the songs and start practicing now!
All Shades Of Love Mashup
A delicious potpourri of soft romantic songs, upbeat love songs, Punjabi romantic songs, and more! This Bollywood songs mashup is the perfect mix to cater to all kinds of guests in the crowd who are in love! This particular routine covers all shades of love and therefore you must add this to your playlist to watch the magic!
Old vs New Mashup
This beautiful Bollywood songs mashup created by Raj Barman and Deepshika Raina is sure to amuse your guests. Everyone loves a good Old vs New mashup. This one has all the golden songs from yesteryear blended seamlessly with the latest Bollywood songs. Play this one on your Sangeet night or Cocktail party when everyone is in a breezy mood. Because a perfect medley is something that every guest loves listening to.
2020 Dance Masti Mashup
From "Saiyyan Psycho", to "Muqabla" to "Ankhiyon se goli mare"...this one has all the hottest Bollywood songs you can think of. DJ Alvee has put together some of the favourites of 2020 songs and created this rocking Bollywood songs mashup. When the party is revving up, just play this mashup number to turn the crowd wild. Brush up on your moves by watching a few dance tutorial videos if you plan to steal the show!
Romance Overdose Mashup
Want to recreate your proposal story in front of everyone on your Sangeet? How about saying it with music? A perfect Bollywood songs mashup to express your love for your partner and making grand gestures. Show the world through your proposal enactment, learn some slow dance steps, choreograph your dance by using little doses of drama. Turn your Sangeet performance into a lovefest! Inspire other couples too for their future romantic endeavours.
Shagun-Sangeet Shaadi Mashup
When you have a complete collection of Bollywood songs mashup for every wedding event from Shagun to Shaadi, you know you've got the power playlist! Here are some of the most popular Bollywood songs exclusively for a desi Shaadi. Dress up in that SRK style dashing sherwanis and chic Alia Bhatt inspired outfits and simply set the Sangeet dance floor on fire. Every single song in this mashup screams Indian weddings with full-blown Dhamaka. Because you don't deserve anything less.
Groomsmen-Bridesmaids Collab Mashup
Take inspiration from this video for a smashing bridesmaids-groomsmen performance. The lovely bridesmaids chose "Tareefan" and the groomsmen picked "Cutie Pie" for their Sangeet performance. Ask your choreographer to curate your dance using some unique steps or you could just follow the steps in the dance video. Both the songs are just perfect picks for a collaborated dance performance.
SRK Romantic Mashup
Here's a chance for all the lovely couples from the '90s to bring out their romance through dance. This SRK special Bollywood Songs Mashup would be a great choice for romantic couple dances for all the Bhaiya-Bhabhi and Didi-Jijus in the house! Learn a few dance moves from the King of romance himself and ask your wedding choreographer to add some more. Make this dance performance all about falling in love again!
Classic 70's Special Mashup
Now this special Bollywood Songs Mashup created by some of the golden retro songs from the '70s, all the uncles and aunts on stage! Sway with the melodious music and follow the foot-tapping beats. This mashup is yet another ideal opportunity for couple dance performances for those who are evergreen and young at heart! Say it with your moves, say it with your eyes...say it with dance! And don't forget to sport some classic retro outfits!
Dance-Off Special Mashup
This Bollywood Songs Mashup created by Kuhu Gracia and Abhishek Raina is a perfect track for a dance-off performance between the bridesmaids and groomsmen. It's a mixed bag of songs with different moods and rhythms ideal to choreograph a dance-off. There is drama, there is romance and there is a lot of dance ops! Pick some trendy Sangeet outfits like Indo-western dresses and add carry of attitude to keep the vigour!
Boys Special Mashup
This Bollywood Songs Mashup is a big shout out to all the groomsmen in the house! Bring out your "Badtameez dil" and let's hear it for all our Desi boys! An all-boys mashup performance including all the brothers, cousins and brothers-in-law is a genius Sangeet ceremony idea to bring some zeal to the night. A little wildness, a little mischief and a lot of colours- that's what this mashup would bring to the party!
'Girls on fire' Mashup by DJ Amit
Now it's time to give it up for all the beautiful bridesmaids! A kickass Bollywood Songs Mashup that would set the stage on fire for sure! Sisters, sisters-in-law and bride's girlfriends should put on their killer Sangeet outfits and totally own the floor! You could ask your wedding DJ and choreographer to coordinate and play selected dance songs from the mix, work on the dance tips and once the DJ hits play...simply get your groove on!
Hot & spicy Mashup
Are you ready for the grand finale? Save the most explosive Bollywood Songs Mashup for the end of your Sangeet night! This mashup comprising of 52 non-stop remixes of all the upbeat party songs of the year will be the perfect opportunity for a group dance or a flash mob performance! Turn your Sangeet night wild crazy and keep dancing till you drop!
Whether it's the bride's solo, couple dances or family group dance performances, this exclusive list of Bollywood Songs Mashup will surely give you enough scope to display your dancing skills. It's important to encourage every family member to participate as much as possible in the activities and performances. You must also include a kids' special Bollywood songs that the little ones in the family can also showcase their talents. Play songs from every era in Bollywood so that no one can resist shaking a leg! After all, a family that dances together, stays together!
If you're looking for live entertainers for your Sangeet, take a look at our vendors' list.
With words by Alaknanda Bhattcharya