Trending Punjabi Dance Videos Are Now on Our List for D-day
Scrolling through a Punjabi dance video and wondering if you should add it to your wedding playlist. Well, we'd say a big YES!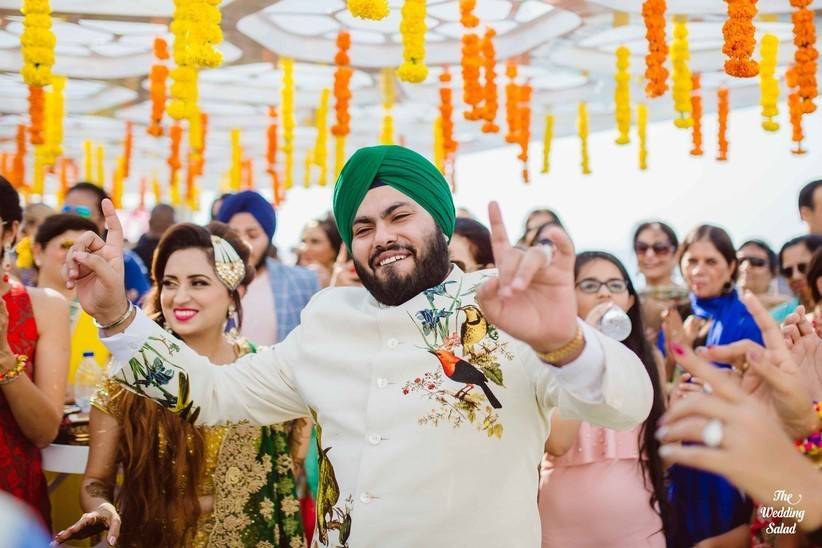 Gone are the times of remixes and romantic numbers, Punjabi song and a Punjabi dance videos are what's in these days. They have everything from catchy lyrics, to upbeat music and even the perfect dance moves to make your wedding Sangeet a super-duper hit.
If you want your Sangeet night to be high on energy with fun elements then go for something different than the usual. Who wants to attend a Sangeet that plays the regular wedding song with the patent dance moves? Well, clearly nobody does, at least not any more.
Your friends and family are here to have a great time and making them groove to some of the recent big Punjabi hits could really be the catch to surprise them all pleasantly.
A Punjabi dance video is the perfect source of inspiration and choreography for your Sangeet performance. These songs aren't just easy to crack dance wise but also choices that make the audience pitch in and groove because of how catchy they are.
So here's a list of top choices in Punjabi dance video that we think is perfect to add to your wedding playlist and make your Sangeet a memorable one.
Lamberghini
Well, if there has to be a list on Punjabi dance video, then it must begin with the craziest number that got the entire nation dancing at once. The lyrics to this one are just as crazy as its music is. So if we had to pick someone to dance on this one, we'd say your friends are the perfect choice to nail the steps.
Pro Tip- To add more drama, you can always use car cut-outs or steering as props to makes the performance even more fun.
Wakhra Swag
Let the boys come together for a dhamakedar performance with a Punjabi dance video that's got the swag going. This one has the full potential of making your guests get up from their seat and join the boys on stage. A song that's all about swag needs all the swagger groomsmen to conquer the stage with their perfect dance moves.
Pro Tip- If not Gucci Armani, the boys must make this Punjabi dance video more dramatic by suiting up in all-black attire with a black hat.
High Rated Gabru
There is no sight better than looking at the groom dancing to impress his bride-to-be at the Sangeet. Well, but when you have a perfect Punjabi dance video to take a cue from, the sight just becomes so much more fun. With the perfect lyrics to woo the bride, this one also has the peppiest music to add to the groom's performance.
Pro Tip- Let your groomsmen have your back for this one and dance in the background to add to the drama and make it a performance that the bride and bridesmaids must watch out for.
Meri Mummy Nu Pasand Naiyo Tu
Did you think the bridesmaids would just sit around let the groomsmen win? Well, definitely not. Especially after we've discovered the best Punjabi dance video for them to take on the challenge and beat the boys with their sexy dance moves. This Punjabi song is addictive to the extent that you might never be able to get over its groovy music.
Pro Tip- Let the girls be at the forefront but calling the bride on the stage towards the end could be a killer move to beat everybody at the dance game at the Sangeet.
Kya Baat Ay
Gone are the times when a romantic couple dance was what the bride and groom were expected to do. Now its all about fun and dance even if it isn't romantic in the most obvious way. So here's a unique choice of song for the groom to dance on with his bride.
Its catchy and relatable lyrics with upbeat music makes it the best choice for them while also making sure that they do justice to the Punjabi dance video. With the bride and groom dance being the most-awaited, we are sure that this number would do justice to their excitement levels and make the Sangeet even more interesting than it already is.
Pro Tip- As it is not a very high paced song, you could try and get a little innovative with the dance form and boast your dance moves while getting the fun element a notch higher with this one.
Morni Banke
We know all the couples have been waiting patiently for a Punjabi dance video that is a perfect fit for them to perform on and we totally have a winner for them. The Morni Banke song is as Punjabi as it can get and we need the cutest couples to own the dance stage with this one. So bring all your bhaiya-bhabhi, Chacha-Chachi and mausa-masi together to make this one a sure delight.
Pro Tip- Who could be the highlight of this Punjabi dance video, well we'd suggest you bring the star couples, the bride and groom's mom and dad to be the centre of attention and make this one a family entertainment show altogether.
Kaala Chashma
Did you think we forgot the little ones and how eagerly they wait to show their dancing off at weddings? While it usually is something dramatic that the kids are given, this time let's give them one of the biggest hits of all times. It's a Punjabi dance video that allows them to have some fun while also groove to the catchy beats and the fun lyrics. Now, here's a performance everyone must watch out for.
Pro Tip- The perfect prop for the little ones on this song can be nothing other than a pair of Kaala Chashma that gets them into the Sangeet mode almost immediately and makes them nail it with their swag.
Hauli Hauli
Enough of looking for suitable lyrics in Punjabi songs as there is much more to them than just that. Here's the classic example for it. This song might not have lyrics that you know by heart, but it's the addictive music and peppy beats that makes almost everyone want to be on stage for this one. This Punjabi dance video is perfect for a mixed group with all your close ones coming together to make the Sangeet an epic hit.
Pro Tip- With all the close ones coming together, this seems like a perfect song for a flash mob that closes the show on a fun note. So, gather all the friends and family on stage and end it with a bang.
A Punjabi dance video has all the elements that you need to make your Sangeet a hit. But what you need is to have the right people bring the crazy energy to life and create a vibe that is almost infectious at your wedding Sangeet.
If our ideas are what you go by, we can promise that this wedding sangeet with Punjabi dance numbers is going to set the bar rather high for your friends and family to compete with. In the end, don't forget that it's all about the fun and energy that you bring on the stage that makes the night memorable for everyone who participates or witnesses the grandeur.
Which Punjabi dance video has been your favourite so far? Tell us in comments who would you ask to perform on it.