10 Simple Dance Step Videos for the Happy Family on Your Sangeet
Check out these 10 videos for the bride, groom, their friends, cousins and parents of the couple and learn simple dance steps to perform on the Sangeet night!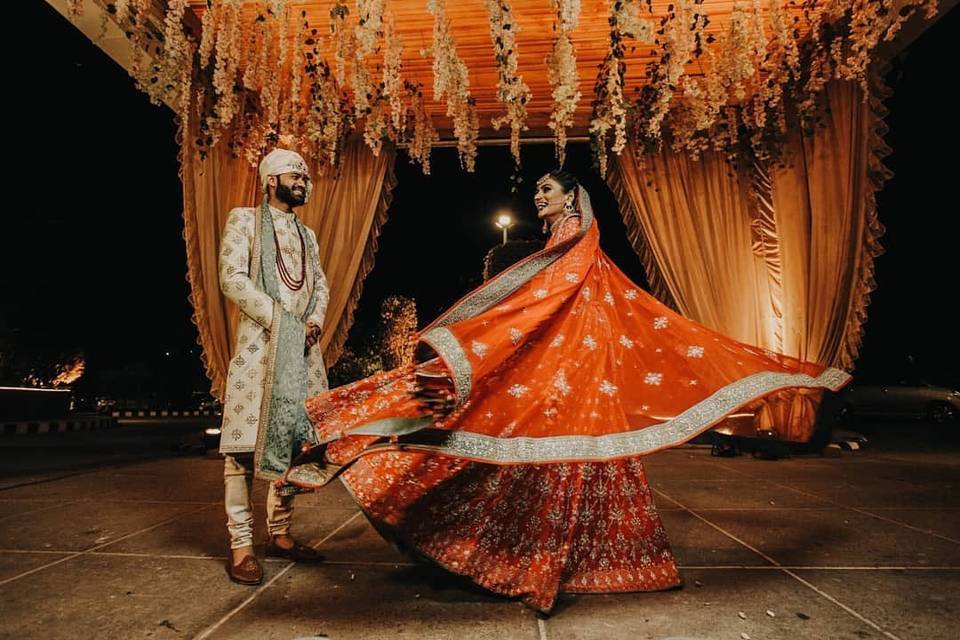 Dancing is a wedding tradition that is close to every person's heart. Growing up and watching Bollywood movies has left us with some big dreams of having a Sangeet night where everyone comes up with a dance performance and sets the stage on fire.
In reality, a lot of practice and late nights go into the perfect stage performance that everyone sees. Most families hire choreographers and he/she goes to everyone and teaches them the dance moves. But why waste money in hiring dance choreographers when you have YouTube (and us!).
We think if even you have one member in the family who is a good dancer, you should make them watch these videos and teach you. Even better, you can learn them on your own and surprise them.
The decision is yours! You can also make it a rule for everyone to gather at night and start teaching them simple dance steps using these videos and your creativity if you know how to dance!
Easy Salsa Dance for Couples
The first video tutorial is for a couple of the moment! It is quite difficult to have chemistry right from the beginning, especially in cases of arranged marriages. We think they should start from the basics and learn these simple dance steps for salsa. They can dance to Mexican tunes or pick a Bollywood song that matches their vibe.
Basic Dance Steps for Kids
Kids increase the happiness quotient and excitement level during a wedding. You can easily channel their energy and super-activeness by engaging them in a dance performance. Assign them a cousin who will teach them simple dance steps for your Sangeet from this video. Let them pick their favourite song so that their spirits remain high.
Easy Group Dance for the Cousins of the Couple
Indians have huge family and one benefit of that is you have a tolli of cousins to dance at your wedding. They anyways have been waiting for years to dance at your wedding. Even if most of them can dance, creating choreography is not easy.
Why not use this video and let them learn a full dance performance with simple dance steps? It is always best to keep the steps simple because not everyone can be a good dancer!
3 Simple Moves for the Groom
A groom has to give a solo dance performance, it is not up for discussion, or so say the brides! If you are into dance, that is great. You can go to Youtube and learn full performance. For those grooms who are born with two left feet, here is a video that teaches you a step in 3 simple dance moves. You can prepare a full performance (of 30 seconds!) from the other similar videos on this channel!
Lamberghini Hook Step for the Bridesmaids
We are assuming that most bridesmaids or sisters can dance. It is quite possible that you can create a new choreography on your own. If you can't, well YouTube in not going anywhere. Lamberghini is one of the biggest hit songs of the year. We know many groups perform to this song. If you are one of them, learn the hook step of the song from this video. After watching it, you will know they are very simple dance steps!
No Performance is Complete Without a Moonwalk
This video is for anyone who wants to include a moonwalk in their performance, be it the bride or groom. We know no Sangeet ceremony is complete without this step and yours is no exception!
Solo Dance Performace of the Bride
Just like the groom, the bride also has a solo performance. After their couple dance, this is the most anticipated performance of the night. While there were many videos in almost every latest song, we love London Thumakda. The choreography is quite easy with simple dance steps that you can ace in no time!
Easy Performance for the Brothers
One spot is reserved for all the brothers, from the groom and bride's side! Often they are the shyest about performing in public. If you have a group of brothers, make sure they learn from this video and dance on your special night!
Easy Performance for Mom and Dad – the Highlight of the Event
Watching the parents perform is our favourite part of the whole night. Whether it is the bride's parents or grooms, their performance is cuter than the kids' performance and that is saying something! Moms have to learn both the choreography and steer the dads even on the stage.
Emotional Performance by Mother and Daughter
To end this simple dance steps videos, an emotional mother-daughter performance is a must! You can either give this performance at the start or end the night with this performance. You need a third person as the choreography is for 3. If you have a sister, then all of you can perform. If not, you can ask a cousin to join you both.
We hope these simple dance steps work on the stage and everyone dances beautifully. You have to post all the dance videos in on Instagram and tag us so that we can see the performances.
Check out these wedding choreographers near you for a stellar performance!