8 Most Heartfelt Wedding Dance Videos that are Worth Recreating
Dancing has become an enthralling wedding tradition that brings joy to the couple and gives guests a chance to let themselves loose. Here are some videos that show how to create magic on stage!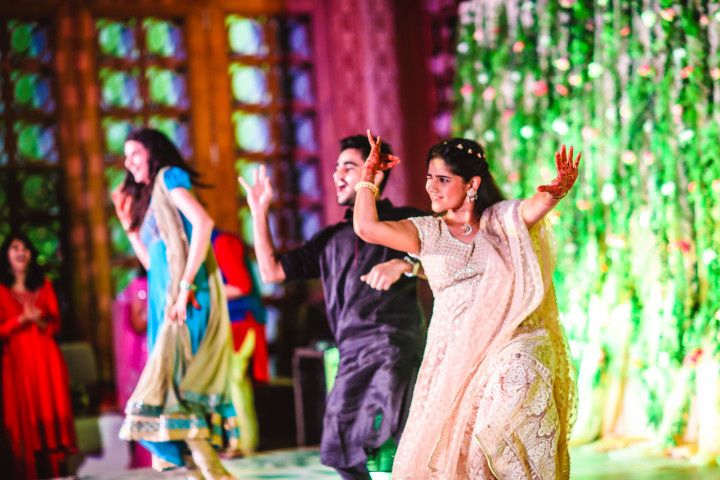 Music and dance are the perfect way to make someone feel special. These crafts are also a perfect way to add fun, anytime you desire. When it comes to weddings, it's never a bad idea to put together a performance for a special person in your life, be it your partner, your parents or even your bestie. For brides, grooms and their families who are looking for some wedding dance inspiration, here are the most exciting wedding dance videos that caught our eyes. Before planning a wedding dance video you must keep certain factors in mind:
who all are willing to participate,
the songs as per the theme,
the budget of the choreographer,
duration of the function,
size of the stage,
rehearsal timings, and
how much fun everyone is having at the end of the day.
1. A Special Sangeet Dance Performance
An array of romantic songs that are beautifully choreographed and perfectly executed by the couple make this performance special and memorable. Use of confetti, lighting and fireworks, with loud cheering from the crowd, are increasing the beauty of this well-coordinated wedding dance video. The practice sessions must have helped the couple steal some moments before the wedding madness set in.
2. Fun on 'Lamberghini'
Now, this is how you entertain your guests! This couple gave regular lovey-dovey songs a miss and picked a fun, peppy number for their wedding dance video. The bride starts off the dance wonderfully but the groom's unexpectedly sharp moves leave everyone in awe. We're totally digging the coordination between the couple and their chemistry. The expressions are on fleek, too!
3. Drama on 'Nai Jaana'
The song 'Nai Jaana' has become quite popular for Sangeet and Engagement but this performance stands out. This heartfelt surprise performance by the bride, for the groom, is very sweet. The participation of the family on this playful but romantic song is helping the bride express her love effortlessly. A great way to break the ice and leave an impact on your new family with your expert dance moves!
4. A Fun Getting-Ready Lip Dub
A peppy number with drinks, beaches and your girl squad! Now, isn't this idea truly worth-recreating! This bride chose a lip dub style performance with her bridesmaids and the results are so much fun. We love how the bride is enjoying herself while getting ready for her big day. She's letting herself enjoy her special day and there's not even a hint of nervousness. This is a unique style to feature the bride as opposed to the delicate, shy candid shots.
5. A Unique Bridal Entry
Being the hosts, it is your duty to surprise and entertain your guests and this couple knows how to do it. While the guests were expecting a cliched bridal entry, this couple created magic with a Bollywood dance number for their wedding dance video. The groom, their family and groomsmen - all chipped in to tap their feet to welcome the bride. And the bride played along.
6. Astonishing Bollywood Style Expression of Love
This bride swept her groom off his feet by dedicating classic Bollywood love songs to him. She practised and conceived a beautiful performance that features striking moves by this bride. Cheering, dramatic fireworks and visible love in the eyes of the bride made this performance one of the most romantic ones we've ever witnessed.
7. A Super Dramatic Lipdub
Weddings are a way to celebrate love and romance but they are an excuse to have a whole lot of fun too. Here is how your entire family can have fun with a lip dub style wedding dance video. The couple created a cool and fun video on their mehndi function, which gave everyone - from kids to elderly - a chance to tap their feet. A must-try idea for filmy folks!
8. Dancing Her Way into His Heart
Here is an extraordinary way to express your love! The bride, dressed up almost like a fairy, creates magic on stage by dancing to extremely romantic songs. Beautifully choreographed with props and dancers, this performance creates a scene that every guest, and obviously the lucky groom, will remember for ages! Weddings are a no-judgment zone. Whether you are a dancer or not you can put together an amazing wedding dance video.
From props to choreographers, you can get a lot of help and cues. Prepping for such dance gives the couple a chance to spend time together before the wedding and helps you gel up with your new family too. Add your own personal touch, chip in your favourite people, create a medley of songs - the options are limitless.
How much do you love to dance at weddings? Let us know!