Watch and Learn the Art of Punjabi Dance for Weddings
These Punjabi dance videos are going to give you #WeddingFamilyGoals! Practice the dance moves from these Punjabi dance videos with your family.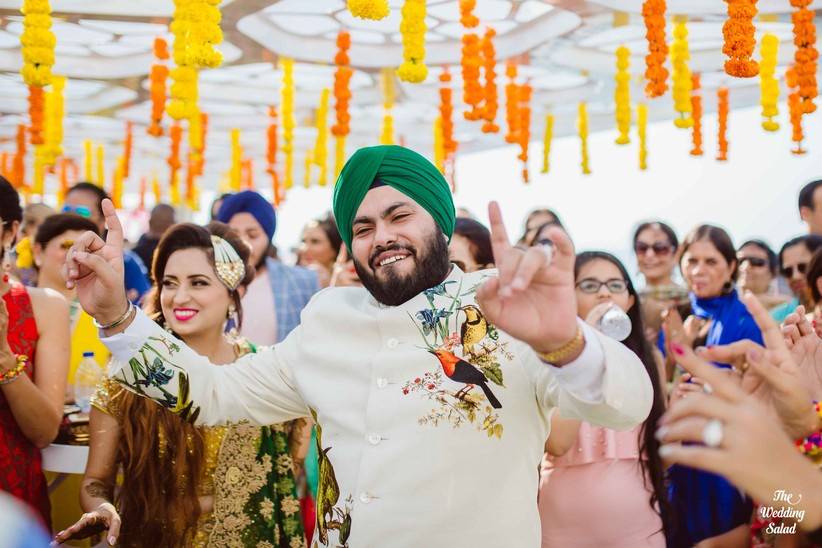 The family that dances together, makes merry together! We cannot agree more on this and we are sure that you too believe that dancing together is an ultimate way for a family to bond candidly. Essentially, a family only comes together to dance either when the dance floor has been set, or when someone in the family decides to get married.
You don't need to be a Shiamak Dawar to acknowledge the moves. All you need is a list of few Punjabi dance videos, that are easy to follow and will create an impact that no one will be able to resist. Browse through these Punjabi dance videos to practice complete dance performances with your family for the Sangeet ceremony.
We promise that these Punjabi dance videos are easy-to-follow and will let everyone in the family dance easily and with confidence.
1. The Bride Squad
A performance by the bride's friends and cousins is a great way to showcase the zeal of the bride squad. This can be considered as a perfect introduction of the bride at the Sangeet ceremony.
This Punjabi dance video style can also be followed for a grand entry of the bride at her wedding venue. The steps performed are easy to adapt and can very well be repeated, depending on the tempo of each song.
You can have an all-girls dance performance, or if your squad consists of men too, you can create a playlist of both male and female songs for the performance.
2. The Indo-Western Playlist
You can put Punjabi dance against any kind of beat and that match is still going to be the #1 dance performance on the charts. If you and your gang are a fan of both Punjabi and English music numbers, then go ahead and create a playlist that has a mix of both in harmony.
Make sure that your mixer knows how to put a few extra beats to the English music numbers to make the melodies more desi and peppy for the dancers to perform on. While you're at it, don't forget to discuss the indo-western dance costumes that you will be comfortable wearing for the main day.
3. Punjabi Men In Black
Why should only bridesmaids have all the fun? The groomsmen too can put their feet down to show their moves. The power-packed Punjabi dance performance by the groomsmen will pump up the party mood manifolds at the Sangeet function.
A mix of Bollywood songs and latest Punjabi songs combined into a medley, with fast beats, can very well be the perfect combination for the groomsmen to dance on. For this Punjabi dance performance, the dancers can either go all Punjabi-costume zone or can simply loosen up their ties and take off their jackets to dance to the tunes.
4. The Filmy Punjabi Dance
An Indian Sangeet wedding function is incomplete without a dose of something filmy. The hero and the heroine dancing to the latest melodies, a storyline, the back dancers and a synchronised medley mix is what a complete filmy Punjabi dance performance is all about.
Practice putting the right facial expressions to use and plan with other participants the points of entry, exit and placement of every one according to the space of the dance floor; for a flawless musical performance.
5. The Family Introduction
This Punjabi dance style is inspired by Suraj Barjatiya's production conceptualisation. Introducing the family of the bride and the groom by calling their names and relations out, with their entry consisting of a dance number on dedicated soundtracks is nothing less of a grand Sangeet performance.
Consisting of dance steps catering to all the relative's tempo comfort, the dance performances can be individual and yet can feel in-loop with each other as one extravagant musical presentation.
The thing about Punjabi dance videos is that they all are based on beats which are quite catchy. This feature of the dance form makes it enjoyable by all the participants and the audience alike. In order to practice these Punjabi dance videos, you need to first ease out and relax your nerves, feel confident and positive and let go the moment you hear the beats.
These easy-to-follow videos are going to help your entire family give a stellar performance at the Sangeet ceremony, that everyone will get to talk about and praise later. You can either use such Punjabi dance numbers to commence the Sangeet ceremony, or you can learn the grooves to conclude the evening with a flash-mob kind of performance as well.
Now if you have decided on the Punjabi dance video that you would want to learn from, put your dancing shoes on and get to practice immediately!