The Only 5 Dance Floor Designs You Need to See Before the D-day
Here is how you can make an impact with your choice of gorgeous dance floors, irrespective of whichever ceremony you choose to include them in.
No wedding ceremony will ever seem like complete unless there is a whirlpool of music and dancing and some everlasting fun. Therefore, to come up with an equally impressive dance floor idea is also very crucial in the process of planning the wedding. Ready with a rehearsed dance number and some thumkas to your favourite Bollywood tunes and have one in mind for your first dance too? Time to get the dance floor ready.
Regardless of the function, be it the colourful Mehndi ceremony, Sangeet, Cocktail, or the wedding day itself or the reception, each of these ceremonies is totally one of a kind and therefore need a specific dance floor of its own. From mirrored effect to the checkered board to Cris-cross magic - there is end number of dance floor idea for you to take inspiration from.
And for you to ensure that your wedding dance floor stands out from the floors of other weddings, you need to have a really creative dance floor that keeps your guests talking for days to come - because who doesn't like to have a wedding that the world remembers, right? Let's have a look at some of the season's most popular styles:
Trending Dance Floors in India:
Here are some of the trending dance floors for weddings in India you must check out:
1. The Checkered Board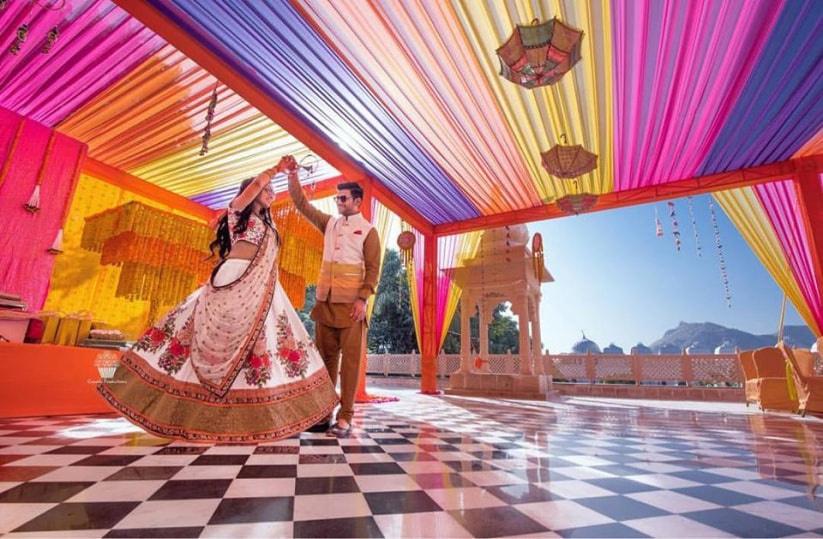 One of the simplest dance floor designs that a lot of millennial couples seem to incorporate for their big day is the checkered dance floor. You can easily have this for your very own Sangeet ceremony or Mehndi function and groove to the beats of some scintillating tracks with your gang of friends, your passe and lovely cousins.
Having a checkered dance floor will not only amplify the fun quotient at your ceremony but will also add up to the visual treat both for your guests and your wedding photographs. Have your wedding photographer and wedding videographer take some candid shots of your checkered dance floor and make use of this dance floor ideas to amplify your function.
2. Paisley Prints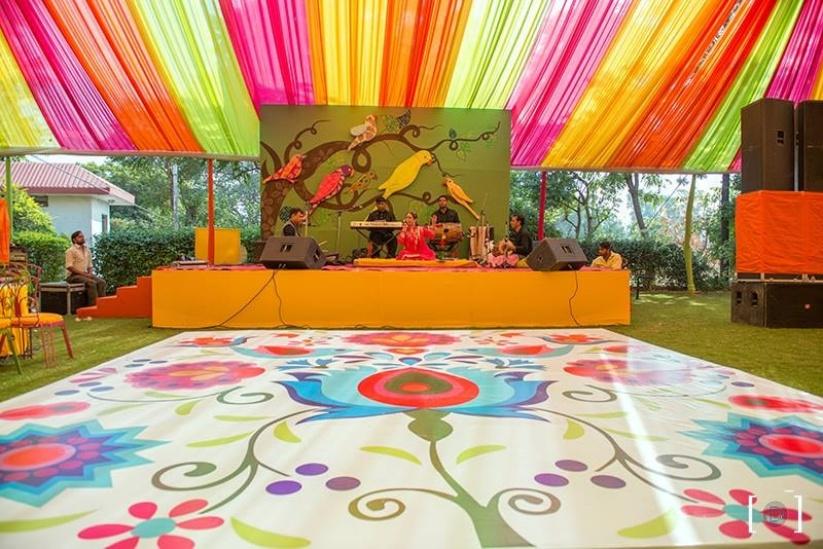 Who would have thought that a dance floor could look this dreamy, right? The benefit of having a printed, the custom dance floor is that you can choose whatever print that goes with the overall theme of your function the best. If you have a floral theme function, then you can have your dance floor gimmick just that. The same goes for a pastel theme or whichever theme that you have chosen for your functions. All you need to do is narrow down on our favourite prints, get it printed on the boards and start assembling. And voila! Your dance floor will look absolutely stunning, drop-dead gorgeous and fresh without spending a fortune on it. Red colour combination to blue colour combination to a green colour combination - you can choose whichever you please.
3. Mirror Mirror on the Floor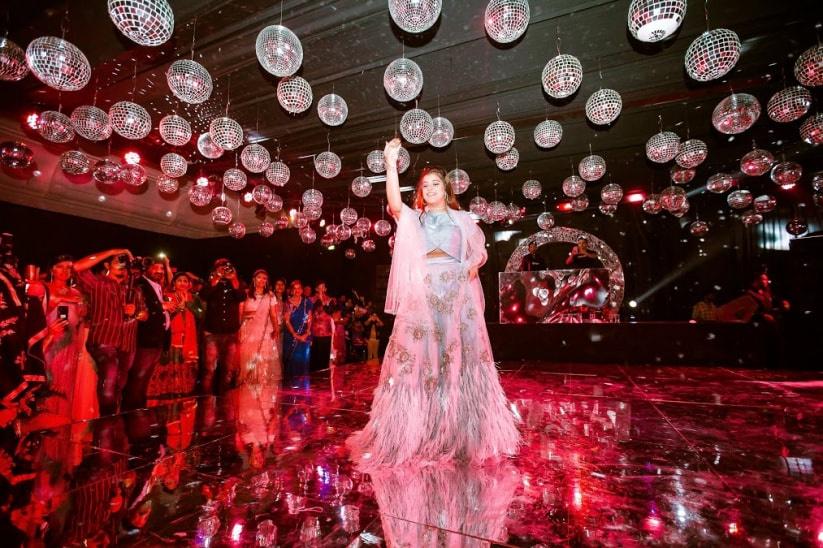 Want to have an 80's revival inspired dance floor for your cocktail night? Then all you need is to opt for a glass appearance dance floor and add some sparkly accessories to amp up your floor all the more. Disco balls, sparklers and glow sticks are some of the pop-ups that will do the trick and make your dance floor shine bright like a diamond.
Order glowing glasses, glow-in-the-dark tapes around hula hoops and hand them out to the guests for that added dose of awesomeness. The above inspiration is from the wedding planner, Aashna's sangeet plus cocktail ceremony.
4. Carpe't Diem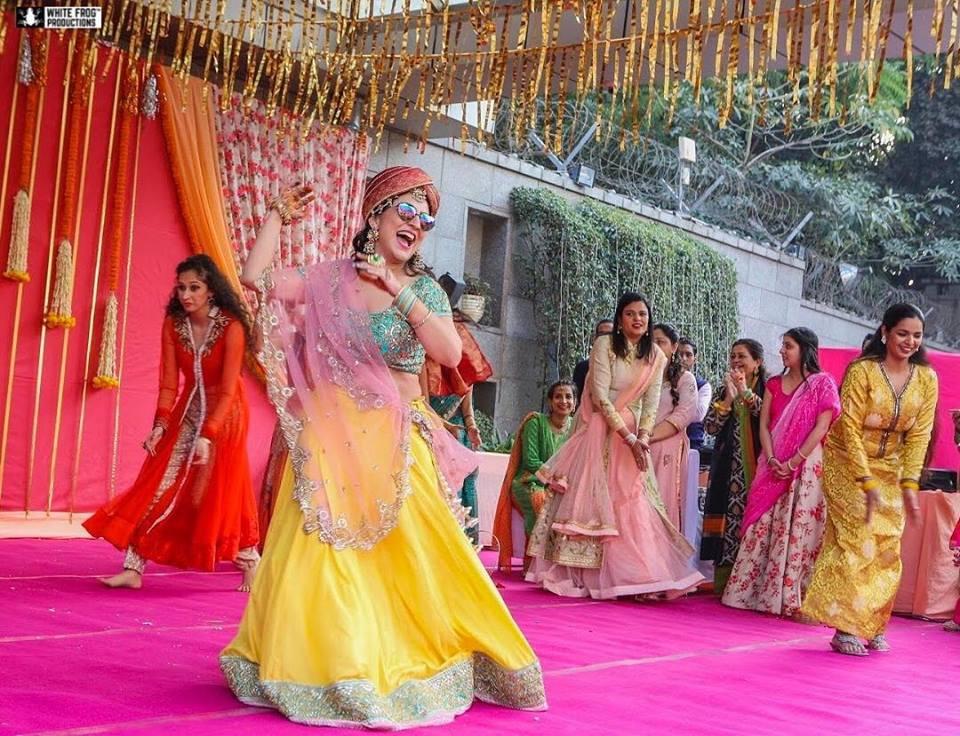 If you are planning to host your wedding in the outdoors - then carpeting a specific area of the ground would be the ideal choice for you to erect a mind-blowing dance floor. Having a carpeted dance floor would enable all your guests to comfortable dance without the hassle of slipping and falling in their heels and otherwise.
So let your hair down and dance your way to the glory with this wonderful idea and make you dance floor an unforgettable experience for yourself and your guests.
4. Colour Me Mosaic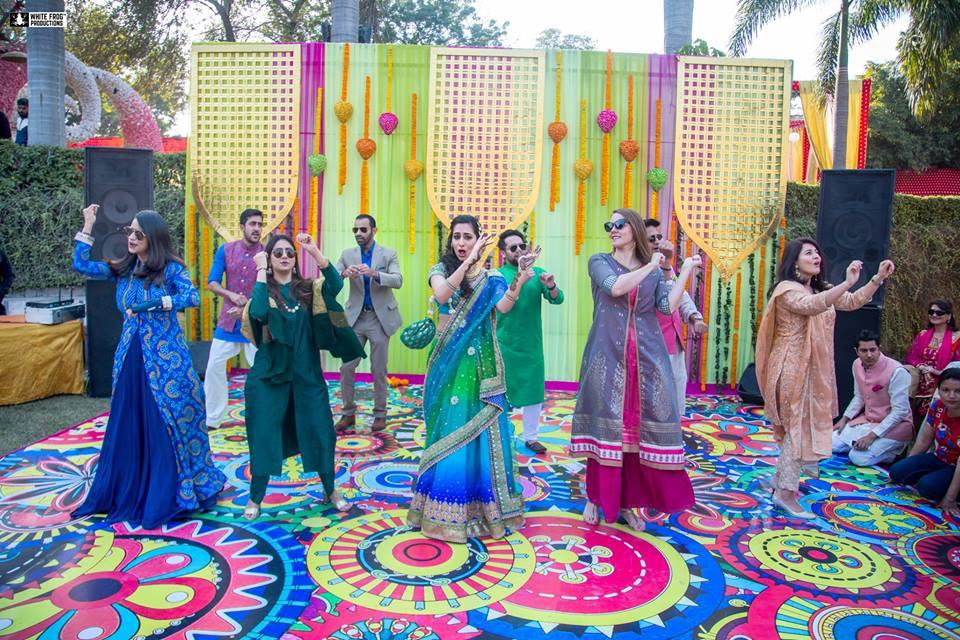 This option would be the perfect uber chic dance floor for your Mehendi or sangeet ceremony. You can have it customised as per your choices and liking, where you can even include your wedding hashtag to make it even more personalised and make it seem like a candid affair. All the wonderful colours and patterns will surely turn into a visual delight for all of your guests and make your wedding ceremonies ever so bright and fun, and of course memorable for the years to come.
Expert Tip of Make the Guests Comfortable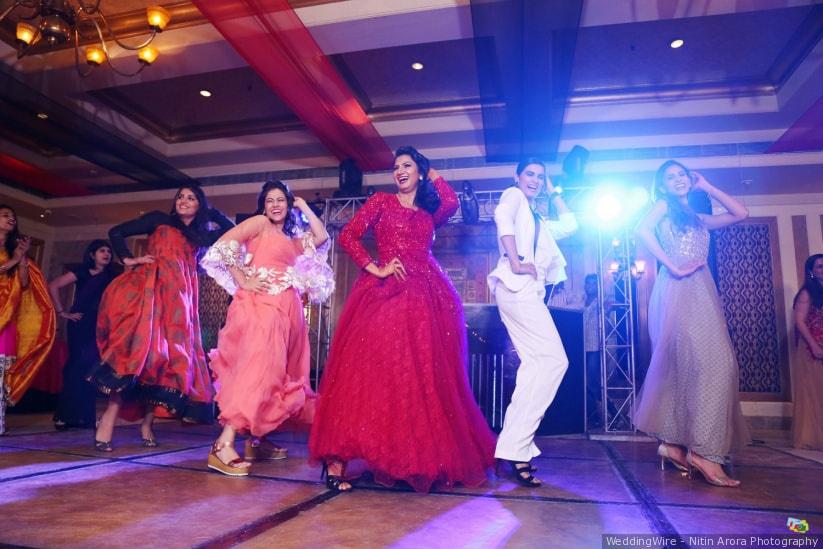 This idea is perhaps going to be the rocking one. While deciding the kind of dance floor you will be assembling on your big day, keep in mind the kind of footwear your guests will be wearing. But will they be comfortable in them while dancing? The answer is a big NO. In many cases, we have seen a multitude of guests refuse to dance (or retreat after a shaking their leg and striking a few steps) simply because of their footwear and the fear of slipping on the dance floor.
Try Your Hands on These Additional Tips to Help You Make Your Dance Floor Even More Stunning:
Now that you have narrowed down a few different ways in which your dance floor looks just as spectacular as you, we will give you some makeshift hacks to make your dance floor more epic than it already is!
1. If you don't want to spend a lot of money on curating a dance floor then use this easy DIY idea. Just hurdle up some exquisite looking tea lights and fairy lights and mark the ground in a rectangular shape or any other shape that fits your expectations best and you will have an instant dance floor that will light up not just your entire venue but make your dance floor truly one of a kind
2. If you are planning to opt for a mirror inspired dance floor then please be mindful that it is not slippery. A lot of your guests will be in heels and you wouldn't want them to fall over, right?
3. Ensure that the height of the stage is approachable. Can you imagine your sister climbing the stage in 6-inch heels? Absolutely, not!
4. Please do not go for a revolving set up if you feel dizzy when in contact with circular movements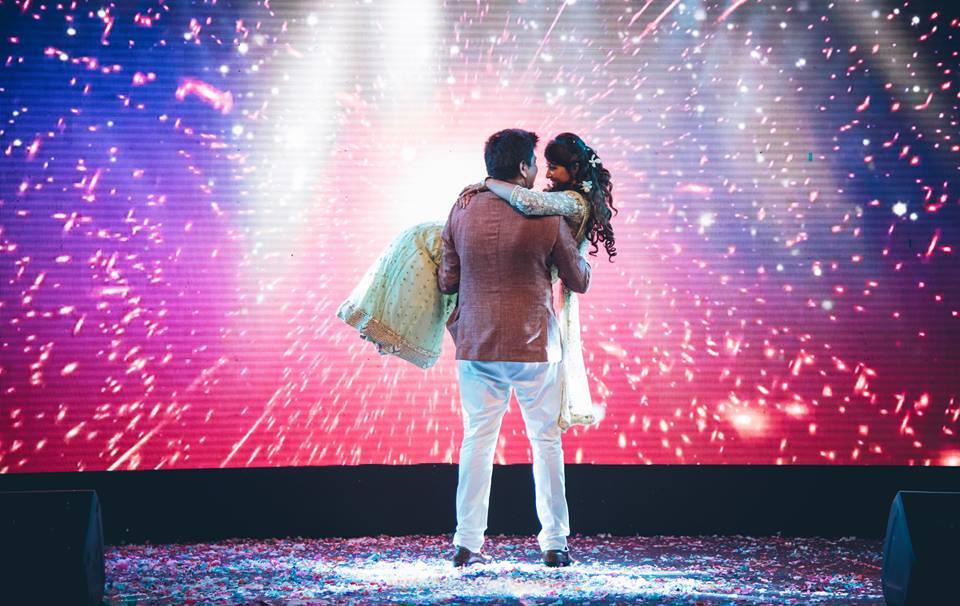 These dance floors are sure to make you want to have one of your own customised version. Play around with various new and unique ideas and inspiration to truly personalise it because ultimately it is your big day and your satisfaction matters most. Ask your wedding decorator for a trial run of the idea before finalising it for your ceremony. Do tell us in the comment section which design did you pick for your wedding.
It is you who decides the vibe of your wedding festivities and we hope it is the most amazing one. Do let us know which of these stunning dance floor designs stole your heart which you would incorporate in your wedding decor through the comments below!