9 Decoration Items Made at Home to Add a Personal Touch to Your D-day
Looking for some interesting handmade décor items for your intimate wedding? Here's how you can DIY with a list of decoration items made at home.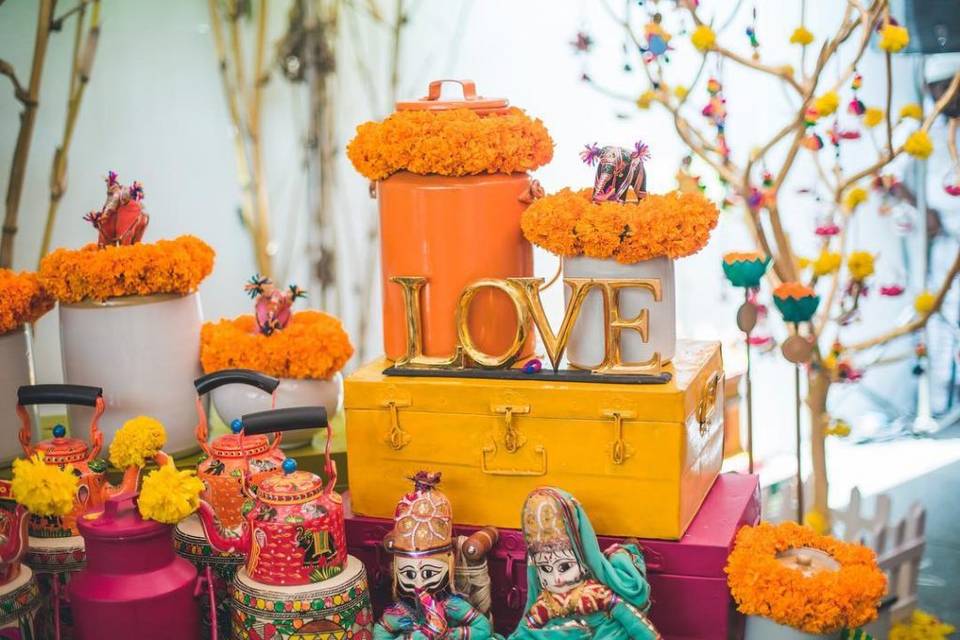 Since wedding planning is a very over-whelming phase, there are so many things you would want to take up on your own to be fully involved in the process and be able to add your personal touch to every possible element. While a lot of things might not be in your hand, adding a few decoration items made at home will help you add personalised bits to your decor, making it one-of-a-kind.
And if you're having an intimate wedding in a farmhouse or at your own residence, it's near best to try your hands on creating something to add to the space. There are always the good old things lying around in the house or stuff from grandma's kitty which you can use for your intimate and handmade Indian wedding decorations. So, let's check out ways to create decoration items at home which you can use for your wedding decor.
Canopy Seating Setup

Wedding seatings today are nothing like what we have seen before. From sit down low floor tables to pouffes covered in wedding-theme fabrics, there's so much new to experiment with. The canopy seating ideas have been ruling the wedding decor scenes since 2019 and we haven't found anything better than these Pinterest-worthy seating ideas since then.
How to DIY: Set up the foundation of your seating with a thin mattress or just rugs. Pick any one corner and ground a sturdy bamboo pole. Then with different prints and colours of the bedsheet create a drape that falls from the top of the pole on any two sides of your base.
Umbrella beautified into a Phoolon ki Chaadar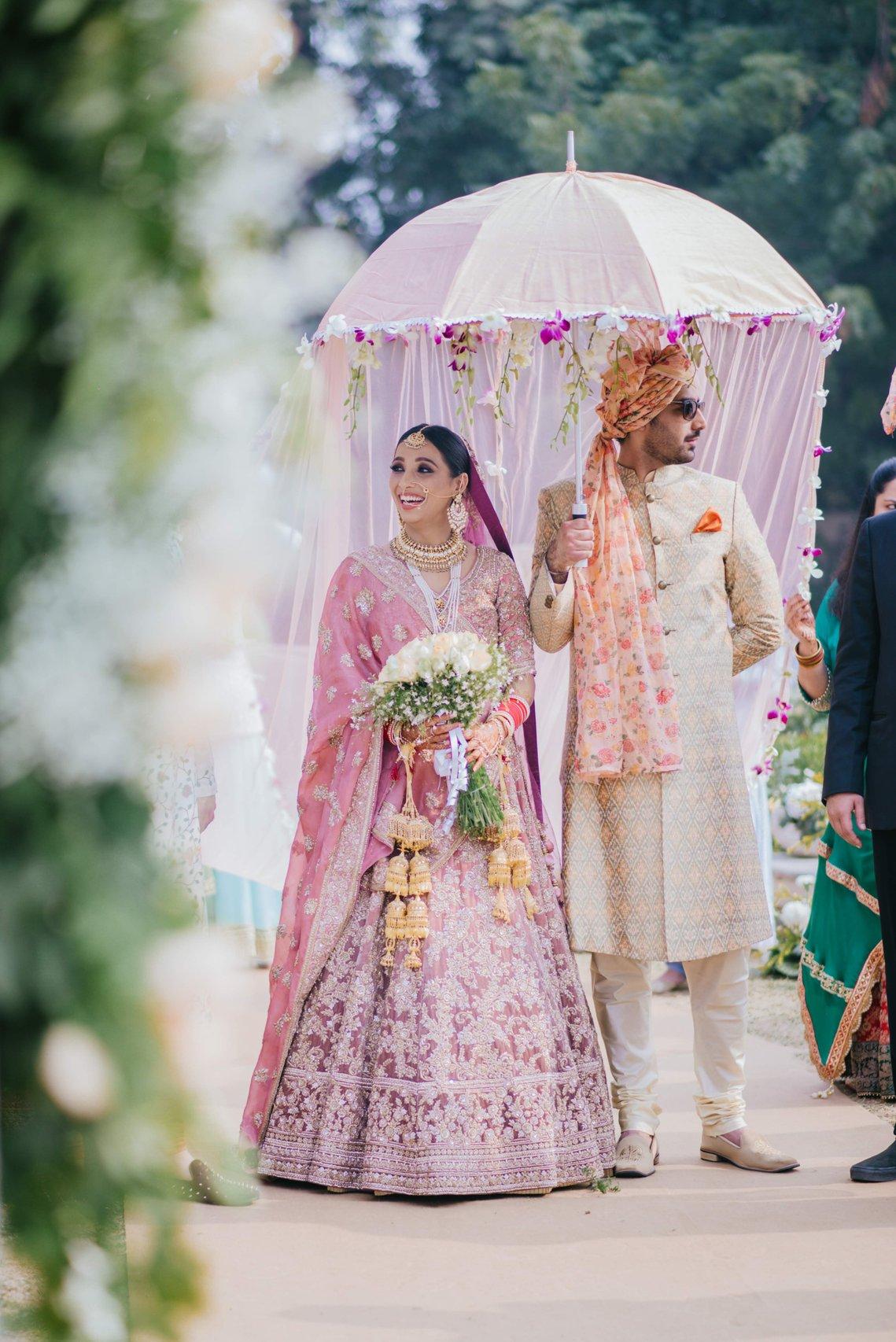 Walking under the Phoolon ki Chaadar is a surreal experience in itself but what if we told you, you can make it even more magical by creating something of your own. One such magical idea is a decorated umbrella with an attached veil. While a DIY Phoolon ki Chaadar might sound a taxing job at first, but you'll know how simple and cost-cutting it is when you'll make it all by yourself.
HOW to DIY: Take a plain coloured umbrella and decorate its edges with exotic flowers like Orchids and Lillies. Take a long fabric piece of net and cover it around half of the umbrella. Voila, your very own magical entrance is ready!
Huge Monograms Displays

Since the bar area is the most sought after during the pre-wedding festivities, add an element of quirk there. Monograms are a fad in modern Indian weddings and this trend is definitely here to say. Huge monograms of wedding hashtags or wedding events are sure to draw some attention.
How to DIY: Take a sturdy base like mount board or cardboard and cut it into big letters of whatever you wish you display and beautify the letters with Led lights or hand paint it or simply glue some flower buds. Make sure you cover both sides of the letters to have a clean and fancy monogram display.
Origami Photo Booth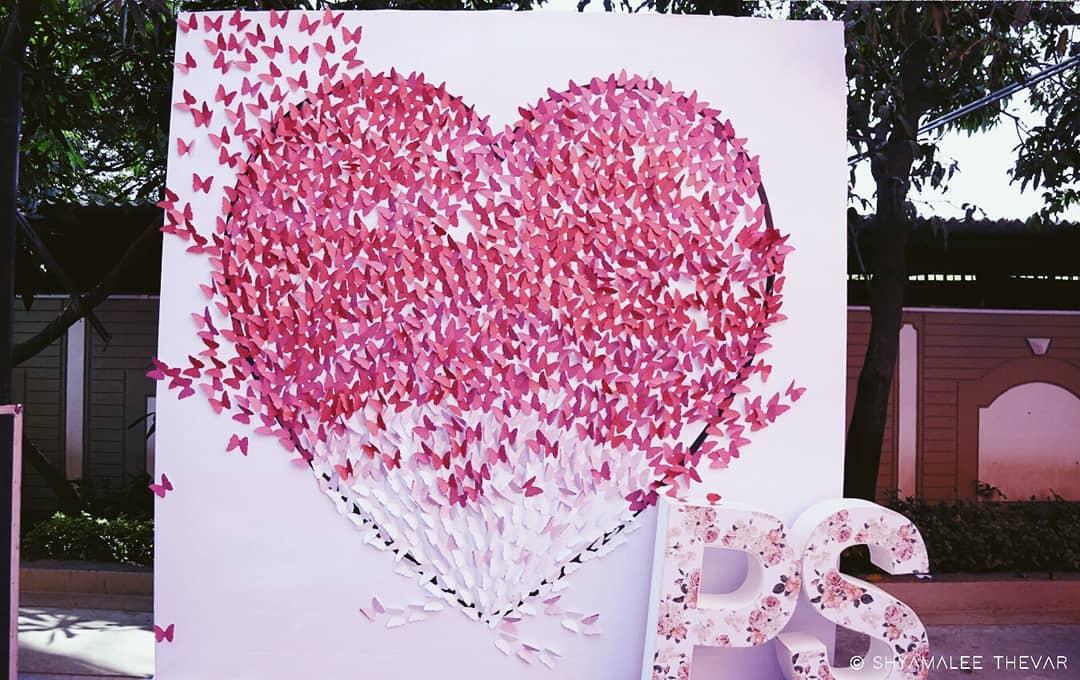 Wedding decorations today are incomplete without a photo booth set up for almost every ceremony and having an intimate wedding shouldn't be an excuse to eliminate a photo booth from your decor. Creating a photo booth is one of the easiest decoration items at home one can try their hands on. Invite your bridesmaids or cousins for a night stay and create a simple origami photo booth.
How to DIY: Grab a big square-shaped mount board and paint it in the colour that matches with your wedding theme. Draw out an outline of the shape of your choice. Craft little 3D origami butterflies or hearts and paste it on the side of the shape. You can make it visually appealing by using your dominant colour in different hues and arrange in a transcending order.
Adorable Table Centrepieces

The table setting greatly dominates your wedding dinner space and adding fun elements like rustic bottles and open terrarium flower pots are sure to increase the visuals of your dinner table by multi-folds.
How to DIY: Get your hands on some old glass bottles and wrap them up rustically with jute rope. Dump some dried flower sticks into the bottles and place them rawly alongside the terrarium pots oozing with ferns and flowers. Terrariums frames (with or without glass) are easily available in local markets.
Lampshades for ceiling

Lampshades are vintage and can add that oomph factor to your wedding decor in absolutely no time. The old-world charm and vividness of lampshades have the utmost potential to beat any uptight wedding decoration. So if you're an old-school soul, a ceiling full of suspended, un-levelled lampshades is all you need to all a touch of personalisation to your wedding decor.
How to DIY: Get your hands on lampshades of different sizes and prints and suspend them from the ceiling using sturdy Genda Phool strings and that's about it. Indeed, one of the easiest decoration items made at home.
Mushy Signages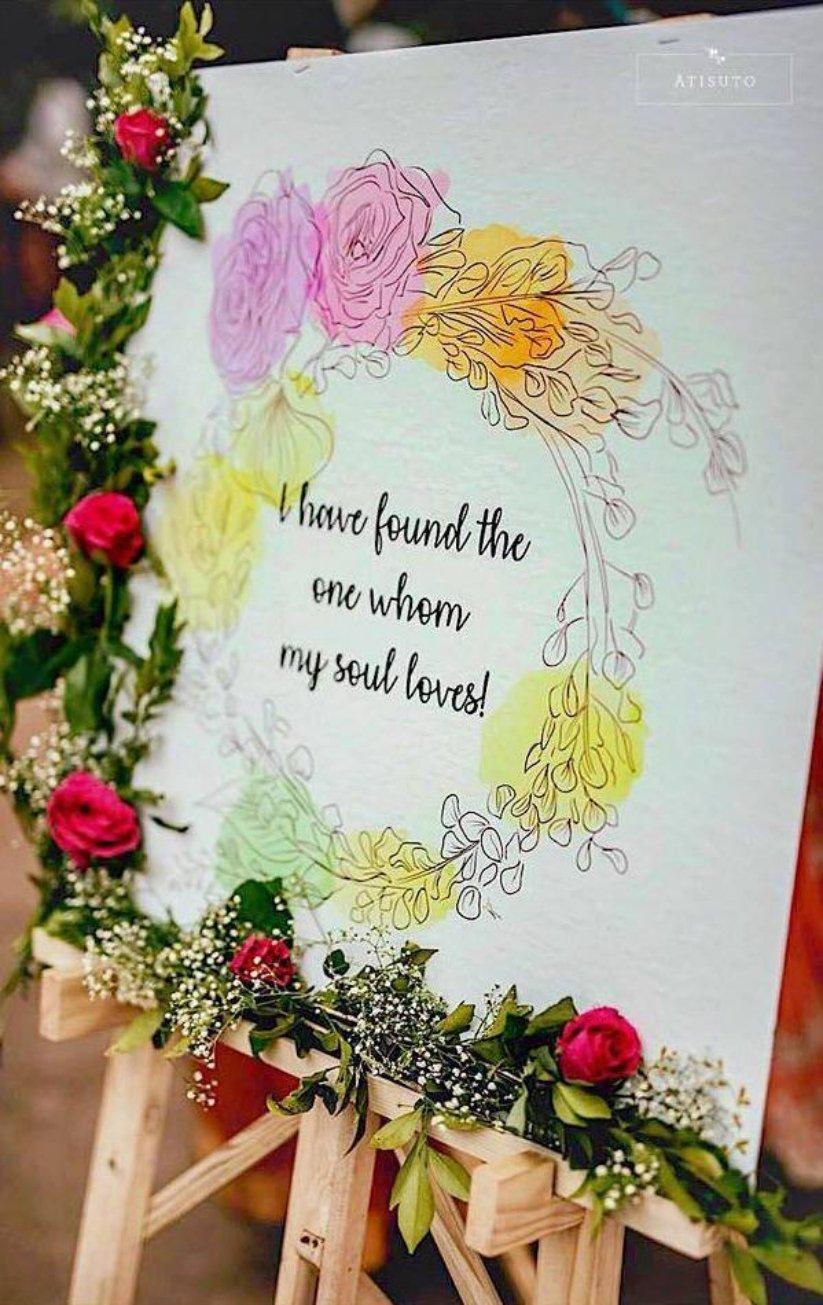 If there lives a tiny artist within you, get that canvas out and let the brush strokes create something extremely beautiful and meaningful to add to your low-key wedding decoration. Add a little quote or a few words and place the canvas stand around the place it will catch the most number of eyes. It can be a perfect prop to set up for the welcome of your guests too.
How to DIY: Get a plain canvas, canvas stand and some watercolours. Spill your magic on the blank canvas and decorate the stand with fresh roses and baby's breath flowers.
There are a lot of easy DIY décor items that can be created, provided the time. But if you're planning to have a low-key wedding, take some time out to create something that's full of you and your partner and add that made-with-love element to your wedding venue. Lastly, make sure you reduce using new elements and try recycling and reuse whatever you can.
So, what are you planning to DIY for your wedding space? Tell us in the comments below!