Zesty Umbrella Decoration Ideas to Amp Up Your D-day Decor
Add some fun & zest into your wedding with these umbrella decoration ideas that are sure to sweep you off your feet with their charm. Don't forget to bookmark your favourites.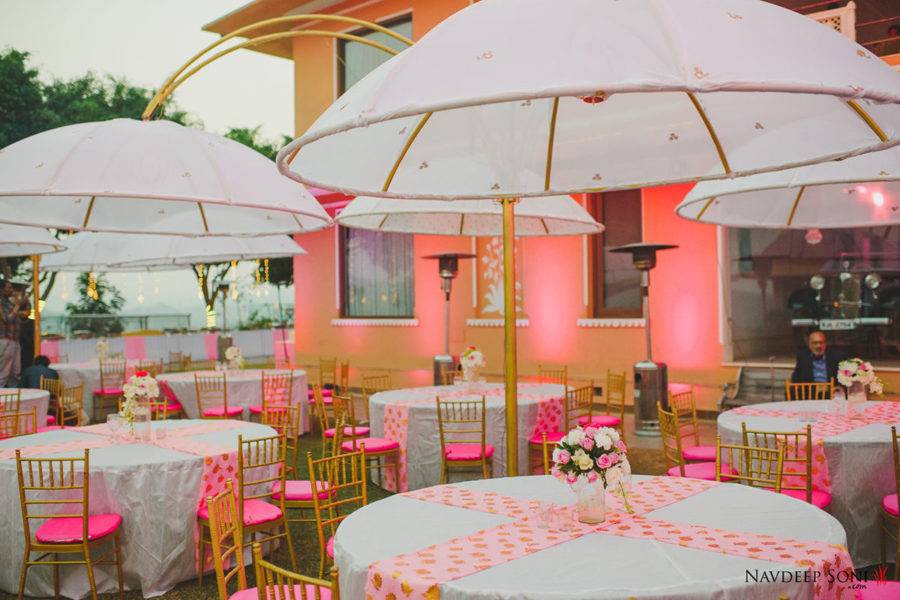 All you need to set the mood right for your wedding decor is zero down one element that is easily available, is in sync with your ideas, can be experimented with, is versatile, has variations and looks pretty. Too much to ask for? We don't think so! Umbrellas check these boxes just fine. *Mind=blown*
Ranging from traditional to modern designs, umbrellas can be used for mehndi ceremony decor to the wedding day decor. Umbrella decorations always fit right into the theme! Just with a little variation in the designs and orientation, one can easily work around with umbrellas as the main wedding decor element, as they come in really handy and don't burn a hole in your pocket. They also make for an eco-friendly wedding decor as they can be upcycled or reused for home or garden decor. Available in a plethora of colours, sizes and designs, you can literally use umbrella decorations in pretty much anything and everything.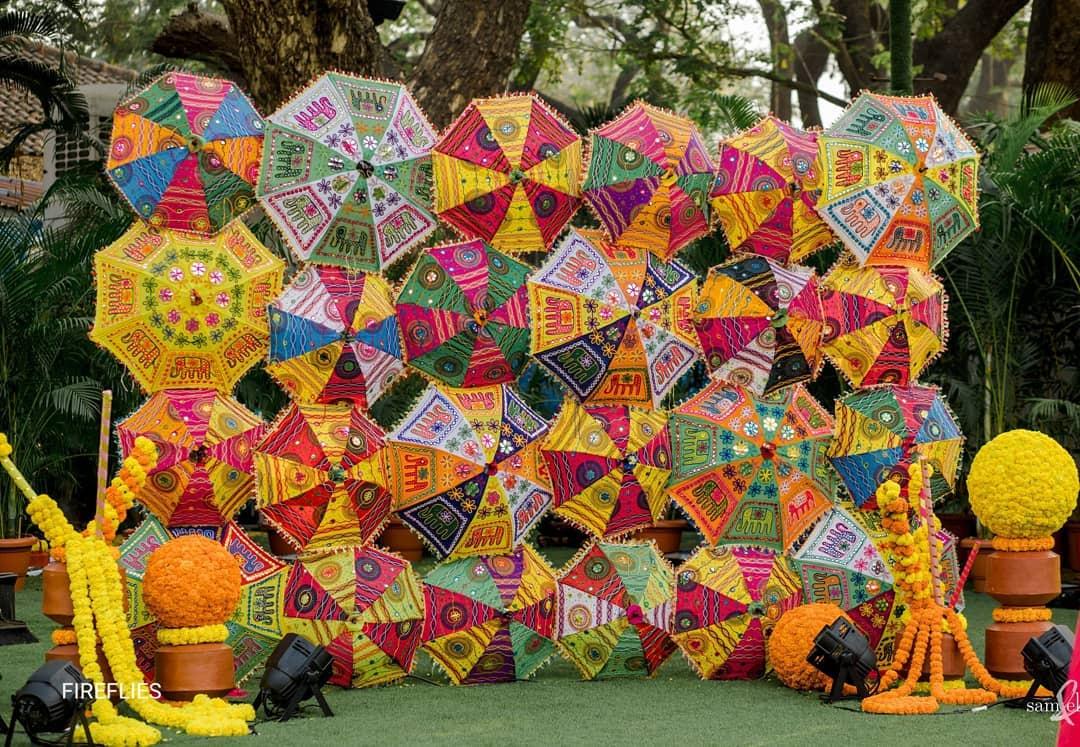 Image Courtesy: Fireflies
Especially with the monsoon wedding planning in full bloom during this season in India, umbrella decor is trending. So if you wish to have a peppy vibe for your wedding ceremonies umbrella decorations are your best best. Check out all the different and amazing decor ideas you can create with just one element, umbrellas.
Aisle Decor with Beaded Umbrellas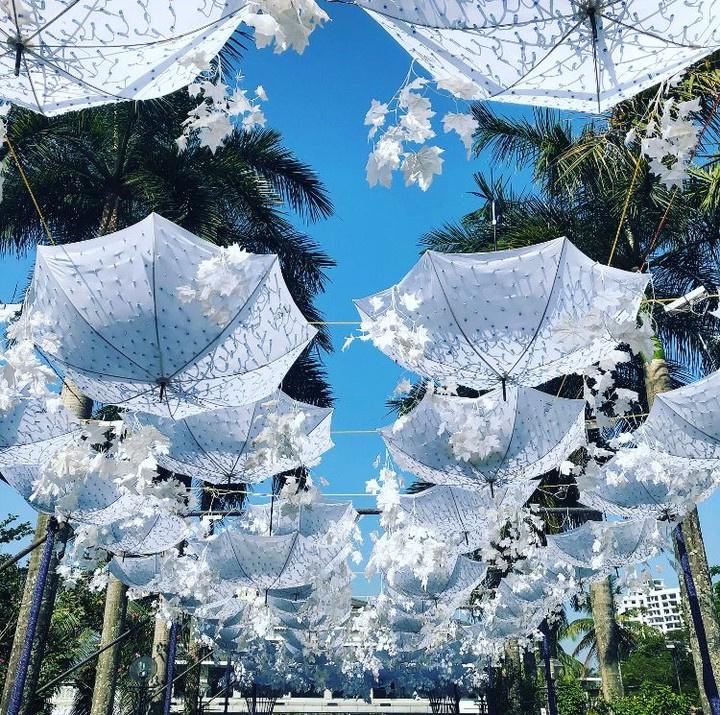 Image Courtesy: Pre-occupied Bride
Walking down the aisle under the Phoolon ki Chaadar in itself is such a pristine feeling but imagine that experience made 100x times more enchanting. Walking to the man of your dreams under a hundred beaded umbrellas overflowing with florals is an idea we're totally lusting over! What about you?
Colourful & Boho Ceiling Decor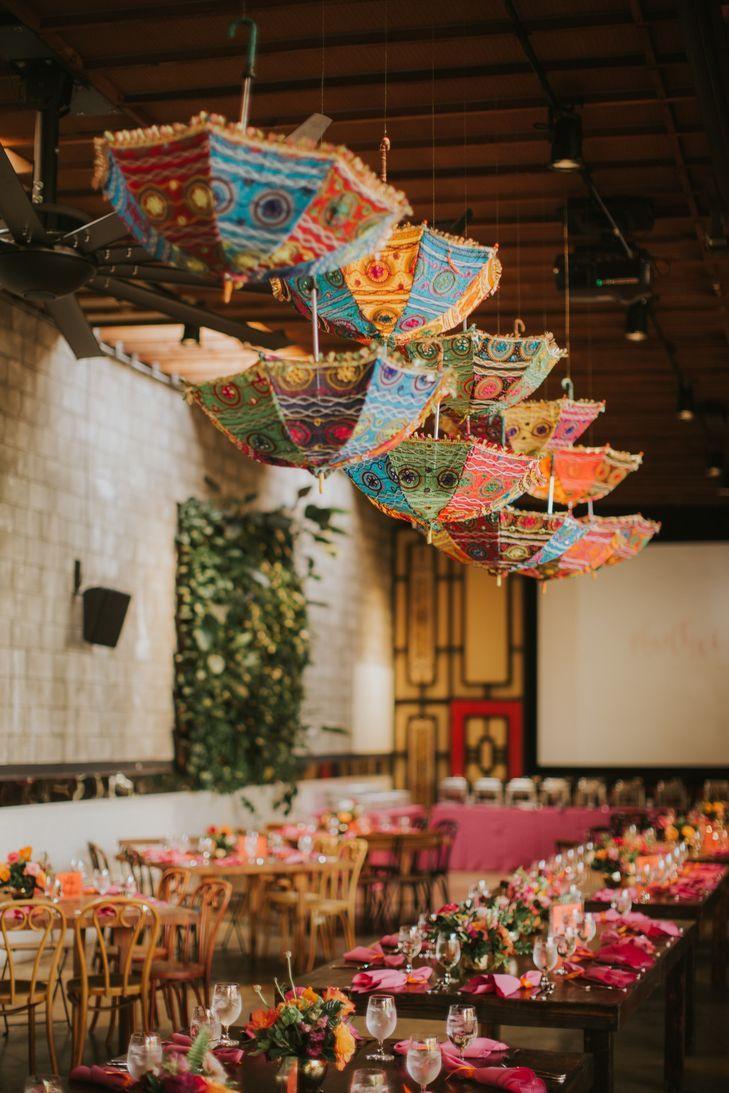 Image Courtesy: Pinterest
Add an edge to your Mehndi decor with this simple yet striking ceiling decor with suspended colourful umbrellas. The gorgeous boho design perfectly aligns with the vibe of the mehndi ceremony.
Parasols for Chair Decor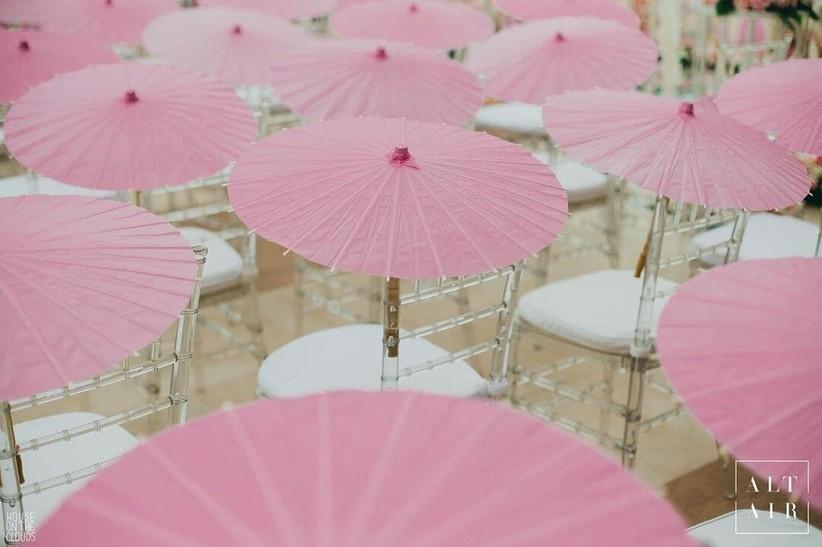 Image Courtesy: Altair
Add an element of oomph to wedding seating decor with these light and airy parasols. Choose a colour that matches your wedding decor and adorn each chair with parasols. They come super handy for outdoor beach weddings where the sun is gleaming bright and your guests need some shade.
Vintage Umbrellas for Table Decor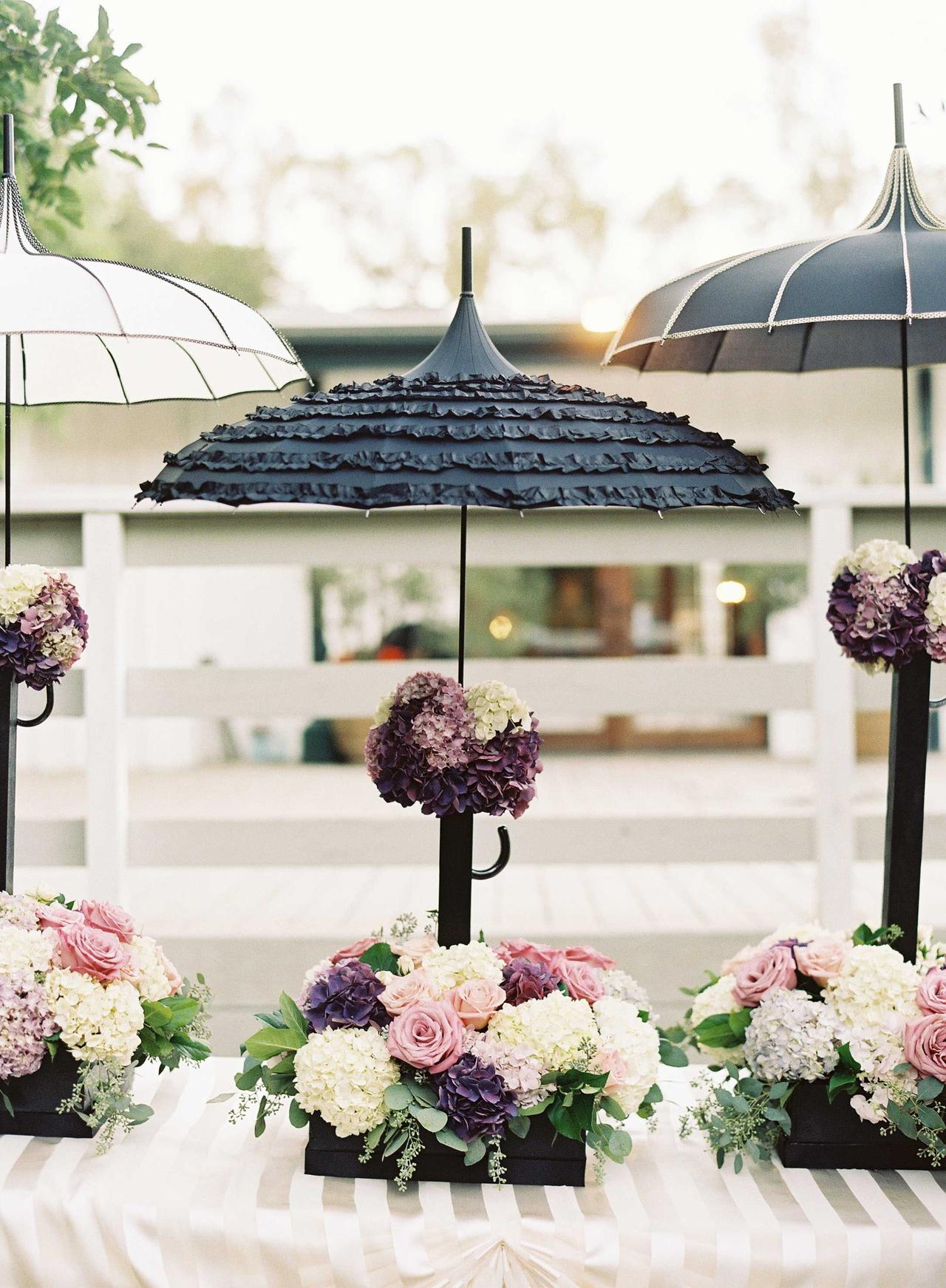 Image Courtesy: Pinterest
If you're having an international destination wedding, such vintage umbrellas will add oodles of charm to your wedding decor. They're super English, have a classy vibe and are sure to add an element of wow when placed across the wedding dinner table.
Umbrellas with LED Lights as Ceiling Decor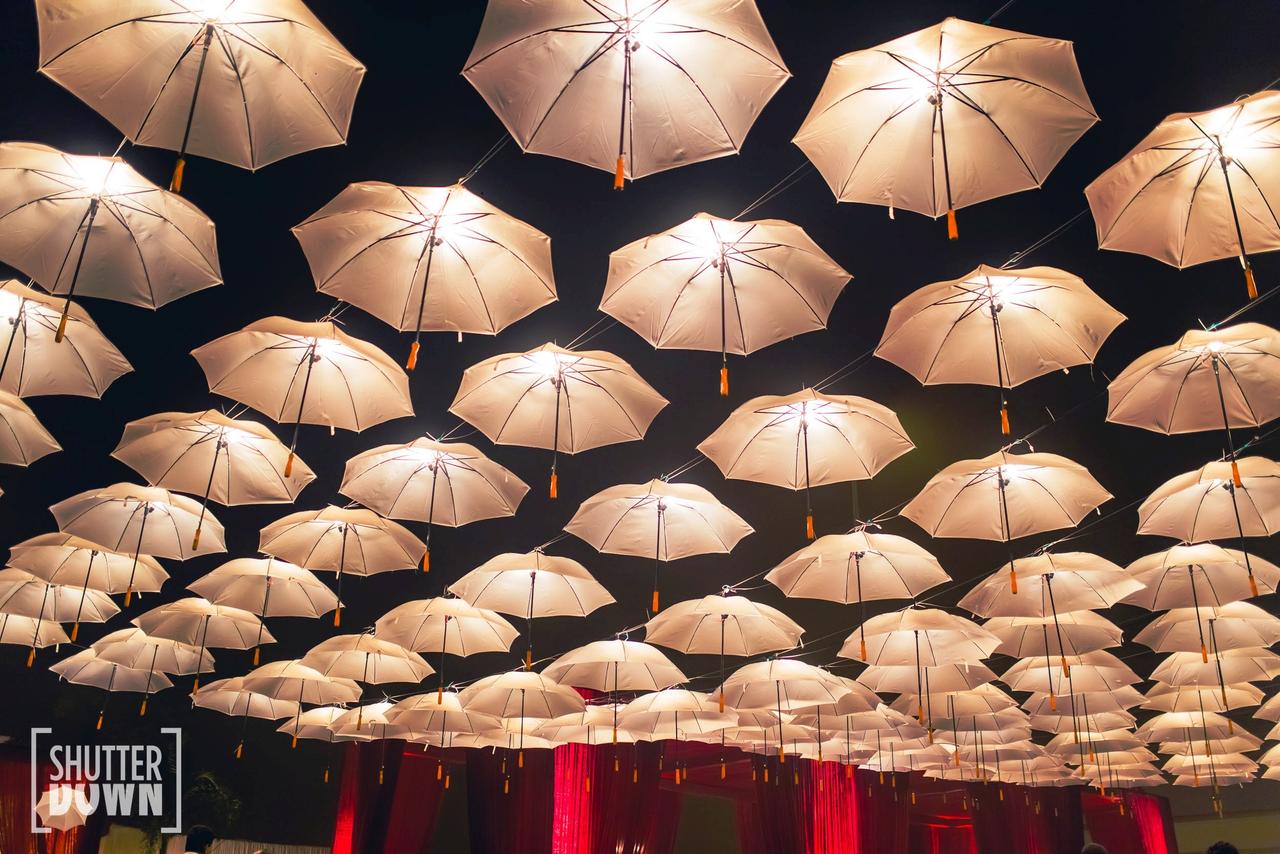 Perfect for an outdoor Sangeet night or engagement, these LED-lit umbrellas placed across the ceiling really brightens up the entire venue. Imagine having your first dance under the sky of perfectly-lit pristine-white umbrellas on your favourite romantic song–How magical!
Beautified Umbrellas for Ceiling Decor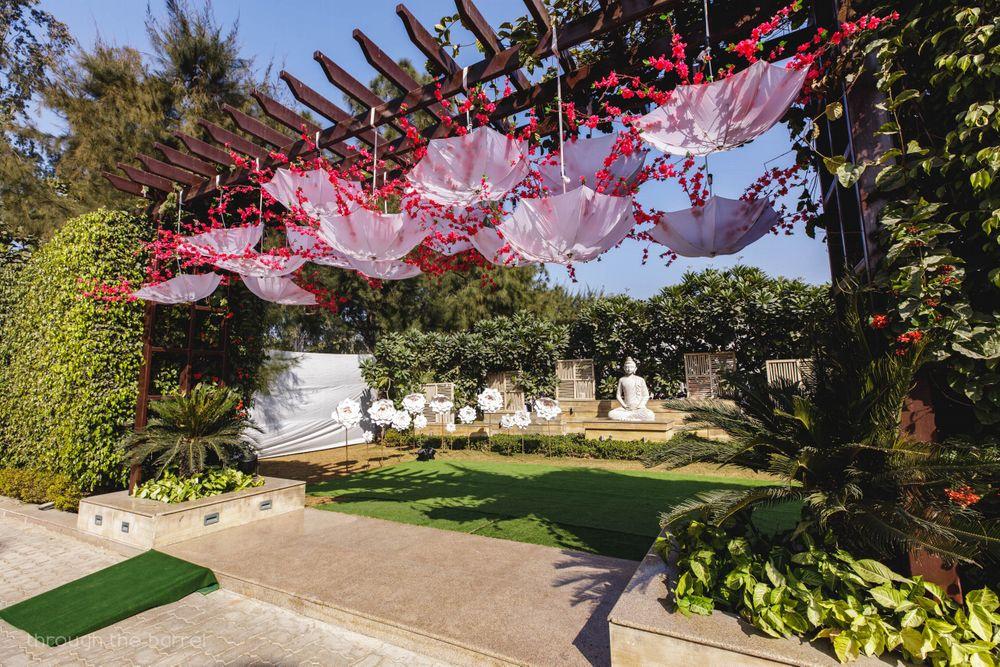 Umbrellas in themselves are pretty elements but when mixed with the charm of florals, they make a star combination. Adorn your venue entrance with mystical suspended umbrellas and see your guests get wowed. P.S. Cherry-blossoms never let us down!
Assorted Umbrellas for Photo Op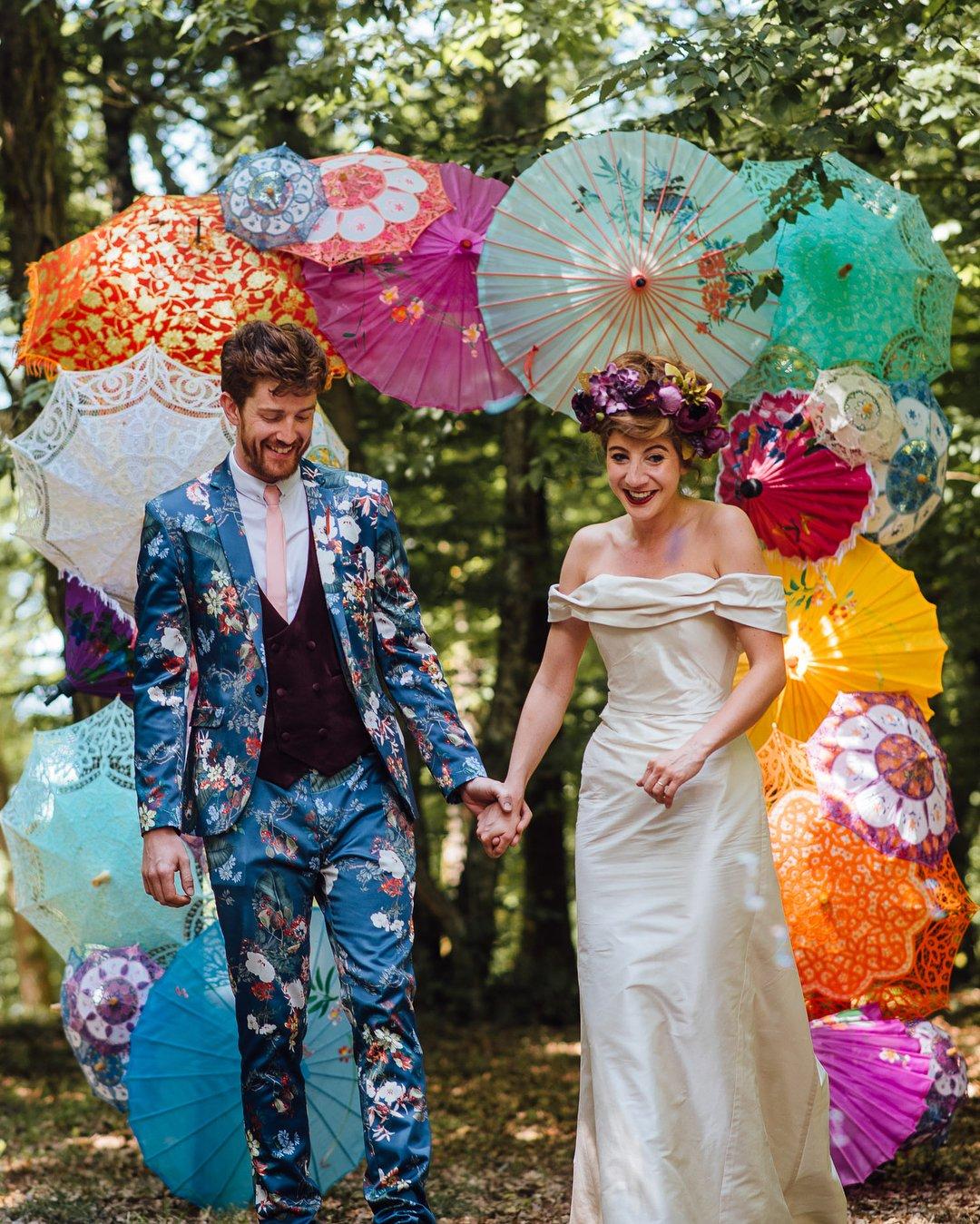 Image Courtesy: Rock My Wedding
Randomly place umbrellas of different sizes, colours and patterns forming a shape your choice and call it a photo op. There is definitely no definition of what a photo op can be. A single umbrella can also be counted as a photo op. Get your creative juices flowing and create a perfect photo op for your wedding photos by simply using umbrellas.
Lacy Umbrella as Prop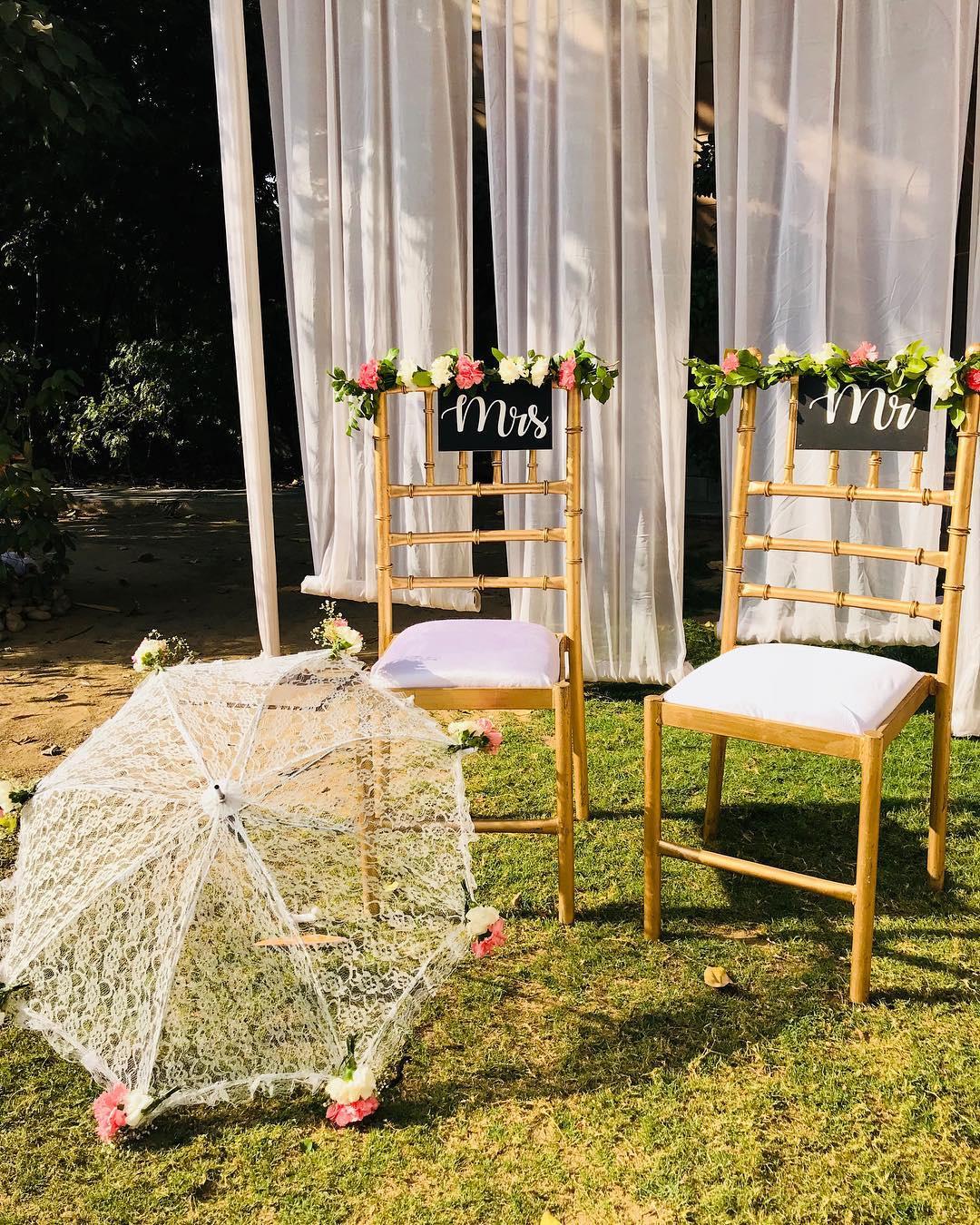 Image Courtesy: Designer Events Inc.
Add elegance and delicacy to your wedding photos by using a stunning lace umbrella to pose with. You could hold the umbrella or place it around yourself as they are playful and easy to pose with. It'll make for a perfect prop for a camera-shy bride or couple.
Fancy Table Shades using Umbrellas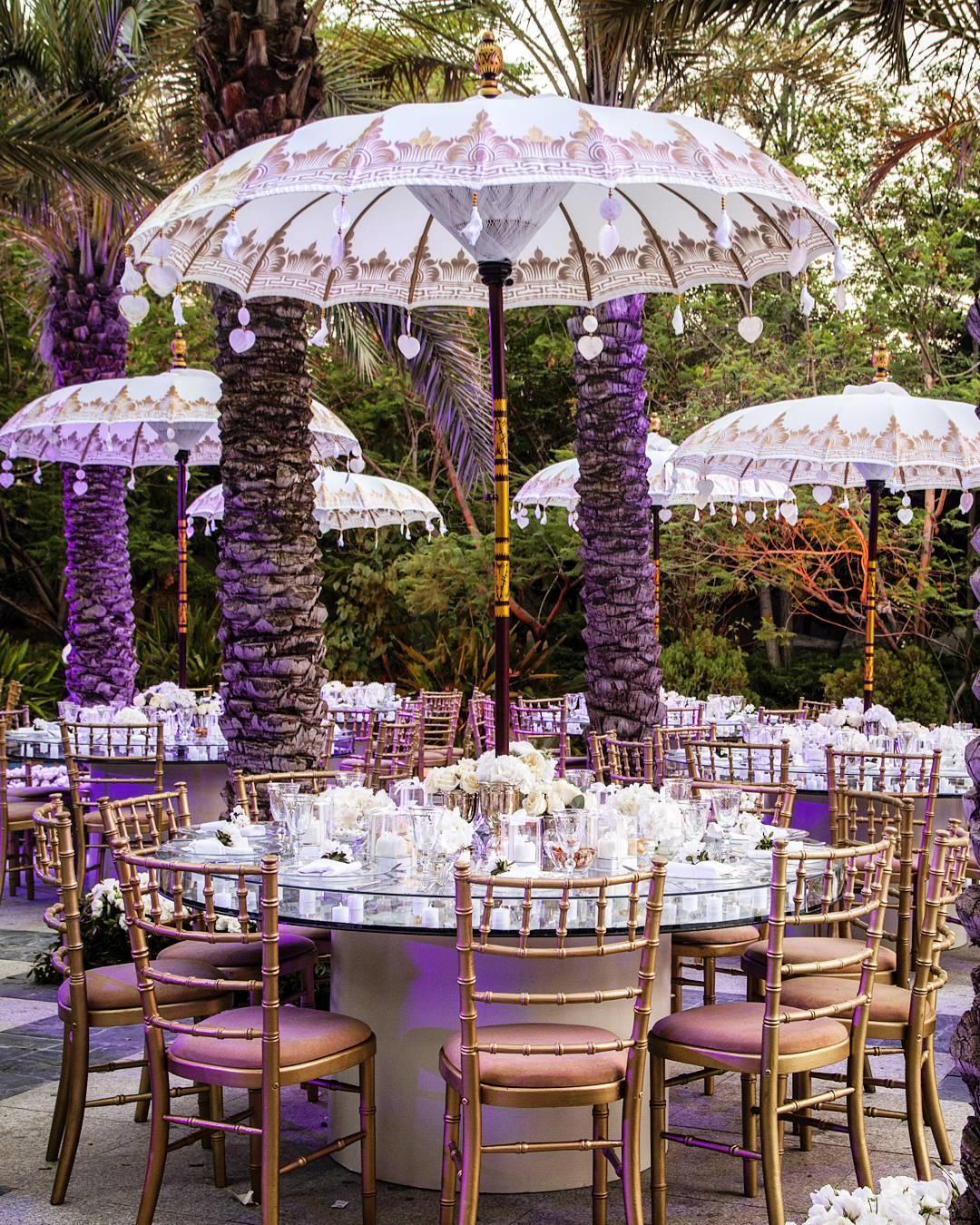 Image Courtesy: Glorybox Production
Because they're available in so many sizes and variations, umbrellas can be put to more use than mere decoration. They can be placed strategically to serve their real purpose of providing shade; like over table settings placed in outdoor setups to protect the food from direct sunlight and dust.
Entrance Decor with Rabari Umbrellas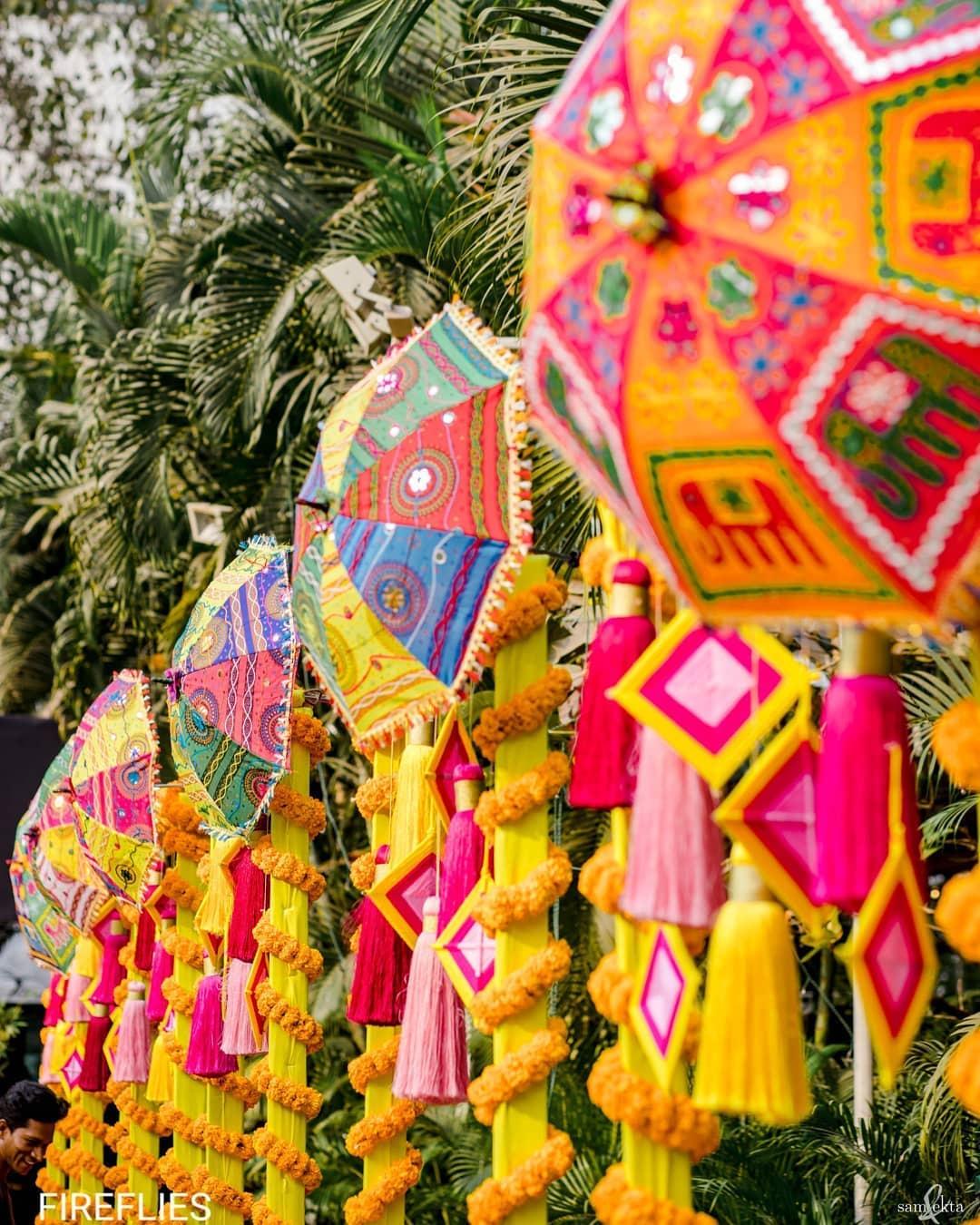 Image courtesy: Fireflies
The entrance of your wedding dominates your entire decor since that's the first thing your guests lay eyes on. An entry-way adorned with Rabari embroidered umbrellas is sure to hint your guests on how traditional and colourful your wedding soiree is going to be.
Floral Umbrella Centerpiece
Image Courtesy: PEP ENT, Priceless Event Planning
Rimmed with pink roses of different hues, this umbrella decoration makes for an aesthetic non-floral centrepiece. You can place it across the long table or place one each on round tables. Either way, they'll look super pretty. They're elegantly simple and can so easily be DIY-ed too. What do you think?
From ceiling decor to centrepieces, these are some of the many decoration ideas you can create simply by using umbrellas. Aren't these some really dreamy umbrella decorations? We are totally vouching for them. Choose a decor idea that matches your vibe and browse the most renowned wedding decorators to bring your dream to life.
Which umbrella decoration ideas you loved the most? Book the best wedding decorators for your D-day right away!