Monsoon Wedding Planning Ideas to Keep Your D-day Dreamy & Fuss-free
If you are planning on a wedding in the rains, here are some useful monsoon wedding planning tips you must note to keep your D-day dreamy & fuss-free!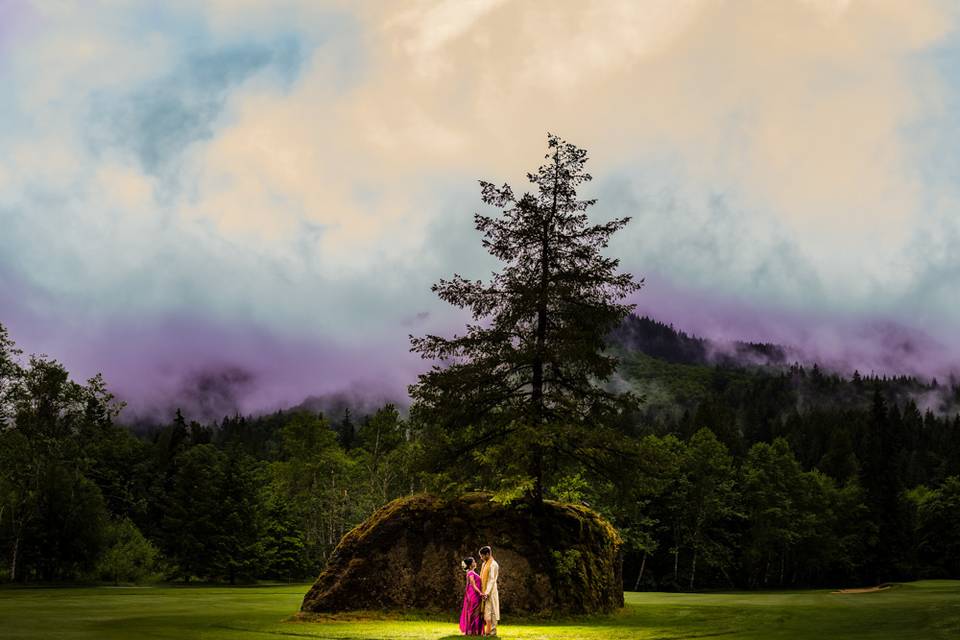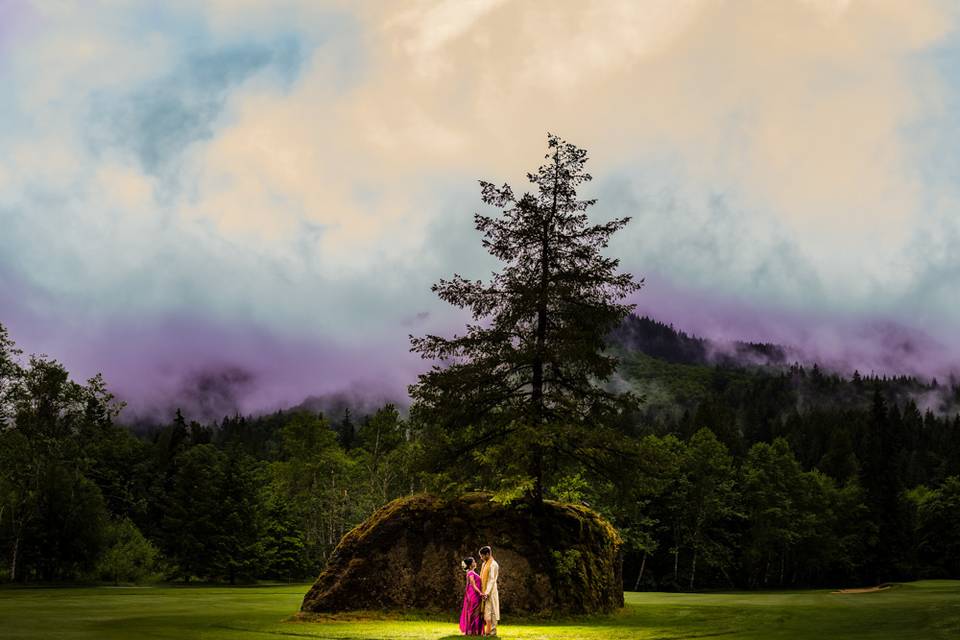 Image Courtesy: Lin & Jirsa
Monsoon might just be one of the most romantic seasons of the country. The idea of sipping on hot tea with your favourite pakoras or with the good old samosa sounds just perfect. But when it comes to planning a wedding when the monsoon season is at its peak, there are certain adjustments in the wedding planning process that you need to make. While the sultry summers are dry and make it super easy to plan a wedding, a monsoon wedding is nothing short of magical.
Getting married in the rain seems like a dreamy affair, but the thought of spoilt hairstyle, makeup running down - well that's a big no-no! Check these monsoon wedding planning ideas and take your vows amidst the rain while keeping it flawless and fuss-free. Read to know more.
Check the Weather Forecast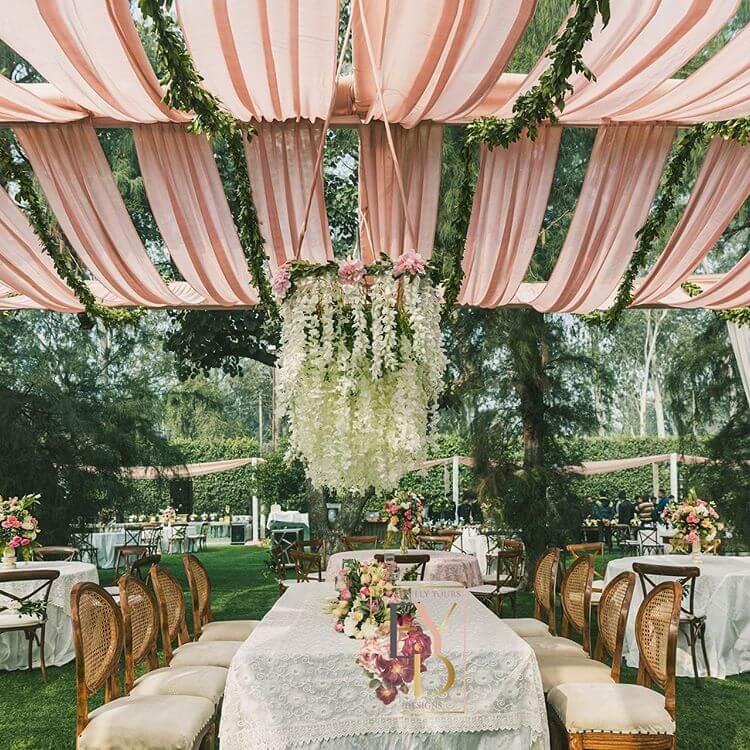 Do not let the thought of a sudden downpour ruin your plans. There are multiple apps available these days that predict the accurate weather forecast. Make sure to follow the forecast before you book your wedding date, venue and so on. It is always better to have checked the weather beforehand and be prepared for what is to come than to be taken by surprise and get caught in the chaos.
Pick a Waterproof Venue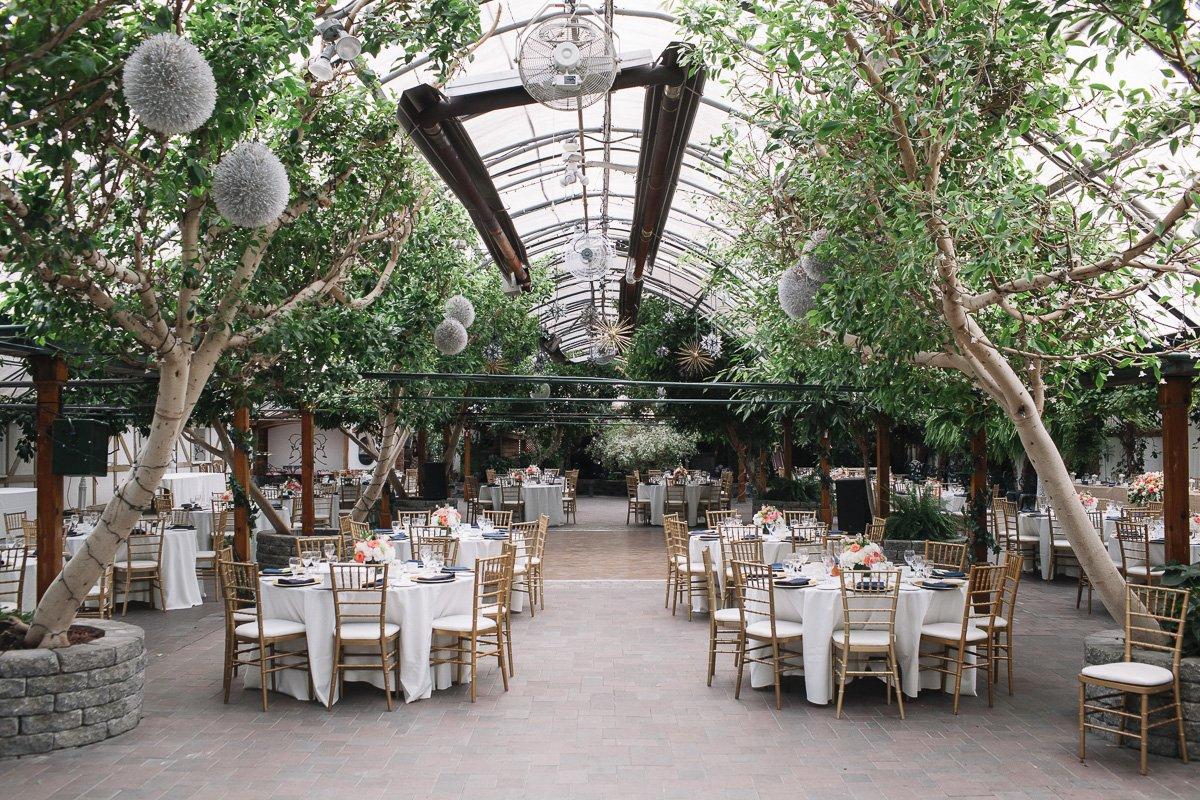 Image Courtesy: Danielle Meredith Photography
Picking a venue indoors is the best option for monsoon weddings. If you have always wanted an outdoor wedding, then you might want to book a venue that offers both outdoor and indoor spaces where you can keep the banquet hall as a backup plan in case it starts to pour. It is also important to check the geographical location of the venue and its surroundings to check the drainage and ensure that there will be no water clogging. Minimise the use of fabric drapes unless there is a protective tent above.
Heads up for Outstation Guests

Image Courtesy: Vipin Photography
There will be guests flying in from different parts of the country or across the world to be a part of your wedding celebrations. It is very important to give them a heads up for them to fix their travel plans accordingly. It will also help them to prepare well for the wedding with some extra set of clothes just in case the splashes get the best of them.
Vibrant & Quirky decor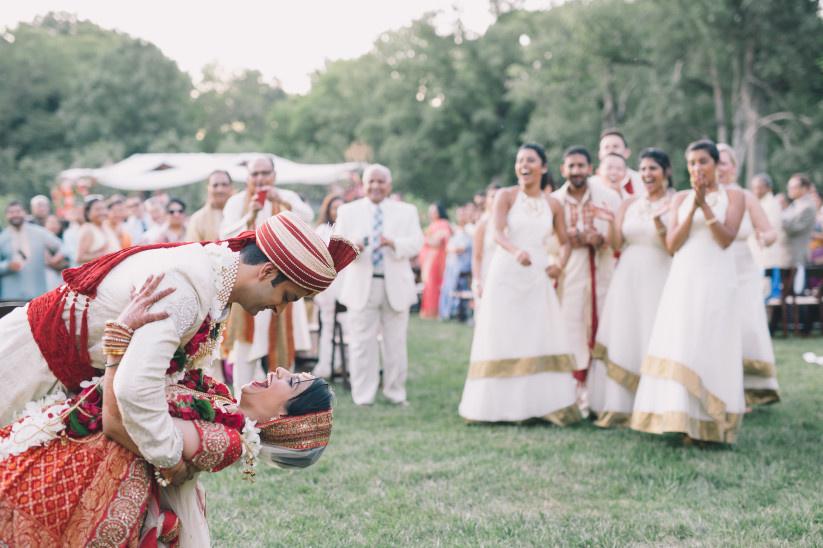 Image Courtesy: Black & Hue Photography
Monsoon weddings are the best time to pick day weddings. The beautiful weather outside with the breeze and drizzle make for the best backdrop when you take your pheras. You can pick bright colours for the wedding theme and experiment with vibrant decors too. It is also wise to avoid any kind of paper decorations like paper flowers and origami for your monsoon wedding. Fresh flowers are indeed a catch but the rainwater might ruin it. You should keep the real flower decorations for indoors only.
We suggest: The bohemian decor theme goes best for monsoon weddings and don't forget the dreamcatcher decor!
The Monsoon Food Menu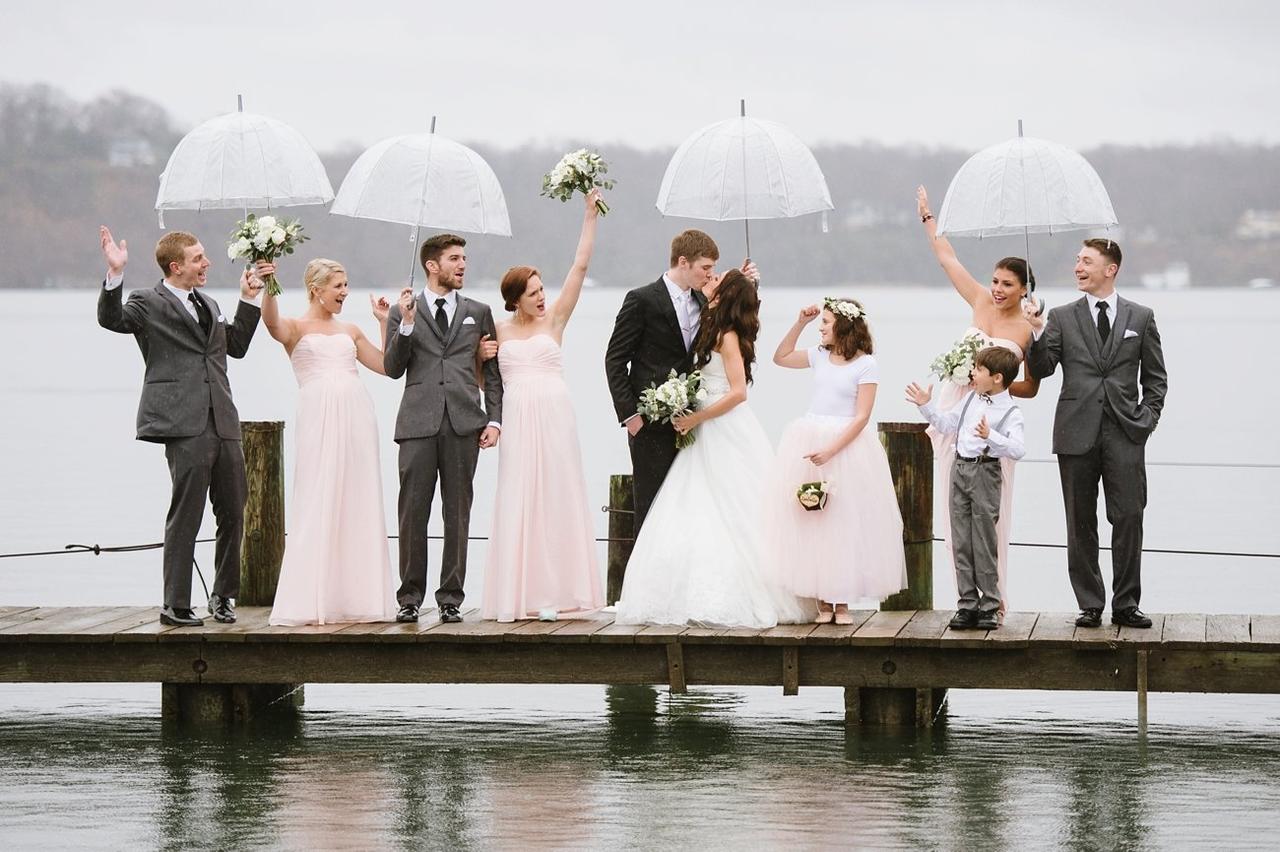 Image Courtesy: Natalie Franke
Fresh vegetables included in the menu like salads might not be a wise pick for the monsoon food menu. You could, however, customise the menu to fit the mood of the season by picking spicy snacks and finger food like pakoras and samosas with hot tea. Hot desserts like brownie fudge or hot gulab jamun are going to be a steal! If you plan on including a bar menu, you could seal the deal with rum instead of beer.
Include Umbrellas in Favours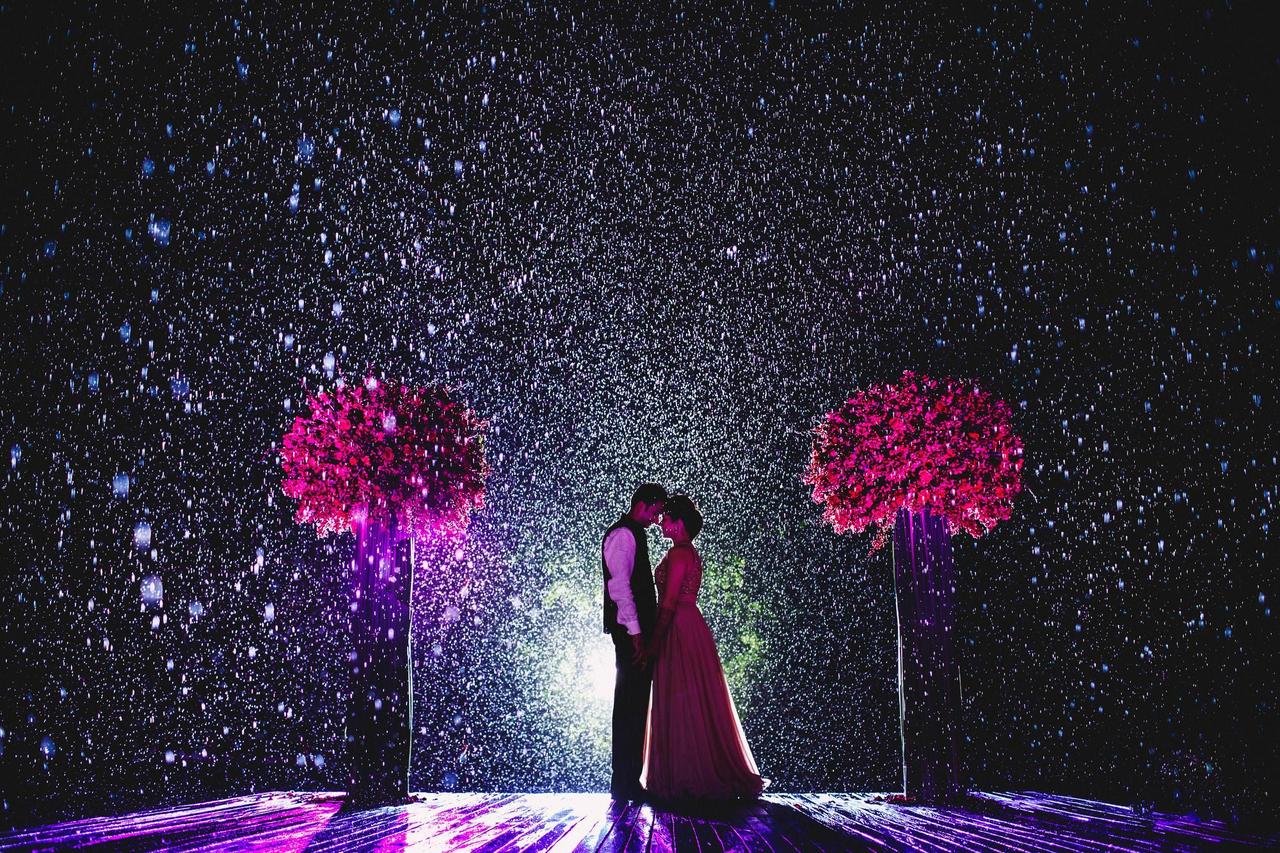 Image Courtesy: ARJ Photography
Wedding favours a big hit among the millennials. A lot of thought is put behind picking the favours that you want to welcome your guests with. While beach weddings have seen customised wedding favours that include flip flops and towels, your monsoon wedding favour can include umbrellas too. You could customise your umbrellas with your wedding hashtag or the theme of your wedding. This will not only make it unique as a favour but also be a cherished memory for all your guests to carry back home.
Wear light & waterproof makeup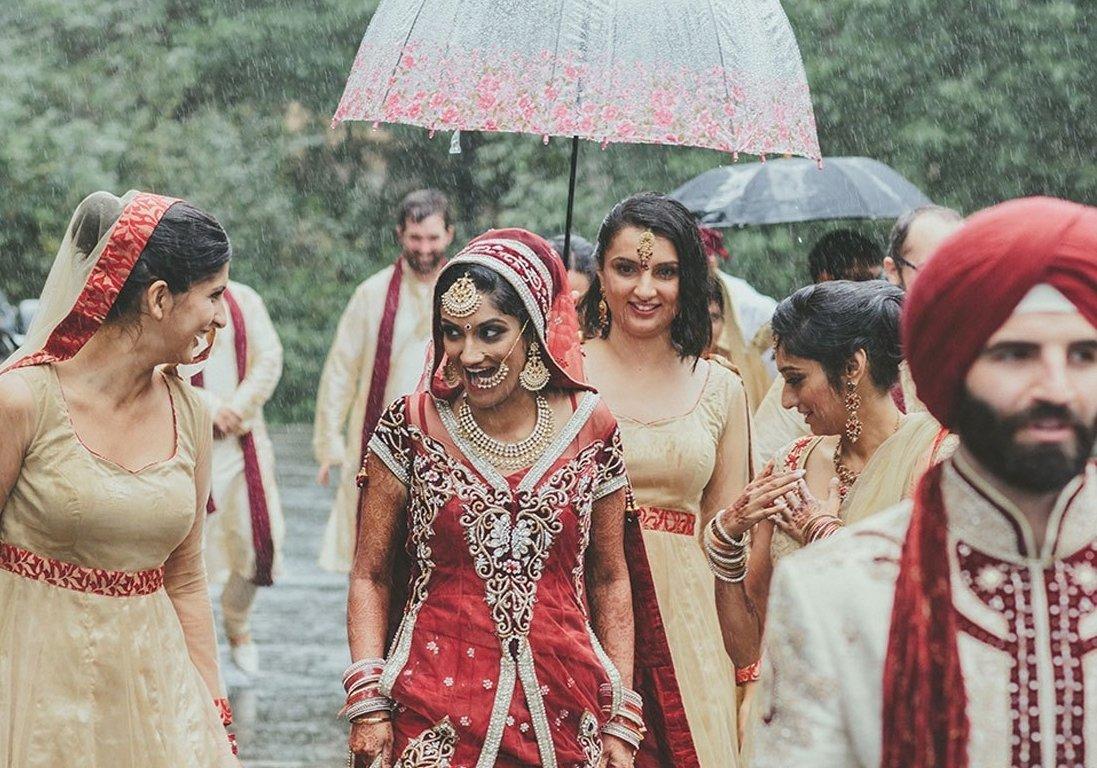 Image Courtesy: Mandev Sindhu
Bridal makeup depends a lot on the kind of outfit that the bride picks for her D-day. However, keeping your makeup light and waterproof for the monsoon wedding is the safest option. Too much of makeup might cause discomfort keeping in mind the humidity and raindrops. Also, waterproof makeup is a must so that even a little rain dance will make no difference!
Pick your footwear right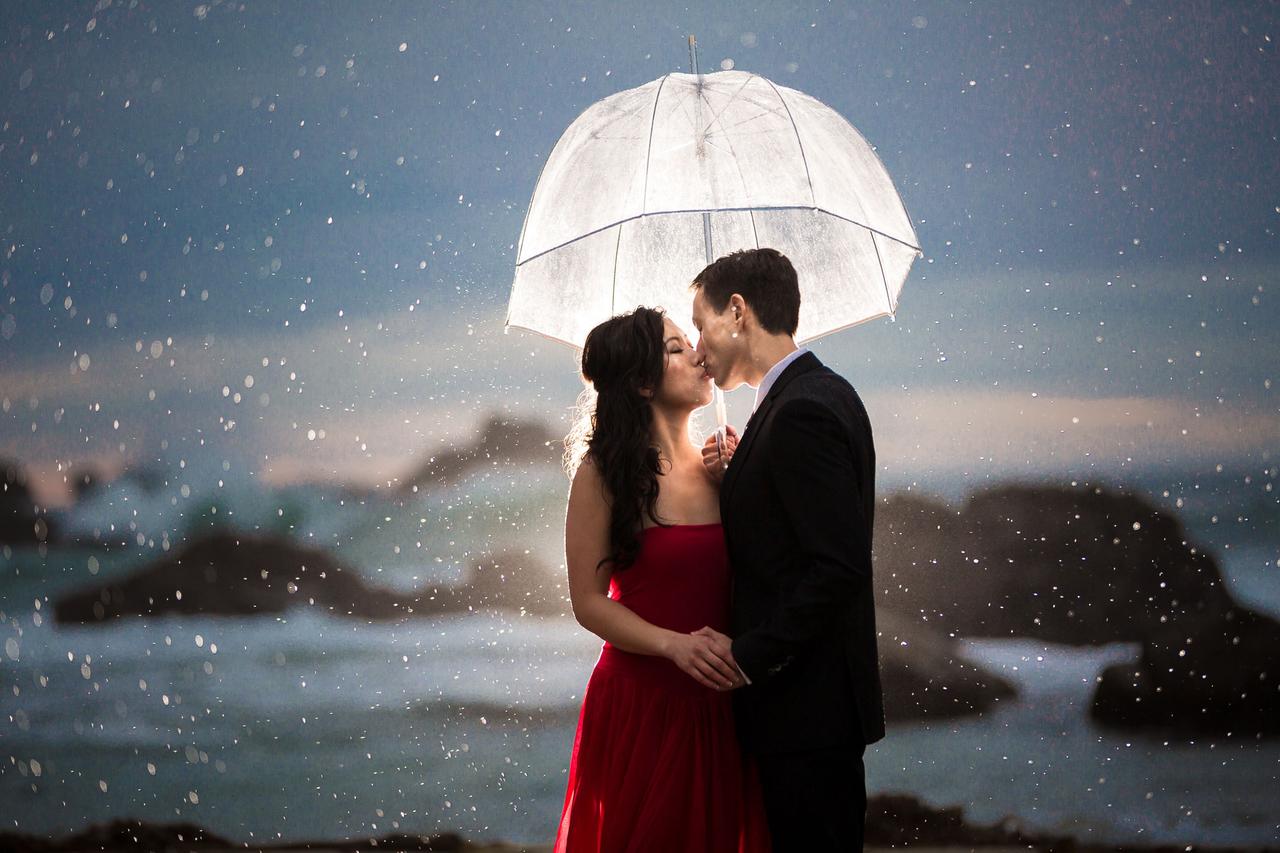 Image Courtesy: SLR Lounge
The monsoons tend to make the soil moist and soft. If you pick stilettos as your footwear, you might struggle with the discomfort that it causes when you walk down the aisle if it is an outdoor mandap. Flats are the best options to go with the monsoon wedding look, but if heels are the ideal footwear for you, make sure to pick wedges instead of kitten heels or stilettos for a better grip and comfortable stance.
Pick your wedding outfits wisely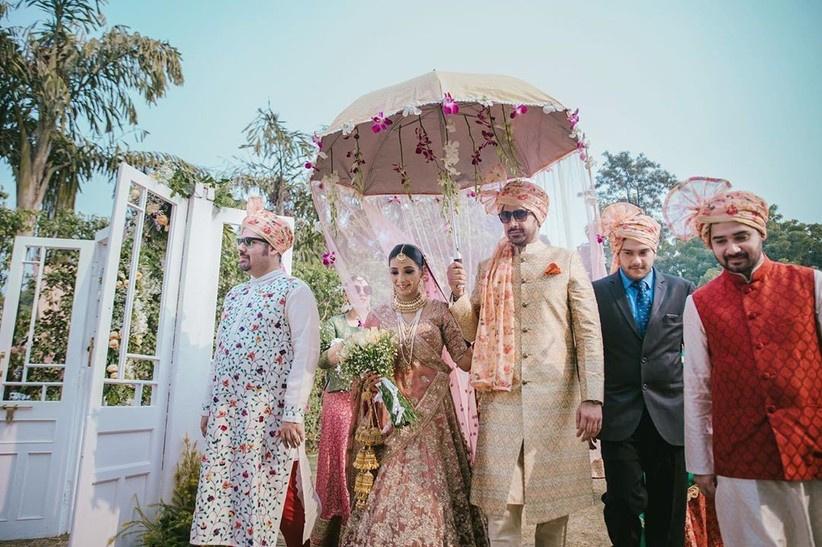 Most brides and grooms who have planned for a monsoon wedding have gone for a shorter length of their attires. In case of an intimate monsoon wedding, you can pick short lehengas or gowns that have their hems near the ankles or maybe knee-length dresses too. Another very favourable option of bridal wear is the elegant saree. The neat pleated hem of the sarees is easy to manage and a fuss-free pick for the monsoon wedding keeping the puddles in mind.
Pick light fabrics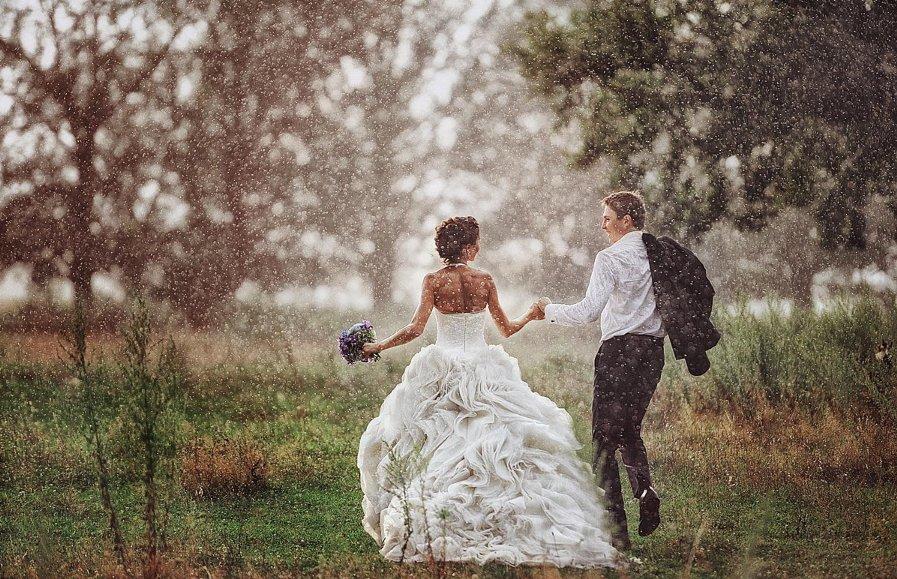 Image Courtesy: Pinterest
Silk and velvet might look regal for your night time ceremonies, but for a monsoon wedding, we suggest you keep the fabric light and breezy. Organza sarees and organza lehengas in floral prints are perfect for your monsoon wedding. The light fabric dismisses the chance of ruining the entire look just in case you get a little drenched by drying up immediately.
Ensure power backup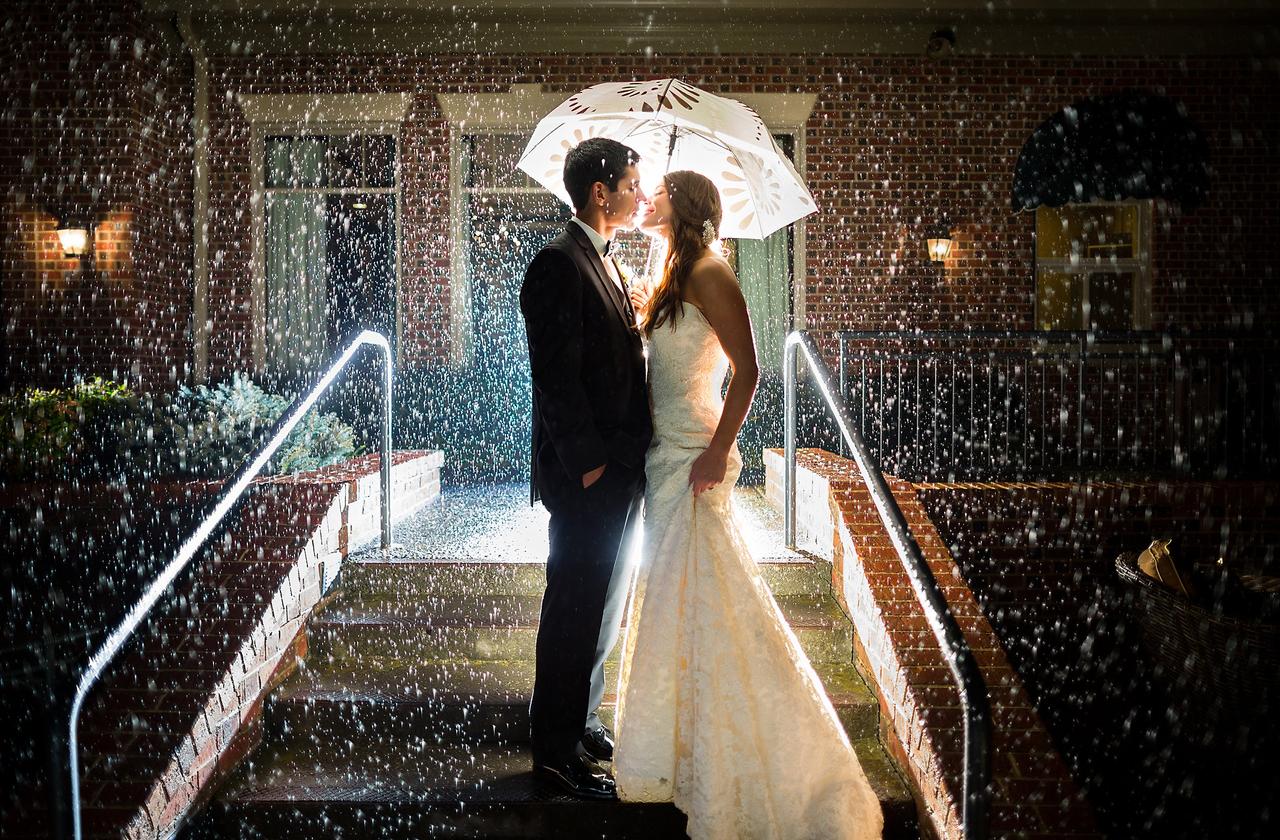 Image Courtesy: Garrett Hubbard Studios
Heavy rains and thunderstorms might cause a power cut in the venue. This is why it is very important to pick a venue that has power backup. The humidity and rain will not make it easy to go ahead with the celebrations without power backup.
Make Flip Flops & Towels Available

Image Courtesy: Lin & Jirsa
Even though you check on the weather and make sure that the sky is clear for your wedding ceremony, flip flops and towels included in your welcome favours are not a bad idea. If not in the wedding favours, you can keep them at the wedding venue as a backup plan for the guests who might end up needing it. The flip flops will also be of great help if some of your guests needed to dance their shoes off.
Make mosquito repellents available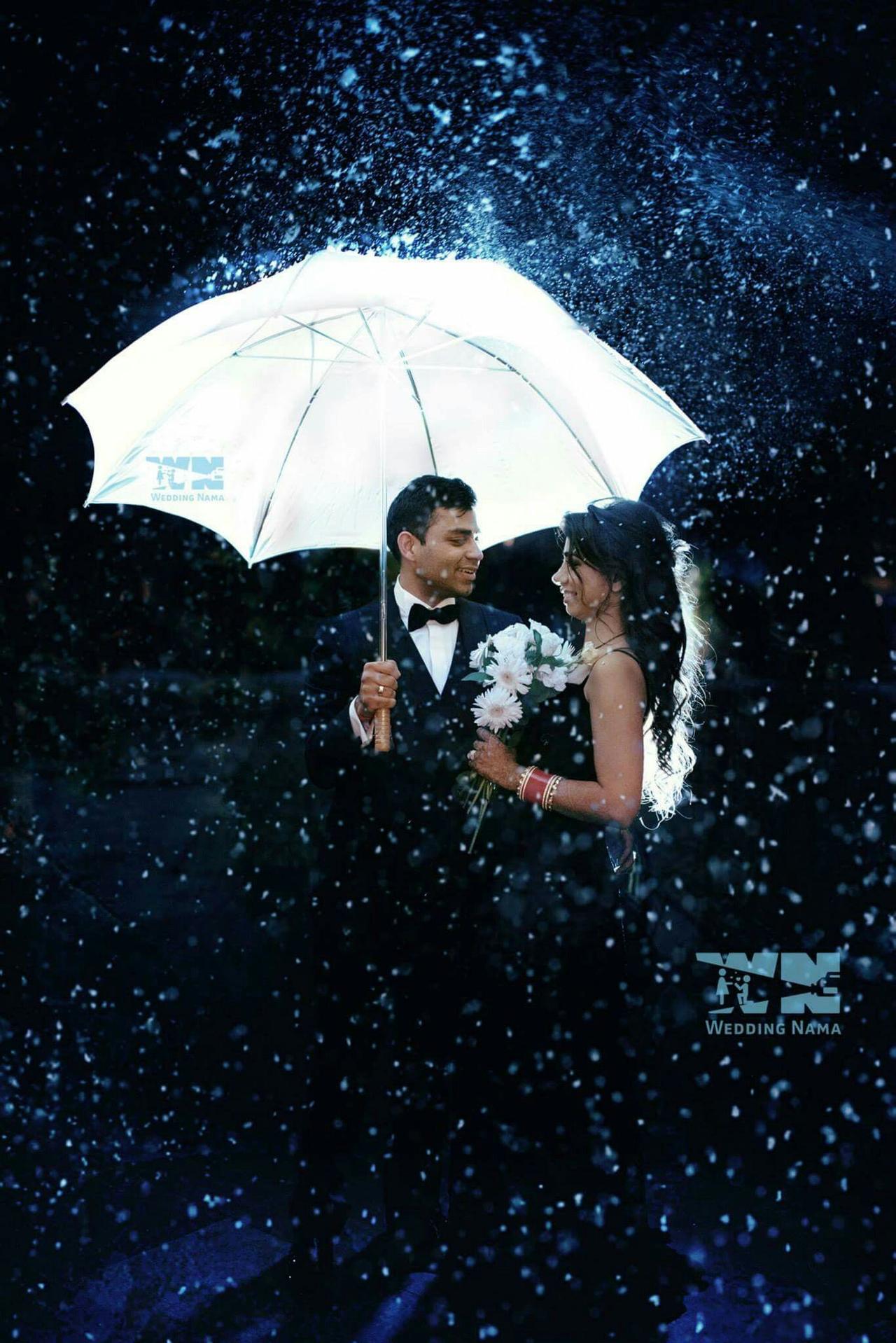 Rainwater clogging or puddles, in general, attract a lot of mosquitoes. The tropical monsoons in India see a rise in mosquitoes during the season. Even if it is an indoor wedding, include mosquito repellant in the venue itself. In case of an outdoor wedding scenario, you can make mosquito repellant sprays available for the guests at the entrance.
The Photoshoot in Rain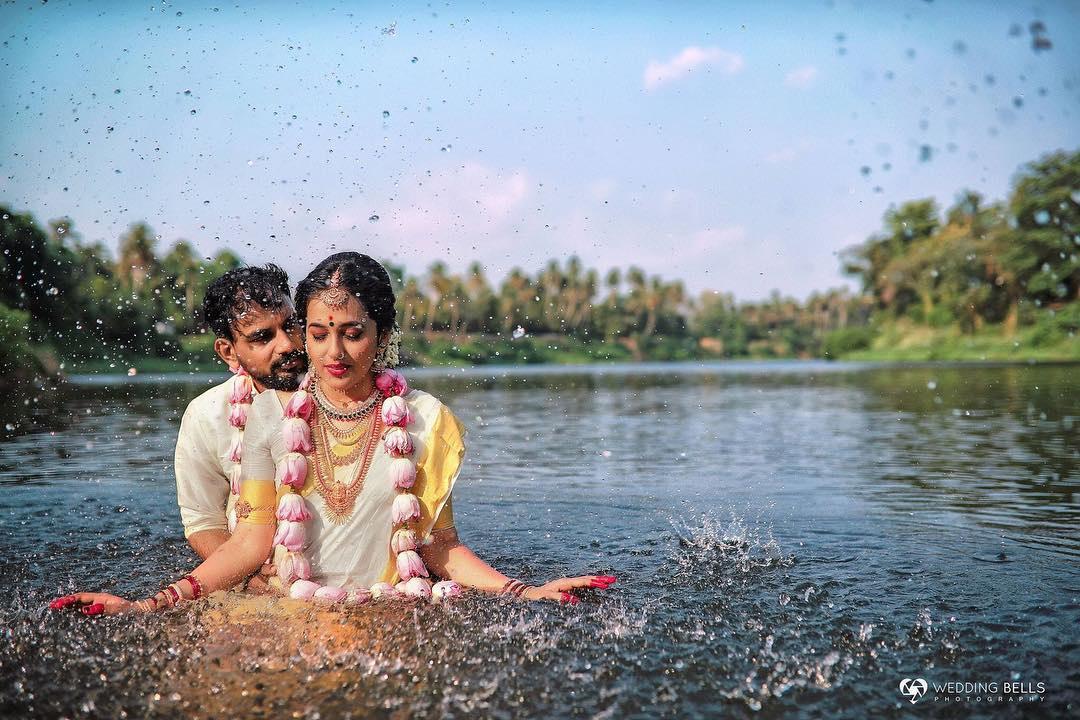 The fun part of the wedding is the photoshoot. The different photoshoot poses for the wedding that you have in mind will be accentuated with the rain! Splash a little at the end of the ceremony and get your romance rolling for the wedding photographer to capture the best moments.
These Monsoon wedding planning tips are the way to go if you are looking for something uncluttered on your hands and a spectacular wedding function. So have a word with your wedding planner on how to bring about this spectacular vision to life. Let your Monsoon wedding be the talk of the town for all the good reasons!
Would you ever consider getting married during the monsoon season? Tell us through the comments!