On A Stand: 5 Umbrella Decor Ideas Worthy Of A Wedding Design
Umbrella decor at a wedding venue? This is how decorators are using this utility as a creative prop for Indian weddings!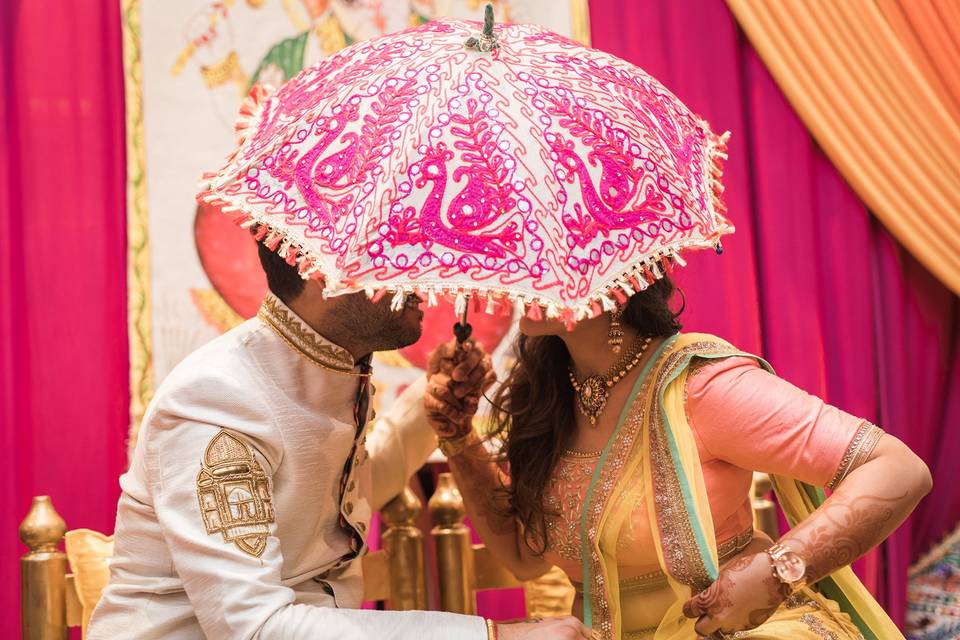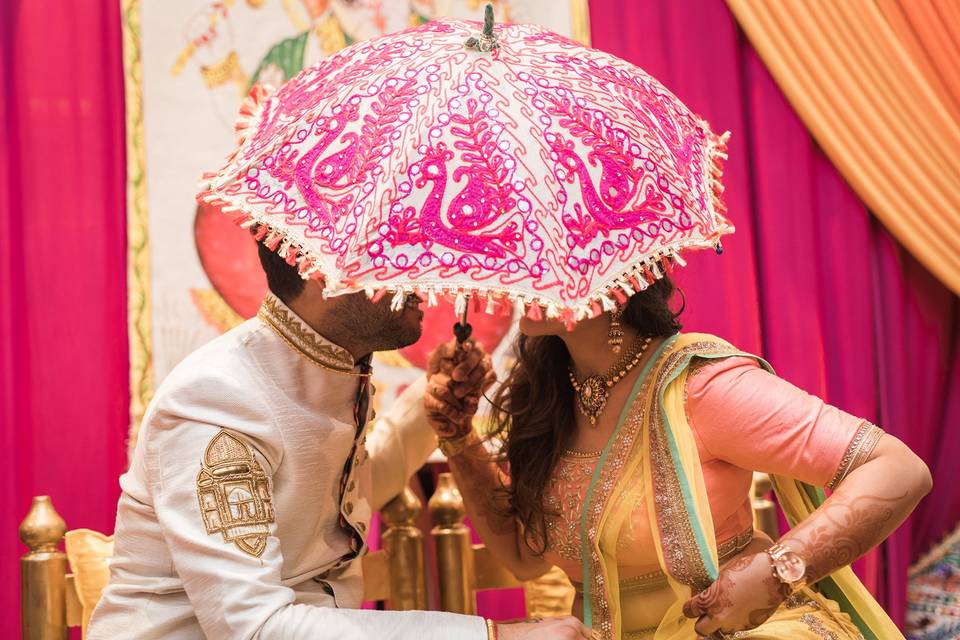 Image courtesy: Dars Photo
Indian wedding decorators are not leaving anything behind to use as a prop for wedding decors. Call it the mood of the monsoon spirit, or the simple versatility of an umbrella as a prop, we are witnessing some serious umbrella decor trend taking over the wedding space. Not just as part of a photo booth, but umbrella decor has taken up the centre stage as well as the statement decor of Phera-Mandap design as well.
Understanding what magic the decorators are currently creating with umbrella decor at weddings, we have shortlisted some of the best concepts that we have as spotted in recent times.
Umbrella Decor Ideas For The Day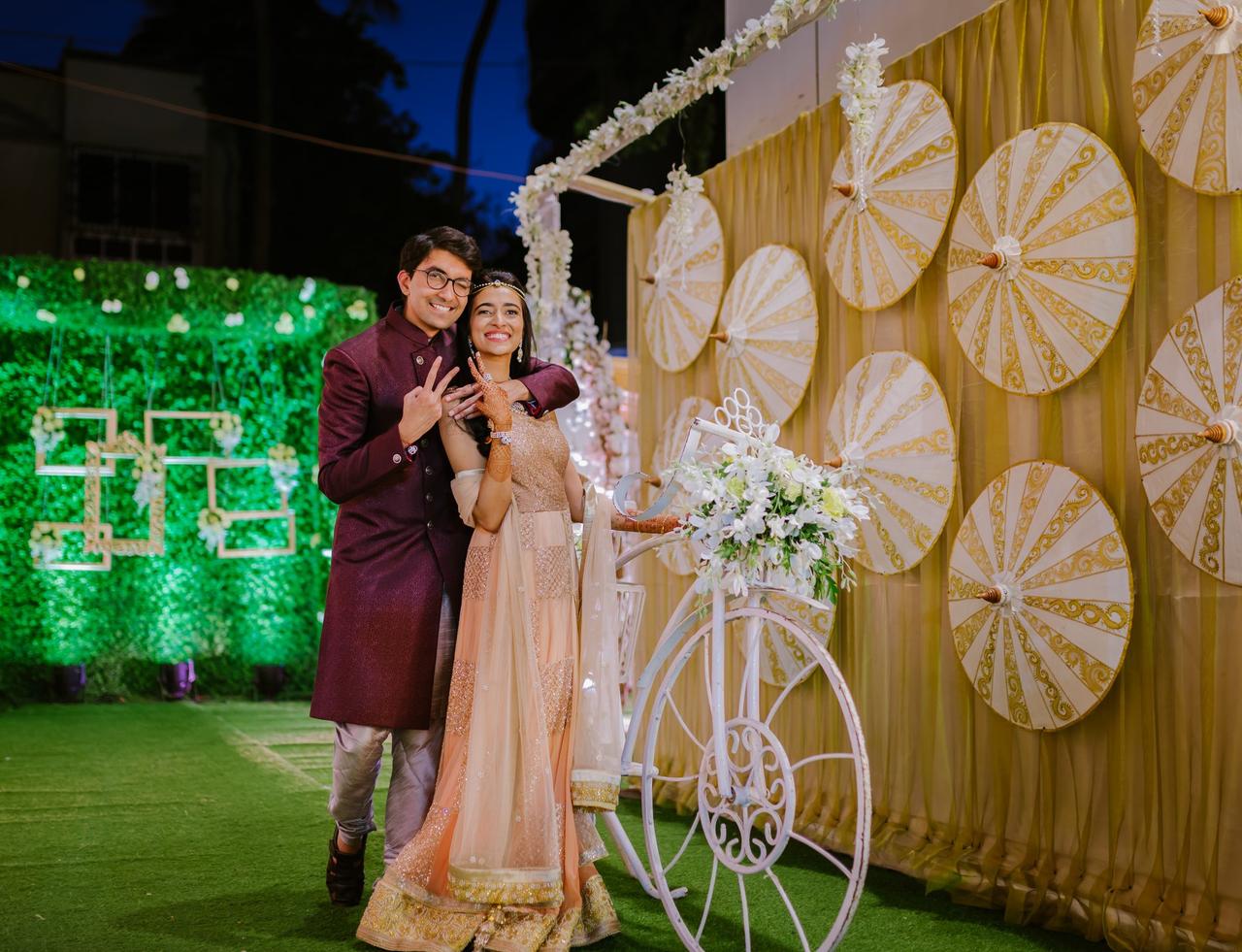 Image courtesy: Manan Mehta Photography
These umbrella decor concepts are fresh, easy to achieve and can work as an inspiration to help you and your decorator modify and apply to your own wedding decorations as well. So take a look and get inspired with these umbrella decor concepts, upside down or straight up!
1. Centrestage umbrella decor
Image courtesy: Ron Solimon Photography
If you want your Mehndi or Sangeet ceremony centre stage to appear full of colours, then you can surely hang a few Gujarati style umbrellas on the ceiling to amplify the overall look. Your decorator can install drapes in complimenting colours to connect the umbrella decor on the ceiling with the floor in complete harmony.
By adding a few umbrellas strategically placed around the floor and a few cushions in the same decorative fashion, your stage will look more lively and aesthetically appealing. Such setups are perfect if you are hosting a pre-wedding Dandiya night for the guests.
2. Oversized umbrella decor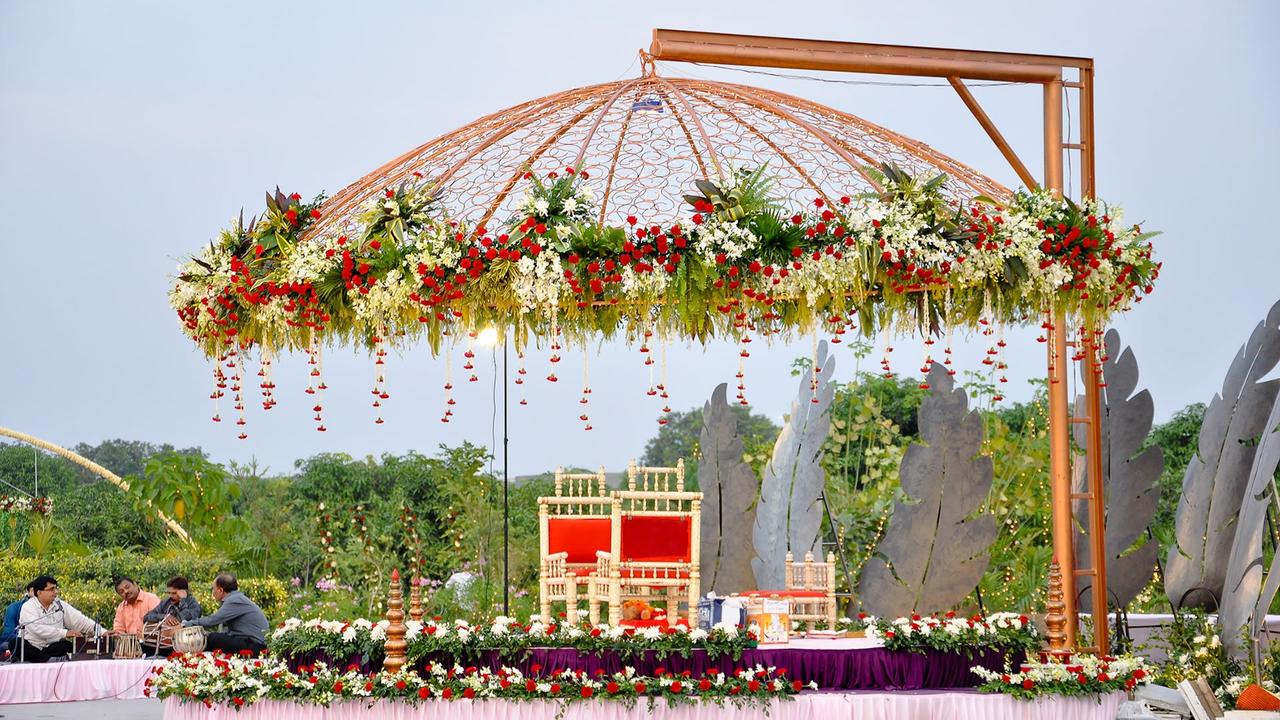 Taking the umbrella decor to an entirely whole new level, we present to you the oversized umbrella decor concept. Achieving this decor will require your decorator some serious planning, but the results will be a breathtaking Mandap to hold your Phera ceremony in style.
This unique oversized umbrella decor concept speaks volumes when you have an afternoon wedding, with the sun being the only spotlight and sky being the beautiful backdrop. You can opt to get the installation decorated with flowers all over, or can go with hanging tassels from the ceiling to populate the hollow umbrella design entirely. While you're at it, make sure that you ask your photographer to take panoramic shots of the entire setup during your Phera ceremony for some unique captures.
3. Floral umbrella decor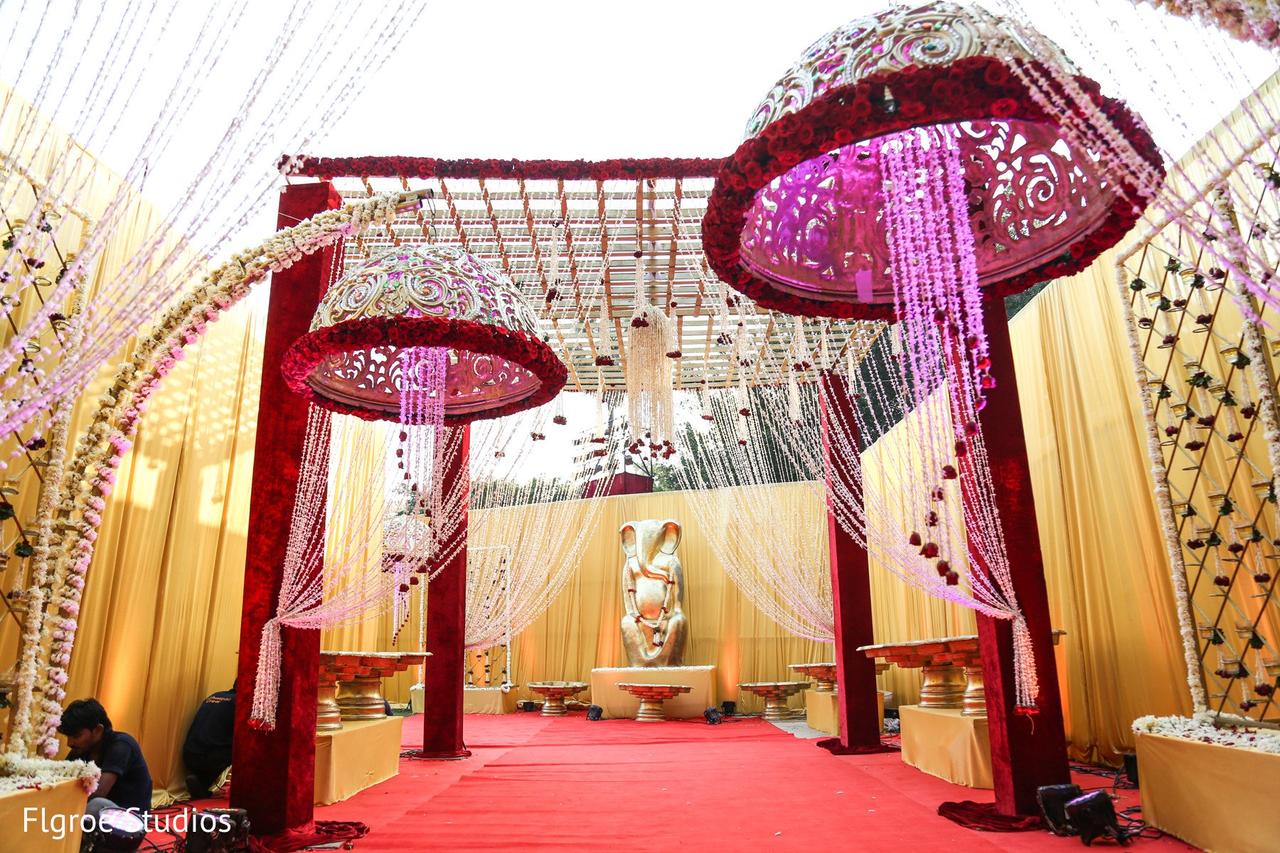 If you are obsessing over florals as your wedding theme, then ditch the regular umbrellas and decorate the skeletons of umbrellas with flowers of various colours and sizes. Giant umbrellas can be used as pillars at the wedding entrance, providing guests with a colourful and floral welcome to the wedding venue.
Use of floral curtains to complement the suspended floral umbrellas is a brilliant way to add intricate detailing to the overall concept.
4. Tribal umbrella decor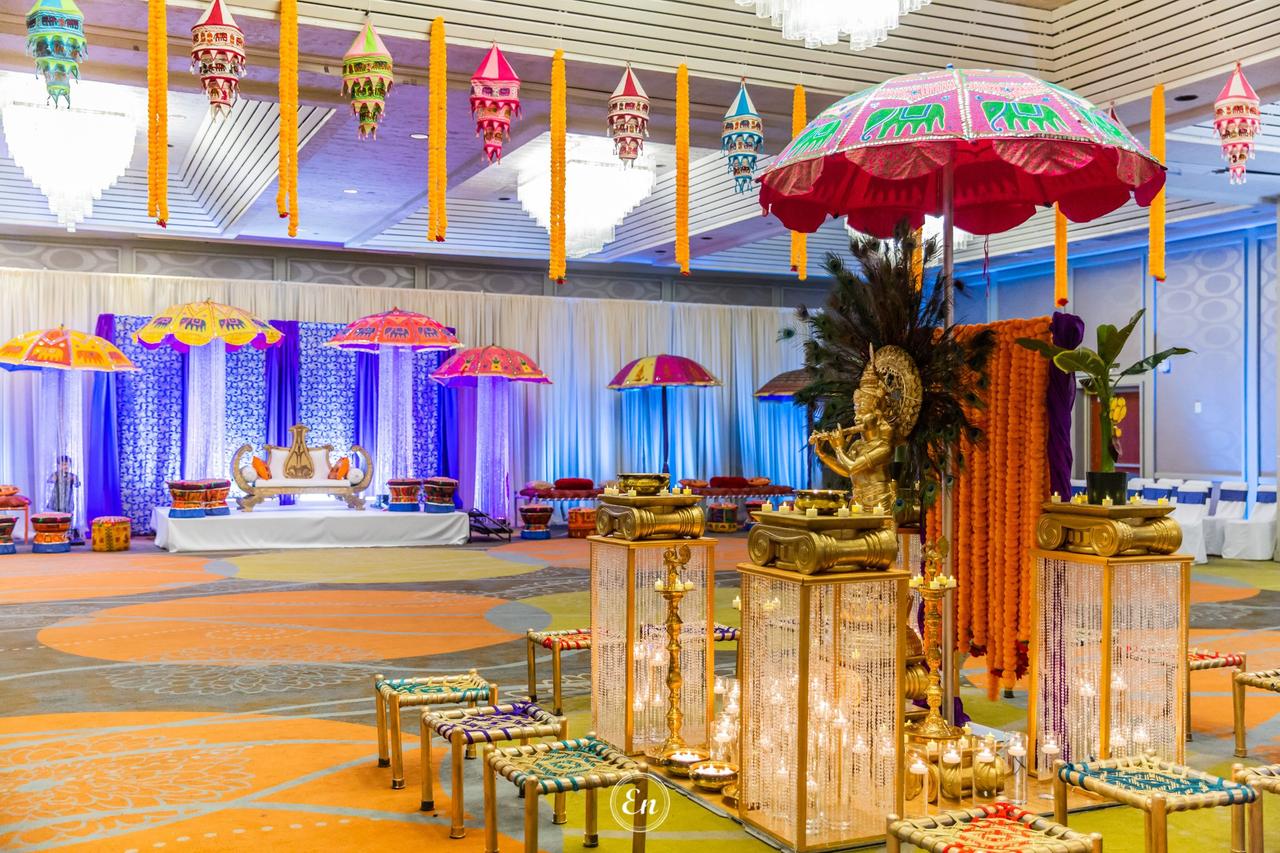 Image courtesy: Ensmuse Photography
For a theme that demands no-shimmer show, a Bohemian Indian wedding theme is a perfect option. In case of umbrella decor for a wedding setup, the tribal theme becomes the perfect glitter-less glamour quotient. Patchwork tribal stitches from Rajasthan in pop colours installed all over the wedding venue will bring in a burst of colours to the setup.
Accommodate marigold flowers along with such umbrella decor to ante up the decor enchantingly! If you prefer pastel tones or solid vibrant tones, then make sure that you ask your wedding planner to use hues of the same colour scheme to light up the entire venue with colourful umbrella decoration.
5. Diffused light umbrella decor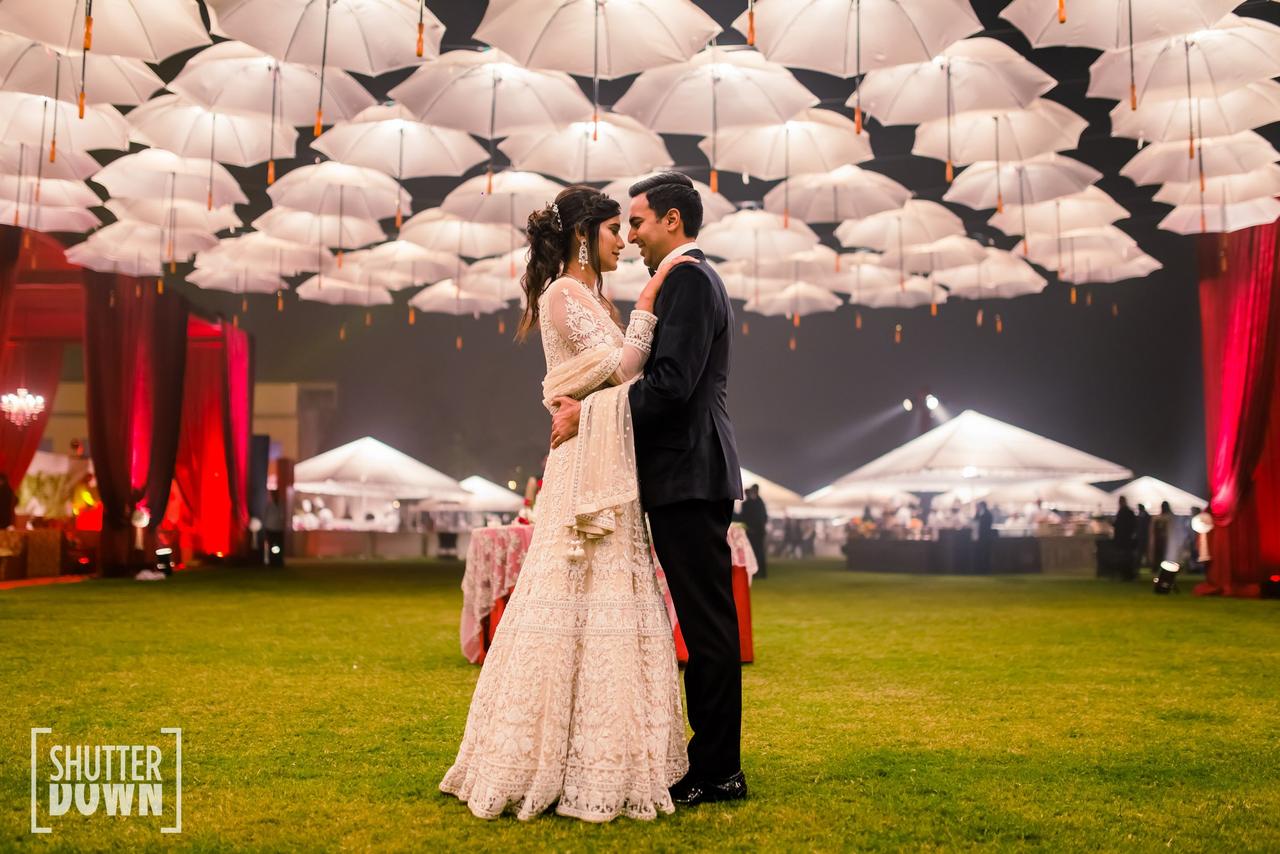 Nowadays, wedding photographers use different types of artificial lights to achieve natural-looking photographs, sans the horror of the harsh flashlight. What if we tell you that this element can be used to light up the entire wedding venue softly? Simply suspend white umbrellas throughout the venue ceiling and install yellow or white bulbs inside them.
The white fabric of the umbrella will act as a diffuser panel, resulting in white light getting emitted all over the wedding venue. Picture perfect wedding venue, isn't it?
There are much more ways in which umbrella decor can be included as a part of wedding decorations. The beauty of an umbrella is that it acts as a clean slate to work on, giving you a chance to embellish or paint it in different colours, depending on the mood of your wedding theme. What's more?
If you go full umbrella/monsoon theme for any of your wedding functions (pick Mehndi ceremony), you can even stock-up decorated umbrellas that can be given as wedding favours to all the attendees of the celebrations. And if you want to take umbrella decor on an exotic spin, replace the regular umbrellas with oriental parasols that are more intricate in appearance.
We have an array of wedding decorators and wedding planners offering excellent services as per the trends and the demand of the client. Browse through our vendor's list to find your match.