Latest & Beyond Ordinary Wedding Seating Ideas for Couples & Guests
If you wish to crack the code of having an impeccable wedding, nailing the seating decor is your cue. So check some fresh-out-of-the-oven wedding seating ideas for you upcoming wedding.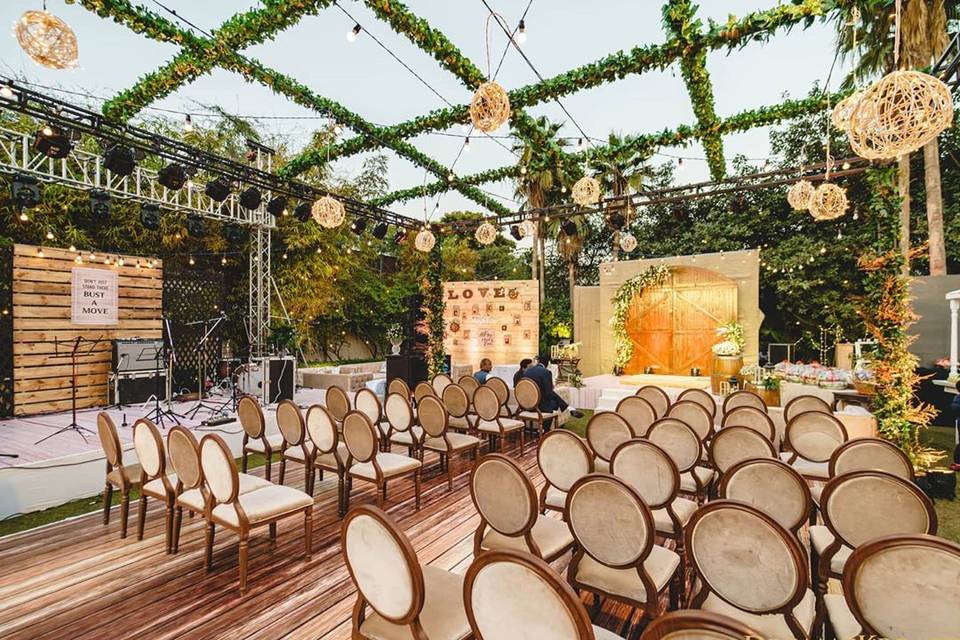 What is the first thing, you think, your guests will notice as soon as they enter your wedding venue? The decor! The wedding decoration steals the first glance and exudes a whole vibe about your wedding, way before your guests are provided with the hospitality and those scrumptious dishes. One such element of your wedding decor that gets a lot of attention is the seating area (for obvious reasons) and that's where you need to pay the most attention too. Whether you're opting for a sit-down brunch party or a poolside mehndi, how you seat yourself and the guests frames the look and feel of your wedding. And there's no reason you shouldn't pay detailed thought into your wedding seating ideas. Every seating setup will require a different approach keeping the aesthetics and theme of your wedding in mind.
Before you go ahead to finalize your wedding decor, here's your dose of inspiration for wedding seating ideas for you! These are designed for couples and guests exclusively.
For Couples
The couple seating gets the most attention from the guests and the shutterbugs and so you must choose your small wedding decor themes and long decor themes and designs particularly. Also, since the couple spends most of the time sitting, your seating area should be nothing less than a dream come true.
Poolside Glasshouse for Mehndi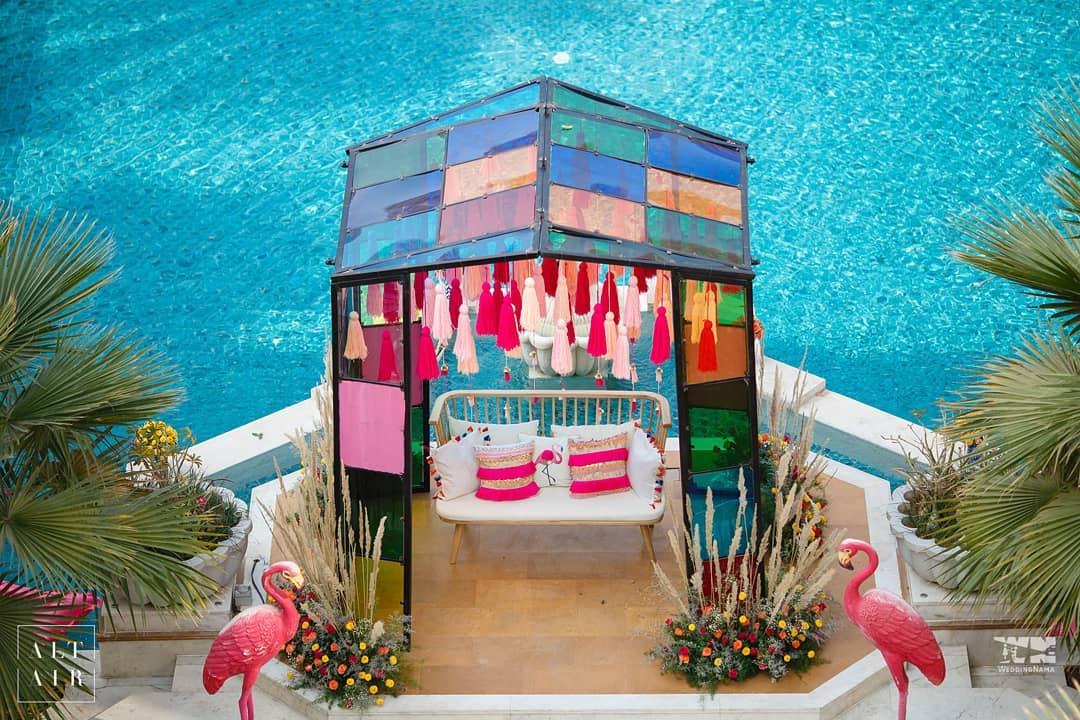 Image Courtesy: Altair
A multi-hued glasshouse setup with tasseled ceiling and flamingo statues makes for the most unique wedding seating ideas we've witnessed in a while. Placed very strategically by the poolside, this mehndi setup is just perfect for your summer wedding.
Bohemian Couple Seating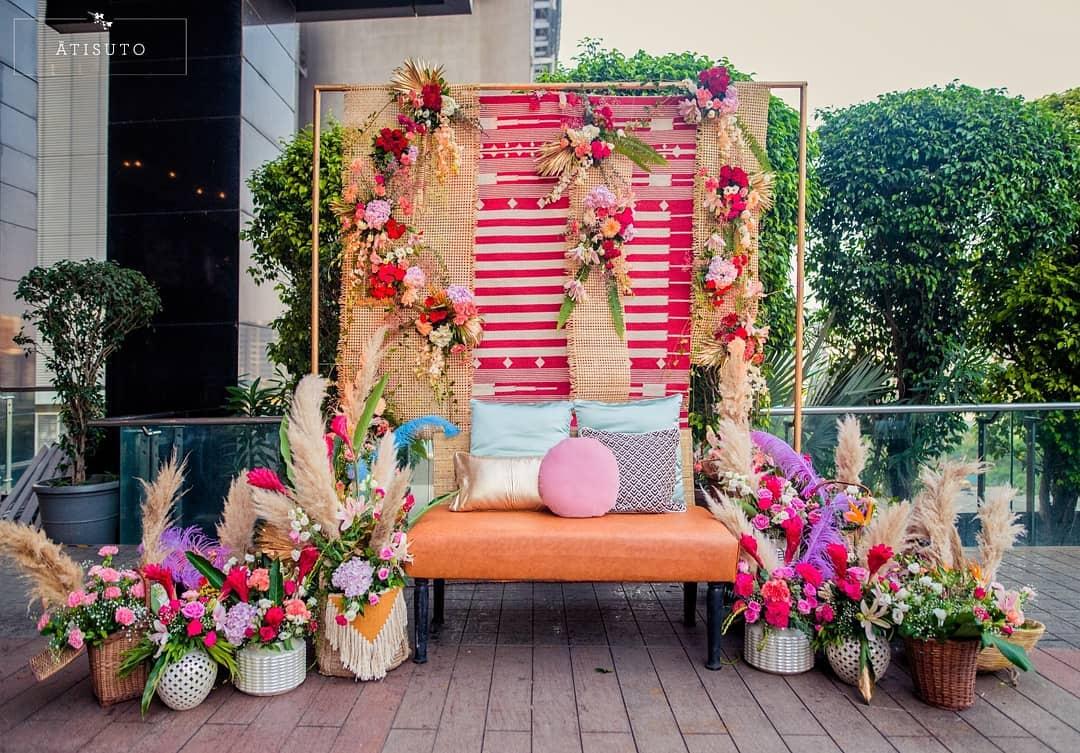 Add a dash of whimsy to your mehndi decor with soft hues and vivid colors. Perfect for free-spirited couples, this bohemian decor setup is an amalgamation of macramé planters, wicker mats, vintage chairs, printed throw pillows, feathers, and gilded lanterns.
Country-side themed Engagement seating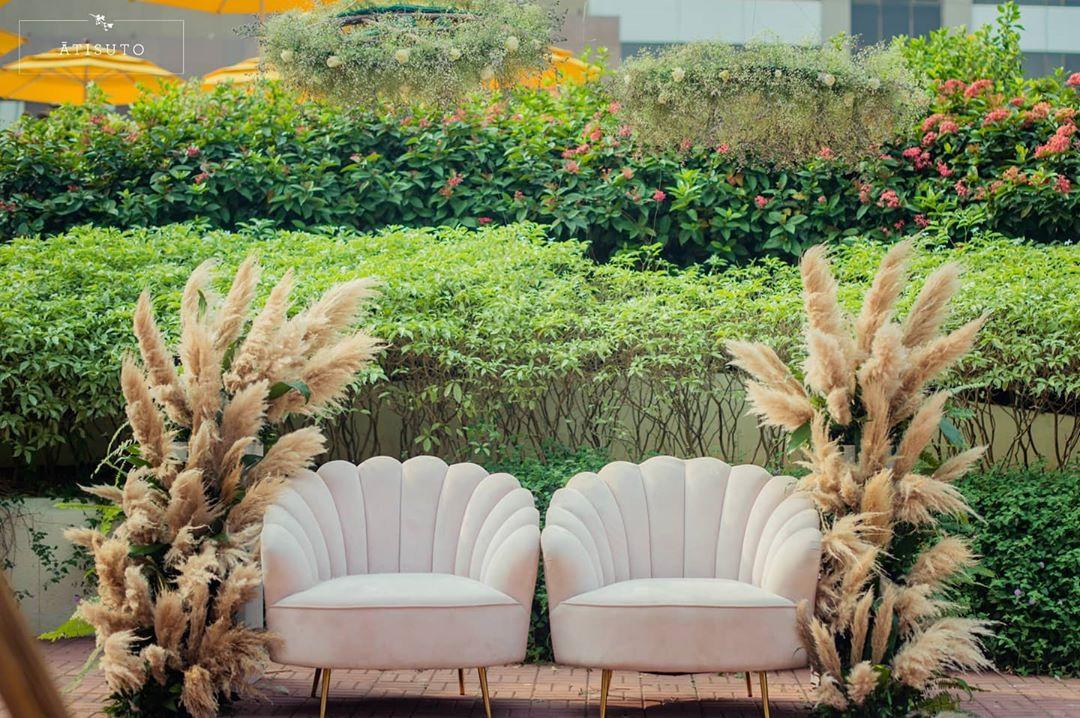 A nature enthusiast's dream, this countryside seating for two arrangements is sure to make you go weak in your knees. The use of natural organic elements like pampas creates a statement that's not easy to forget.
Tropical Vibes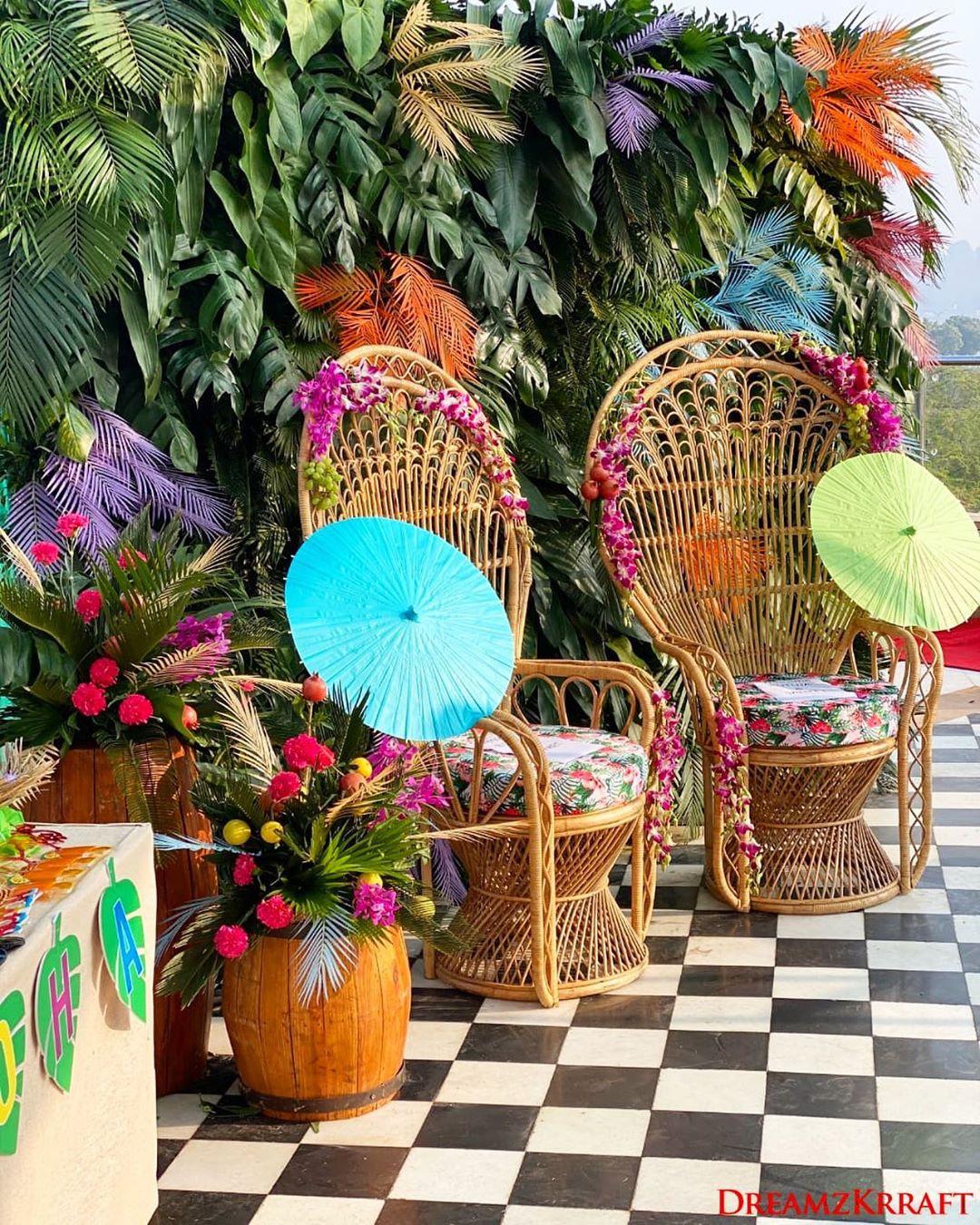 A tropical-themed pre-wedding ceremony is only complete with the right decor like this one. This casual-chic seating with barrels, paper parasols, and bright flowers to add a pop of color shouts tropical-like nothing else.
Rustic Wreath Seating for Couples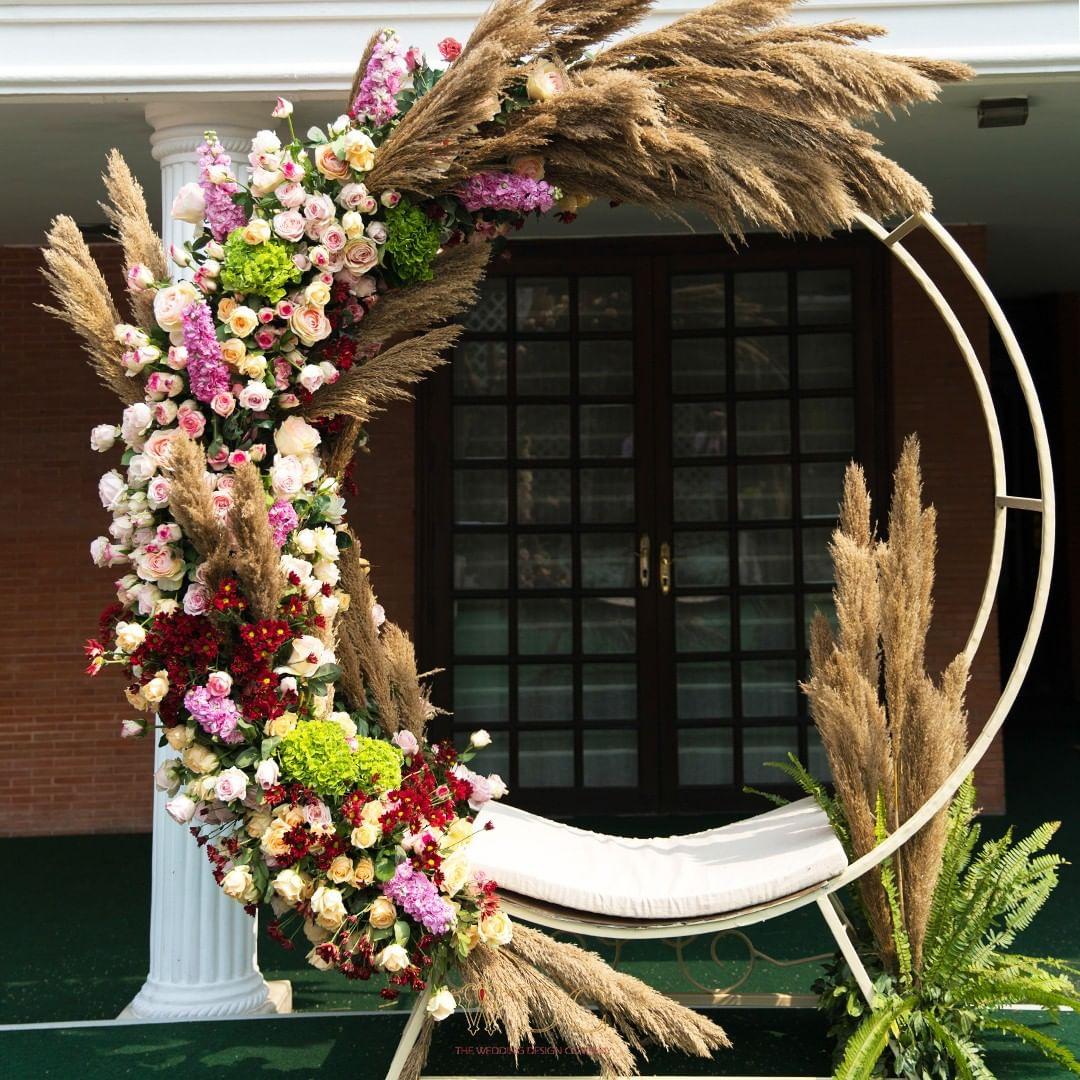 Coachella came early with this blossoming wreath couple seating. The fun, interactive and chic design is sure to strike a chord with everyone who admires the ferns and florals.⁠
Read More - The Wedding Decoration Trends You Need to Know for an Intimate Wedding
Marigold Jhoola Decor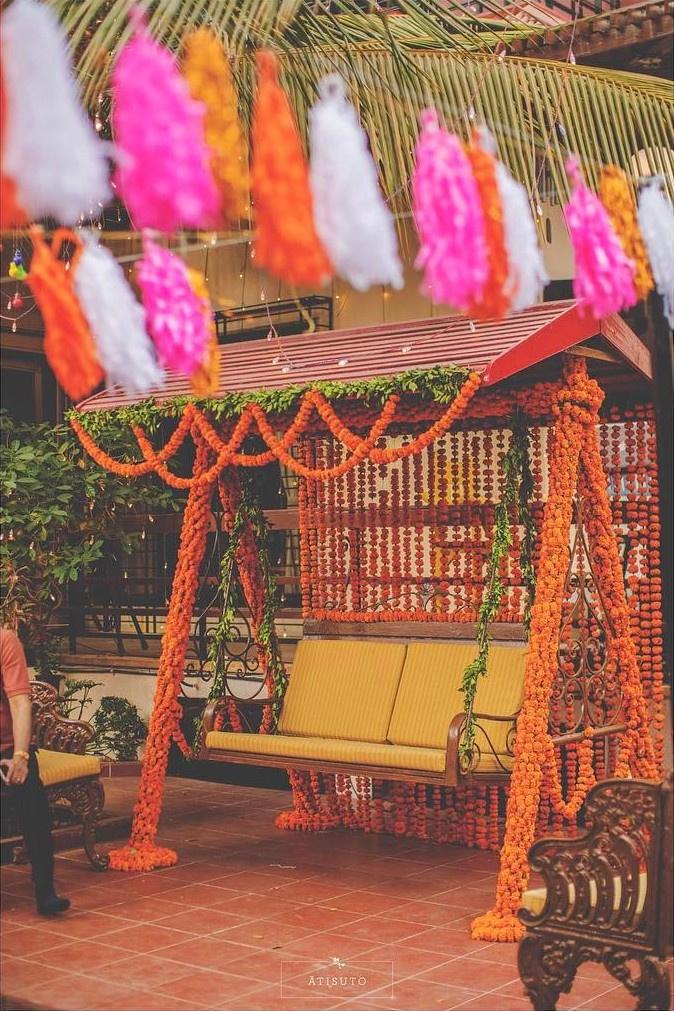 One of the most popular Marigold Flower Wedding Decoration ideas is to use them on Jhoola decor. Jhoola decoration is quite a raging trend among couples especially carried out at Mehndi functions. The rustic-looking wooden Jhoola decked up with orange flowers and coordinated drapes spiraled throughout the stands- that's an all-time classic favorite decor idea you must consider!
Read More - Breathtaking Marigold Flower Decoration Images for Wedding
For Guests
Weddings in India are not events but experiences and every experience counts. If the couple seating decoration is of top-most priority, the guest seating experiential should be of second-most priority. From cozy cabana seatings to poolside lounging areas, check out our most favorite wedding seating ideas for the guests.
Soakin' on the Beach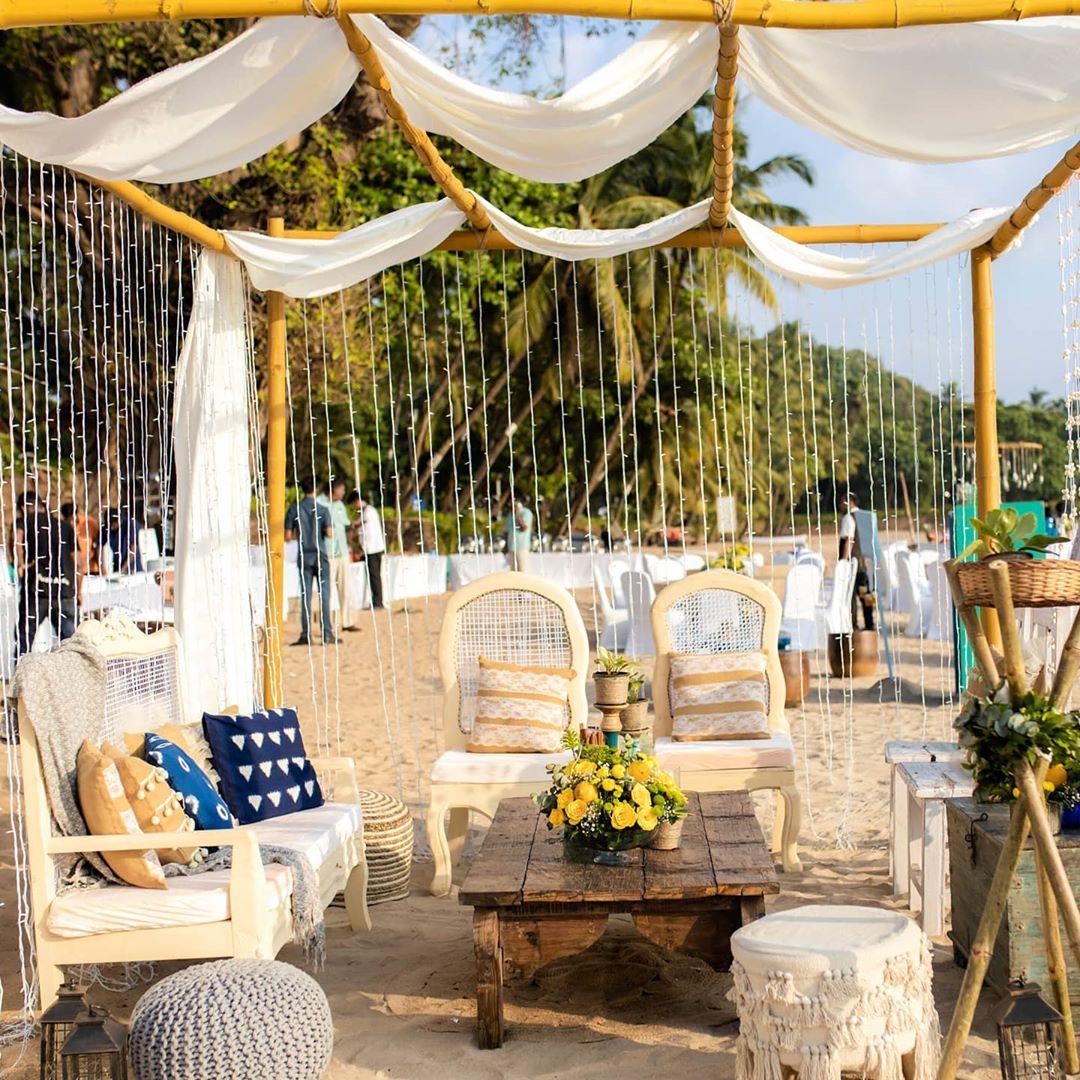 Everyone loves beach weddings and it's a cherry on the cake when it's right at the beach. Make the best of your beach-side ceremonies by having decor that sets the mood right and matches the beachy vibe. We're gawking big at this eclectic seating decor with wooden sofas and knitted poufs; set up for a pre-wedding ceremony that also involves sandy toes and salty hair.
Read More - Top White Wedding Decoration Inspirations
Fairy-lit Cabana Seating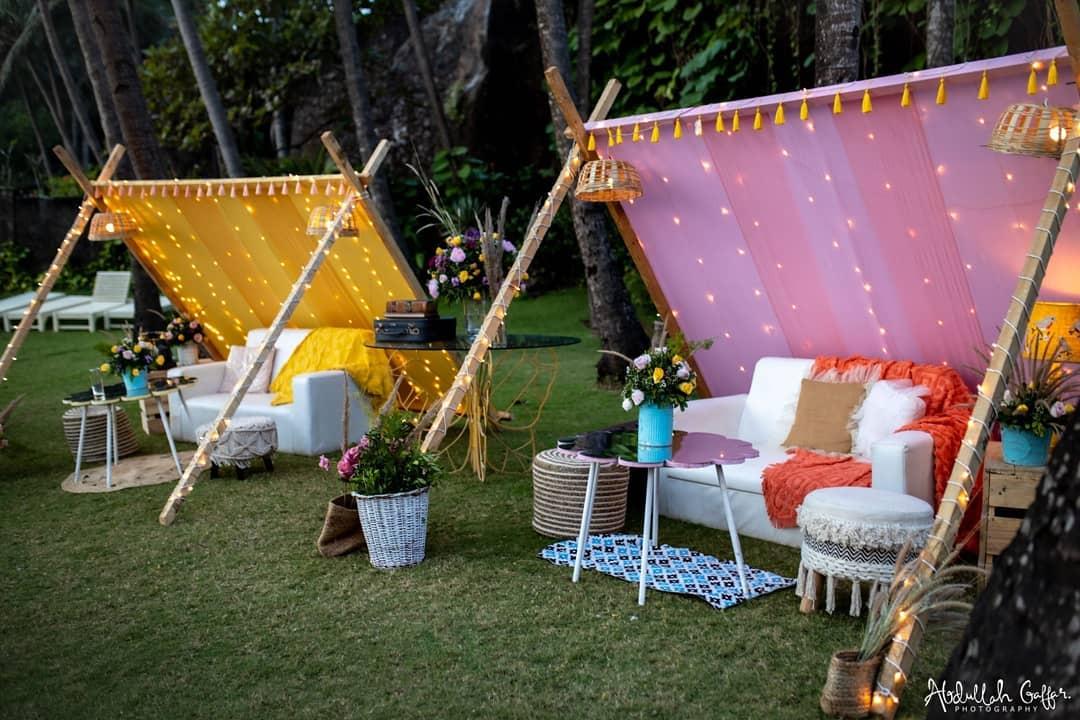 Spill magic all around by choosing a fairy-lit cabana-style seating space for your mehndi-cum-sundowner party and watch your guests frolic around like no one's watching because you know that's the reason weddings leave a non-erasable mark. Don't miss out on those little jute baskets hanging upside-down and suitcases used as table attractions. unerasable.........l,
All about Pouffes & Cushions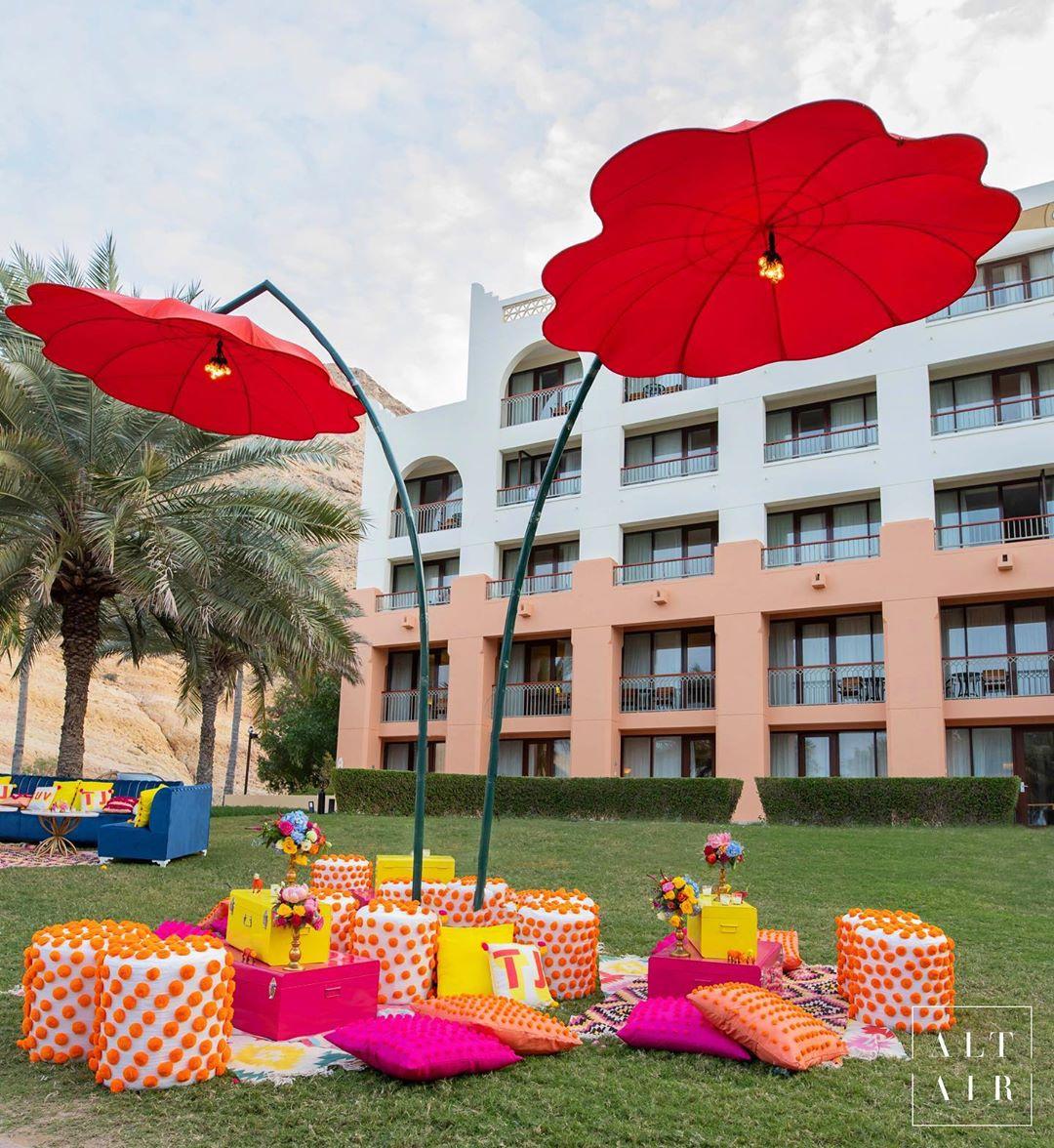 Image Courtesy: Altair
While there is nothing more Indian than the pink, orange, and yellow mehndi decor, take the classic mehndi decor a notch up by using the same color palette to display something exceedingly impressive.
Poolside Chill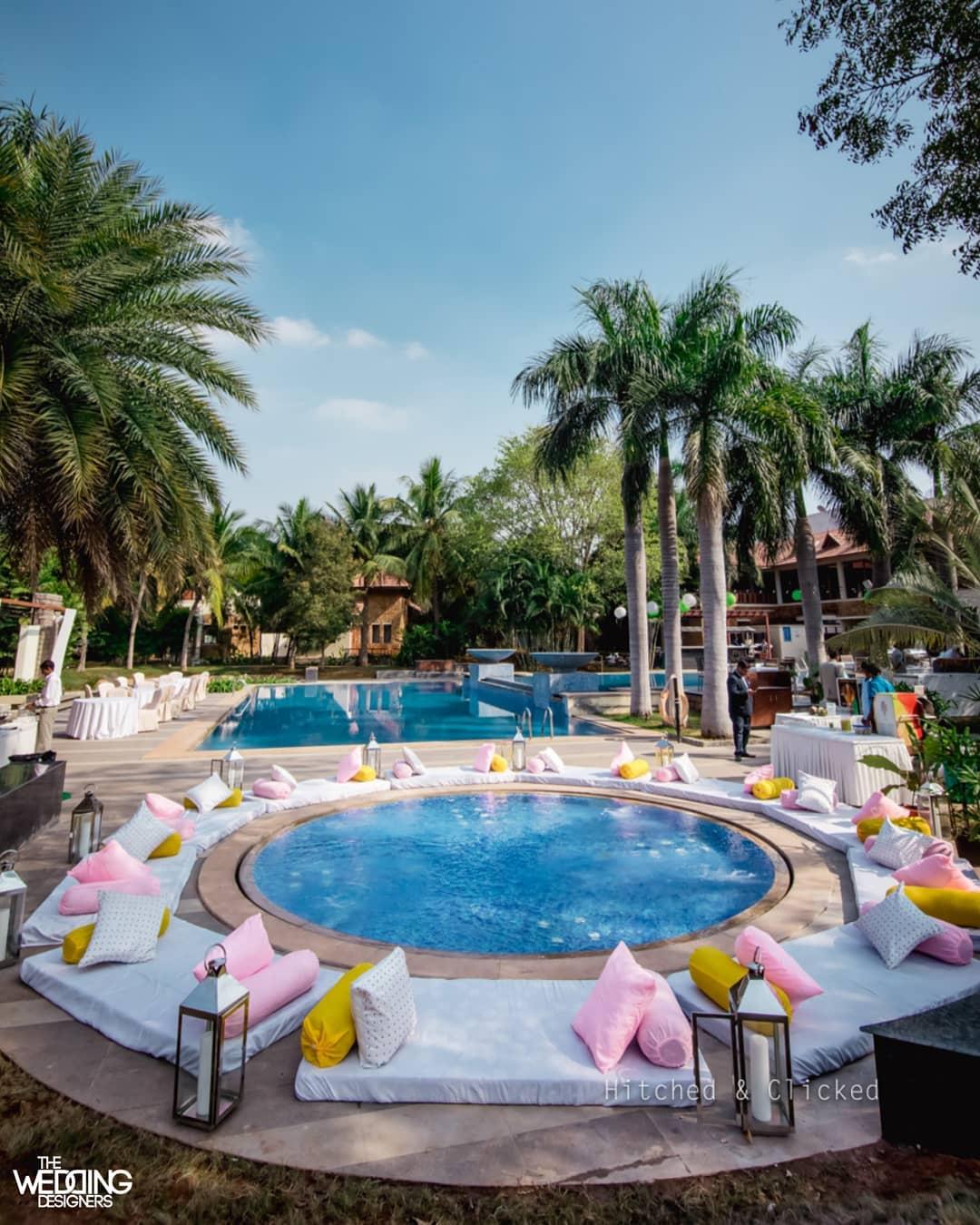 Drenched in sorbet colors, rustic lanterns, throw cushions, this pool-side seating decor is sure to burst life into your wedding events. Be it a Mehndi ceremony or sit-down sangeet, this decor setup has you covered!
A Printed Affair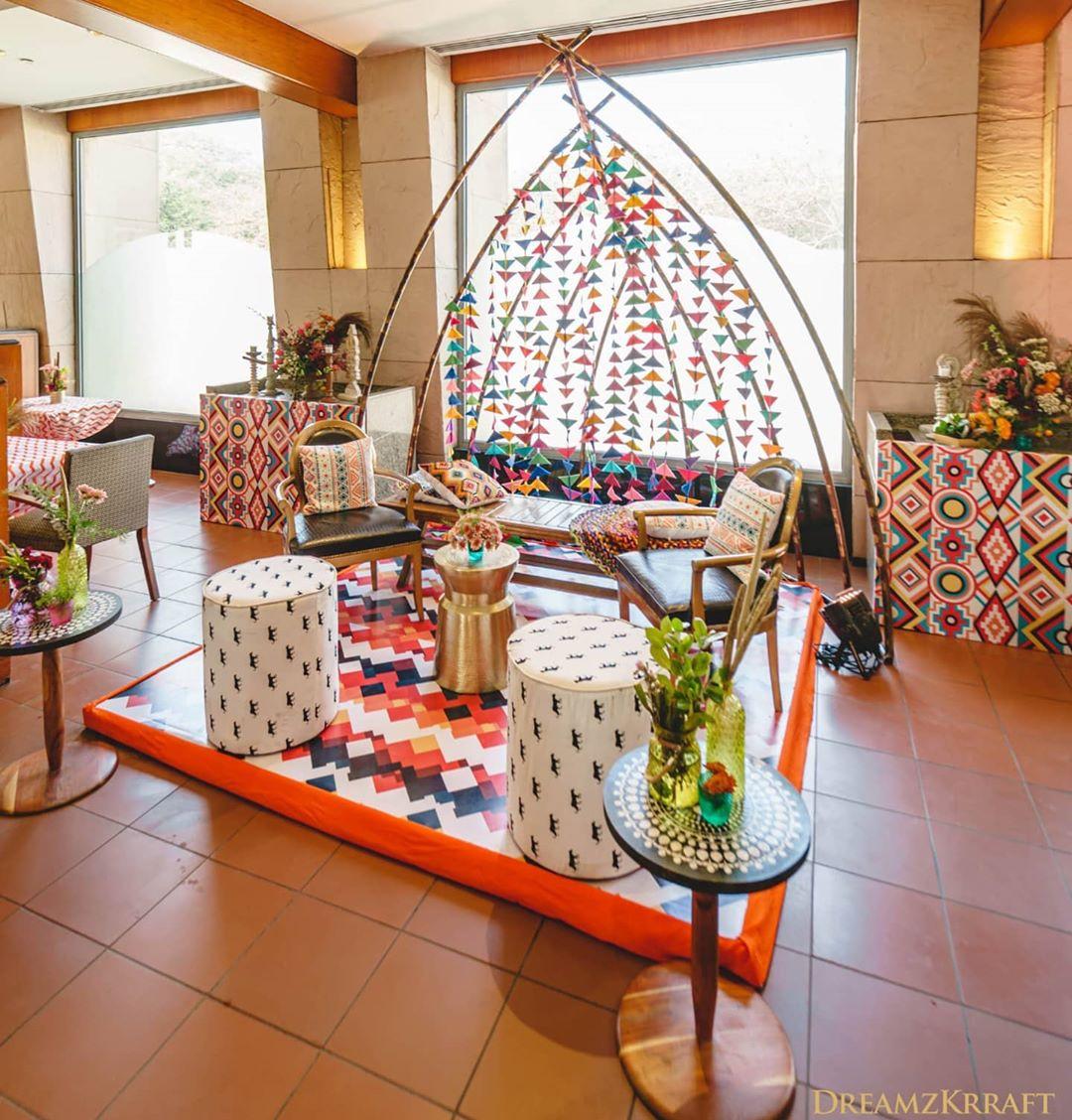 An indoor ceremony can be as much fun as the outdoor one if you got the decor right. We're in love with this Mehndi ceremony decor where there is a party of pop color and vivacious prints. From abstracts to Aztec, there's nothing not to love about this vibrant decor situation.
Pristine Anand Karaj seating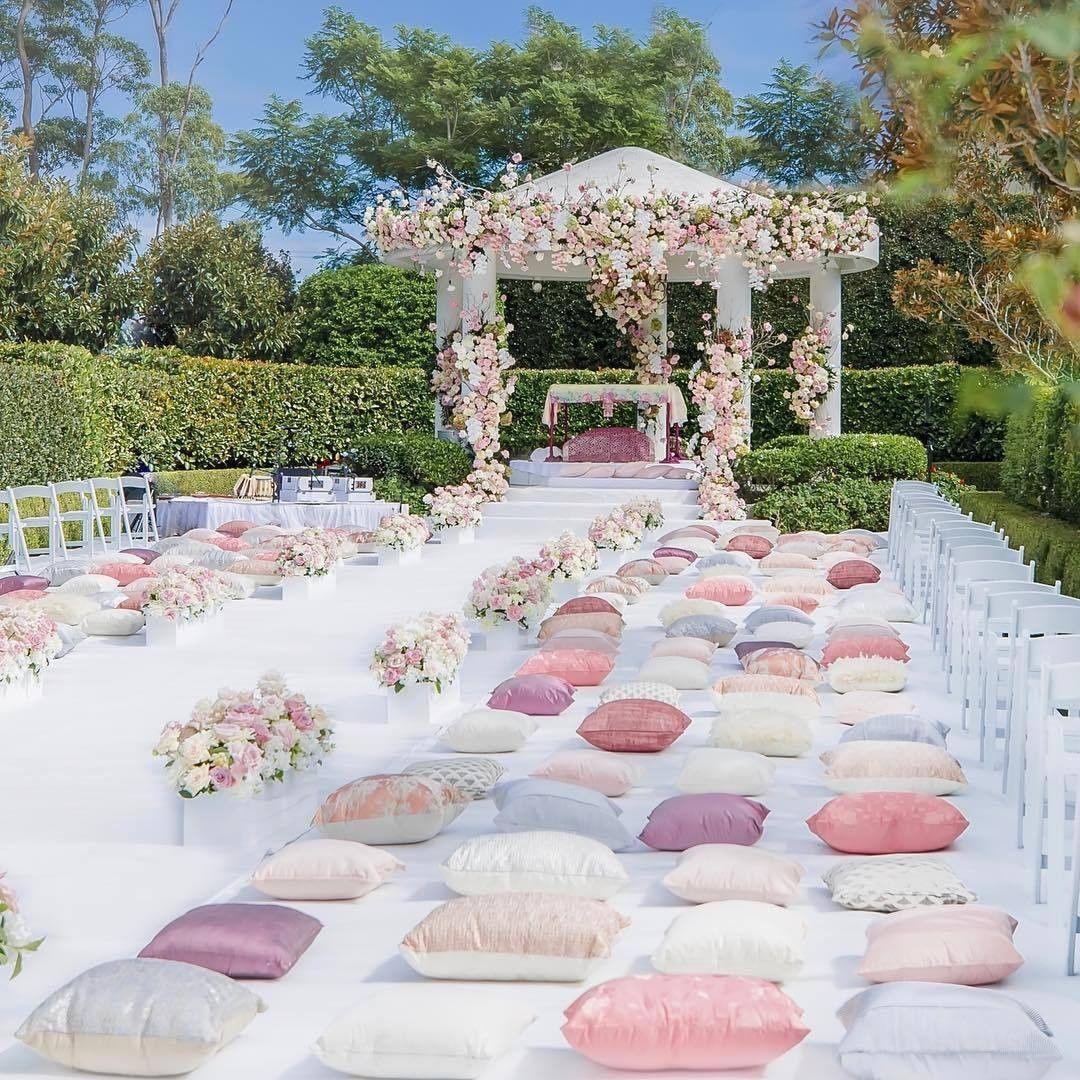 Image Courtesy: Diane Khoury Wedding & Events
The Anand Karaj ceremony is one of the most blissful ceremonies and if you're having an Anand Karaj, your decor needs to express that. If you are thinking there's not a lot that one can do, we can prove you wrong here. Take cues from this surreal floor-seating setup beautified with casually thrown cushions in different pastel hues.
Open-canopy seating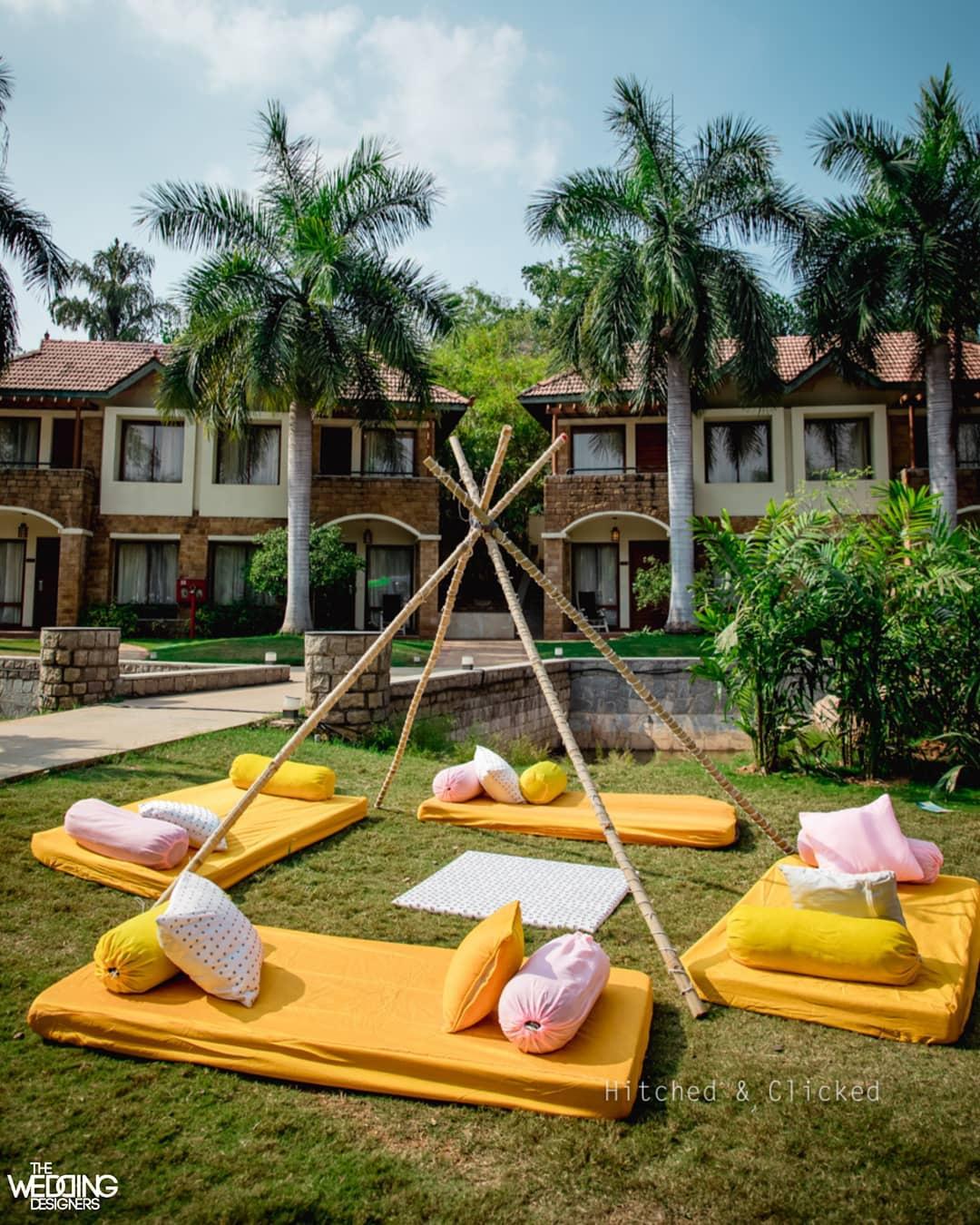 Hosting an easy-breezy mehndi ceremony? An open-canopy seating decor is just what you need. With bolsters and cushions setting the mehndi mood right, all you need is some white one and cheese table placed in the center to take your mehndi celebration to undiscovered heights.
Vintage Woods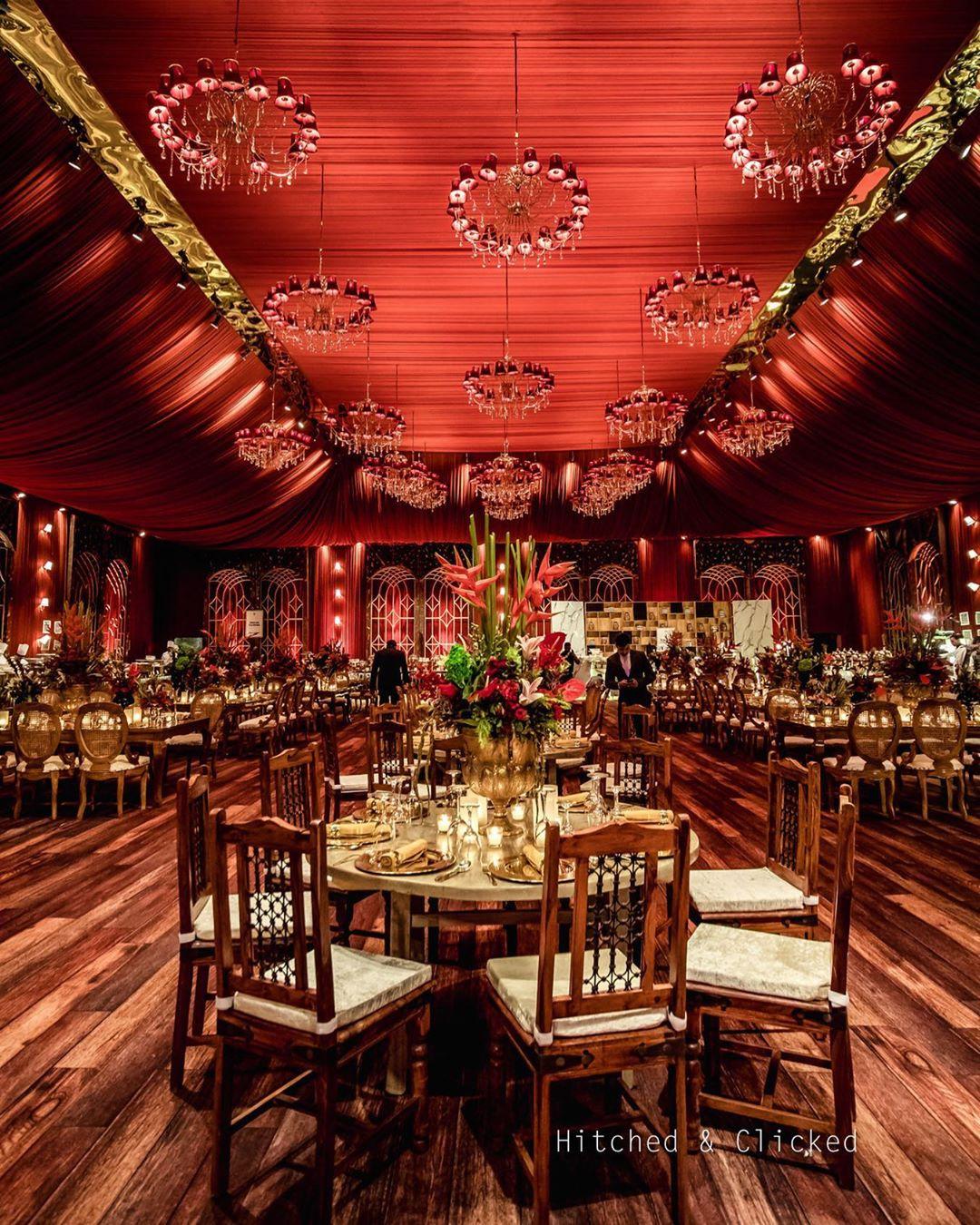 Image Courtesy: Tanvi & Co.
Wooden flooring, vintage chairs, and silverware–everything you need to dine like the royalties and give your guests a once-in-a-lifetime kind of experience. This vintage-inspired Sangeet decor is everything right now! Who wouldn't want to attend this wedding?
It only takes a strong decor game to make your wedding a hit amongst your guests and/or on Instagram (if you're wanting to grab some eyeballs!). But that doesn't necessarily mean the decor needs to be grand or exorbitant. Wedding decorations don't always have to burn a hole in your pocket to grab attention, it only needs to tug at the heartstrings and be remembered in unfadable memories.
Bookmarked your favorite wedding seating ideas? Now, book the best wedding decorators to bring your dreams to life!