Simple Jhoola Decoration Ideas for a Fragrant Mehndi Ceremony
Mehndi ceremony is a colourful wedding function. So should be its decor. Try these gorgeous Jhoola Decoration ideas to jazz up your Mehndi with vibrancy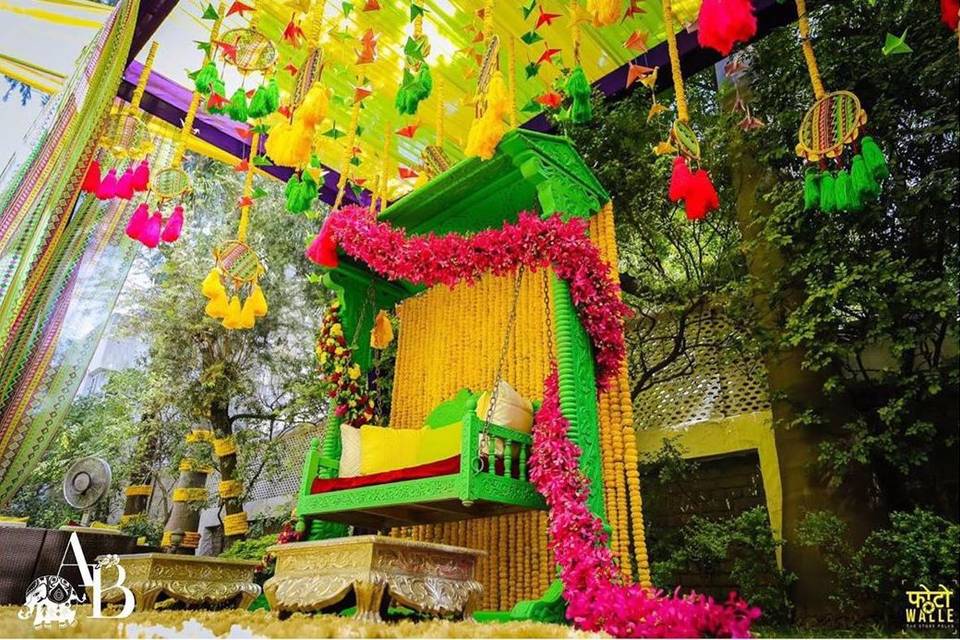 The smell of freshly ground Henna, the bright coloured Mehndi outfits, the colourful kite decoration and some foot-tapping Mehndi songs playing at the background; the whole ceremony is all about vibrancy and cheerfulness. Everyone present at a Mehndi function looks happy. The entire venue is filled with laughter and merriness and of course the inevitable long list of food menus from snacks to sweetmeats.
Therefore, the Mehndi decoration too must be in perfect tune with the overall vibes. A Mehndi Jhoola is one such tradition as well as trend that has added more colours to the event. So how about we look at some lovely Jhoola decoration ideas and for inspiration?
Marigold Streamers & Dreamcatchers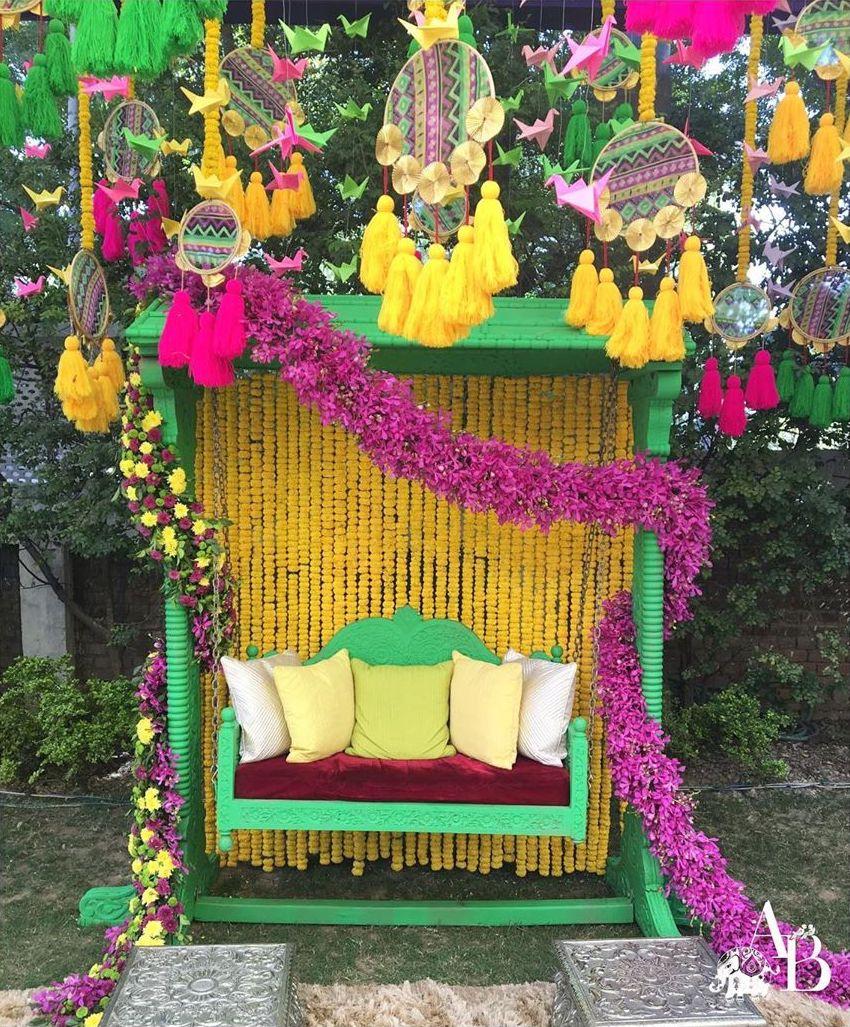 Simple yet elegant! One of the most popular Jhoola decoration designs is the ones involving marigold streamers. Choose a Jhoola with creative designs engraved on it and let the subtle flower decoration do rest of the job. The intricate work on the green colour bridal seat, the rani pink and yellow flowers and the dreamcatchers hanging above make this Mehndi set up look like a dream!
Some important names: The Wedding Curator (NCR), Marigold Pages- The Wedding Company (Mumbai), Occasions Events & Wedding Destinations (Jaipur).
Pastels with Painter's Palette Flower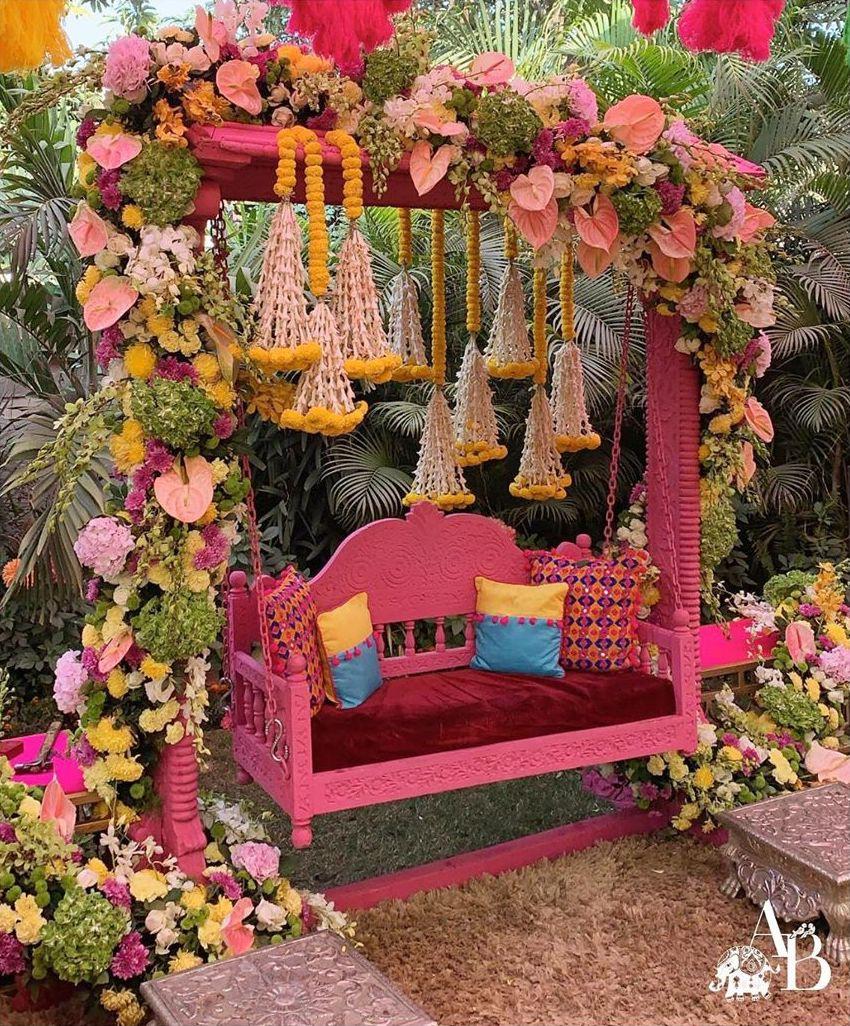 Here's a genius Jhoola decoration idea for your Mehndi function! The colours of the swing and the flower decoration do all the job you need to do for a pastel Mehndi decor. The pink colour Jhoola with gorgeous hand-crafted carvings has been further decorated with yellow, peach, pink and white flowers. The use of Painter's Palette flowers is just about enough to accessorise the Jhoola and not overpower its original design. Make sure you choose your Mehndi outfit keeping these colours in mind!
Some important names: Amor Paradise Events (NCR), Buoyance Wedding Planners(Kolkata), Sai Decorators (Vadodara).
Jhoola with white flowers & ferns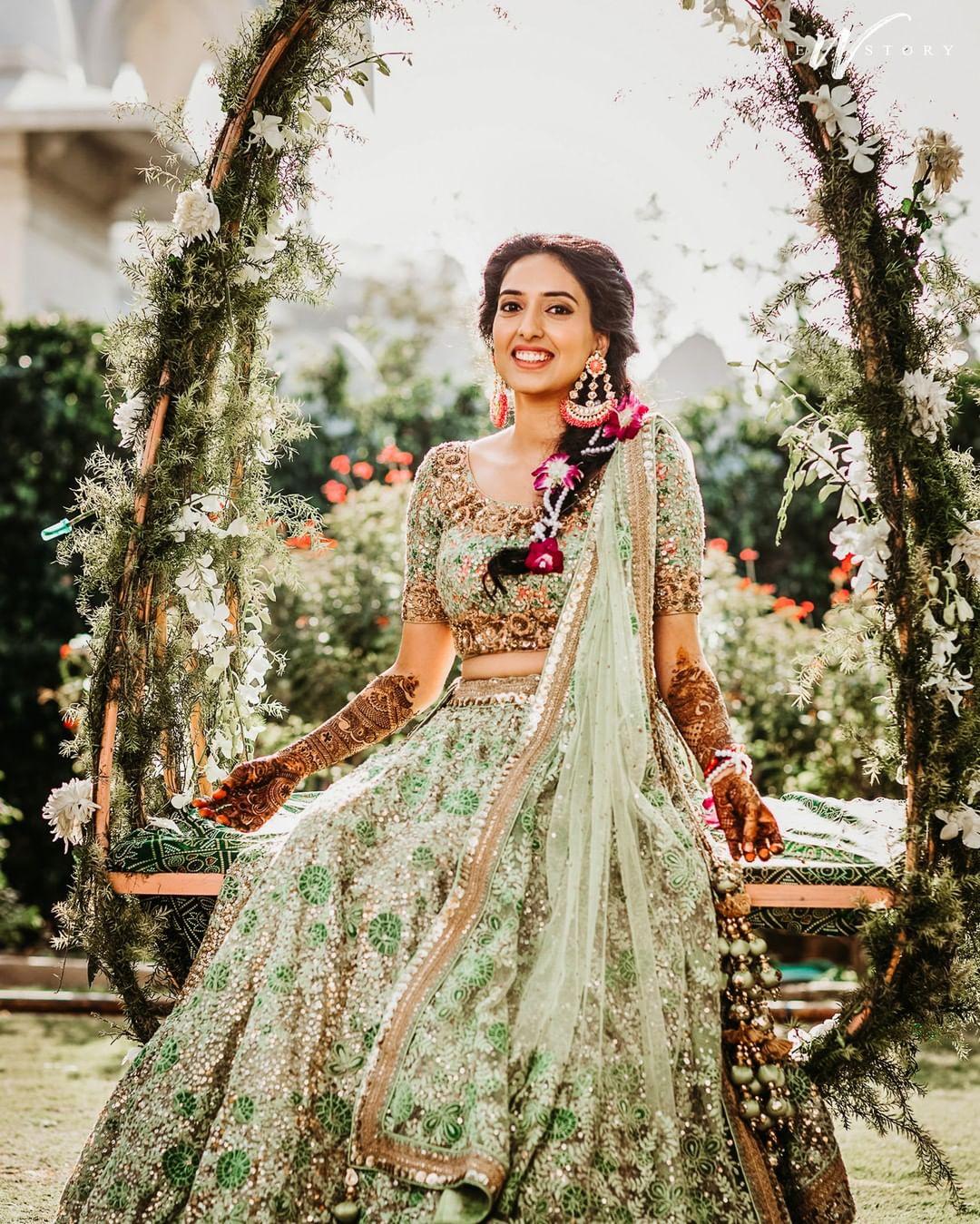 Image Courtesy: The Wedding Story
If you're looking for some rustic theme Jhoola decoration ideas without using too many flowers, try this. This rustic Jhoola itself looks extremely chic and simple. It's important to decorate that particular colour of the swing with the right shades and materials. Wrap up the Jhoola stands with ferns and single flowers. Cover the seat of the Jhoola with a green dupatta matching with the background green dupatta decoration.
Some important names: Wander Weddings (NCR), The Event Diaries (Kolkata), Shanvis Event (Jaipur).
Marigold overdose!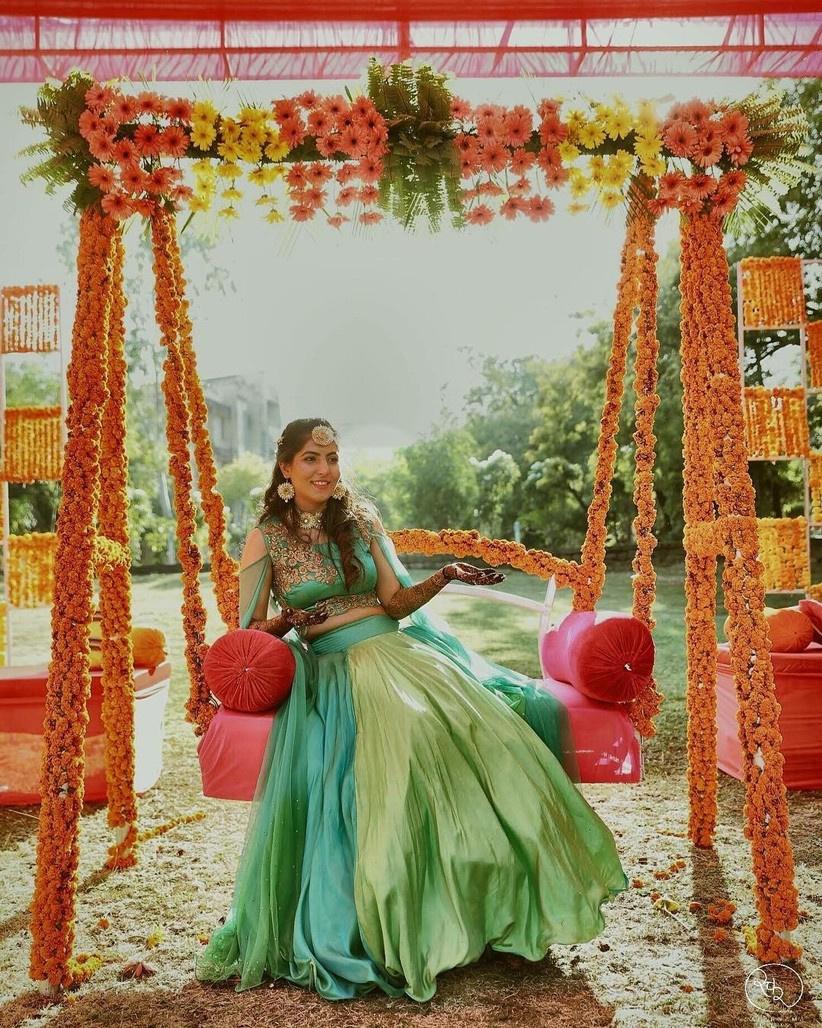 This one is for those who believe in "more the merrier" saying! Let your Jhoola decoration be all yellow! Go OTT with marigold- yellow and orange and simply cover your entire Jhoola with fragrant flowers. Combine orange and yellow to wrap the swing stands, cover the roof of the Jhoola with yellow flowers, create broad layers of yellow marigold around the thick pillar on each side. Choose pink cloth or dupatta to cover the seat. You could use a few other flowers around the edge of the roof for some variation.
Some important names: Karyakarma, Rohini (NCR), Diya Events (Ahmedabad), Satya Sai Decorators (Indore).
Vibrant Gerbera & Lotus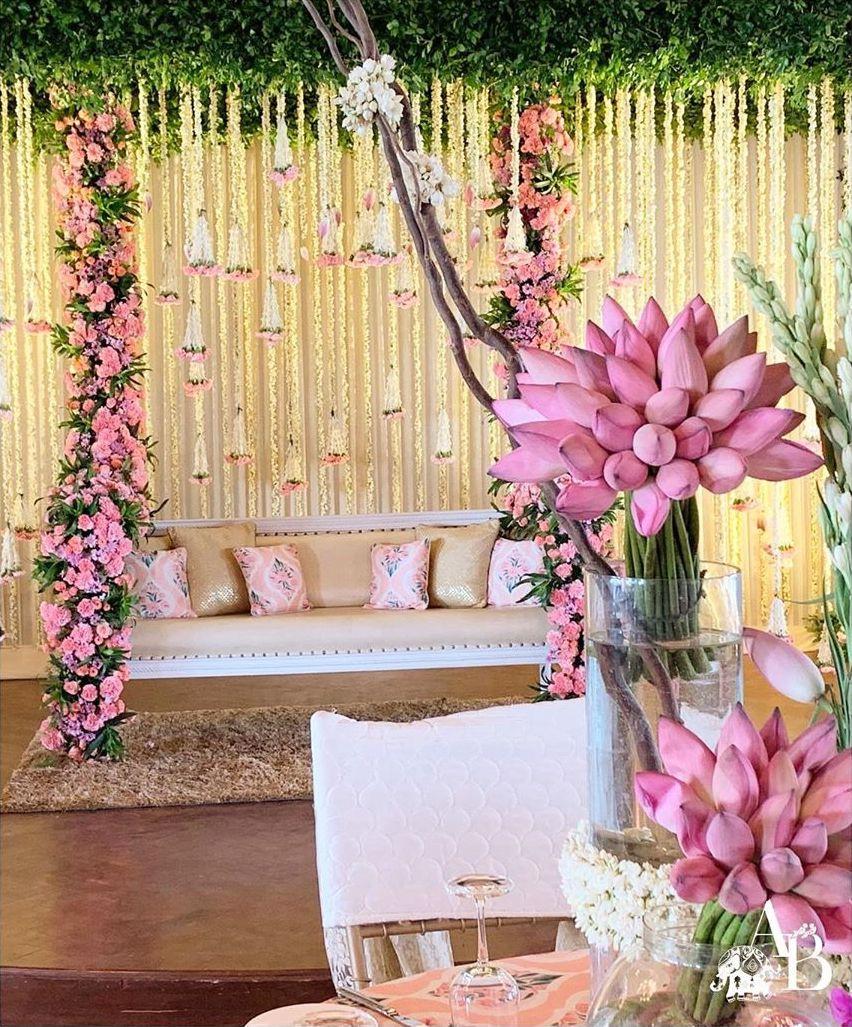 Using roses for weddings is almost traditional. So how about mixing vibrant pink gerberas with soft pink roses for your Jhoola decoration? If you're a fan of minimalist decor styles, this one should top your list! The cute combo of mogra and gerberas on a simple, white Jhoola covered up with matching pink and beige cushions will add the perfect amount of serenity in your Mehndi decor. Place some flower pots beside the Jhoola with half-bloomed lotuses. You can also use artificial flowers instead of real ones.
Some important names: Gayatri Decorators (Ahmedabad), Elysian Weddings (NCR), Florista (Mumbai).
Arch Jhoola with roses & leaves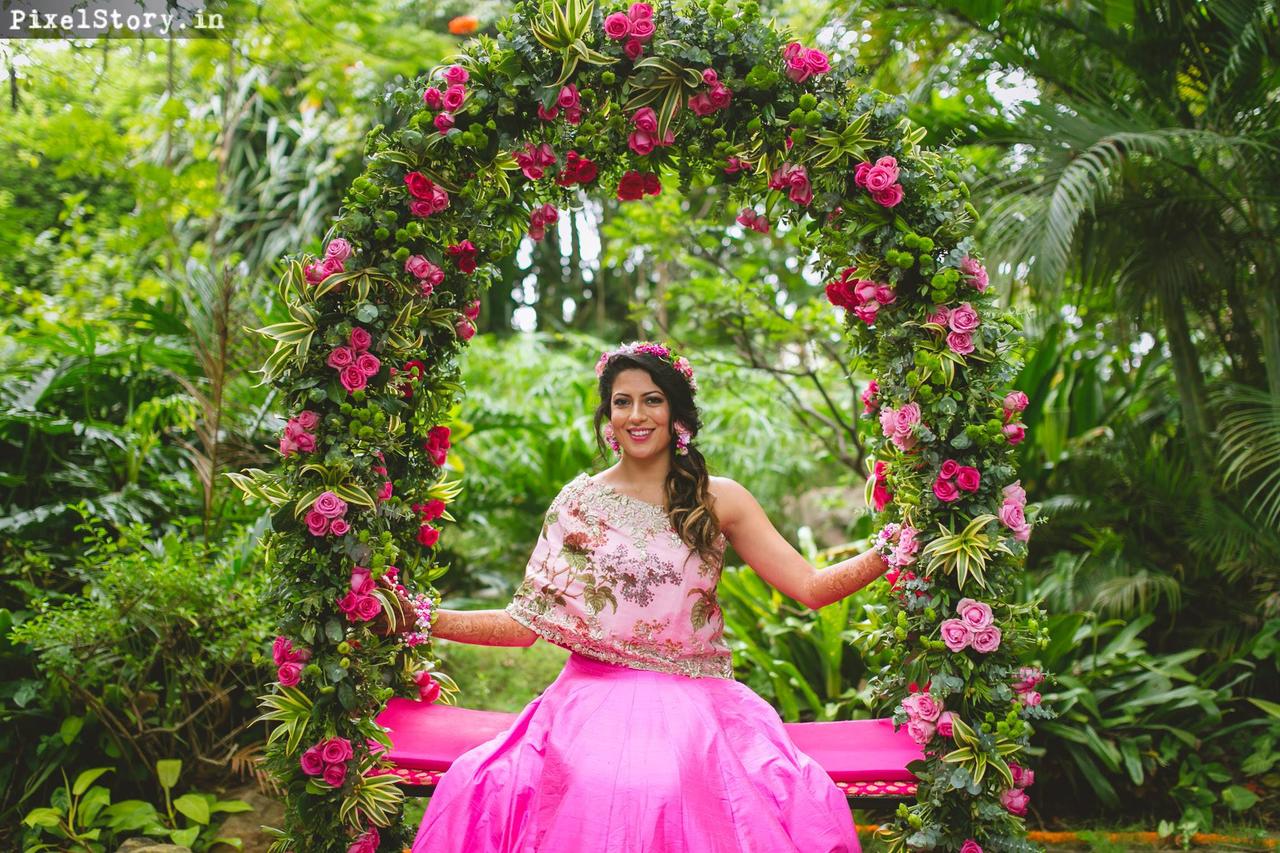 Dreaming to have a fairytale wedding? Then this is the kind of Jhoola decoration you must go for on your Mehndi. Stunning Jhoola made of a floral arch with leaves and pink roses! Already sounds dreamy, doesn't it? The arch Jhoola looks just as elegant as romantic making you look like a princess. Wear a pink lehenga or long skirt with top to go perfectly with your swing colours.
Some important names: Rivaah (NCR), MashaAllah Decor (Pune), MyShaddiwale (Bangalore).
Wooden Jhoola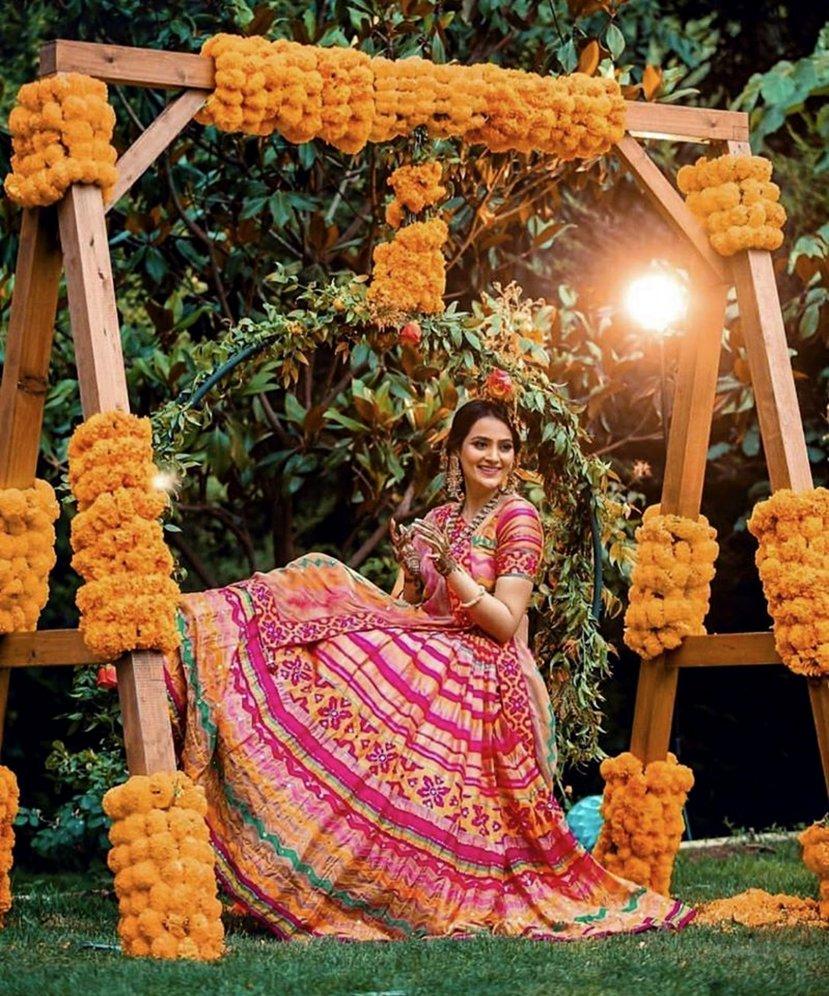 Because sometimes, it's the rustic style that steals the show! The raw colour of the wood in your Jhoola decoration only brings out a fascinating side of wedding decor. Especially if you're planning a thematic destination wedding and your theme is forest or garden wedding, there couldn't be a better idea to decorate your Jhoola. Just a few marigold streamers in between and you're good to go!
Some important names: Enlace Bespoke Experiences (NCR), Blue Nile Net Craft (Mumbai), Virgo Eventz (Hyderabad).
Even if you plan to have an eco-friendly green wedding, that doesn't mean you can't go for your Jhoola decoration. Try using paper flowers or ferns and twigs to decorate. Use old bangles for decoration or multi-colour dupatta and sarees. Use your imagination if you want to go for DIY decor. Because gorgeous decorating doesn't necessarily always mean expensive decorations! Recycle old stuff, hand paint your Jhoola, hang up bells...the possibilities are endless once you put your mind to it!
Have you tried your hands in DIY decorations? Share some of your favourite decor ideas with us in the comment section below!