Floral Long Skirt With Crop Top To Rock All The Summer Weddings
With summer weddings on the horizon, it's time to wear season-appropriate outfits that help you stand out! A floral long skirt with crop top is the perfect choice!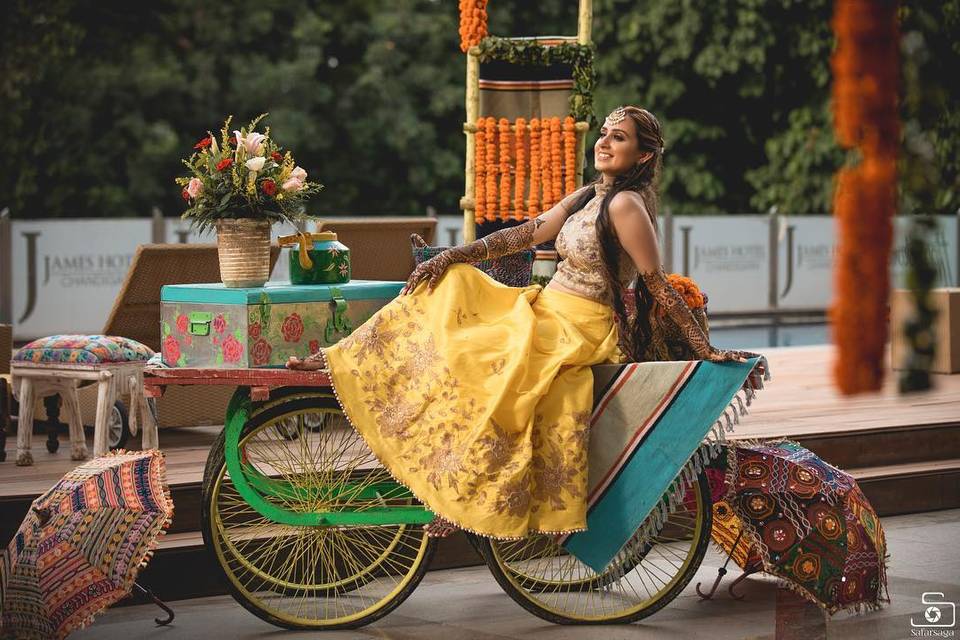 Fashion is fluid and there's definitely no right or wrong way to express yourself. With summer weddings approaching, more and more women are turning to Indo-western outfits for every occasion. Of them all, the most popular one is the floral long skirt with crop top combo! Mimicking the look of a lehenga, this outfit strikes the perfect balance between modern and traditional overtones!
As the spring and summer seasons are all about flowers and freshness, make sure that you pick a floral long skirt with crop top when creating this ensemble. It's a great way to look on-trend and fantastic! Check out some of these awesome pictures for inspiration while shopping for your outfit:
1. High low yellow outfit!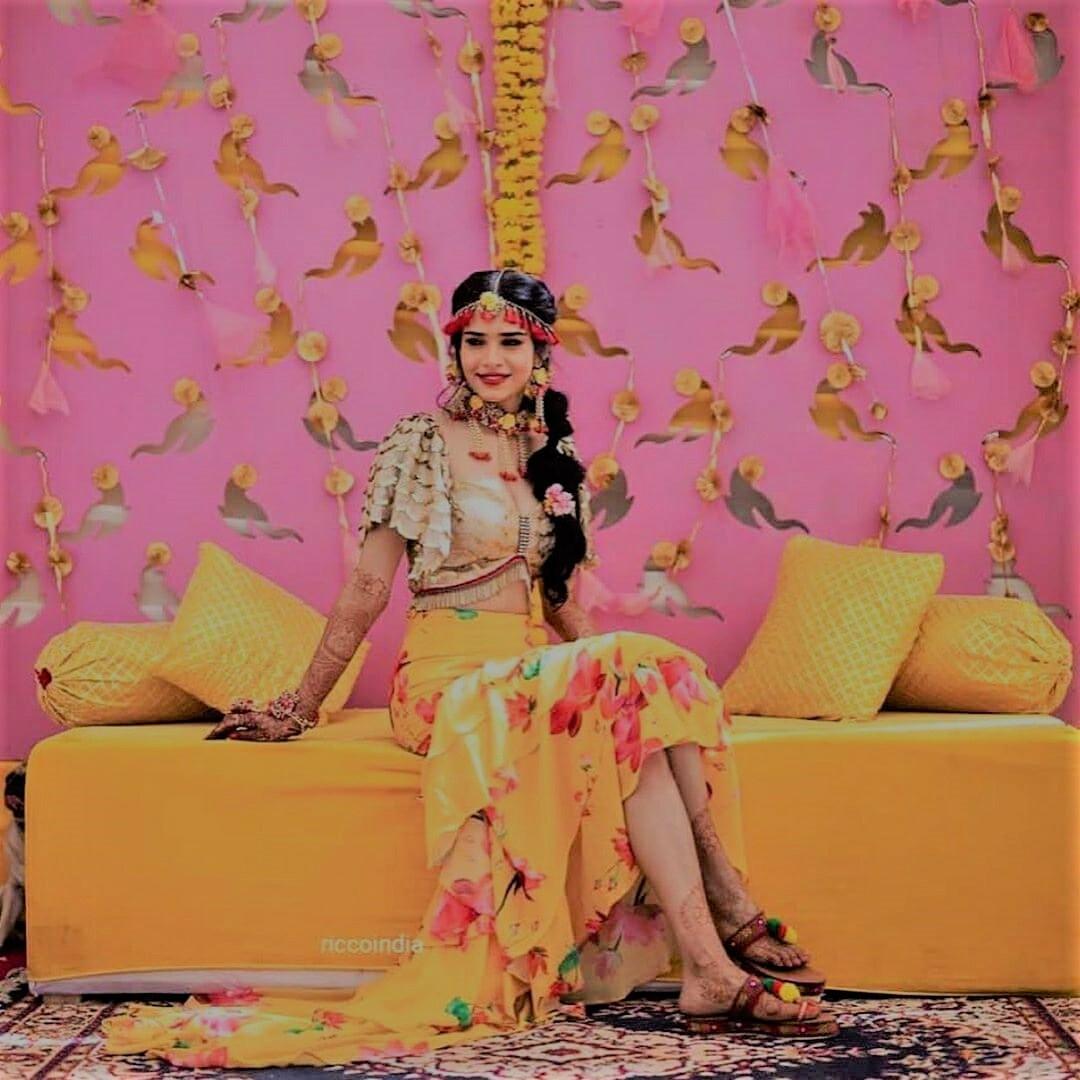 Image Courtesy: Ricco India
With a slightly Spanish silhouette, this skirt has ruffles, floral prints, and an asymmetrical high-low design, making it perfect for the modern woman! As this outfit has a slightly casual vibe, we feel it's more appropriate for a bridesmaid than the bride herself.
The metallic top certainly brings more elegance to the look.
2. Funky floral skirt and crop top!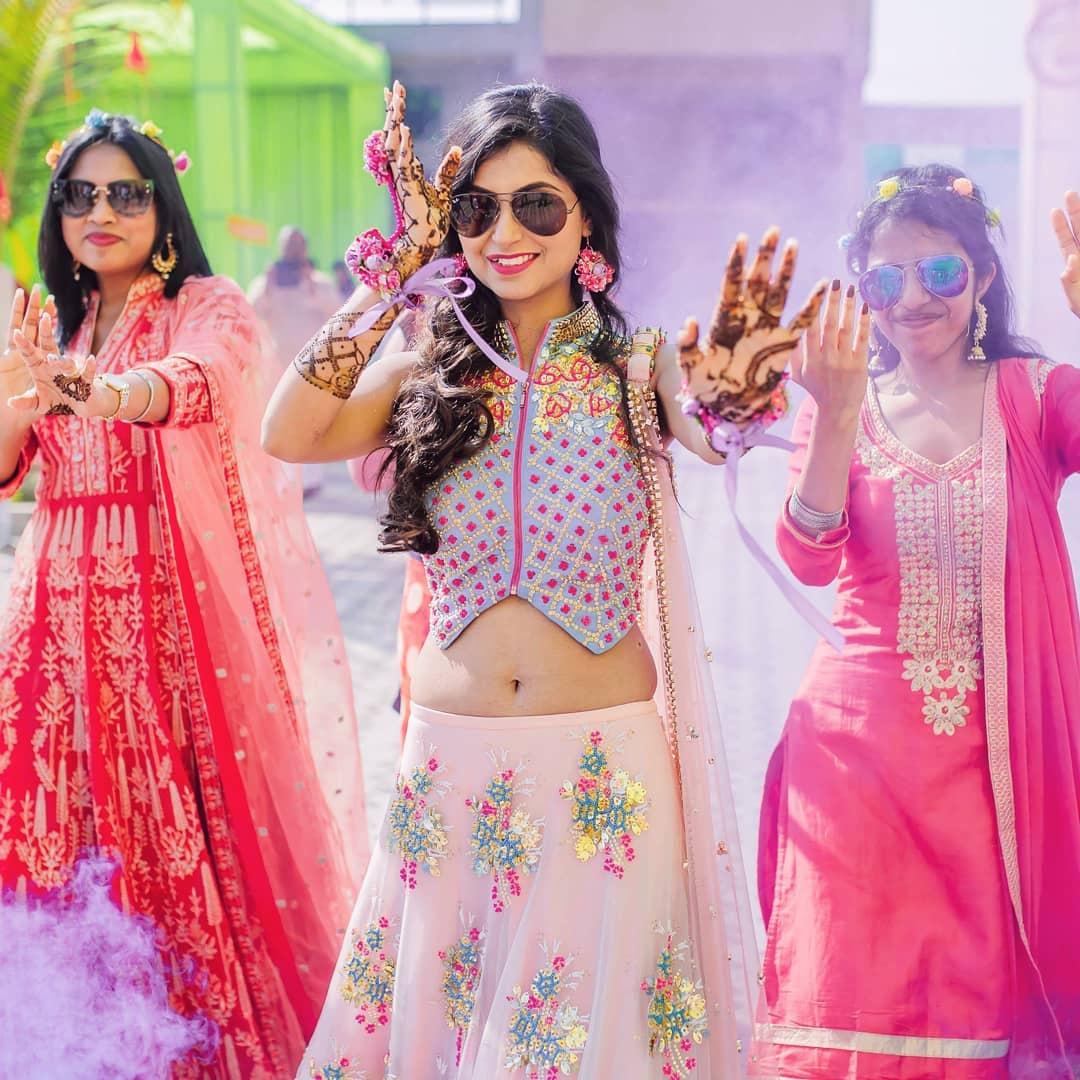 Here's a really funky look that shows how important it is to pick your crop top with care. The modern cut of the crop top elevates this outfit and keeps it from looking like just another floral long skirt with crop top.
Pair the look with flower jewellery as they are super trendy these days!
3. This elevated Mehndi look!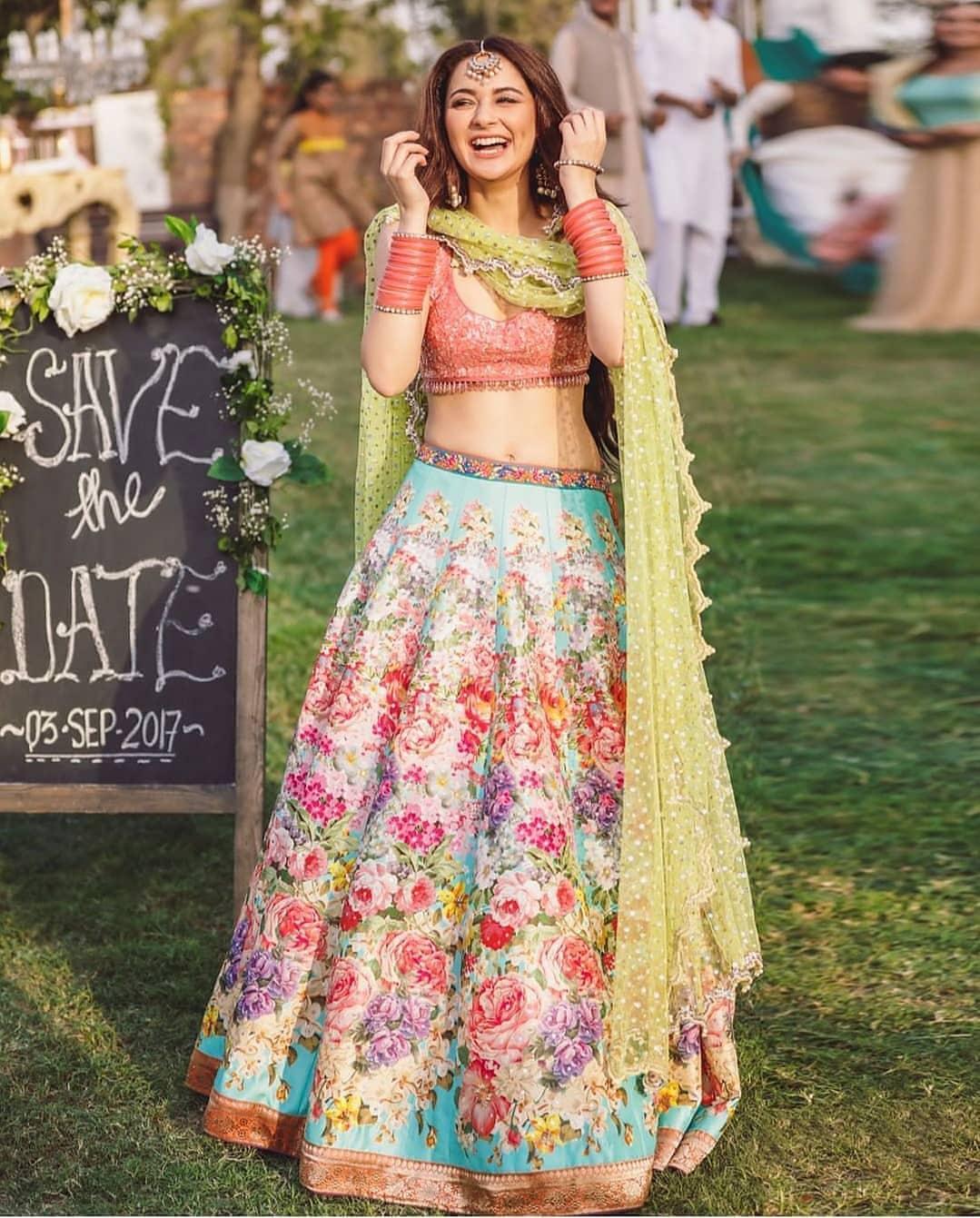 Image Courtesy: Kashid Rashid's Instagram
Not everyone wants a super casual vibe, especially during a wedding. This is an elevated Mehndi look that steers a bit closer to Indian aesthetics than western styles.
While it is a floral long skirt with crop top, the blouse like crop top and contrasting green dupatta make it quite unique and stop it from looking too casual.
4. This sequined and printed look!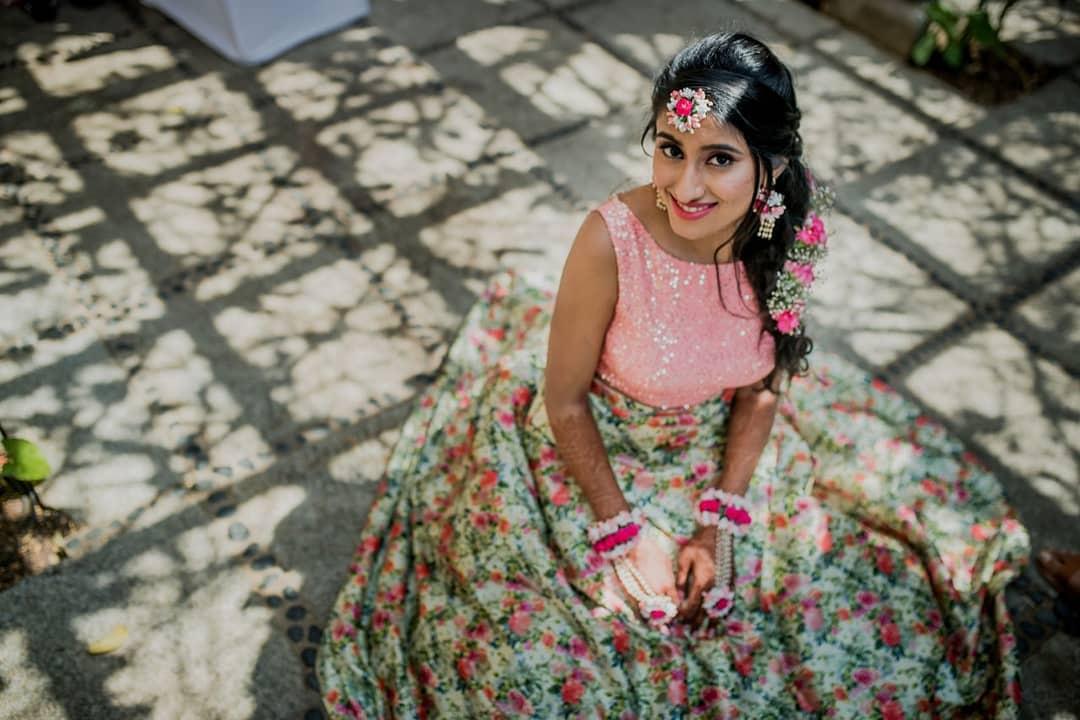 If you think that your long skirt is too casual for a wedding event, try pairing it with a shimmery sequined crop top to heighten its charm. Here, we see how the bride has paired her floral long skirt with crop top filled with sequins, and gorgeous floral jewellery. It looks far from casual!
5. This brocade traditional set!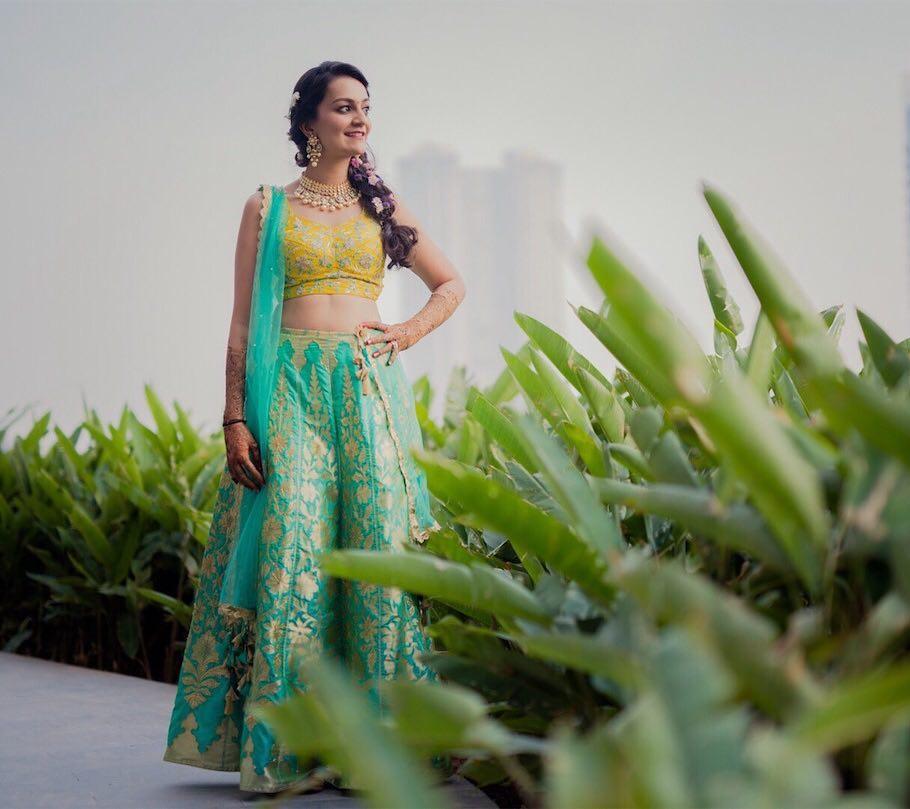 Brocade is quite popular during the wedding season due to its rich look, and many people opt for brocade blouse designs for these events. Pick a floral long skirt with crop top that has brocade designs all over if you want a more traditional look!
6. This contemporary outfit!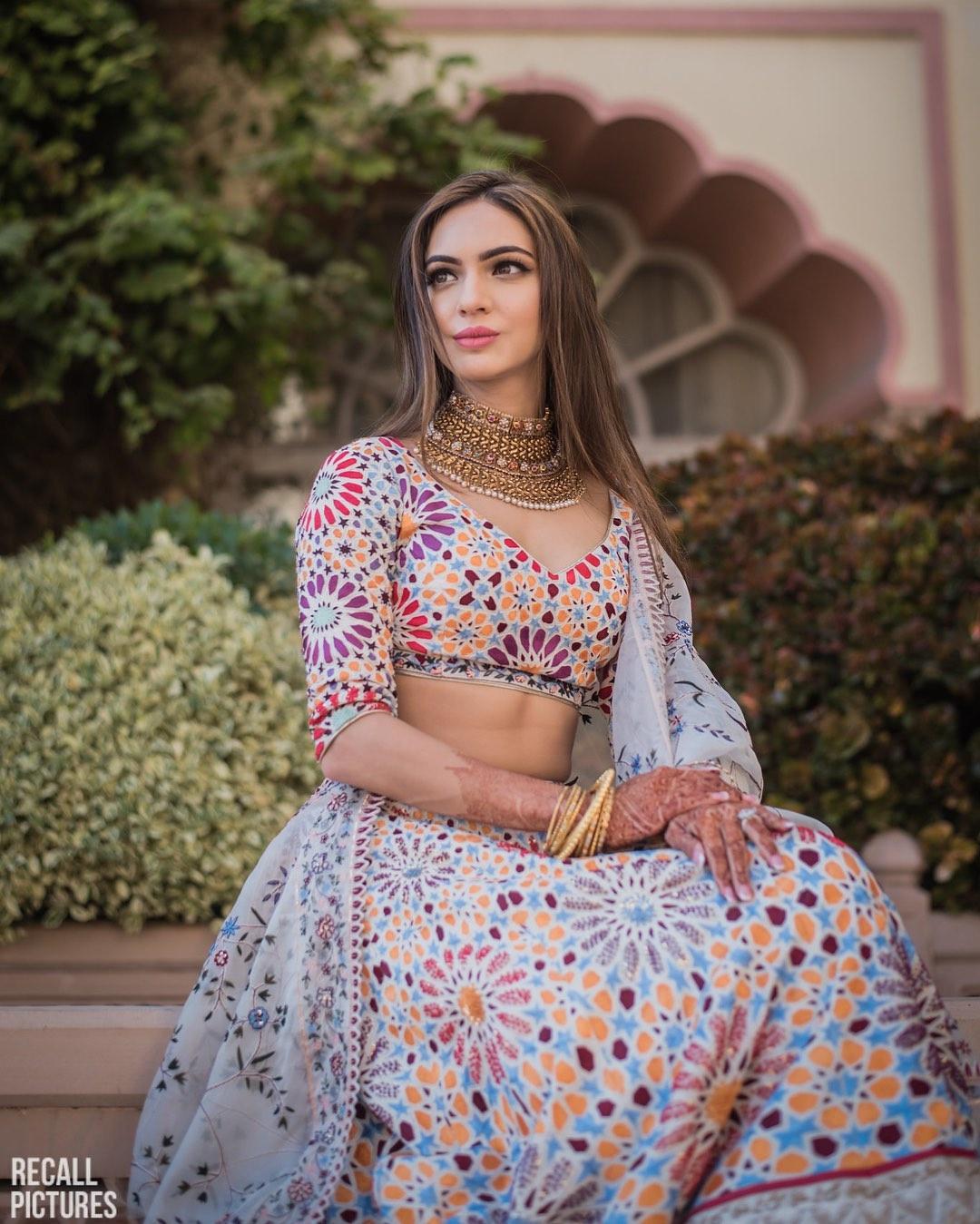 A very modern take on lehengas, this is a floral long skirt with crop top that's filled with prints that use contemporary colours and design styles. It's perfect for boho outfits and you can pair a long jacket with the outfit to make it even more contemporary.
7. This off shoulder ensemble!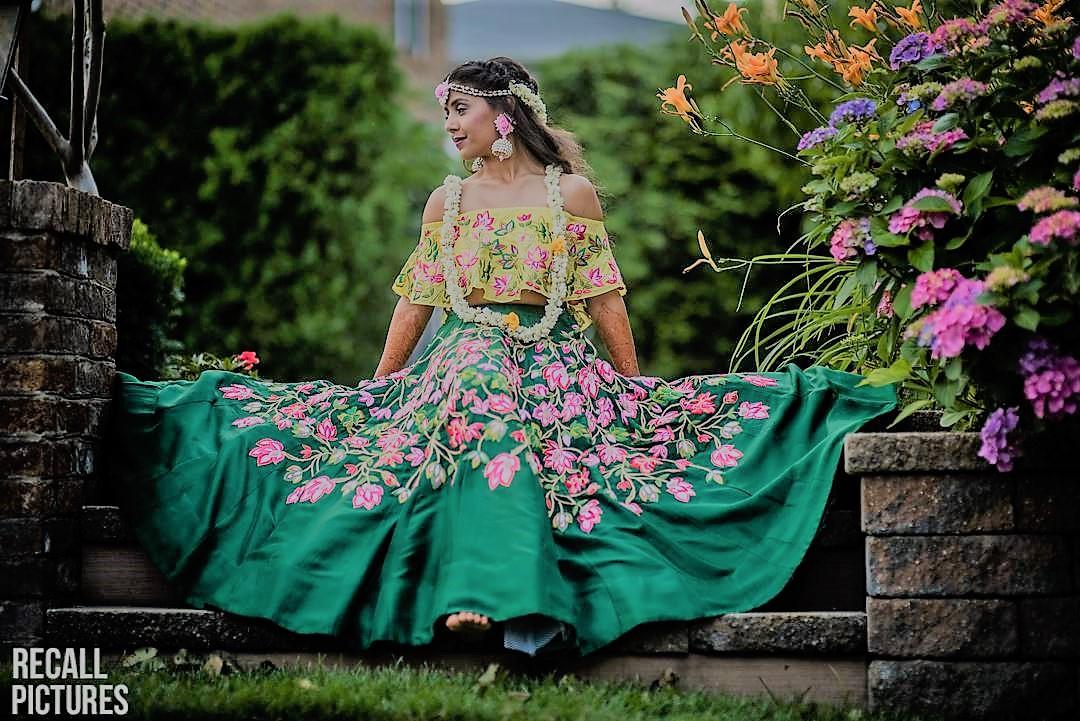 With a flowing skirt and light off-shoulder top, this floral long skirt with crop top is a great ensemble for brides or guests who want a very chilled-out look. Pair the same with floral jewellery to reinforce that vibe.
8. This OTT look!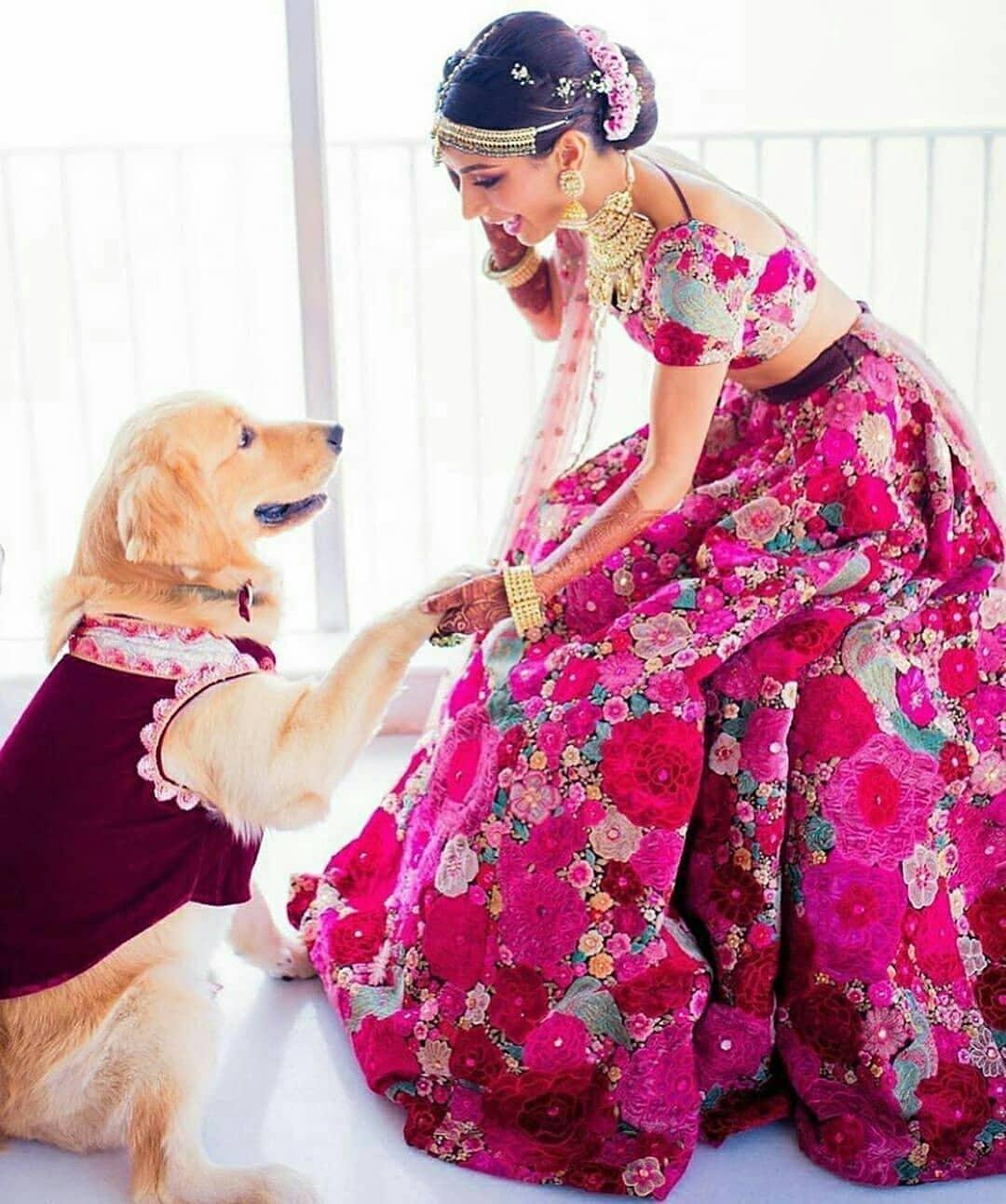 No bride wants to look underdressed at her own wedding! This floral long skirt with crop top is a matching dress that is filled with the floral print all over. You can pair this look with stunning silver jewellery if you want to heighten the slight gypsy vibe that it has.
9. This adorable pink look!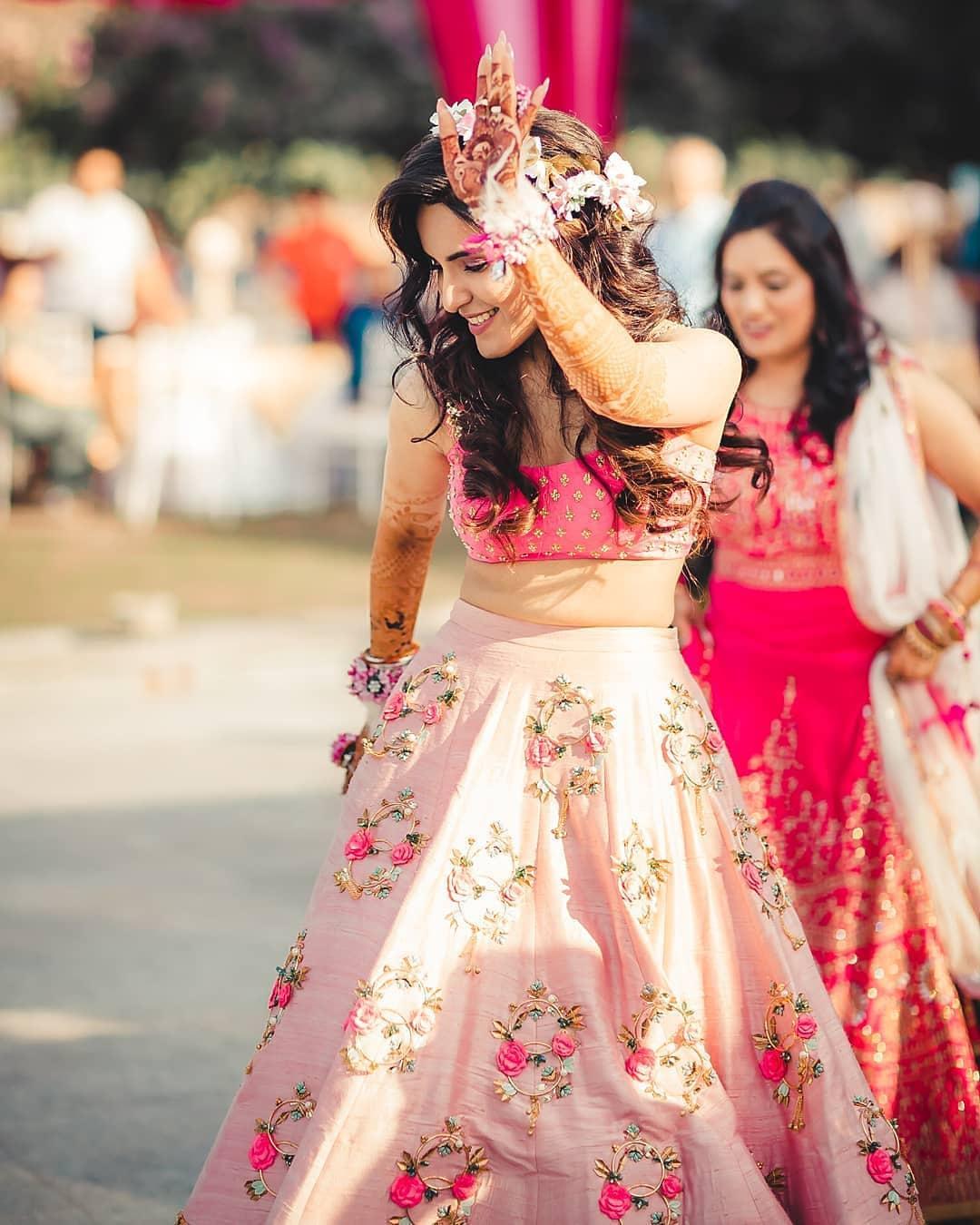 Image Courtesy: Shades Photography
Doesn't this bride inspire you to get a look that's similar so that you can also exude happy vibes at your wedding? She looks so joyful and carefree, and we're sure that's what you want too. It all boils down to the outfit, of course! The pink floral long skirt with crop top is a wonderful look for the Mehndi ceremony, and we're sure she got a ton of compliments!
10. This yellow and pink look!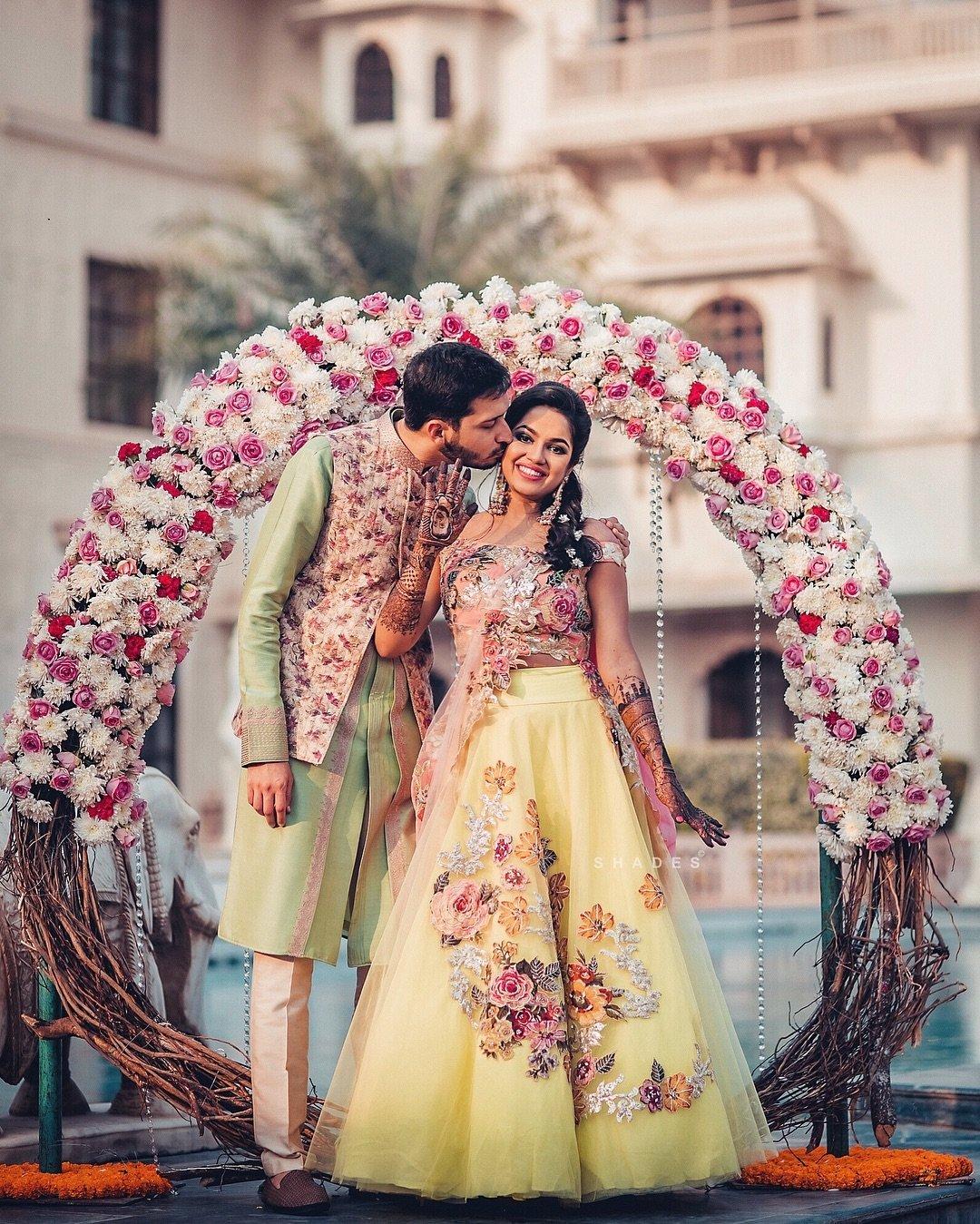 Image Courtesy: Shades Photography
The long yellow skirt has a sheer lining over it, making it poofy and princess-like. Paired with an off shoulder blouse that matches the floral embroidery on the skirt, this is a great Indo-western look that's apt for all day weddings! If you really want your look to pop, pair this with bright pink stilettoes and you'll certainly grab a ton of attention! We love how her spouse has tried to match her look by pairing his own outfit with a similarly patterned Bandi jacket!
If you've mostly believed that a floral long skirt with crop top is too casual for weddings, we hope you've seen that this is definitely not the case! With different types of patterns, cuts, and fabrics, you can sport a look that is super formal and wedding appropriate, or a casual one that shows off your quirky side!
Check out these florists that can help you get your hands on matching floral jewellery!