6 Ways In Which Brocade Blouse Designs Remain An Evergreen Style Statement
Brocade blouse designs are classic designs that every bride needs to explore for her wedding. With simple yet stunning gold patterns all over the garment, this is one piece that will elevate your look like no other!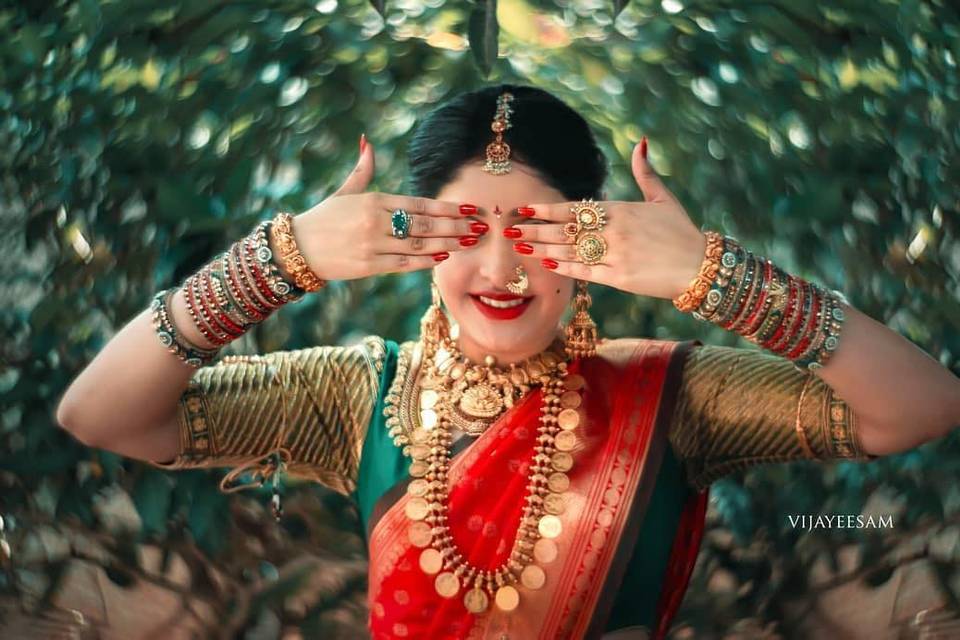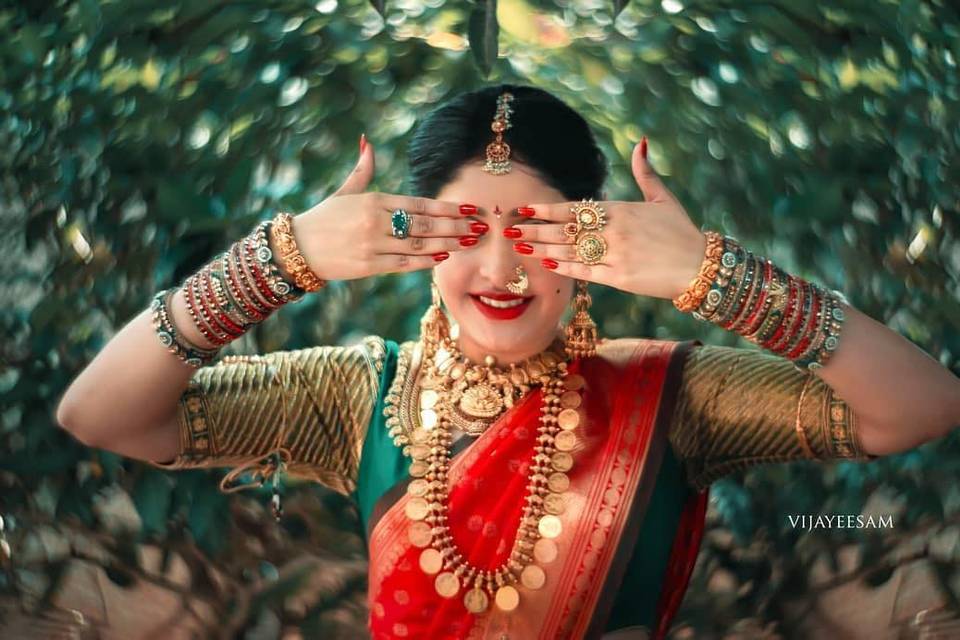 Image courtesy: Vijayeesam Wedding Photography
A fabric that brings to mind elegance and finesse, brocade is a shuttle woven cloth that uses silk, polyester, colourful threads, cotton, and even zari work. The brocade textile industry is a really old one, dating back all the way to the Mughal era. In fact, Akbar's patronage brought it front and centre, which also explains why this fabric is often associated with royalty.
As this fabric was highly encouraged during the Mughal rule, you're most likely to see Persian designs on any brocade garment. Of course, contemporary influences have expanded the way brocade is used, with flora, fauna and people forms now seen as Buti. There are also brocade blouse designs with sequins, embroidery over the brocade work, and beads available as well.
Within the current context, brocade blouse designs are the most popular in Gujarat as well as Benaras – with the former having a very rich history of Muslim weavers, the prominence of this style of weaving is hardly a surprise! Banarasi brocade fabrics are quite distinct, and they use a specific type of gold patterns that are known as Kalabattu. As a result of this, brocade is most commonly associated with this aesthetic.
Brides who want a stunning blouse to pair with their lehengas or sarees should certainly consider brocade blouse designs when looking through options! Have a look at these real brides and how they incorporated brocade blouse designs in their look!
1. Bridal brocade blouses with a light pattern!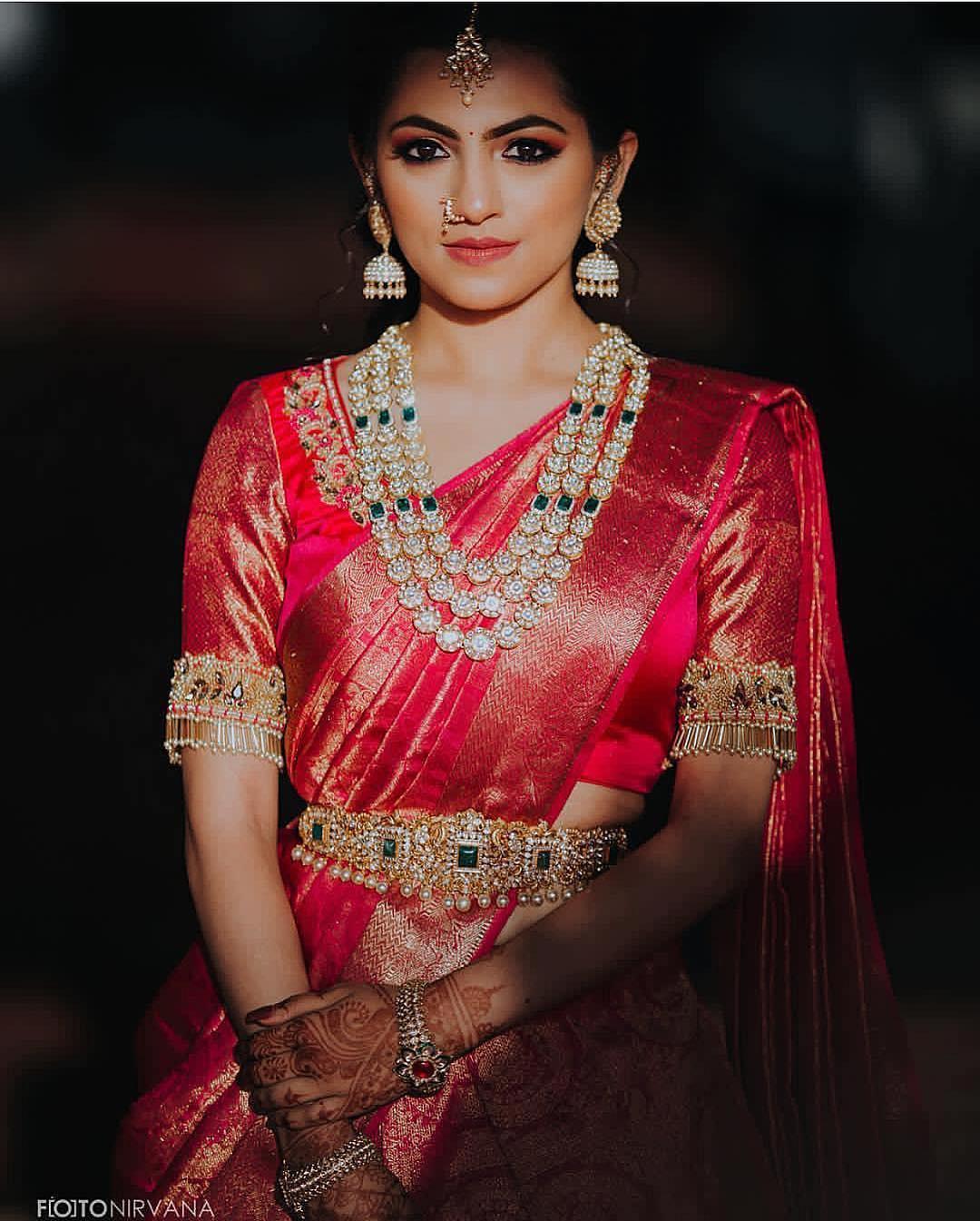 A great example of the classic brocade blouse designs, this one has a light golden micropattern on the sleeves of the blouse. A blouse like this certainly adds to the aesthetic of a bridal garment as it makes the ensemble look a bit heavier.
Paired with lehenga skirts with similar or other embroidery styles, this blouse can look fantastic, especially during a day wedding when you know the sun will reflect the stunning gold patterns beautifully.
2. Colourful brocade patterns on an ivory blouse!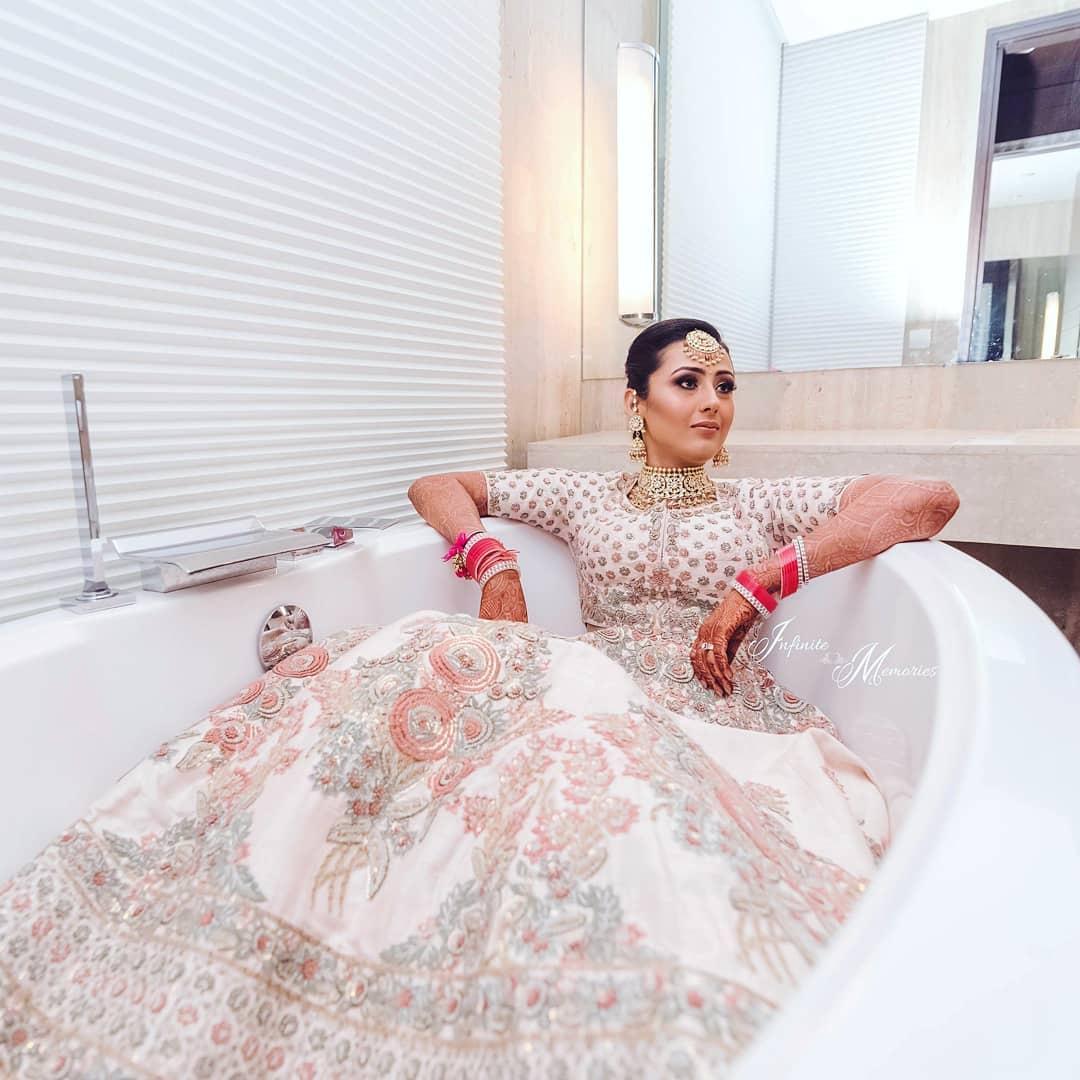 As mentioned earlier, one can find brocade blouse designs that incorporate colourful threads as well, so don't be fooled into thinking that these blouses are only available with that traditional gold or silver look! With muted reds and greens, the design here is made of floral patterns, a classic element in Persian aesthetics.
The little pops of colour look fantastic on the blouse design and give you the freedom to accessorise with Meenakari jewellery, rubies, and emeralds too.
3. Banarasi brocade blouse!
Banarasi brocade blouse designs have their own distinct look, and these pictures capture that really well. Note how the brocade work seems to fuse with the red background, instead of popping off it. This, in a nutshell, is what Banarasi brocade generally looks like. Such blouses are perfect to add to your Banarasi saree collection because the two always go hand in hand.
Pair it with heavy temple jewellery and nothing will stop you from looking like a goddess!
4. Bright yellow brocade blouse for light ceremonies!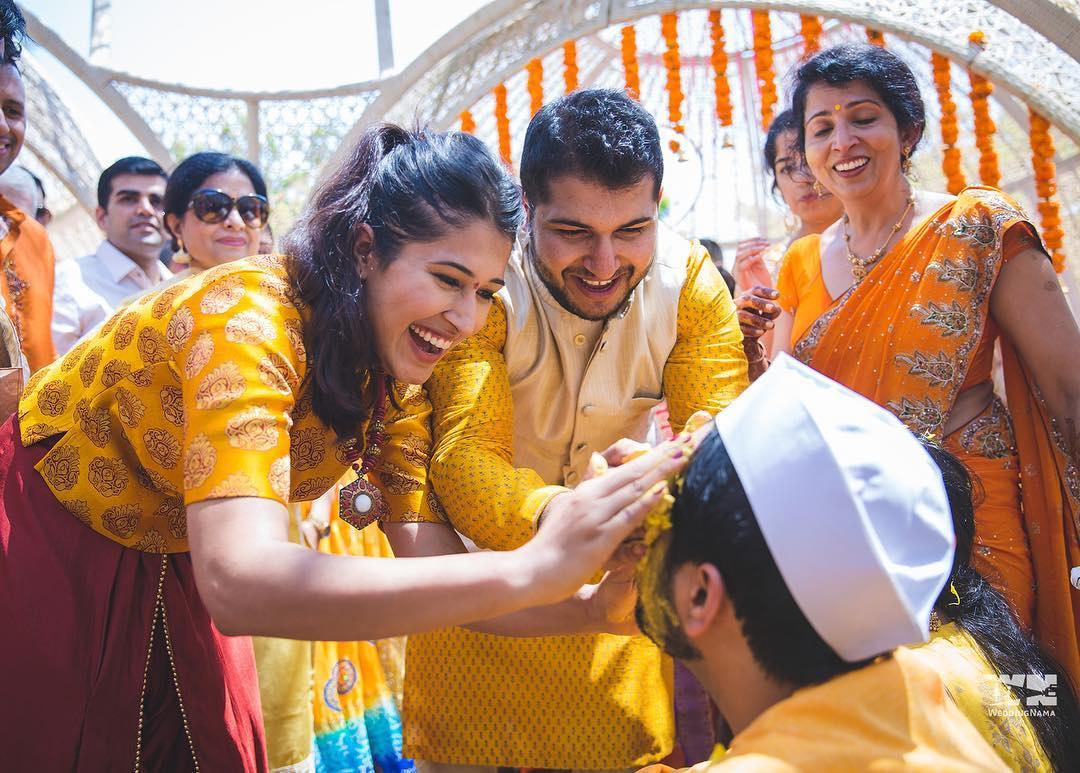 Now, brocade blouse designs aren't just limited to bridal wear! Guests attending pre-wedding rituals such as the Mehndi and Sangeet can also sport this style of fabric.
With a bright yellow blouse paired with a maroon skirt, this funky guest has created as really contemporary look with her brocade blouse! You can do the same if you like to play around with your garments!
5. Gold brocade on a gold blouse along with stones!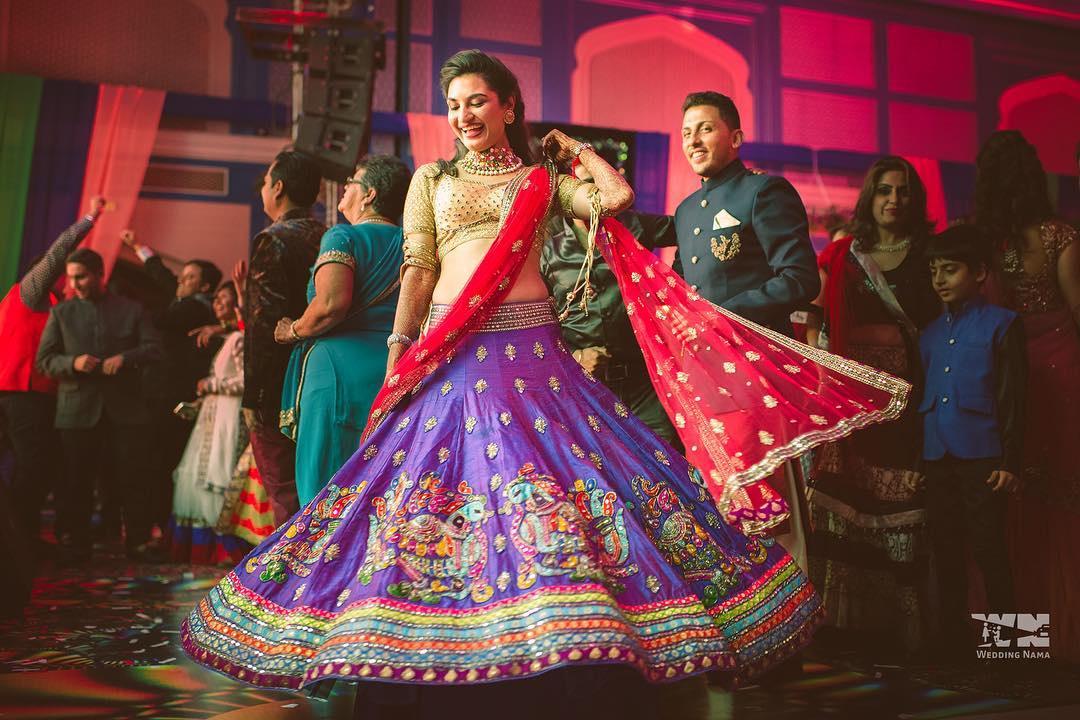 Brides can choose brocade styles in order to wear a garment with texture, and these patterns don't necessarily have to pop out at you. This bride is wearing a golden blouse that is paired with golden brocade designs in the same colour, especially on the sleeves.
There is stonework across the bodice of the garment to highlight its unique look even more! Such bridal blouses are quite versatile and can be paired with virtually any colour or style!
6. Bonus: Take inspiration from other brocade garments too!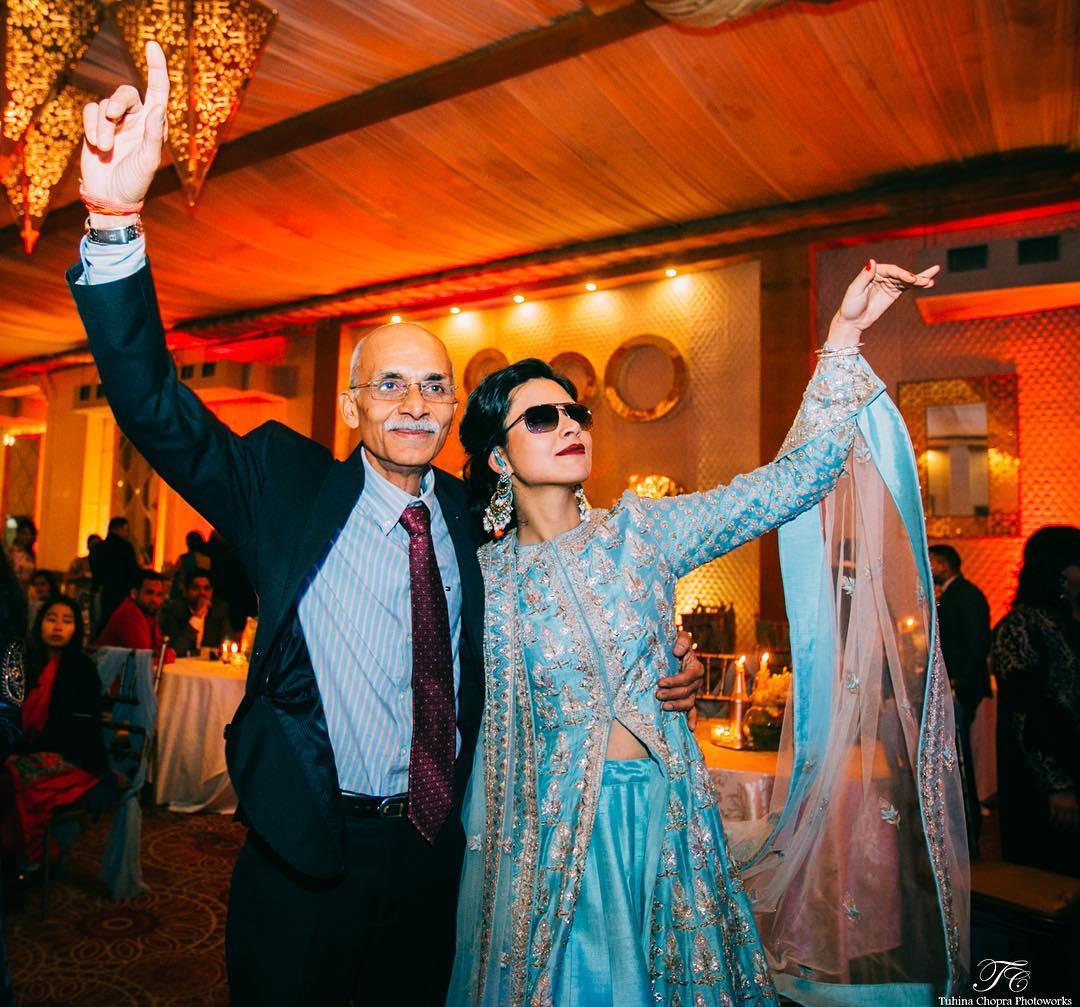 With heavy brocade patterns that have been embroidered over with zari, this is a great example to take some inspiration from. The same pattern and colour can make for a lovely blouse that you can pair with a sky blue lehenga, or an ivory saree pretty easily!
As you can see, brocade blouse designs are quite versatile and can be incorporated in many ways. Whether you choose a classic brocade style that only has the golden patterns or a style with small patterns and pearls embellished around them, we know that you will look absolutely stunning during any ceremony that you attend! Hunt around for a long brocade jacket to wear over your lehenga for a really cool Indo-western look!
Check out these stores near you that offer great blouses!