Build A Banarasi Saree Collection Of Your Own With These 9 Stellar Masterpieces
A classic wardrobe never fails you, especially during the wedding and festive season. You'll never find yourself wishing you had more clothes when you have an enviable Banarasi saree collection! Check out a few examples to include in yours!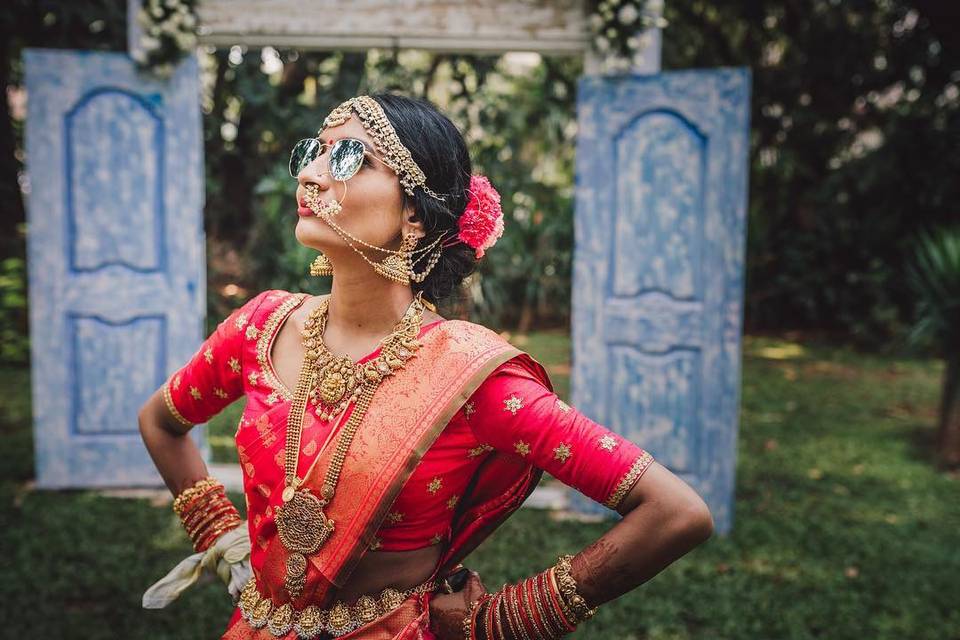 The famous Banarasi saree hailing from the city of Varanasi is known for two things: the exquisite silk fabric used to craft it, and the range of Mughal-inspired patterns that one can get these outfits in. If you're looking to expand your Banarasi saree collection, we'd suggest buying them from the traditional weavers of Varanasi, instead of through manufacturers that use machines to make this fabric. Of course while the latter is more affordable, it does lack the authentic quality of a handwoven silk saree.
Don't know if that even makes a difference to the untrained eye? Have a look at this exquisite Banarasi saree collection and tell us what you think:
1. Black and cream saree with architectural patterns!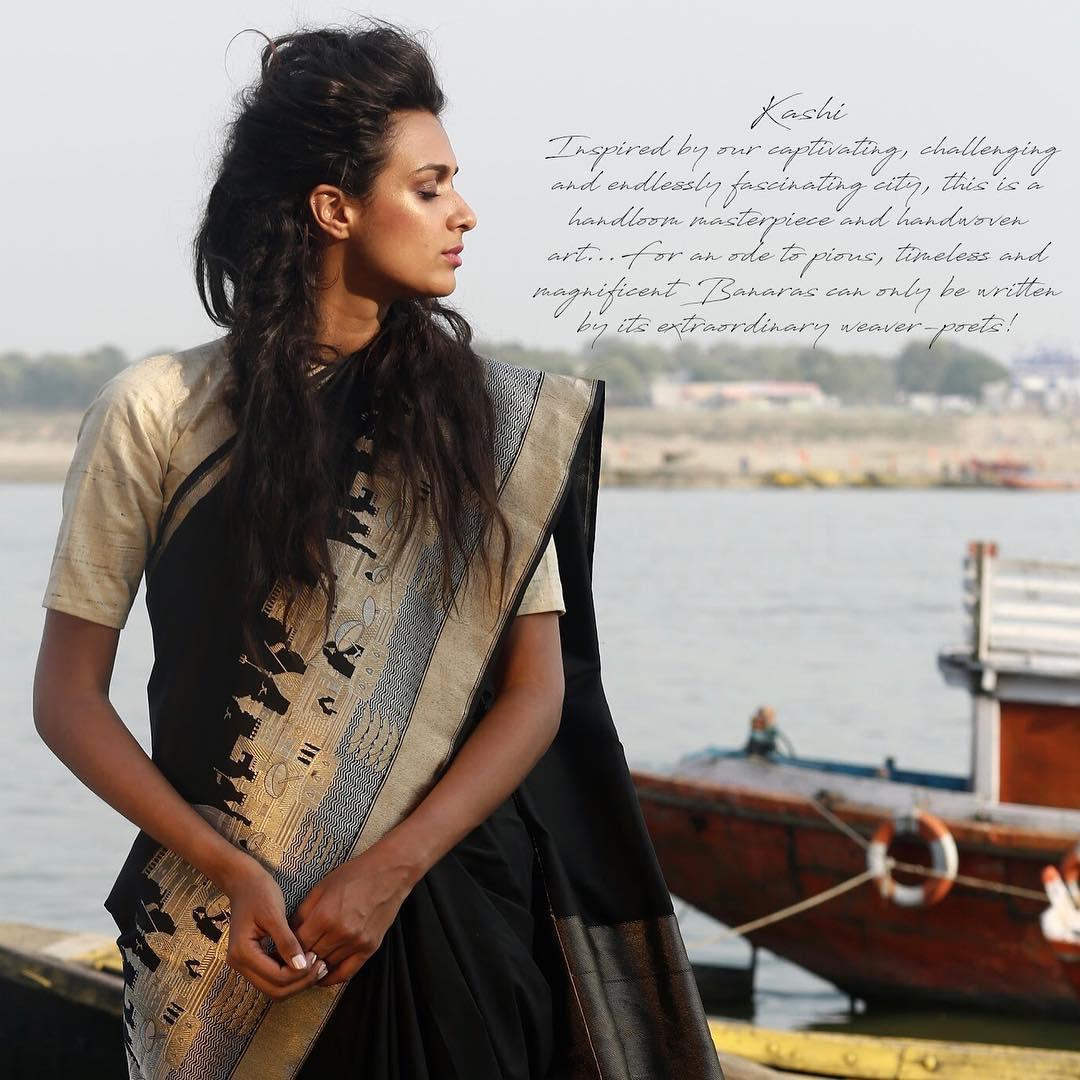 Want to stand out from all the other girls wearing glittery outfits? Here's an elegant black and cream saree with a pattern of Mughal architecture over the pallu. If you love the subtle look, then this garment must feature in your Banarasi saree collection!
Pair this look with silver jewellery to make your ensemble even more unique.
2. Bridal red saree with gold floral patterns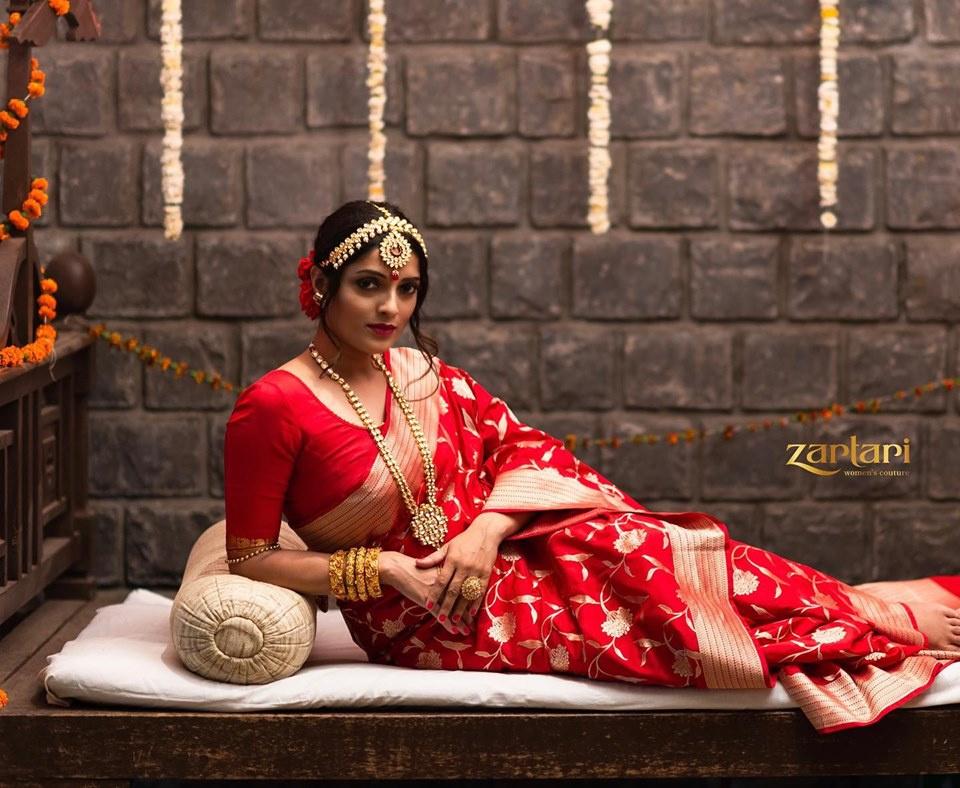 If you want to include a stunning red saree in your wedding collection for brides, then you must certainly consider adding this to the list of options. With exquisite gold embroidery, this is a saree fit for your wedding day.
Pair this look with South Indian gold jewellery to really bring out the gold patterns in the saree.
3. The classic red and white saree look!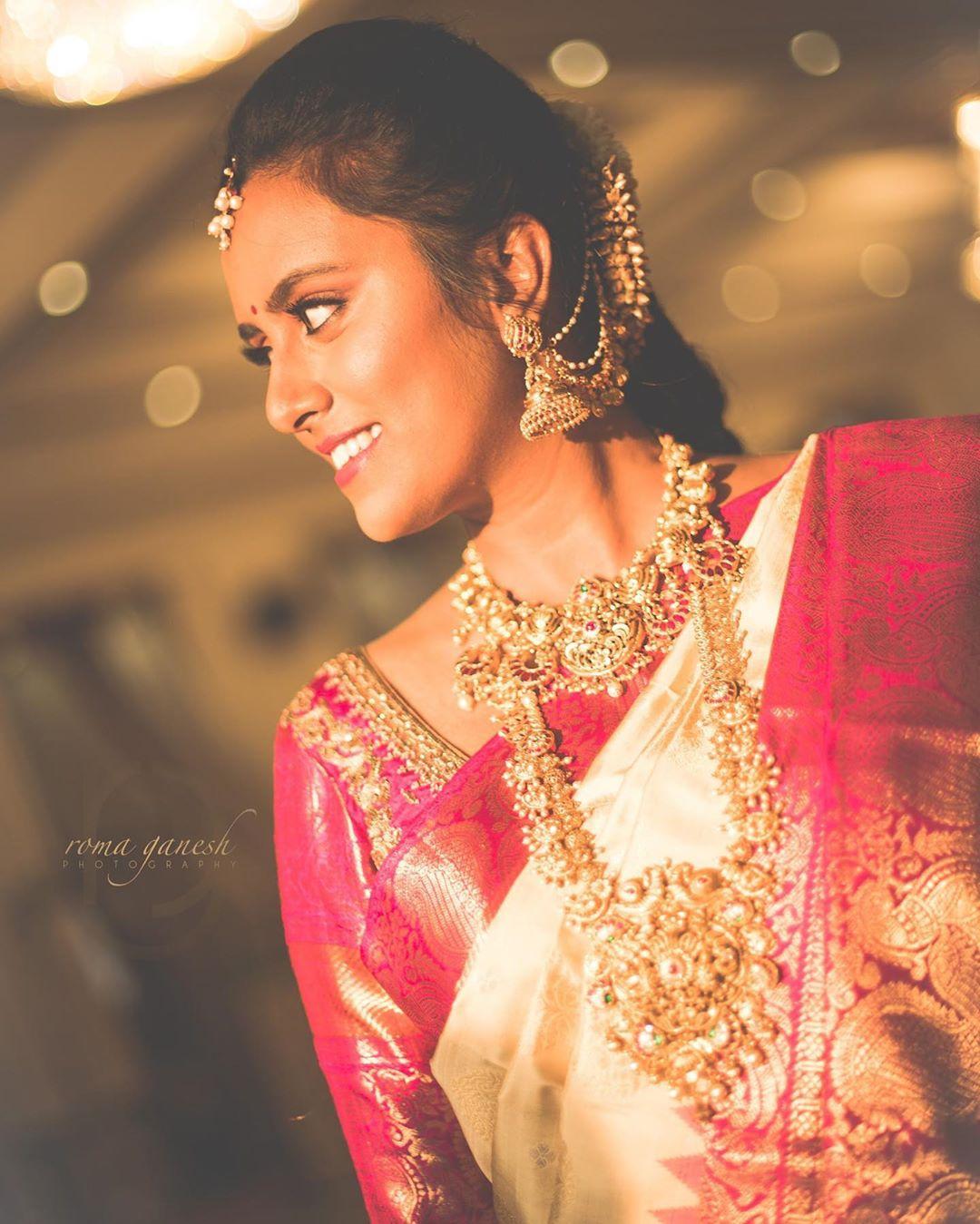 There's something about silk sarees that conjure up the image of a white saree with red borders, just like the one in this picture. This look is a traditional bridal look in many cultures, and can be a great saree for your Banarasi saree collection. From the Bengali dulhan to a south Indian beauty, anyone can pull off this look with total ease!
Pair this look with a Maang Tikka to strike the classic vibe.
4. Periwinkle blue saree with a cream blouse!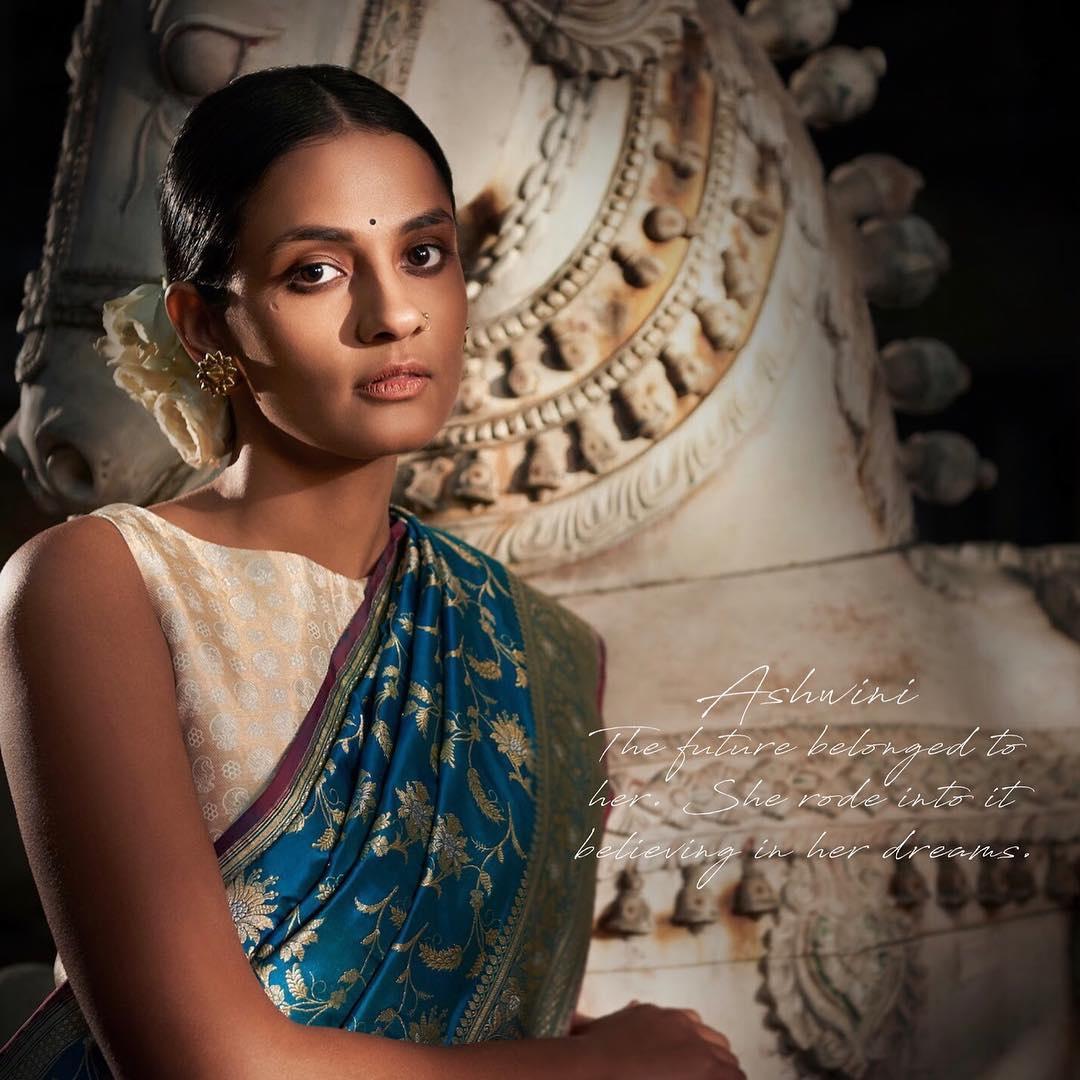 Image Courtesy: Tifli
The periwinkle blue fabric just glimmers so beautifully that we're sure you want to immediately add this to your Banarasi saree collection. Paired with silver zari work that creates floral patterns all over, this garment is a marvelous piece to look at. We love the cream blouse with this outfit and low-key want to buy this ourselves!
Pair this look with gorgeous Hyderabad jewellery as the pearls will go really well with the blue!
5. Deep blue with copper overtones!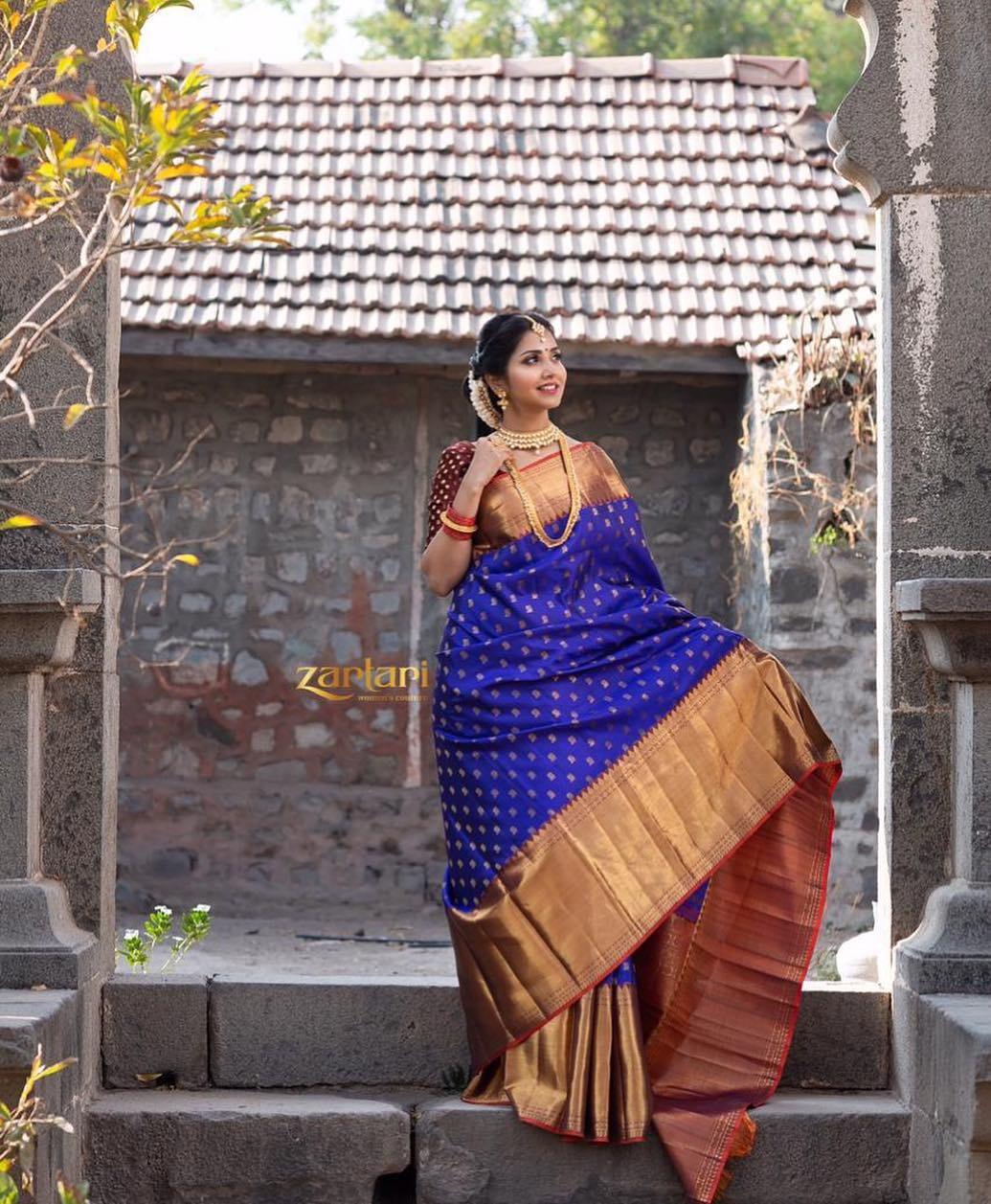 Deep blue is another colour that looks great in the wedding scene, with everyone else wearing warm tones and looking the same! This saree has light patterns and a copper coloured border, which is what marks it as a slightly lighter ensemble when compared with the others on this list. The red blouse, however, pulls it away from that and makes it more appropriate for a wedding party.
Add this to your Banarasi saree collection and don't forget to wear Gajra in your hair!
6. Yellow and red bridal saree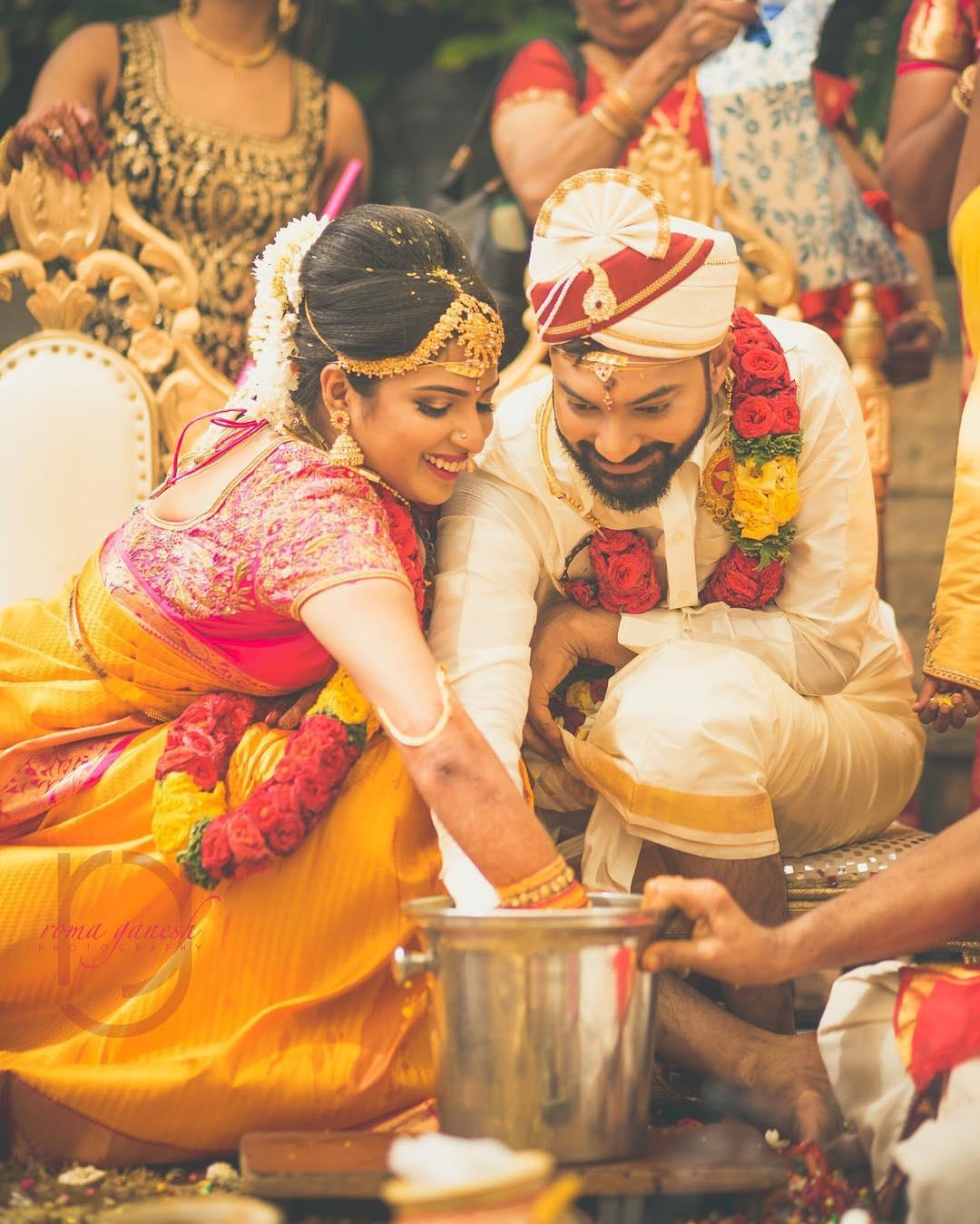 These days, many brides want to steer clear of the colour red, while still ensuring that their look stays within the realm of warm colours. Wearing a yellow saree can help you achieve exactly that. The gold sheen of the silk helps it look perfect for the wedding day, even though the rest of the ensemble is a somewhat muted one!
Pair this with your best Kundan jewellery for a great bridal look!
7. This modern ensemble with Banarasi silk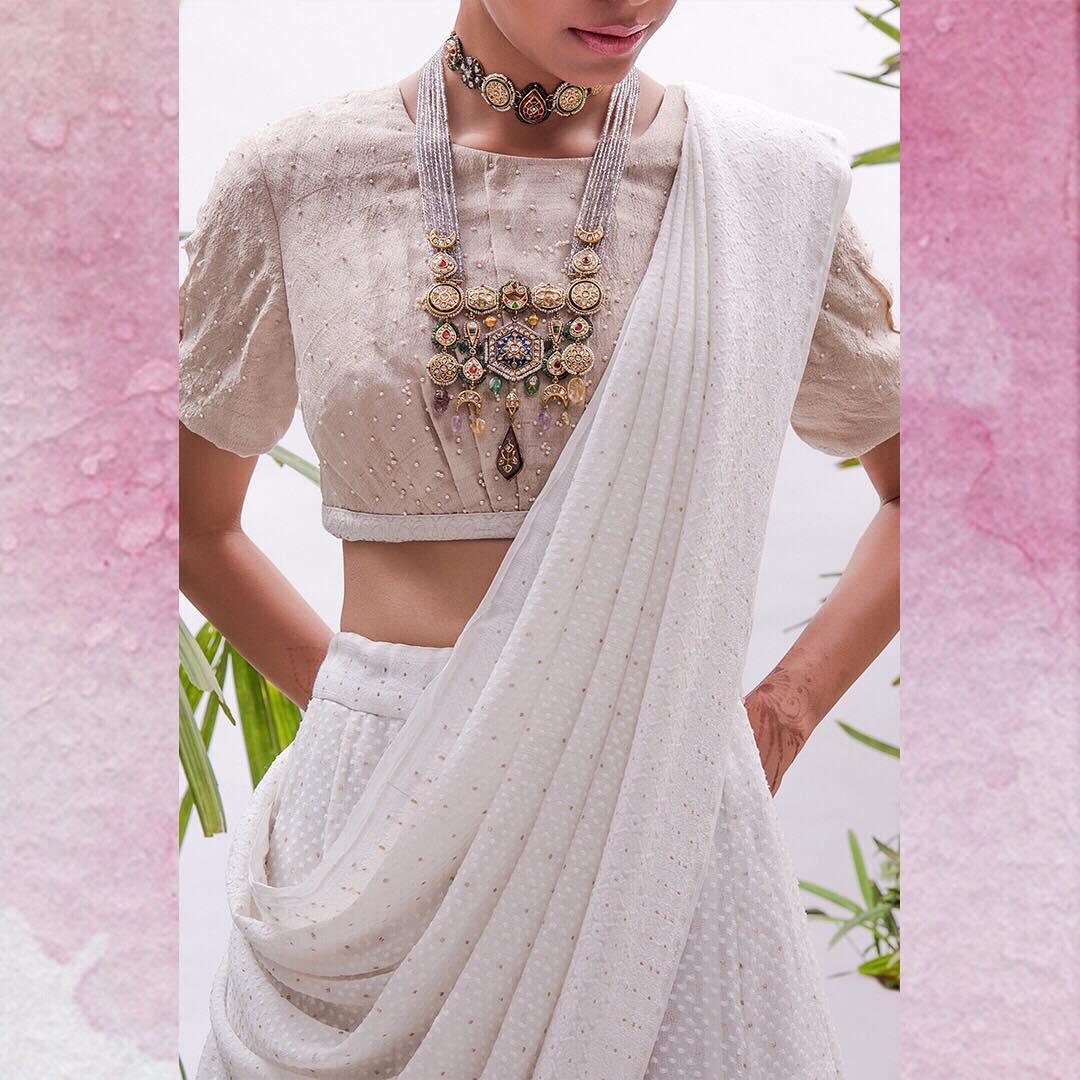 Image Courtesy: Tifli
Want to make a style statement with your saree? This ensemble is a great example of how you can do so. Experiment with the drape of your saree and pick contemporary colours like ivory or pastel shades for that modern look. Add this to your Banarasi saree collection and wow everyone you meet!
The bride here as paired her saree with a Hyderabadi necklace, which looks absolutely stunning.
8. Bright yellow and blue saree!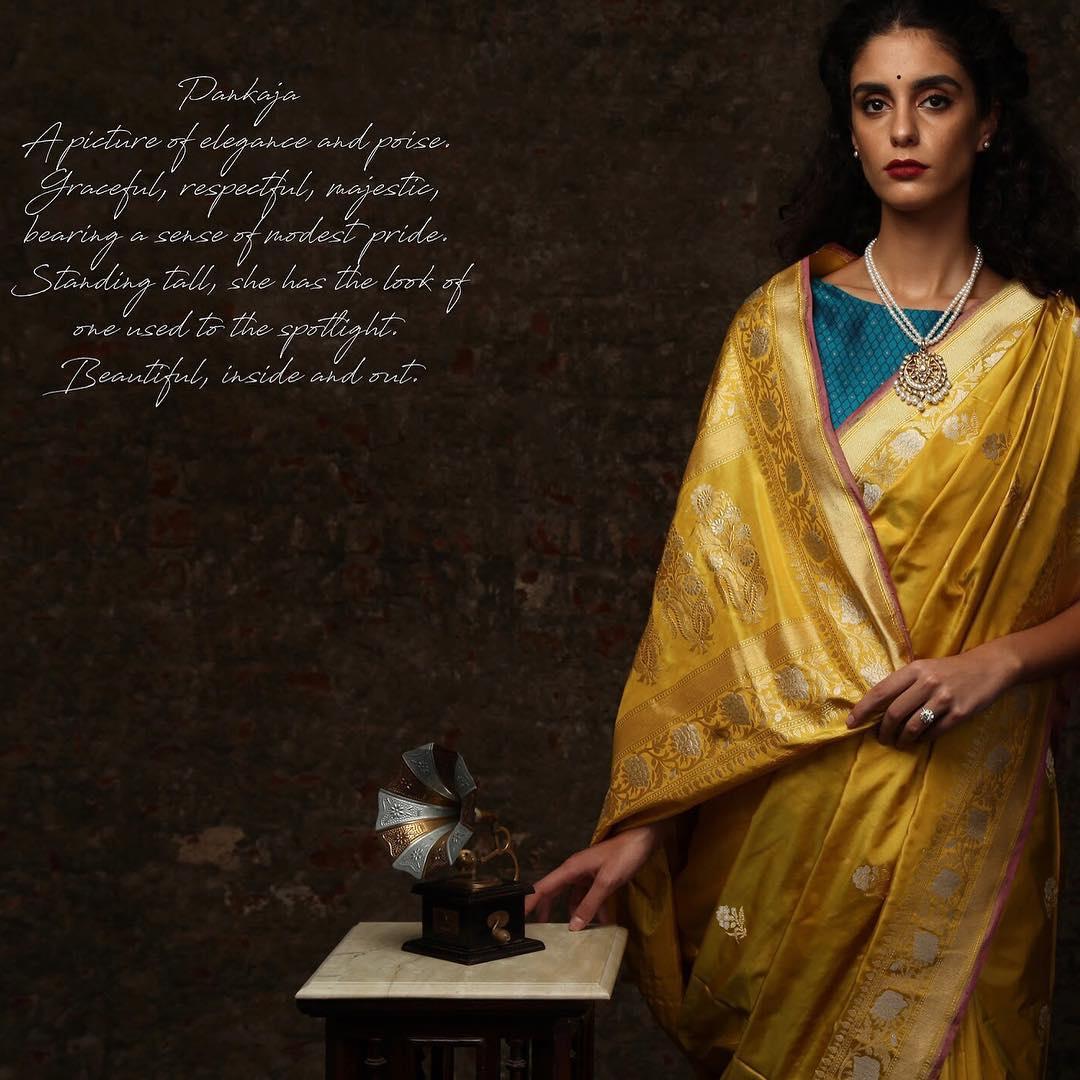 Image Courtesy: Tifli
This bright yellow saree has silver zari work used to create flowers all over the border and the main body of the garment. Paired with a bright blue blouse with light patterns, this is the perfect look for the Mehndi ceremony, or even the engagement party!
Make sure you wear a chunky Kangan with this look!
9. Elegant red, gold and blue look!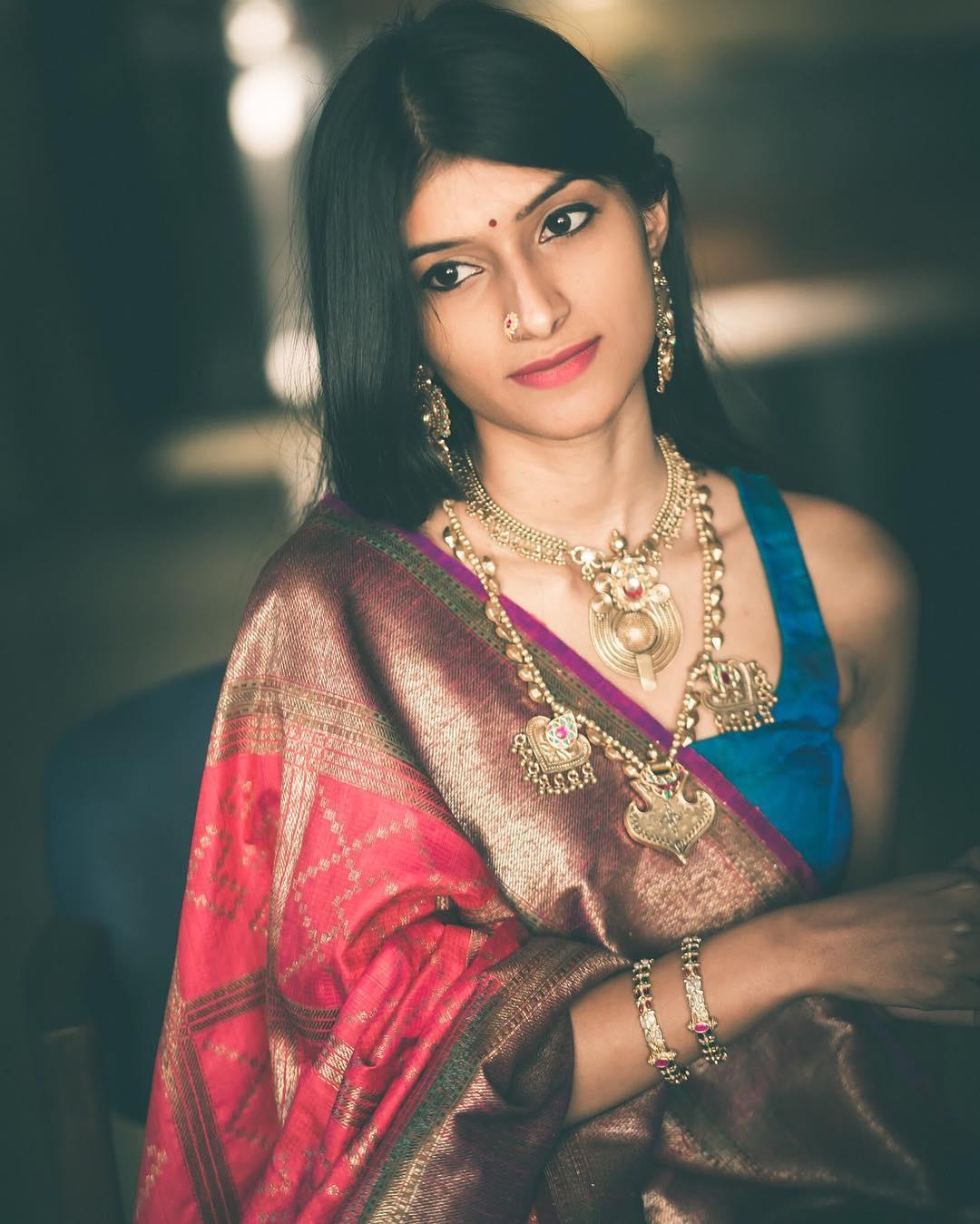 If you're invited to a ton of functions this year, add this to your Banarasi saree collection and never look back! We're sure you'll receive a ton of compliments!
These garments look lovely on women of all ages, so when you are building your collection, try to add a few classic pieces as well as contemporary ones that you can wear for the years to come! Remember, no one throws away a Banarasi saree!
Want to know where to buy these sarees from? Check out our vendors that offer gorgeous silk sarees!