#MaharastrianSwag: How To Wear The Nauvari Saree Elegantly
Overwhelmed by the thought of wearing a nine-yard saree? Here is the guide you need to read on how to wear a Nauvari saree the right way - the traditional way!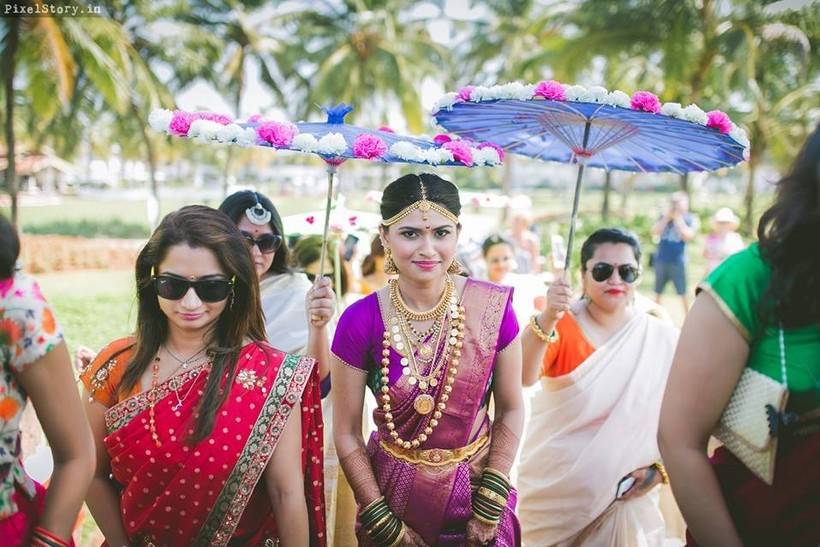 Honestly, we've all struggled and stumbled at first while wearing a saree, be it tying it neatly to even walking in it with heels. And when it comes to And when it comes to how to wear a Nauvari saree, things get a bit more complicated. You see, while the usual sarees range from four to six yards, the Maharashtrian Nauvari saree is a whole 9 yards making it seem a little more daunting.
But fret not, we've bought this guide which breaks down each step into simple ones to help you wear your nine yards of elegance. Be it your first festival with the in-laws or surprising your own family, this guide will help you ace the skill of draping and pleating neatly.
Now before we dive into the details of how to wear a Nauvari saree, we must know what distinguishes this saree from the others. The name Nauvari originates from the nine yards length of the saree which is worn by the women of Maharashtra. While most women across India wear sarees in a similar manner, the Maharashtrian women have their own version where it is draped in such a manner that it looks like a trouser on the bottom and unlike the usual tuck here the saree is tucked at the back. This style of draping allowed the women a great deal of comfort and mobility in contrast to the traditional saree.
While there are many different ways on how to wear Nauvari saree including the basic style and even the Koli drape we will here go with the traditional style of how to wear Nauvari saree.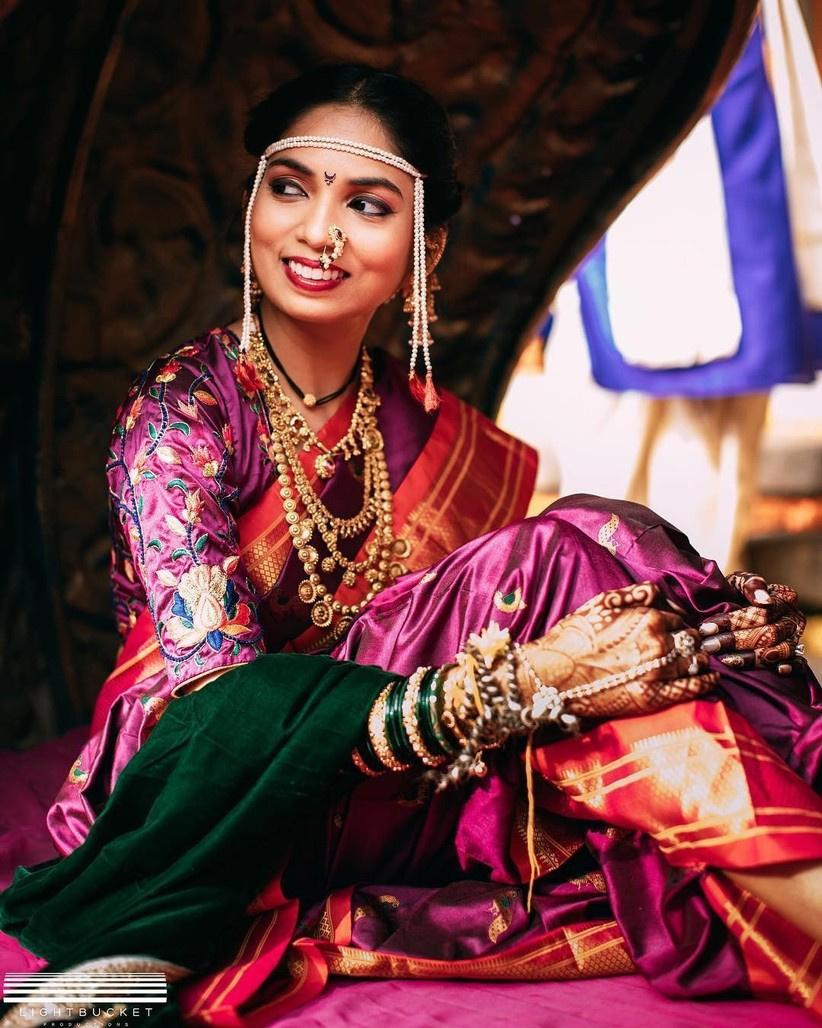 Unlike the traditional saree look that we are all well acquainted with, the Nauvari saree does not rely on a petticoat. Instead, you need cycling shorts or any such slacks. Now before we begin how to wear Nauvari saree, you must be certain of wearing comfortable shorts with a strong waistband as it will hold your saree together.
Now next just like your usual saree, pick up the plain end and begin tucking it into your shorts from right to left until you've made one complete circle. To keep the pleats all in place tie a knot.
Once this is securely done, pick the Pallu of your Nauvari saree and gently place it on your left shoulder, slowly wrap it around and bring it onto your right shoulder. Always keep a reference photo nearby to know what your saree should look like!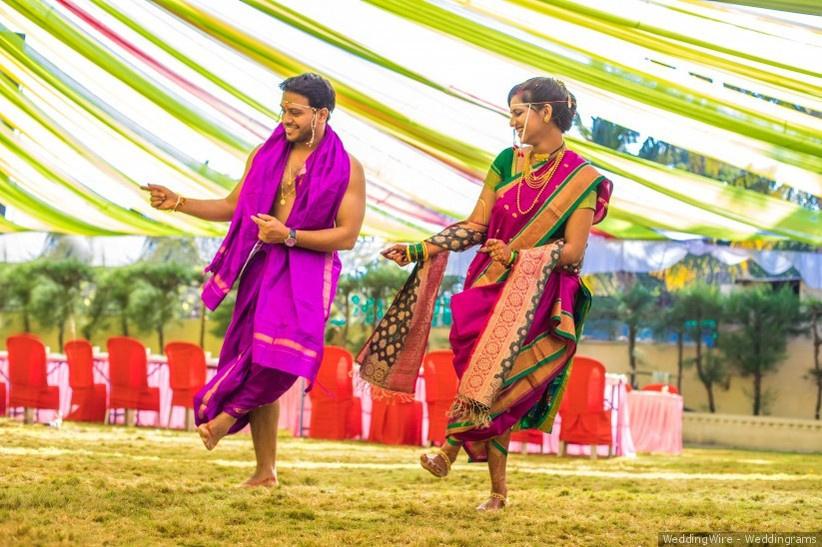 Now, next in the steps on how to wear Nauvari saree comes the crucial stage of making the pleats. This step often seems daunting but here it is a little different yet easy way to do it.
Make the pleats as you would for a regular saree but hold it with a tight grip to ensure it stays intact even while you carry on with your day. Next step is the gently wrap the pleats into a bolster with the first layer by twisting and turning it inside. This might seem tricky so take it slow to ensure it comes together!
Once you are done with making the pleats, the remaining saree - after all the pleating, draping and turning is done, goes into defining the main stage of how to wear Nauvari saree.
Even with these steps on how to wear a Nauvari saree, the actual process may seem complicated, this step is truly the only confusing one so go slow and there is no reason why you won't be able to ace this drape! Gather the pleats in the front and hold the folds. Grab onto the middle pleat between your legs and strongly pull it onto the other side and tuck into the shorts. Before making the final tuck, grab the border and make a pleat as a small detail which will accentuate the look of your Nauvari saree.
The final step in how to wear Nauvari saree is simply ironing out the small details. To form a neat front resembling a Dhoti has to be by taking the front of the saree near the feet and fold the entire section into a layer before tucking it into your waist. Be sure to fix the border all around and use pins carefully to put the delicate pleats in place! And Ta-da there you have it - your own Nauvari saree!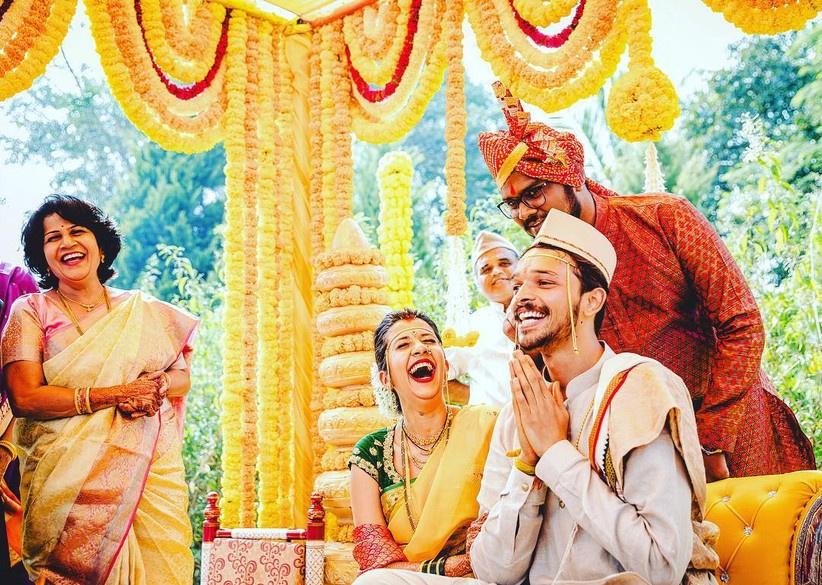 While just reading through this guide on how to wear Nauvari saree may seem a tad bit scary, only once you practise your pleats and drapes will you learn how to nail the nine-yard Nauvari saree perfectly. Be sure to do so in front of a mirror and be prepared to make a few mistakes before you master the art of this traditional drape. So, don't forget to bookmark this page for our detailed steps and the illustrious pictures of brides who will inspire you to try out this traditional style for a wedding function! You can also watch one of the many videos on YouTube on how to wear Nauvari saree for some further clarity.
What do you think of the Nauvari saree? Do let us know in the comments below.