Saree Pleats Tips for 7 Draping Styles to Give You the Ultimate Ethnic Bridal Apparel
Show off your bridal trousseau's sarees with different kinds of draping styles. If you're not aware of them, go through this saree pleats tips list and shine like a diva.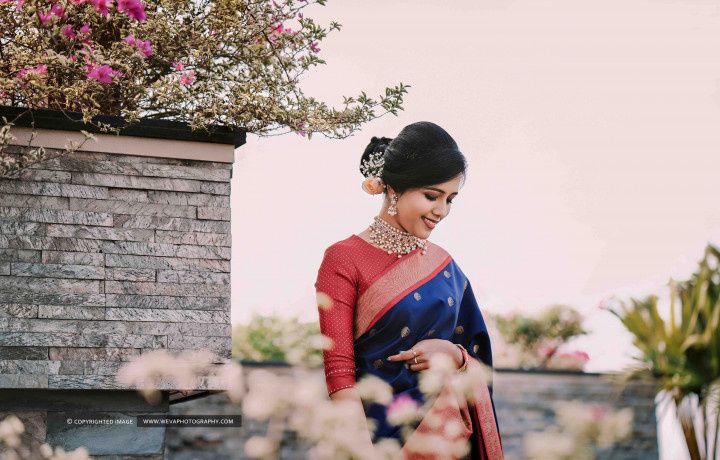 Saree is the most authentic Indian attire. India is a diverse country and every culture has its own kind of fashion statement but the only attire that unites women fashion is saree. In a traditional Indian wedding, there is a sense of grandeur, lavish arrangements and a lot of pre-wedding, post-wedding rituals included. But as a bride one of the most difficult decisions you have to take is to choose the perfect wedding attire to wear on your big day.
Now, if you're planning to have a traditional wedding then wearing the traditional outfit for the rituals of your wedding is a must, especially, if you're the bride or the bridesmaid. While, stressing in the process of picking the perfect outfit to suit your body type, choosing to wear saree will be a perfect idea as it suits every body type.
Usually, in an Indian wedding ceremony, a bride wears red wedding saree but depending on your personality and sense of style you can choose to wear any type of saree with the saree pleats tips of your choice. Here are some suggestion for you and your bridesmaid.
Different draping styles:
Saree is a very elegant and graceful outfit. At present fashion designers and stylists are continuously applying their creative mind to make draping a saree look effortless. While there are modified fabrics and readymade styles available in sarees, draping a saree in a stylish manner and accessorising it with a suitable blouse and other accessories can also be perfect for a wedding. Different draping style also represents different Indian region. Here are some Saree pleats tips for all the young women out there to look their best on any wedding function.
1. Maharashtrian style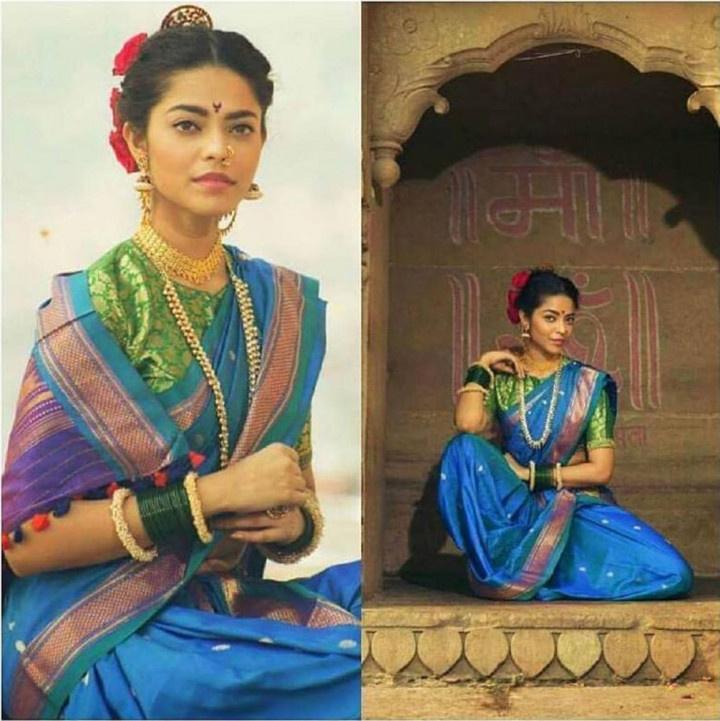 This is a popular draping style in Maharashtra. In this style the saree is draped in such a way that the centre of the saree is placed at the back of the waist, the ends are tied securely in the front, and the two ends are wrapped around the legs like a Dhoti. This style not only gives an elevation to your style but also provides the comfort of wearing a dhoti, sometimes wearing the leggings beneath the saree increases style quotient.
Bridesmaid should go for it: If you're a bride better not go for too casual a pleat like this. But if you're a bridesmaid then you can embrace, comfort, style, ethnicity through a pleat such as this and rock the function. A function such as the Sangeet is ideal for this kind of drape. If as a bride you love saree pleats tips such as this, then you can go for it when you're having a bachelorette party with your girl gang.
2. Tamilian or back drape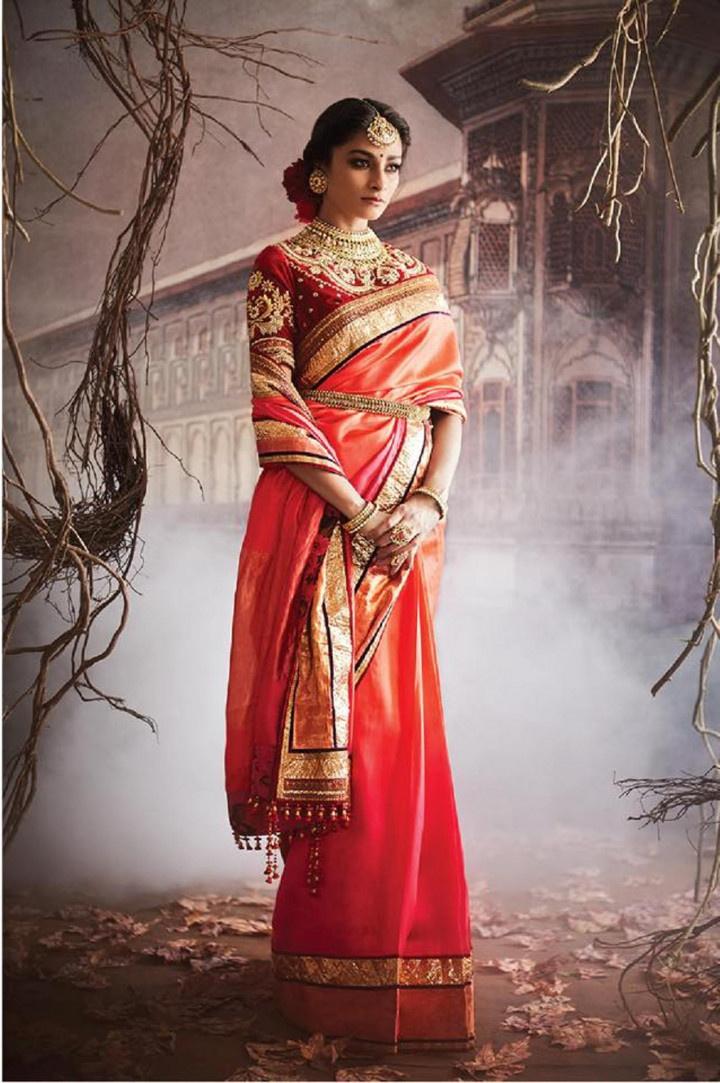 This is the most common style of draping a saree, in this style, a petticoat is to be worn underneath the saree. The saree is draped counterclockwise. It starts by making a knot on the left side of the abdomen and wrapped around the waistline in a circular way.
After wrapping it around the waist, the pleats are positioned along the left leg and tucked in the petticoat; the rest of the saree is wrapped once again around the waist and taken over the left shoulder. In some places in India, this style is called 'Ulta Pallu' style. This style needs a bit of practice and patience but it gives is a gorgeous and neat look.
Bride should go for it: Although you need to have a little bit of patience if you are bride then you should go for it on your wedding day with heavy jewellery and very little face makeup. Highlight your eyes a bit and then get ready to sweep of your would-be of his feet.
3. Gujarati or Front Drape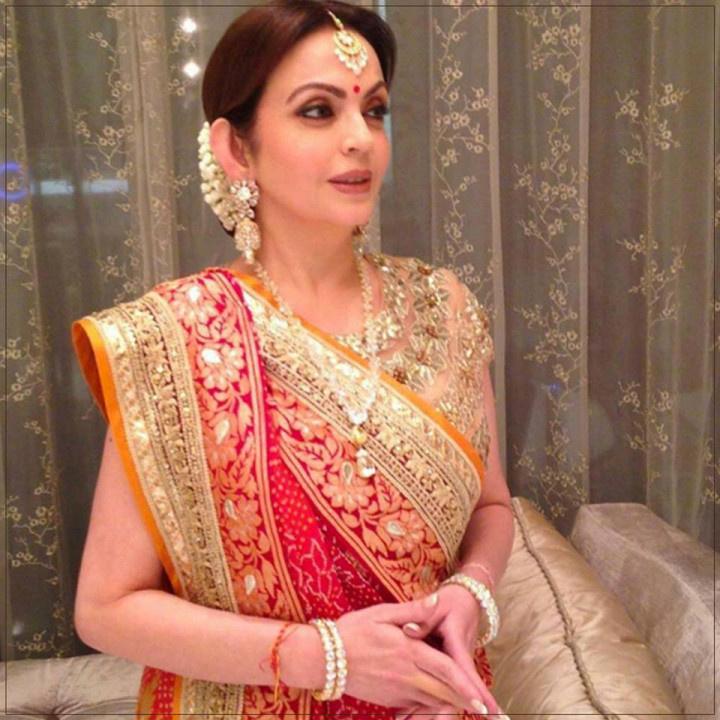 This style of draping is more popular as Seedha Pallu style. It is popularised by Gujarati sarees women in the state wear. In this draping pattern the Pallu is draped from the back and ends in right shoulder pointing towards the front and spreads across the chest with light pleats and the edge is tucked in the left side with a pin.
Brides Go for it on your Reception Night: On the reception, you're the centre of the attraction, of all the saree pleats tips this is the one that will help you to look gorgeous and will give you a royal touch on your reception night, to complete the look go for heavy or diamond jewellery.
4. Bengali style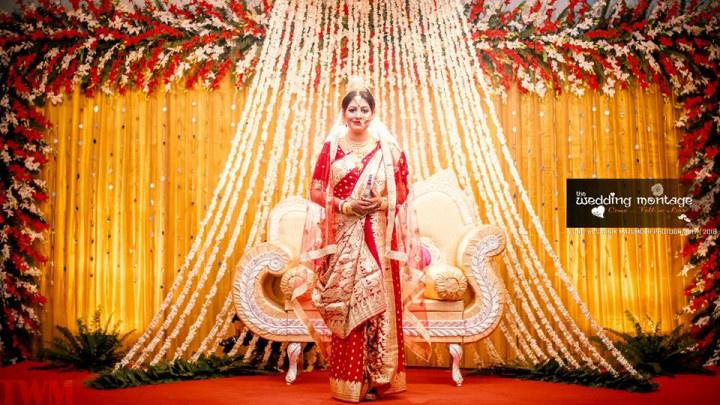 This is a unique style of draping saree is wrapped around the waist and bought to the right side and the Pallu is draped from the back and taken over the left shoulder. The puffy or bell sleeve blouse completes the perfect Bengali wedding look.
The Bride should go for it on the wedding day: To make the wedding photography perfect such saree pleats tips would help you, if you're the bride and if you don't have that much of patience. Add sophistication to your look go for light jewellery and a no-makeup look.
5. Lehenga style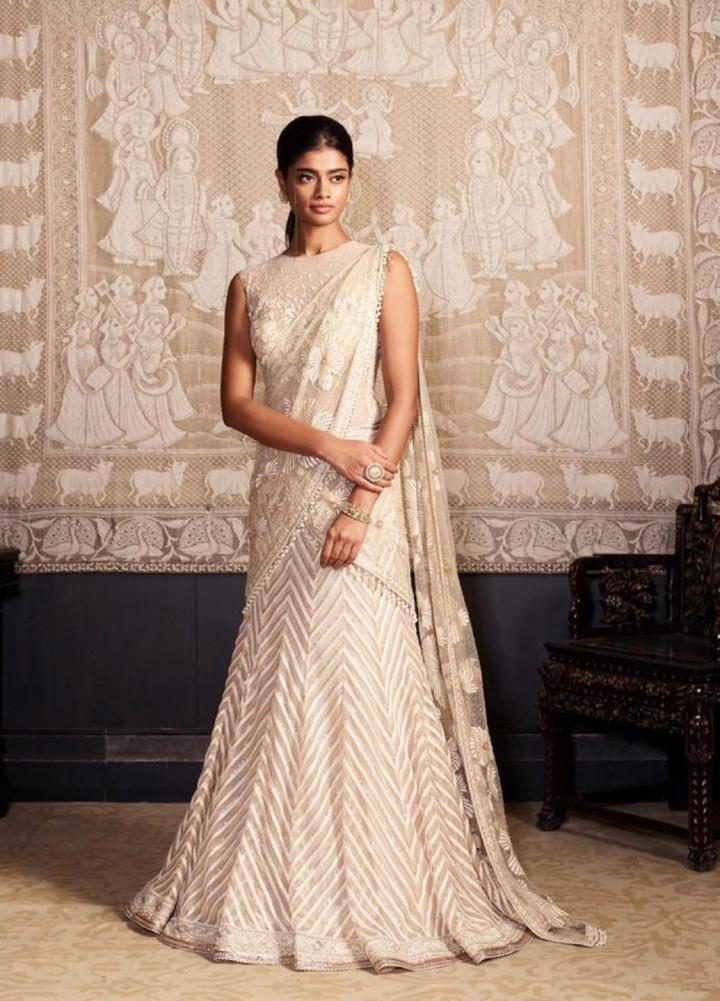 Gives the saree a bit modern touch you can wear this style that gives a lehenga look to a saree. Here the bottom part of the saree looks like a skirt without any pleats and the Pallu is draped like a saree.
Let the father's Princess, Let the Bride Drape it: This gives a very graceful and an Indian princess like look to the bride. So, all brides can go for it on their engagement day.
6. Neck draped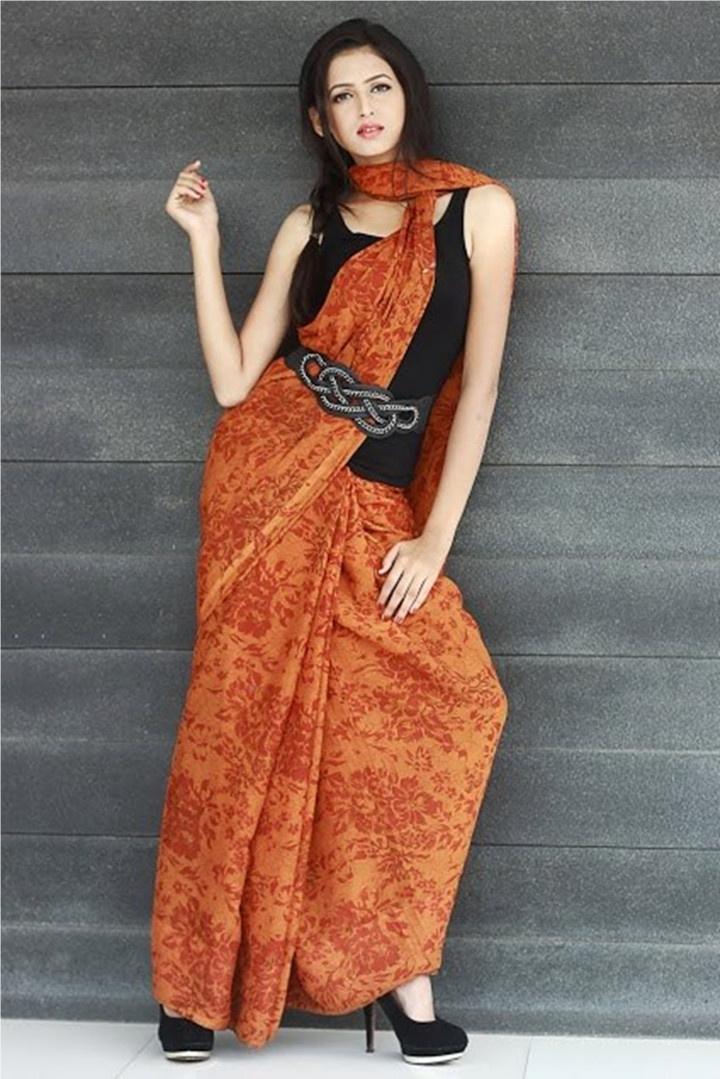 In this style, the saree is wrapped around like the Tamilian style but the drape of the saree is kept longer and is wrapped around the neck. This gives an uber cool touch to this ethnic wear.
Perfect for the Bridesmaid: If you are a bridesmaid and you're going to attend a pre-wedding dinner with the bride then you can go for it. No-makeup look with almost no jewellery will give you a sophisticated and an elegant look for the dinner.
7. Small Pleats and a Skirt Drape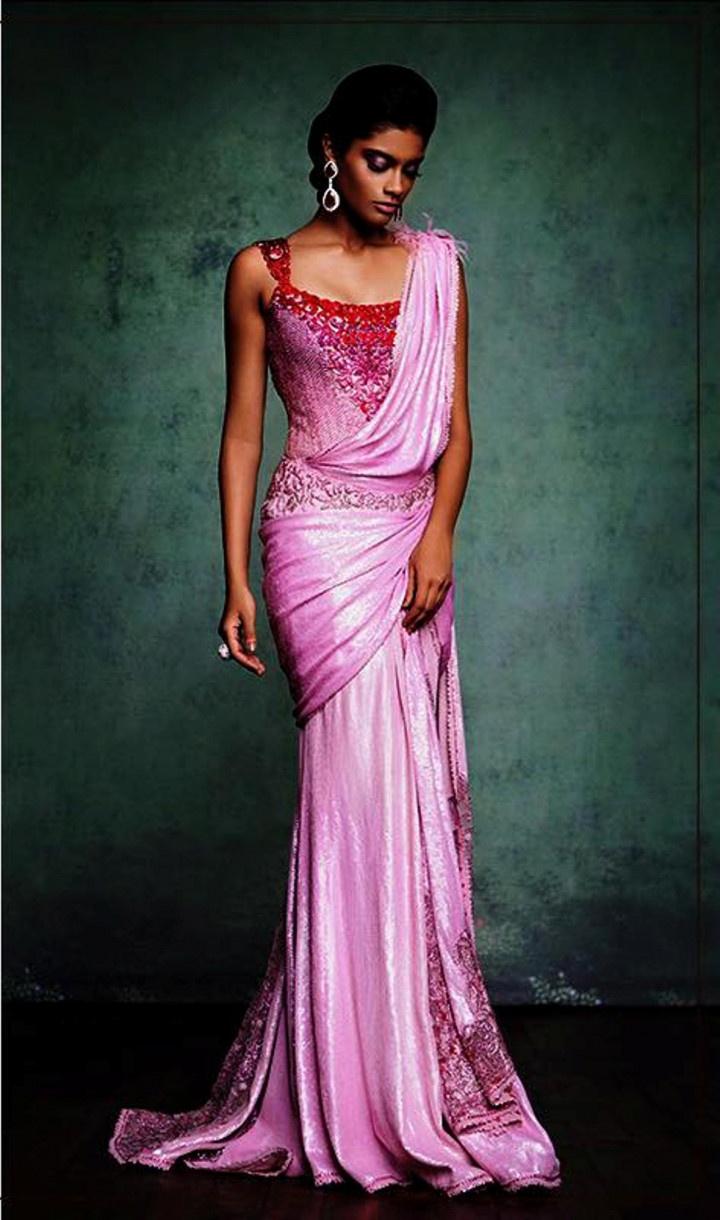 This is a very casual and a comfy kind of a drape where you have a box or small kinds of pleats around your waist and on the Pallu, you have sleek pleats.
Let the Bride Rock the Sangeet: On your Sangeet, you want to have something ethnic yet comfy so you can go for it and rock your Sangeet function with your bridesmaid.
Wedding ceremonies and the functions are made for all and everyone participating in the ceremony should look beautiful and out-of-the-box. It's not a day enjoyed by the bride only, everyone celebrates and enjoys it and flaunt their best look on the wedding photographs. Share with us how these saree pleats tips helped you out for them.
So, which drape do you think your bridesmaid will prefer? As a bridesmaid, which pleat you feel will be the best pleat for the bride-to-be.