The Bengali Bride's Look Deciphered: Everything You Need For All Of Your Functions
From 'Gaye Holud' to 'Bou Bhaat, know every little detail to get that authentic Bengali bride look on your own wedding. The Bridal outfit, makeup, jewellery and more…get yourselves decked up like a true Bong 'Bodhu' beauty!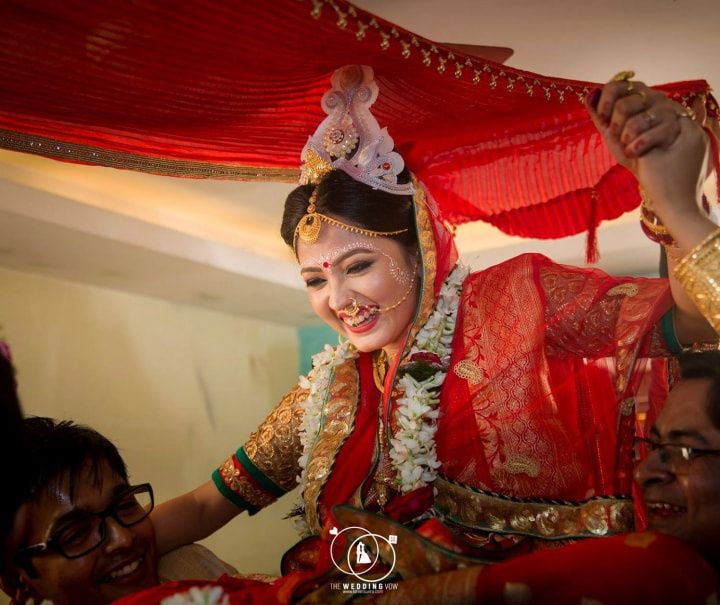 The Bengali bridal saree, hairdo and makeup have always been quite the rage among Indian brides, thanks to Bollywood! Ever since you've watched Aishwarya draped in a blood red Benarasi saree with red lips and a huge Sindoor bindi in Devdas, you've been waiting to replicate that look on your own wedding, haven't you? Well now is your chance!
What Makes a Bengali Bride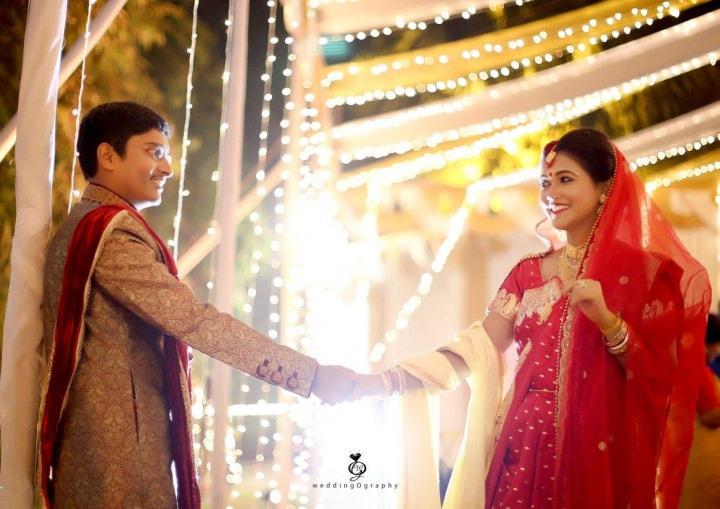 We have carefully listed the important elements of a Bengali bride for some distinct Bengali wedding rituals. Hair, makeup, outfits, accessories…we've covered them all! Read and take notes, if you will!
1. The 'Nandi Mukh' and 'Gaye Holud' Get-Up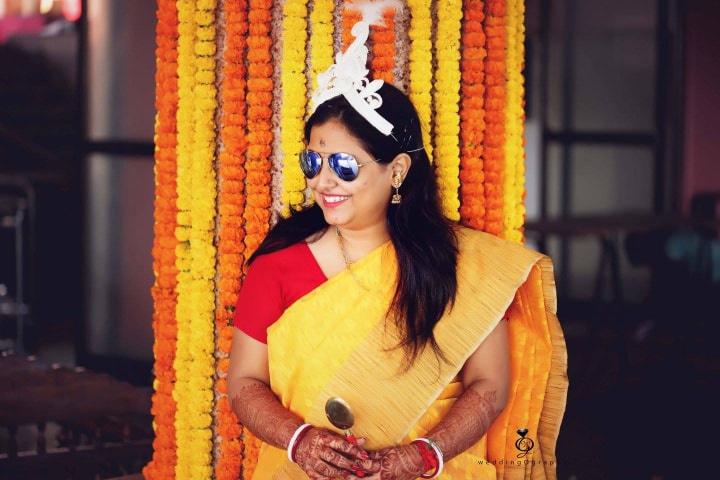 'Nandi Mukh' in a Bengali wedding is performed by the wedding priest while the bride has to sit through the Puja wearing the bridal mukut made of Sholapith or Indian cork.
After this ritual, comes the 'Gaye Holud' or Haldi ceremony when all the married women apply turmeric paste on the bride and then pour water on her. And while all of this happens, the bride-to-be has a carefully chosen look for herself.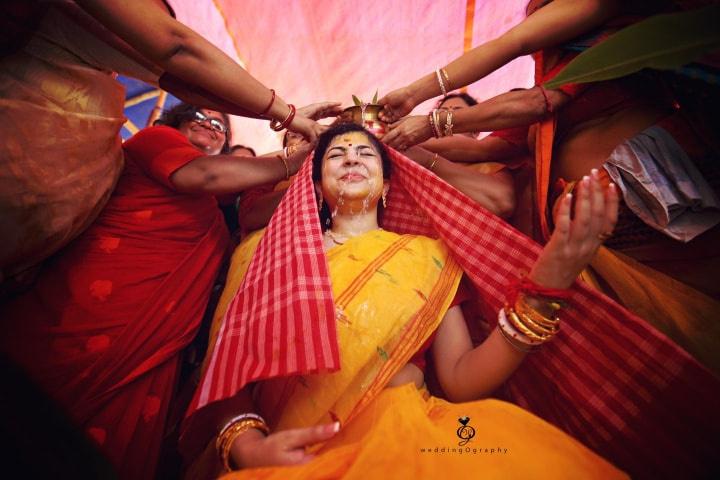 Outfit: Yellow 'Taant' or cotton saree with handloom work. A red and white checked cotton towel-cloth is wrapped around her for the holy bath.
Jewellery: Simple gold earrings, bangles and a gold chain. Post the Gaye Holud and holy bath, she wears the 'Shakha' (Conch shell) and 'Pola' (Red coral) bangles, akin to a Punjabi or Sikh bride's marriage Chura.
Accessory: During Nandi Mukh the bride is made to wear the Mukut. Also, she's handed a brass spatula called 'Dorpon' that she needs to keep holding throughout the entire wedding ceremony.
Hair & Makeup: Fishtail braid or a high bun. Very light makeup with kajal, light lip gloss and a small red bindi.
2. The Big 'Biye'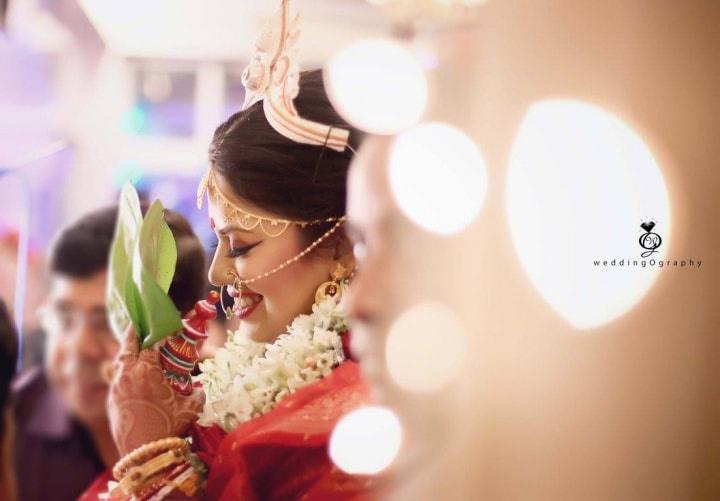 Now comes the Big night! On the Biye or the Bengali wedding night, the rituals are usually intricate and time-consuming. The Bengali bride is all decked up in a typical Bong drape red Benarasi saree, carried to the Mandap in a wooden seat (Piri) while she covers her face with two betel leaves.
There are the usual customs like the Kanyadaan, Pheras or the seven wedding vows, Sindoor daan and the Varmala ceremony.
Now let's take a look at how a bride from Bengal looks on her Biye night!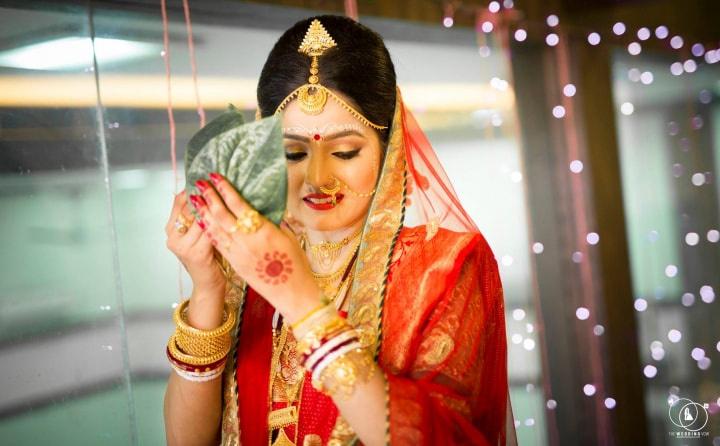 Outfit: Heavily embroidered red Benarasi saree draped in typical Bengali style with box pleats at the front; A red veil covering just the back of her head.
Jewellery: Traditional gold jewellery with large 'Kaan pasha' (Ear cuffs) or Jhumkas, multiple layers of necklaces, Chik (chokers) and chains, thick solid gold Bala or bangles along with the Shakha-Pola, golden Matha Patti and a gold nose-ring. Sometimes brides wear a small golden tiara.
Accessory: Mukut, a red conical wooden-box called 'Lokhhir bhaar' which the bride is to carry until she reaches her new home.
Hair & Makeup: A low or a French braid bun with puffed hair at the front. Also, usually every Bengali hairstyle has a mid-parting. Smoky kohl eyes, red lips, large red bindi with Chandan art on the forehead are ideal for a Bengali bridal makeup. Another important aspect of this wedding makeup is the application of Aalta on the palms and feet.
3. Bou-Bhaat Meal
INSERT IMAGE: weddingOgraphy-bengali bride-reception
Bou Bhaat is the traditional reception of a Bengali bride but with a 'meal twist'. The new bride is supposed to serve every member of her husband's family Ghee rice (earlier it was cooking rice for everyone!) Also, right before Bou Bhaat, the groom presents a tray of saree, sweets and rice to the bride promising to take care of her forever. This ritual is called Bhaat-Kapod.
Outfit: A silk or a Jamdani saree draped with pleats at the back. The pallu can be used to cover the head.
Jewellery: Light gold jewellery with medium sized earrings, a small necklace, bangles along with Shakha Pola and 'Noa'- a gold plated steel bangle worn to protect from the evil eye.
Accessory: A golden bun-pin, a trinket or a key bunch to be hung at the end of the Pallu.
Hair & Makeup: A side bun or a loose bun with strands of loose curls. Light makeup with light lipstick and kajal and matching bindi.
4. Reception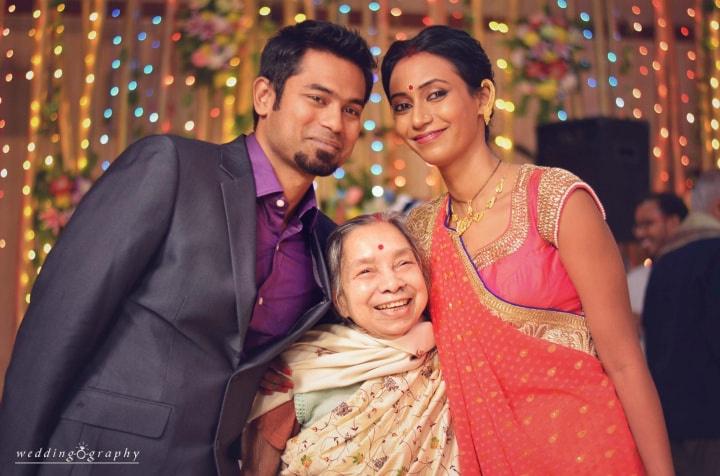 Following the homey 'Bou Bhaat' comes the reception night where the proud groom flaunts and introduces his beautiful new bride to the world. This is the evening when a Bengali bride formally meets and takes blessings from everyone and receives gifts.
Outfit: A Benarasi or a Baluchari silk saree in turquoise, pink or fuchsia draped with pleats at the back. You can also sport the Bengali drape for her reception. A light dupatta or veil to cover the head.
Jewellery: Gold or Kundan jewellery with large Jhumkas or Chandbalis, thick bangles, Maang tikka and necklace. You can also don a fancy Kamarbandh if you're going for a pleated drape.
Accessory: Matching clutch or a potli bag, Gajra.
Hair & Makeup: A braided bun with strands of loose curls. Prominent lip colour and dark eye makeup and matching bindi.
5. Ashtamangala or the 'Back home' trip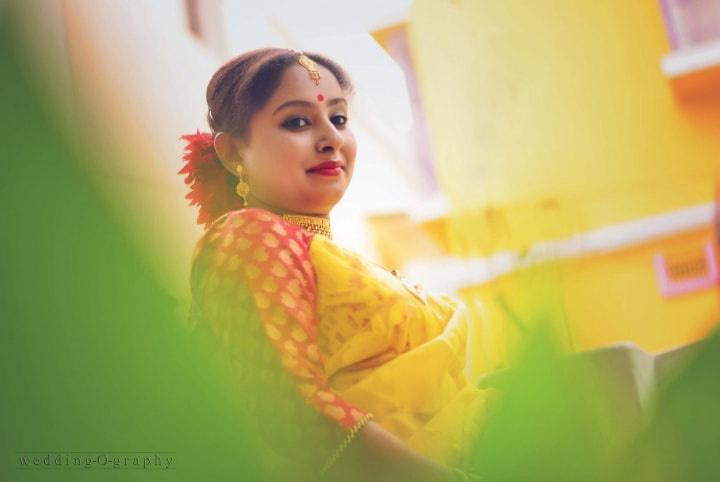 On the eighth day, a Bengali bride along with her husband takes a trip to her parents' home. This is occasion is celebrated cheerfully by the bride's family with food, sweets and gifts.
Outfit: A Jamdani saree draped with pleats at the back. You can also opt for cotton silk, Taant or Tussar silk sarees.
Jewellery: Light gold jewellery with medium sized earrings, a small pendant, bangles along with Shakha Pola and Noa.
Accessory: Matching clutch or a potli bag.
Hair & Makeup: Loose hair with soft curls or a sleek bun. Light makeup with light lipstick and kajal and matching bindi.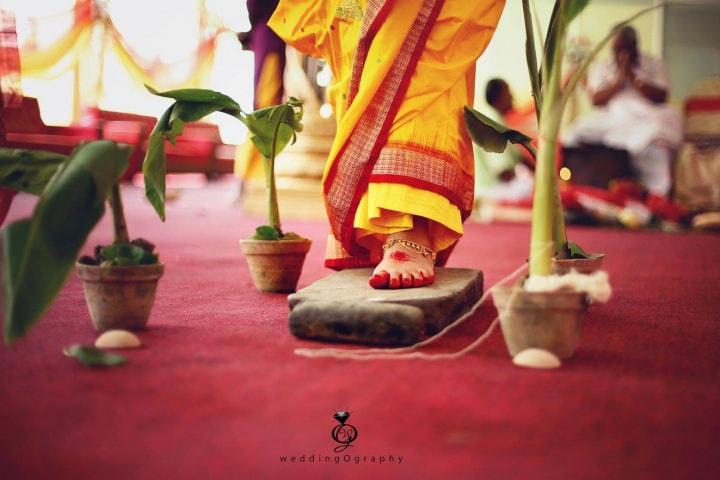 So, did you get some idea on how to sport an authentic Bengali bride look You can take a look at some easy steps to drape a saree in the Bengali style. If you're in the city, take some time out to explore the street shopping in Kolkata. Who knows, you might just find some ideal accessories for your Bong style wedding.
Consult with some hair experts to get an exact Bengali hairstyle on your wedding.