8 Red Banarasi Wedding Saree Designs That Would Totally Steal the Show on Your Big Day
Have you always fantasised yourself in a divine Red Banarasi wedding saree on your big day? So, here we are with a list of red Banarasi sarees to make you look and feel like a queen. Read and pick your own style.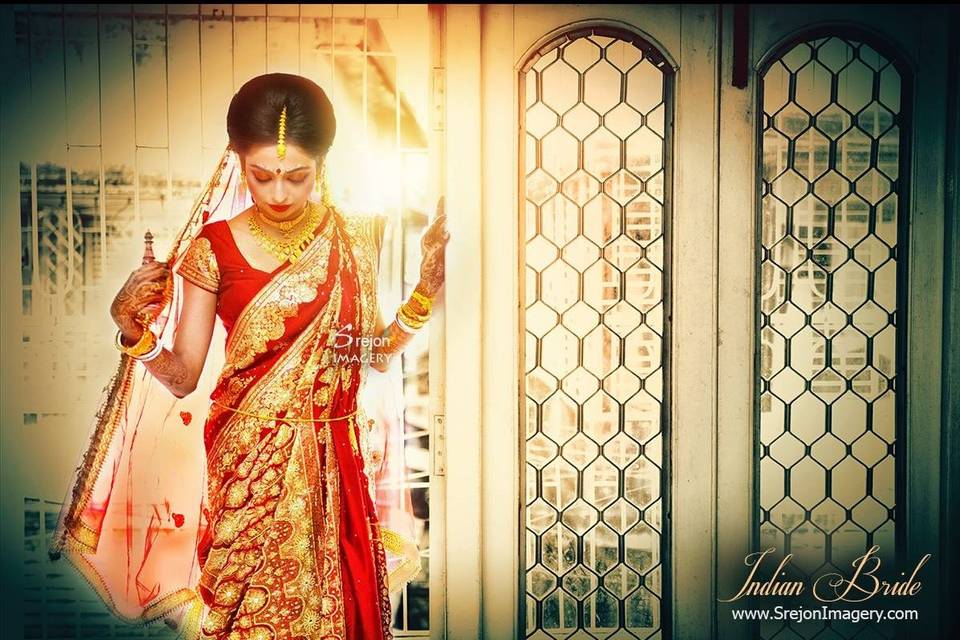 There is something extremely graceful about a blood red lehenga or a saree that makes a bride look divine. And a red Banarasi wedding saree is a sheer display of intricate craftsmanship and fine artistry. The exquisite thread-work and the rich fabric is capable of making any bride's heart stop for a second! After the gorgeous artwork on Panetar sarees from Gujarat, it's time for you ladies to feast your eyes on some brilliant zari work on Banarasi sarees. Take a look at some Banarasi saree designs in red and where you can get them!
1. Blood red saree with large leaves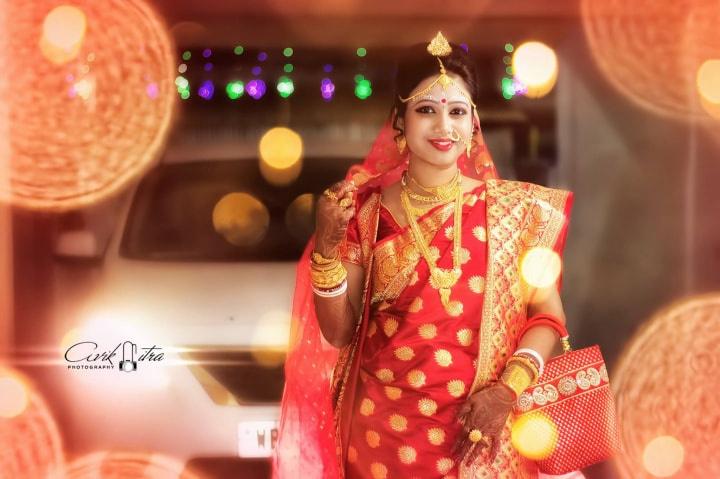 One of the most popular designs in a red Banarasi wedding saree is the large golden leaves. Being a traditional favourite among Bengali brides, you can try draping it in a Bengali saree drape with square plaits in the front or go for front plaits. Choose a matching blouse with zari work on the sleeves for a complete traditional look.
Jewellery: Gold jewellery including large gold jhumkas and gold tiara.
Where to find: Rupahali Sarees (Kolkata), Paridhi (Delhi), Gaurang (Chennai).
2. Brick red saree with purple dupatta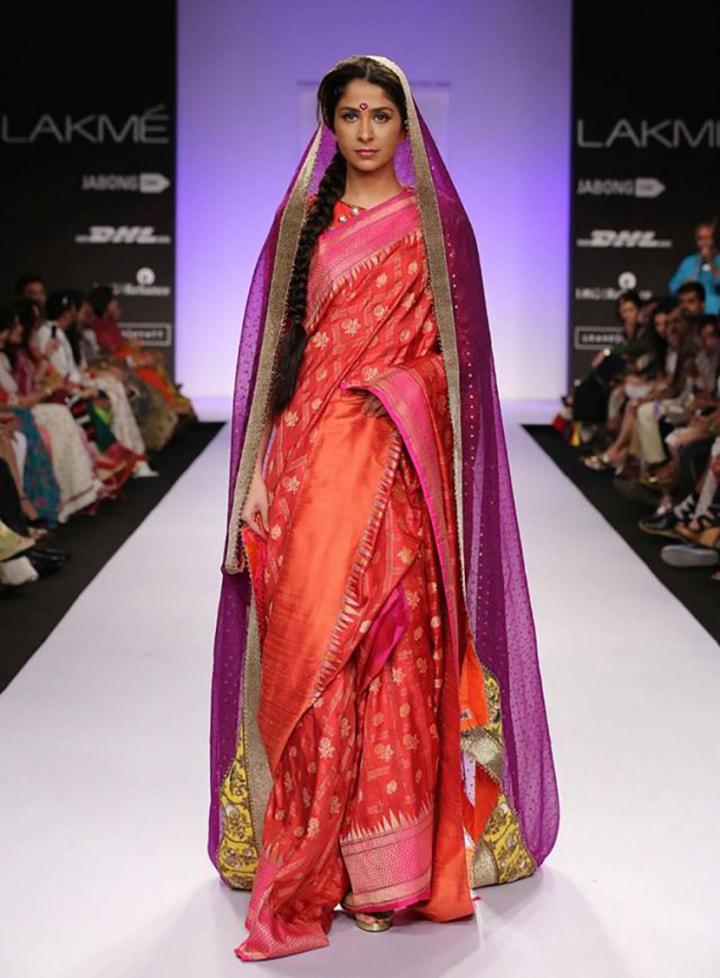 Try out a red Banarasi wedding saree with a little offbeat shade and combination. Pick a brick red saree with dull pink borders and silver work all over. Drape it with a loose short pallu and carry a floor-length purple dupatta over the head falling at the back. The highlight of this look is keeping the pallu short so that it's easier to carry a long dupatta.
Jewellery: Silver or pearl jewellery.
Where to find: Suisse Sarees (Kolkata), Reet by Kaveri Batla (Delhi), Madhuri Sarees (Mumbai).
3. Rose saree with yellow blouse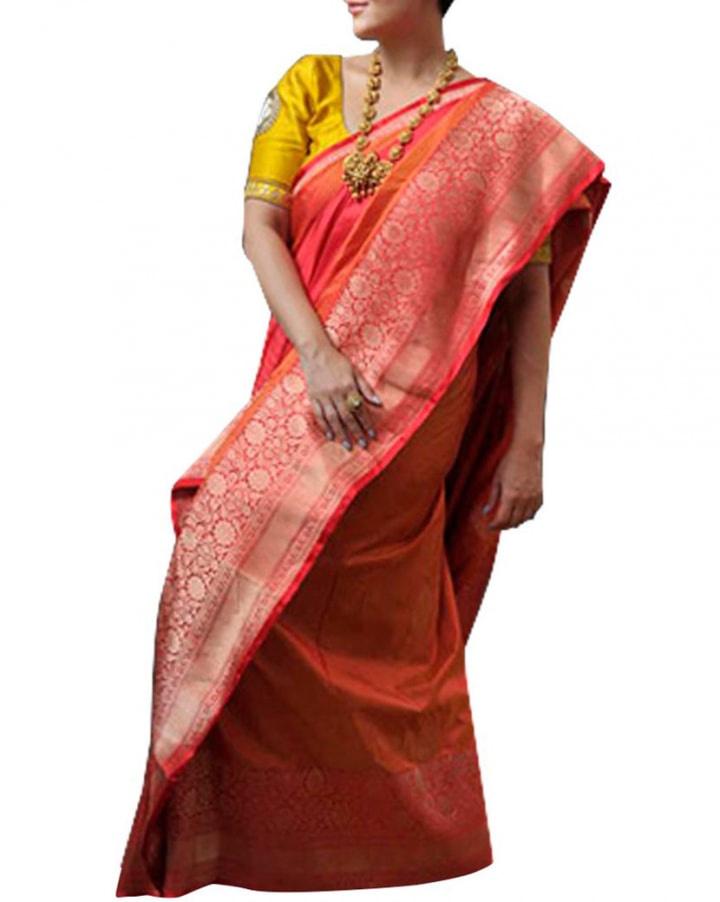 Pick the rose shade for a red Banarasi wedding saree and wear it with a loose pallu. Pair up your saree with a 3/4th sleeved yellow blouse for that edgy look. Keep your hair loose with soft curls.
Jewellery: South Indian jewellery or gold oxidised jewellery with broad bangles and large Jhumkas.
Where to find: Bahurani Sarees (Ambala), Fabiha Boutique (Hyderabad), Dstyle Icon Fashion (Surat).
4. Scarlet red saree with a purple pallu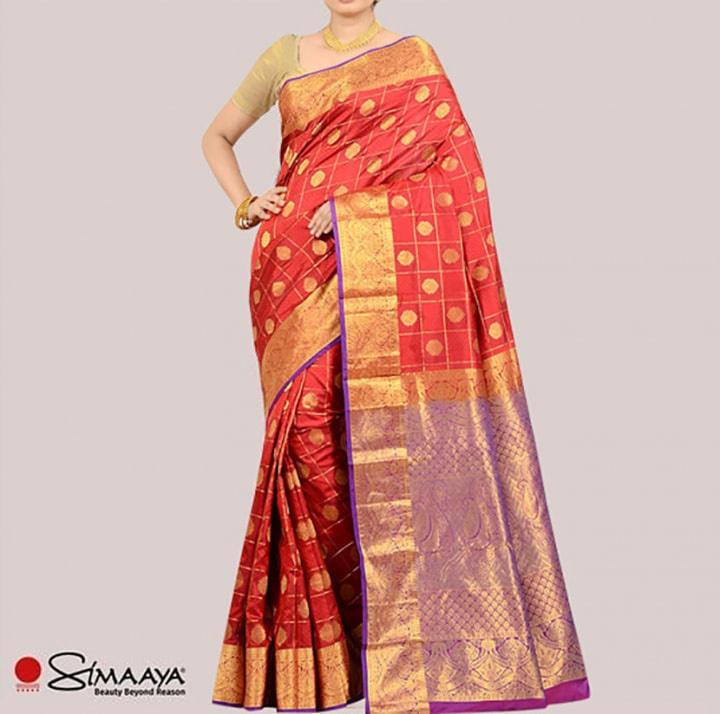 Sport a scarlet shaded red Banarasi wedding saree with a purple coloured pallu for your special occasion. the beauty of this saree is the contrasting dual shades. You can wear it with a golden or beige coloured blouse.
Jewellery: Golden jewellery.
Where to find: Occasions (Jabalpur), Paaneri (Mumbai), Raghav Creation (Delhi).
5. Blood red saree with a heavy elaborate pallu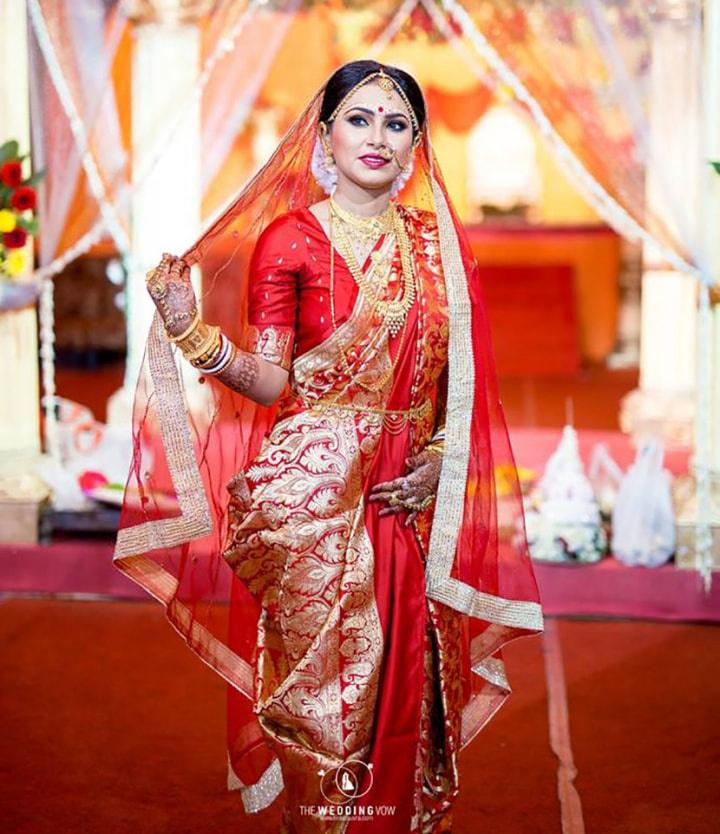 The signature of a true red Banarasi wedding saree lies in its pallu. Flaunt a blood red Banarasi wit a heavily embroidered pallu in intricate golden thread work with leaves or paisley designs. Drape the saree in either a Bengali style or in a Gujarati fashion where the pallu comes at the front. The basic purpose is to showcase the extraordinary work of zari.
Jewellery: Gold jewellery including a Kamarband.
Where to find: Talaash Couture by Indira (Delhi), Kaaira (Bangalore), Urbanza (Ahmedabad).
6. Wine red saree with a long back pallu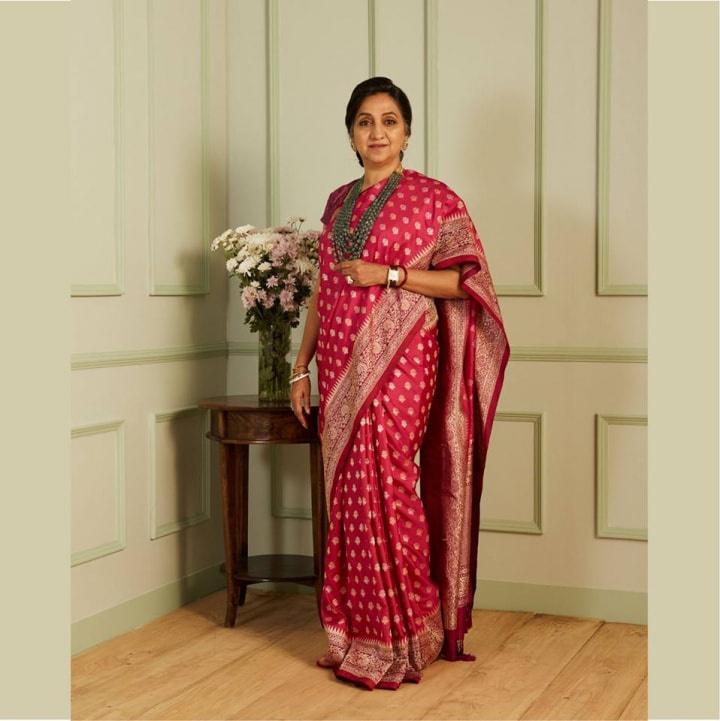 Now here is a drape that is an instant favourite of almost every bride across the country. A wine red Banarasi wedding saree with neatly draped and pinned plaits falling at the back. Keep the pallu at a floor-length to accentuate the elegance. In fact, this particular shade and drape of Banarasi saree is not just popular among brides but also mothers, bridesmaids, relatives and wedding guests of the bride!
Jewellery: Other than the classic gold, you can try some contemporary, designer jewellery, stones or artificial jewellery to go with this drape.
Where to find: Purvi Sarees (Kolkata), Hangar (Chennai), Mausam (Mumbai).
Look for paisleys, polkas, leaves and vines as the embroidery on a red Banarasi wedding saree. These are the most popular designs made with silver or golden thread. All those elaborate zari work makes a Banarasi sari quite heavy. Hence, avoid wearing it on a Sangeet, Haldi, Mehndi or Cocktail where you might find it a bit difficult to shake a leg in a Banarasi. Wedding, engagement, reception or any festivals are the ideal occasions to flaunt this drape. If you're doing a Bengali style drape, look for some popular Bengali hairstyles to go with. Don' be afraid to mix and match jewellery and accessory styles. Talk to your designer for more interesting and unique styling options.
If you haven't picked matching jewellery with your Banarasi saree yet, take a look at our vendors' list.