The Ultimate Reference for Learning How to Wear a Bengali Saree
If you wish to wear a saree draped in Bengali style but don't really know how to, then today is the day to learn it. Let's list down some simple steps that can help you surprise everyone by wearing a Bengali saree to your next function.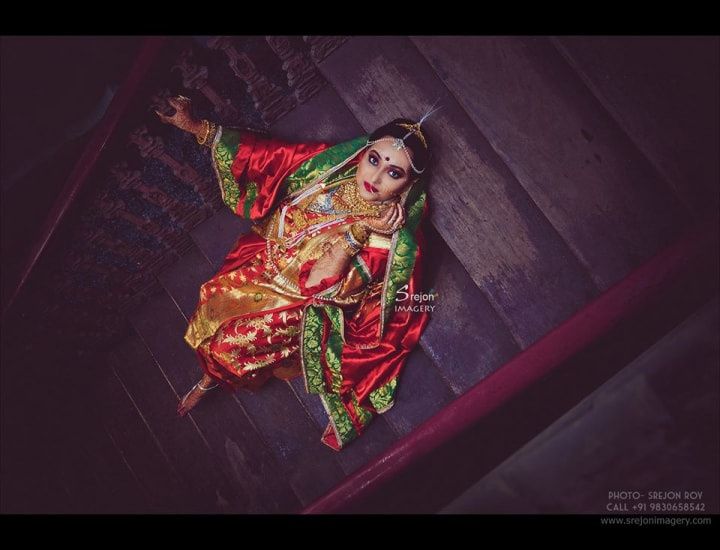 Each style there is of draping a saree is unique in some way. Wearing a Bengali saree is also unique because it just does not signify a style but also a culture and a history of people behind it. Wearing a Bengali saree will not just remind you of its different style, but also of the traditions that are one-of-a-kind.
The steps on how to wear a Bengali Saree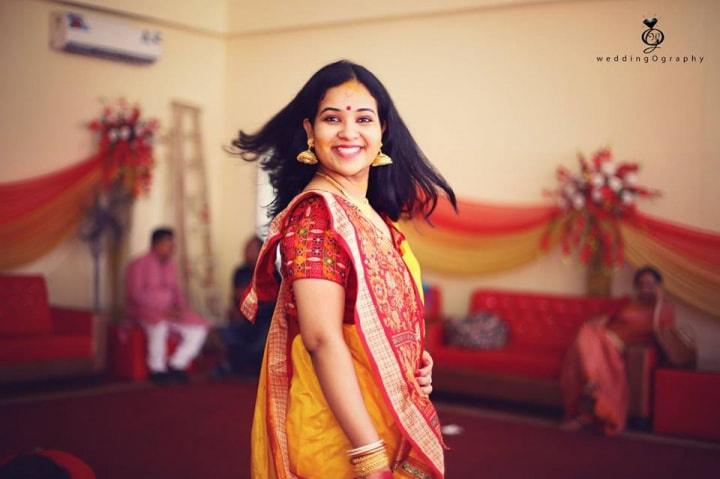 Step 1:
Start with draping the saree around your waist and tucking it on the right side of your petticoat. Then take it around your waist while tucking it in the process, and keep it going towards your left till you come back to the point you started to tuck it in from.
Step 2:
Next thing to do is to make box pleats, you do this by taking your saree all the way to the left leg, folding it and taking it back to the right leg. Repeat this process two times. Box pleats are supposed to be broad, so ensure that while you make them. Also, make sure the length of the pleats is levelled with the ground.
Step 3:
Now, you take the pallu of your saree and pleat the remaining saree. These pleats should be as broad as the border, and not more so. Make sure your saree pallu pleats are equal, and if you can't manage the pleats, clip them for once.
Step 4:
Then, you place the pallu over your left shoulder, adjust it so that the end of your pallu is at height with your knee or your calf. Pin it accordingly.
Step 5:
The final step would be taking the one end of your pallu and bringing it to the front from under your right arm. Knot this end and throw it over your right shoulder, and you are wearing a Bengali saree draped in the authentic Bengali style.
Pro Tip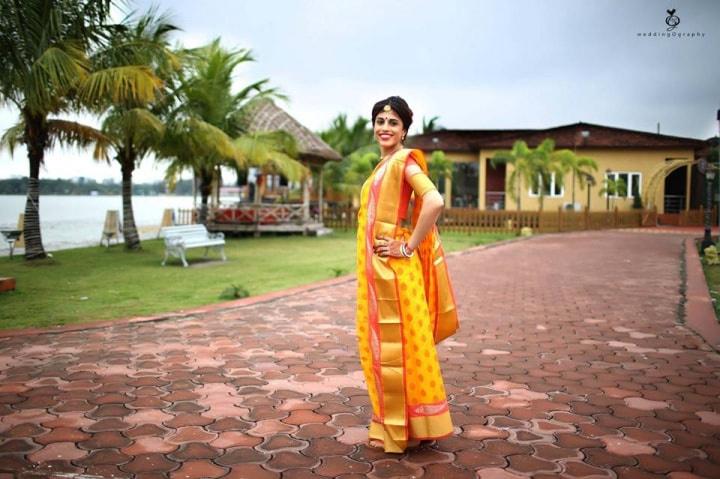 Also, remember to adjust whatever you feel might be protruding out or is out of place before walking out of the room. Also, make sure that you're your box pleats are secure and their width is fine. You can secure most of it with pins if you think you are in danger of things slipping or falling out of place. One good thing about wearing Bengali saree is that all the pleats you need to do are either big or not attached. This makes it easier for butterfingers like us to wear it.
Pro Add-On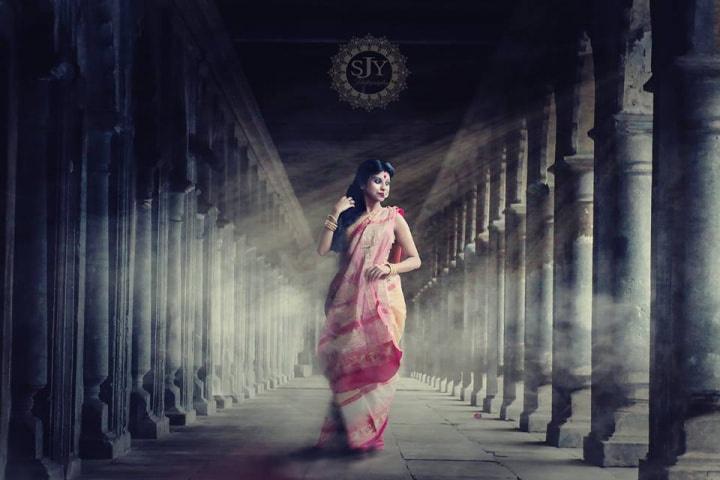 Another idea that can add to the look when you plan to wear a Bengali saree is a trinket at the end of the pallu that is draped over your right shoulder. It just adds to the show of the saree, and can also distinguish each saree, even if the pattern of the Bengali saree is somewhat similar.
Types of Bengali Sarees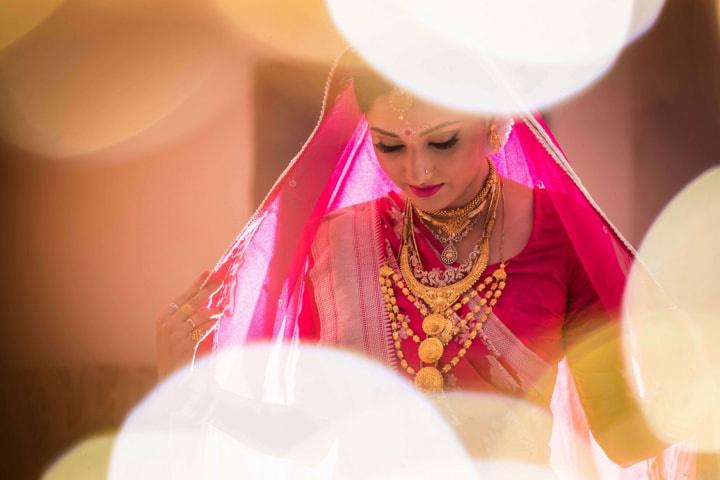 Bengali saree has evolved in fashion through the generations. How we wear a Bengali saree today is not even close to what it was before. With a variety of options available these days, another choice to make while wearing a Bengali saree is which saree to choose. There are various types of Bengali sarees that you can choose from-
1. Garad Saree
The Garad Saree is known to be the most Bengali with a combination of red and off-white, with striped border.
2. Bengali Cotton
There is also the Bengali cotton saree which is one of the most simple of the lot, but still cannot be missed by the eye owing to its elegance. The fact is that it is comfortable and that adds a point in its favour.
3. Baluchari Silk
Baluchari Silk is the saree usually chosen for weddings and special occasions. These sarees look rich and come with thick and intricately done silk borders.
4. Tant Saree
Then there also is Tant which comes both in silk and cotton, and are known for a thick border and beautifully decorated pallu.
5. Jamdani
Lastly, there is the Jamdani which is light and airy in its making. It is intricately designed and takes some classic motifs into play.
These are some of the more famous Bengali types of sarees that can be found. These options can be chosen on the basis of when you want to wear a Bengali saree. Bengali sarees stand out on their own and can be worn in many other ways than just the typical Bengali style.
Wear a Bengali saree to one of your wedding functions and accessorise it with the typical Bengali accessories to look the part. This can include a big red bindi, and also your typical gold jewellery. If you have any further confusion on how to wear a Bengali saree, refer to this video and get all your doubts solved immediately.
Tell us in comments if this article helped you learn how to wear a Bengali saree well?