Evergreen Kerala Saree Blouse Designs For Your Traditional Wardrobe
All set to attend a big, lavish Kerala wedding? Amp up your traditional wedding outfit with these gorgeous Kerala saree blouse designs and enjoy the ceremony.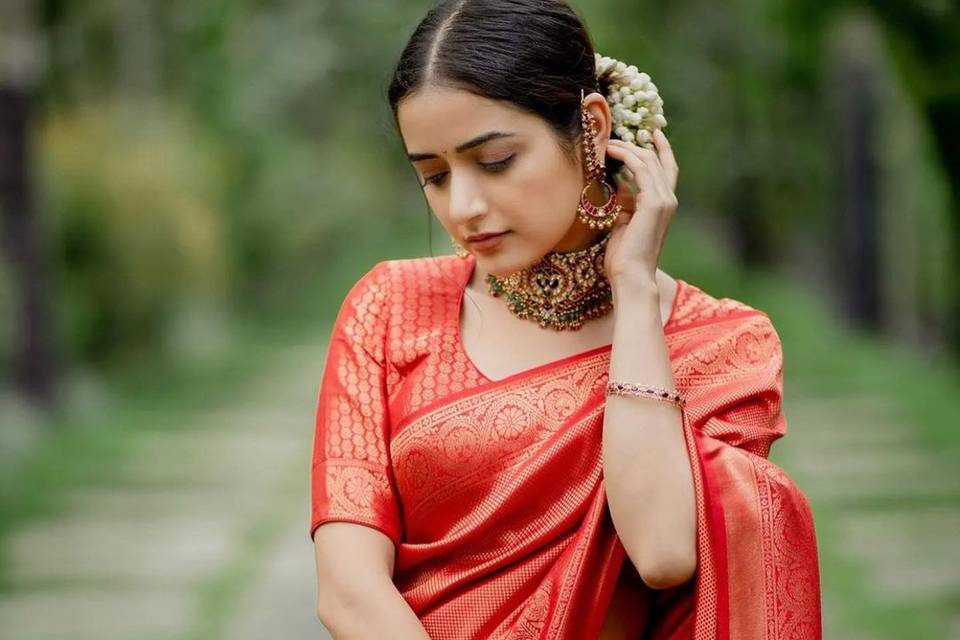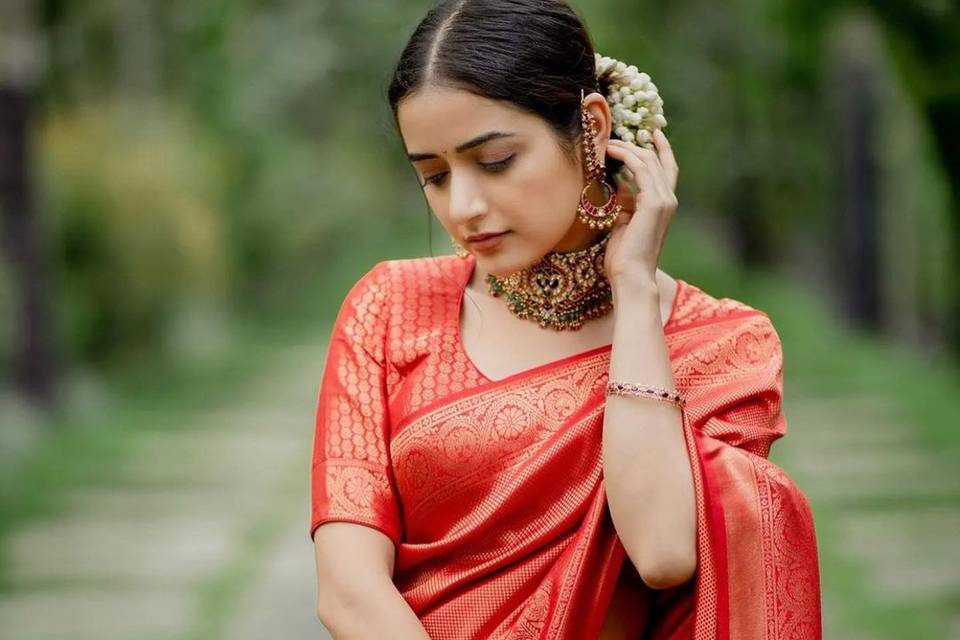 Image Credits - Ashika Rangnath
All of us like to dress for the occasion and look gorgeous. So whether it is your best friend who is getting her destination wedding dream come true in a cultural city or it is your traditional wedding that you are preparing for, make sure that every element matches the vibe. And especially if the wedding is happening in God's own country, pick a beautiful Kerala saree blouse that not only complements the saree but is also traditional and stylish. And to help you make the right choice, we have compiled a list of some stunning blouse designs for you to select from. So read on, and pin your favorite designs Kerala set saree blouse designs now.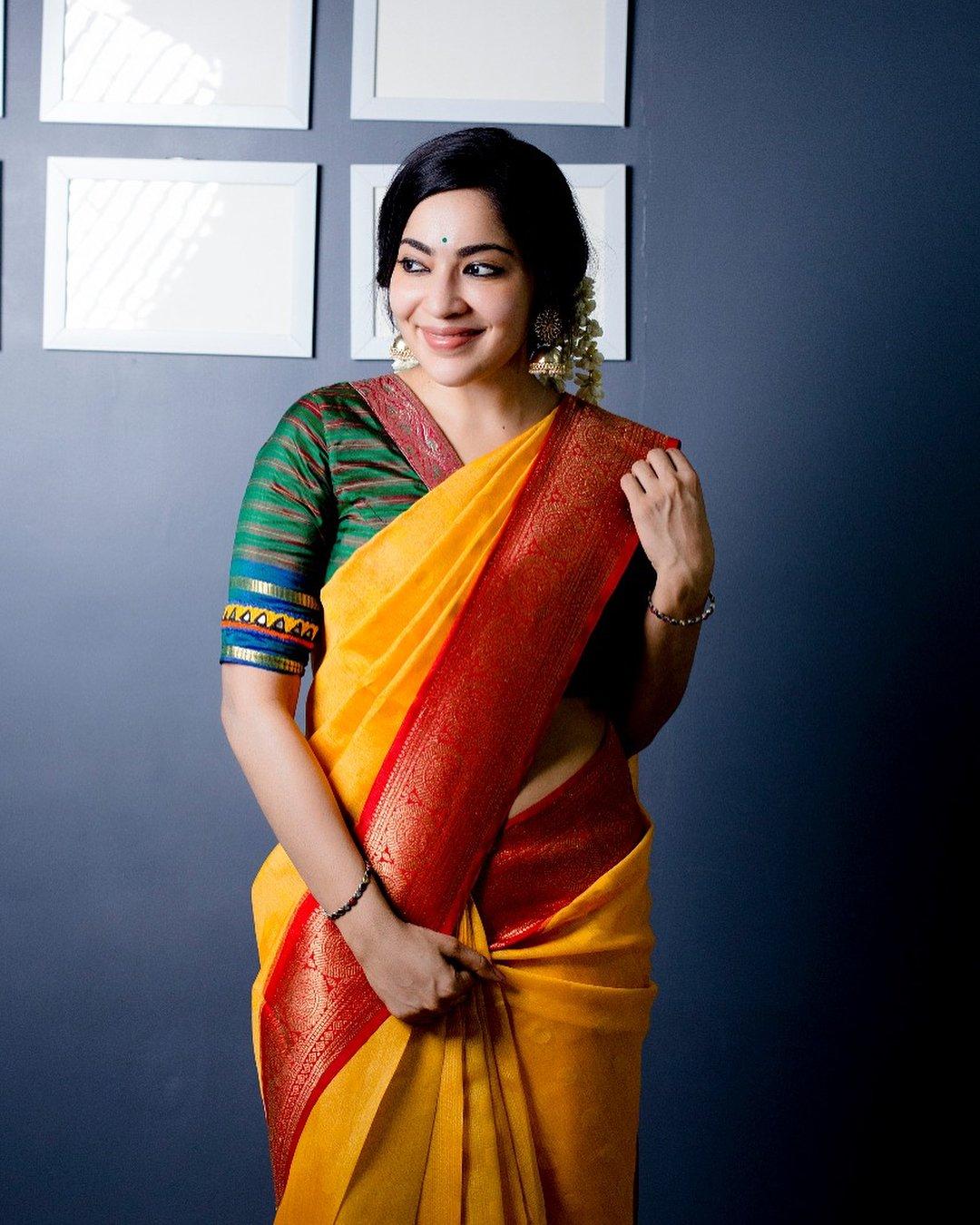 Simple Kerala Saree Blouse Designs
Mirror Work Kerala Saree Blouse Designs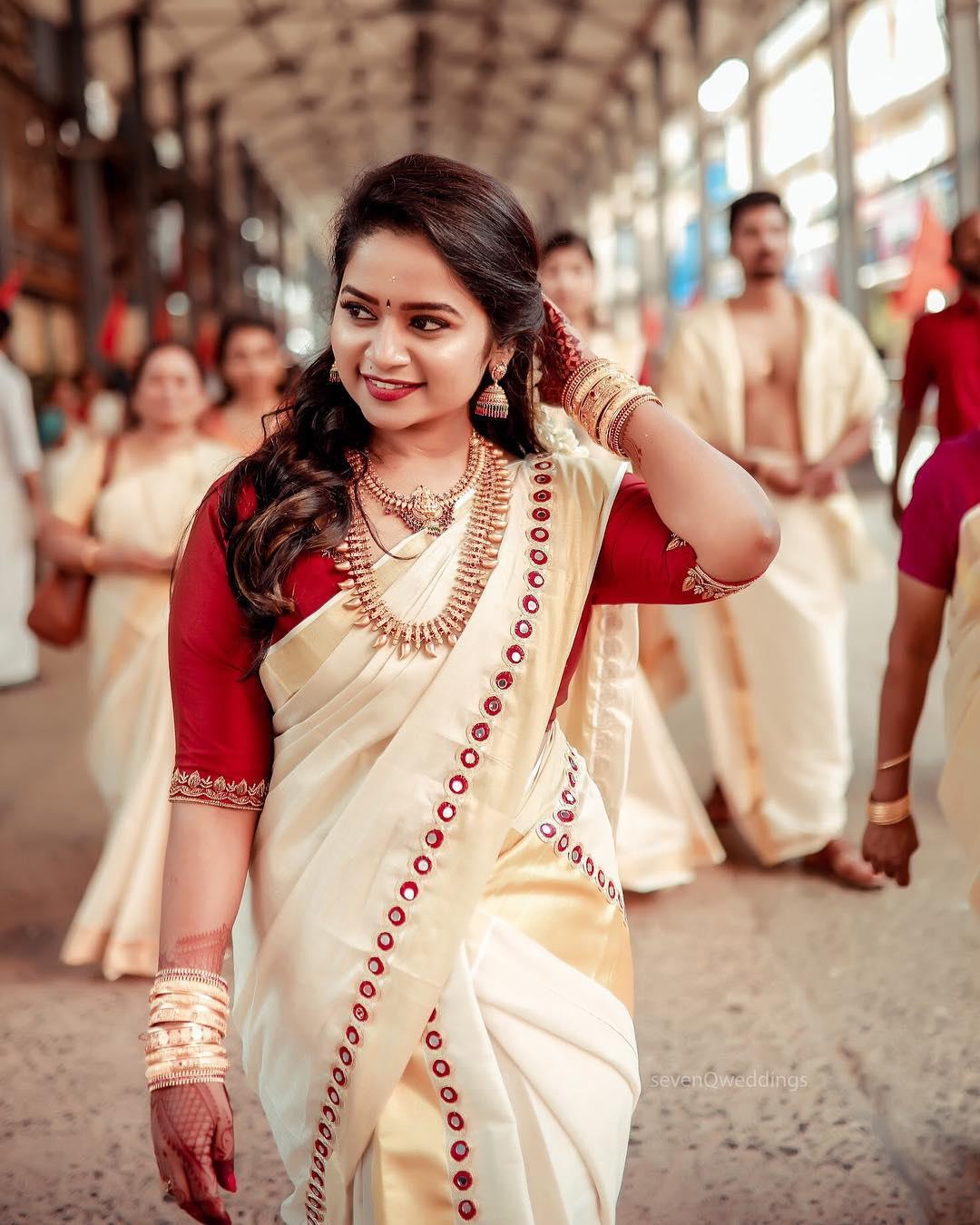 Image Courtesy: Seven Q Weddings
When you are planning to ditch the oh-so-plain saree for one that looks simple yet stylish with all that mirror work, you need a pretty embroidered blouse. And we love this round neck red Kerala saree blouse with delicate hand embroidery on the end of the sleeves and the neck design. This bright-colored blouse goes perfectly with the traditional wedding outfit and adds the perfect pop of color to the entire bridal look.
Also Read - 50+ Wedding Blouse Designs- Latest and Trending Wedding Blouse Designs Of 2021
The Magic Of Green And Golden Kerala Saree Blouse Designs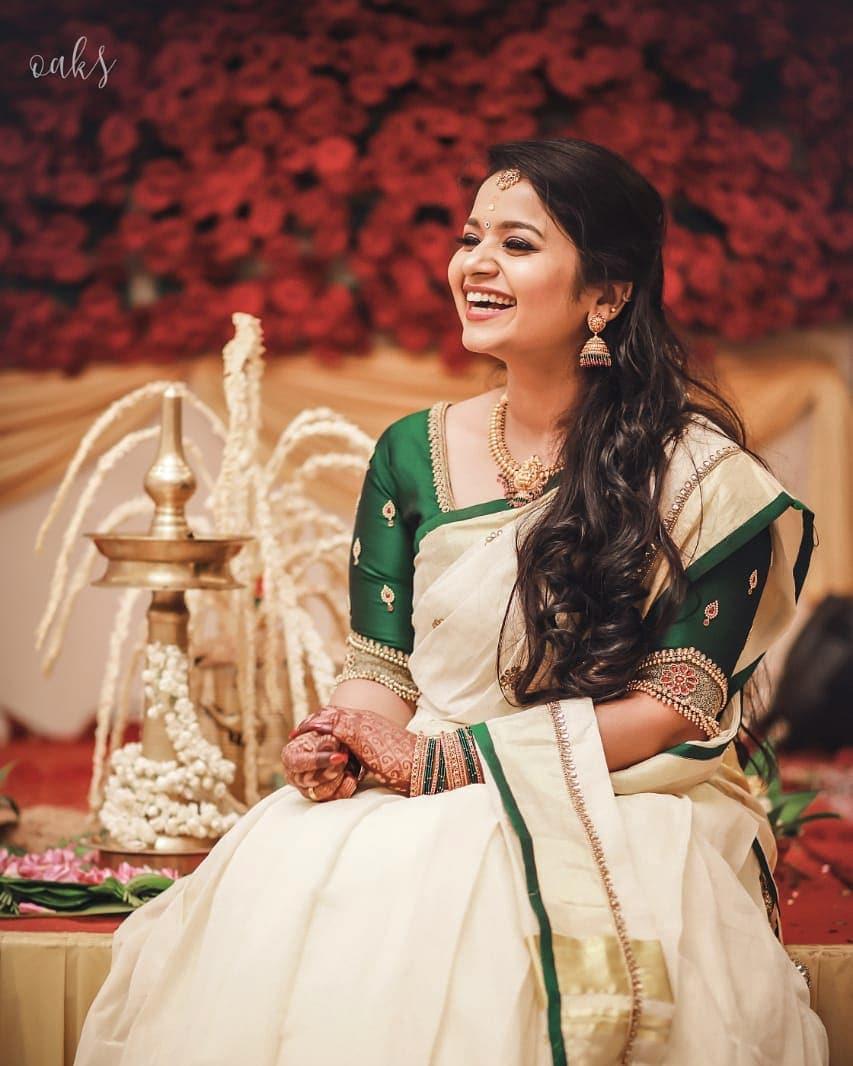 With beautiful golden embroidery on the sleeves and the neck design, this green-colored blouse complements the Kasavu saree and its perfect green border. The color combination of green and golden makes for a great option for the bride-to-be. You can pair ornate gold jewelry with a hint of emerald with this outfit to complete your wedding look, and trust us all eyes will be on you.
Minimalism At Its Best Kerala Saree Blouse Designs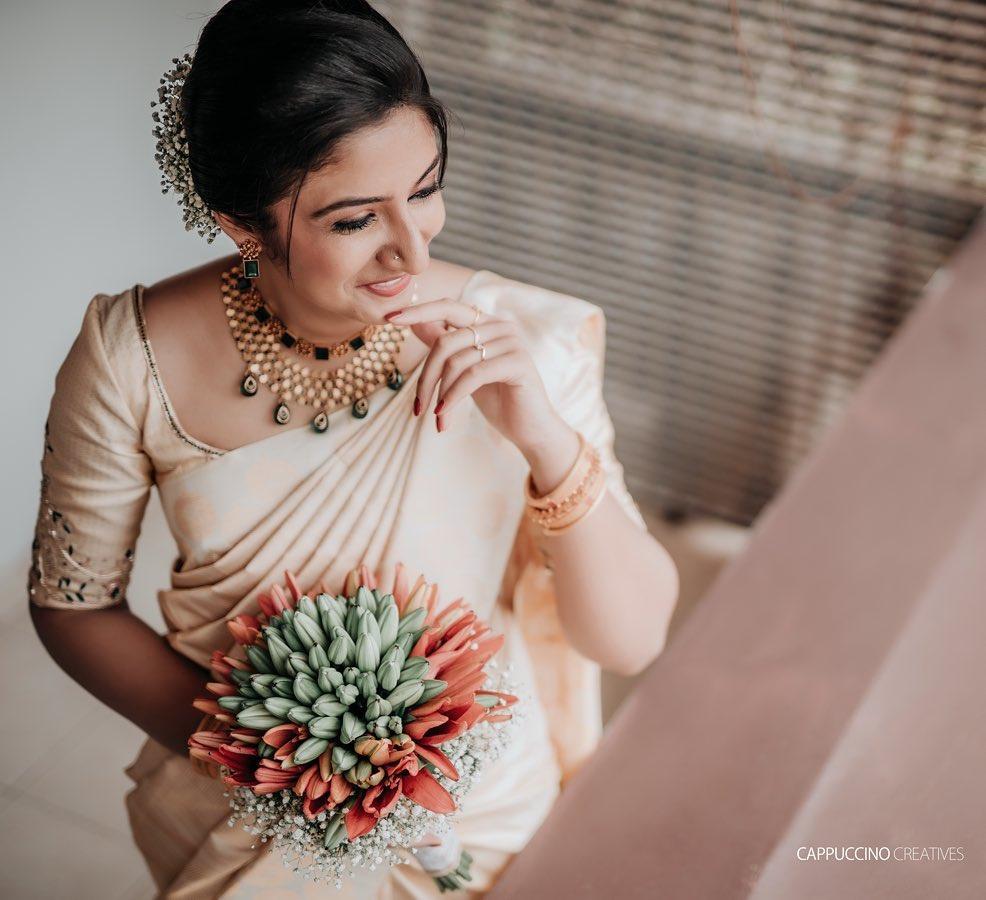 Image Courtesy: Cappuccino Creatives
Are you a fan of sophisticated and minimal designs? Well, this round-neck textured Kerala saree blouse has minimalism written all over it. The delicate work on the blouse makes it all look all the more decent and thus a perfect choice for a bride-to-be who is all about keeping things classy yet simple for her big day.
Kanjivaram Kerala Saree Blouse Design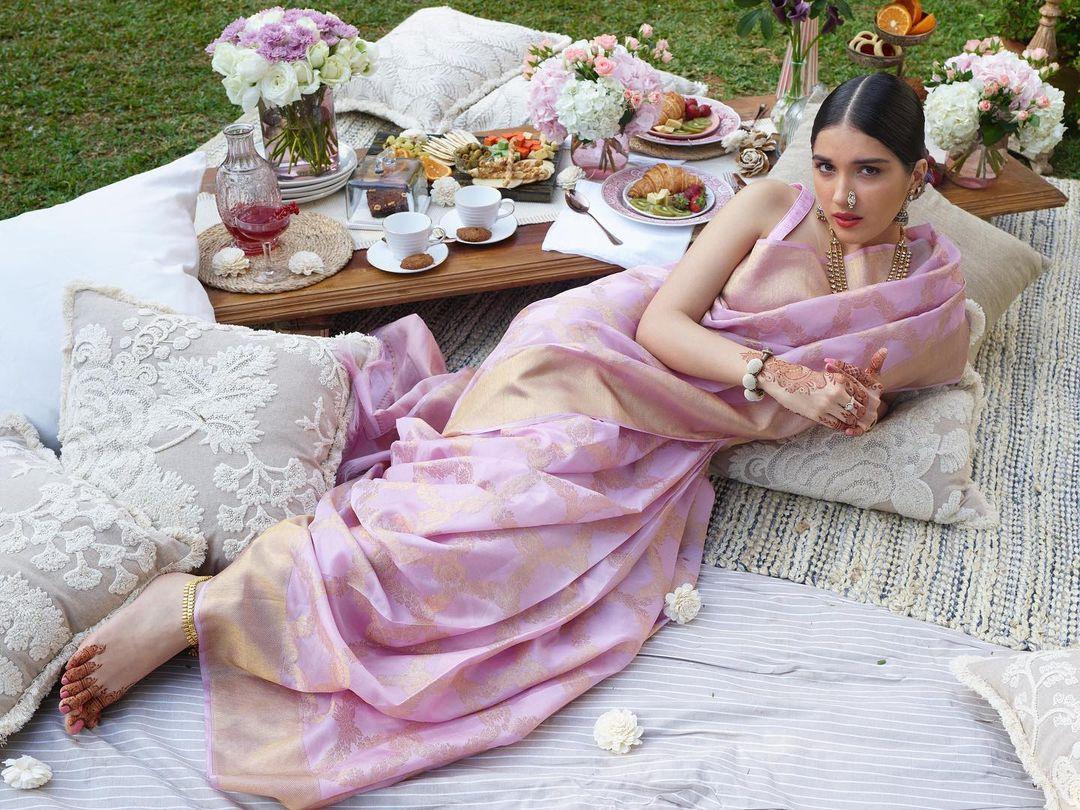 Image Credits - Advaya
Elegant, classy, and rich this beautiful pink sari will make you a show-stealer. Label Advaya's organza Kanjivaram sari is a modern, lightweight saree that goes well with the Kerala saree blouse design. The pastel color is incorporated into the body selectively to highlight the motif. The muted colors give a soothing as well as classy façade to this entire festive look.
Also Read - 15 Gorgeous Kanjivaram Saree Designs to Kick Start the Wedding Division
Brocade Kerala Saree Blouse Design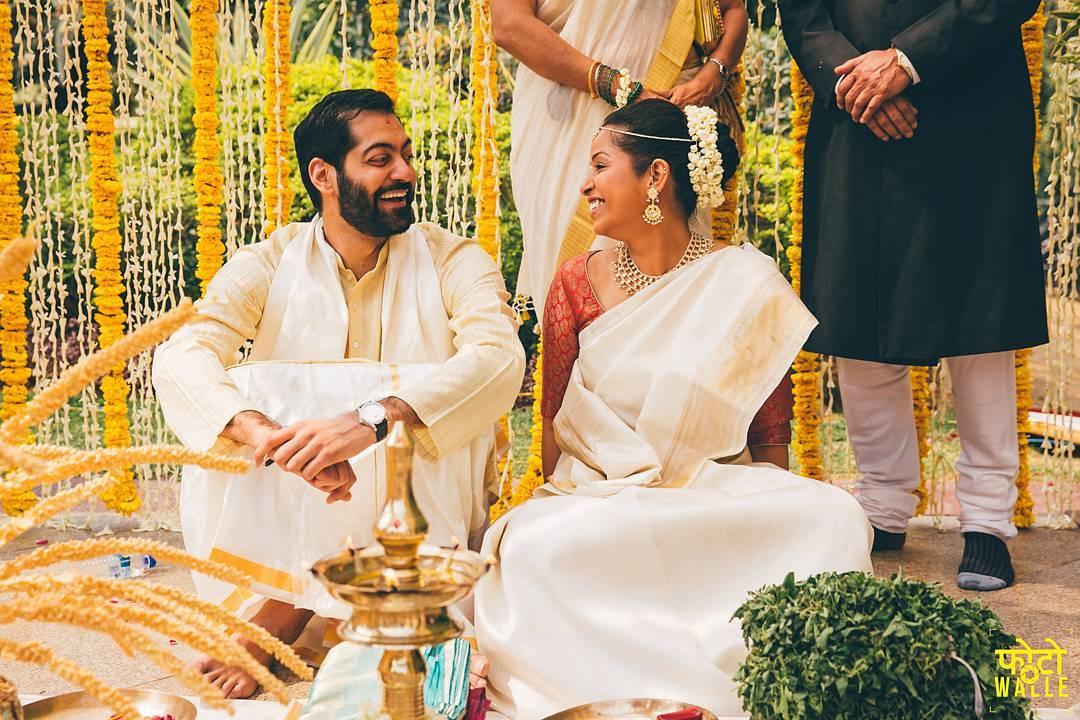 You can never go wrong with brocade. So when you are looking for options for a Kerala saree blouse that you can pair with your signature saree, don't forget to try this one. The sheer grace and appeal of this beautiful red brocade blouse are unmatchable. And like we all know that red color is associated with feelings like love, passion, and desire, so it is only befitting that you choose this blouse and look ravishing on your D-Day.
The Traditional Kasavu Kerela Saree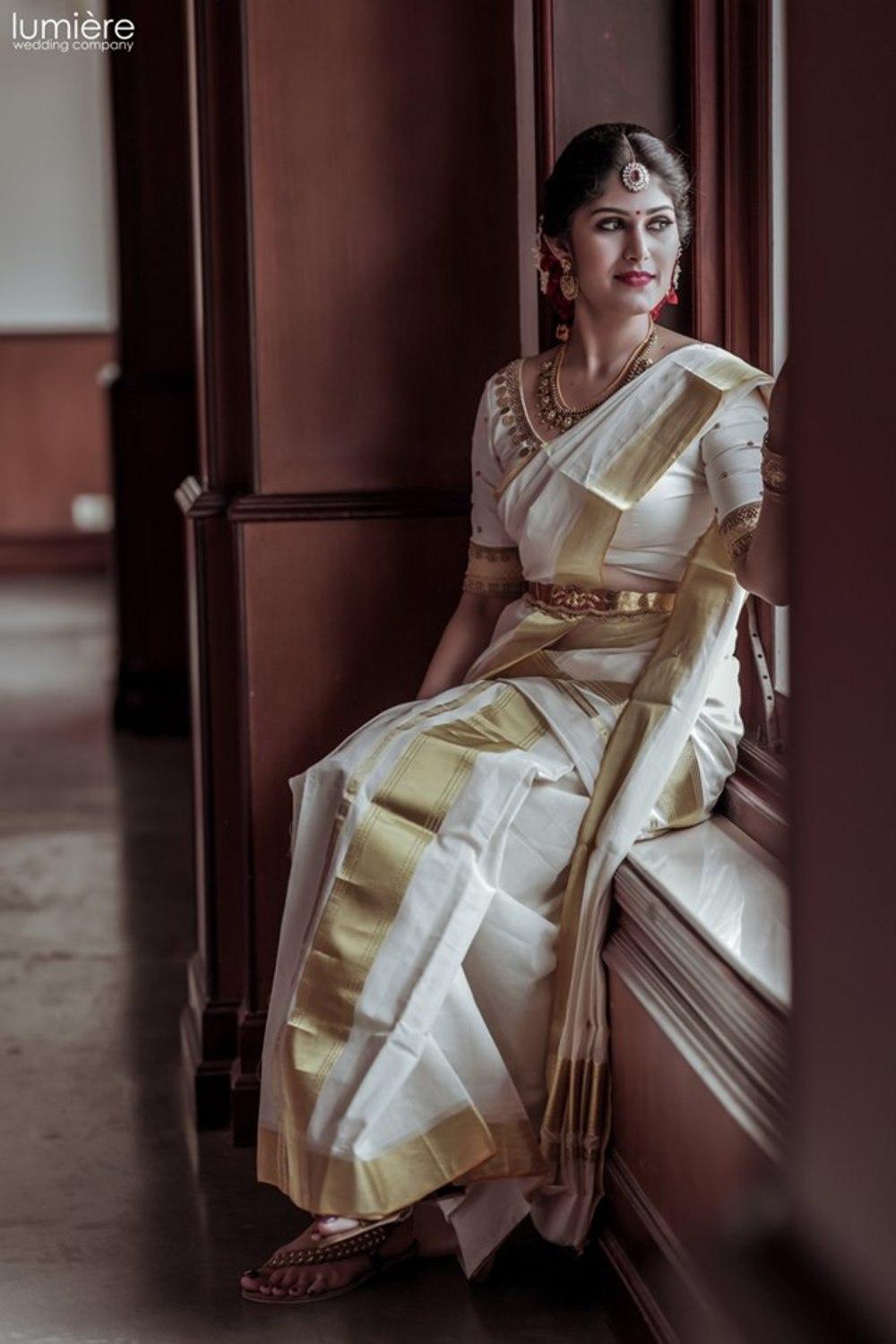 The first one on the Kerala saree price list is the white and gold Kasavu saree that's popular when it comes to Malayali brides. The beautiful gold zari work along with the simple white piece of cloth is enough to make this elegant saree a masterpiece. For most Malayali brides this saree is very important because it speaks simplicity and tradition in every way.
Subtle Kerala Saree Blouse Design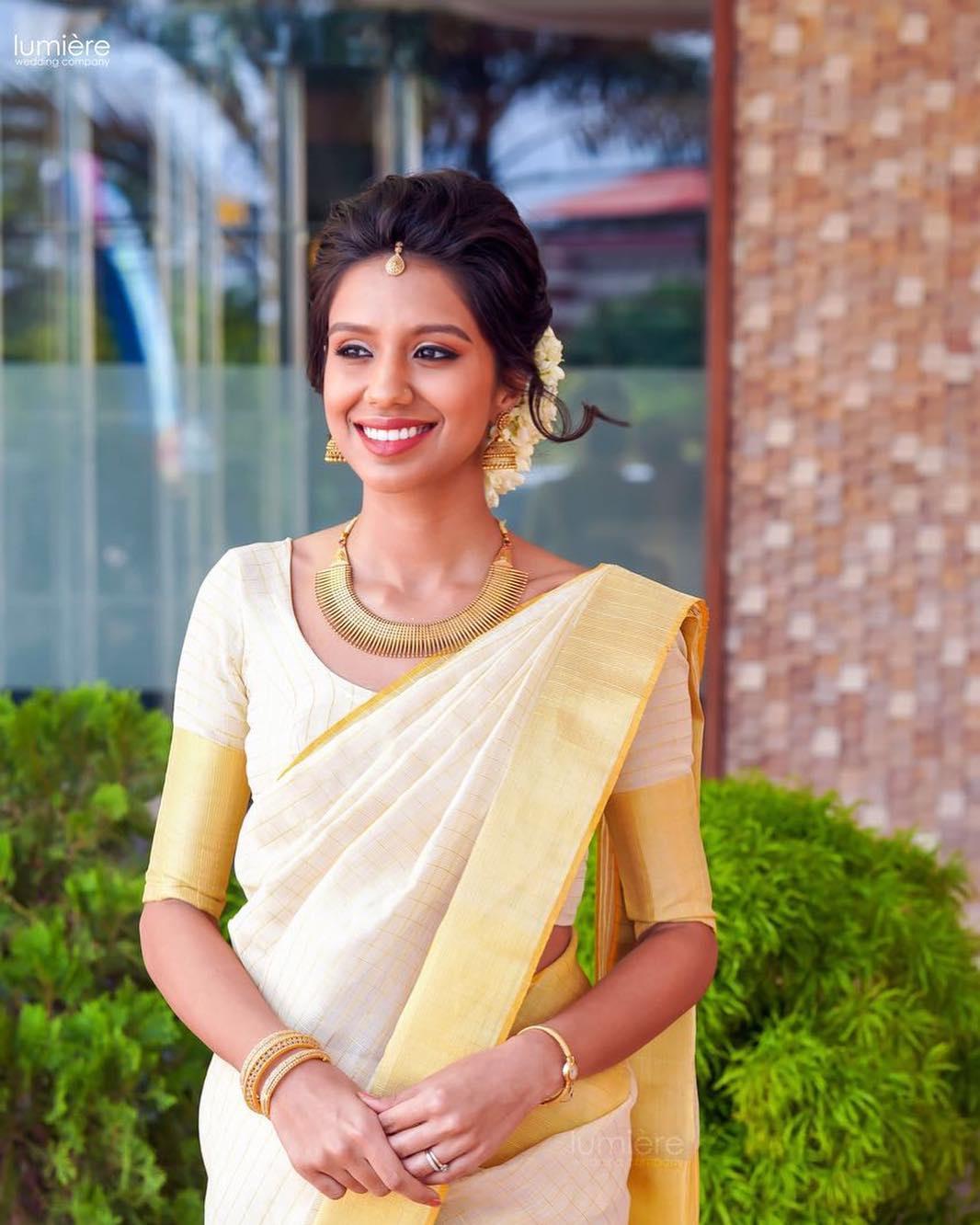 If you want to stick to the basics and not experiment with the style and designs, because hello, it is your big day, then it effortless and elegant blouse is perfect for you. The round-neck blouse is made of the same fabric as the Kerala saree (Kasavu saree), and it looks so on point. The golden zari work on the sleeves matches the border of the saree and makes the overall outfit look all the more aesthetically pleasing.
Elegant Kerala Saree Blouse Design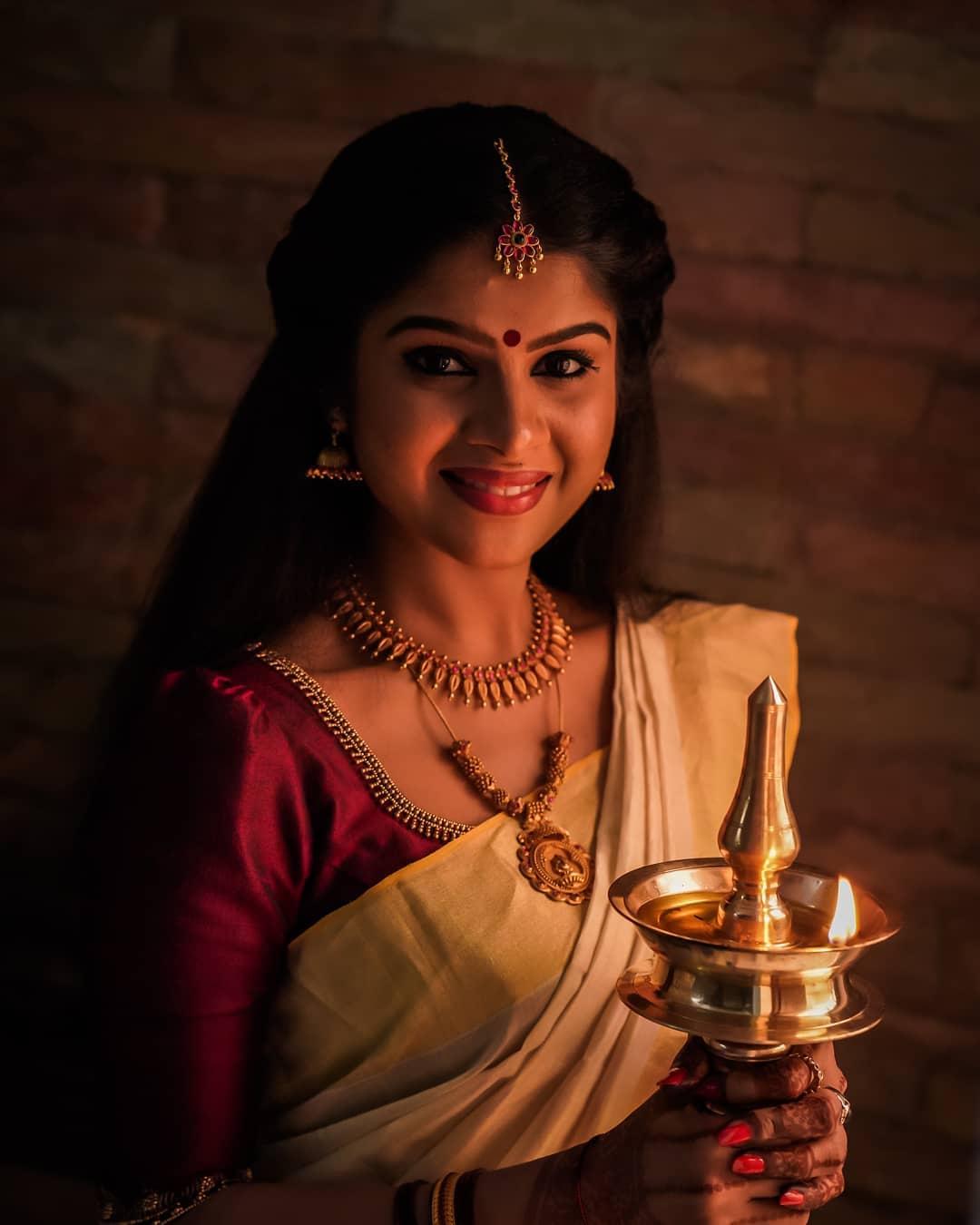 Add a little glitz and glam to your plain Kerala saree blouse with this elegant beaded border on the neck and the sleeves. And if you are going for a minimalistic look, then pair a set of light and gorgeous gold jewelry and ace the look of a no-hassle yet stylish bride-to-be.
Simple Mirror Work Kerala Saree Blouse Design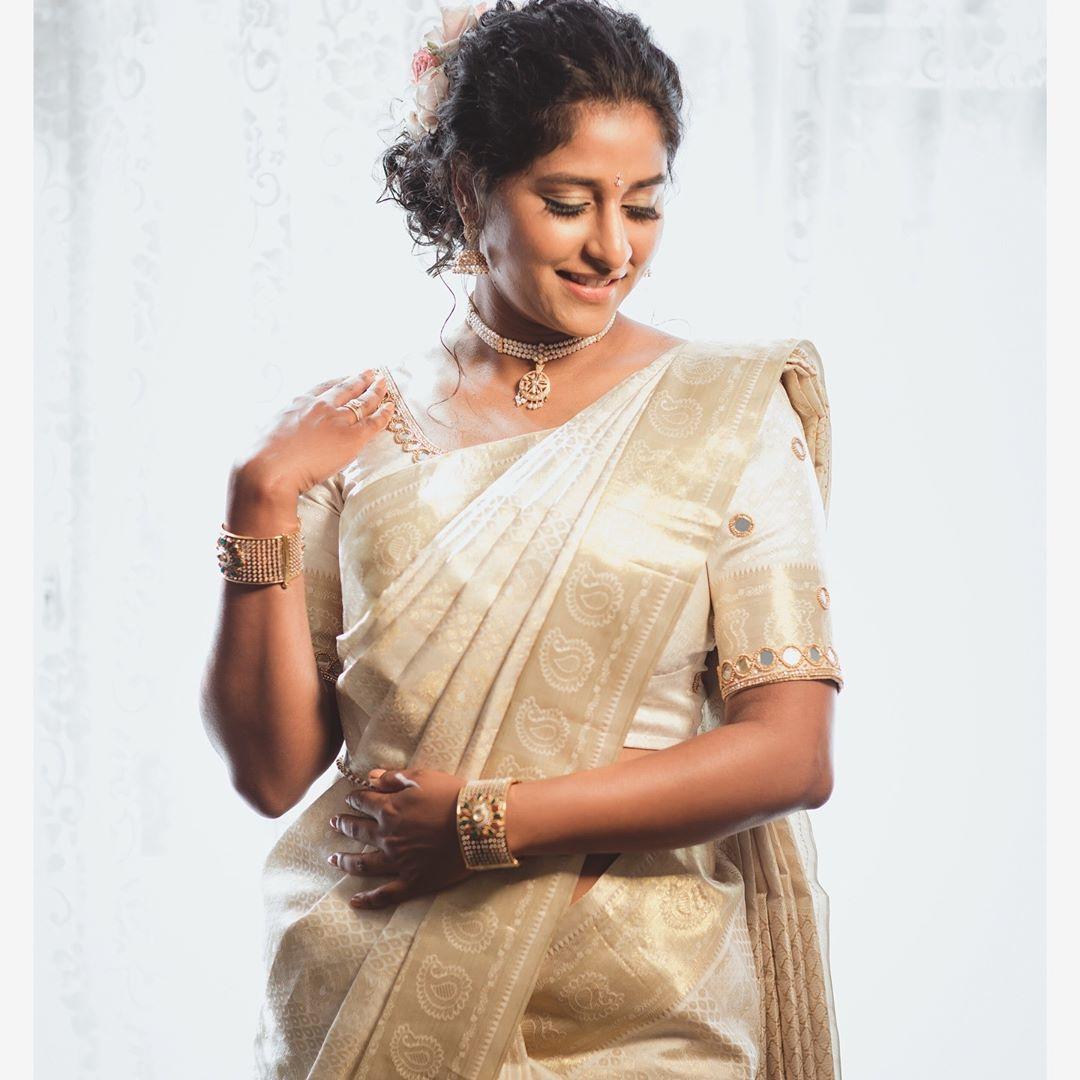 Image Courtesy: Photon Image
Kerala saree blouse designs usually focus on oh-so-regular neck design and a simple look altogether, but who is to say that you can't add an extra element or two to it and look all fancy? Get this blouse with delicate mirror work for your special day and watch everyone do a double-take for this design to look elegant and classy. You can either pair this with a plain Kasavu saree or something a little more fashionable like a saree with a mirror work border.
White Kerala Saree Blouse Design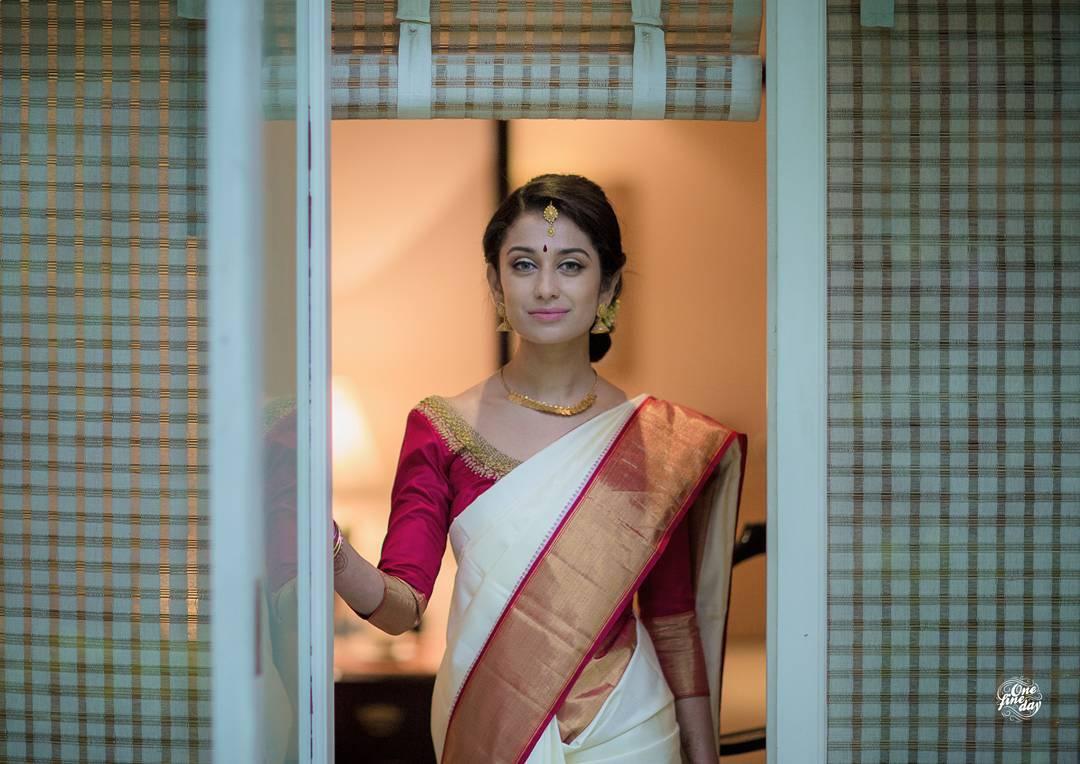 Image Courtesy: One Fine Day
South Indian weddings see a lot of white sarees being adorned by the bride-to-be. Instead of the traditional white saree with a gold border, opt for this plain white saree with a rust border and plain red blouse for the wedding.
Trending Kerala Wedding Saree Blouse Designs
Zero Neck Kerala Saree Blouse Designs

Image Credits - Ekaya Banaras
Zero neck simple blouse designs for silk sarees don't even demand the heavy jewellery or earrings to go with it, all it takes is the fresh set of flower jewelry or just statement bangles or Kadas. So what are you waiting for?
A Heavily Patched Blouse With An Edgy Back Design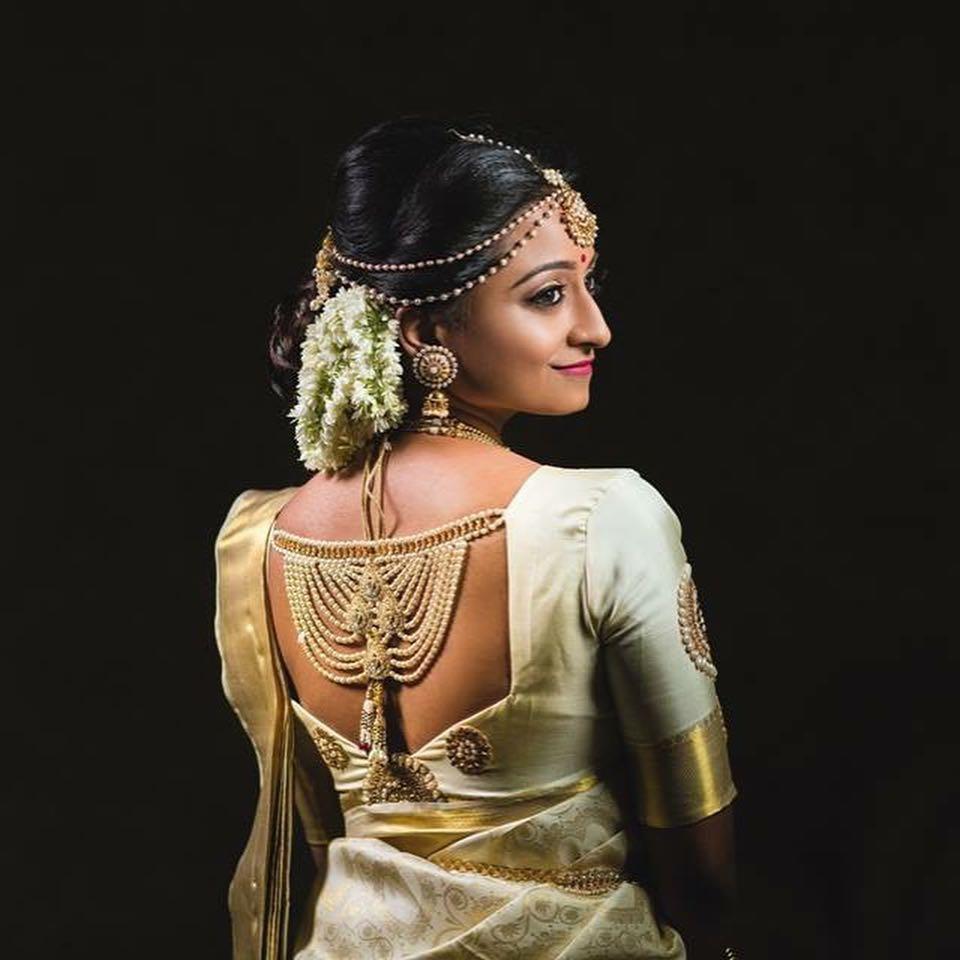 Image Courtesy: Photon Image
Wearing a heavily patched Kerala saree blouse with your saree for the wedding day? How about you take it up a notch and get a super edgy back design to go with it and look all stunning?
Full Sleeves Trending Kerala Saree Blouse Design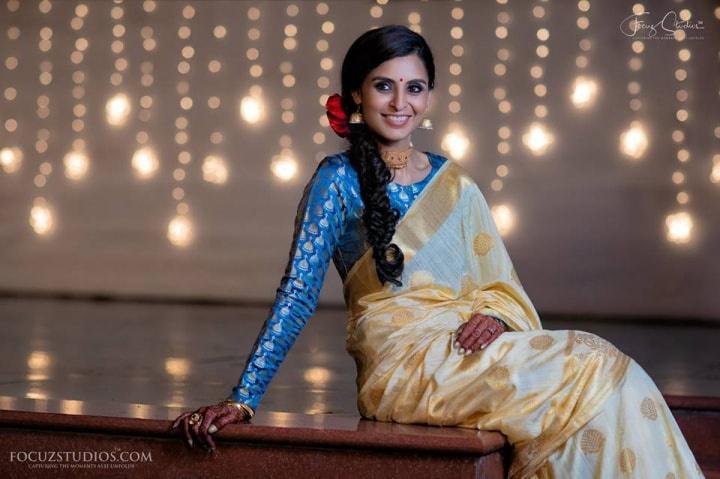 There are so many elements that you can play with - sleeve design, sleeve length, back neck design, and even personalization. So go all out with styling your favorite blouse.
Modern Kerala Saree Blouse Designs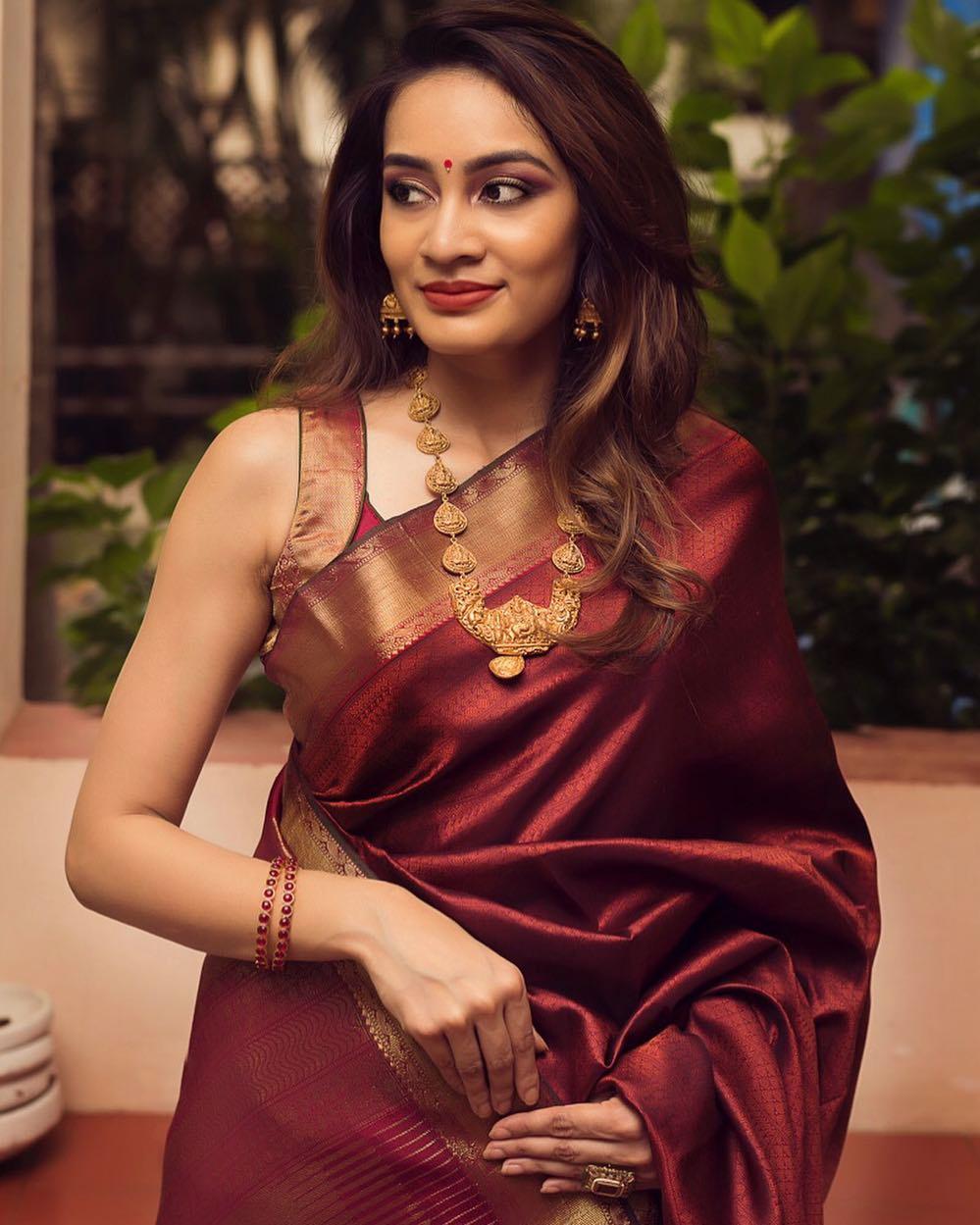 Image courtesy: Saathvika Raj
Worn by the beautiful model Saathvika Raj is this piped sleeveless blouse in a deep traditional color from the maroon family. Simple blouse designs for silk sarees specify that they have got the potential to add that oomph factor to your look. Being a sleeveless design, it allows you to flaunt a beautiful armband that adds that grace to your look.
Criss Cross Back Neck Kerala Saree Blouse Back Neck Designs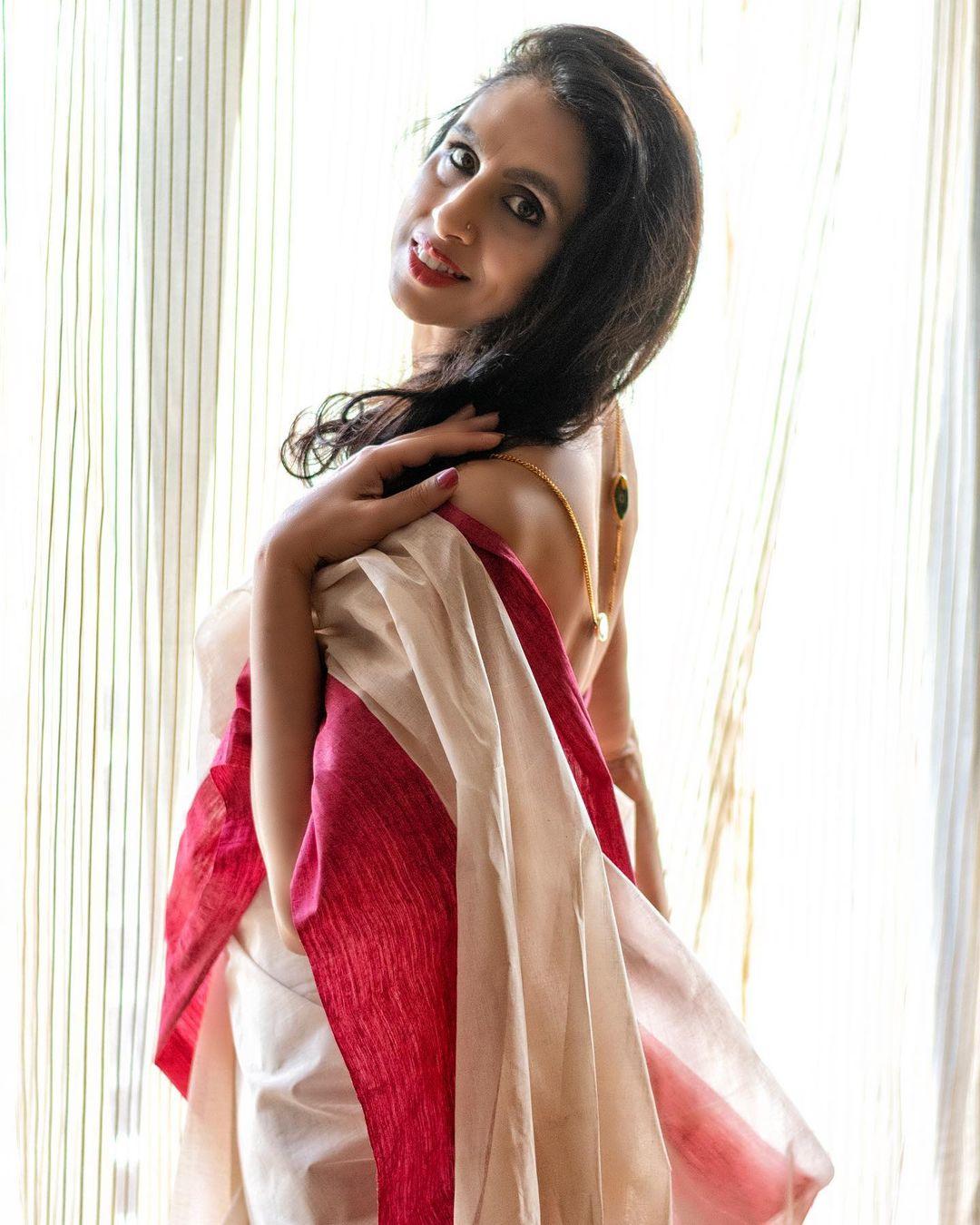 Image Credits - Jyotsna Grover Sethi
This surely counts among the most gorgeous and popular blouse designs for silk sarees which make you stand out. Go, push yourself for that extra fusion experiment! This will surely grab glances!
Embroidered Kerala Set Saree Blouse Design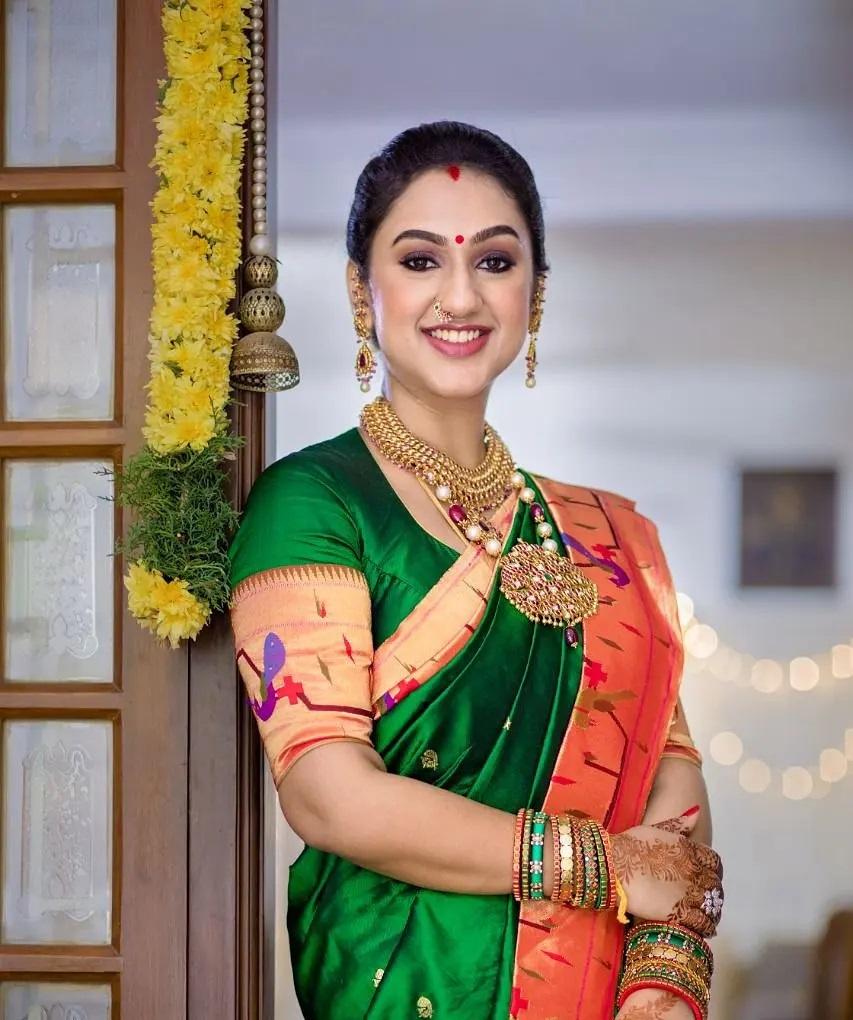 Once you select the blouse design that you think will look great with an elegant Kasavu saree, don't keep yourself from experimenting with the style of the Kerala saree blouse.
Red And Off-White Trendy Kerala Saree Blouse Neck Design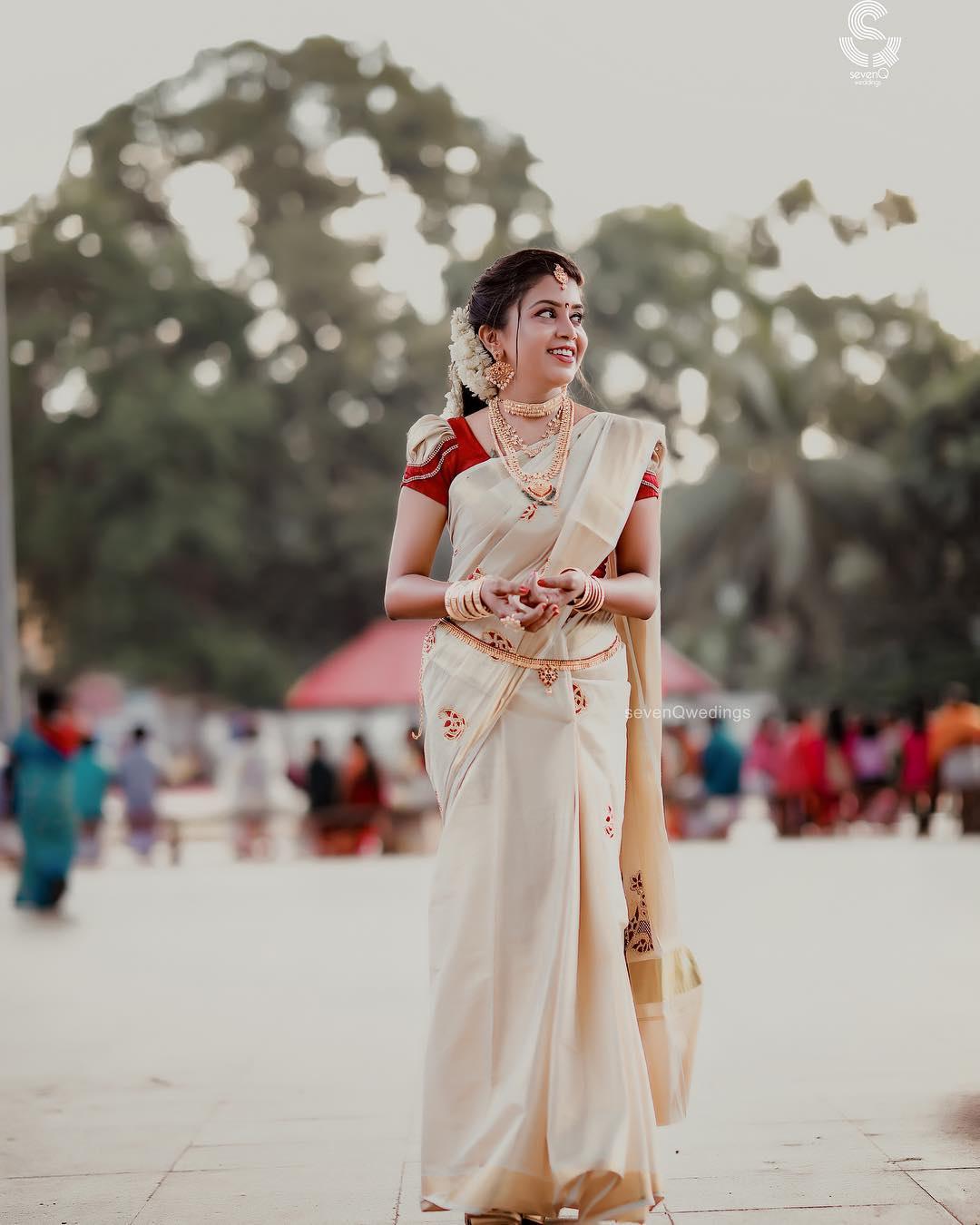 Image Courtesy: Seven Q Weddings
Puff sleeves look super cute, and if you believe it too, then this red and off-white puff sleeve Kerala saree blouse is just the right pick for you. The beauty of puff sleeves is that you can choose the sleeve length according to your style and comfort. It looks good with short sleeves, three-quarters, and a full sleeve blouse alike. So happy dressing up!
Plunging Blouse Back Neck Designs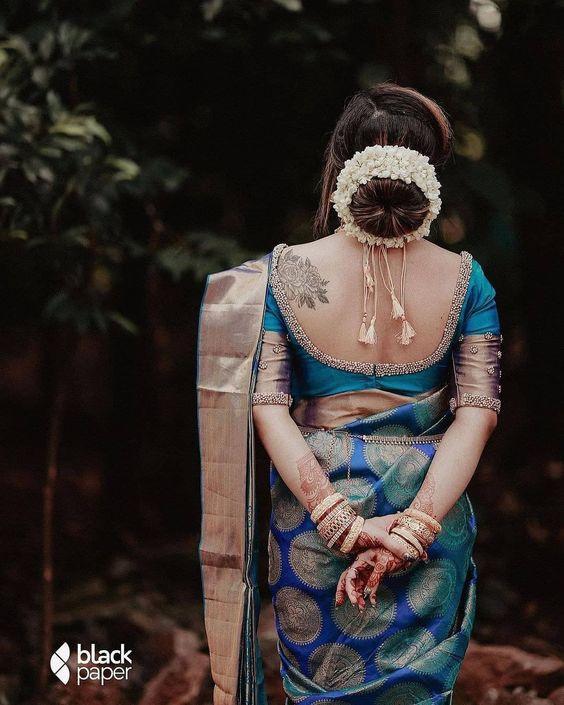 And it is only after you have finalized the details of the outfit, should you move on to picking jewelry and other accessories. And we love how we can choose between heavy and light jewelry options without letting them take away from the grace and beauty of the traditional outfit. So without wasting any more time, plan your shopping trip already.
Kerala Saree Blouse Design With An Intricate Back Design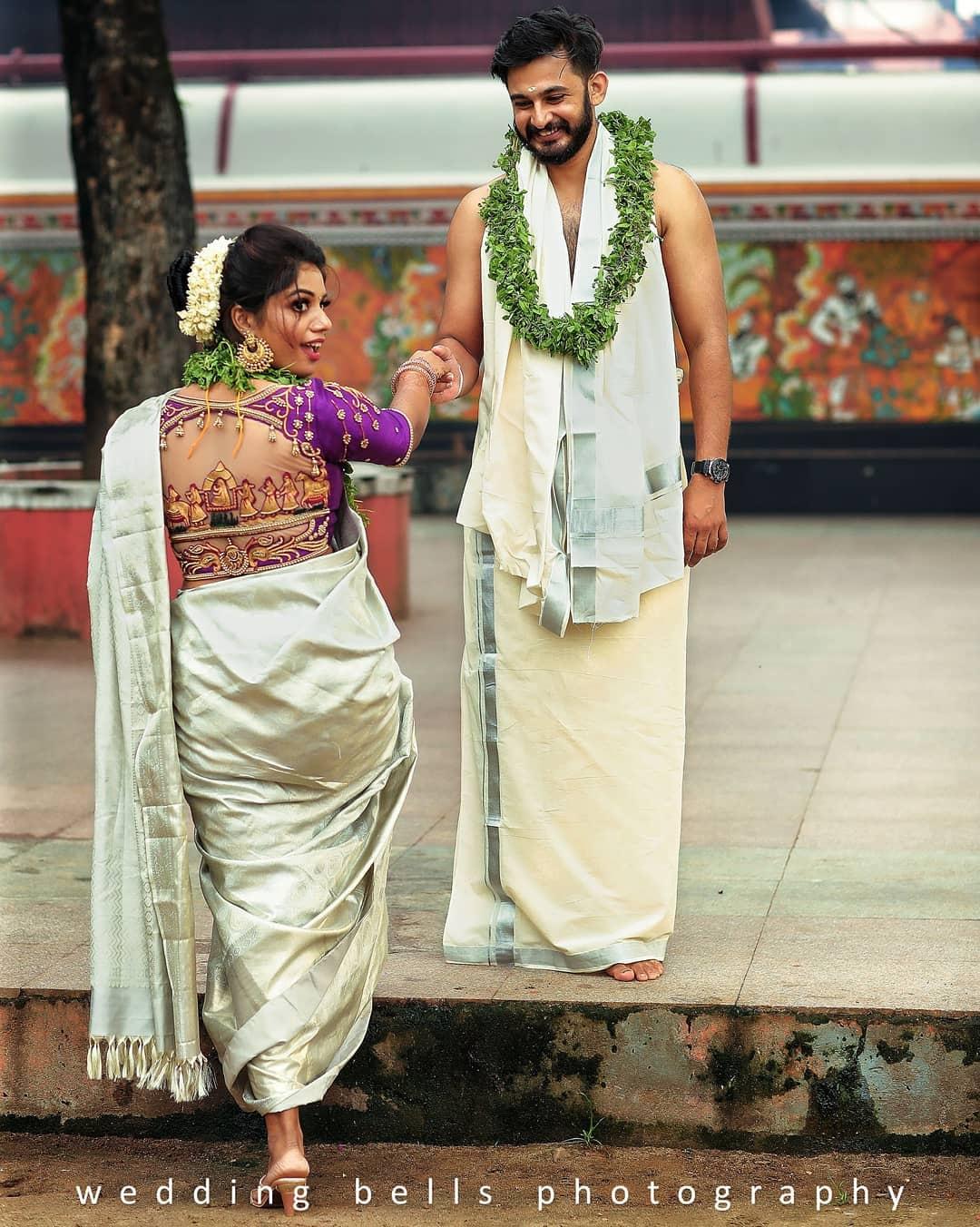 If you are someone who loves colors and lives a happy life, it is almost important that you pick a wedding outfit that goes perfectly with your personality. A vibrant-colored Kerala saree blouse for a happy-go-lucky bride is a perfect choice, but you know what's even better? A vibrant blouse with an intricate back design. And since all eyes will be on you (hello, big day!) you might as well spend some extra time deciding the design and style of the blouse.
Which Kerala saree blouse designs will you want to try at the next wedding in God's own country? Tell us in the comments below.
With words by Pmadan
Read More -
Mehndi Design | Proposal Lines | Simple Finger Mehndi Design | Arabic Mehndi Design | Propose Day Quotes for Boyfriend | Wedding Anniversary Wishes for Sister | Change Aadhar Card Name after Marriage | Tamil Wedding Calendar | Simple Mehndi Design | Pre Wedding Quotes | Engagement Anniversary Wishes | Funny Wedding Wishes for Bestfriend | Blouse Design | Rangoli Design | First Night Tips for Bride | Wedding Anniversary Wishes