Steps to Stunning Kerala Bridal Makeup That Every Malayali Bride Needs to See Before Her Big Day
Be the perfect Malyali bride, by this guide to absolute Kerala bridal makeup look perfection. These 11 steps are all you need to follow to get it right.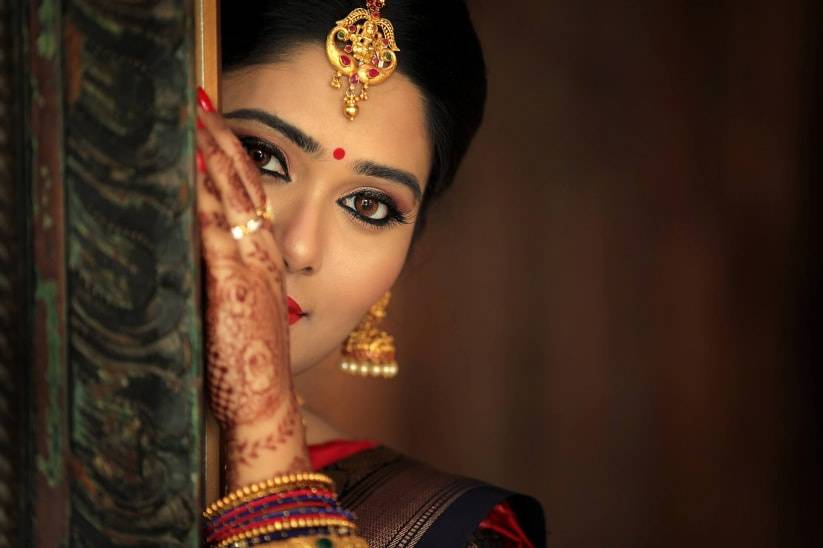 A Malayali bride clad in a pristine saree, floral accessories and temple jewellery defines elegance and grace. Take a closer look and you would see Kerala brides don a distinct bridal makeup that looks flawless and natural. The overall look is simple, which allows their Kanjivaram saree and Kerala wedding jewellery do all the talking.
If you are a Malayali bride, here is your guide to master your Kerala bridal makeup. From how to get the perfect liner wing to how to finish the long braid with perfection; we have got everything for all the stunning Malayali brides. Keep reading, if you are also one.
Decoding Kerala Bridal Makeup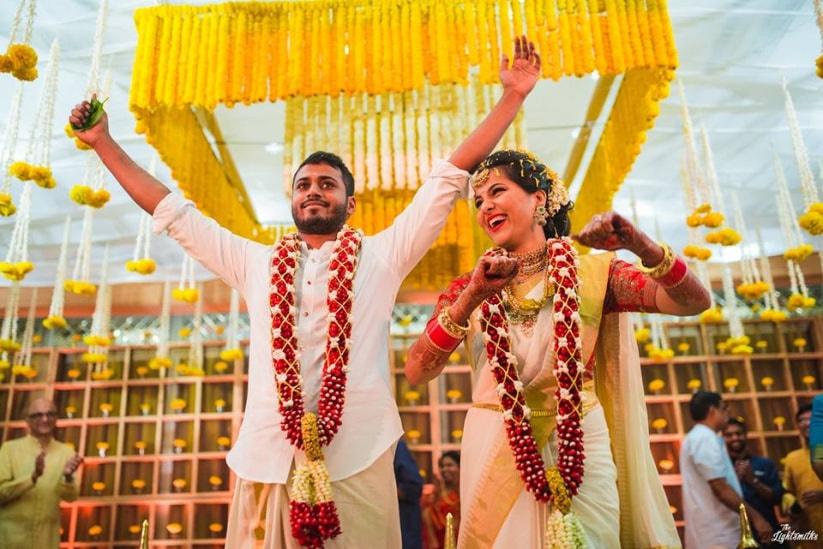 Kerala bridal makeup is very subtle. It's all about keeping it natural as most of the wedding ceremonies take place in the daytime. If you are soon to become a Kerala bride, here is how you can ace the makeup game.
1. Prepare your face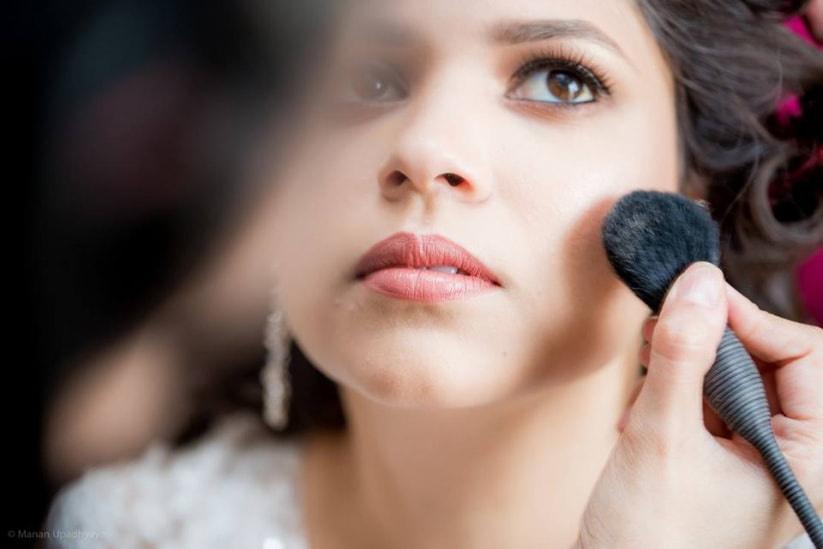 Before you begin to apply any makeup on your face, you need to prepare it. To do so, you need to wash your face thoroughly. We advise you to use a mild cleaner. After cleaning, apply a toner that goes with your skin type. Apply a good moisturiser to hydrate your skin.
Also, apply some lip balm on your lips to hydrate and prepare them for the makeup.
2. Hide the flaws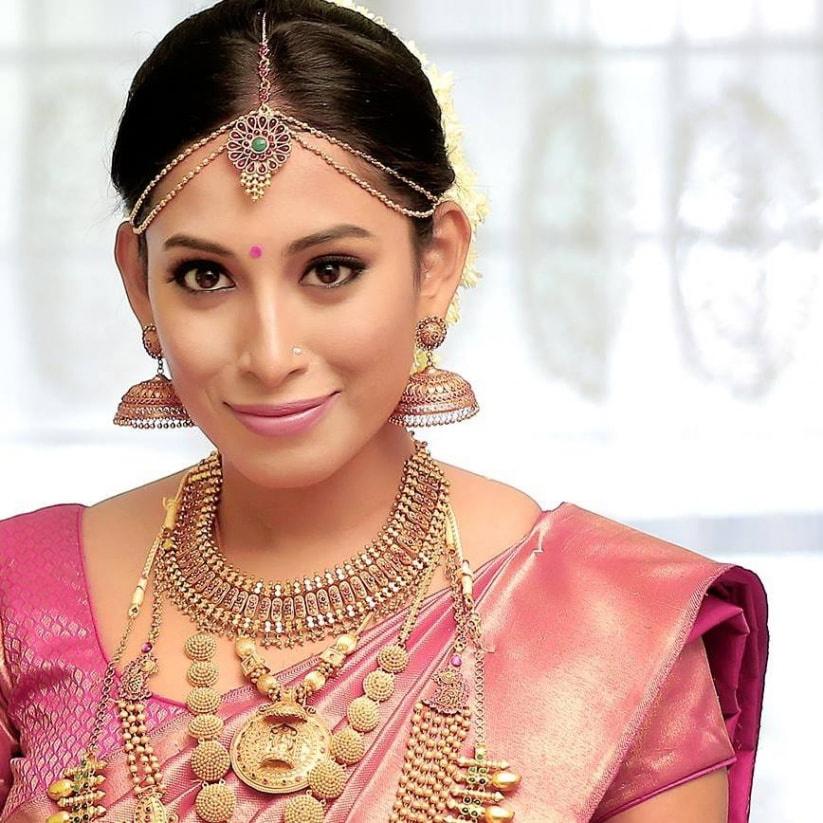 It almost gets impossible for the bride to take care of her skin amidst all the hullaballoo of the wedding. Stress, improper diet and irregular sleep cycle take a toll on the skin and cause zits and under eye circles. But, you need not worry. That's what makeup is for.
You can hide your blemishes using a concealer. Cover your dark circles or other darker areas of your skin as you form the base for your remaining products.
3. Glam up your face
Take a foundation in a shade that's one or two shade lighter to your skin tone. Apply It all over your face and neck in dots. Now, using a brush or your fingers, blend it nicely.
In order to select a perfect foundation, you must seek an expert's advice.
4. Set it up
Apply a layer of loose powder to set the foundation.
5. Let your eyes do the magic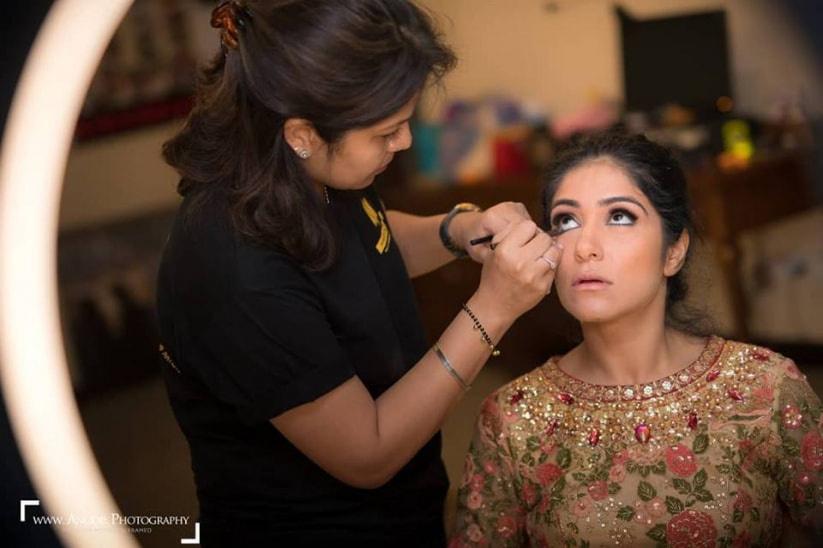 Eye makeup can also be done before application of concealer.
First, you need to prepare the base and for that, you need to apply an eye primer on your eyelids. You can also use a foundation for this purpose.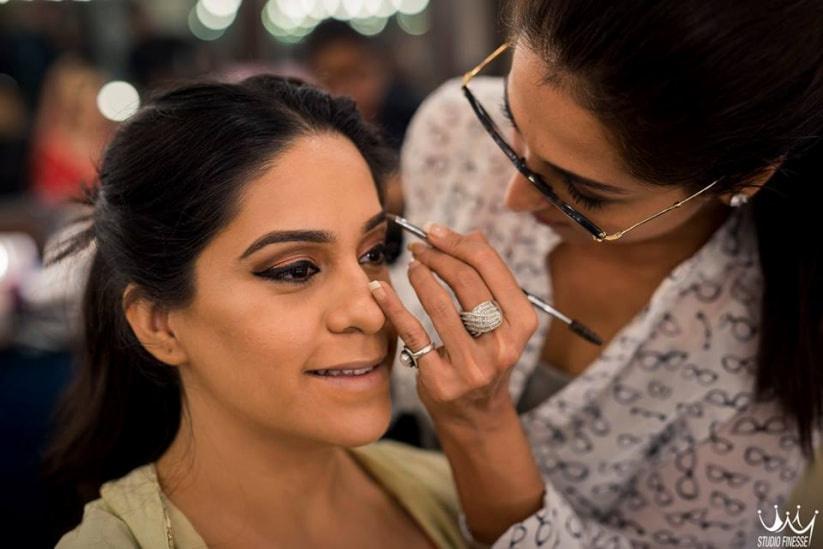 After preparing the base, you need to tame your eyebrows. Using a brown coloured eye pencil, fill your brows. Don't go overboard with it as it may spoil your entire look.
As Kerala bridal makeup is all about simplicity, you should always use neutral eye shades. Using an eyeshadow brush, apply the shades on your eyelids starting from the inner corner and moving to the outer corner. The shade should be lightest at the inner corner and darkest on the outer corner. Blend it nicely.
Apply a lighter shade under the brow bone. Now apply eyeliner and kohl. Kerala bridal makeup involves less drama and hence, you need to keep the liner thin and sans a wing.
Finish the eye makeup with mascara. Apply two coats of mascara to define your eyelashes.
6. Blush it up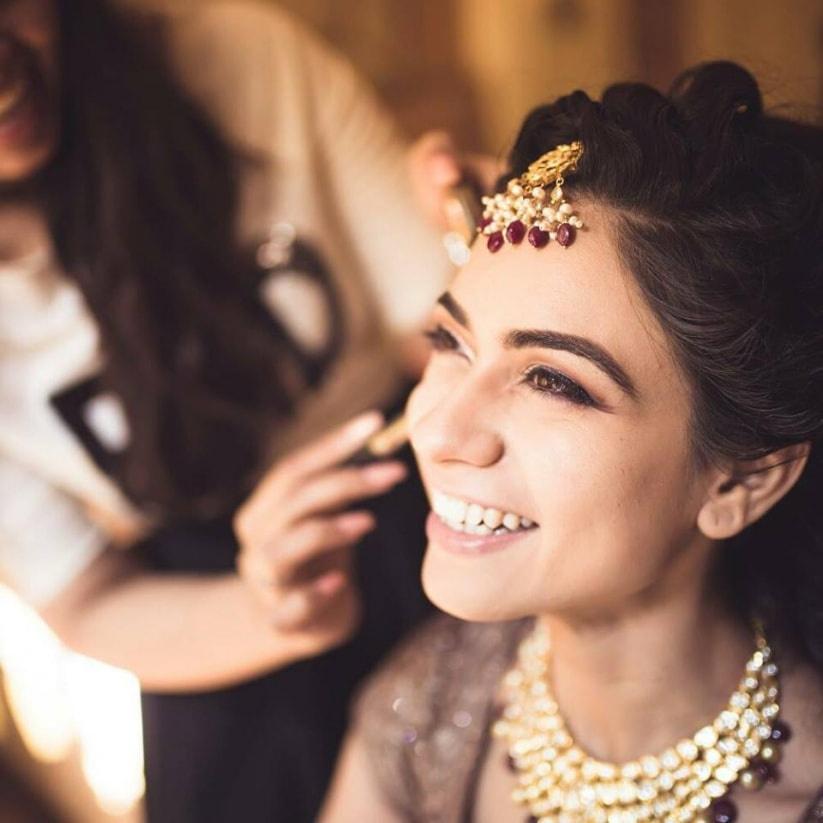 To give your cheeks a peachy blush, use a blush in light pink or peach shade. Using a brush, dab it on your cheekbones.
7. Set it up again
Dust some powder again to set your makeup. You can use a translucent, loose or pressed powder for the purpose.
8. Highlight your features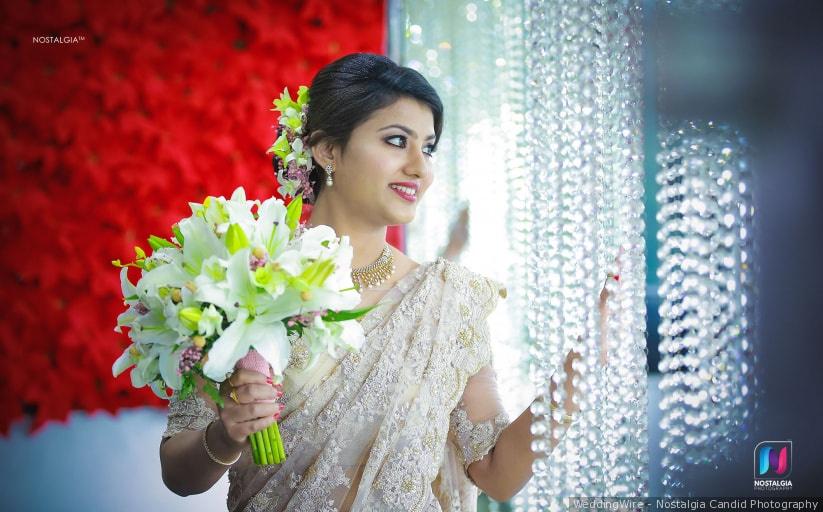 Use a bronzer and apply it on your cheekbones, temple, bridge of your nose, the bow of your lips, and chin. It would offer a dusky glow to your whole makeup.
9. Your luscious lips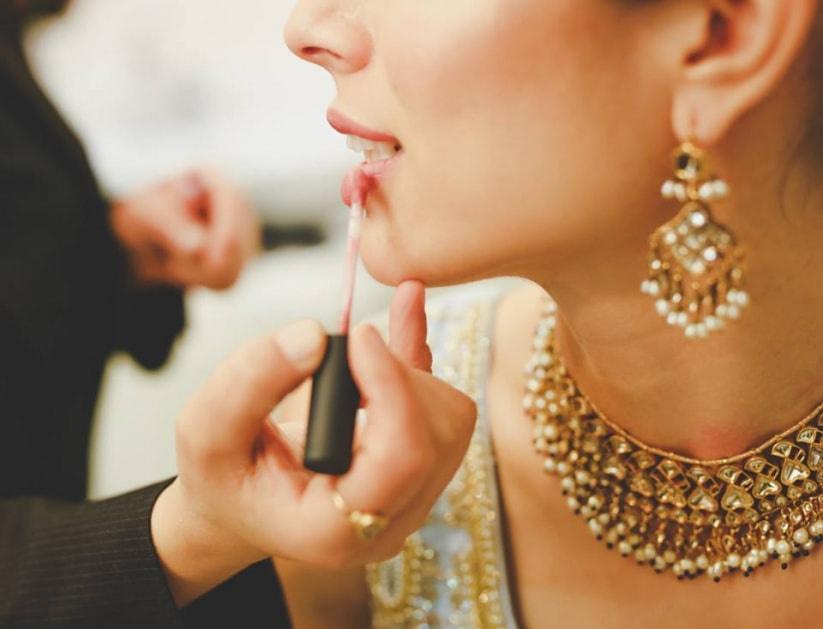 Line your lips using a lip pencil and then fill it using a lipstick. Use a natural lip colour to complete your Kerala bridal makeup.
Apply a coat and blot it using a tissue paper. Apply another coat. You can apply a final coat of gloss or keep the lips matte.
10. A gorgeous bindi
Adorn your forehead with a gorgeous red bindi as no Kerala bridal makeup is complete without a red bindi. A perfect red bindi will surely steal everyone's heart and elevate your entire look.
11. Beautiful Hairdo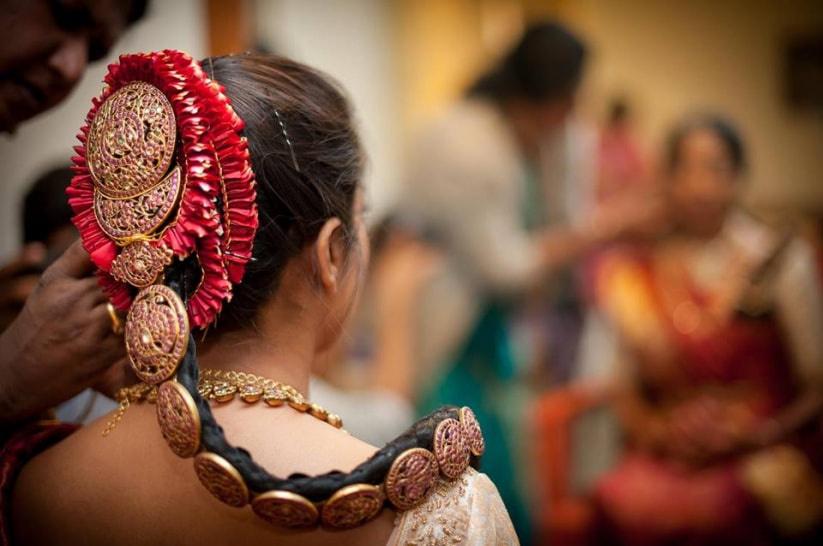 When it comes to hairstyle, Kerala brides do not like to break their traditions. The Kerala bridal makeup features traditional south Indian bridal hairstyles like the braided bun, updos and messy waves with floral accompaniments.
Braid your hair and complete your hairdo with beautiful white flowers. You are all set to turn the heads.
Tips to keep in mind
For a perfect Kerala bridal makeup, the overall colour profile is kept soft and warm, while accentuating the bride's features that even complement her bridal attire.
A unique selling point for a South-Indian bride is the eye makeup which is non-dramatic yet wholesome to create perfect harmony.
A traditional white and gold Kanjivaram saree adds the touch of glow to the overall bridal makeup.
Often muted colours are opted by brides for attires so that they can be defined with beautiful gold jewellery as well as stunning bridal makeup and hairdos.
The South-Indian bride is brimming with traditional beauty with slight charcoal eyes that highlight them as well as contouring that elevates the features of the bride.
Kerala Bridal makeup is unique, stunning and effortless as it enhances your natural features more and provides definition to it. A Kerala bride evokes images of a graceful and confident bride adorning stunning Kanjivaram silk saree and fresh flowers in her hair. Though different in the cultures and traditions from North-India, such elements complete the bridal look in a similar sense. We hope that all the tips and steps of our exhaustive list of Kerala bridal makeup helped you in achieving the desired glam you want for your big day.
Would you like to try this look? Do let us know through the comments below.