12 Traditional Kerala Wedding Jewellery Sets and the Trinket Tales That Make Each One, a Special Addition to the D-Day
Glistening gold, divine simplicity and a serene smile, all come together to make the quintessential Kerala bride. We explore here the Kerala wedding jewellery sets which she adorns for this picture-perfect look.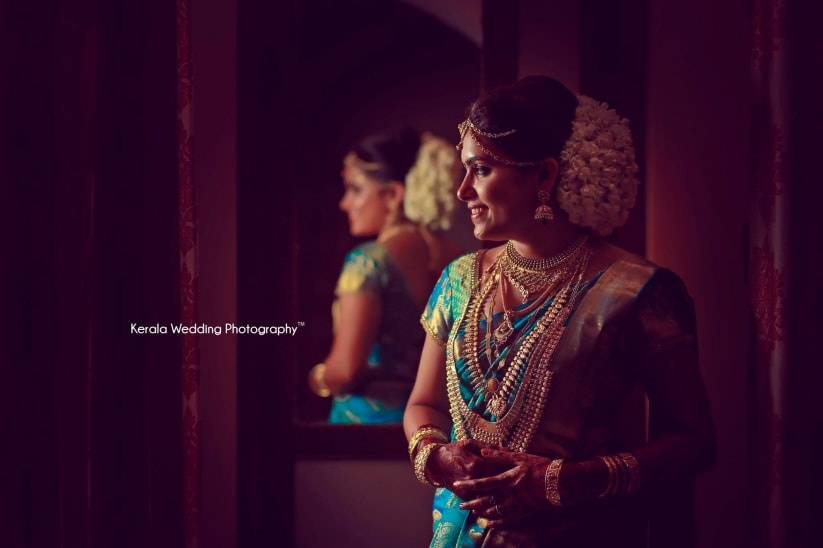 A traditional South Indian wedding might be elegantly simple, but, the Kerala wedding jewellery sets adorned by the bride on her big day outshine all other elements. The sheer layers of gold bridal necklaces, which extend to cover her bosom, make her seem like a Goddess, straight from the pop culture calendar art style. Every culture has its own stories to tell and their traditional attires and ceremonies all have a history as grand as the royals to tell. Each jewellery piece that is included in the bridal attire to adorn her on her big day has a historical and cultural significance to uphold while allowing a little improvisation here and there and it is mesmerising.
Did you know that there's a story behind her weight in gold? Each of these necklace strands has its own special essence and meaning. And that's the story we seek to share with you, albeit minor differences in size and pattern for these ornaments of glistening gold.
Let's have a look at the meaning behind each one of them. The very speciality of any Kerala wedding jewellery sets is that it is carved and designed the purest kind of gold that is known to mankind and for that reason, brides from all over the country travel down South to find a bridal jewellery set that will become a family heirloom that she will always hold close on to. So, browse through these Kerala wedding jewellery sets and see which one resonates with you the most and add it into your bridal trousseau as you start a new journey!
1. Malla Mottu Mala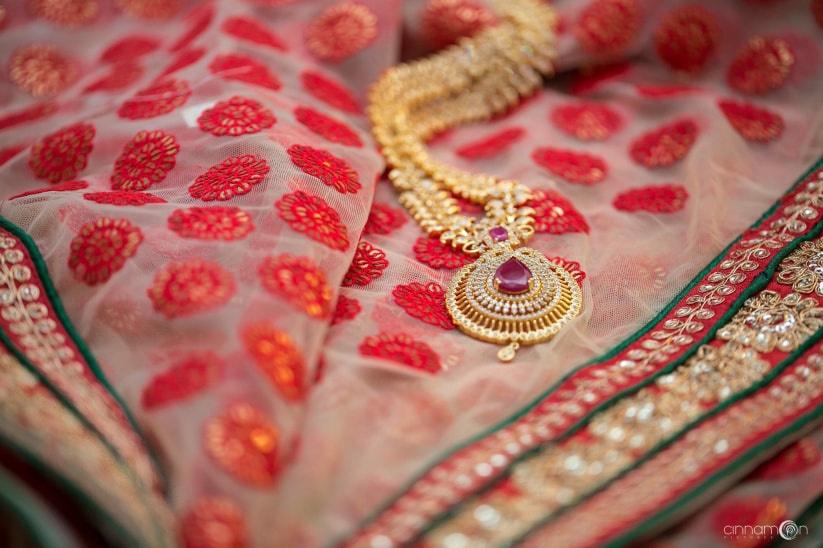 This is a traditional necklace adorned by the bride and appears to look like an array of small jasmine bud motifs, representing a floral garland or mala. It is usually longer than the other necklaces and becomes the outermost line of chains among any Kerala wedding jewellery sets. Adding this bespoke piece of jewellery to your bridal trousseau would add the right dose of glimmer and sparkle that any bride-to-be would want to begin her new journey with. The length of this necklace speaks of elegance and it adds a regal touch to the entire attire other than the cultural weight.
2. Manga Mala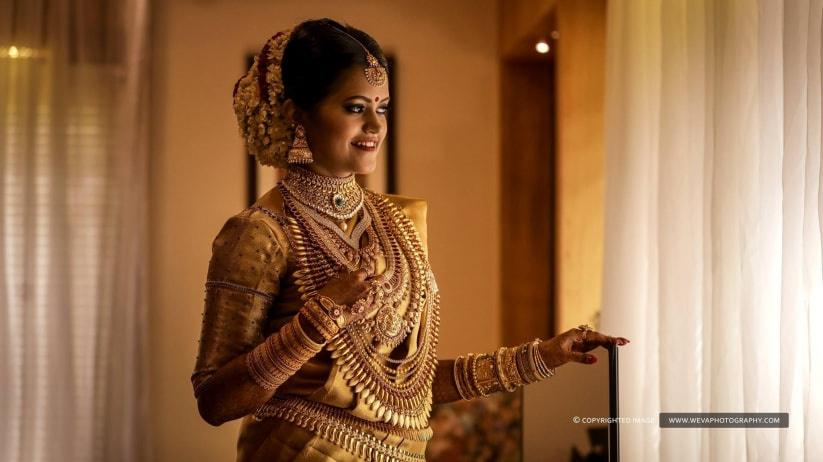 This necklace has an aesthetically pleasing design of delicate Ambi motifs. An essential piece, the intricate paisley design is often enhanced with the use of coloured glass and precious gemstones like emeralds and rubies. The precision of work is inevitable to notice in this particular piece and you will be impressed and head over heels in love with this.
3. Lakshmi Mala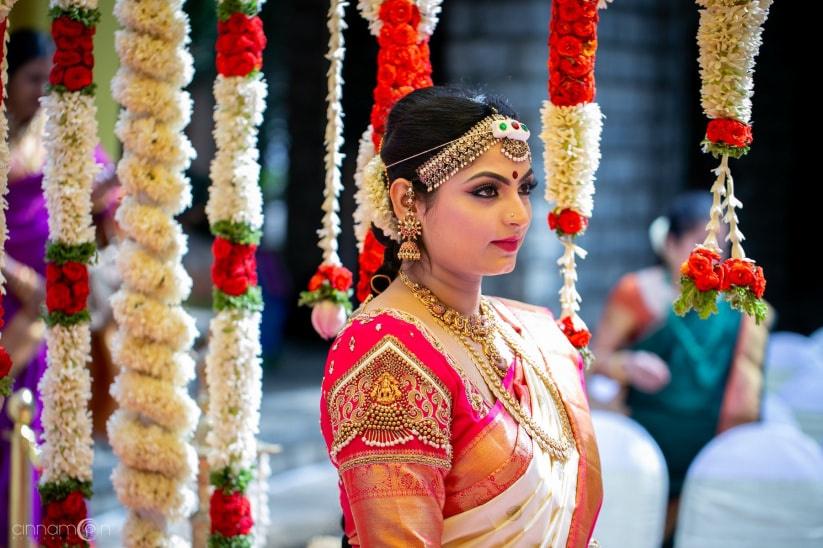 Did you know that the Goddess of wealth is actually given a seat of her own, amid Kerala wedding jewellery sets? Yes. This is the Lakshmi mala, a necklace of tiny gold coin motifs, engraved with Her image.
It is meant to justify the bride's aura is the goddess of prosperity for her future hearth and home. In fact, we would love to cite the jewellery pairings by the bride above, for invoking the Goddess in multiple ways - from the heavily embroidered blouse, the Lakshmi mala and the chunky motif in her central necklace. It is a way to invoke the blessings of Goddess Lakshmi and at the same time hint at the bride being the avatar of Lakshmi herself for the house she is going to be a part of.
4. Palakka Mala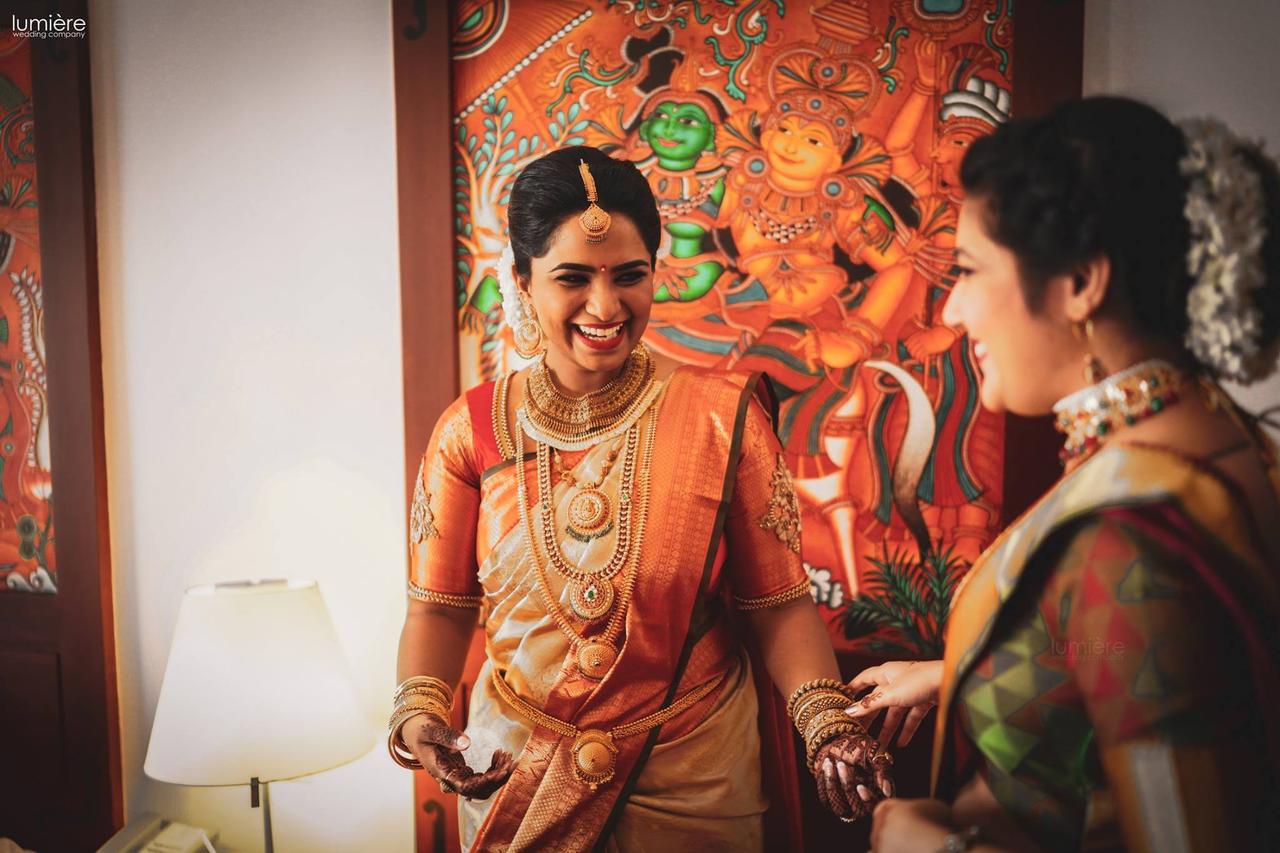 This gorgeous necklace has a gold leaf pattern studded with precious green rubies.
Careful eyes can also spot the Palakka mala with precious rubies and pearls, inlaid in a bed of gold. The colours signify fertility, wealth and prosperity and so are a part of even the millennial bride's choice amid Kerala wedding necklace sets.
5. Nagapada Thali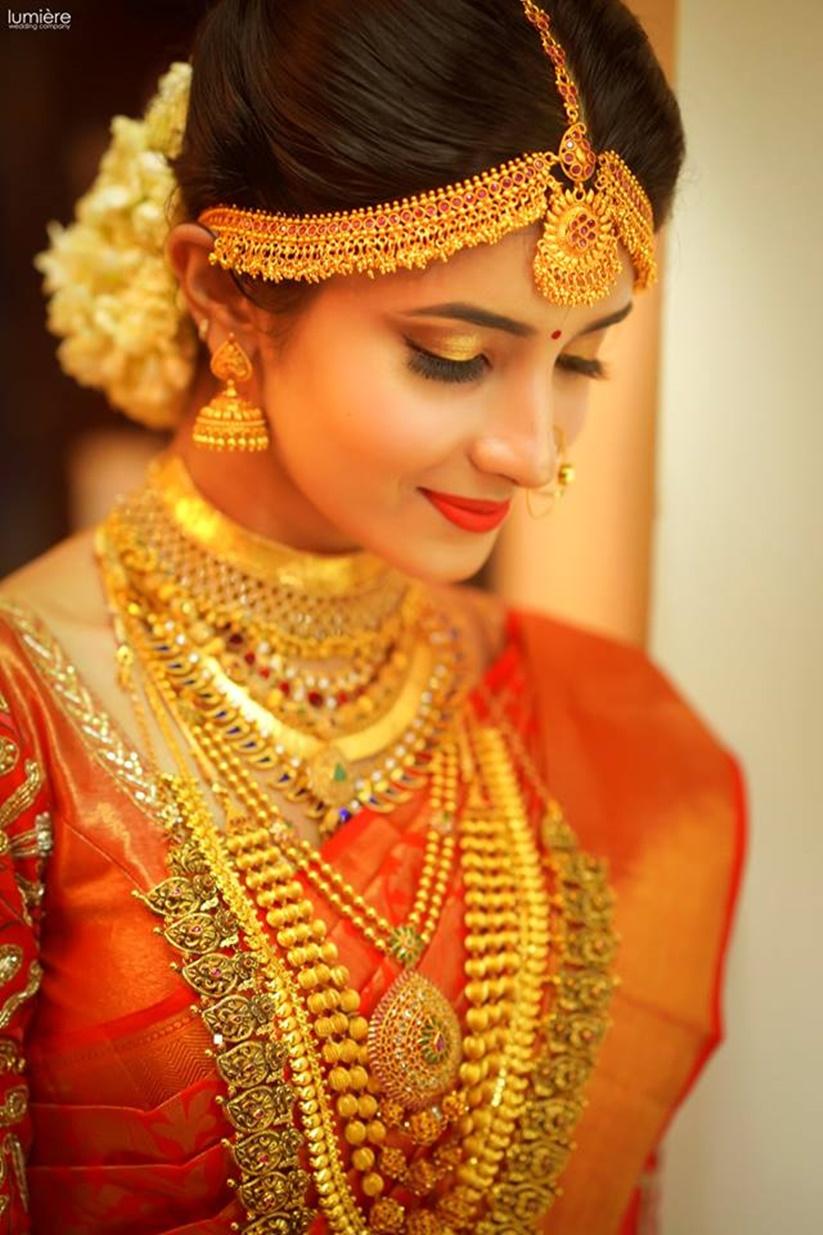 Inspired by the Naga, the great King cobra, the Nagapada Thali is placed nearer to the neck. It's often a dainty piece with emeralds or rubies encrusted in a bed of gold and so, shines against a simpler Kerala wedding saree of cream and gold.
The bride here has a customised set with the elements of the Nagapada Thali incorporated into her outermost layer. It signifies the royal aura and strength and at the same time, the design is meant for a special occasion, especially one as great as the wedding.
6. Pathaka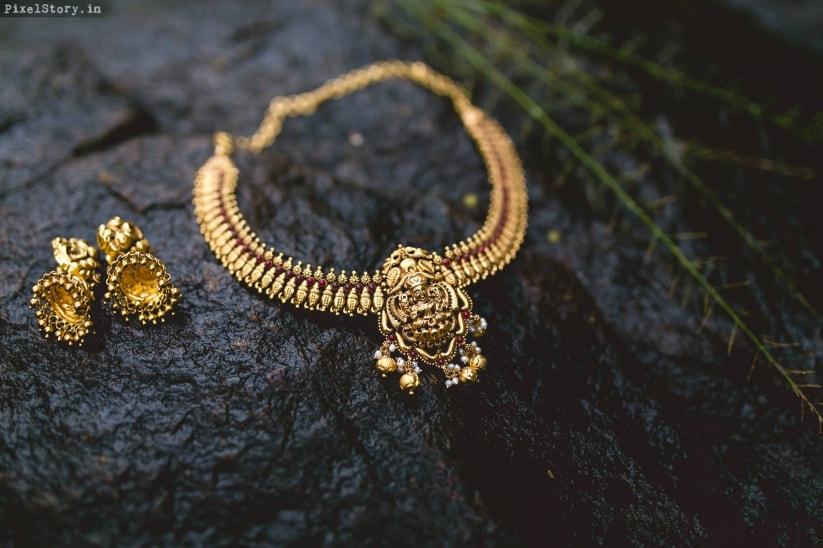 This stunner is the first necklace from Kerala wedding jewellery sets that the bride adorns. A large round pendant studded with precious gemstones in the centre of the necklace is threaded through a thick gold chain.
Traditionally, the pendant has an engraving of Goddess Lakshmi on it, which is a symbol of wealth and prosperity. This quintessential necklace makes it to every Kerala bride's trousseau making it one of the most sought-after pieces in Kerala wedding jewellery sets.
In some places, it's also equated with the northern concept of the Mangalsutra, though it's part of the set, rather than a gift from the groom during the ceremony.
7. Poothali Mala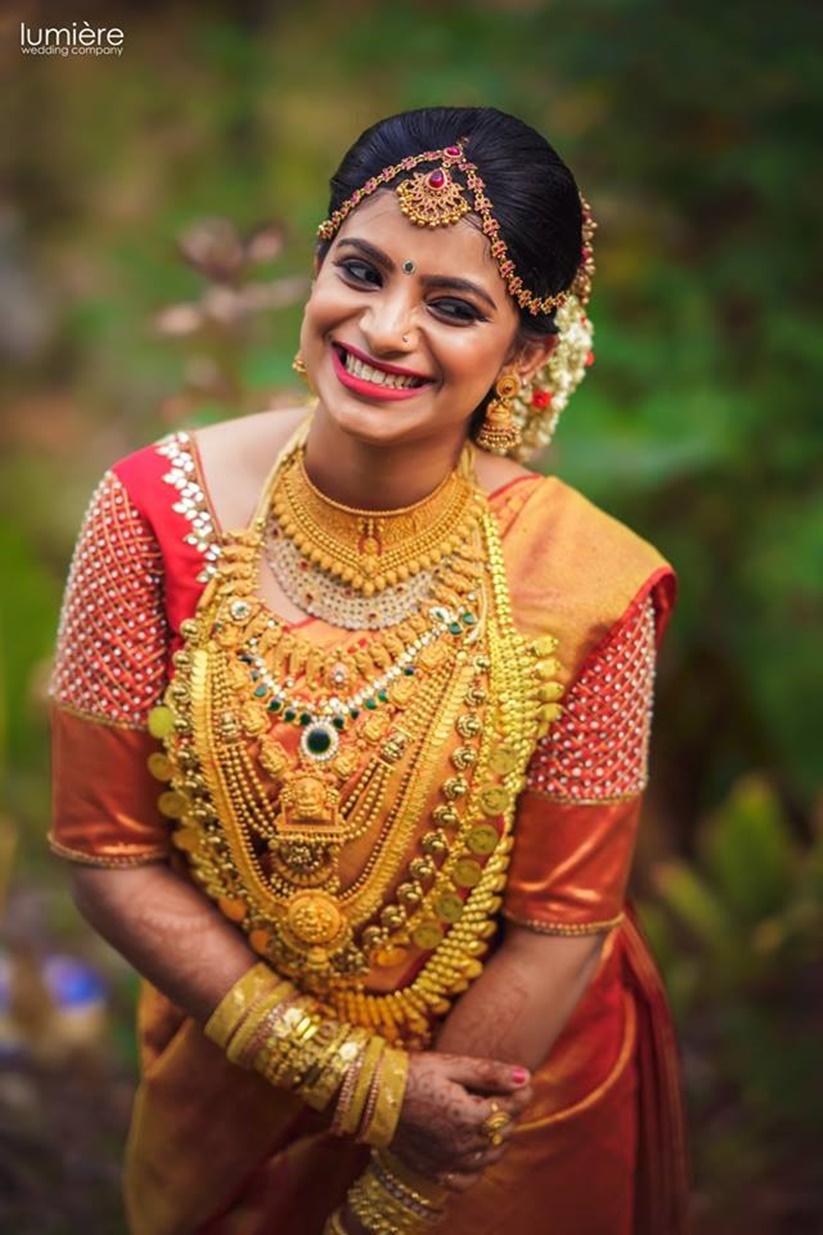 A statement necklace with broad motifs of flowers and leaves inspired by nature. The Thali or little elements of gold that dangle from the necklace, give the piece a beautiful rhythm and flow that compliments the glorious bride.
8. Elakkathali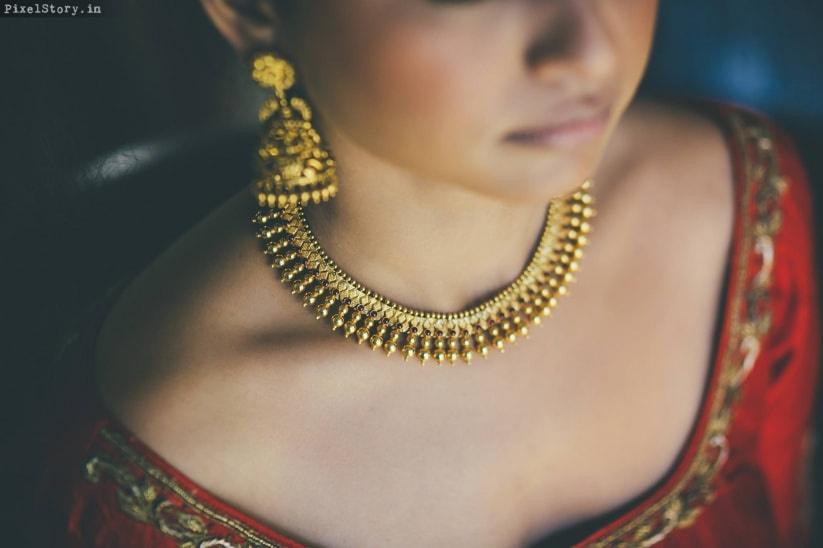 Elakkathali is a truly unique style of choker necklace from Kerala wedding jewellery sets. It sits on the top of all the other necklaces adorned by the bride on her special day. It is made of pure gold plates entwined together to form a thick chain. It gleams and glistens as the bride walks down the aisle.
Some also call it the Kasu mala.
Wondering which other pieces to adorn from Kerala wedding jewellery sets to match with the necklaces? Check these out!
9. Jhimki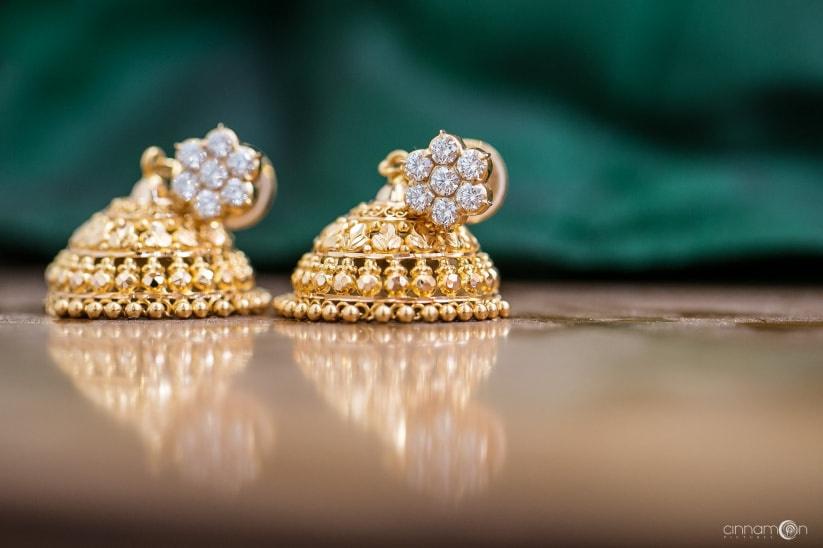 Gold earrings with small dangling bells encrusted with precious gemstones like diamonds, pearls, rubies and emeralds. Popularly known as Jhumka today, this design is the traditional earring style from Kerala wedding jewellery sets. The motifs used in this usually matches one of the necklaces adorned by the bride.
10. Hair Accessories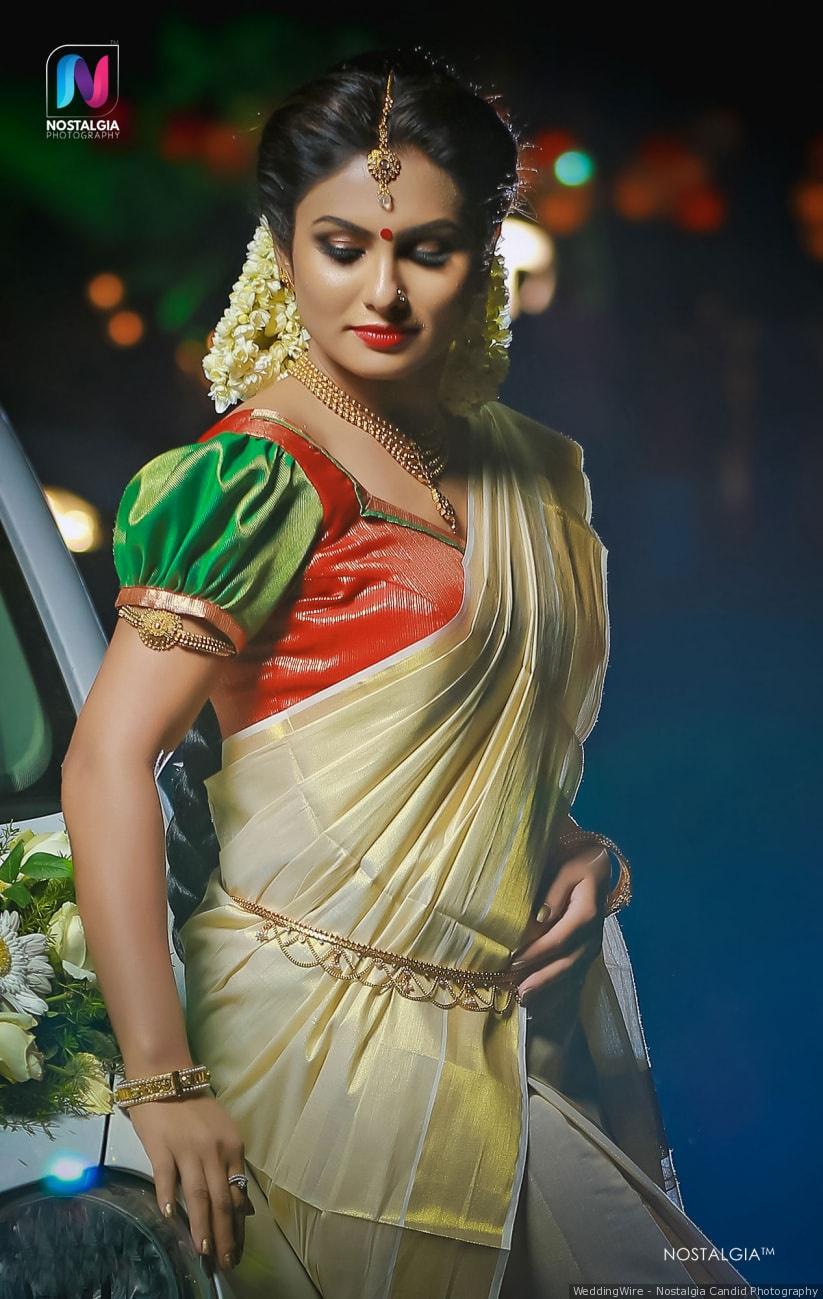 Kerala brides always adorn strings of fresh jasmine flowers or Gajra on their hair. This 'Gajra Mohabbat Wala' along with a stunning gold Maang Tikka studded with precious gemstones like that in the necklaces, complete the look of the bride.
11. Kolusu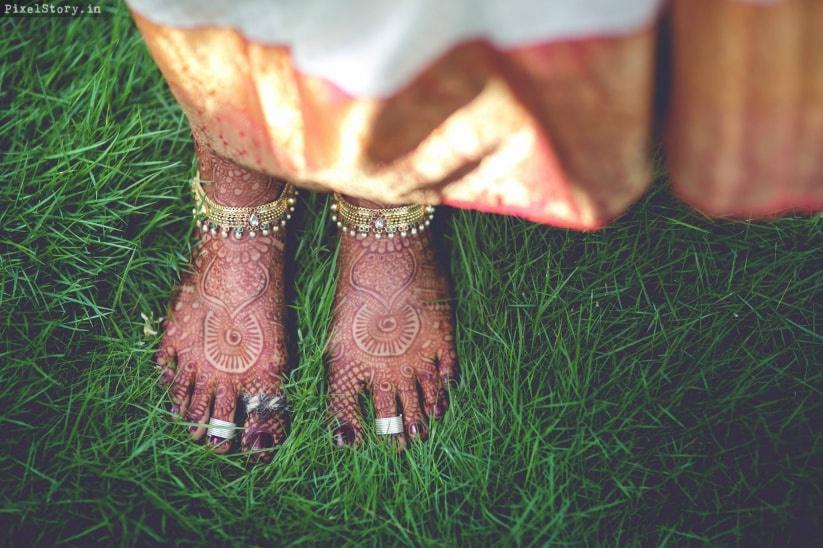 A traditional Jhallar style anklet adorned by Kerala brides. Unlike the other ornaments made in gold, this can be adorned in silver metal as well. They are usually studded with precious gemstones and make a pleasant sound with each movement, embarking on the grand entry of the bride.
12. Palakka Bangle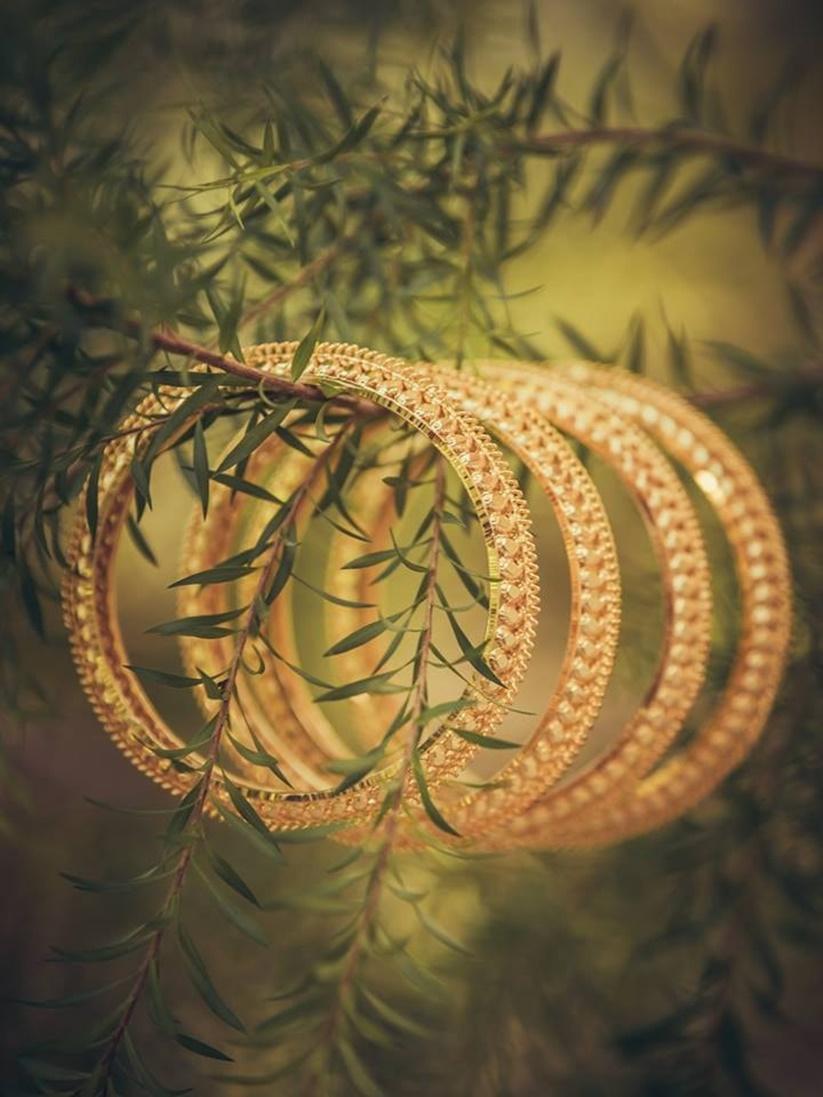 The design of this bangle coordinates well with the design elements and leaf motifs of a Palakka Mala. It is an infinity style bangle with the same gorgeous leaf motif studded with precious stones repeating itself in a continuous loop. a showcase of Meenakari artwork can also be done on them to accentuate the bride's wrist even more.
The jewellery that adorns the bride in Kerala is a systematic and very conventionally arranged pattern that starts from the top and with the increasing length and intricacy of work it makes its way to the bottom and you will want to be clad in gold when you are the princess of your own fairytale.
The poise and purity of a Kerala bride steal the hearts of millions as she walks down the aisle adorning white and gold. Be inspired by her beauty and divinity, and blend in a dash of southern flavour in your wedding attire by adding in a few elements from Kerala wedding jewellery sets. Pick one of these stunning sets that will make you shine bright no matter what! Also, if you wish to check out some stunning Kundan stone jewellery pieces that wow your senses right here!
Which element from traditional Kerala wedding jewellery sets did you like the most? Let us know in the comments below!