10 Simple Designs for Mangalsutras To Seal The Bridal Deal
Looking for some mangalsutra simple designs for inspiration? We have got you covered followed by tips on how to choose the right one that you can wear daily.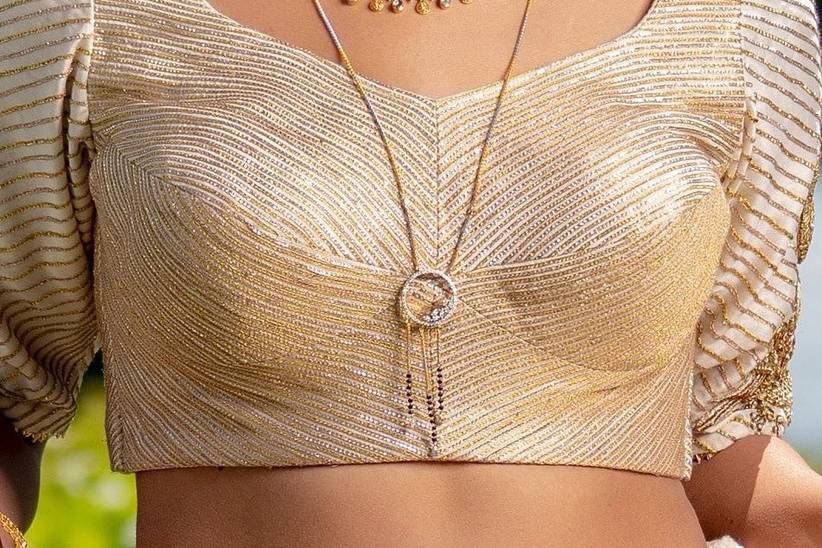 Mangalsutras worn by Indian brides come in a variety of styles and patterns. Although there is nothing quite like an elaborate traditional Mangalsutra, they aren't really wearable on a daily basis and neither do they go well with western or casual outfits. That's why we bring to you these simple designs that are not only stylish and trendy but can also be worn every day. Take your pick!
Mangalsutra Simple Designs We Love
1. Bracelet and ring combos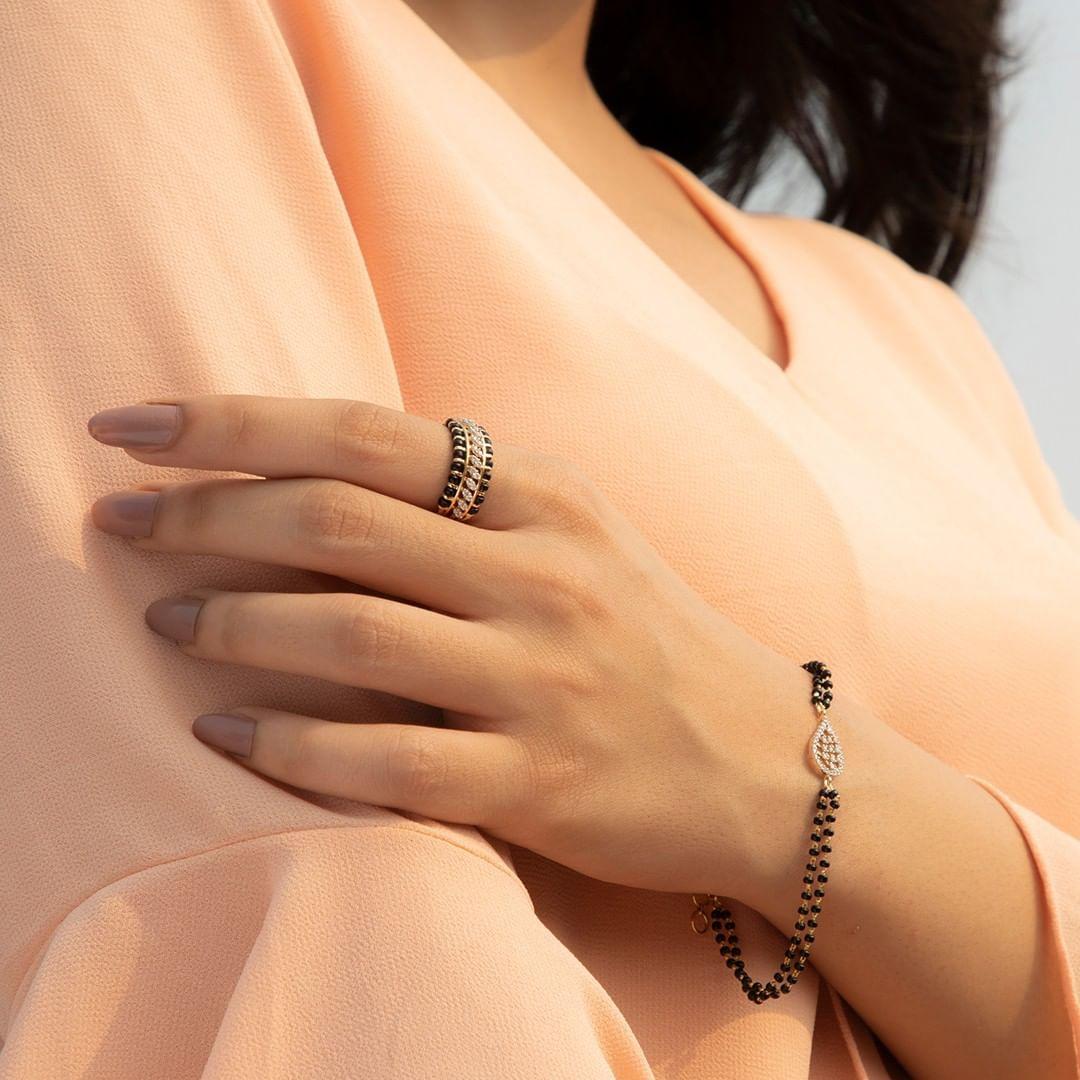 Need a workwear style that you can wear easily to office, dinner and back? Consider investing in a set of simple designs like the bracelet and rings as your defacto Mangalsutra, rather than complex or heavy chains. Such pieces look very chic indeed and are a subtle declaration of your lifelong commitment
2. Heirloom style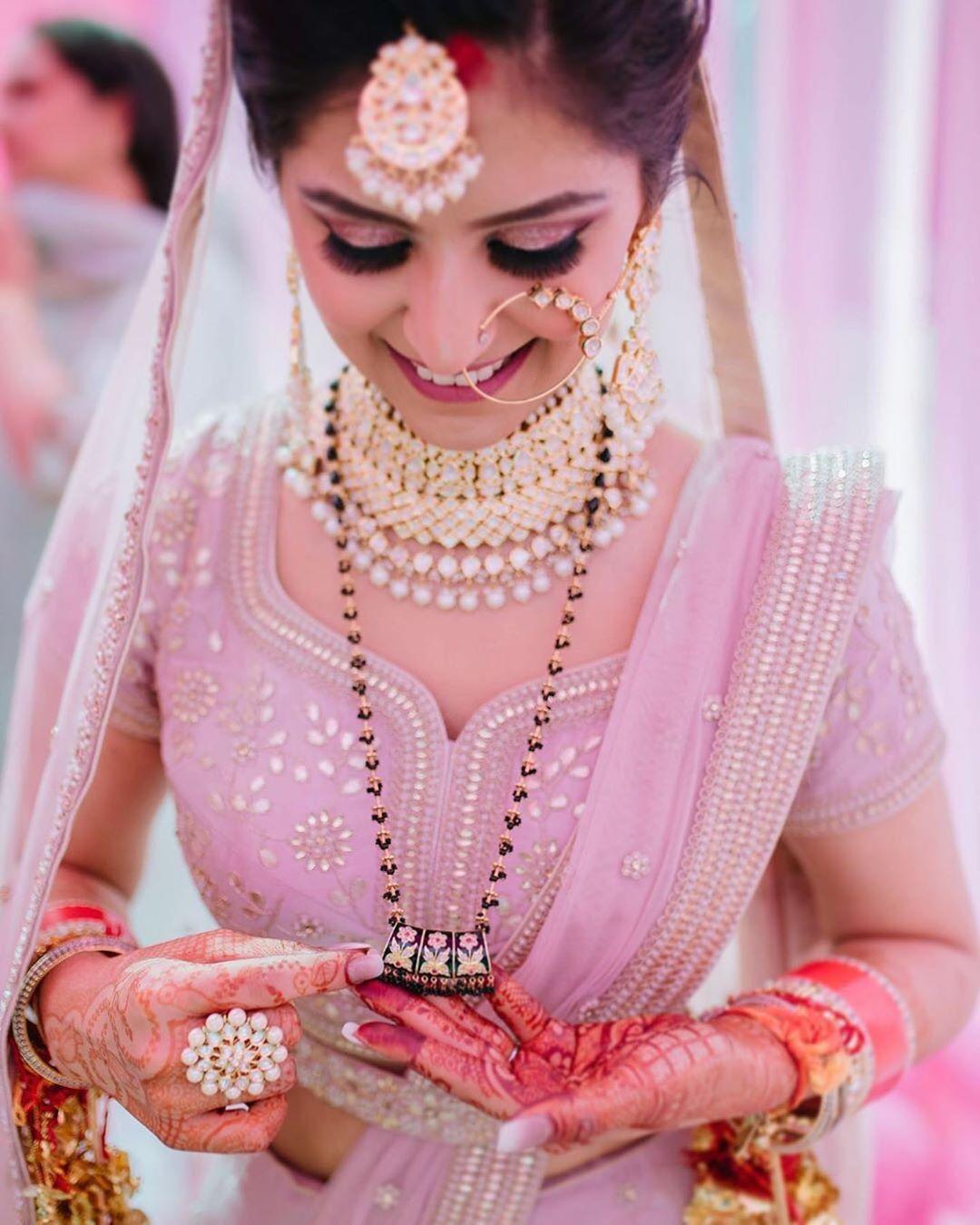 Image courtesy: Beginnings for You

You could also choose to go big, rather than minimal when buying simple designs for your Mangalsutra. You can pick up locket-style Mangsutra like the gushing bride with the Meenakari artefact above. We also like the tri-bead points along the Mangalsutra chain, which goes along spectacularly with the Meenakari centrepiece.
3. Flower power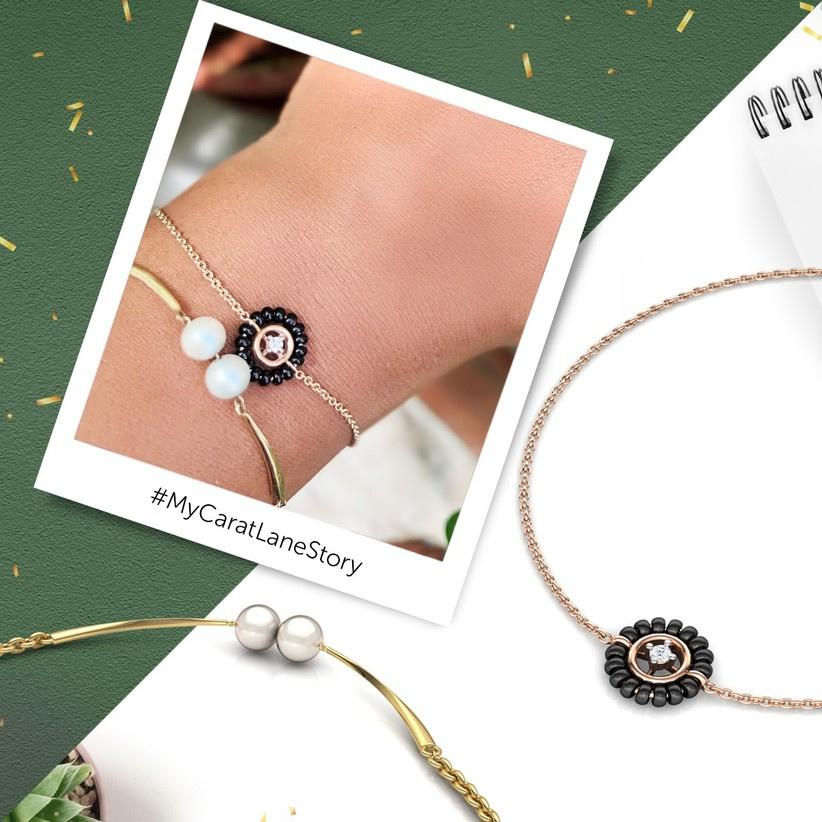 Think Rakhi-style pendant, then you're right on track with these bracelet style simple designs for Mangalsutra. The solitary chain of black beads beautifully encircles the solitary diamond, becoming a flower casing that's oh, so exquisite for a day at the office. Paired with a second, minimal bracelet make these beauties all you need for the day.
4. Seven Diamonds Mangalsutra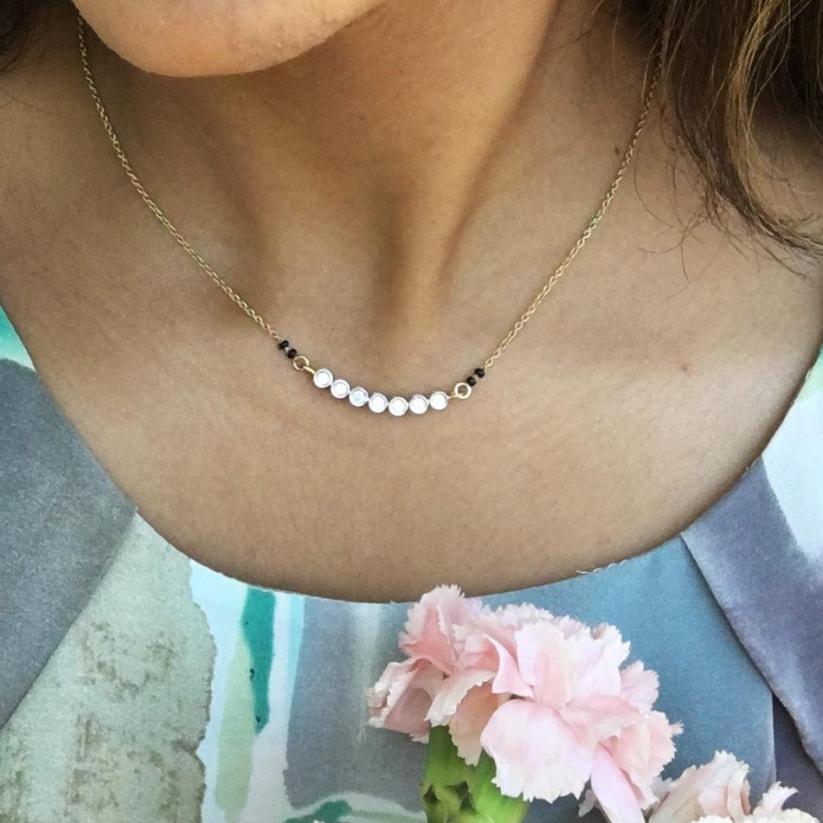 If sophistication is your style, you cannot go wrong with this ultramodern diamond Mangalsutra. Seven diamonds set in an arc like a pendant represents the seven promises of an Indian marriage. Two black beads on each side complete the look!
5. Black Beads Mangalsutra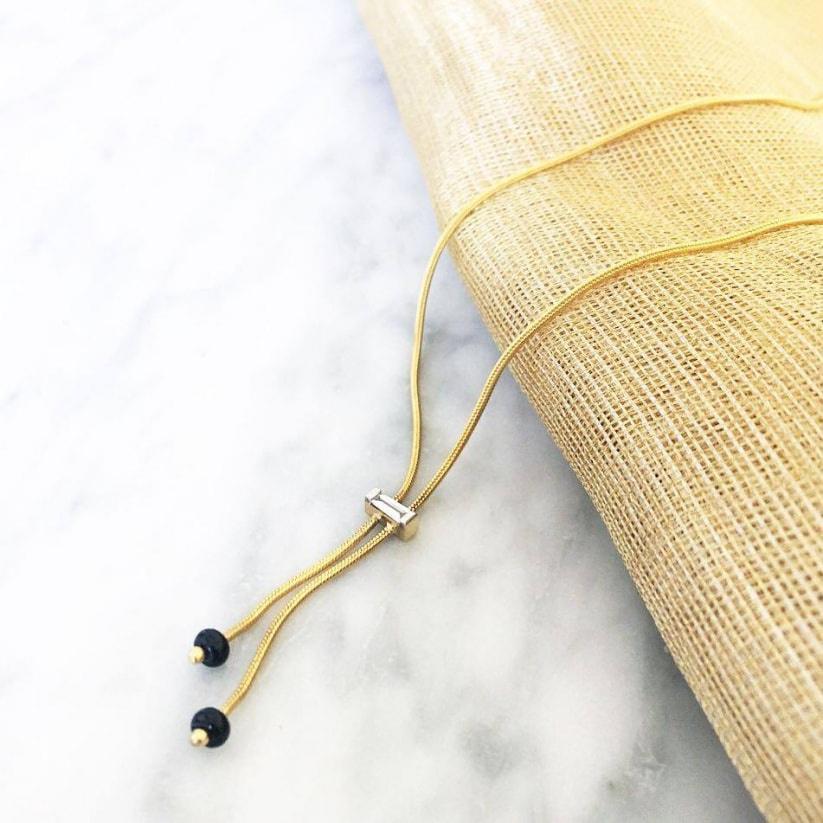 This type of a sleek simple design with just two black beads at the bottom is what we call a perfect daily wear Mangalsutra. For that sparkle, there is also a diamond that ties the gold chain together.
6. Mangalsutra Bracelets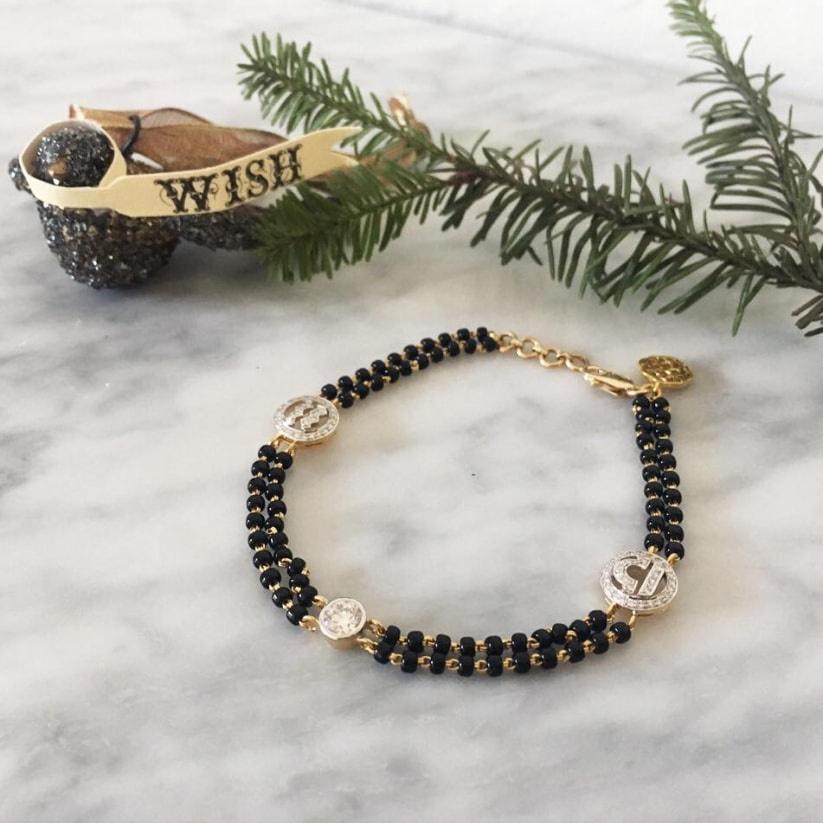 Now this one is really a new-age Mangalsutra design. Bridal jewellers these days have come up with a variety of Mangalsutra bracelets that are trendy and traditional at the same time. The simple designs and ease of wear make them most suitable for a modern woman.
7. Solitare Mangalsutra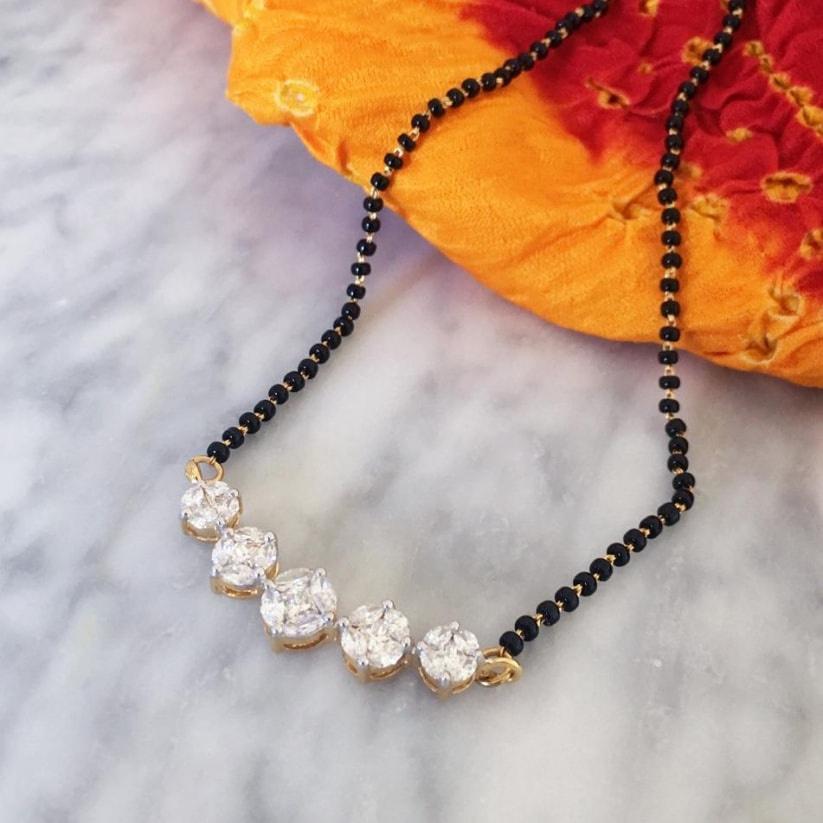 This type of diamond Mangalsutra is ideal for those brides who love finer things in life. When the budget is not a constraint, you can opt for a solitaire mangalsutra with a thin black beads chain. The best part about such designs is that they are not only perfect for everyday wear but are also suitable for work, weddings, and special occasions.
8. White Gold Kohinoor Mangalsutra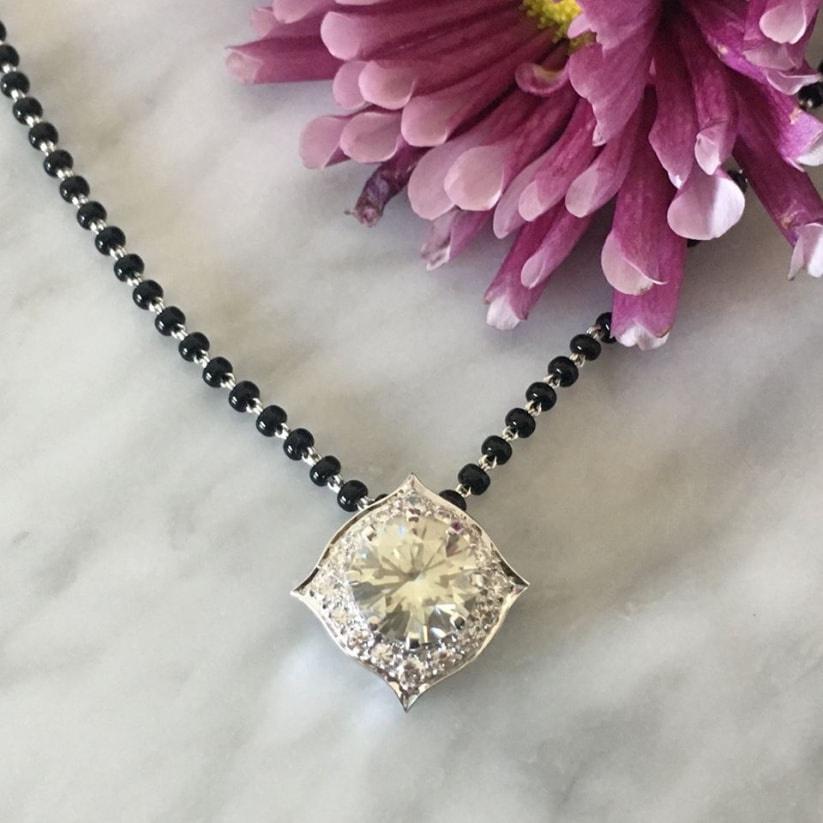 This type of design yells simplicity and royalty. Depending on the budget you can either opt for a pendant with a diamond or gemstones like moissanite. For a classy feel consider a white gold chain with black beads.
9. Religious Pendant Mangalsutra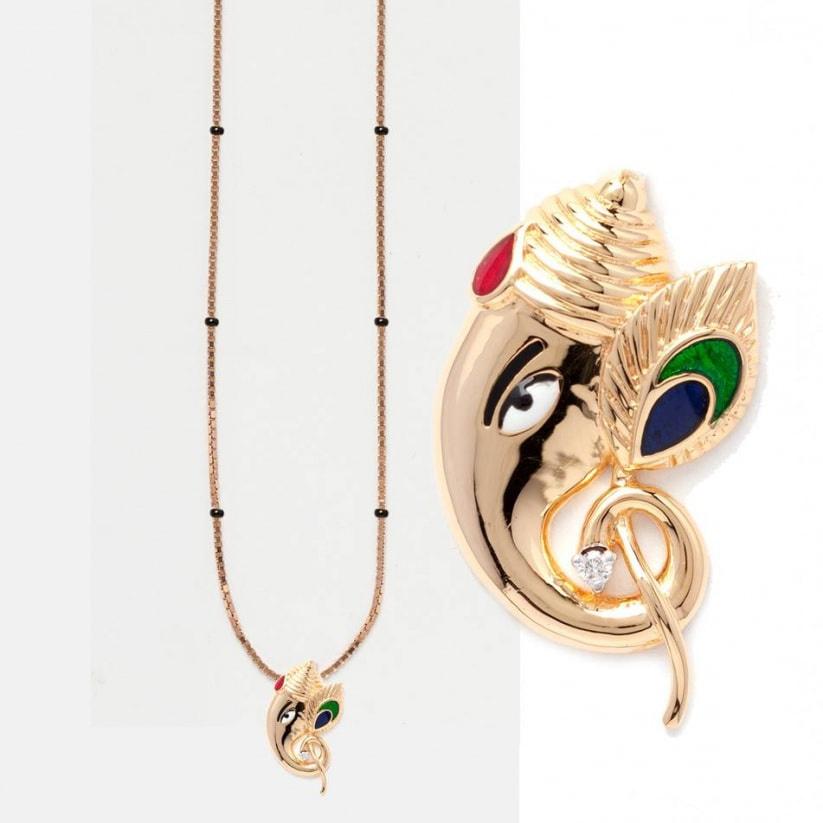 For those looking for simple designs with a religious theme can go for a mangalsutra with a god or goddess pendant. Gold chain with black beads at regular intervals helps to maintain cultural significance.
10. Long Chain Mangalsutra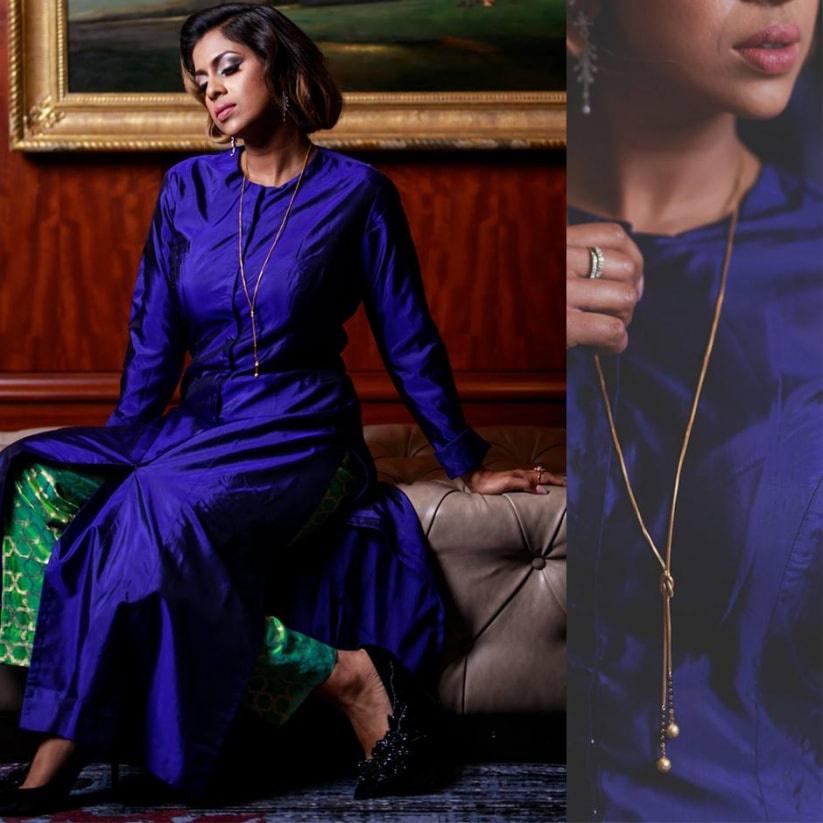 Do you like the long chain of the traditional mangalsutra but find it uncomfortable to wear and a mismatch with western outfits? Then this type of a designer piece with a long tassel necklace is what you need. A touch of black beads at the bottom helps to preserve the cultural significance.
11. Heart Shaped Mangalsutra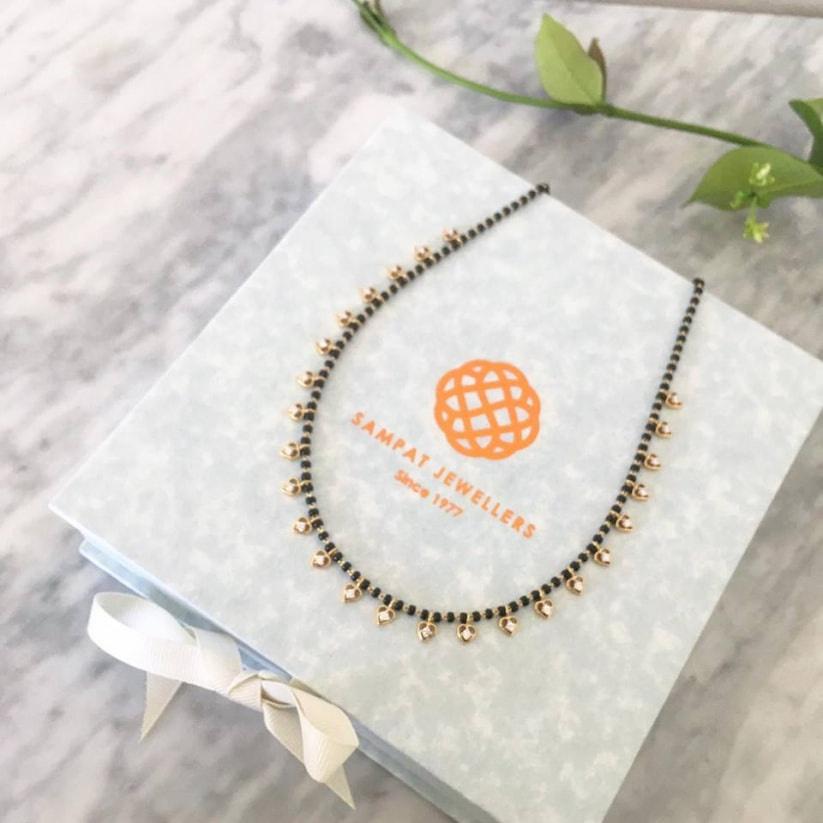 What says love more than hearts? This type of simple black beads mangalsutra with heart-shaped charms is an elegant design for the trendy brides and is ideal for daily wear.
Tips to Choose a Perfect Mangalsutra When Exploring Simple Designs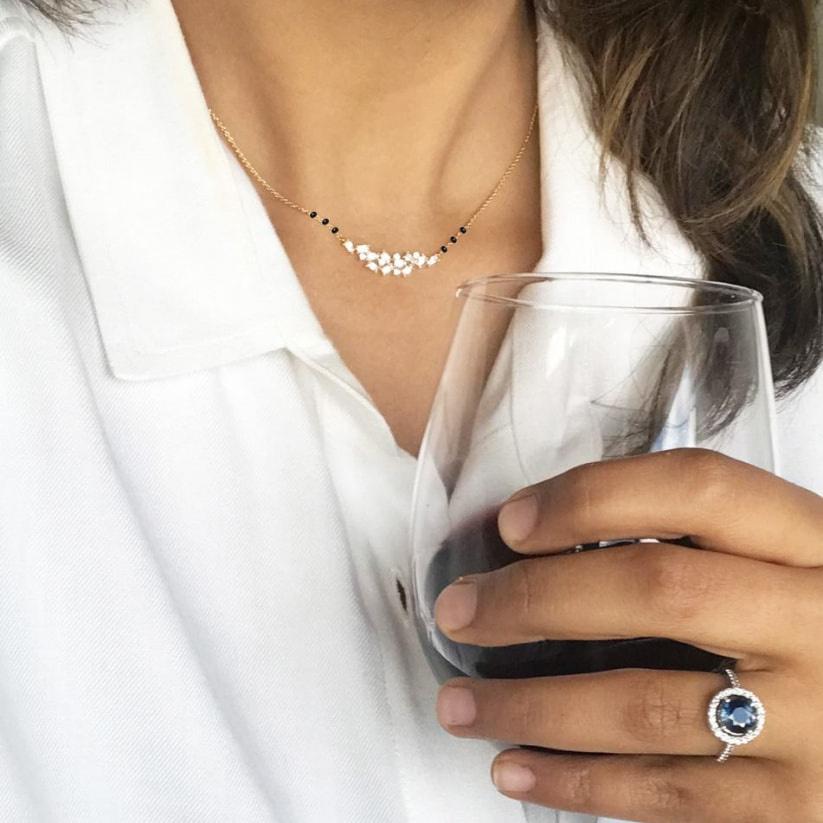 1. Decide on a budget
Simple designs do not mean that the mangalsutra is going to be inexpensive. It only means that the overall design will be modern and trendy, most suitable for daily wear. So make sure to decide on a budget as it will help you in short listing the ornament easily.
2. Decide on the metal
These days you can get the same style mangalsutra in various metals like yellow gold, diamond, rose gold, white gold, and even silver. So decide on the type of metal you want your mangalsutra to be in. Those who want to wear it daily may want to pick a metal that does not have a lot of shine and bling.
3. Decide on the length
Another important factor to consider when choosing a mangalsutra is the length of the chain. If you want to wear it regularly, consider keeping it short and dainty. Also, decide on the number of black beads you want. Consider the type of dresses you wear the most when taking a decision.
4. Look for matching earrings
It's alright if you want to buy a simple design to wear it daily but you can always get a pair of matching earrings to wear it as a set for those special occasions. Did we just spark an idea?
Mangalsutra is one piece of jewellery that will stay with you for a lifetime. So make sure to carefully pick the design and buy it only after thorough research. Keep the versatility of the ornament in mind before finalising the style.
Which simple design did you like the most? Let us know through comments.