Here Are All Types of Traditional Jewellery You Must Consider Wearing for Your D-Day!
Look stunning at every single function by completing your look with traditional jewellery! There are a few essentials that you've got to include in your collection! Read on to find out what they are!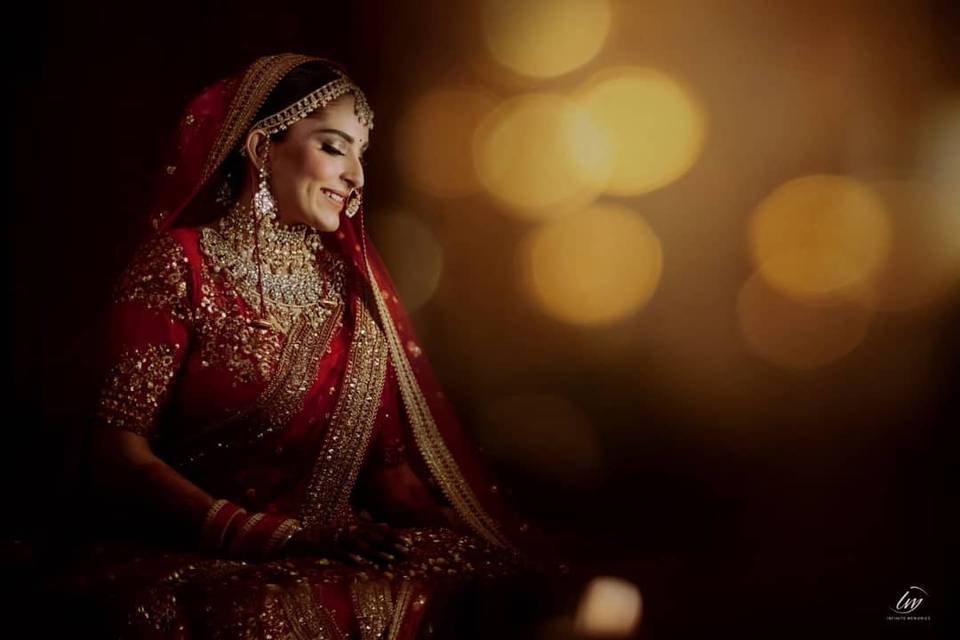 Jewellery is one of the things that can immediately add a touch of sophistication to any outfit. This is why most women you meet wear some form of street or light-weight jewellery on a regular basis. With these accessories being an important part of self-expression, you can bet that most brides give their traditional jewellery pieces as much thought as they put into picking their bridal outfits!
If you're finding yourself at wit's end and just cannot bring yourself to pick a specific style of jewellery, then we've got good news for you – who says you have to pick? Wear the following traditional jewellery types for different occasions and functions!
1. Heavy South Indian Jewellery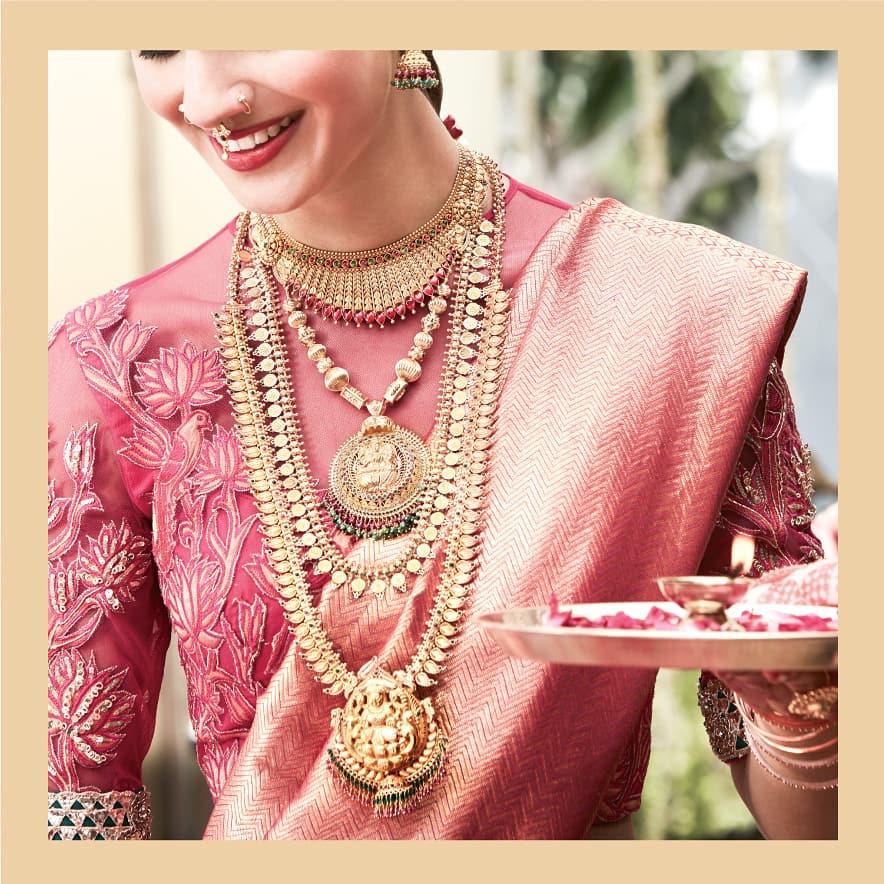 Stunning to look at and incredible to wear, South Indian jewellery is made entirely of gold and has a very distinct aesthetic. Honestly, this type of traditional jewellery is one that can instantly make you feel like a bride. By that, we mean that you'll be feeling, in the words of Rihanna, like 'the only girl in the world' – special. Isn't that exactly what you want to feel on your wedding day?
Must Haves: You've got to wear a long necklace if you want to rock the South Indian look. Other elements that can help you complete this vibe include Gajra hairstyles and silk sarees.
2. A Light Jodhpuri Necklace set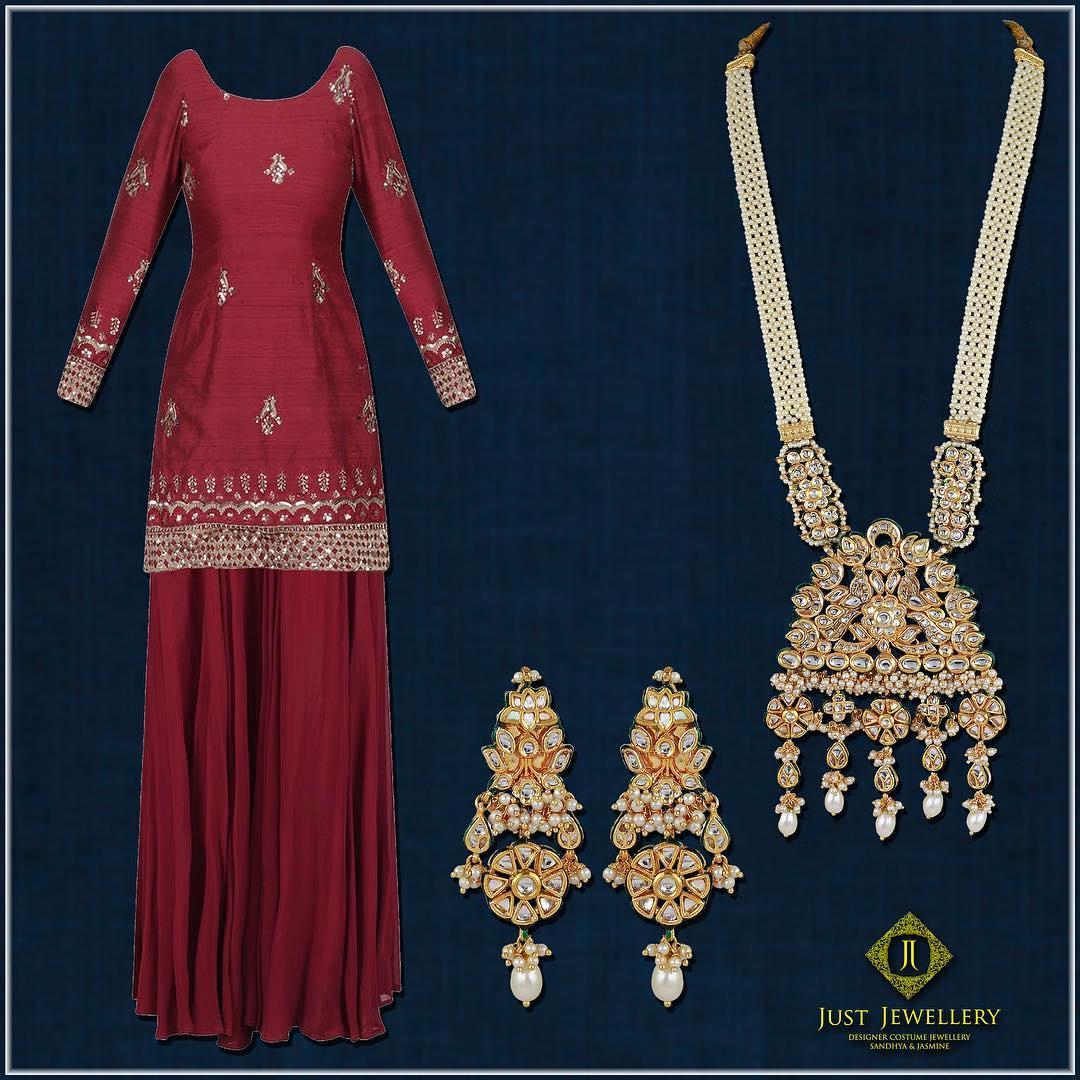 A Jodhpuri necklace set is one that includes the necklace and matching earrings. A set such as this is ideal for days when you don't want to spend time mixing and matching different pieces to create your own look. This traditional jewellery set goes well with salwar suits, lehengas, sarees, and even indo-western attire.
The uncut diamonds in the set are what will add the bling factor to the look, and will help you look and feel more 'dressed up' even when wearing a simpler set (such as the one pictured above)!
Must Haves: When you're wearing light set, the look point is to go for a slightly understated vibe. So, just having the necklace and earrings should be enough. To add to this vibe, you must have a traditional braided hairstyle so that you can show off the earrings!
3. A heavy Meenakari set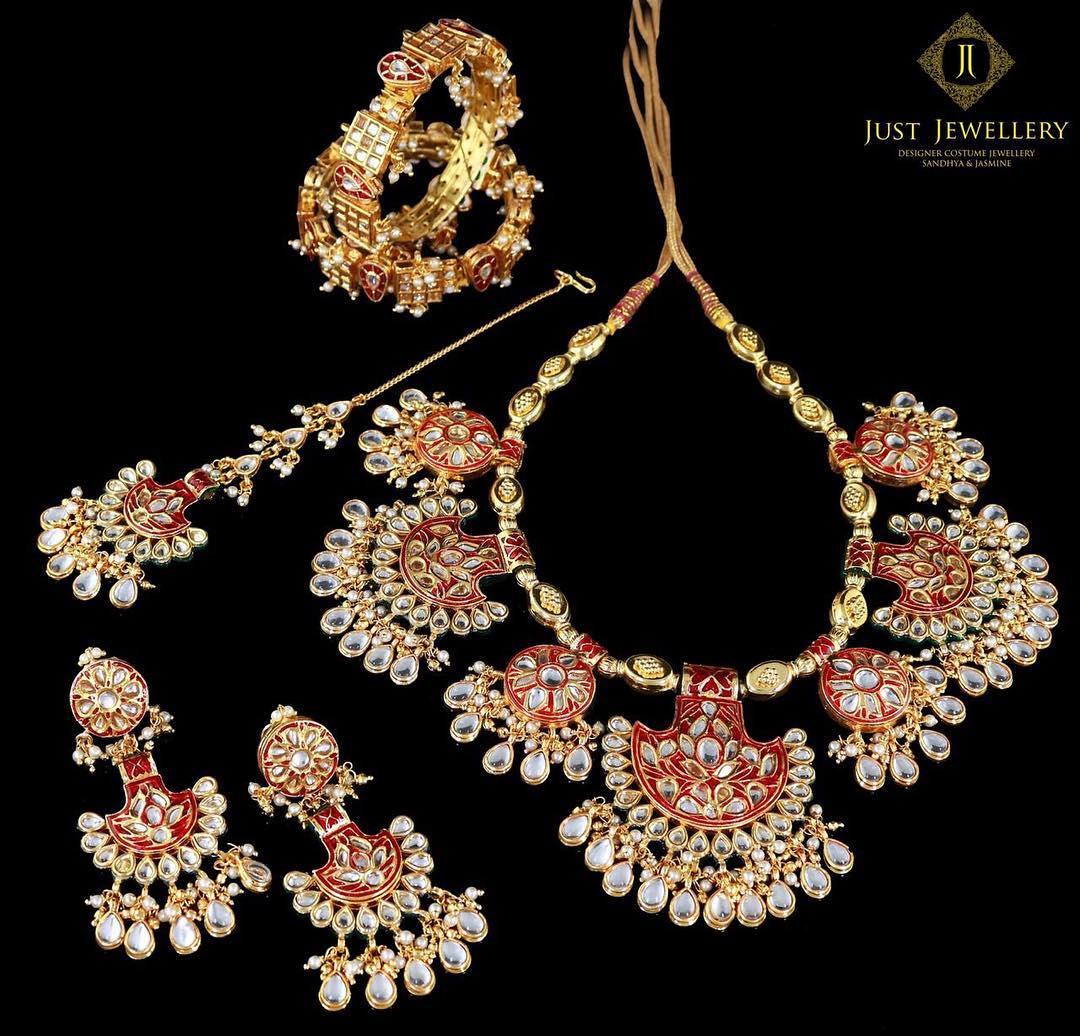 A heavy Meenakari set is one that every bride must have in her collection. Extra points if the set also includes gorgeous Polki diamonds! Though this may seem odd to hear, it is almost mandatory for brides to wear heavy jewellery for their wedding. Layers upon layers of jewellery is often a part of the iconic Indian bridal look, and you can't really escape it.
A great way to bring that same regal vibe without having to develop a crick in your neck for the rest of the evening is by wearing a heavy set that includes a Maang Tikka, earrings, necklace, and bangles.
Must Haves: For the complete bridal look, you've also got to make sure that your ensemble is as resplendent as your jewellery. So, pick an outfit with heavy embroidery and match your accessories with it!
4. A Gorgeous pair of Kangans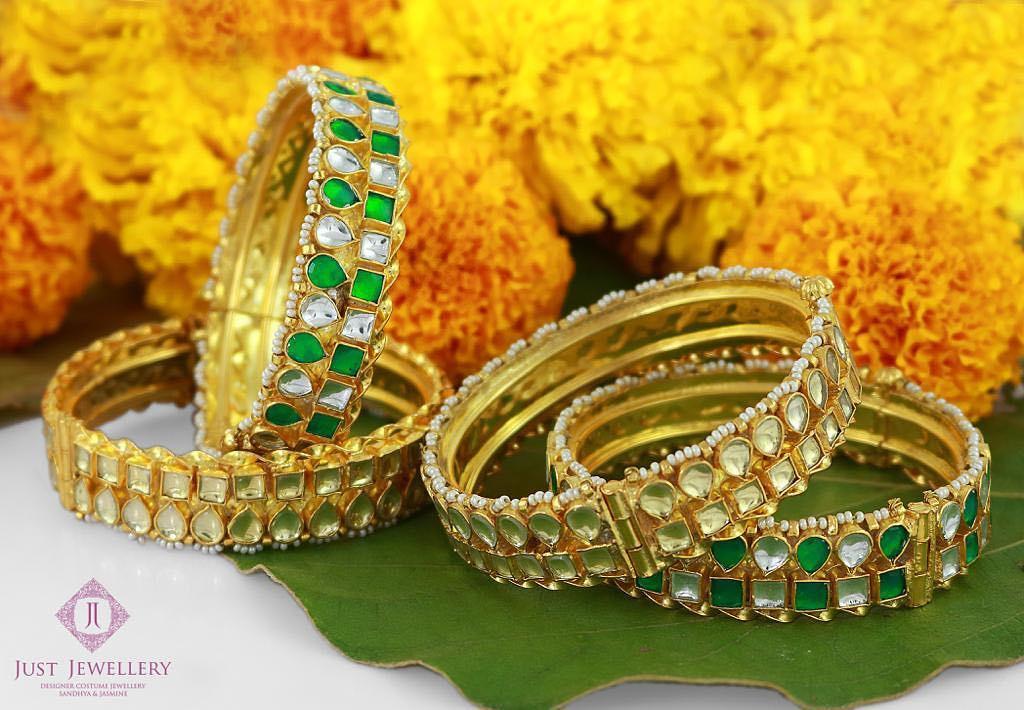 Kangans are another type of traditional jewellery that you must buy when building your wedding collection. This is because these heavy bangles work as the perfect accessories no matter what type of blouses you're planning to wear. Generally, Kangan designs are, by implication, heavy. This is what sets them apart from regular bangles.
Must Haves: A least one pair of thick, ethnic Kangans that you can wear with one outfit during your wedding functions. To make the look more perfect, you can source a matching ring and make your hands look great!
5. A regional style of traditional jewellery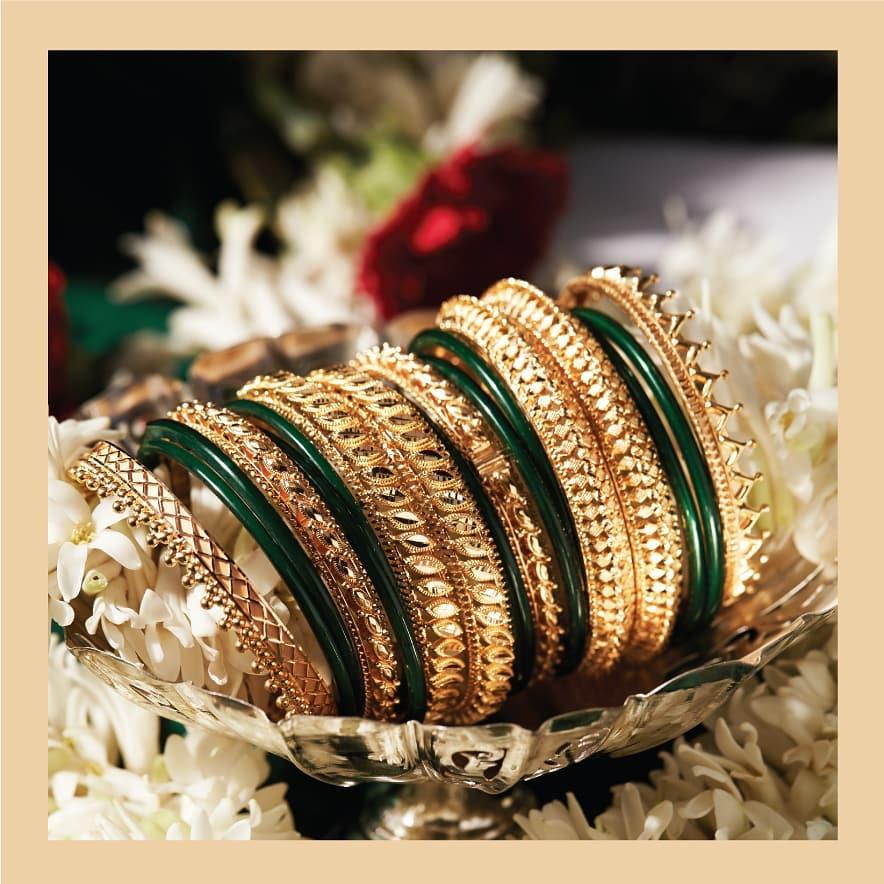 When you think of traditional jewellery, don't just look at the jewellery styles that are common across northern India. Look at regional styles that also define your culture. For instance, Maharashtrian jewellery incorporates shades of green and gold and can, therefore, serve as great accessories to bring accent colours into your ensemble.
Similarly, you can use Rajasthani nath designs to accentuate your bridal vibe and bring in new focal points to your look. With India being such a diverse land, your choices are practically endless!
Must Haves: Definitely include traditional jewellery that is reflective of the region that you are from. However, do not shy away from including items from other states and cultures!
A bride and her traditional jewellery are inseparable. You must consider different jewellery types to include in your bridal collection so that you can have a lot of fun while dressing up. From heavy Payals that tinkle when you walk to earrings that catch the light every time you laugh, you really must have it all.
Get in touch with our fantastic jewellery vendors to complete your collection and look beautiful on your wedding day!