10 Tips to Slay the Gorgeous South Indian Look for Your Wedding Day
Opting for a South Indian look on your wedding day not only highlights your sophisticated and graceful personality but also makes look heavenly and divine. So, go a little different on your big day by reflecting your elegance with the following ideas
South Indian weddings are known for their traditionalism and cultural aesthetics. A South Indian bridal look consists of the typical wedding garments – bridal sarees, myriads of jewellery and hair adorned with flowers. For people out there, seeking inspiration for donning a South Indian look on your big day, you have come to the right place. Check out these following ideas and rock your wedding look like a total boss!
1. The Traditional Look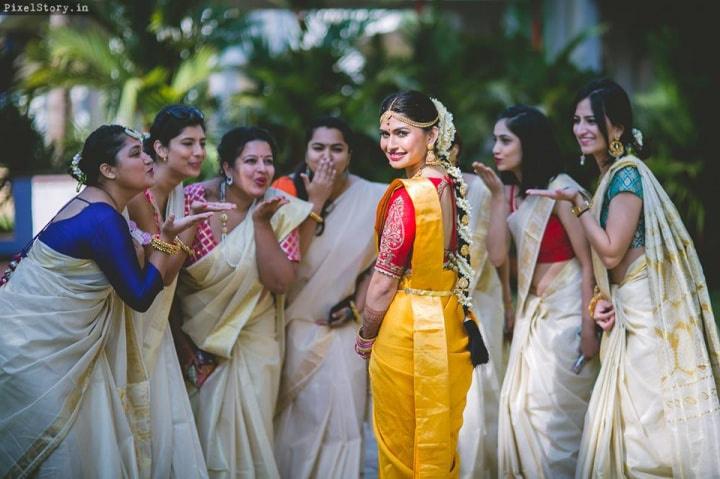 Nothing beats the traditional and quintessential South Indian look for a bride on her wedding day! With a gorgeous Kanjivaram saree, traditional jewellery and a stunningly embroidered blouse, this look is meant to sweep everyone off their feet.
2. Muted Eyes with Bold Lips Makeup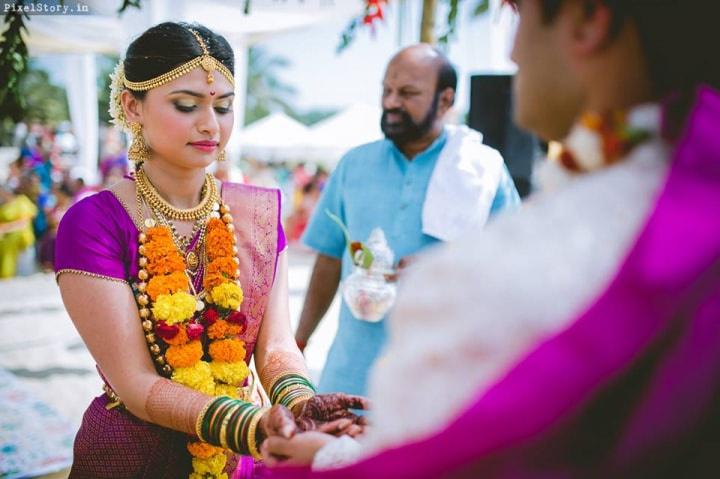 Try something new by keeping the eyes minimal and simple. You can skip the smoky eyes makeup in order to go easy on the eyes. Instead, opt for a bold and eye-catching lip colour that is striking and stands out in the most elegant way possible.
3. Rock that Septum Nose Ring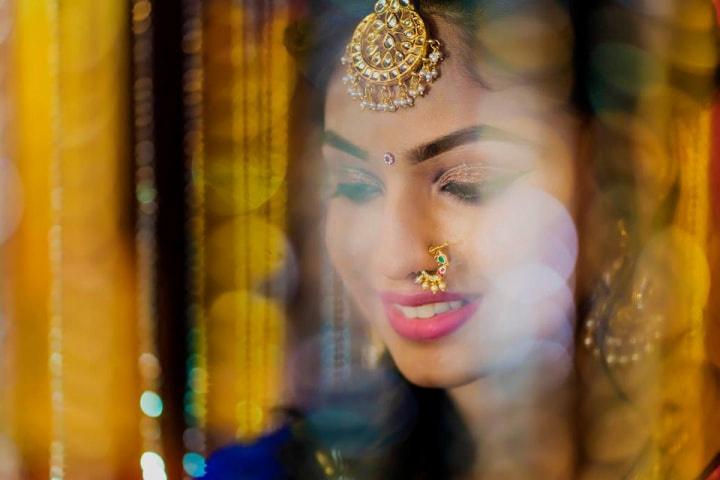 Elegant yet minimalistic in its nature, rock that nose ring on your wedding day with traditional makeup and garments, thus standing out in the myriads of fashion. This look not only brings out the sophistication of the attire but also places you in the centre of attention that you deserve on your wedding day!
4. Fancy a Different Hairstyle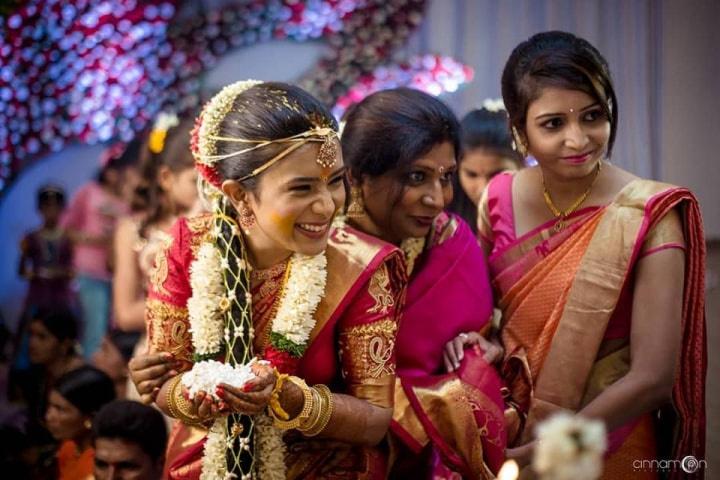 Want to try something different with your hair? Try to cut back on the traditional South Indian bun and go for a different hairdo! You can sport a French braid with traditional hair accessories on it and bring out the contemporaneity to your traditional bridal look.
You can just incorporate a mix of traditionalism and modernity by sporting a mixture of the extravagant bun and braid hairdo. Top it up with subtle gold hair ornaments and you are good to go! You can also go for a simple braided look with a Poola Jada of gold coins, thus completing the traditional yet minimalistic look.
5. Choose Jadau Jewellery Over Traditional Temple Jewellery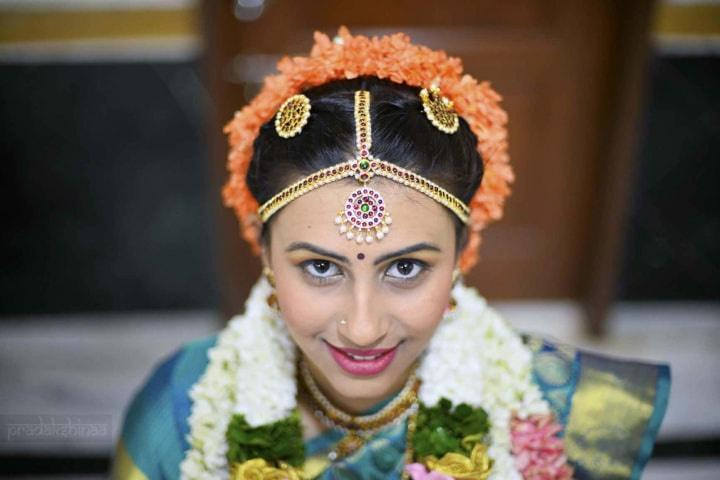 Be that stunning bride that sets her own rules when it comes to determining her bridal looks. Blend the rich traditions of the North and the South by rocking a Pattu saree with traditional Jadau jewellery set. A little bit different from the usual bridal attire, this look will make you look amazing on your big day.
6. Revamp Your Wedding Attire with Multiple Necklace Sets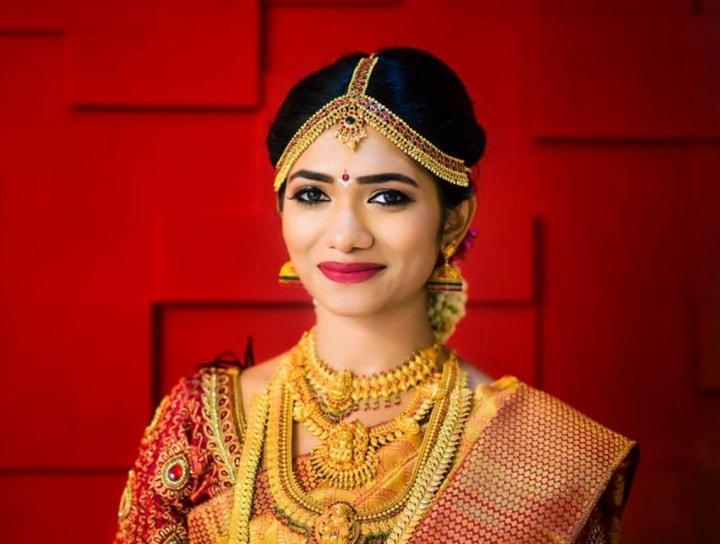 Look completely radiant by donning around six gold necklaces on your wedding day. Choose your necklaces in different sizes and styles. Slip them on and rock them like a true diva!
7. Slay the Look with a Kempu Necklace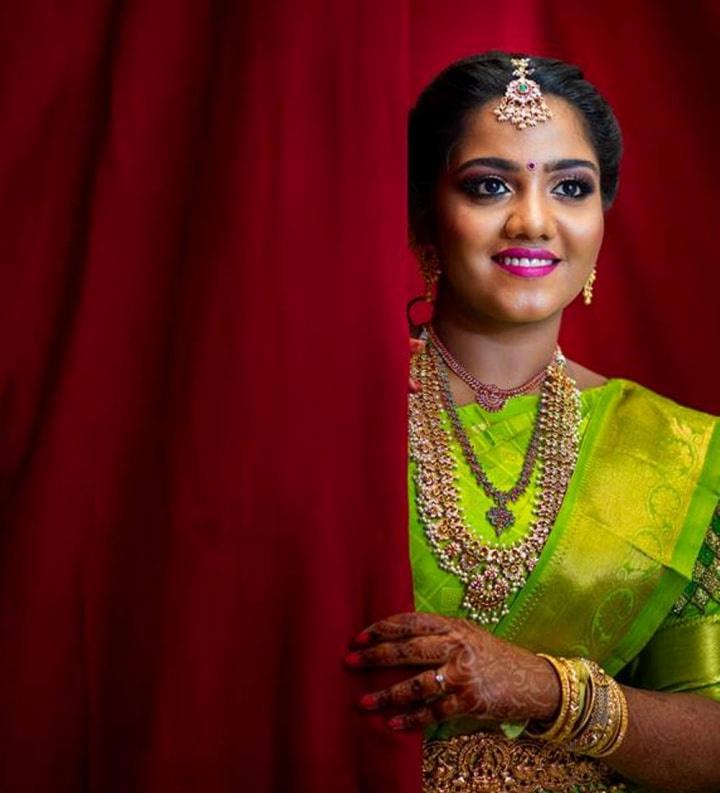 Nothing speaks of elegance more than a bride carrying a statement Kempu necklace with beauty and grace. Sport the necklace with a nose ring that is attached to a thin, gold string, going all the way up to your hair (unlike the traditional South Indian bridal nose rings) and you are ready for your wedding day!
8. Silk Sarees with Heavy Blouse Design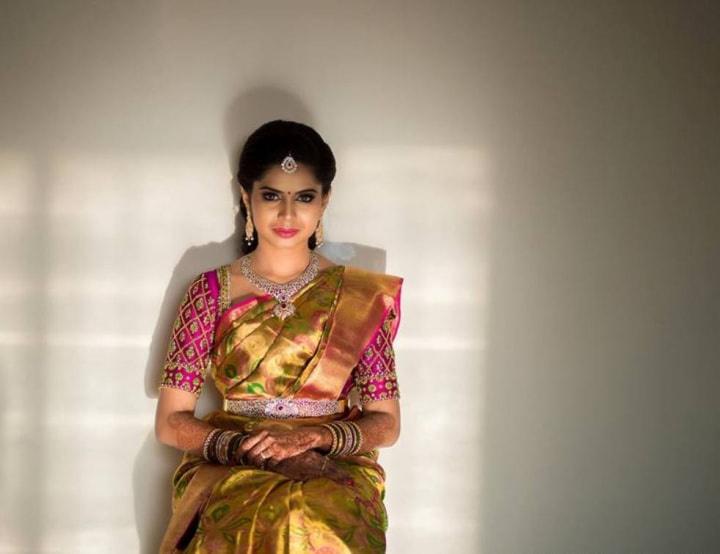 Opt for the traditional and simple Kanjivaram on your wedding day with heavily embroidered blouse. This will help you to balance the simplicity of your saree with the extravagance of your embellished blouse. The balance will help you to look gorgeous on your big day!
9. Ditch the Saree for a Lehenga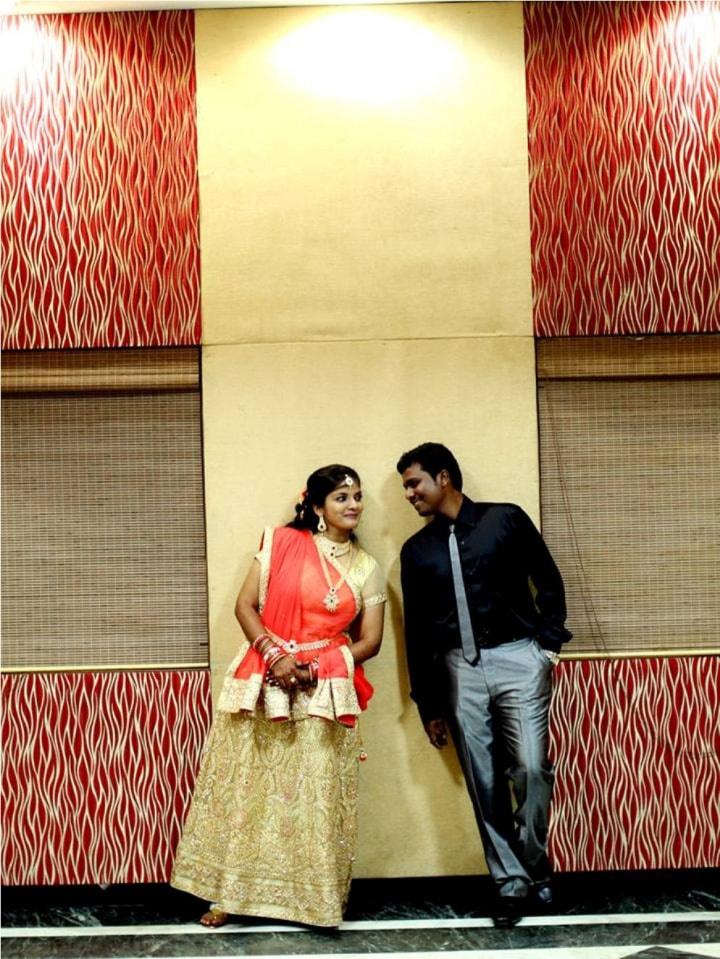 A bold statement to make – the Kanjivaram saree plays a huge role in the South Indian looks for brides. However, blend it a bit of modern extravaganza with traditionalism by opting for a lehenga in place of a saree. Consider a light makeup that will highlight your radiant and flawless skin. The subtleness of your makeup will hugely compliment your bridal look, keeping it natural, fresh, elegant and gorgeous. Do not forget to spice things up with a simple yet chic nose pin!
10. The Minimalistic Bridal Look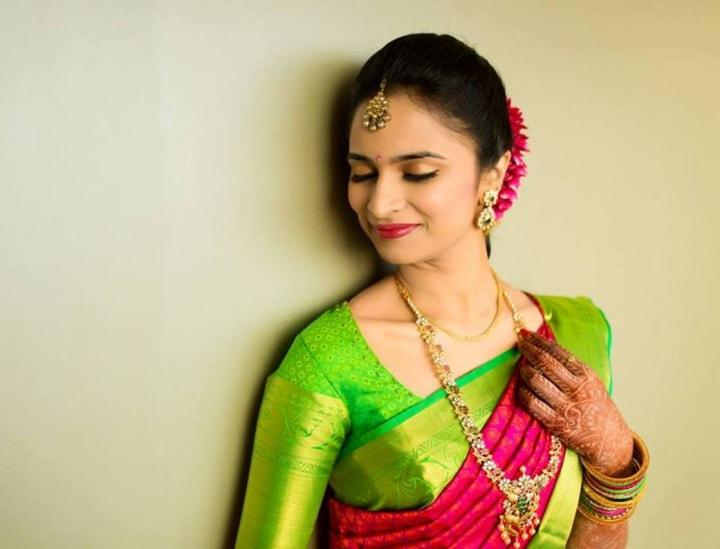 For the brides out there who do not like going overboard, this is the look they can opt for. If you fall into this category then let it be known that even with your minimalistic choices and attires, you can rock this style on your wedding day! Top your minimal bridal jewellery with a classy yet traditional orange and yellow Kanjivaram saree and flaunt your gorgeous blend of persona and attire on your special day!
South Indian weddings are known for their lavish rituals, gorgeous and colourful sarees, extensive gold jewellery and extravagant bridal hairstyles adorning beautiful flowers! The South Indian look accentuates the bride's face and complements her skin tone to a large extent. Whether you want to go for the traditional look, contemporary attire or a fusion of the two, a South Indian look proves its versatility in all the spheres.
Go ahead and choose one of these looks for your big day!