The Only Guide for You Bridal Eye Makeup for the Big Day
Bridal eye makeup is all about enhancing your eyes and complimenting your stunning wedding attire. Take a look at these styles for some major inspiration.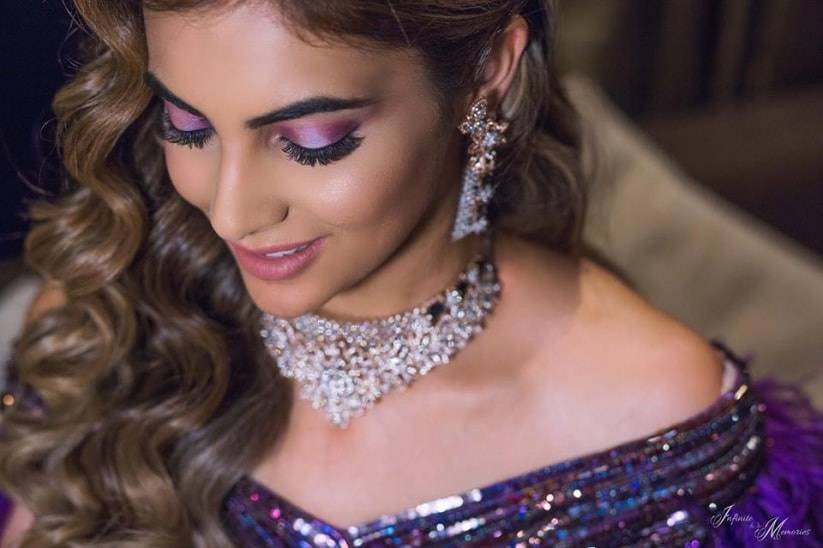 The right bridal eye makeup has the power to turn around your wedding look. These days, brides know exactly what they want and bridal makeup artists understand the need to balance stunning with the subtle. When looking for the perfect bridal eye makeup styles, make sure you pick different looks for different occasions and more importantly you hire a professional who can bring out the desired results.
Choosing the right bridal eye makeup also includes trials, understanding your skin needs, planning all the tiny details and making sure that everything from top to bottom fits perfectly well together. Whether you choose a minimal look or a glamorous one; the point is that it needs to fit in with the rest of your wedding statement.
Eyes speak and they are supposed to be the gateway to your soul and if that is true, then you will have to make sure your eye makeup is on point for the D-day and the Engagement or even the Mehndi ceremony or the Haldi ceremony because your eyes are beautiful and let the beholders be pleased with the eye makeup.
Let's look at some of the top bridal eye makeup styles:
1. Metallic Bridal Eye makeup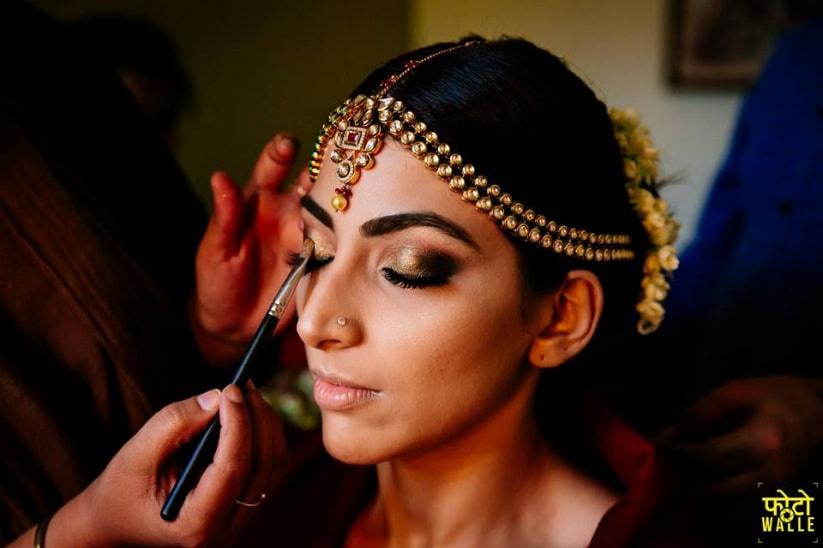 Metallic shades are really in and make for stunning makeup looks. Combining two metallic shades, like bronze and gold as in the picture below, creates a very stylish and powerful look. Metallic eye makeup goes well with almost every style and colour of bridal attires. Whether you are wearing a traditional red bridal lehenga or a contemporary blue - metallic compliments all.
Metallic eye makeup goes hand in hand with your golden lehenga or your copper coloured gown for the Engagement. It defines your eyes better and the smoky effect makes it glamorous. This makeup will gel well with both daytime and nighttime function and will bring out the best in all of your wedding photos.
2. Minimalistic Bridal Eye Makeup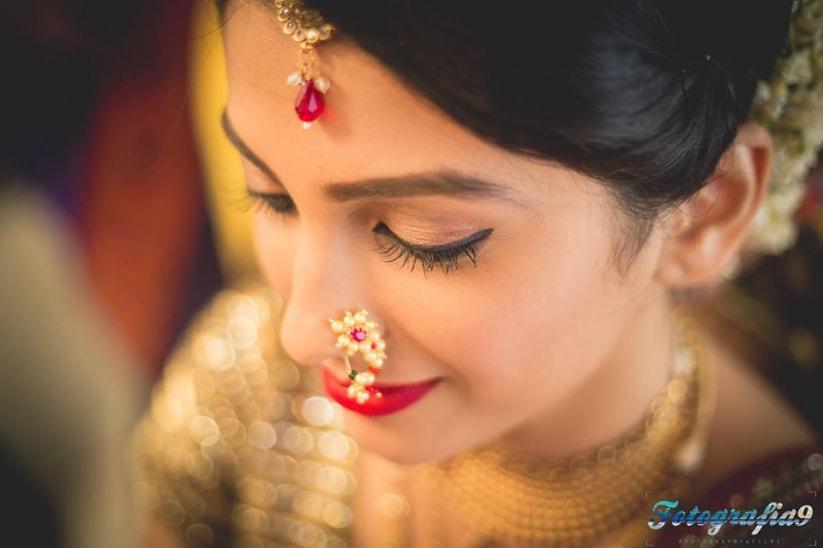 Many brides prefer to keep their makeup look minimal and simple. This could be just a dab of a light eyeshadow with kohl and liner framing the eyes. If you are having a day-wedding, or you feel your bridal attire and bridal jewellery deserve the bigger attention, or you are just someone who likes to keep it simple then a minimal bridal eye makeup with bright lips is all you need to make a stunning statement.
This look is best for a day time wedding ceremony with the sun shining bright on you to bless you with a glowing look that you can flaunt on your D-day. The eye makeup looks dewy yet natural and fits perfect with bright lehengas or nude pastel shades of attires.
3. Smokey Eyes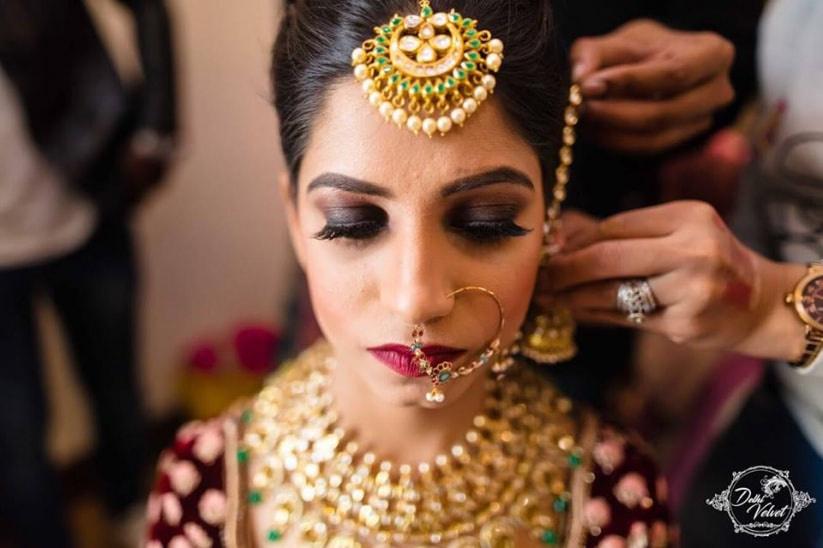 Smokey eye makeup has been a rage; be it for weddings, parties, cocktails or just special occasions. Smokey bridal eye makeup gives the eyes a depth; thus, enhancing the beauty and the emotions that your eyes portray. It is a chic makeup style that looks great with bold red lips and can complement almost every colour and style of wedding attire.
Smokey eyes are very modern and contemporary yet blends beautifully with wedding outfits. The night of your big day is everything that needs to be perfect and you will be impressed with the effect that the smokey eye makeup can create.
4. Glittery Glamour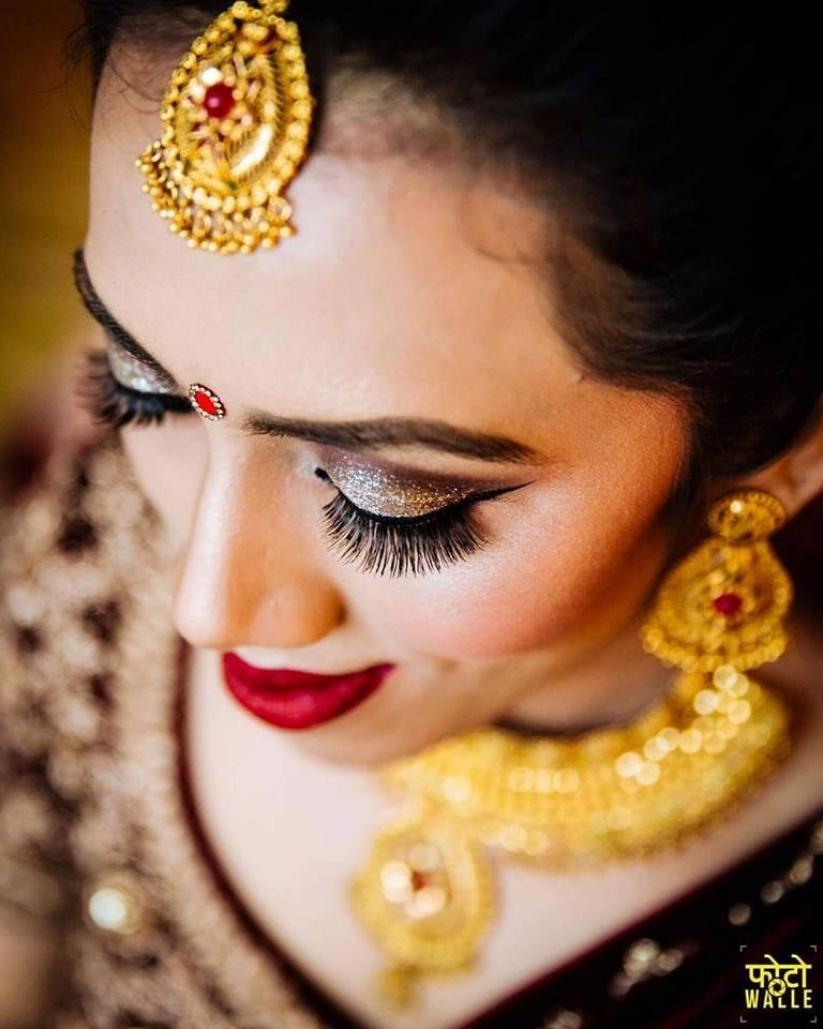 You can never go wrong with glitter! When it comes to bridal eye makeup glittery eyes have been a go-to wedding statement for decades and continues to be a rage. Glitter in metallic shades like gold, silver, copper or bronze, or even specific colours to match your bridal lehenga can look absolutely stunning. Add voluminous lashes and frame your eyes with kohl and you are all set to shine on.
They are a perfect pick for your attire that is in dark maroon or magenta shades and is worn at night to drop sass as you walk by.
5. The Modern Day-Diva Look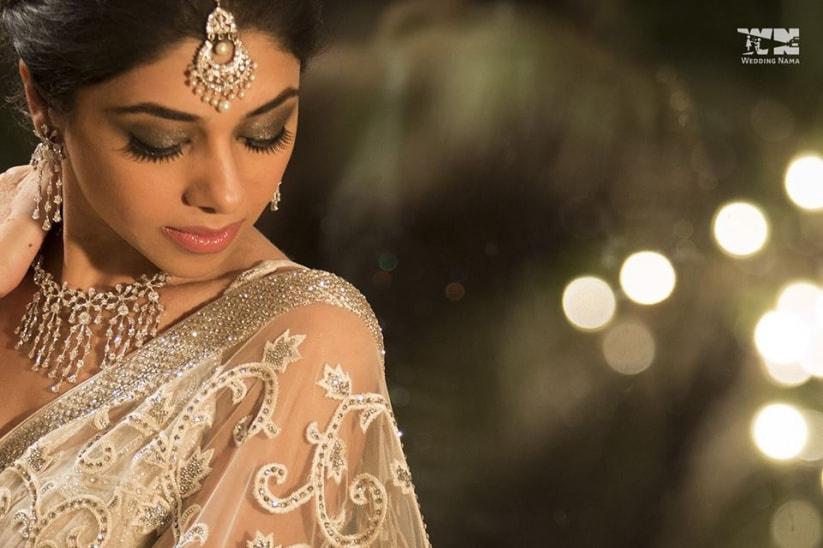 If you are the kind of bride who likes 'offbeat' style trends, then ditch the typical bridal makeup looks and opt for a more contemporary style. This could be a mix of smokey eyes with a fabulous winged liner, glitter dust on smokey eyes or even something more radical like neon colours to add that trendy look. These looks are especially popular for reception ceremonies or cocktail evenings but can be a great wedding day makeup style too.
6. The Rosy Blend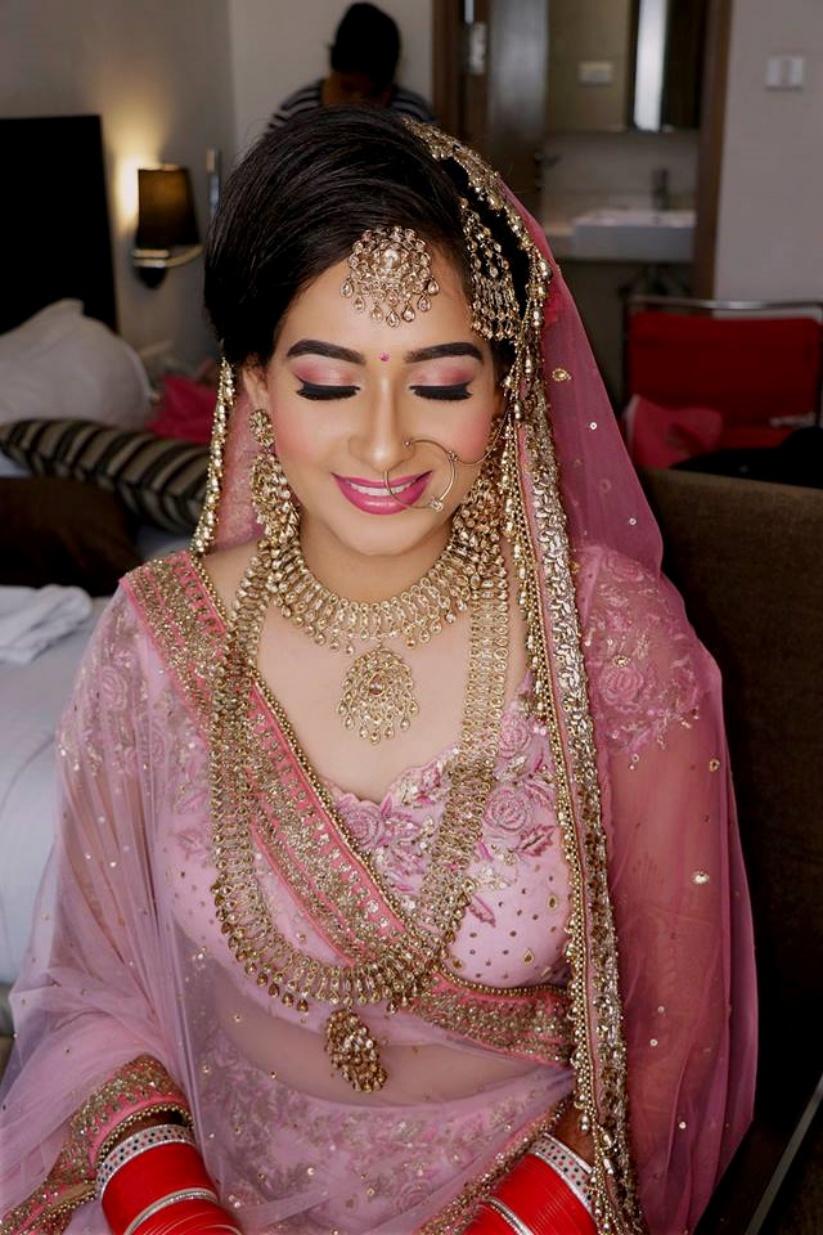 This is a kind of makeup that goes well with lighter shade tones as well as light playful colours of your attire. If you are planning to host any ceremony during the day time, then this is a look that you should go with. The rosy blend bridal makeup for eyes explores the softer hues and textures that would look gorgeous on your fair skin. It also works best if you are looking for an overall soft bridal profile.
7. Butterfly Touch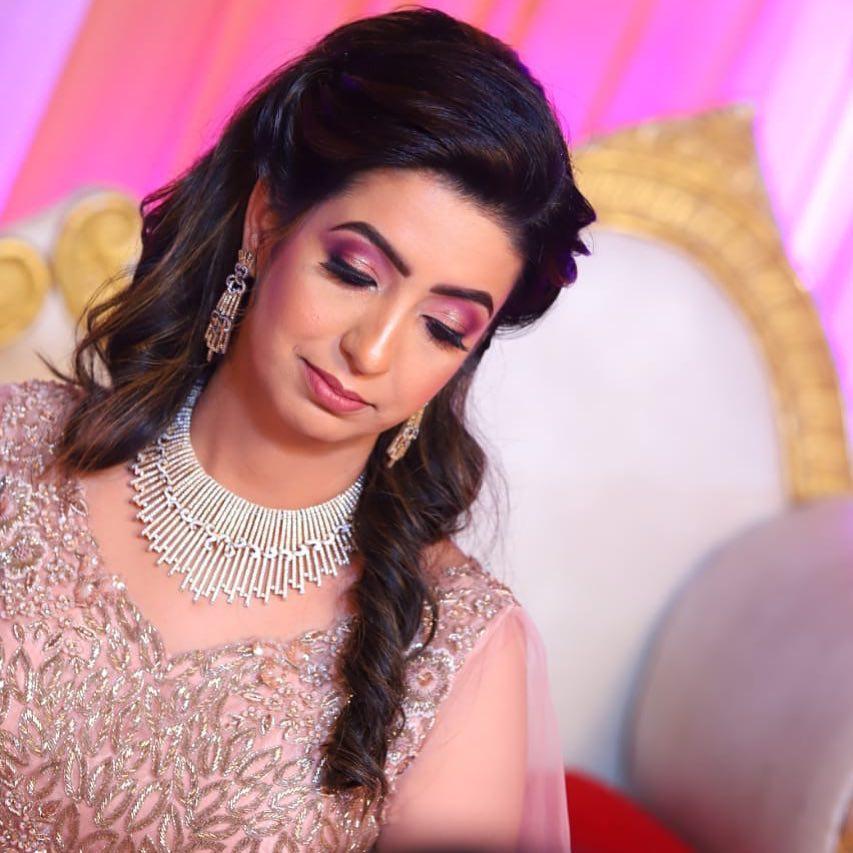 It would complement in the best manner if you are opting for an overall dramatic for your big day. This explores hues and colours that are in sync with your lip colour as well as the bridal lehenga. Your eye becomes the canvas for the bridal makeup artists who incorporate colours and textures in it with are unlike anything else. This will surely glam up your entire look.
8. Gold Radiance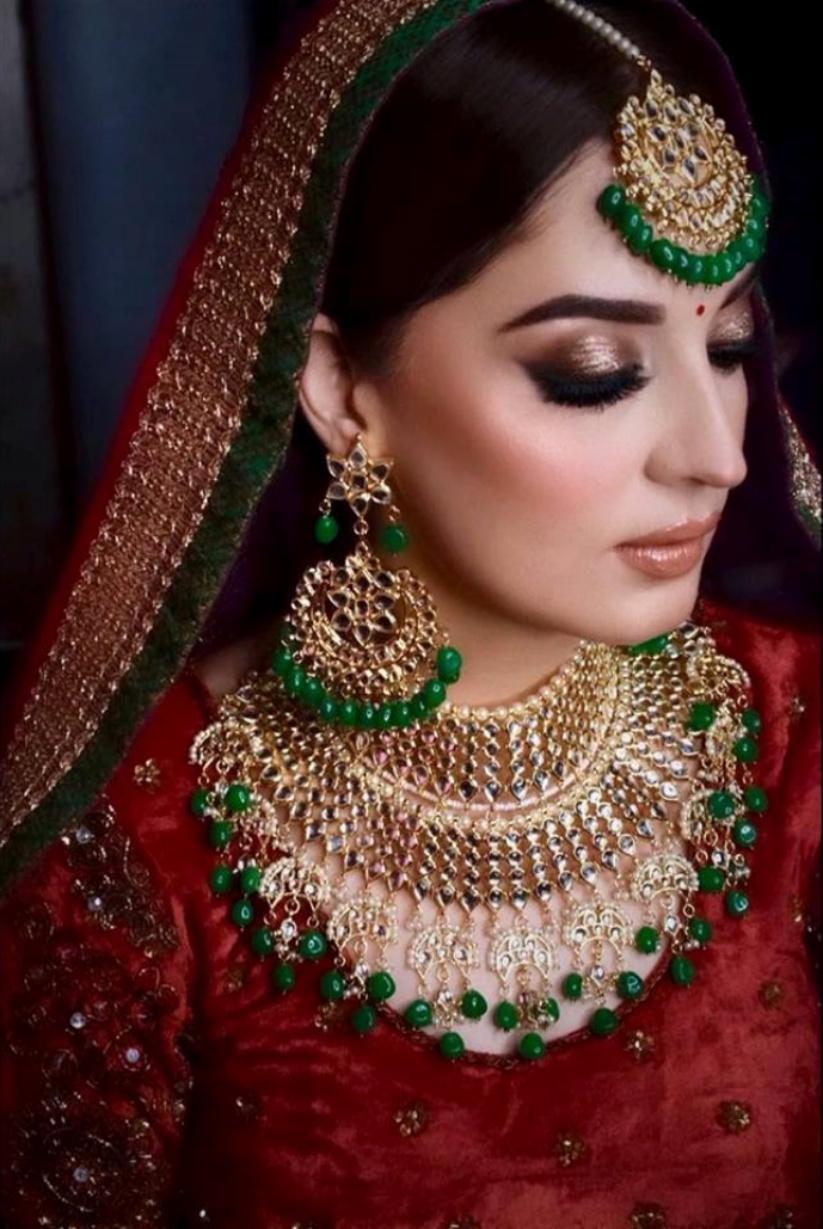 A gold eye makeup would look beautiful and complement with your red wedding lehenga in a perfect manner. Using the colour of your embellishments on your eyelids can never go out of style as it contrasts and enhances the beauty of your makeup gorgeously. This classic bridal eye makeup adds the exemplary game to your entire bridal makeup.
Some Tips To Amp Up Your Bridal Eye Makeup
Read these pointers and fix your bridal eye makeup like a pro from the comfort of your home.
1. Ensure that your bridal eye makeup is in sync with the colour of your outfit
2. Sometimes less is more work best. If you are wearing a shimmery outfit then do not opt for a shimmer base eye makeup. Instead, opt for a matte finish to even down your overall look
3. Use eye primer before you put on your eye shadow as it helps in holding the colour of for a longer period
4. Use waterproof products only. Weddings come with happy and sad tears. So, as you cry yourself a river your makeup will still be intact and you will save yourself a makeup freefall
5. Keep blotting paper with you in a handy makeup kit. Blot your eye makeup if you feel it is bleeding out at any time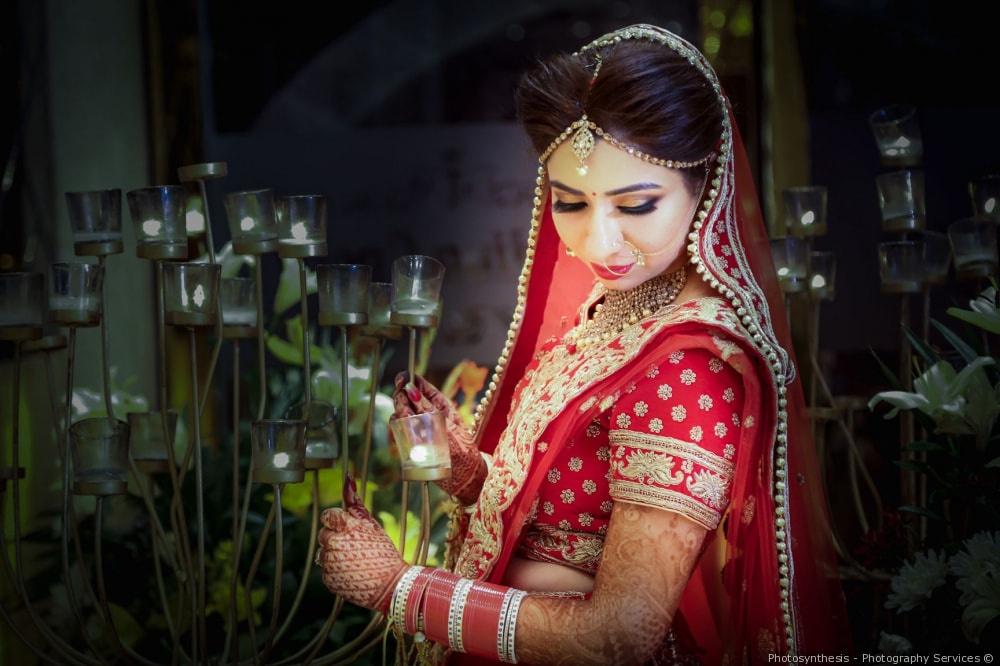 A wedding is a 'once in a lifetime' affair and every detail needs special attention. Don't let your bridal eye makeup be stereotypical or boring, explore new styles and looks. What's your pick on bridal eye makeup trends - would you go bold or stick to basics? Which of these trends will you follow for your own wedding? We say, try them all before you pick the one!
Would you dare to be your own MUA and do your bridal eye makeup on your own? Tell us through the comments!