The Perfect Lehenga Makeup Guide For Your D-day Look
The right bridal lehenga makeup combination will help you accentuate your overall wedding look, but the key is to know how to strike the perfect balance. Here's how you can do that.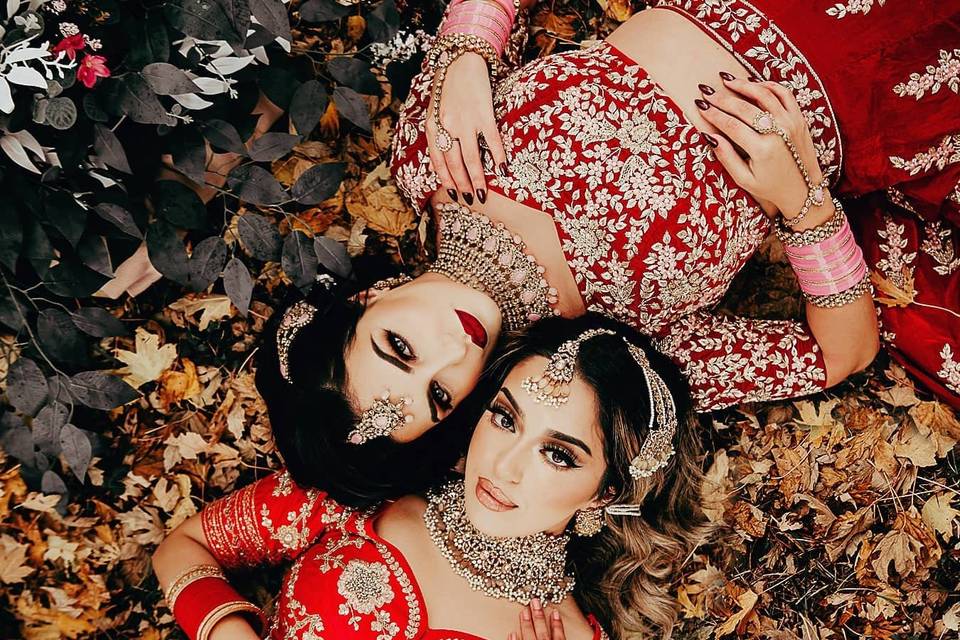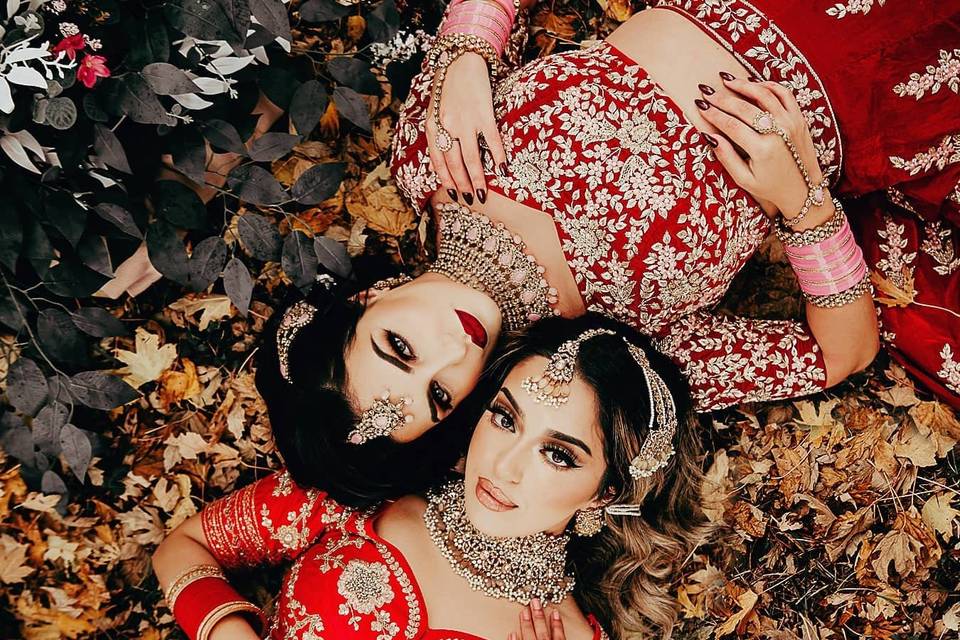 Image Courtesy: RM Makeup Studio
It's pretty common for brides to assume that they know the lehenga makeup combination they want for their D-day. But, ladies, it's not that simple or obvious. While you may know that you want to twirl in a traditional red Bridal Lehenga, you might be a little vague about the colour palette of makeup which complements the outfit. Your choice (or the one made by your makeup artist) can make or break the whole look.
The time of the ceremony and the overall theme of your wedding are two major factors apart from the outfit you pick, that you must keep in mind while visiting the makeup artist. Makeup is that one element that keeps your overall look in place and connects the dots that fall between each aspect like the theme of the day, the attire, the jewellery you adorn yourself in and so on.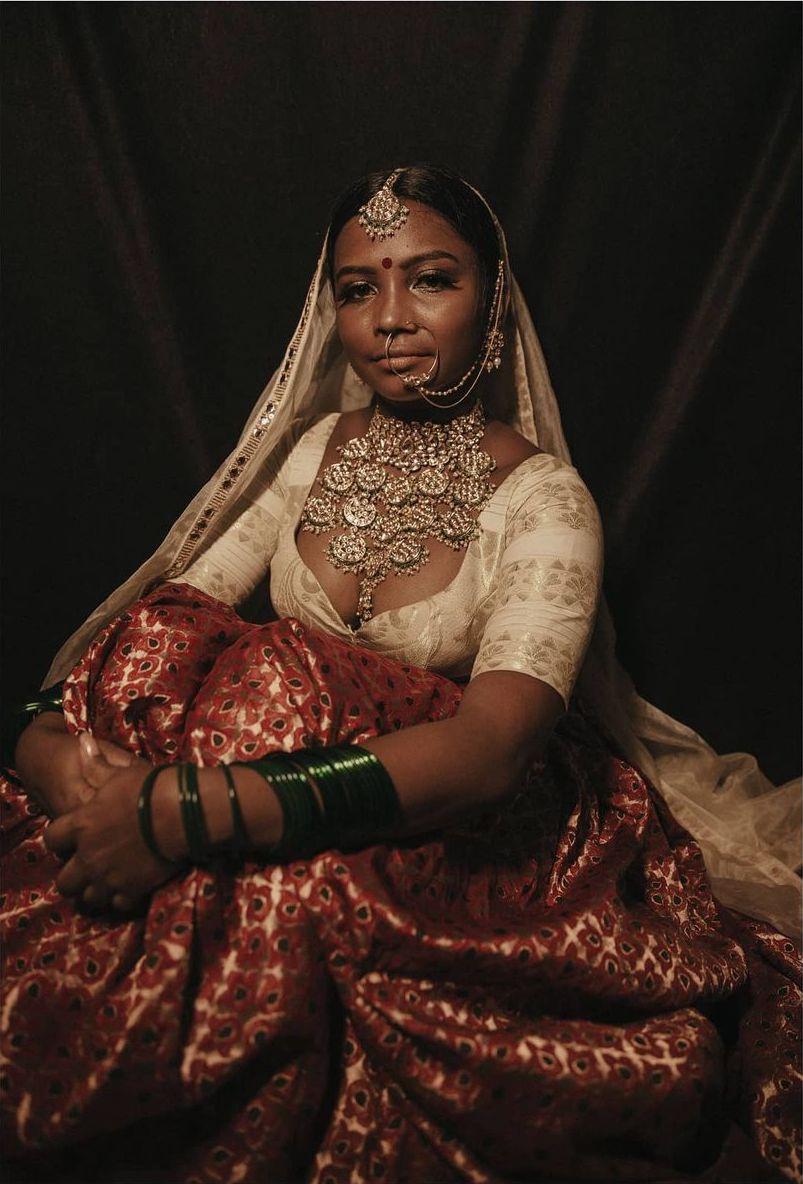 Image courtesy: Vaffara for Dhaga ki Kahani
Makeup Artist: Ashna Ash
Matching the lehenga makeup look accentuates your overall look and so it needs a lot more thought. Scroll down to know more about how your bridal makeup can complement your bridal outfit as well!
What is a lehenga makeup balance?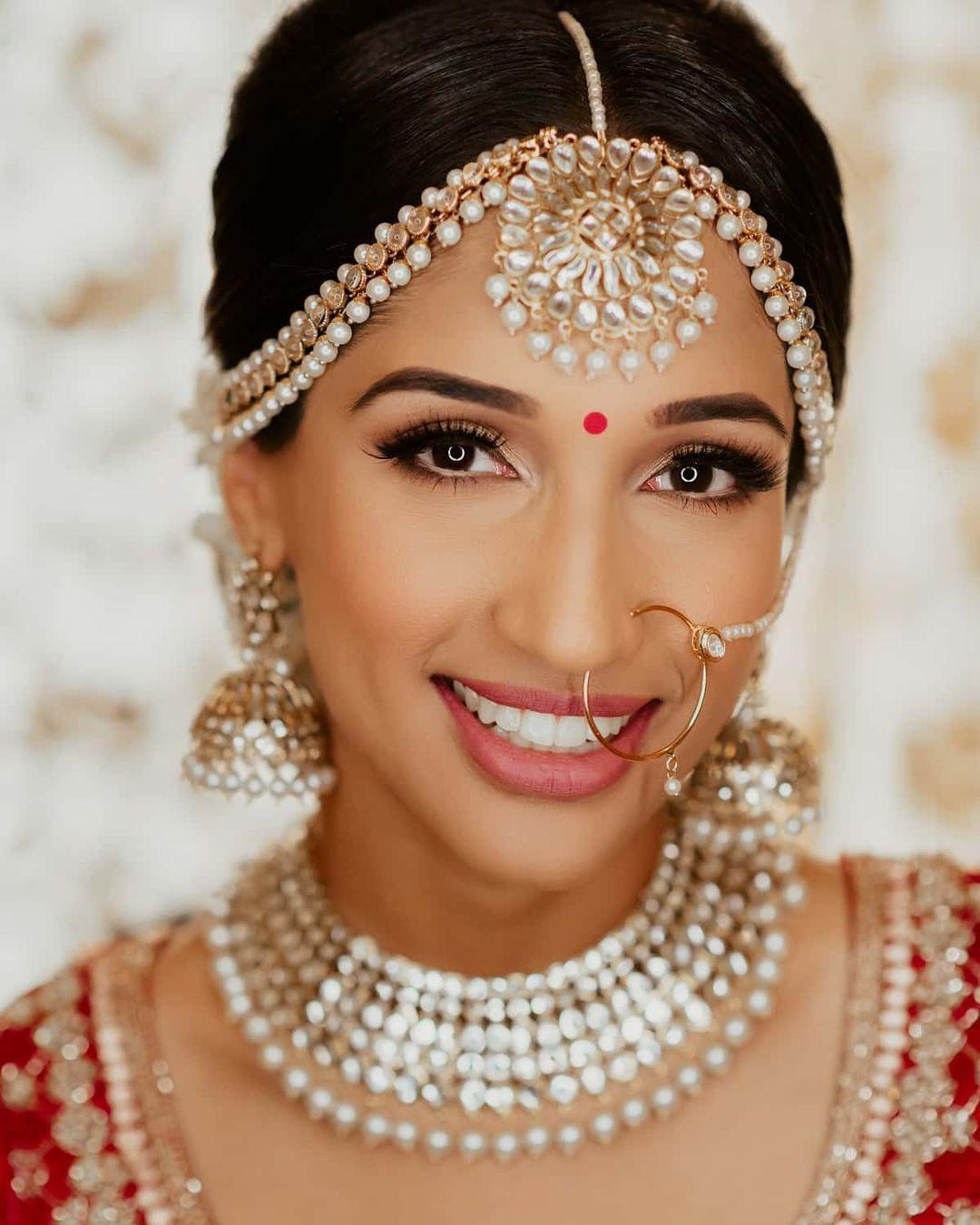 Image Courtesy: Shimmer Studio Makeup & Hair
The lehenga makeup balance is all about matching both the lehenga and your makeup to create the perfect bridal look. The idea is to create the look in such a way that they accentuate each other and yet seamlessly blend together. There are three distinct ways of doing that:
Exact match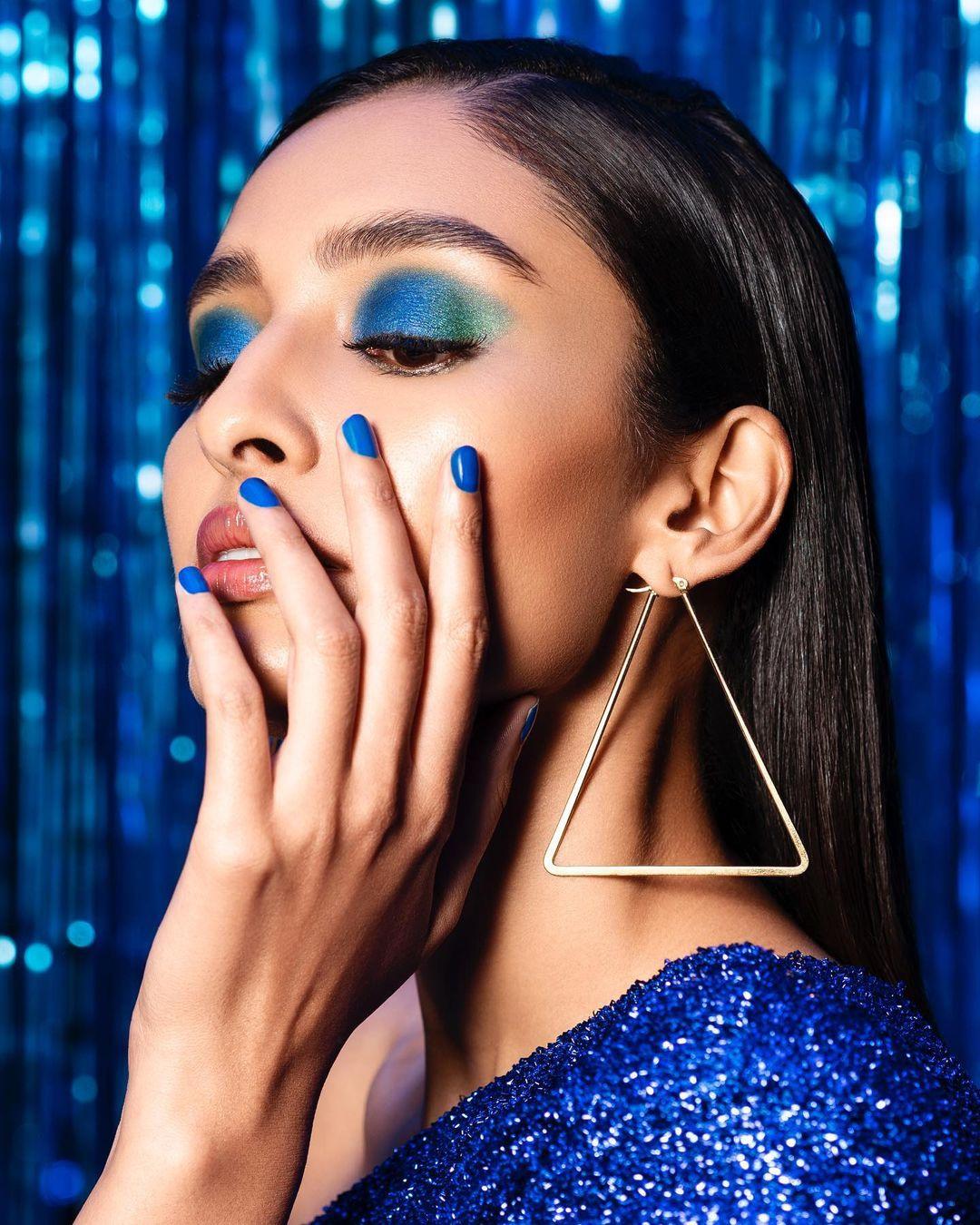 Image Courtesy: Namrata Soni
An exact lehenga makeup match is done using the same colours as your lehenga for your makeup palette to complete the look. For example, if you are wearing a gold and pink combination lehenga, your eye makeup is the same gold-pink combination, your lipstick and blush are also a complimenting blend of the two tones. This is a great lehenga makeup balance for both bold and subtle colours. In case of a blue lehenga, the ideal lehenga makeup balance is blue eye makeup and maybe even blue nail art.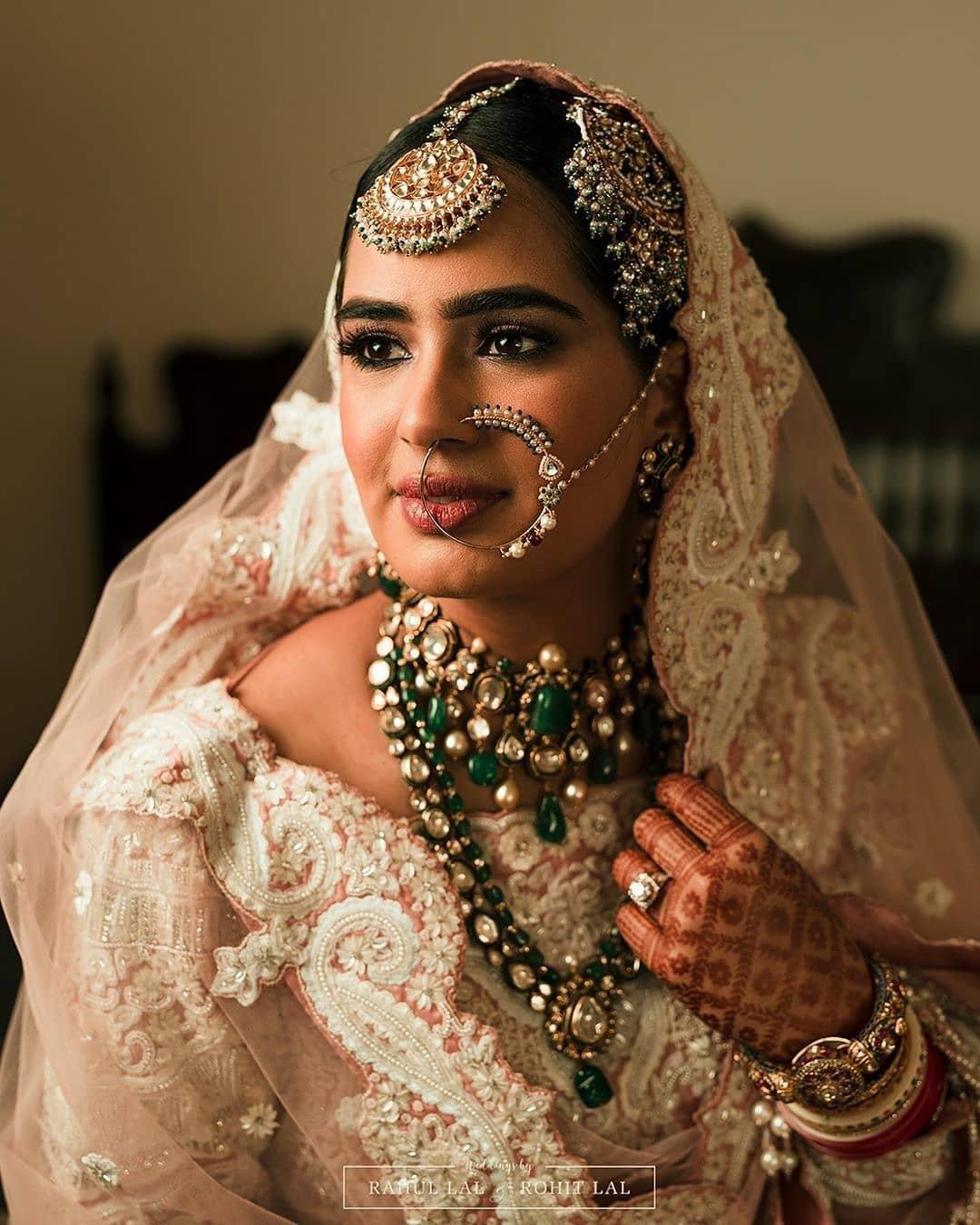 However, the look is also dependant on your facial features, the kind of event you're preparing for, the colours for your bridal lehenga and the other bridal accessories you may choose to complete your look.
An earthy toned lehenga or a subtle pastel shade of a floral lehenga will not call for loud makeup with a lot of metallic or dark shades like red and so on. It is only obvious that you will need to use subtle colours of blush and a nude lipstick along with a natural or almost nude eye makeup that maybe has a defined eyeliner and Kajal to let it stand out but not over-do it. The same goes for a bright red or maroon lehenga makeup, where you need brighter colours on your face or the lights might make your face look dull.
Mistakes that can happen:
Sometimes an exact match can look 'over-the-top'. While experimenting with the palette and going all out, it is very important to maintain the vibe of the occasion - traditional or a modern one. Bold blue eye makeup for an intimate wedding in blue lehenga might just be a little too much. However, as the bride, it is always your call and it is your big day to decide what you want.
Best cases for exact match approach: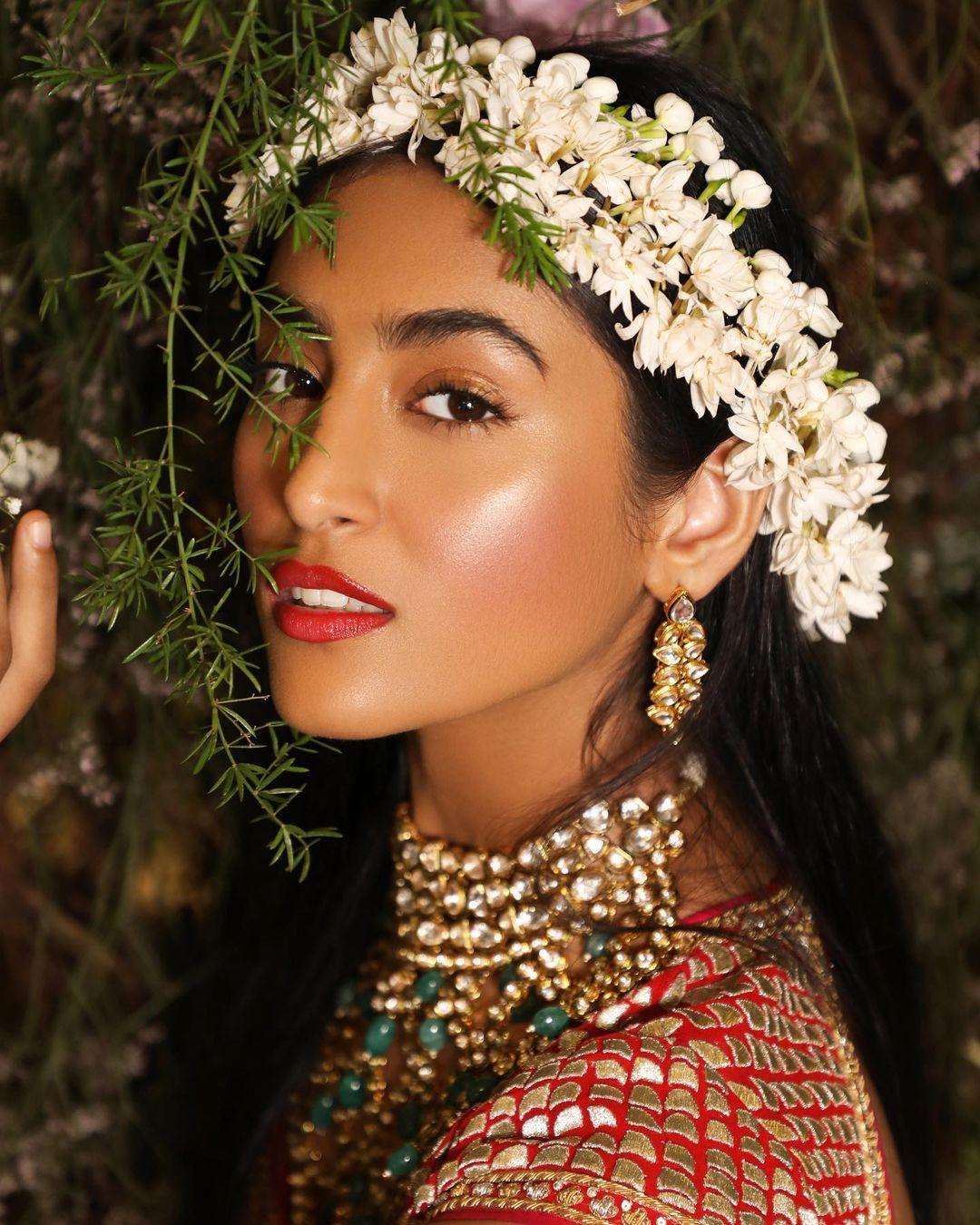 Image courtesy: Namrata Soni
Exact matches are sure to seal the deal when it comes to conventional wedding colours like pinks, reds and metallic shades of silver, golden and copper and so on. The bride's eyeshadow in the picture above complements the colour of her lehenga and jewellery. This lehenga makeup is a direct match. Her crimson lips go well with her lehenga and overall sheen look.
Contrast makeup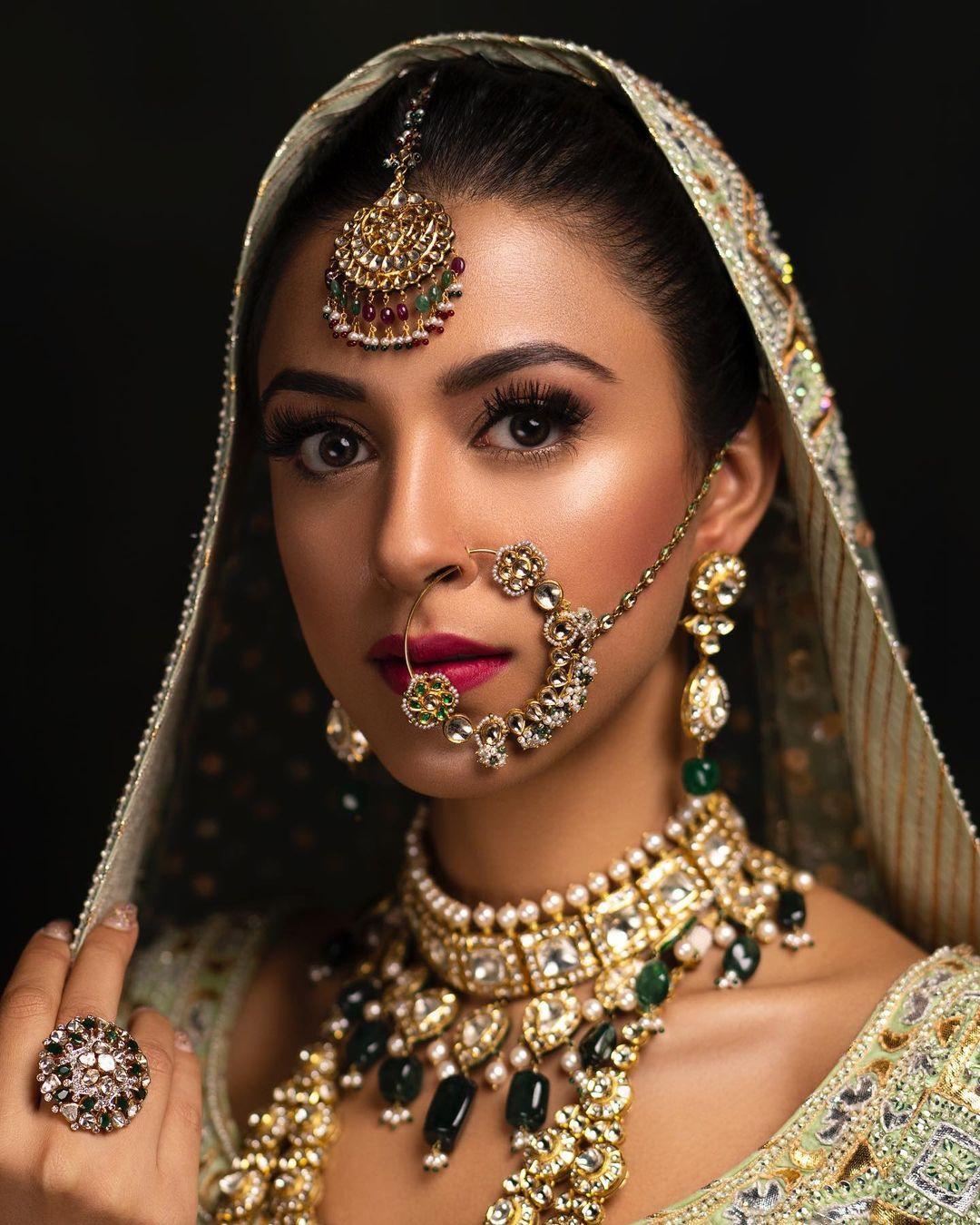 Image Courtesy: Namrata Soni
The contrast lehenga makeup combination look is a raging trend. This allows you to experiment with bright hues and bold shades; especially in your makeup. Many millennial brides prefer wearing light and pastel lehenga colours and complete the look with bold contrasting eye makeup and lips.
The contrasting look also works when you pick up a shade from your wedding lehenga and use a bolder tone of it in your makeup. For example, if you are wearing a pastel pink lehenga that has gold and purple thread work; a bold and contrasting purple for your eyes can accentuate the whole look.
Mistakes that can happen:
The wrong contrasting shade can create a mismatched look and completely break the "balance". Despite the idea of contrasting colours, picking two very different shades when it comes to makeup can be a tricky one. Keep the makeup shade intact throughout - eyes, lips, blush and so on but in contrast to your lehenga shade.
Best cases for contrast approach: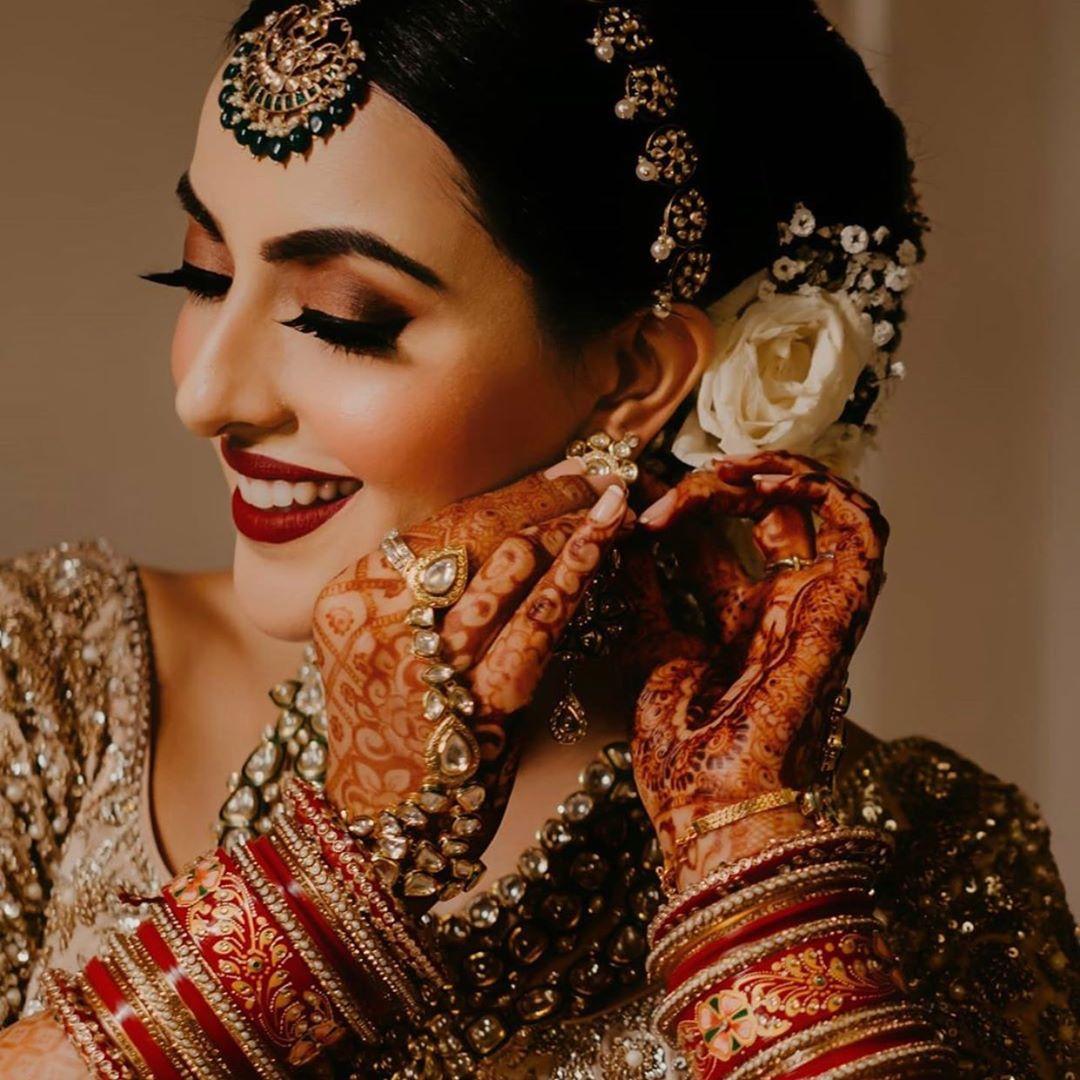 Lehengas in earthy tones or pastel shades can be complemented with bold makeup. A white lehenga can be complemented with maroon lipstick and bold smokey eye makeup. This contrast works wonders for a nighttime ceremony or a winter wedding look. On the other hand, dark lehengas like dark pink lehenga or multicoloured lehenga choli designs can be complemented with a contrasting light makeup
Nude Look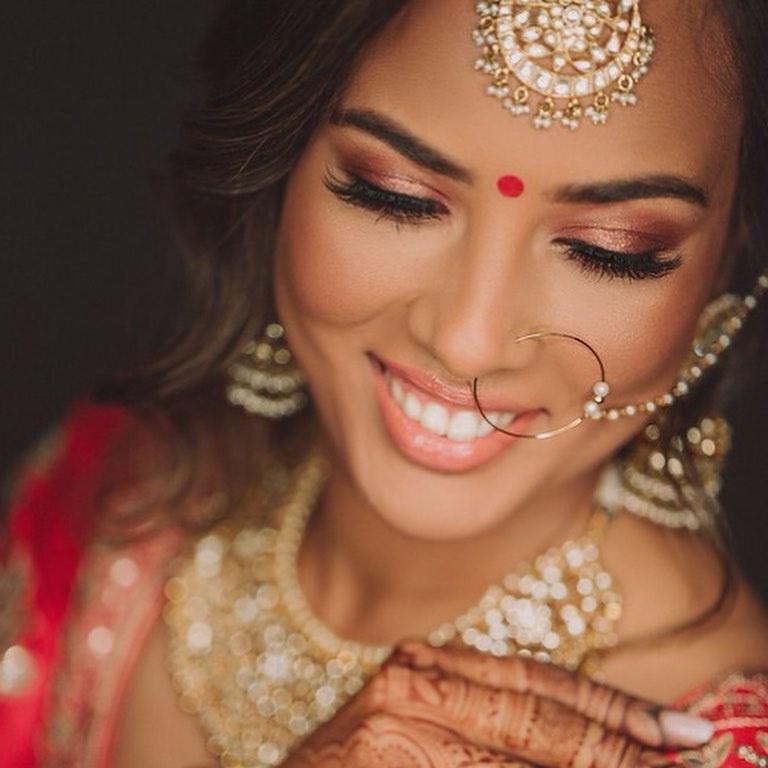 Image Courtesy: Rachel Renna
The nude look has become extremely popular as more and more brides prefer the subtle, yet dewy and glowing bride look. As the name suggests, a nude lehenga makeup look is all about soft colours and nude shades that accentuate the best of your features, without being overwhelming. It's also a style that has designer Sabyasachi's stamp of approval along with many ace makeup artists of the recent times - who hailed it as the look of the millennials.
This look especially looks great for daytime weddings and wedding ceremonies. The nude makeup look could be a combination of pastel bridal wear with nude makeup shades or wearing traditional wedding colours but keeping the makeup nude. This also works well when you want your natural features and the wedding finery to be the highlight.
Mistakes that can happen:
If not applied properly, or if the wrong nude shades are used, this can create a very 'washed out' look. Instead of a dreamy and glowy bride, you may end up looking not-bridal enough!
You need to know the best nude shades that work for your skin tone and enhance your features rather than overpower them.
Best cases for nude lehenga approach: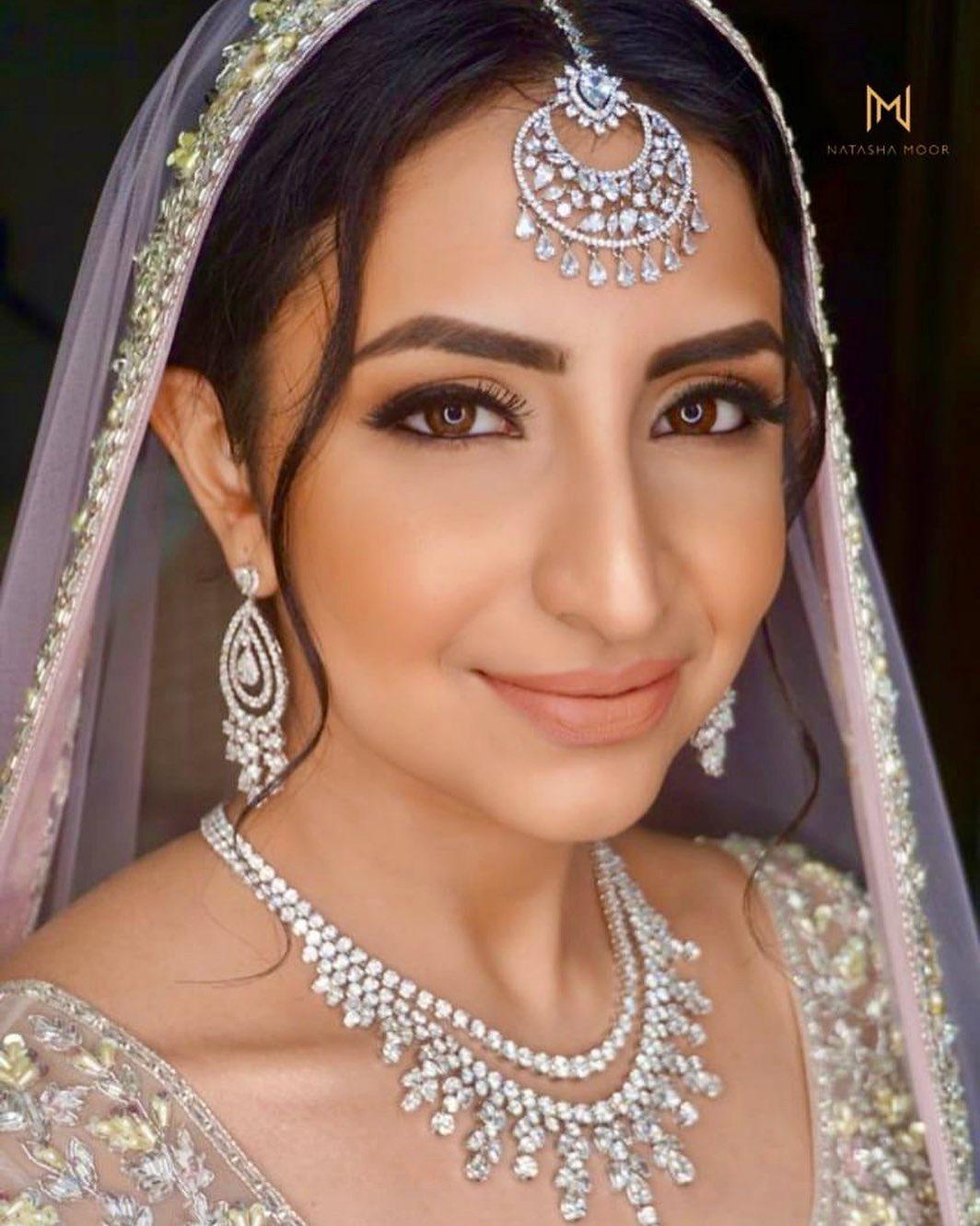 Image Courtesy: Natasha Moor
Nude makeup is a delicate balancing act and can work well with both bolder shades and subtle, ivory tones.
How to avoid Lehenga makeup balance mistakes?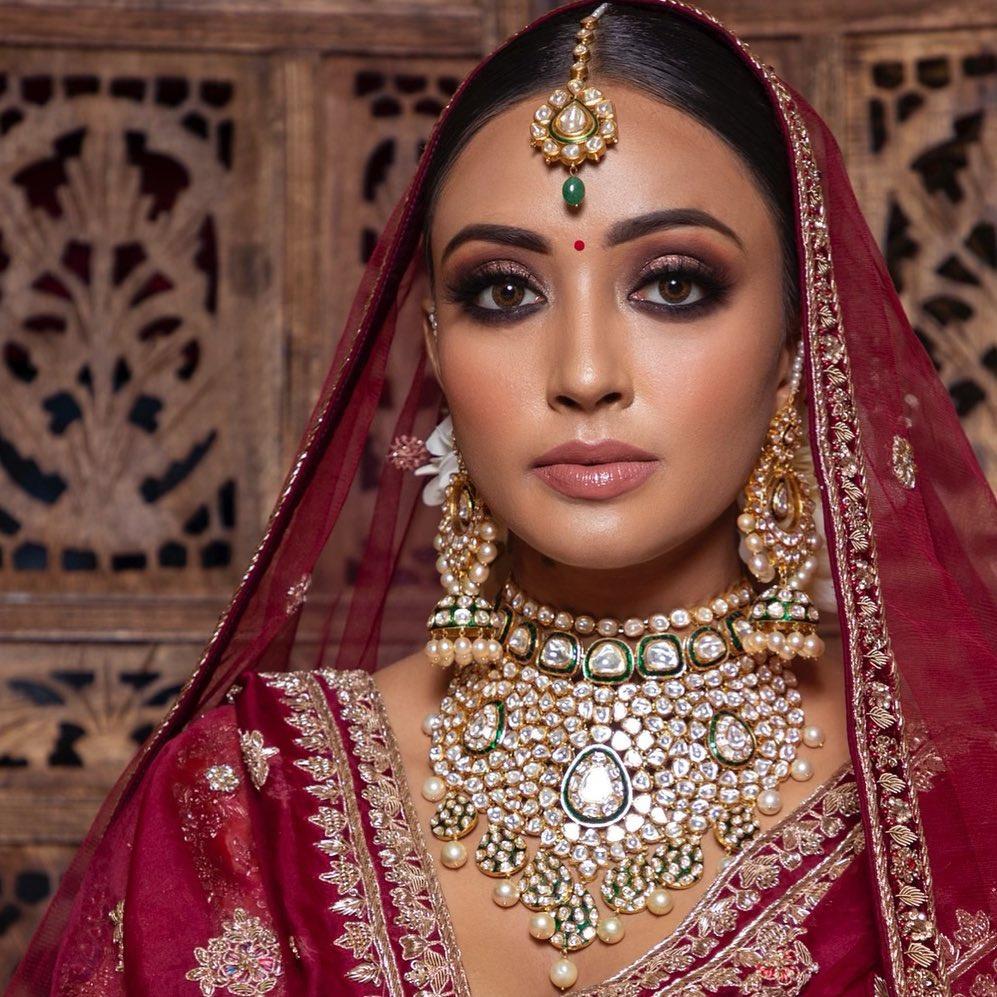 Image Courtesy: Samaira Sandhu
Ask your bridal makeup artist to give professional feedback and suggestion
Schedule a makeup trial session
Evaluate all aspects of your wedding attire
Experiment with different looks to find the best one
Understand how the looks and tones work best
Try out your look in bright say light
Know your skin type, skin tone and specific needs
Don't follow bridal fashion trends blindly
Research on different wedding looks
Don't just believe the pictures, try on a few looks just to be sure
The lehenga makeup balance is a crucial and critical part of your wedding look. Every tiny detail makes a difference and these two happen to be the biggest and need due consideration. It's your wedding and you want things to be perfect. Start by perfecting the lehenga makeup combination. Prior to your wedding day, try on a few bridal lehengas and go for some makeup trials to see how it looks on you. What might look good in pictures may not look as stunning when done in person. So, it is a must that you hit and try a few combinations before you set your mind on that one which did wonders for your overall bridal look. Also, take into account the time of your function while you're at it and also ask a few of your family members to pitch in their suggestions. Having a set of some extra eyes might do the trick since you will be swamped with things and your judgement could run haywire amidst a myriad of to-do things.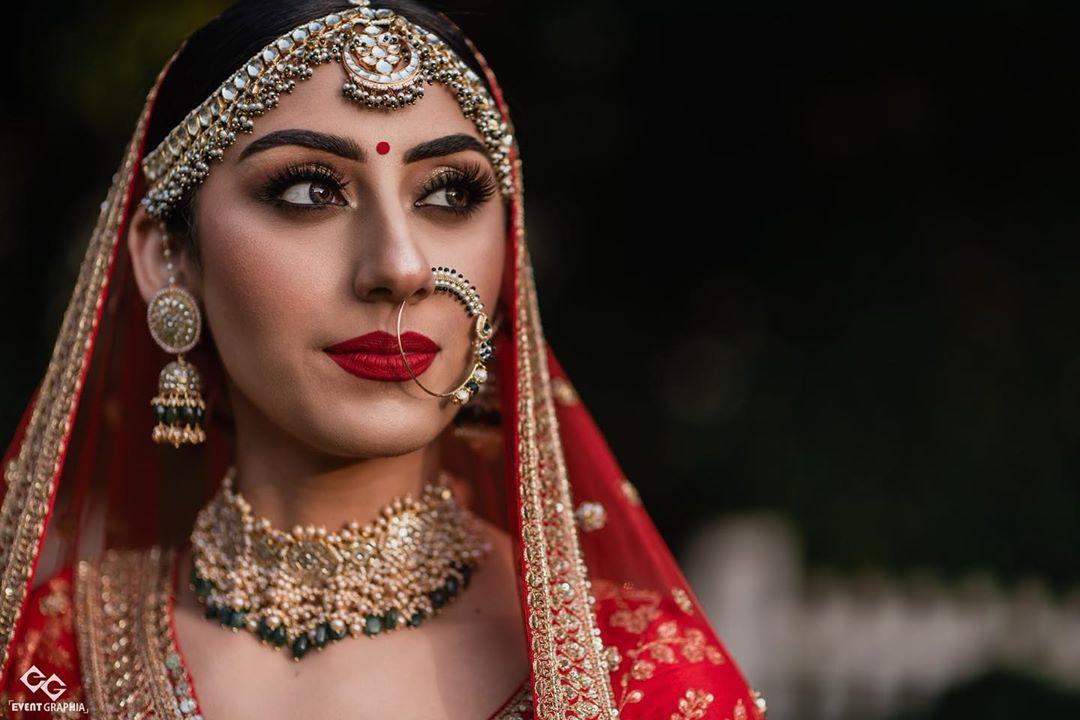 What's will be your wedding day lehenga makeup balance? Will you go for the bold contrast, the subtle nude look or the perfected exact match? Share your views and ideas, and let's nail the balancing act.
-With words by Anwesha Das.