Nail Art Designs Every Bride Needs to See Before Her D-Day
Bedazzle your hands with beautiful bridal nail art designs, before you bedazzle it with a gorgeous engagement ring. We look at the five absolute talon trends in vogue this season. Dive in to find out the style that'll suit you best.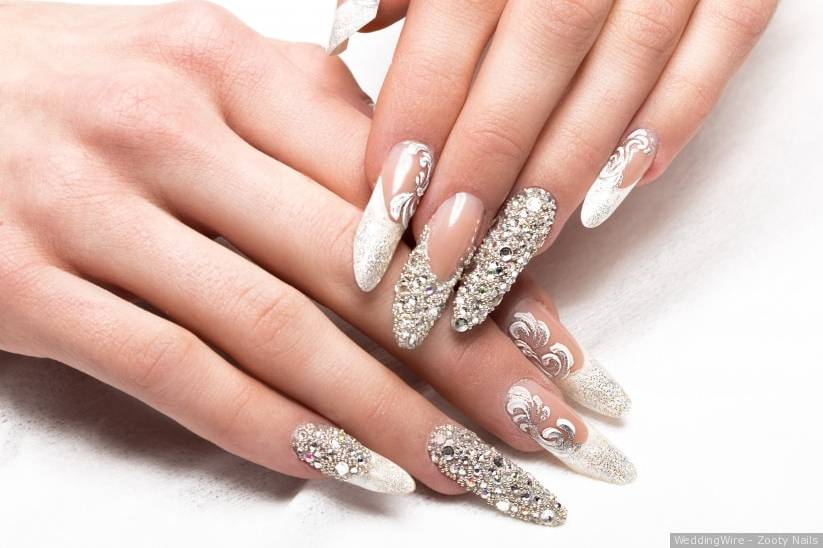 On the day of your engagement ceremony, your hands will garner a lot of attention and a finely done bridal nail art will make sure that only praises come your way. Getting your nails done has evolved from being an interest of the privileged to a way of making a style statement. And for creating the perfect bridal look, you can't afford to ignore getting some wow nail art designs.
Bridal Nail Art Designs You Can Follow:
Delve into the stylish world of bridal nail art designs with this handy guide and prep yourself for the upcoming wedding fever. Have a look at these beautiful bridal nail art designs and get inspired to have your very own. This bridal nail art design is perfect for a bride or a bridesmaid who is unafraid to take things up a notch and don't stop themselves from experimenting with different looks to amp their stylish avatars.
1. Basic nudes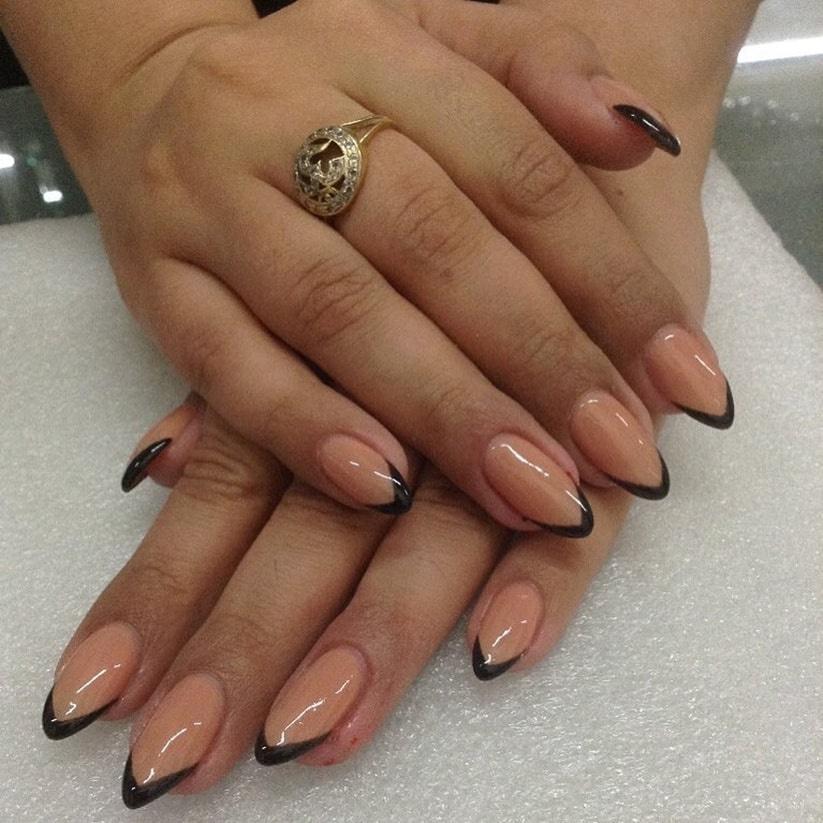 Nudes these days are not about one shade of the old and boring beige. A range of shades of peaches, pinks, tan and deep sunset yellow are the trending choices for nudes. Keep it minimal, light and classy. Basically referring to your skin tone-like shades, it doesn't camouflage but brings out your natural colour.
The biggest myth about pinks is that they make you look darker. But in fact, the right shade of pinks and peaches can make your hands look livelier and lighter. So, get up brides, and don't fear colours. (Also, chipping doesn't show that easy in the nude shades.)
Pro Tip: These shades work with all bridal lehenga colours including pastels. Also, applying a nude shade elongates your fingers and makes them appear sleeker! Also, taking inspiration from this bridal nail art design would be perfect if you like things a little on the simpler side.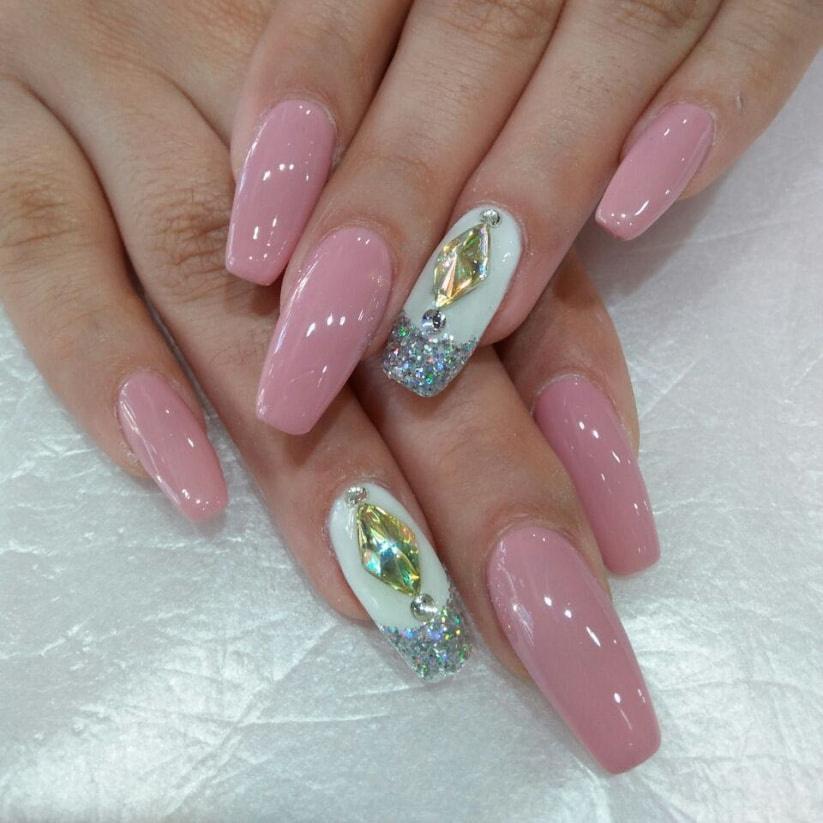 To add some glamour to your basic nude colour you can add some bling to your nail paint. Nail parlours these days have a plethora of rhinestones and Swarovski embellished stones that they paste on your nails as shown in the above picture. If you want to sport a similar look then all you need to do is find a design that you would like to get done on your nails and share the same with the nail parlour artist and watch the magic that unveils.
2. French tips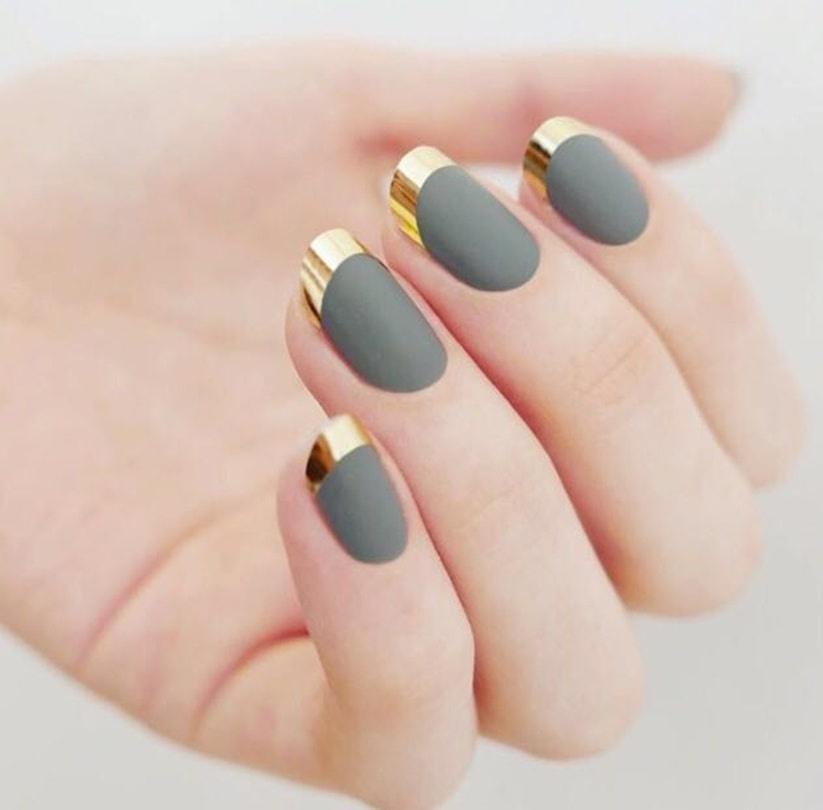 Traditionally, French tips were only base coat and white colour combinations. But nowadays, you can get adventurous with a blend of different styles by including metallics, nudes, glitter, ombre and more. Get a matte finish colour for your nails and a shiny one for the tips. You can also try reversing the order or simply go for reverse French tip. The reverse French tip draws attention to your cuticles leading the way for anyone's gaze to stop at your gorgeous engagement ring.
Pro Tip: This bridal nail art style works best with contrasting shades. Select one of the two shades to match your attire.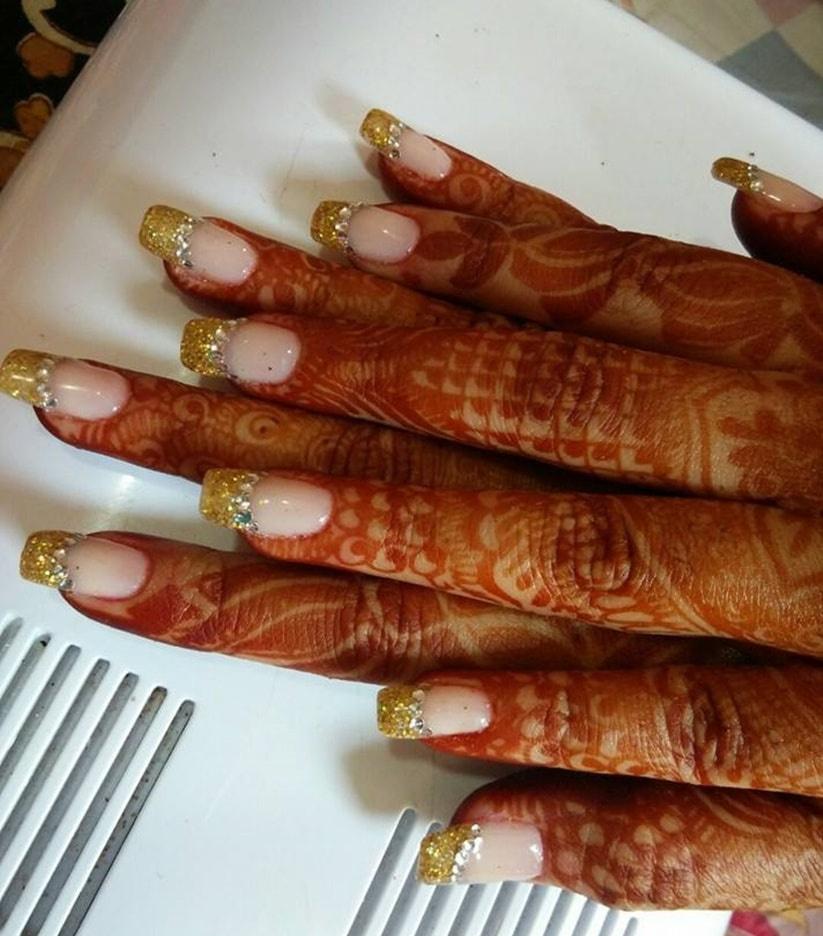 If you wish to take our French manicure up a notch then perhaps go for something as glittery as this! You can get your tips coloured to whatever shade of glitter you like best and voila you're sorted in the fashion department!
3. Embellished nails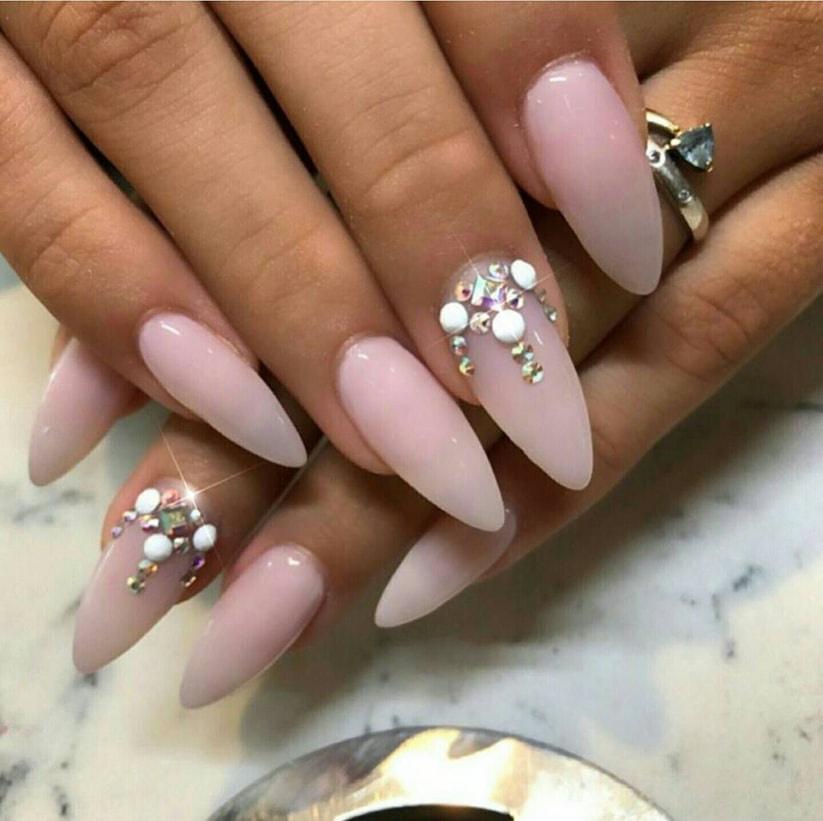 Rhinestones are the most popular choice of embellishments for bridal nail art. Just like your jewellery, your nails also become a part of your glamorous avatar. Remember, to create a balanced look you should use complementary elements. It is the minimal that stands out to get you noticed. Even adding a bow to your ring finger's nail can work as an attractive embellishment.
Pro Tip: Don't go all out by embellishing all the nails. Get one finger of each hand embellished for the ultimate look.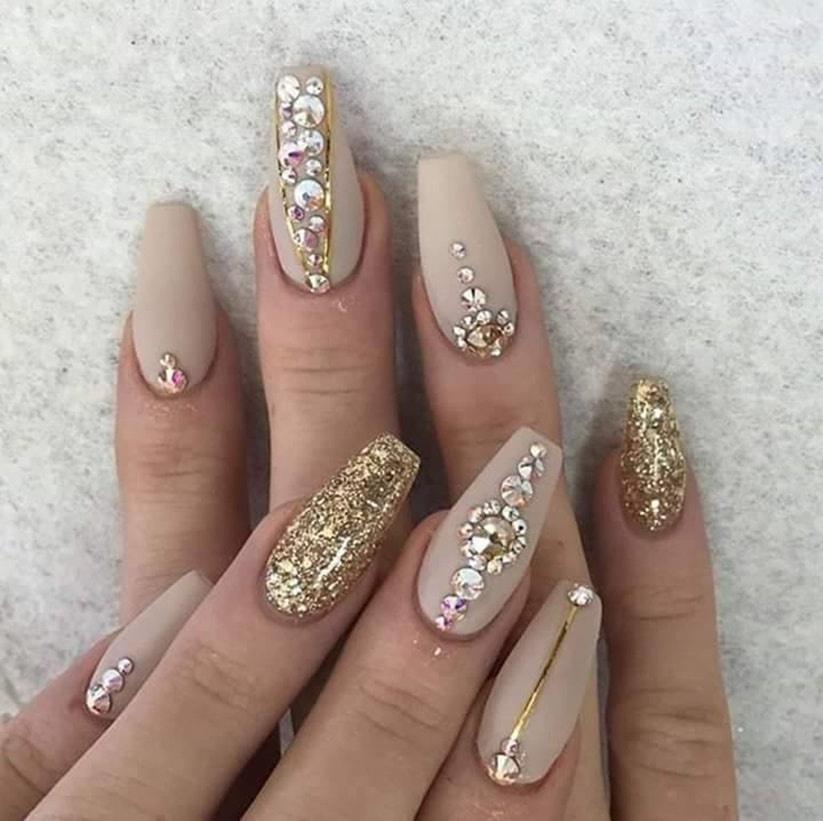 4. Glitter and metallic shades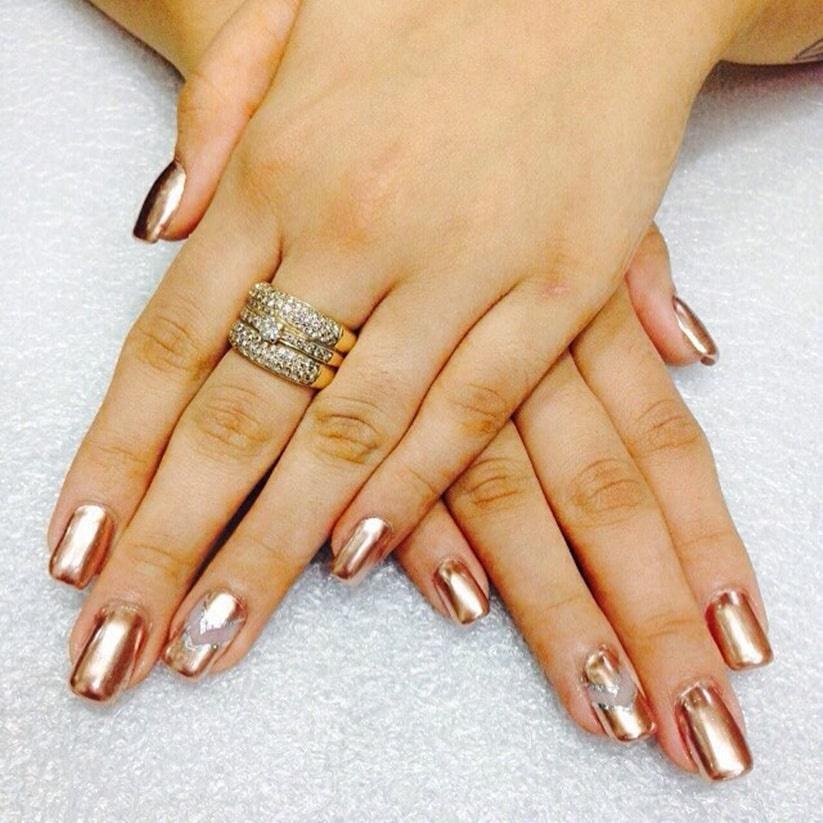 Use glitter and metallic shades in your bridal nail art to add bling your nails. After all, a bridal look isn't complete without some bedazzling elements. But all that glitters is not gold anymore. The newest fad in town are the shades of copper and bronze. Print mehndi design or your wedding motif as patterns on your nails by pairing them with nude shades or the colours of your bridal attire.
ProTip: Combine the glitter and metallic nail shades with the latest colour changing thermal nail colours for a unique look.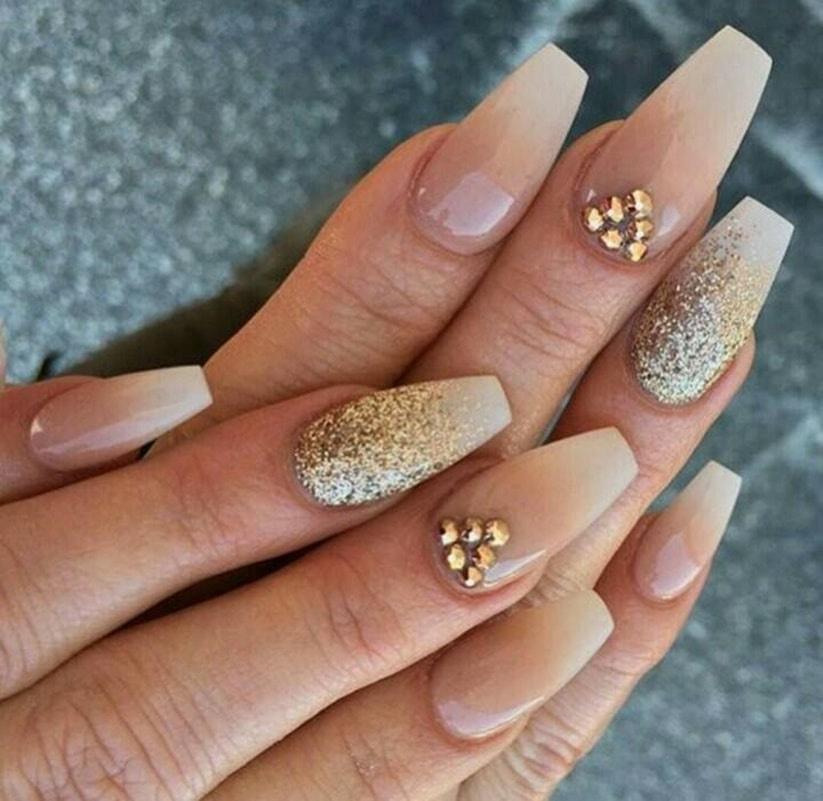 5. Customised according to the attire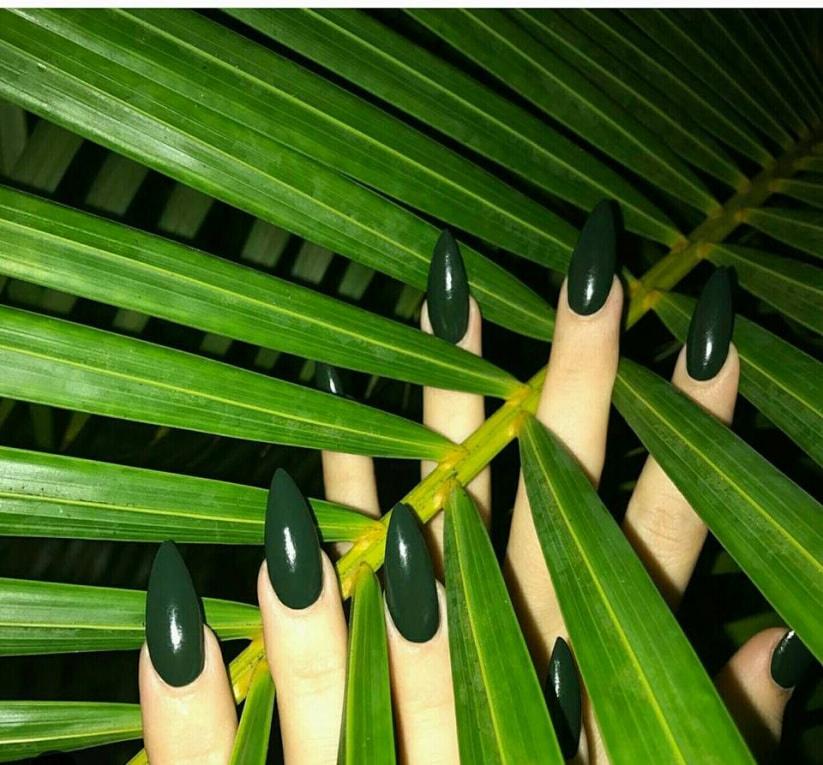 If you're wearing a bottle green lehenga for your engagement or a violet wedding gown for the reception and looking for the exact same shade, why not create one! Mix and match different colours available to attain the one you like best, in a design of your preference and by shaping the nails to your heart's desire. A dark green bridal nail art design, doesn't it look too luxe? To us it sure does!
Pro Tip: Try quirky bridal nail art with your and the groom's faces painted on your nails.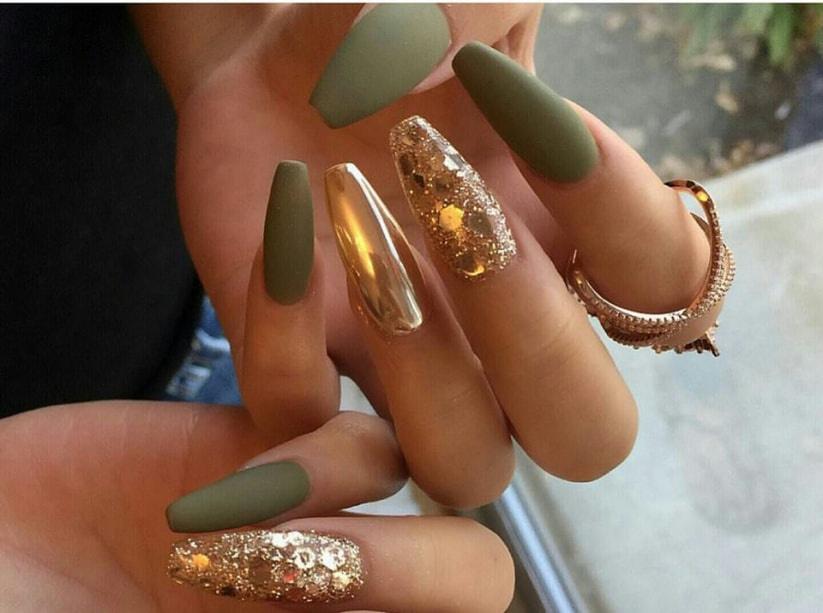 Most people get nail art done on extensions, but the choice is completely yours. Any length of the nails is in, long and sexy, short and classy or skewed and bold. As for the selection of shades, remember that the darker the colour you use, the more yellow your nails become after removing it. Since all bridal makeup artists who work extensions prefer using gel nail paints as they tend to stay for 1-3 months, depending on how you care for them and on your nail growth rate. So browse some stunning designs prior to your function and visit a bridal nail salon at once to get magical nails! This bridal nail art design is perfect for a Sangeet ceremony and will go perfectly well with an Indo-western outfit or a quintessentially Indian outfit as well.
Liked these bridal nail art designs? Leave your thoughts in the comments below.