5 Breathtakingly Exclusive Indian Wedding Dresses for the Bride
An Indian bride has some stunning wedding dress options at her disposal, each equally special. Here are five bridal picks that are largely haute couture and always on trend.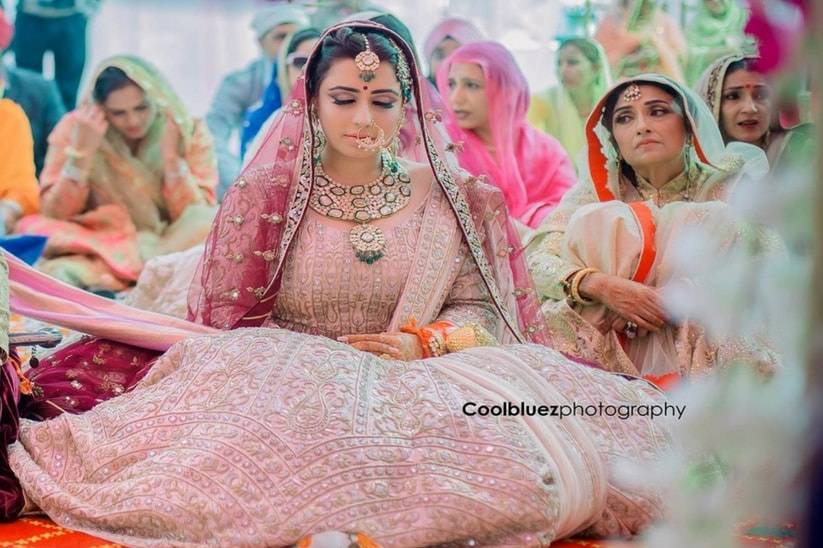 An Indian bride is lucky for many reasons. Our weddings are the most colourful in the world, our events the most fun and our Indian wedding dresses remain unconventional and unique. The attire that is chosen for such a big day in our lives is not just a piece of fabric but carried within its weaves the aspirations and dreams of the bride.
How to choose the outfit that you would be wearing on your wedding festivities is one of the most important fashion choices that you would make. First, there's the colour involved - from sheer pastels that are in vogue these days, to traditional reds, yellows, cream and green get-ups. For fabrics, we're spoiled crazy - Georgette to Silks, Velvets to blends.
And then there are the countless styles which a bride can pack in her bridal trousseau - with traditional (regional and cultural), fusion and western influences. The range of attires available out there for the lady of the hour to adorn herself in and look as gorgeous as ever and countless and among all of them, Indian wedding dress always hold the soft spot.
It is so special not only because of the ceremonies being the epitome of traditions but also because they have always been the object of glory to make the brides flaunt their beauty on one of the biggest celebrations of their life.
When there are millions of choices to leave you confused about what might look best, we put together a list of five evergreen Indian wedding dresses which will always remain in style and can be worn on any and every one of your wedding ceremonies.
5 Evergreen Wedding Outfits:
For Your Eyes, here are the 5 Indian wedding dresses which will always remain on point and in trend!
1. The Royal, Bridal Lehenga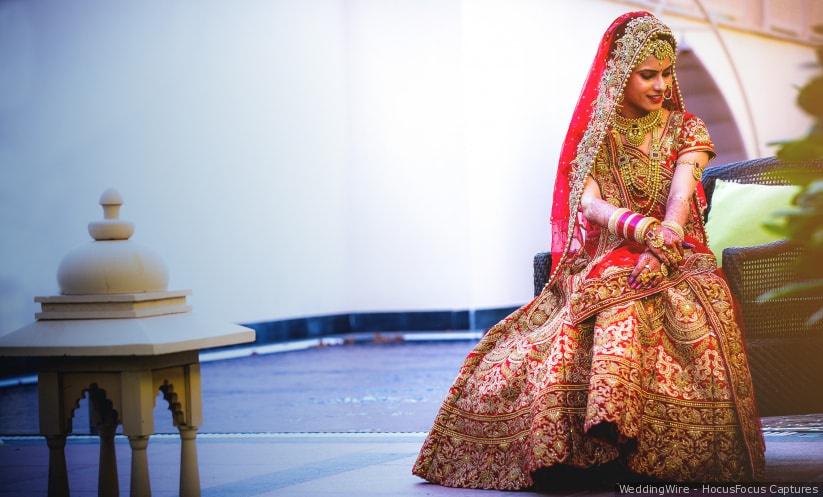 This is the most important and easily a hot favourite for nearly all North Indian brides. In fact, shopping trips often begin with the bridal lehenga and that sets the tone for the rest of the Indian wedding dresses. Traditionally, brides are expected to opt for the rich, red lehenga, but that's not always the case and the colour palette for wedding lehengas keeps shifting each season.
These are led by works from fashion designers like Sabyasachi Mukherjee, Anita Dongre, Manish Malhotra and Tarun Tahiliani, offering refreshing options. Pastel Lehengas, Ombre Lehengas, Cream Lehengas, Pink and Blue Contrast Lehengas, Peach, Yellow, Magenta and Multicoloured lehengas are some of the new inspirations!
Choosing a refreshing new colour and how you style and carry it will surely make a unique fashion trend that would leave everyone awestruck and inspired.
For inspiration, you can have a look at some the Indian wedding dresses which our brides have recently opted for: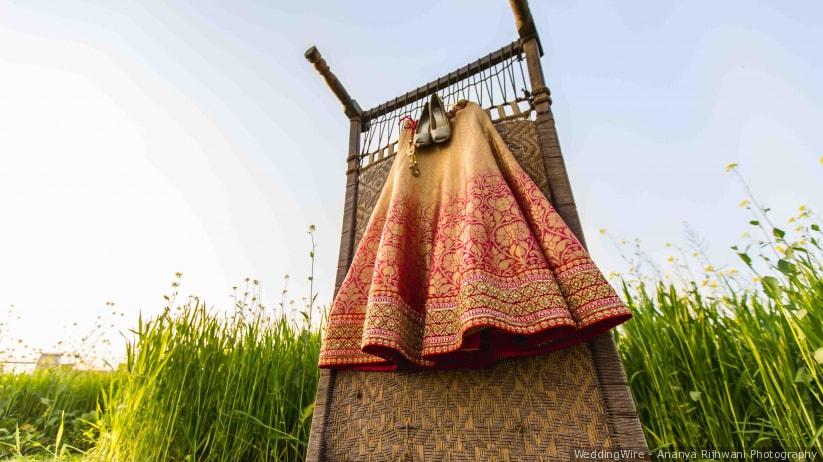 We are totally in owe of this ombre tone lehenga. Perfect for a daytime function, if your tying the knot anytime soon, then you must bookmark this lehenga now! This is one of the most colourful inclusions in our list of Indian wedding dresses.
With intricate designs and exquisite embellishments, adorning this wonderful design will surely make you a runway bride.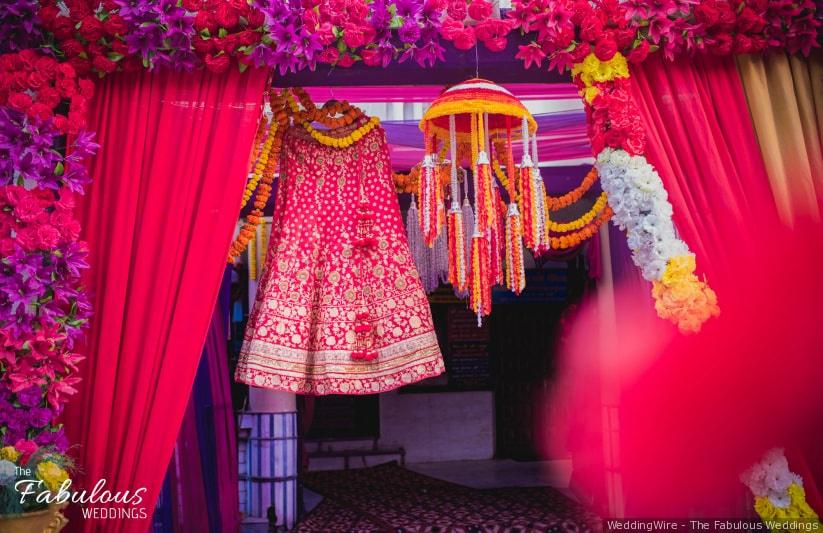 Image courtesy - The Fabulous Weddings
What is prettier than a shade of red? We have never come across a bride who did not wear a red coloured outfit on at least one of her functions. It is beautiful, the embroidery is eye-catchy and there is something very romantic about the shade of this lehenga.
Red lehenga has always been associated deeply with Indian traditional sensibilities while making the bride look the most beautiful and apart from everyone else.
2. The Fusion Wedding Gown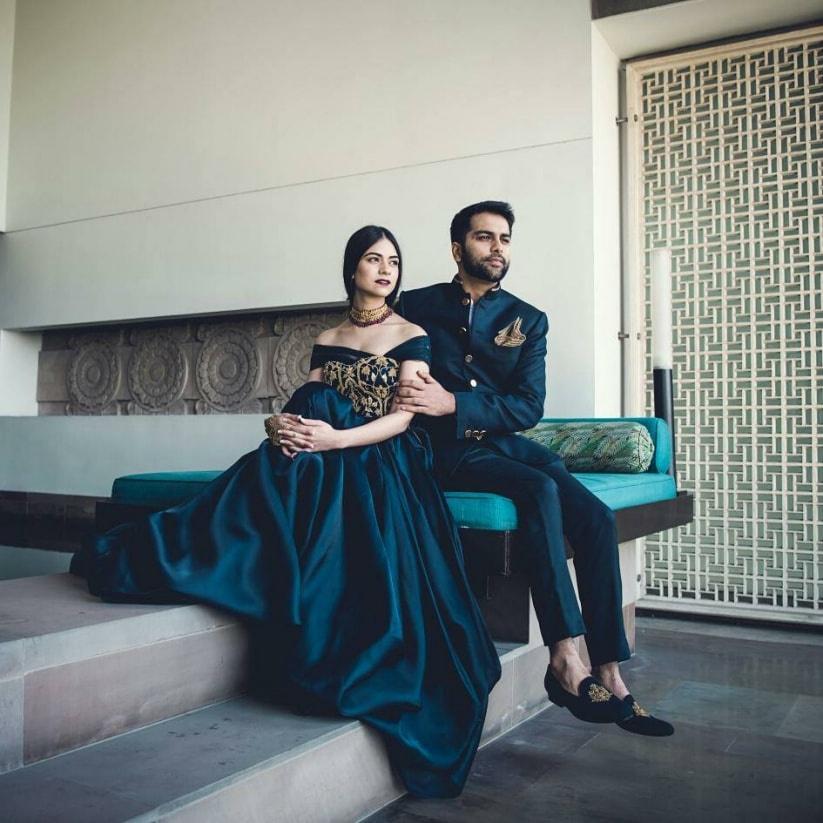 Every Indian bride has her Pinterest boards and Instagram feed full of images of white weddings and gorgeous western wedding gowns. This explains our love for the gown! Serving as an inspiration for Desi designers, the Gown became a fusion garment, which works for semi-formal functions (think Engagement, Cocktail, Reception).
There are also brides who swear by it for their weddings and creating a fashion trend on their own. From a wide variety, colours and designs, you can pick out the one that you like best for your wedding ceremonies. Bright and Happy colours like maroon, orange, blue and more, make it a must-have Indian wedding dress and a firm addition to the bridal trousseau.
There are also different styles - the free-flowing drapes, the conservative wedding gowns, floor-length cocktail dresses and the Indo-western fusion pieces (even Gown Sarees!)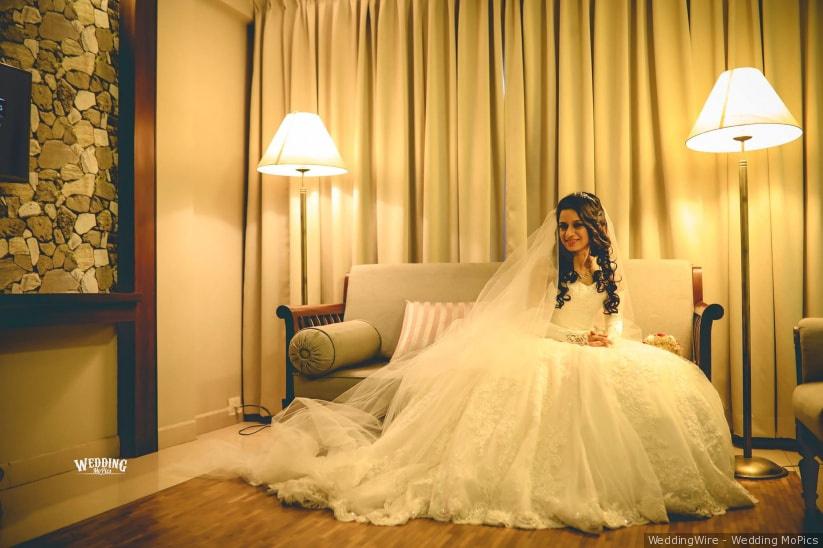 She is looking like a dream come true in this tule wedding gown. Even though a gown doesn't essentially in the category of Indian wedding dresses but now more than ever we spot Indian brides serenading their husband in beautiful gowns. While many brides even opt for a white wedding, this can be a perfect option for you to consider.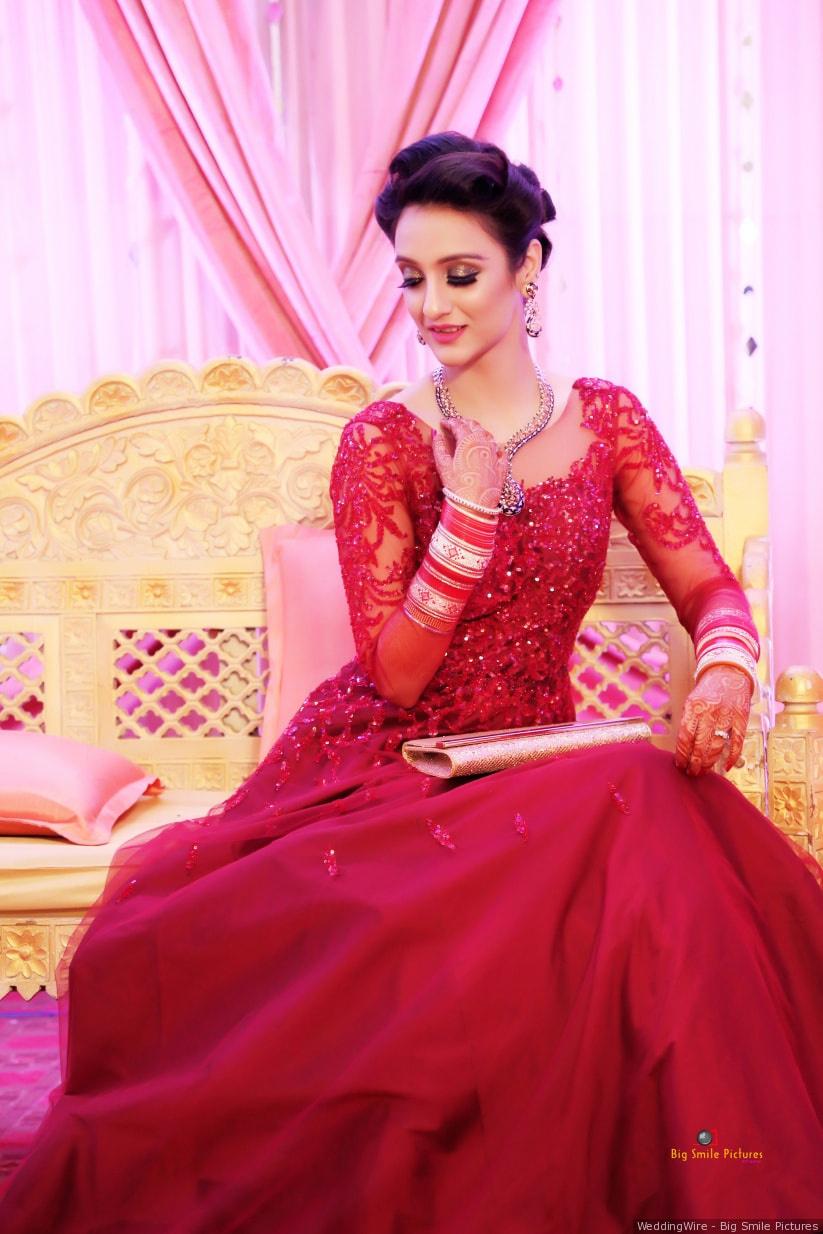 This colour just left us speechless. Perfect for an evening engagement look, there is nothing we will change about this Indian wedding dress. If you still haven't found that wedding gown you always wanted to wear at one of your functions, then refer to this list of Indian wedding dresses and bookmark this bespoke piece now.
With sheer sleeves and heavy red embroidery, this bride truly looks like a dream.
3. The Bridal Saree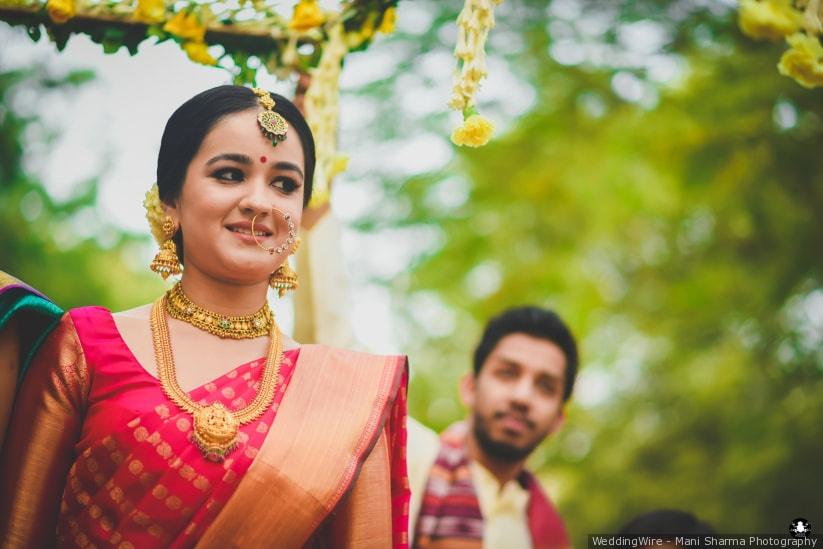 Indian wedding dresses like sarees holds a place of pride, an emotional tug enfolded into its pleats. There are those who still bow to its appeal and bring out family heirlooms worn by their mothers, grandmothers and even great-grandmothers. And then, there are those who cannot imagine a traditional wedding without a saree.
The Coorgi bride, the Tamil bride, the Malayali and Andhra bride; the Himachali, Bengali and Bihari bride, the Kannadiga bride and Marathi bride... and so on... And then there are the weaves themselves, reaching more than nine yards (both in emotions and traditions!)
There are the Kanchipuram and Chandheri silks, Banarasi weaves, Brocades and embroidered embellished pieces. And with brands like Raw Mango, Bageecha Banaras and Ekaya, sarees are still an essential part of the bride trousseau.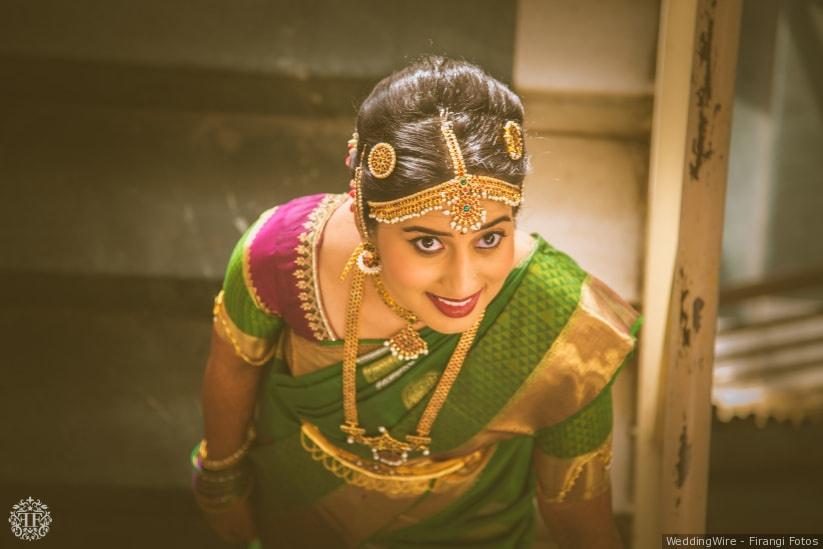 Besides, sarees are the single most worn attire which is famous for bringing out the beauty of a woman while she is adorned in the wonderful beauty of the nine yards. If there is one bridal outfit that deserves a special mention in the list of Indian wedding dresses, then the humble collection of exquisite sarees is one of them.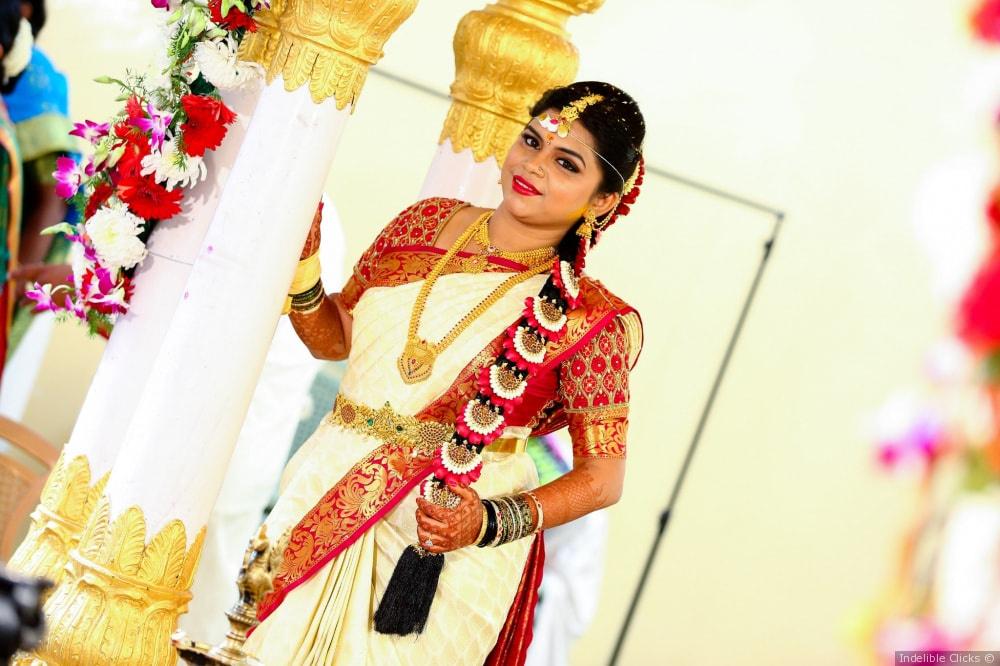 A saree comes in a plethora of colours and styles and different fabrics. From cotton to silk to georgette to satin - there is end number of fabrics available each of which brings out the beauty of a bride-to-be. You can choose your sarees as per the occasion, season and skin tone for a perfect bridal look.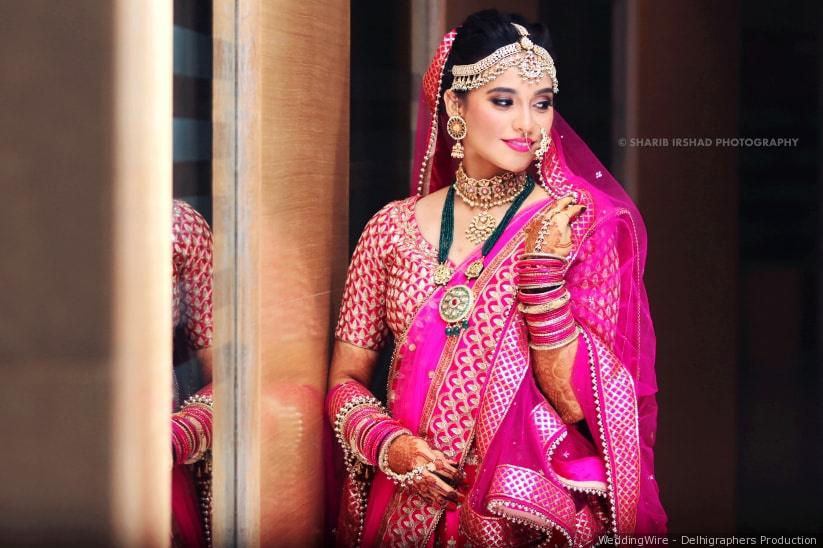 There is also a multitude of draping styles to choose from which would make your attire seem new and fresh each time.
4. The Punjabi Bridal Suit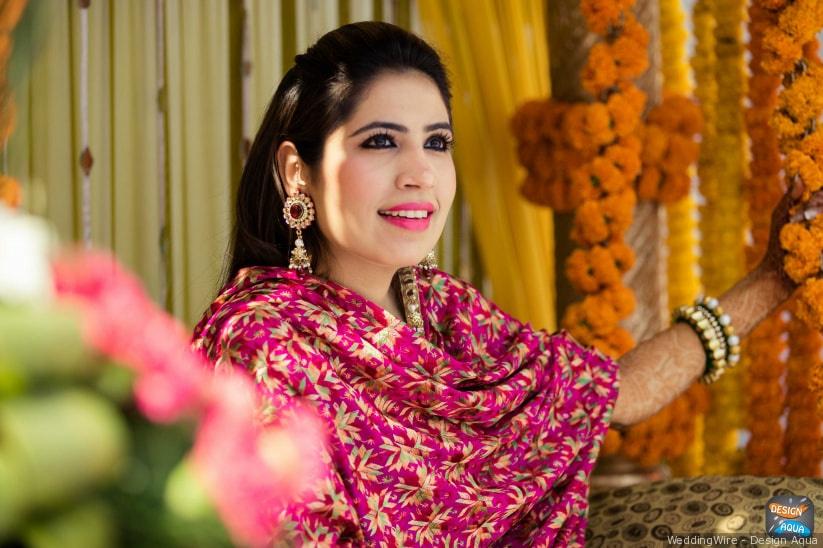 Till date, many Punjabi and Sardar brides opt for traditional bridal suits to don for their Gurudwara weddings. Bridal suits are comfortable and easier to handle, especially if you need to constantly get up and sit for your Anand Karaj ceremony.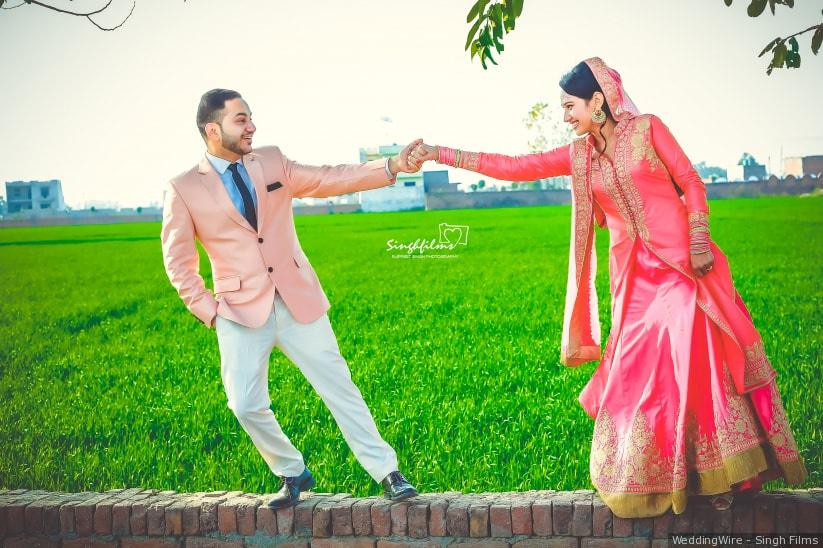 Still, the Suit is undergoing subtle changes - Anarkalis, Sharara-style lowers and Palazzos are moving into this domain. There are also those, who would rather opt for a Lehenga than the suit for the extra glamour.
5. The Offbeat Sharara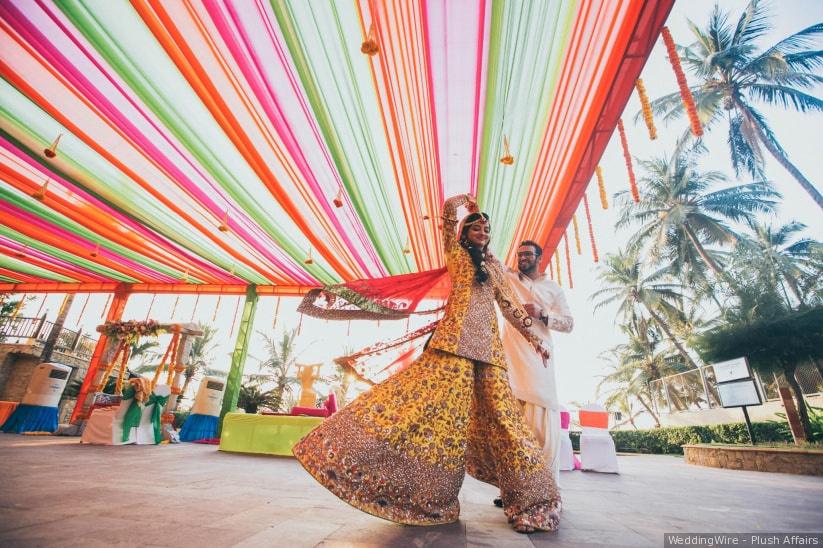 Always a go-to outfit for Muslim brides, the Sharara keeps receiving a periodic revival, courtesy Bollywood (from Chandni to Veer Zaara).
We've seen many other cultures love and accept this Offbeat Wedding Dress and give it their own unique touch.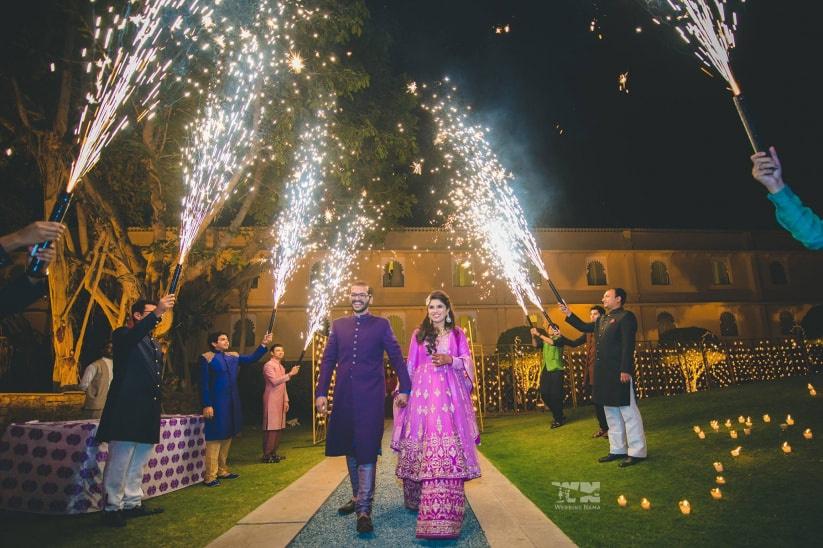 Indian wedding dresses like Shararas comes in various lengths, from thigh-high to knee-length - you can sport a sharara and look effortlessly beautiful on your big day!

As a bride, you should feel lucky about the options you have while picking your Indian wedding dress. We suggest researching and finalising your bridal style and opting for unconventional wedding outfits that do justice to your culture, your couple story and your wedding.
You can plan your bridal jewellery accordingly and create five different bridal looks for the benefit of your wedding photographers.
We hope now that you have a list of various Indian wedding dresses that you should get your hands on before your big day approaches you to know how to nail your bridal shopping. So, get going and splurge!
Which one of these Indian wedding dresses did you like most? Tell us through the comments!