Modern Day Raw Silk Lehengas by Indian Designers With Price Range
Crisp, clean, and modern, the raw silk lehenga is all about the understated sheen and a regal demeanour. Here's a list of Indian designers who create stunning raw silk lehengas.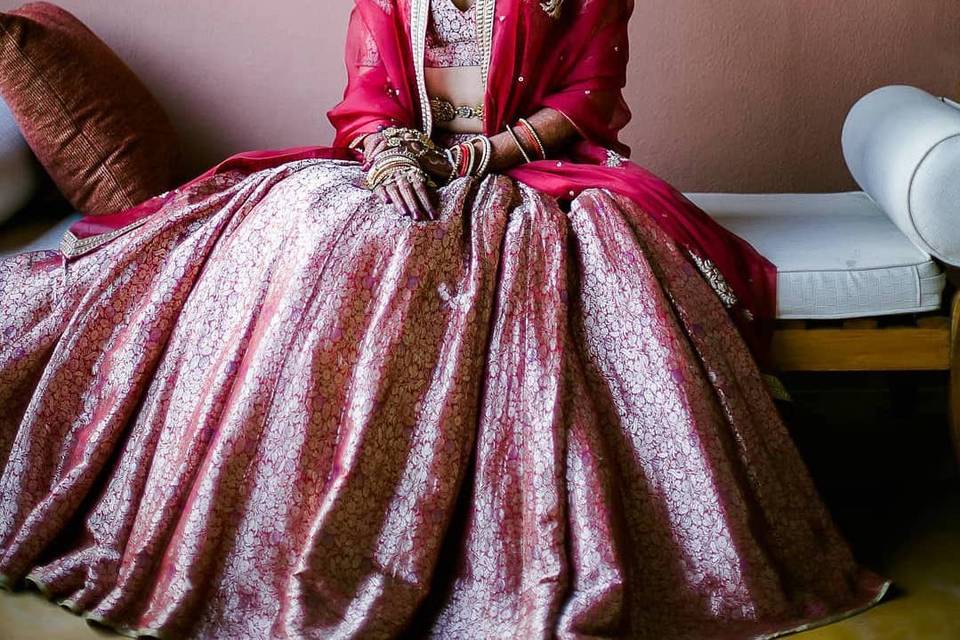 Lehengas have become an inseparable part of Indian wardrobes. From the time when Lehengas were traditionally meant to be exclusively worn by the bride to today where they have a prominent place in our festive wardrobes. Be it a friend's engagement or a festive gathering at home, the timeless appeal of this graceful silhouette never fails to make us feel special.
Owing to their lineage to the Mughal era where elaborate patterns, exquisite colours, and exemplary craftsmanship were staples, raw silk lehengas have slowly transcended to the modern-day style files. The fabric is usually full, flared, and super comfortable thereby making it an ideal choice for day-time functions, and night events alike.
Here is a list of Indian designers for you to pick raw silk lehengas from.
Designer Varun Bahl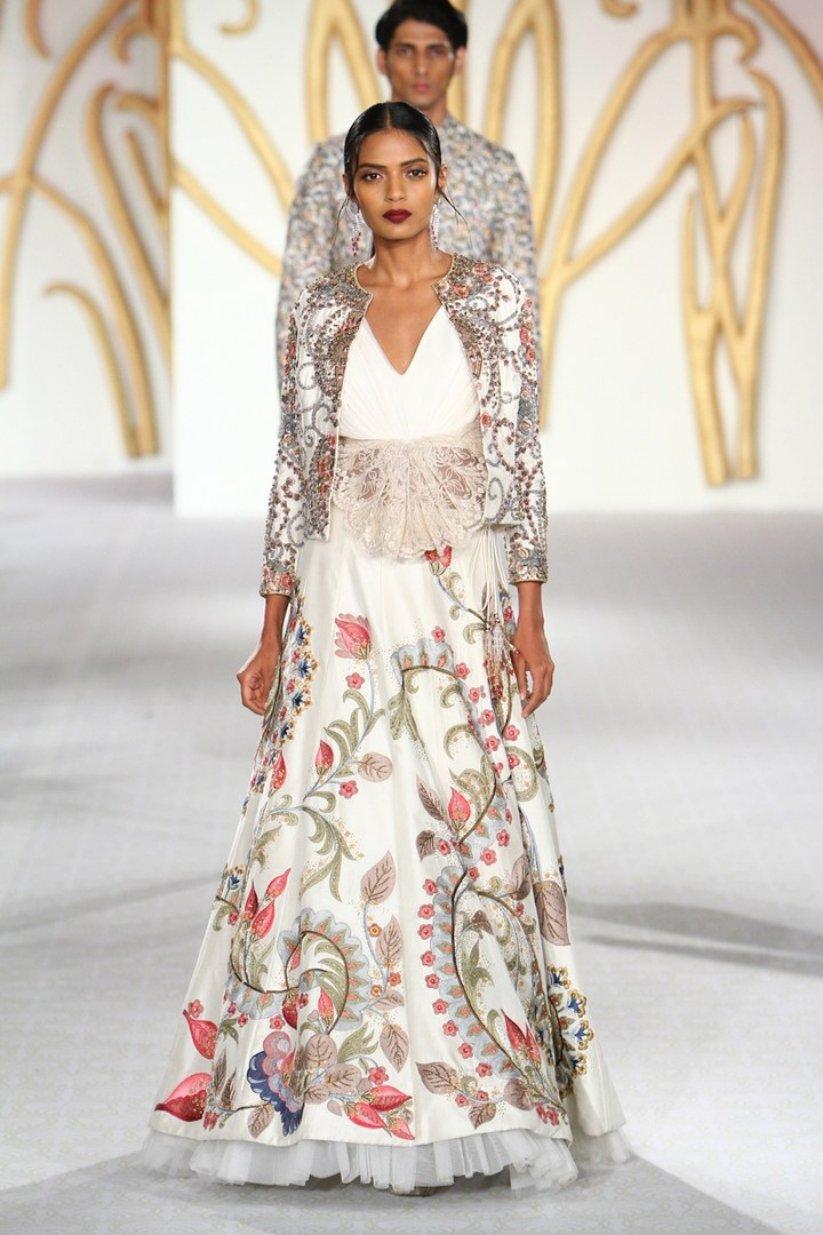 Designer Varun Bahl is known for creating signature styles in tune with global styling standards–ones that are fashion-forward, and unique. He is known for his impeccable style sensibility, and an eye for detail.
An embroidered front-open short jacket, with an embroidered lehenga and blouse, the ivory raw silk lehenga is a stunning creation by the designer.
The lehenga is priced at ₹4,00,000.
SVA – Sonam and Paras Modi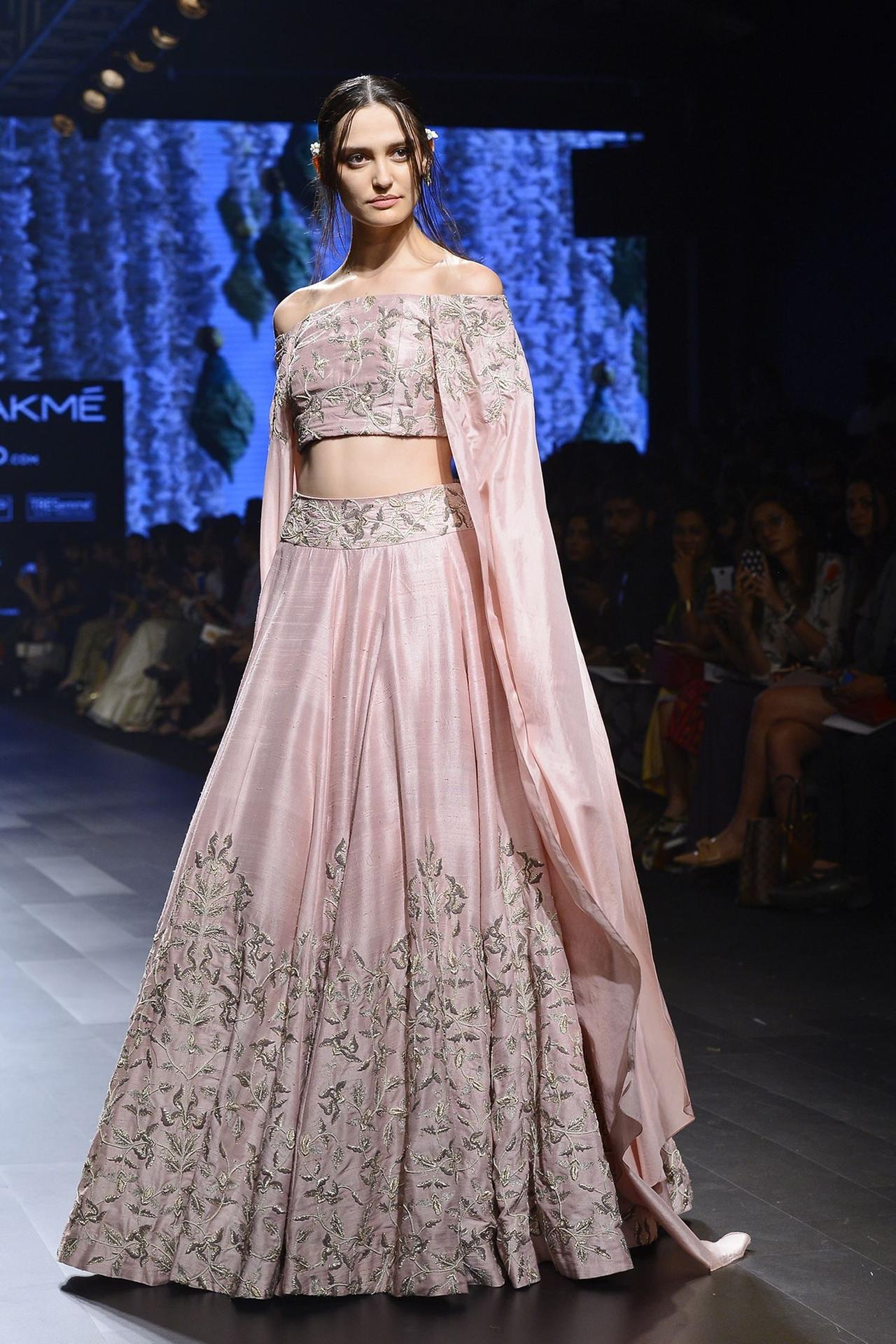 Sonam and Paras Modi's label SVA Couture features designs in luxurious fabrics, handcrafted and styled with an impeccable eye for detail. The styles include traditional and bridal silhouettes in fabrics that speak for themselves.
SVA's light pink raw silk lehenga paired with a cape-sleeved off-shoulder blouse flaunts intricate zardozi embroidery which looks flawless and elegant. With a great colour palette and light embroidery, this sure is something you can pick for a day event; A pool-side cocktail mehndi, or your friend's engagement.
The lehenga is priced at ₹2,15,000.
Anushree Reddy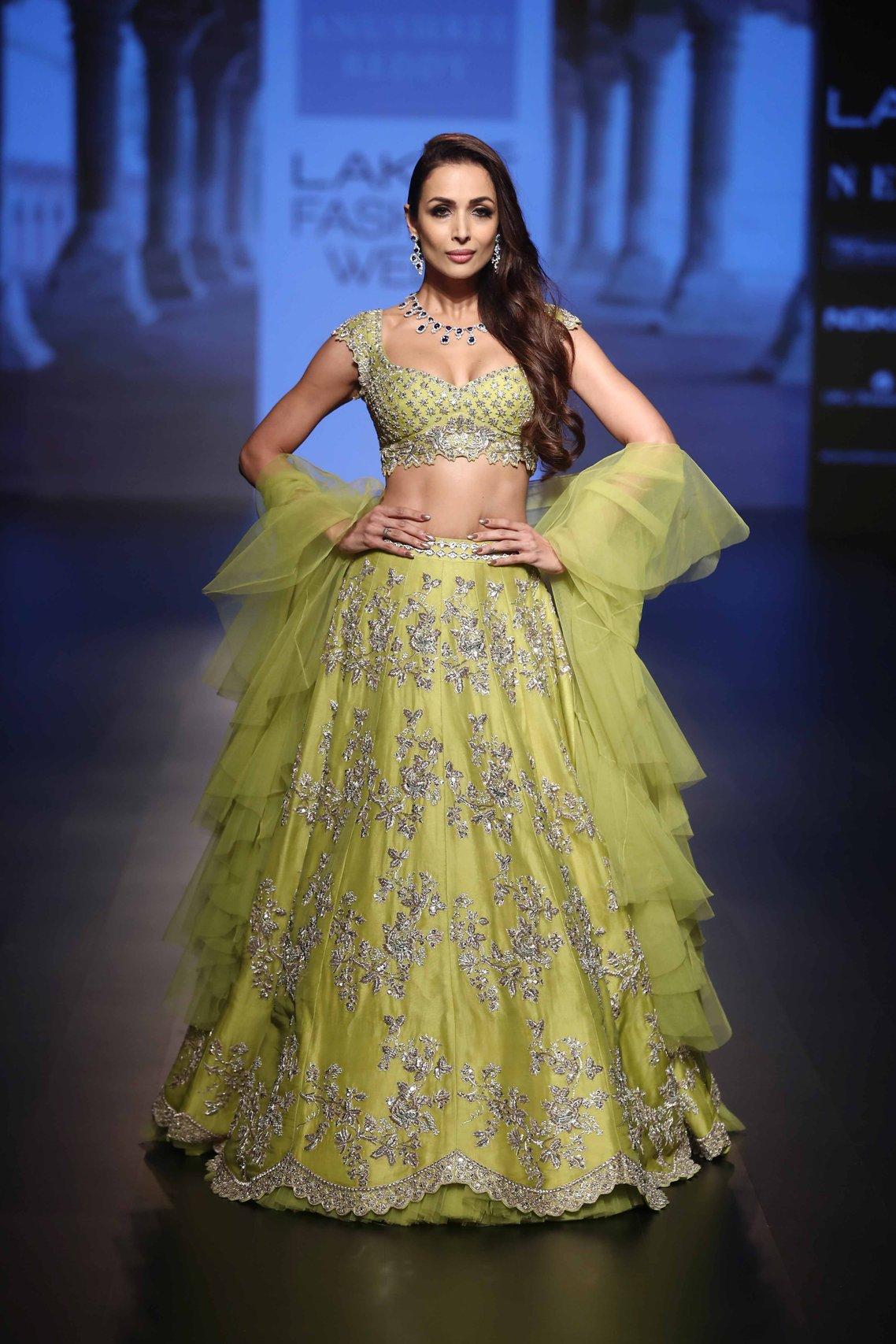 Designer Anushree Reddy is renowned for her young, fresh take on the Indian Bridal wear. Her collections are mostly about the old-world charm, vintage styles, and floral patterns. You will find a lot of lace, tulle and gossamer fabrics with intricate embellishments. If you are someone who loves colour, glamour, and elaborate prints, Anushree Reddy might be the label for you.
A heavy sequin statement green raw silk lehenga with dabka embroidery is a stunning pick for the modern-day bride. Paired with an embroidered short blouse and a fringe net dupatta, the lehenga is quite the contemporary stunner!
The lehenga is priced at ₹1,89,280.
Arpita Mehta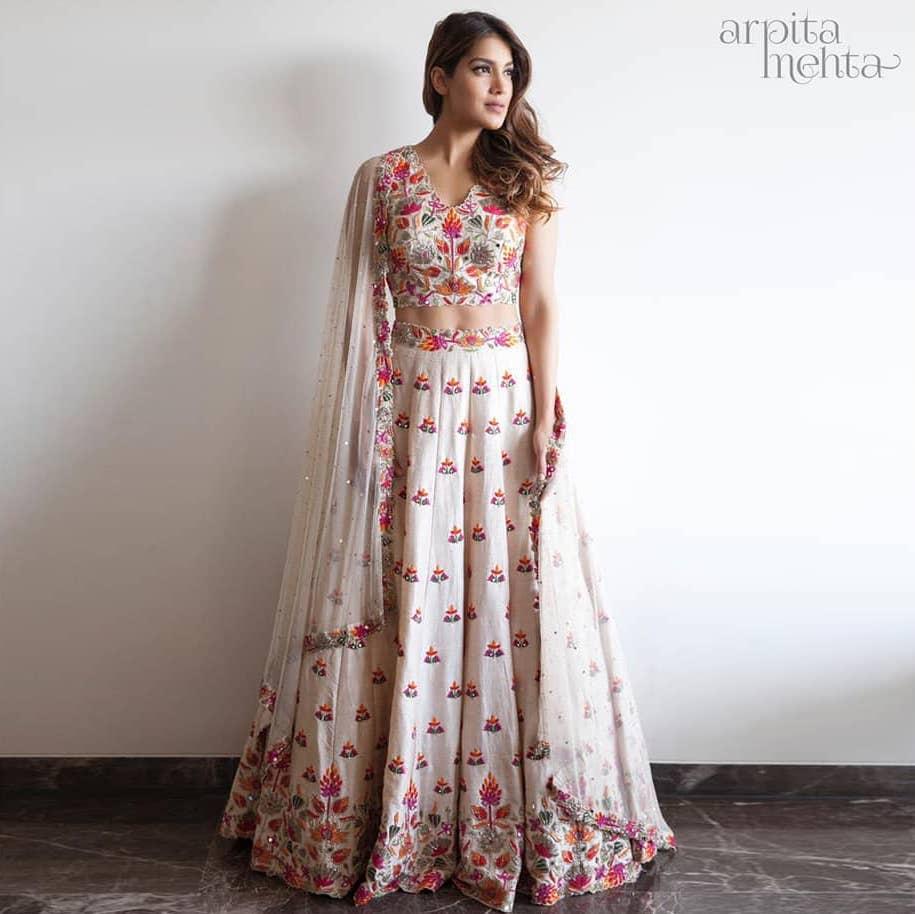 The label is all about minimalist, fashion-forward ethnic and contemporary designs. Arpita Mehta's brand is all about her signature style that revolves around mirror work ensembles, varied colour palettes, and trendy cuts.
This cream raw silk lehenga speaks sophistication, intricate resham thread embroidery with glimmering cut-dana beadwork make it an ideal choice for Summer weddings. Paired with an edgy floral jacket and a bustier blouse, the ensemble has a calming appeal!
The lehenga is priced at ₹1,95,000.
Jayanti Reddy
Image Courtesy: Jayanti Reddy
The Jayanti Reddy label is all about elegant, understated styles. Intricate hand-done embroidery with naturally dyed, hand-woven textiles is what the label believes in. The outfits have a classic appeal and are an ode to one's personal fashion statement.
This beige raw silk lehenga with heavy intricate embroidery gives a rich look to the ensemble. Paired with an embroidered blouse with a plunging neckline and a front tassel tie-up, the lehenga reeks of innate charm. You can pick this for your Sangeet night, or your reception, either way, it will make you look effortlessly stunning.
The lehenga is priced at ₹1,44,900.
Pallavi Jaipur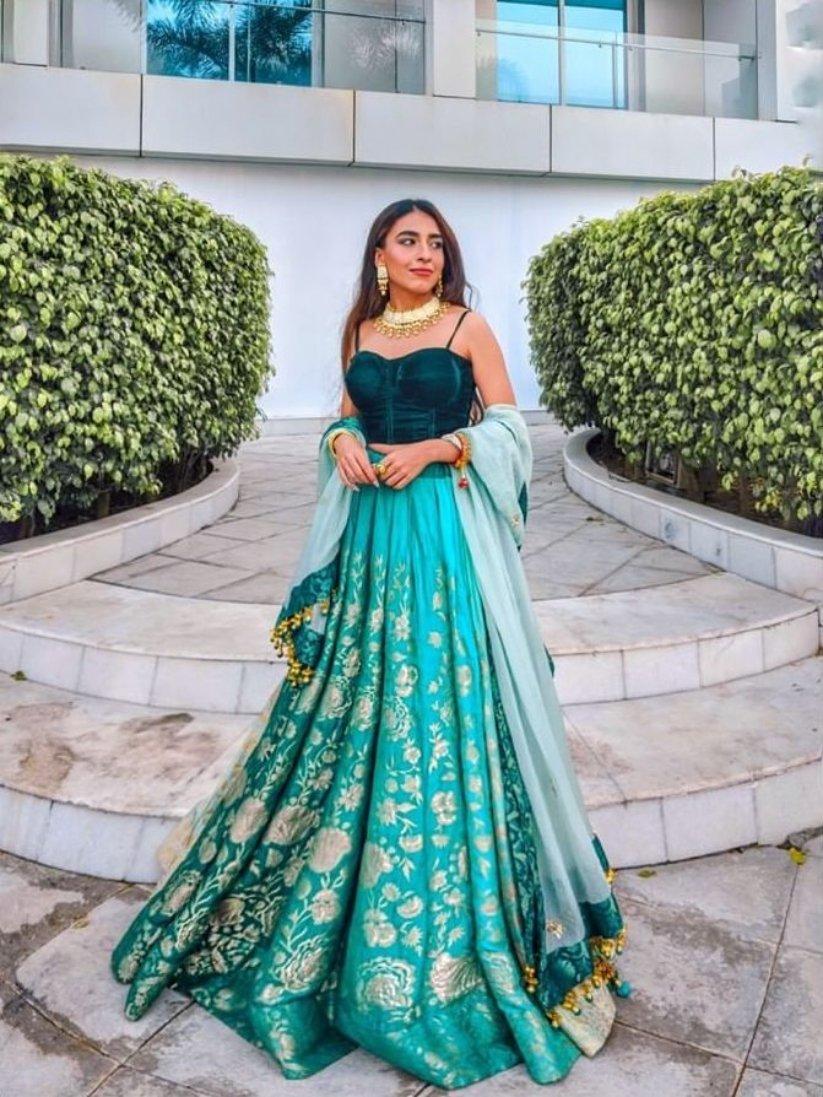 Image Courtesy: Pallavi Jaipur
Label Pallavi Jaipur is all about bridging traditional forms with modern sensibilities. The label is for those who love traditional Indian outfits with a contemporary touch. Resonating global styles, the brand has a plethora of options for the 21st-century fashionista.
This peacock green raw silk lehenga paired with a bottle green velvet blouse in corset pattern is such an ideal pick for modern brides. The lehenga is completed with a net dupatta adorned with hanging detailing on the edges. Pair this stunning lehenga with heavy gold jewellery to complete the look.
The lehenga is priced at ₹95,000.
More and more Indian designers are making versatile Indian wear that one can upcycle post-wedding functions. A classic raw silk lehenga is a great pick. You can switch up the blouse, add capes, crop-tops, jackets, or silk shirts to the lehenga skirt and spin up an entirely new outfit.
Most designers today have easily accessible online stores for you to shop from; We hope this list can help you get a sense of what personal style goes with your taste and you can make an informed choice.
Which designer are you choosing to buy your raw silk lehenga from? Tell us in the comments below!
Written by Charu Rawat