5 Trends and 6 Reasons to Rock the Banarasi Lehenga on Your D-day
If a Banarasi saree is a style statement, then the next step up is the intricately woven Banarasi lehenga. A truly versatile outfit, it is ideal for bridesmaids, guests and even the bride itself. Here's why you should invest in one right now.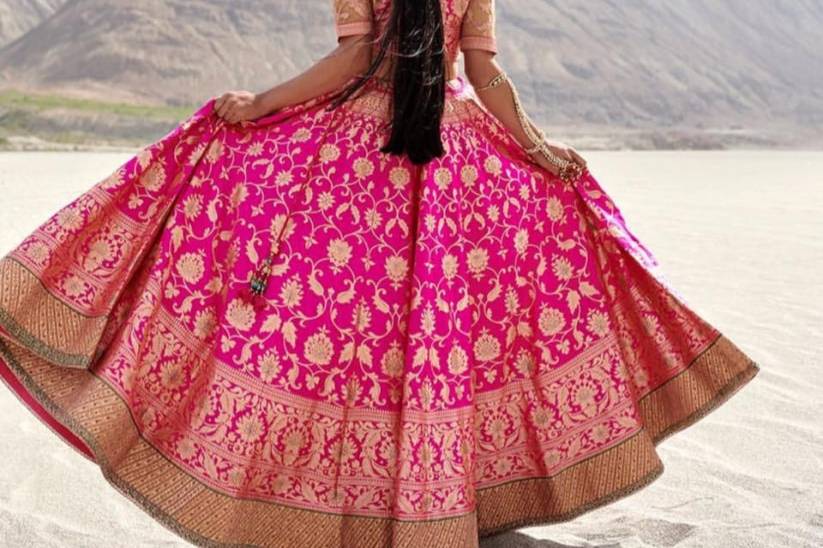 There is something so regal about a Banarasi lehenga and we can't agree with this enough. Whether you are a bride or a bridesmaid, these lehengas are a perfect choice for pre-wedding and wedding festivities because the wedding can be nothing less than royal, and nothing works better than this. And why not, they have an appeal that any other regular lehenga might not be able to offer.
Gone are the days when the Banarasi was only famous for being a part of the seven yards of elegance because ow the Banarasi lehenga has taken the catalogue of wedding fashion to the next level and this level up deserves appreciation because the Banarasi lehenga is sure to make the bride-to-be look like a blessing to the eye of the beholder. The intricate designs showcased in these lehengas are worth wearing, especially on an occasion as significant as the wedding ceremony.
Still not convinced? We share with you some reasons why this outfit is always a trend followed by some iconic designs for 2018.
Reasons to Consider a Banarasi Lehenga This Season
1. It is an all-weather fabric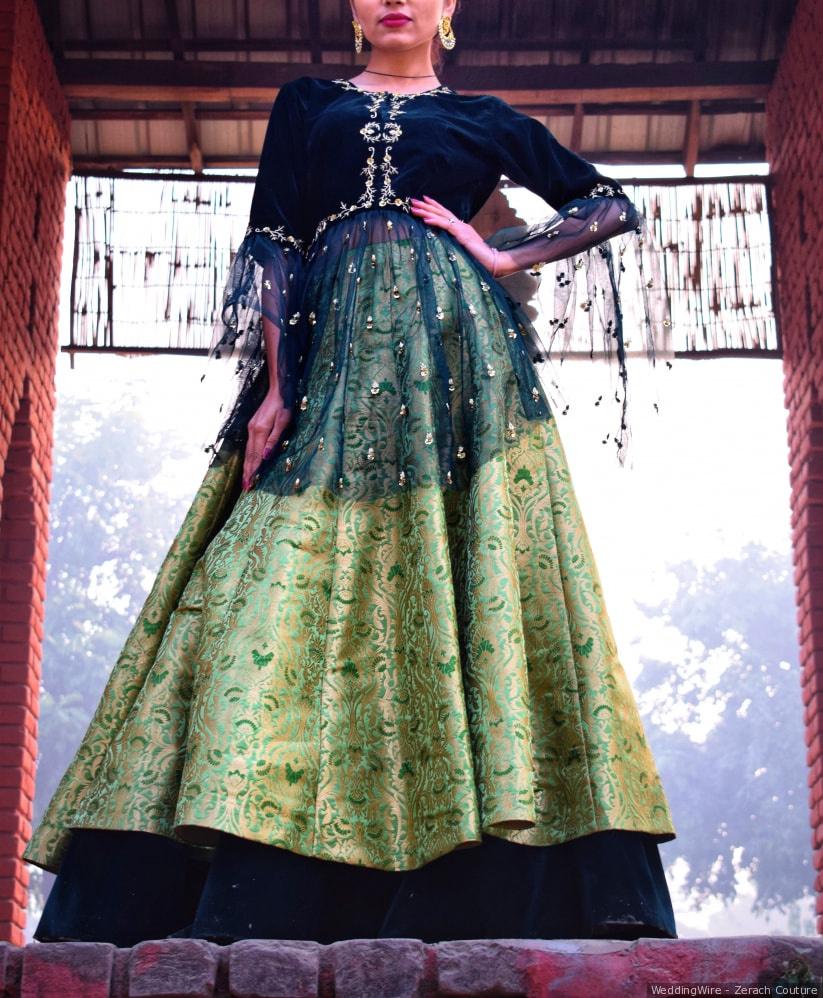 Unlike silks, net, and velvet, a Banarasi lehenga is suitable for all seasons. Due to its adaptability, one can comfortably wear it even during the spring and summer season. The look of it is opulent like what silk or raw silk can offer to you with the shiny texture fo the fabric, and yet the breezy feeling of the light fabric makes it ultra soft and while you flaunt your Banarsi lehenga, you don't have to worry about any discomfort.
2. It looks good on everyone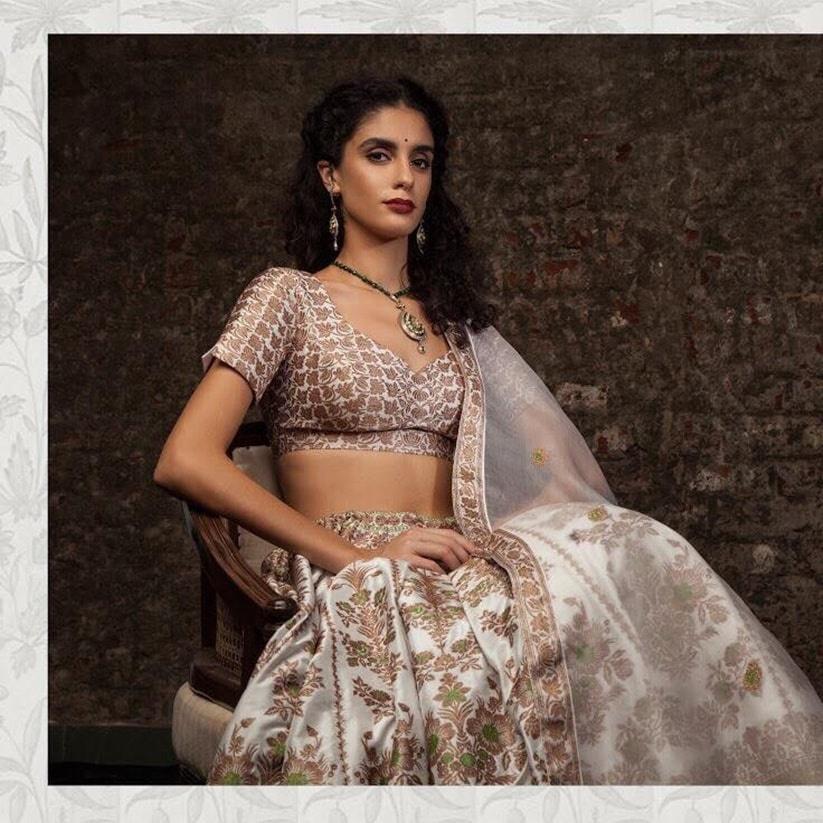 Image courtesy: Tilfi Banaras
Due to its light and flowy nature, Banarasi lehenga looks good on every body type. It either takes the shape of you or you can use layering in the lehenga to give it a more grand look with more circumference to cover around you as you walk down the aisle. It will even help to add curves to your frame if you have a slimmer figure. Simply experiment with the blouse design and flaunt that slender frame.
3. It's a breeze to style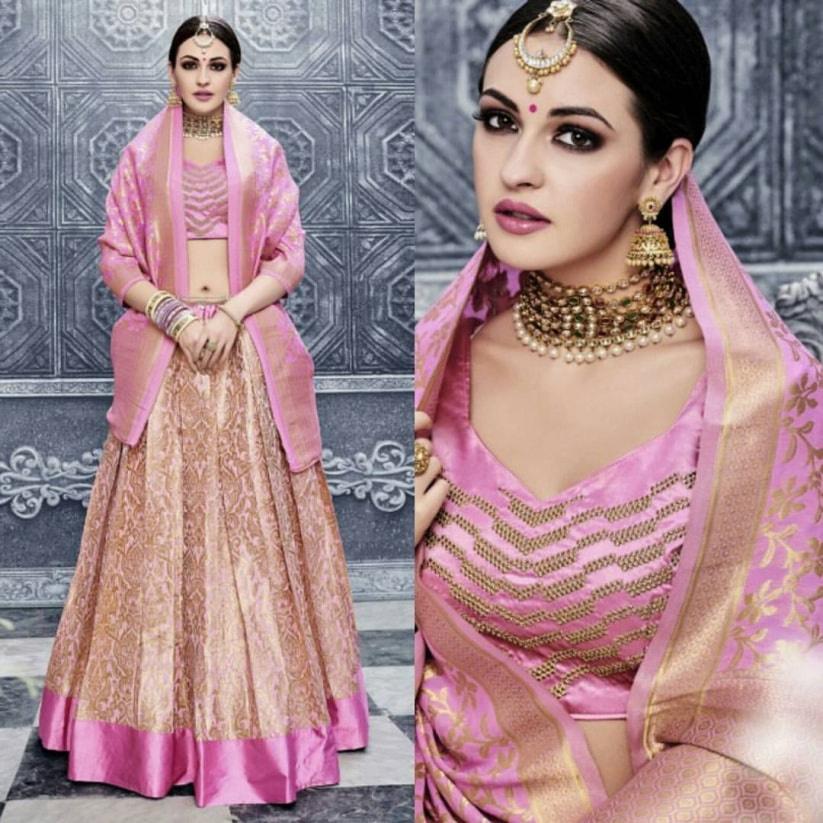 Image courtesy: The House of Kanika Kapoor
Banarasi is one of the easiest fabrics to style. You can easily pair it with different fabrics including cotton, velvet, and raw silk. For instance, if you are a sister of the bride, pair a Banarasi skirt with an off-shoulder bridal blouse to steal those glances. Alternatively, for an Indo-western twist, brides can wear a Banarasi lehenga with a folded up satin shirt (the lehenga with shirt style) for their sangeet ceremony.
The intricate designing, be it on print or be it using embroidery can be best complimented with a subtle solid top or blouse and you are all set for the thumkas. The light fabric makes it easy to manage even when you are attending to the guests at the wedding and it is extremely breathable while carrying the look of heavy and royal material.
4. It is reusable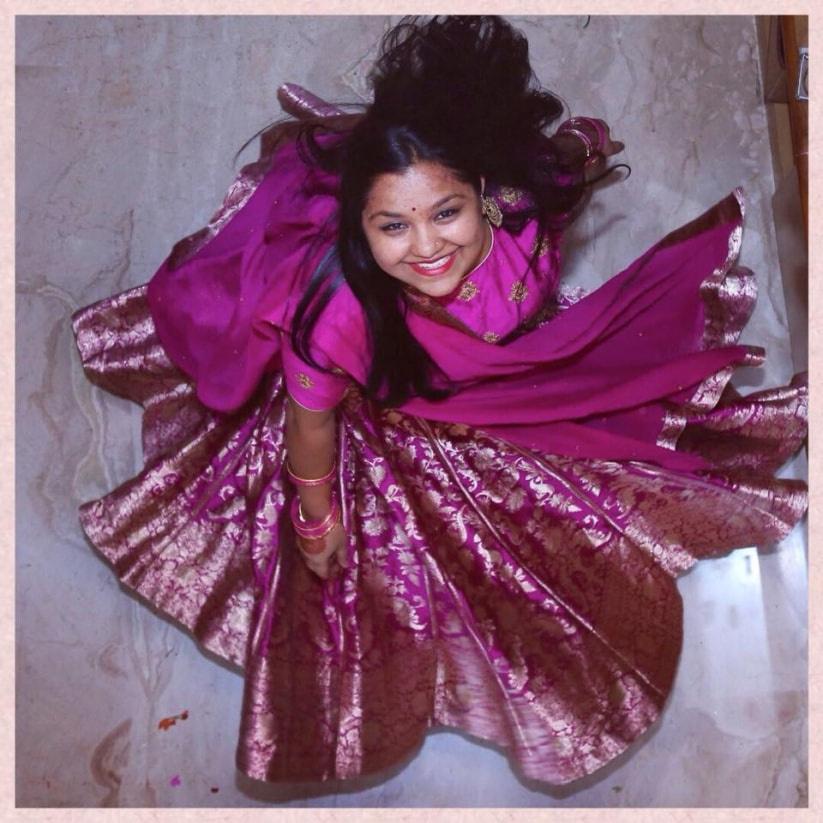 Image courtesy: Tilfi Banaras
One of the most important plus points of a Banarasi silk lehenga is that you can reuse it even after the big day. As it is not heavy and usually does not come with any added embellishments or embroidery, you can easily pair it with a simpler blouse and wear to less formal occasions or another wedding that you attend as a guest. The material needs to be cared for in order to maintain the polished look and it is recommended if you plan on using it again and not store it in the wardrobe.
5. It has that wedding sheen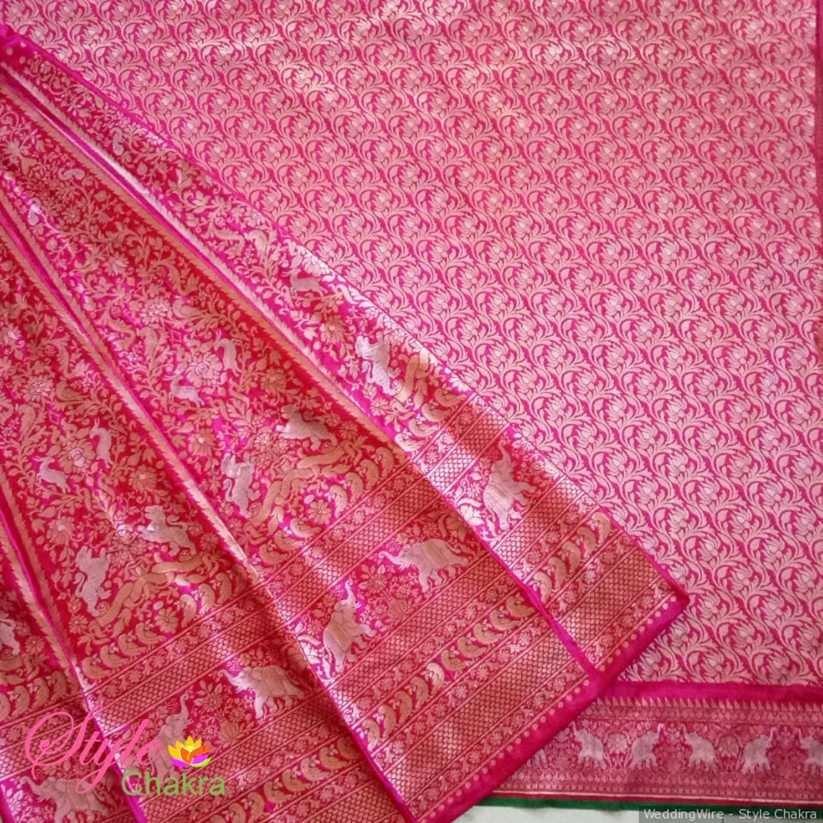 Banarasi is known to be one fabric that has a lot of sheen. Also due to its rich colour and feel of the fabric, along with elaborate yet intricate patterns, it can be styled to appear more festive and traditional. It is, in fact, the only material that was used in Bengali weddings where the Banarasi saree was an esteemed traditional fashion for the bride's big day. With the making of Banarasi lehenga, it is now a unique fashion statement that fits any purpose of the big celebrations.
6. Banarasi is a go-to designer fabric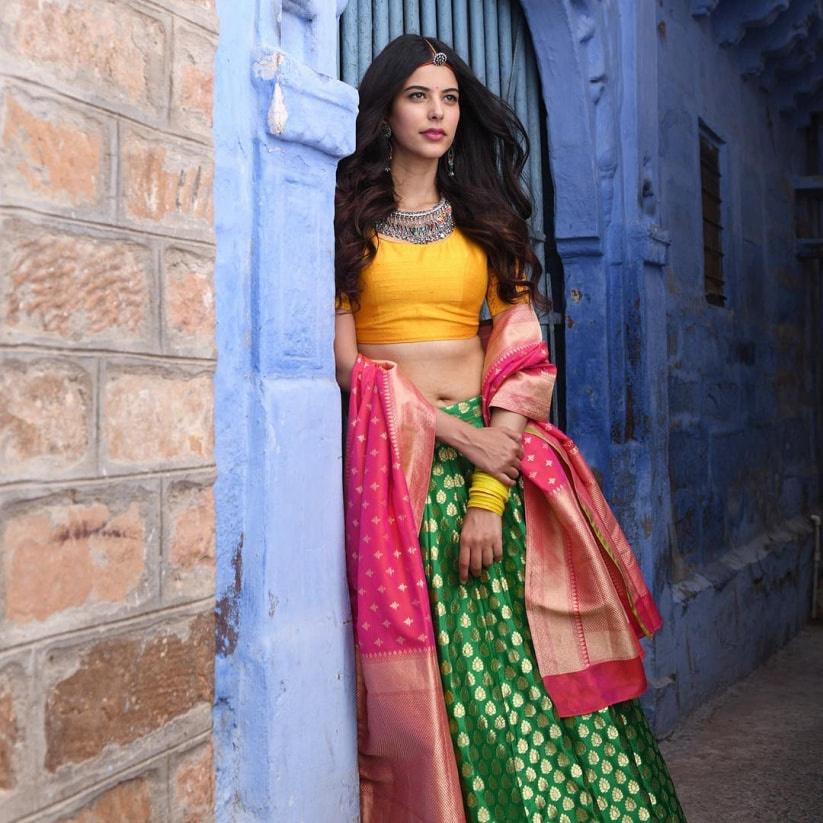 From Sabyasachi Mukherjee to Manish Malhotra, Banarasi silk is a go-to lehenga fabric for all the top Indian designers. With an aim to revive the beautiful, ancient weaving technique, they have established a marketing chain that has brought the fabric to mainstream fashion. Especially Sabhyasachi Mukherjee who is known for his exquisite bridal wear uses Banarasi silk extensively in his collection.
5 Iconic Banarasi Lehengas of 2018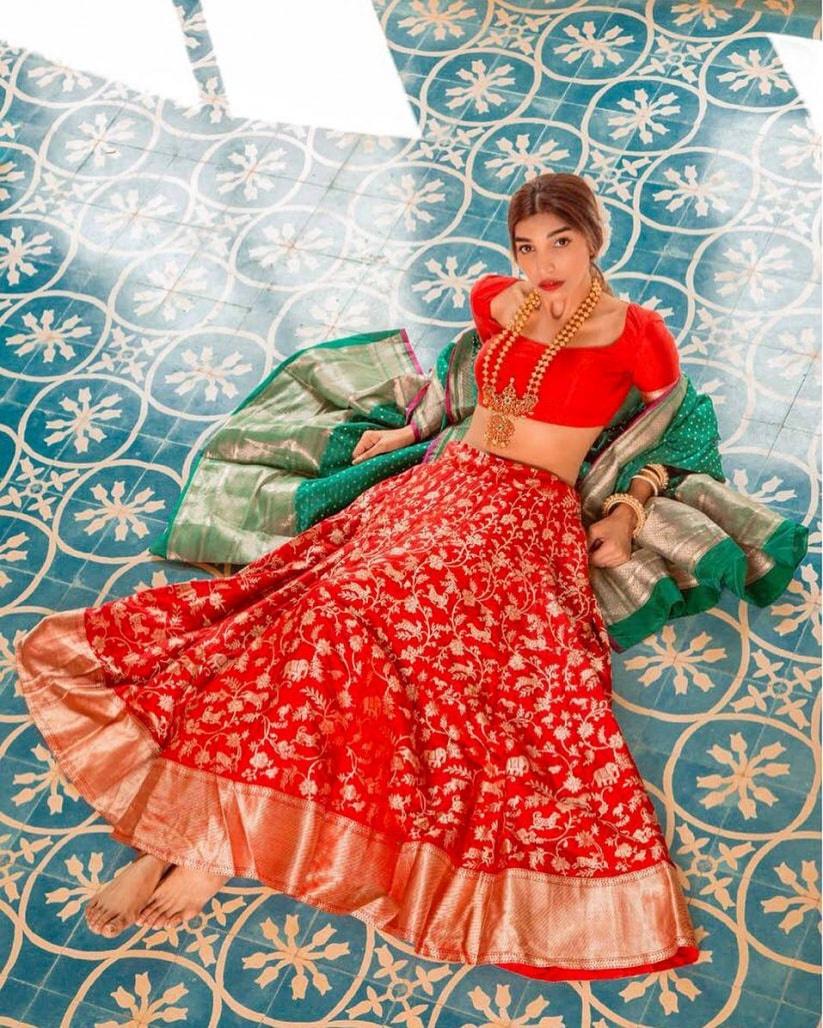 For those looking for some inspiration to choose your Banarasi lehenga, not only have the celebrities of B-town flaunted some of the most gorgeous pieces of Banarasi lehengas, but some real brides and influencers of the social media platforms have promoted breathtaking Banarasi lehenga designs for inspiration and these iconic lehenga design ideas will have your creative juices flowing.
1. Red bridal lehenga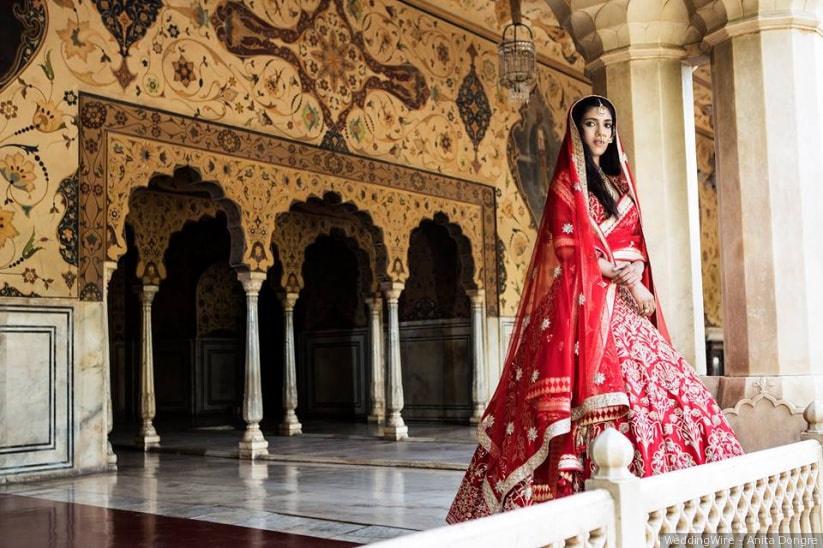 When it comes to a bridal wear, you cannot go wrong with a classic red lehenga. Better yet if it is in Banarasi silk fabric. One of the hottest trends of 2018 has been a red Banarasi lehenga with intricate golden zari work. A lehenga dupatta with fine border and green gemstones jewellery complete the look!
2. Monochrome Ivory lehenga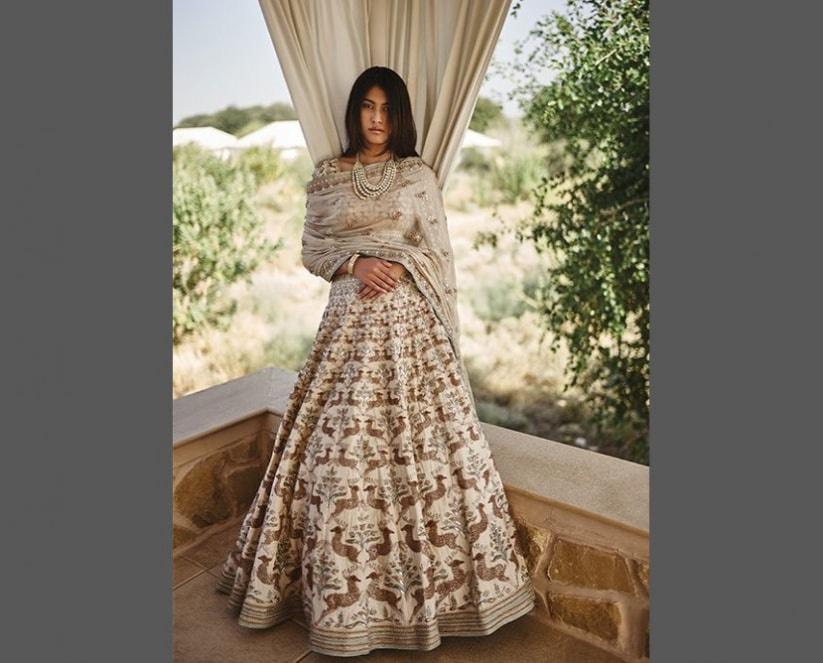 Another Banarasi outfit that has been trending this year is a monochrome off-white lehenga. Monochrome has crossed the boundaries of being just black on white and the new trends have seen copper and golden or other metallic colours on white or cream and off-white. Most suitable for daytime weddings, one can add colourful layers to it with a dupatta and lehenga accessories for a classy touch.
3. Cream and gold designer lehenga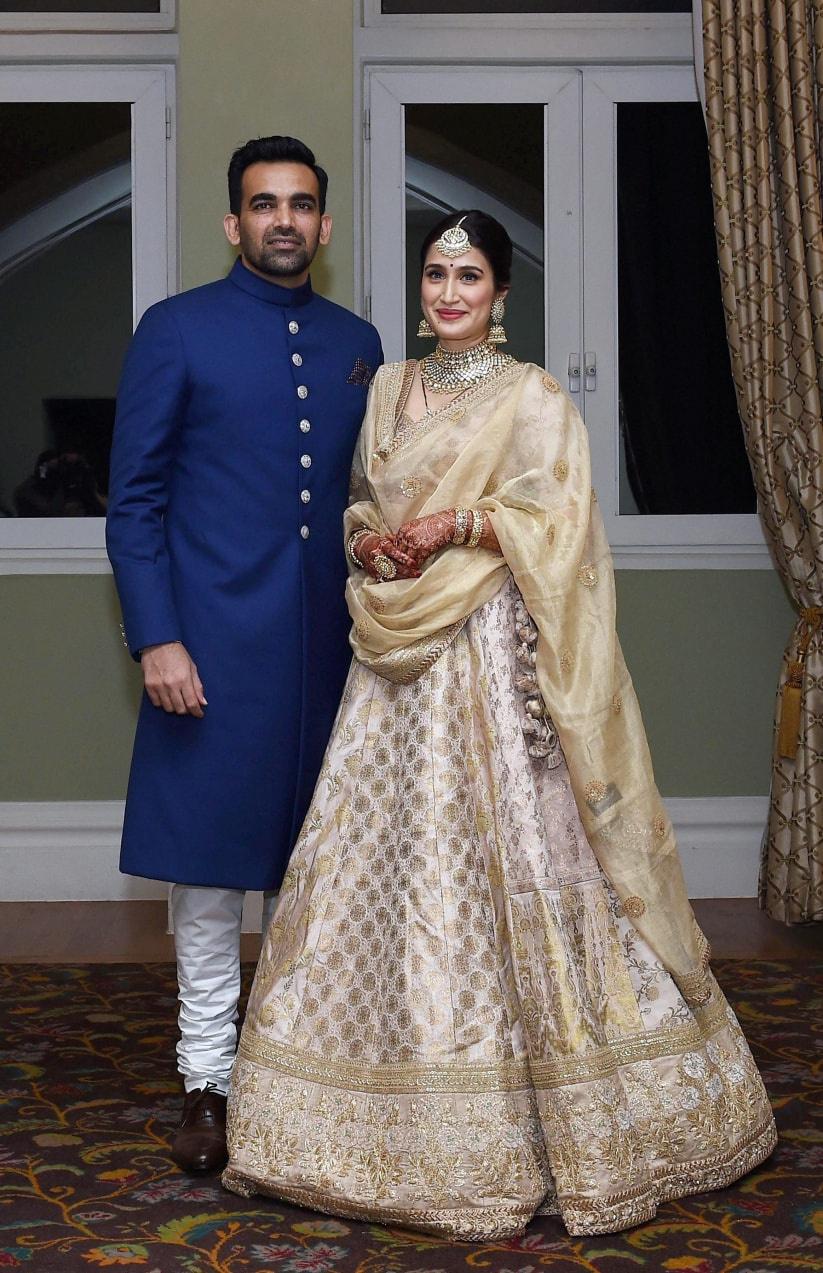 Image Courtesy: Facebook
Sagarika Ghatke's heritage Banarasi lehenga by Sabyasachi Mukherjee, which she wore to Anushka Sharma's wedding reception, has indeed been a sight to behold. The lehenga was hand-embroidered with zardosi and was paired with a Maheshwari dupatta.
4. Pink lehenga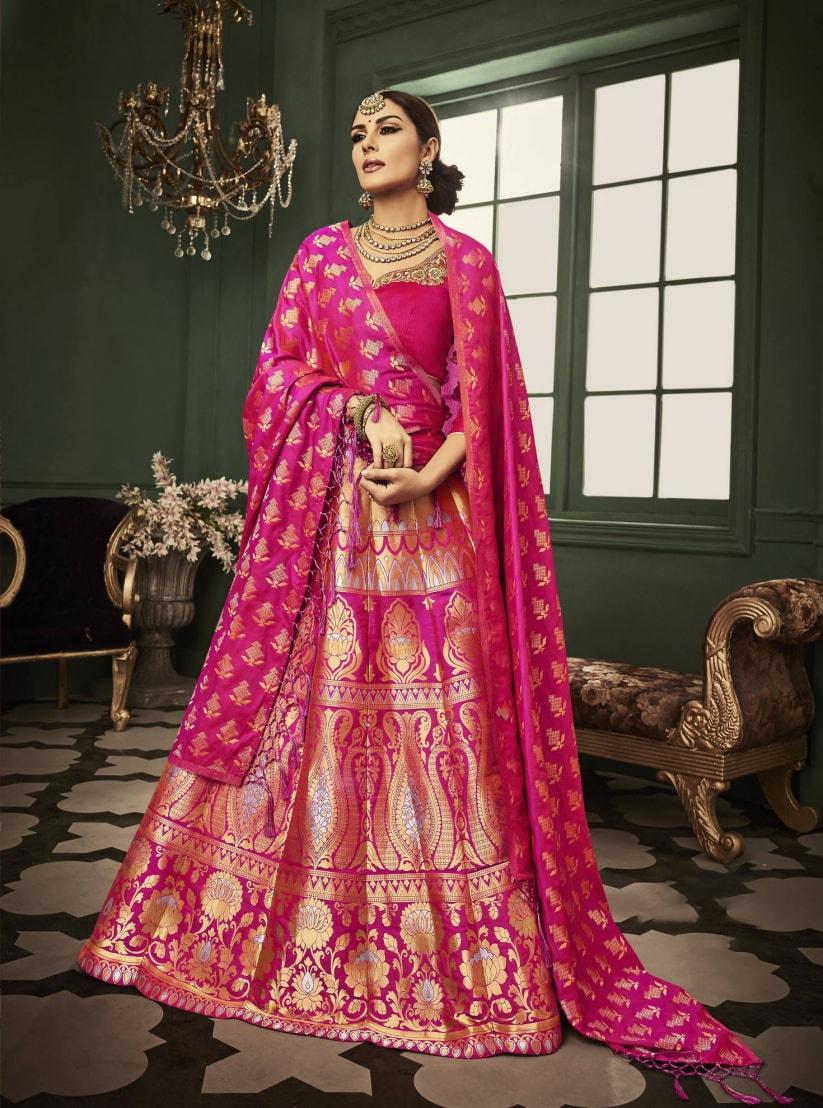 Need a fusion look this year? You can opt for a subtle pink monochrome lehenga in Banarasi fabric. A hint of a lilac shade in the dupatta or the accessories will help you add a pop of colour.
5. Green bridal wear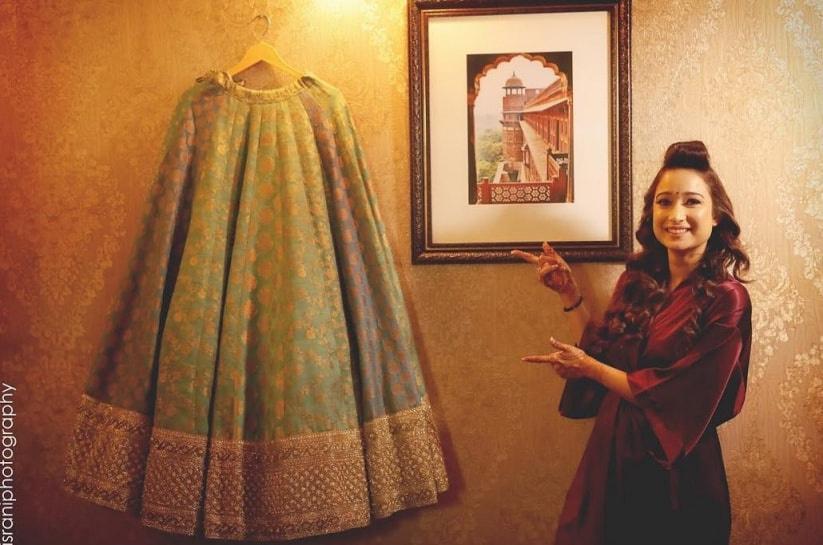 Are you an offbeat bride? Ditch the traditional reds and pinks, and opt for a rare combination which is prominently green. For example, the bride above paired her Sabyasachi lehenga with bright yellow embroidered blouse. Or the blue and green lehenga combination above.
To carry a different bridal look, go for two dupattas in light and dark shades.
How to accessorise a Banarasi lehenga?
Accessorising a Banarasi lehenga is so much fun. Think vintage, polki, kundan, and jadau jewellery for this outfit. A layered necklace, lehenga kamarband, and an oversized nath design will help you rock the look!
Undoubtedly, a Banarasi lehenga is a must have for your bridal trousseau. Even if you are not the bride, you will love to wear it to friend's wedding.
What is your opinion about this outfit? Do you have this classy piece in your trousseau? Let us know through comments.