Wearing designer Bridal Lehengas on their wedding days is a dream that's carefully enshrined in the hearts of many a bride in India. Be it those who swear by a Sabyasachi, a Tarun Tahiliani or a Manish Malhotra, it's what these women want, often more than everything else that's going on around their wedding festivities. We hold a light to these beautiful women and share some of those who were able to achieve this dream. We present the brides who wore Manish Malhotra Lehengas, if not on their D-day, then at least on their Sangeet ceremony or on their reception stage.
Take notes, bookmark this piece of intel and start looking for your inspirations right here!
Manish Malhotra Lehengas
An atelier to the stars, the Manish Malhotra label is more than 25 years old, spreading with ease into film costume and bridal couture. A Manish Malhotra lehenga is often a heavily embellished or embroidered work of art on delicate fabrics, though he has worked with winter fabrics like velvet as well. We see these embellishments in thread (Chikankari, in fact, is a consistent style), in crystals, zardosi and other works, though his most recent brides have sported nude shades too.
Few would remember that he styled 'Rangeela' and rose to prominence with it, though the brides of recent years would swear by his work as worn by Alia Bhatt, Sridevi, Madhuri, Karishma Kapoor and others at different events. Bridal shopping from the Manish Malhotra label is possible via three flagship stores (2 in Mumbai, 1 in Delhi), though Hyderabadi brides would also get a chance at Manish Malhotra lehengas in their city soon. You can also buy Manish Malhotra online on platforms like Pernia's Pop-up shop, Carma, Grand Trunk and his own official website.
And what does a Manish Malhotra bride look for? The designer is known for using traditional embroidery in modern sensibilities, so you could source gowns in Chikankari, Phulkari, Kashmiri embroidery or even the Benarasi weave. Then there are the Bridal Lehengas, sarees, sherwanis for women, three-piece outfits with crop tops. And then there is the wide range of trousseau for men - from dinner jackets to Bandhgalas.
Manish Malhotra Brides
Here are some of the most gorgeous Manish Malhotra brides and what they wore on their special day. Ladies take a bow!
1. Ayesha Ahuja
The stationery entrepreneur knew she had to bring in the big guns for her destination wedding in Karjat. Her atelier of choice, among others, was Manish Malhotra. Apart from the nude, heavily embellished lehenga she wore at her Sangeet (pictured above), she opted for the designer for her reception party too!
We're vowed by her selection of this designer gown by Manish Malhotra as well.
2. Harsimran
Harsimran's blush pink Manish Malhotra lehenga contrasts with her bright red chura, a sign of her beautiful Sikh wedding at the Taj Mahal Mansingh. Do you like her bridal look?
3. Pooja Parekh
Pooja Parekh's destination wedding idea for her nupitals with Anand could not have been complete without a Manish Malhotra lehenga. She got hers in a light orange, ensuring that the sunset tinge would make her a showstopper for the big day.
4. Aniqa Alam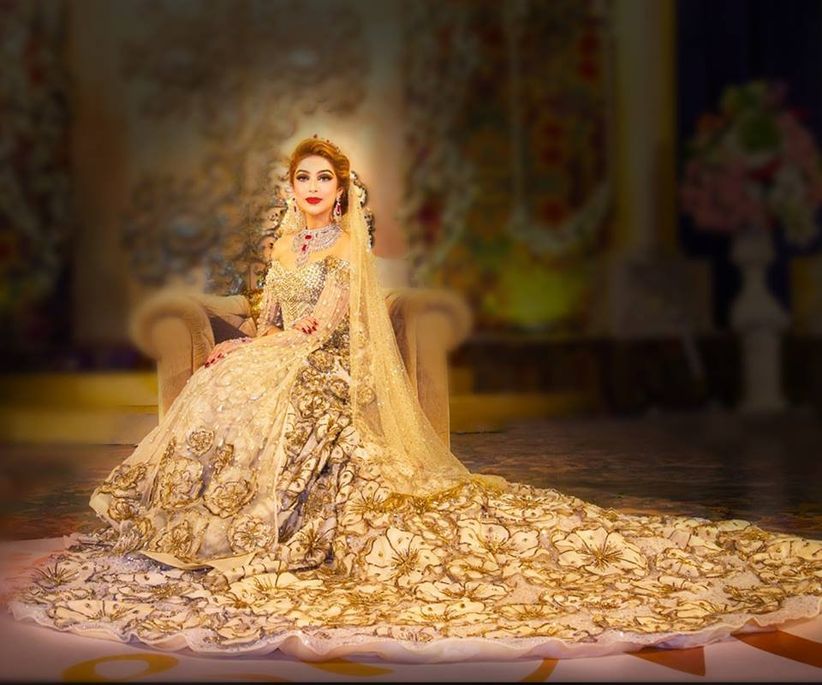 Image courtesy: Manish Malhotra on Facebook
Featured by Manish Malhotra on his Instagram and Facebook stream, Aniqa Alam looked the part of regal perfection in her choice of an ivory gold wedding lehenga, with large flowers embroidered on top. The diamante bridal jewellery simply added to her air of sophistication.
5. Prachi Agarwal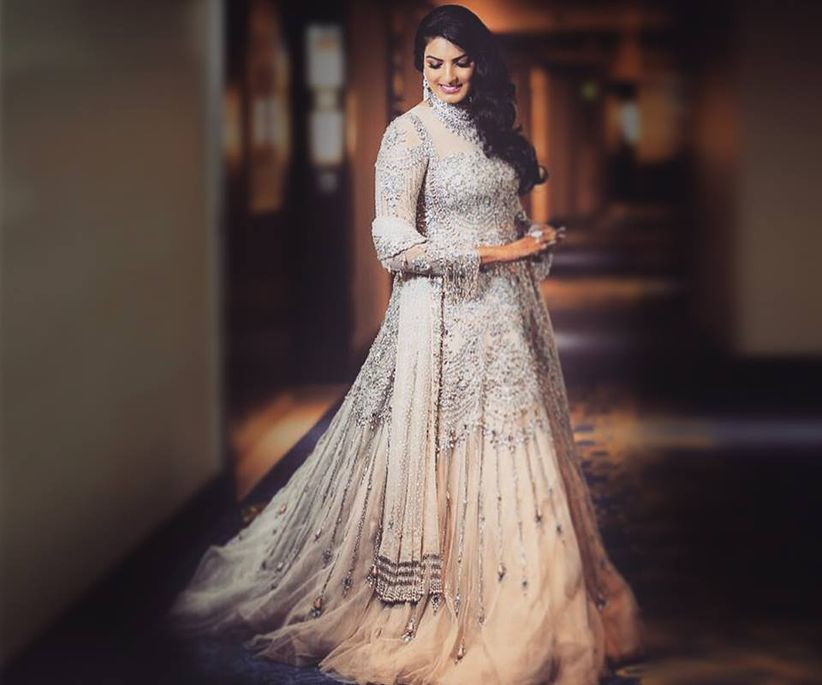 Image courtesy: Manish Malhotra on Facebook
Again, a featured bride by Manish Malhotra, Prachi rocked her wedding days, with this ivory Manish Malhotra lehenga with silver zardosi work. As her bridal accessories, the soliataire and heavy, diamond earrings pack a punch.
6. Nishtha
Captured during her grand, three-day Thailand destination wedding, we see Nishtha here twirling in an oxblood Manish Malhotra lehenga, as her beau Abhishek bears witness in a Sabyasachi sherwani. The duo held a masquerade party, a sangeet and other fun activities during their special days.
7. Saloni Agarwal
Think Manish Malhotra lehengas only come through on delicate silk, tulles and net? Think again. Saloni Agarwal looked like a dream in her winter velvet lehenga, embroidered with the distinctive leaf patterns. A dual dupatta draping style and heavy bridal jewellery complete this picture.
8. Nirja Shah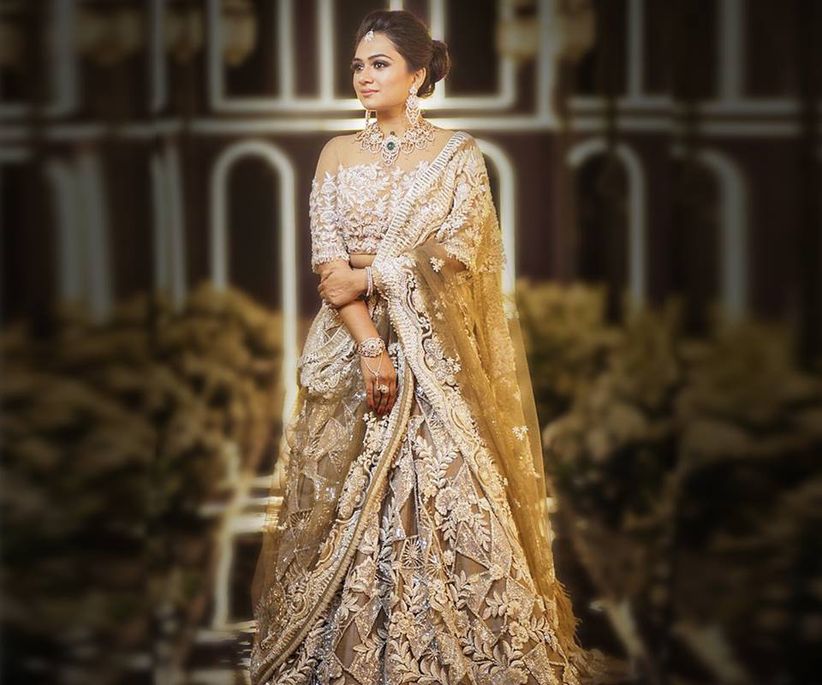 Image courtesy: Manish Malhotra on Facebook
Ivory embroidery, nude tones and heavy, diamond jewellery - Nirja Shah's bridal look has it all. She also boldly moves away from pinks, red and maroons with her selection from the master atelier.
9. Sheetal Mafatlal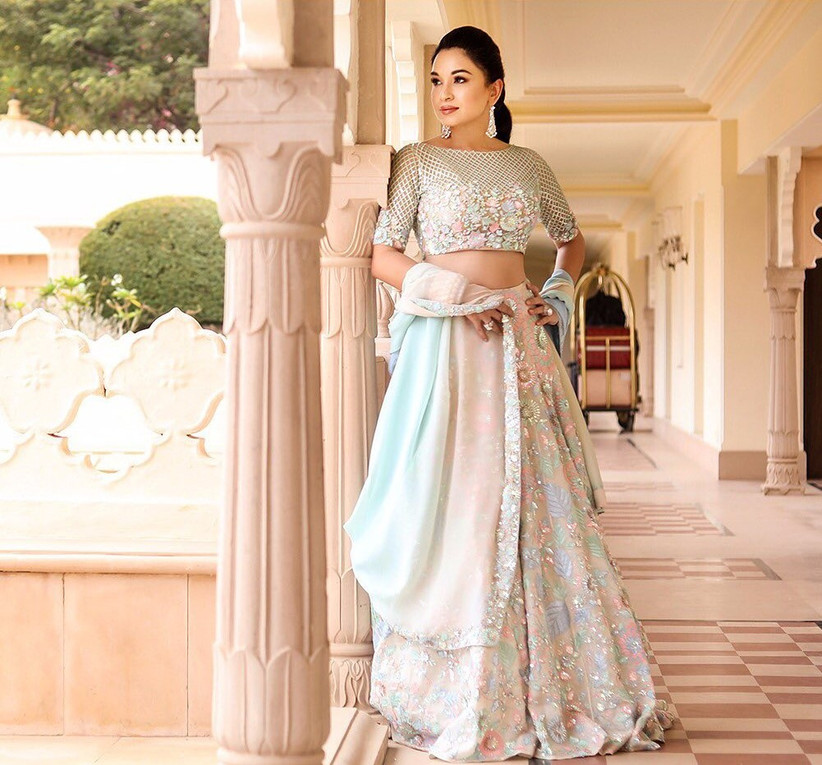 Image courtesy: Manish Malhotra on Instagram
Socialite Sheetal Mafatlal knew that she would look the part for a destination wedding in Udaipur only with Manish Malhotra lehengas. Here, she's holding her own in a diamante beige number with pastel flowers. She was also spotted in a rich, crimson velvet lehenga at the same event.
10. Zahra
Zahra tied the knot with her prince charming, wearing a simple set of floral jewellery for her Mehndi sangeet night and a pastel pink embroidered Manish Malhotra lehenga. Dare we say more? This outfit has bling in all the right places.
We know how its every bride's dream to wear a Manish Malhotra lehenga at atleast one of her wedding functions. This ace designer has been dressing actresses from head to toe since years and leaves no stones unturned unless he makes you look like a bride who is out to serve some major looks. From his signature glamorous gowns, couture lehengas and stylish suits, each outfit has intricate detailing that will leave your guests wowed. We hope after reading this article you are feeling more inspired than ever to visit a Manish Malhotra showroom right now and find a bridal outfit that was curated only for you and tailored as per your expectations.
Which of these brides are your favourite inspirations for Manish Malhotra lehengas? Let us know in the comments below.