Planning on Wearing the Golden Bridal Lehenga for Your D-day? Here Are Ways to Style and Flaunt It Like a Goddess
Want to wear a golden bridal lehenga but are not sure of how to do it? Here is a guide telling about all the ways you can flaunt one.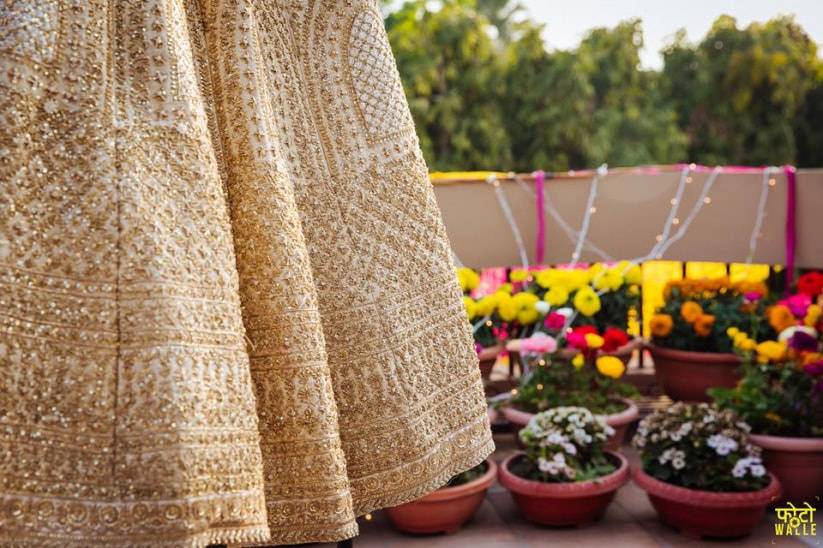 Gold is a colour that has always been associated with the regality and a golden bridal lehenga brings out that royal look, perfect for any bride. A lehenga in this colour offers a variety of shades to play with. You can have an overall golden outfit, mix and match with a different coloured blouse or have embellishments in complementing colours.
Different kind of fabrics will lend you different looks, and then all you have to do is accessorise them right to win the fashion game. Gold need not be the colour of jewellery that you choose to accessorise it because gold will now invade your wardrobes through your bridal outfits. The gold game is strong for the brides this wedding season and you will be impressed by how these ladies have been flaunting the sparkles as they walk down the aisle, like dropping a little pixie dust here and there before they reach the mandap and take their vows. If you want to leave the crowd wowed, then this is your call to take inspiration from the golden bridal lehenga.
The sheen of the golden bridal lehenga allows very fewer accessories ideally, but when done right, it can make you look like the Goddess has descended among the people and it is a view to cherish forever. Most weddings occur during the night time and the golden bridal lehenga with the lights flickering on it, is definitely a stellar combination for the lady of the hour on one of the biggest celebrations of her life. The wedding attire is not chosen in one go, in fact, there is a long thought process and a lot more opinions that go behind this and the tricky bet would always be a golden bridal lehenga for the day. But swing it right and you will be a legendary treat to the eyes.
To make that one choice of which bridal lehenga would look best on the big day is hands down one of the most difficult questions a bride-to-be has to deal with amidst a myriad of other things. On your wedding day, you wouldn't want to be anything less than perfect in terms of your outfit, the makeup or perhaps the bridal jewellery. At your wedding, you would want to look beautiful, elegant and most importantly, different from all the other brides that have been seen around this wedding season. One way to do this is to break the free from the convention of wearing the quintessential red lehenga. Learn about all the ways you can style a golden bridal lehenga to look like a dream come true and different from all the brides around you.
1. The Classic Golden Bridal Lehenga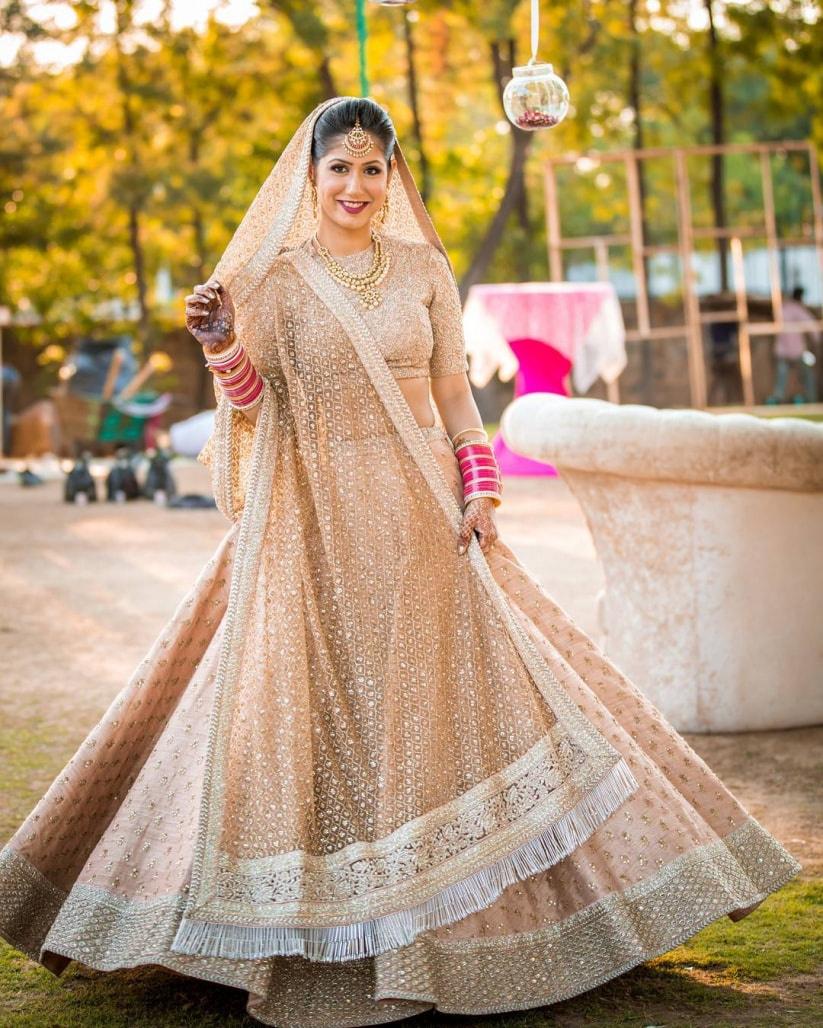 Variations can be brought to a gorgeous golden bridal lehenga using different fabrics and appliques. You can use a net fabric with embellishments, silk with voluminous cancan or georgette with embroidery and brocade. Though, stray away from the common golden lehenga mistakes that people make with the fabric and colour choices. Surf your options well because golden is not a colour you can play around with too much. Therefore be mindful of the shade that you are picking, is it bright golden or a deep-seated shade of gold. Your golden bridal lehenga design also has to be
2. Golden Bridal Lehenga with Coloured Embellishments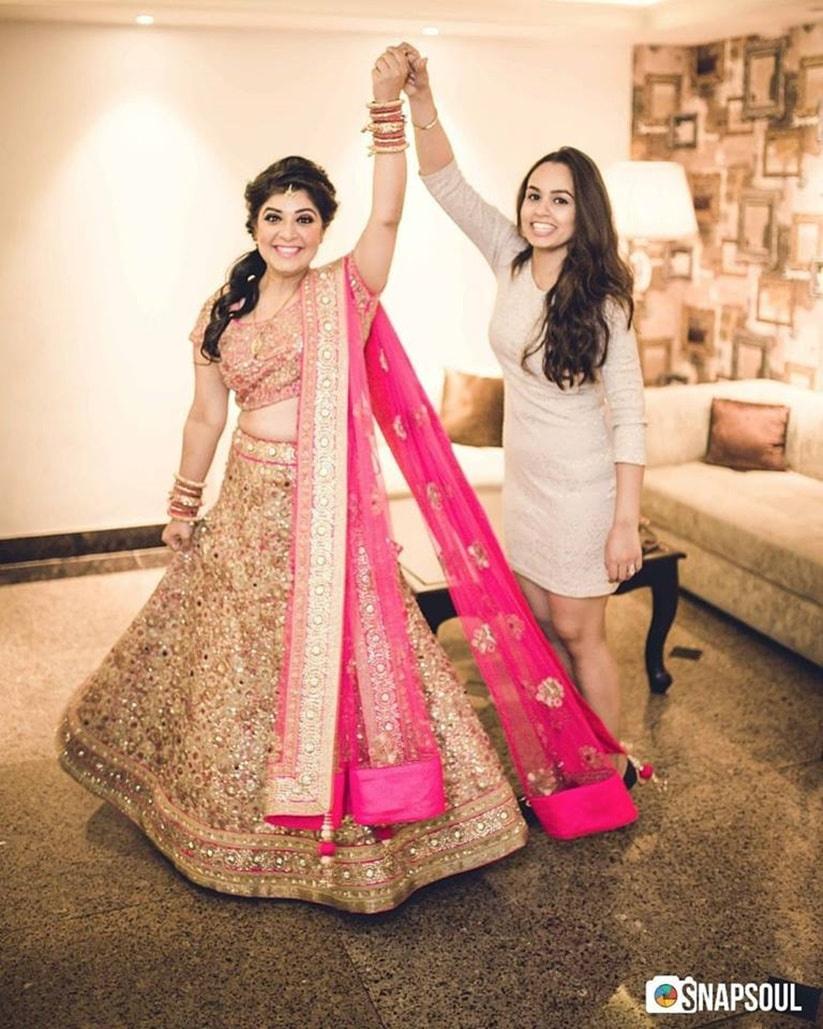 If you want to add a little colour to your outfit but still keep it golden, you can get embellishments done in a bright colour such as pink, red and orange. Sequin work, adding laces or brocade work will give that necessary dash of colour without overpowering the royal look that a golden lehenga has. You can also achieve the same by including a pink, red or orange Dupatta to the ensemble. The contrast should be a deep and yet bright shade of colour because that allows the contrasting feature to pop up very cleanly.
3. Gold and Red Lehenga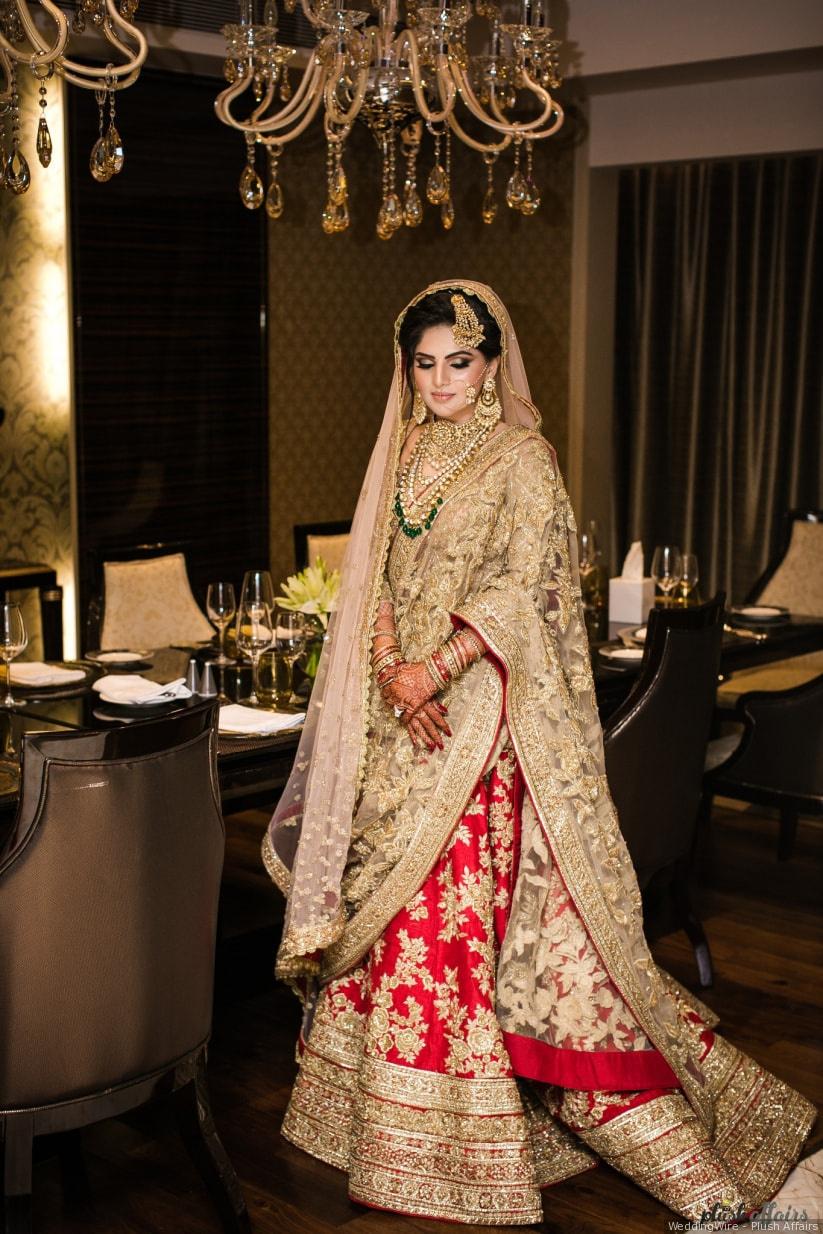 Red is the colour of the bride so why shy away from it. You can opt for a golden blouse and Dupatta in combination with a red lehenga or vice-versa. You will still have a golden bridal lehenga but with complementing colours that make it stand out from the rest of the creations in that hue. Classic red with gold is no longer just meant for the Bengali brides who choose the traditional Banarasi saree, but your lehenga can also be in vogue with the red and gold combination.
4. Rose Gold Bridal Lehenga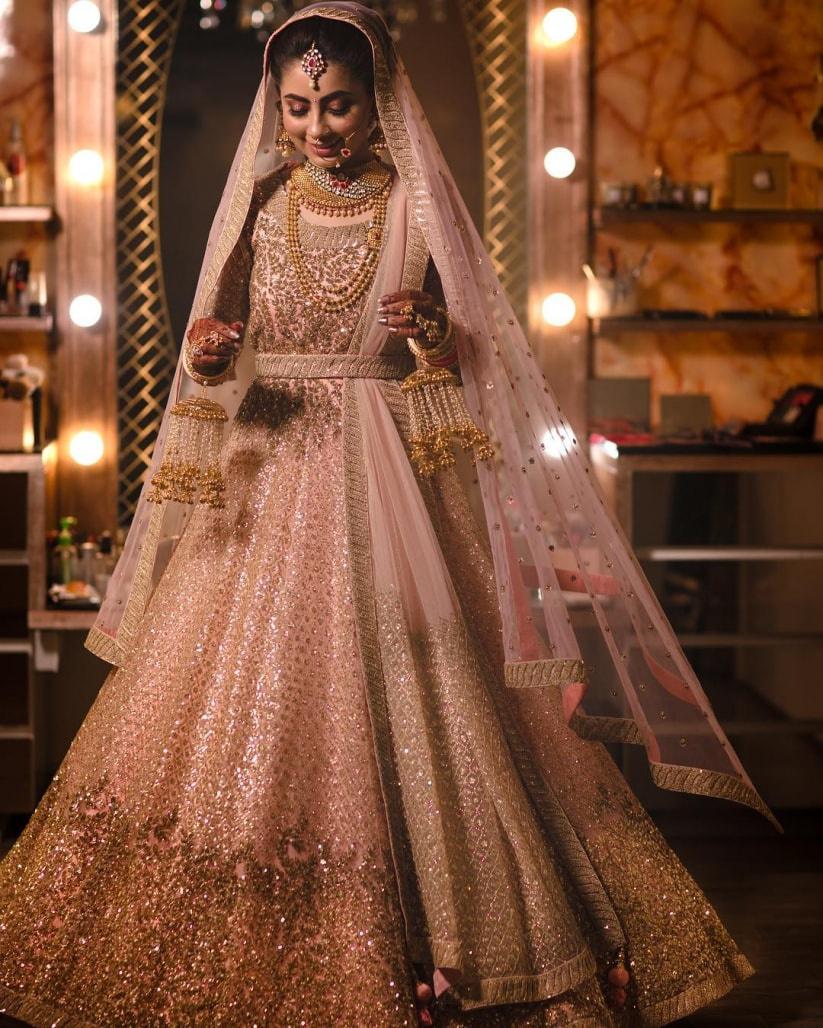 In the world of pastels, rose gold is one rich shade that has been a favourite for more than a couple of years now. Your golden bridal lehenga in this shade will work best in net designs with lots of sequin work. The glittering effect it gives is exactly how you will be bedazzling on the D-day. It is the right shade in your palette of pastels to choose especially if the wedding is planned during the daytime.
5. Accessorising it Right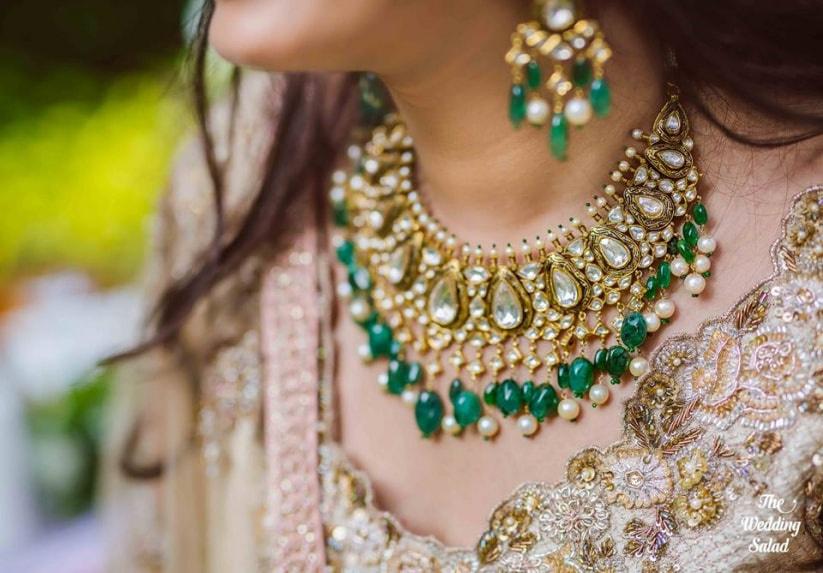 Since it is a golden bridal lehenga, jewellery in gold will complement it but ensure that you don't go overboard with it. Diamond and Kundan jewellery never fail but if you are wearing an all-golden bridal lehenga, add colour with emeralds and sapphires to accentuate the outfit. Choose a shade that suits your skin tone the best and makes you shine on your day.
Golden necklaces will be hidden if you have taken a heavily embroidered golden dupatta over your head and shoulders, and it will also cause chaos with no sync of the attire and the jewellery. Adorn yourself in a little bit of colour in your accessories so that it does not look bland and the green emerald beads or blue sapphire beads come off as a refreshing touch to the eyes of the beholder.
Now that you know all the styles in which you can flaunt a golden bridal lehenga, it comes down to the ideas that appeal to you the most. Trust the opinion of your wedding shopping companion and your gut while surfing through different bridal lehenga stores.
What is your idea of the perfect golden bridal lehenga? Tell us in the comments below.