Serve Looks in These Sabyasachi Lehengas to Unleash the Diva in You
A touch of nostalgia, whim and breezy summers - here are the latest cues from the Sabyasachi Lehenga collection, 'The Endless Summer'. Sit up, take notes and be on trend with the right summer wedding dresses this year.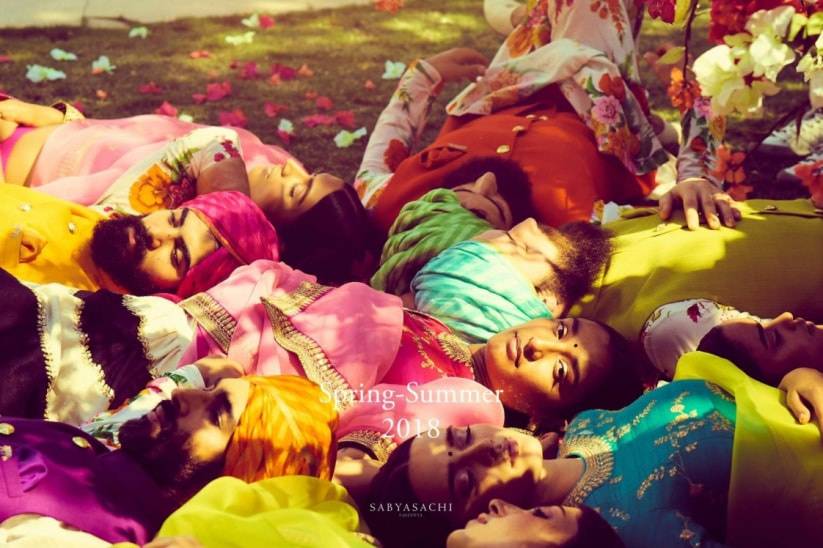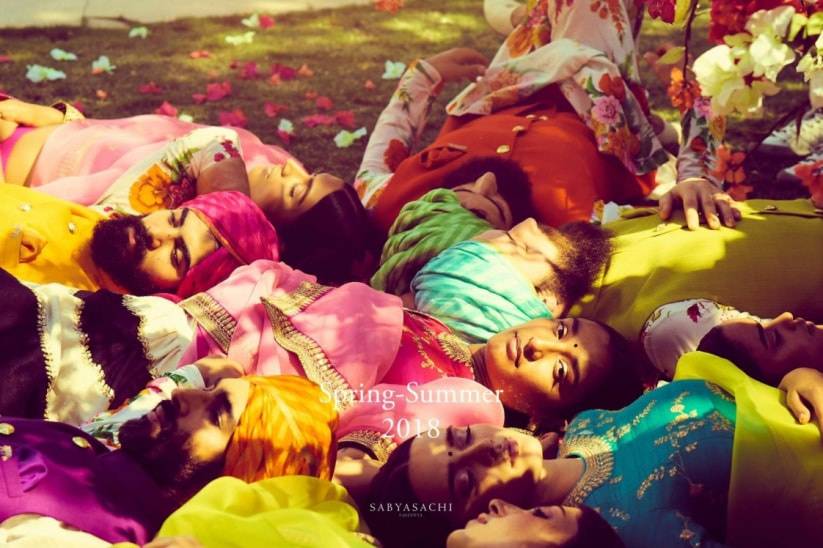 (Image courtesy: Sabyasachi Mukherjee on Facebook)
Keen on fulfilling your dreams of being a Sabyasachi bride? Or just taking notes for your upcoming wedding experience? The master of hand-printed floral, statement heritage jewellery and wistful wedding fashions in India, unveiled his latest spring/summer collection, 'The Endless Summer' and it's right on cue with not just this season. These Lehenga ideas work well for most day experiences, from the Sangeet and Haldi ceremony to the engagement and the big day for which all the preparations are made. Sabyasachi is a name that has not only been taking the B-town by the raging trends, in fact, in the world of fashion, his is the name that begins the trends and the rest seem to fall in line and follow up.
There is no better a name to worship and abide by when it comes to choosing a traditional attire in the country today. Does this increase the craving of being one of those stellar Sabyasachi brides to have walked down the aisle in fantastic handpicked trousseau that will make the crowds freeze in awe of the bridal beauty you are?
Sabyasachi Mukherjee has been the showstopper with a gorgeous collection that he has dropped every season and in this article, we talk about the best from the recent Sabyasachi Lehenga collection and where you could shop for it.
Sabyasachi Lehenga Collection: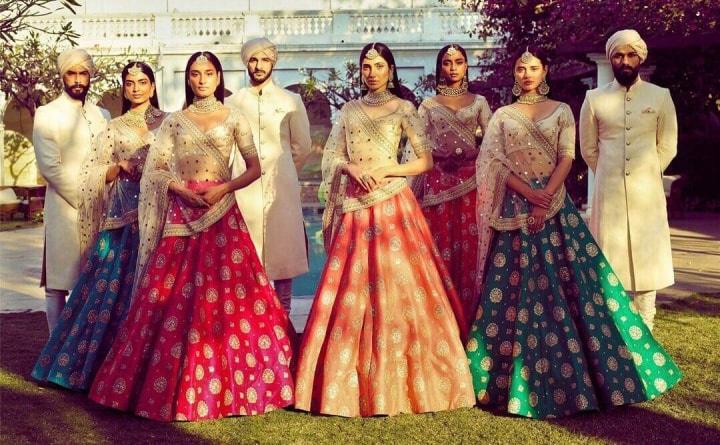 (Image courtesy: Sabyasachi Mukherjee on Facebook)
Firmly established as one of the dozens of bridal fashion in India, the designer from Kolkata is known for giving modern silhouettes to traditional Indian designs. His body of work involves bridal trousseau, costume design for films and couture on commissions. Floral inspirations, dyed and woven fabrics, handprinted designs, intricate embroidery (floral designs in zardosi work, gotta work, marodi work) form one end of this, while statement bespoke jewellery, in heavy gems and strings of pearls form the other.
Here we look into Sabyasachi's latest collection, 'Endless Summer' (Sabyasachi Spring/Summer 2018) and make our notes.
(This is only a deep-dive into the collections' lehengas. Stay tuned for a follow-up with Sabyasachi's sarees.)
The Endless Summer Collection: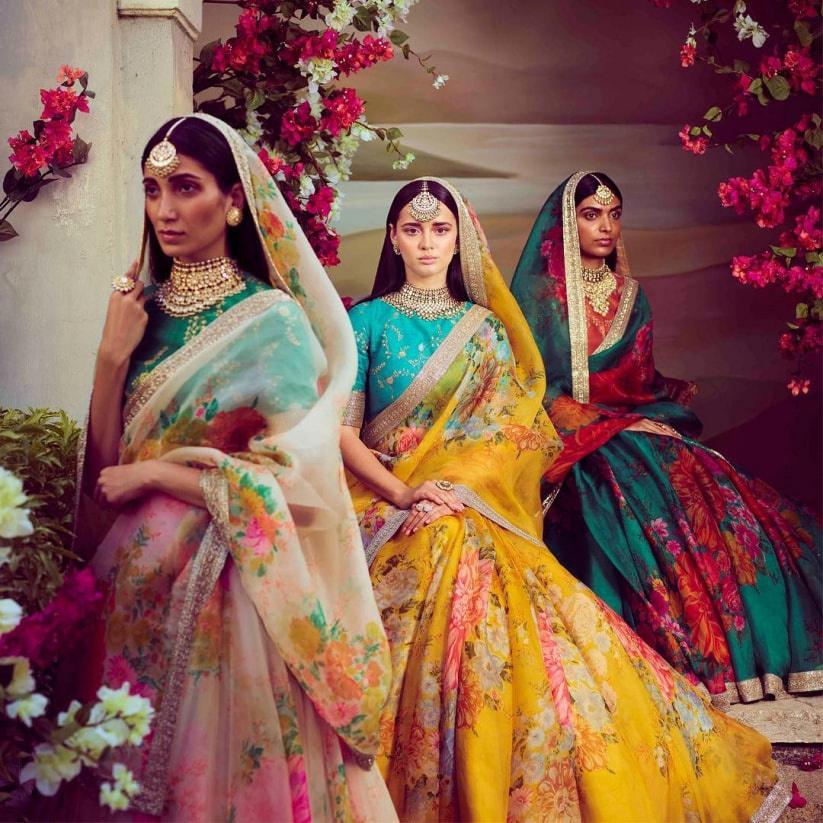 (Image courtesy: Sabyasachi Mukherjee on Facebook)
The Sabyasachi Spring/Summer 2018 collection stands out vis-a-vis the recent 'Le Club De Calcutta' or the heavy red bridal collections that one has seen on a lot of Sabyasachi brides these days. Perfect in tone to a daytime wedding or a Mehendi ceremony, Haldi ceremony, Sangeet ceremony or even a day engagement, this treasure trove of hand-printed designs was compiled by 43 artists from The Sabyasachi Art Foundation.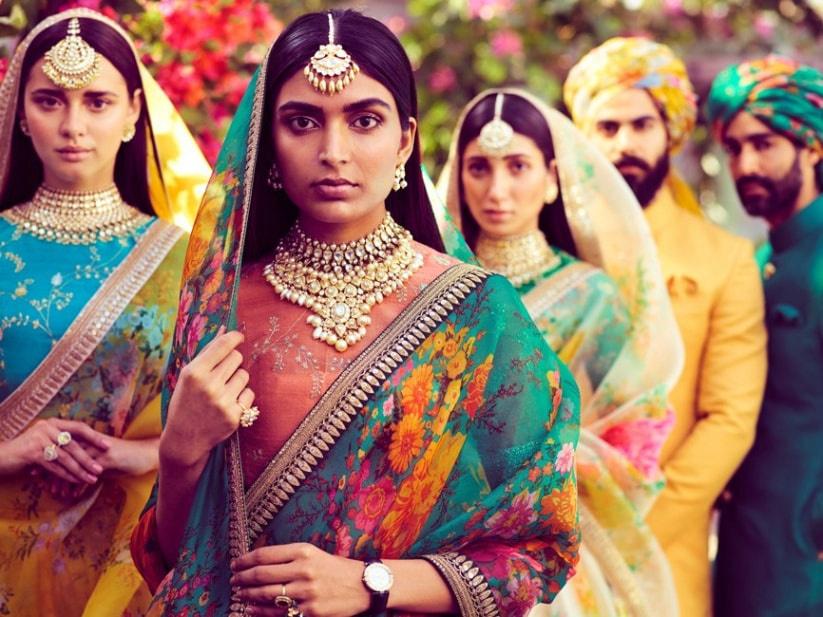 (Image courtesy: Sabyasachi Mukherjee on Facebook)
Inspired by tones of nostalgia and pretty glamour, this vast collection covers a spectrum of bright, pop colours to ivory and gold ensembles. These distinct, cheery pieces are created from Cheent, Organza, Khadi - contrasting between gossamer fabrics to the summer-appropriate Khadi mixes. And the colours - oh my! Peppy tones of cadmium yellow, kingfisher blue, turquoise, coral, lemon and a fluorescent, yet muted lime. There were also ivory and gold ensembles, which are in absolute contrast with his affair with pinks and reds.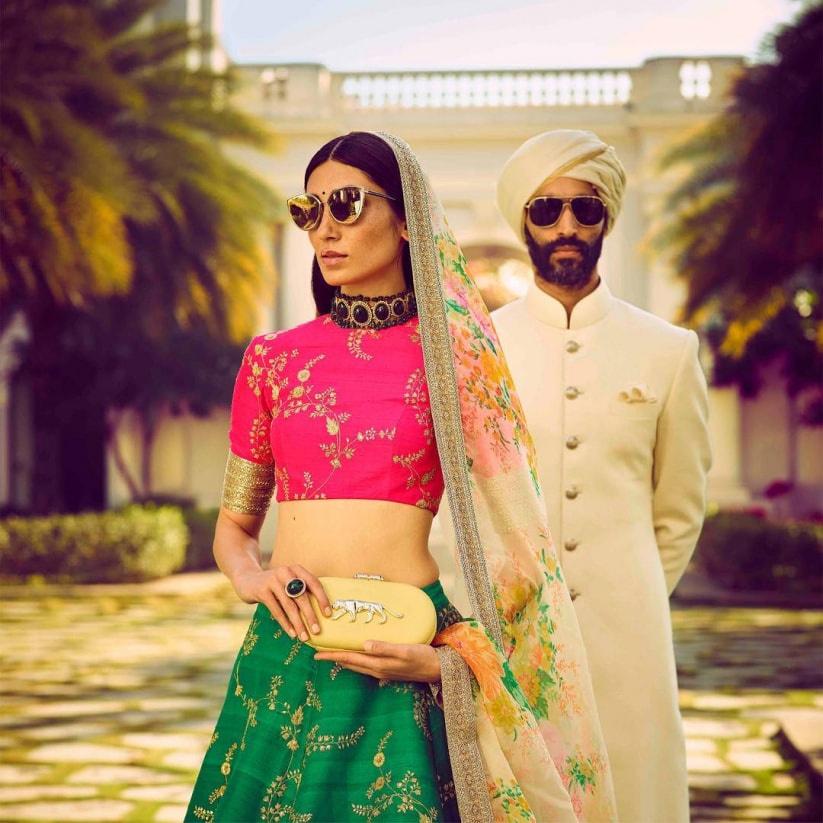 (Image courtesy: Sabyasachi Mukherjee on Facebook)
Sabyasachi is one of the most celebrated designers in the fashion industry today who has made every girl's dream outfit come to life. From the brides of Bollywood to a ton of real brides he has curated a wedding outfit for their pre-wedding, wedding and post-wedding ceremonies. There isn't a woman who hasn't dreamt about her wedding day and what she would wear on the most special day of her life. The questions that forever looms in their psyche is what kind of a bridal lehenga to adorn? Whether to opt for a floral ensemble or perhaps a pastel shade. This particular of Sabyasachi does exactly that. The colours are bright with vivid textiles which are like a summer dream come to life. From contrasting lehengas to a monotone outfit, you can find everything in this ace bridal wear collection.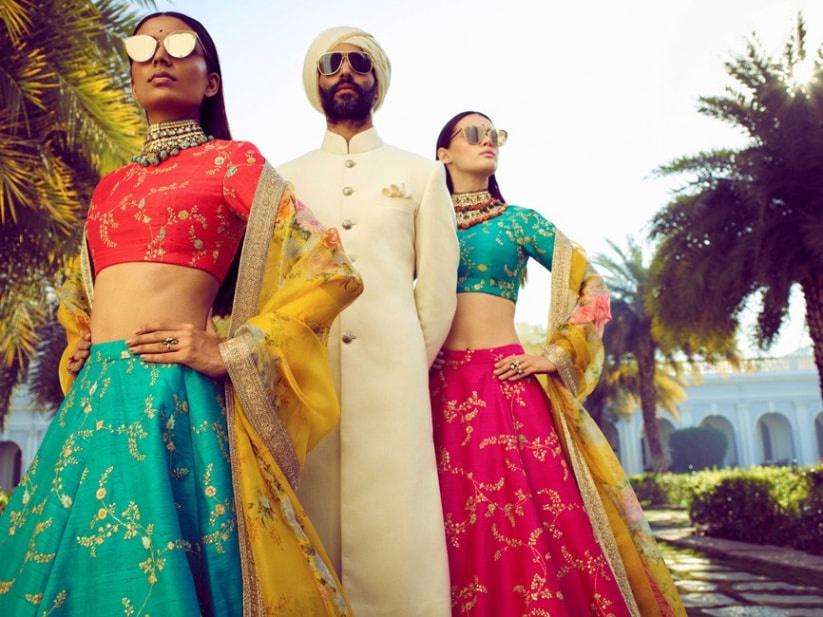 (Image courtesy: Sabyasachi Mukherjee on Facebook)
What's more? In a bid to illuminate the connection to destination weddings, the designer released this collection on Instagram (and his other social handles), alongside eight fashion films for the collection, set at the picturesque Taj Falaknuma Palace in Hyderabad.
Scroll to see the rest of the Sabyasachi lehenga collection: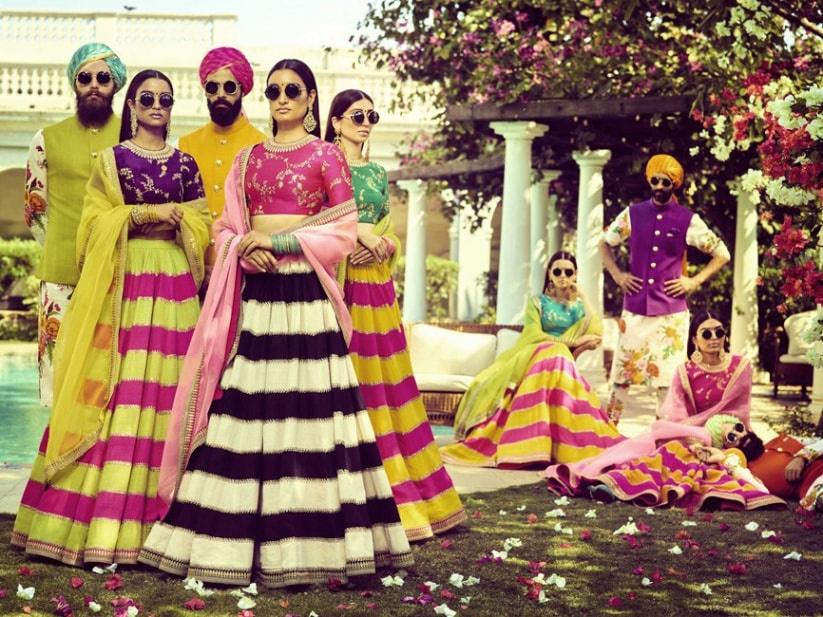 (Image courtesy: Sabyasachi Mukherjee on Facebook)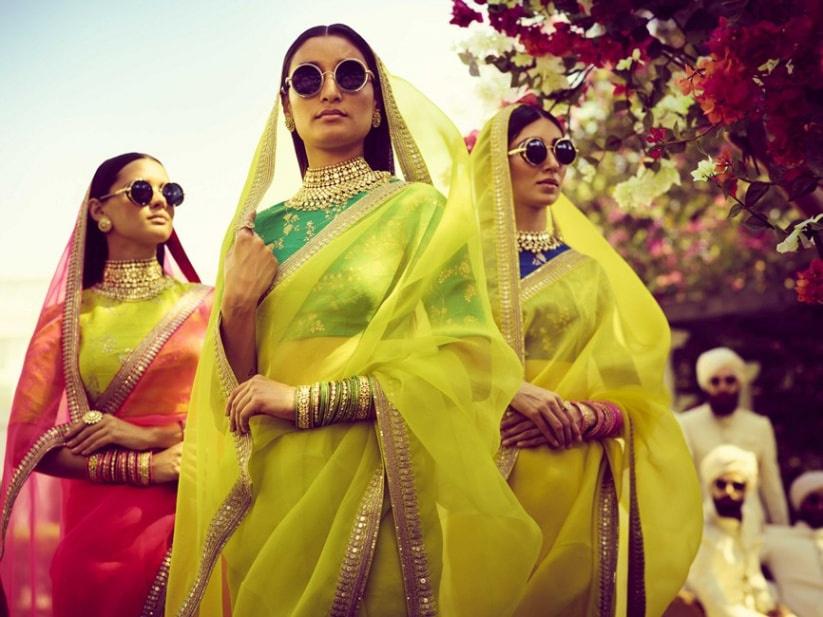 (Image courtesy: Sabyasachi Mukherjee on Facebook)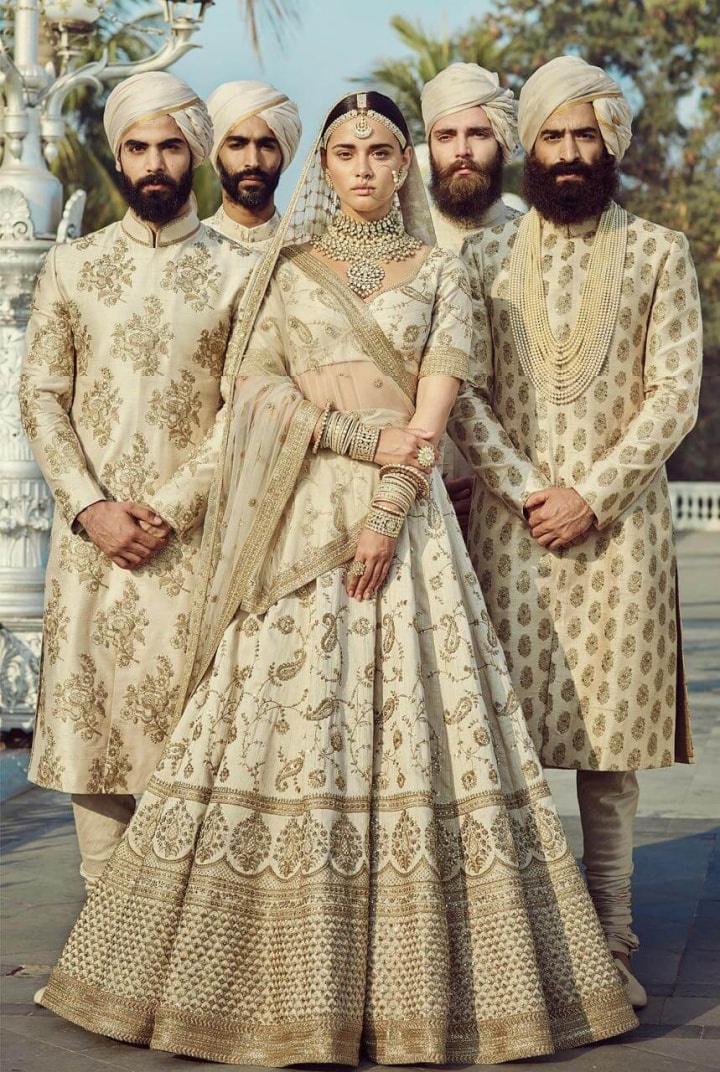 (Image courtesy: Sabyasachi Mukherjee on Facebook)
Sabyasachi Lehenga notes:
Fabrics: Organza (slim hyper-volume and tapered), Khadi silk, Cheent, Muslins, Starched Cotton
Bridal Lehenga Colours: Pop Tones, Colour blocking with separate, bright tones for the lehenga and blouse
Price Range: Rs 2.25 lakh to Rs 8 Lakh (custom orders are priced separately)
Bridal Blouses: Vintage, high-collared, conservative cuts in pop tones, with floral embroidery
Bridal makeup: Nude and natural, with shimmery highlights to the eyes
Bridal accessories: Heavy, heritage look jewellery from the Sabyasachi
From Ramp to Real Life:
Here are the celebrities we've spotted wearing trends from the Sabyasachi collection recently: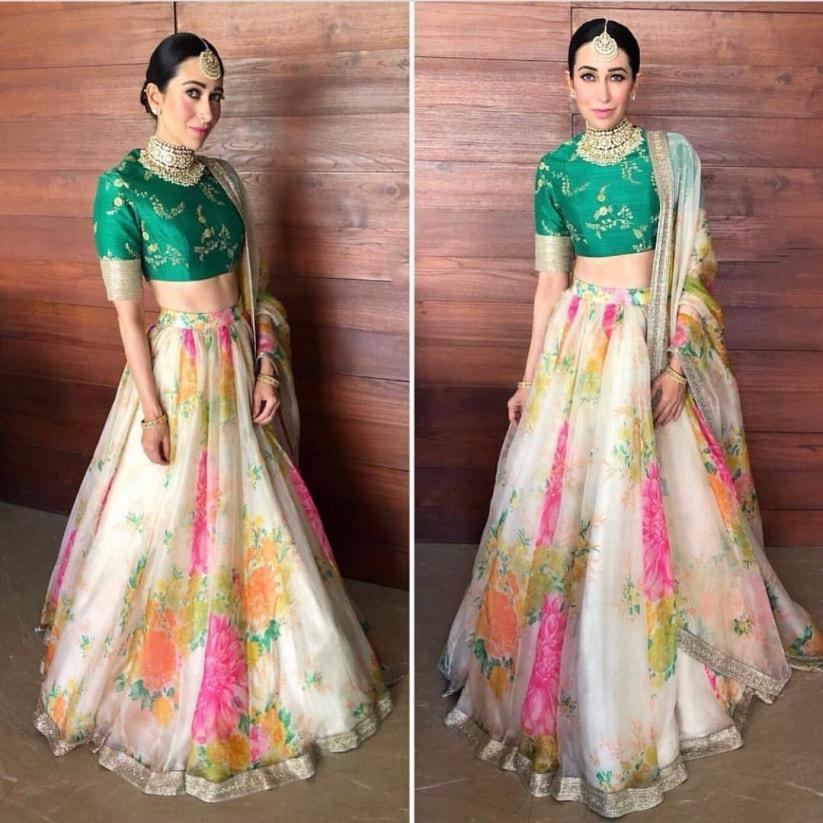 (Image courtesy: Sabyasachi Mukherjee on Facebook)
Karishma Kapoor sported an Organza lehenga from the collection at the Sonam Kapoor wedding. (Image courtesy: Facebook)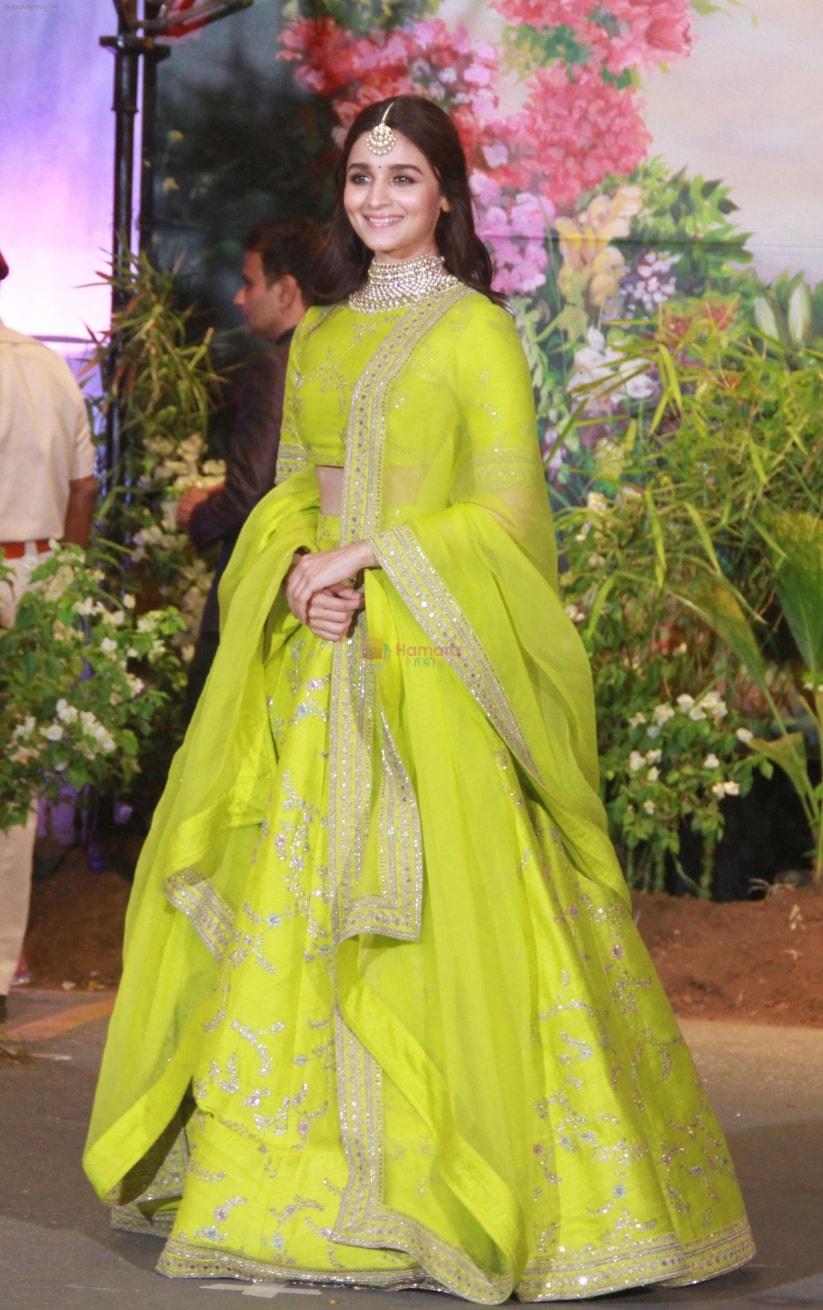 (Image courtesy: Sabyasachi Mukherjee on Facebook)
Alia Bhatt was also seen in a neon Sabyasachi lehenga with minimal embroidery, that goes with the overall aesthetics of the Sabyasachi collection. She had chosen the look for Sonam Kapoor's wedding reception. (Image courtesy: Hamara Photos)
Keen on a reprisal for the 'Endless Summer' Collection? Here is the fashion film that Sabyasachi launched the collection with:
And the distinct one for the ivory segment, more in line with royal wedding dreams:
All videos are from Sabyasachi Mukherjee's official social channels (Facebook and Instagram).
These are some of those stunning designs that this particular bridal wear collection has. This label is home to some genius creations and designs which are a blend of royal and modern at the same time.
Believe we've inspired you towards what you want from your own bridal lehenga? We recommend connecting with the WeddingWire Bridal Lehenga vendors in India.