Editor's Pick: 5 Brides Who Can Inspire New Indian Barbie Bride Doll Designs
Check out 5 ethereal Indian Bridal looks that can inspire Mattel to create new Indian Barbie bride dolls.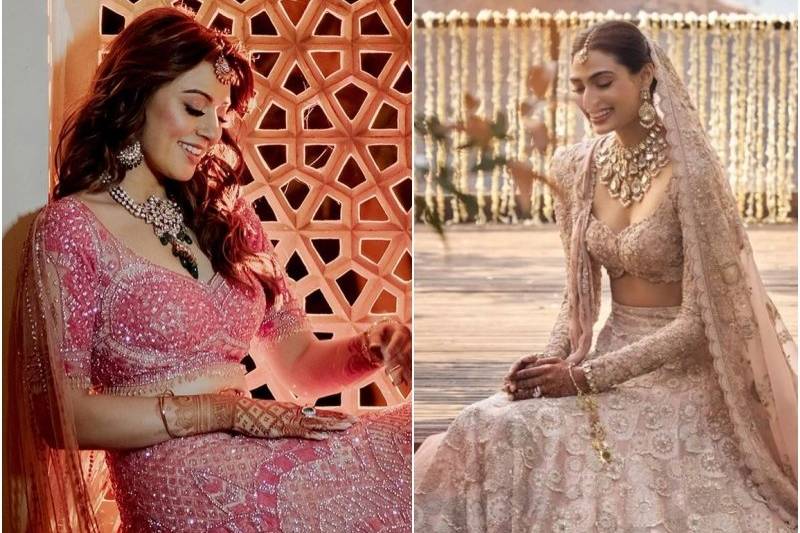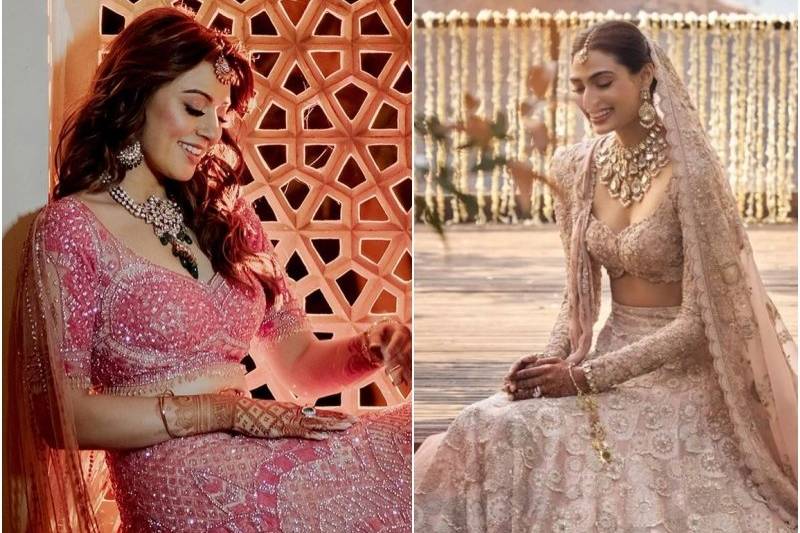 Image Credits: (L) Cupcake Productions, (R) Stories by Joseph Radhik
Hi Barbie,
Your time didn't come post the release of the Barbie movie. Honestly, it is always your time. You choose how you want to shine in the world and they will follow your lead because it's your world.
I am writing for those of you who have admired Barbie growing up and held her close to your heart as you climbed towards adolescence one step at a time. I started off as one of you. Mattel's efforts in 1997 as they launched the Expressions of India Collection with Barbie dressed as Roopvati Rajasthani, Mystical Manipuri, and Sohni Punjab Di dolls were much appreciated. Soon enough, I found myself hoarding DVDs of Barbie films admiring Barbie as the Swan Princess or the Princess and the Pauper, and many more.
Truth be told, my obsession faded as quick as a cat. It took me no time to realize all of us dreamers are Barbies of the real world. 'It's Barbie's world' regardless of our body shape, skin color, and height. I am putting together this blog today to send so much love and admiration to Indian brides who have created their own distinctive bridal style. To the Indian brides who are divas who dare to be different and have their personal voice and style - your energy is as hot-a-topic at weddings as 'Kenergy' is right now and you can bring the beauty and allure of Barbie to life in any color you pick for your wedding day attire.
Here are my top 5 favorite Indian brides who have inspired bridal looks in Barbie's favourite pink lehenga with their own distinctive style. Mattel could take a hint or two. *wink
Barbiecore Bridal Style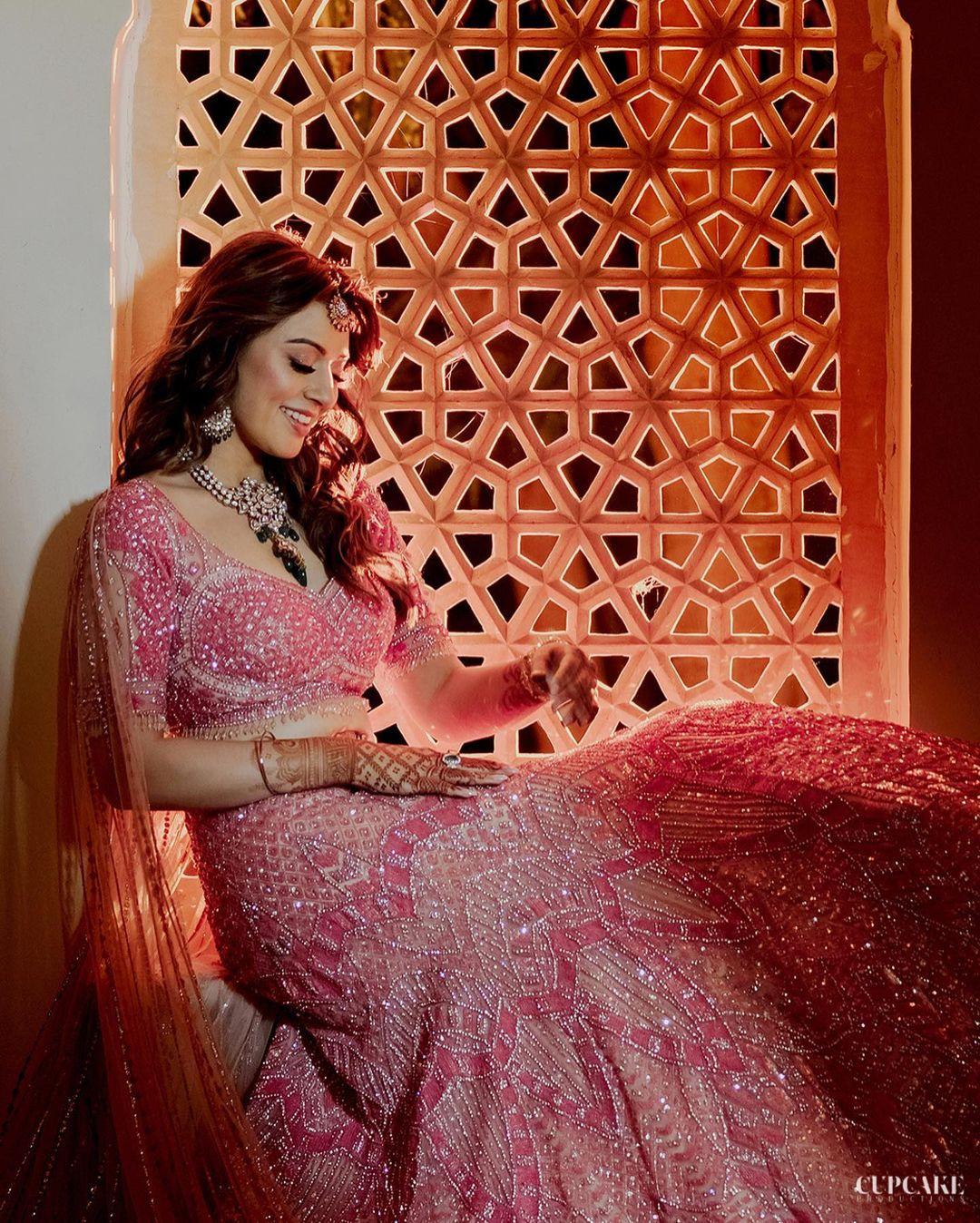 Bridal Lehenga: Falguni Shane Peacock, Photography: Cupcake Productions, HMU: Reshma Merchant
The color of the season is Barbiecore Bubble gum pink and I can't get enough of the lehenga Hansika Motwani chose for her sangeet night. Hopping right out of the bandwagon train, she chose to wear a unique shade of pink for her cocktail night instead of her wedding day. Firstly, kudos for being a trendsetter!
The Axelle Bridal lehenga set by Falguni Shane Peacock stands apart in a bubblegum shade that has my heart, with stunning sequin detailing, feathered bow and hemline, a tulle dupatta, and stunning tassel work.
Style tip for Barbie Brides: Be the fairy princess bride you have always wanted to be! Take the unconventional route and choose colors that complement your style and personality. Add feathers to elevate the drama in your look and don't shy away from appealing colors.
Find Top Bridal Lehenga Designers In Your City
An Old-World Charm for Barbie Bridal Style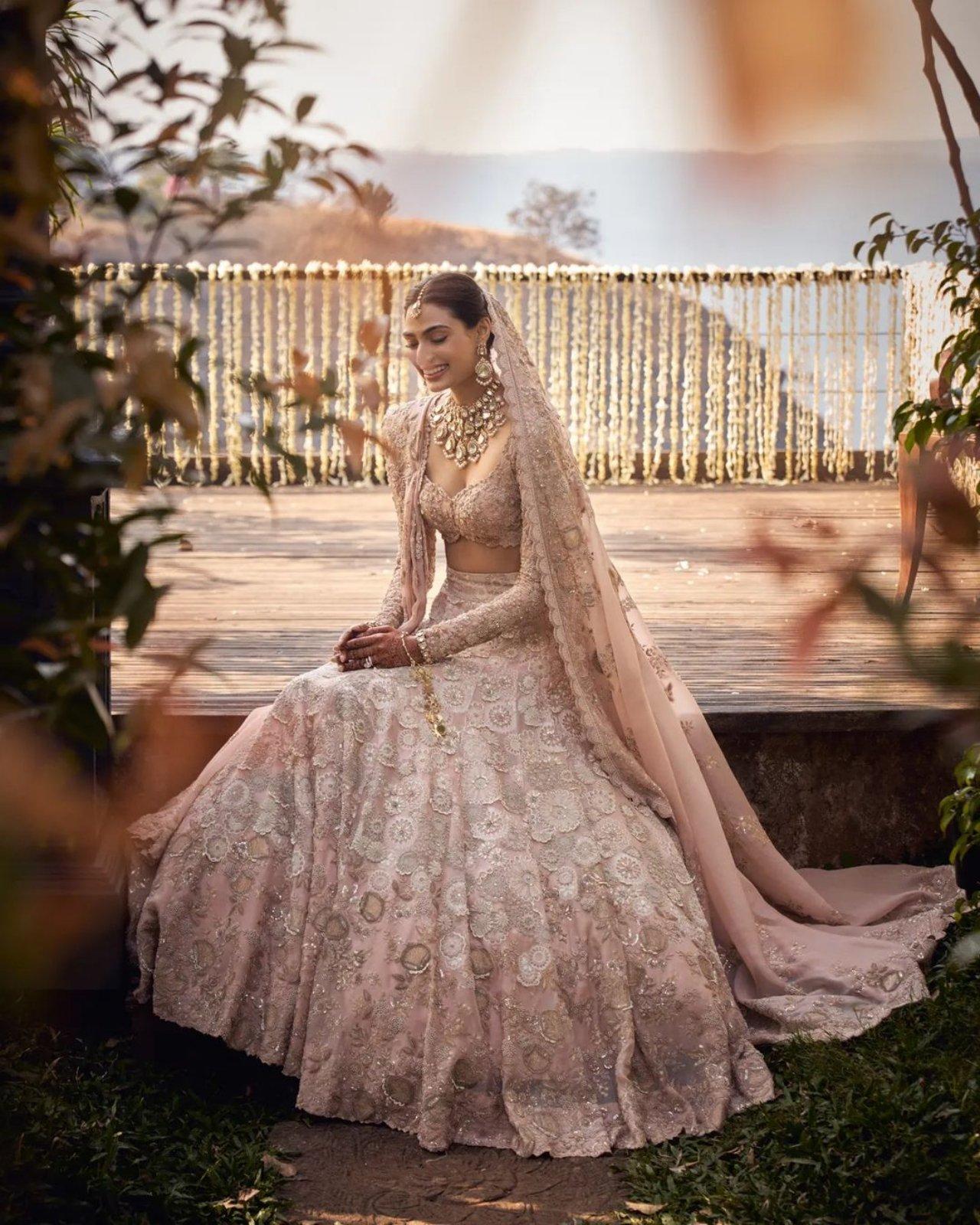 Bridal Lehenga: Anamika Khanna, Photography: Stories by Joseph Radhik
The effervescent Athiya Shetty set a beautiful example for brides of today who steer clear from OTT bridal looks. She wore an Anamika Khanna lehenga - an extremely fine piece of Chikankari with subtle notes of jaali ka kaam and zardozi. Awashed in old rose color, her bridal lehenga exemplifies the old-world charm and also complements her ethereal personality. Ditching can-can, she opted for a fuss-free lehenga that doesn't scream for attention but gets it quite alright!
Style tip for Barbie Brides: Barbie dolls often inspire a sense of nostalgia amongst brides who have grown up playing with their doll houses. Reminiscing the happiness that Barbie once brought into your life, and balancing who you are today is equally important. Embrace the changed version of you as you adorn it and do it as gracefully as Athiya Shetty.
Best Bridal Jewellery Stores in Your City
Vintage Rose Barbie Lover Bridal Look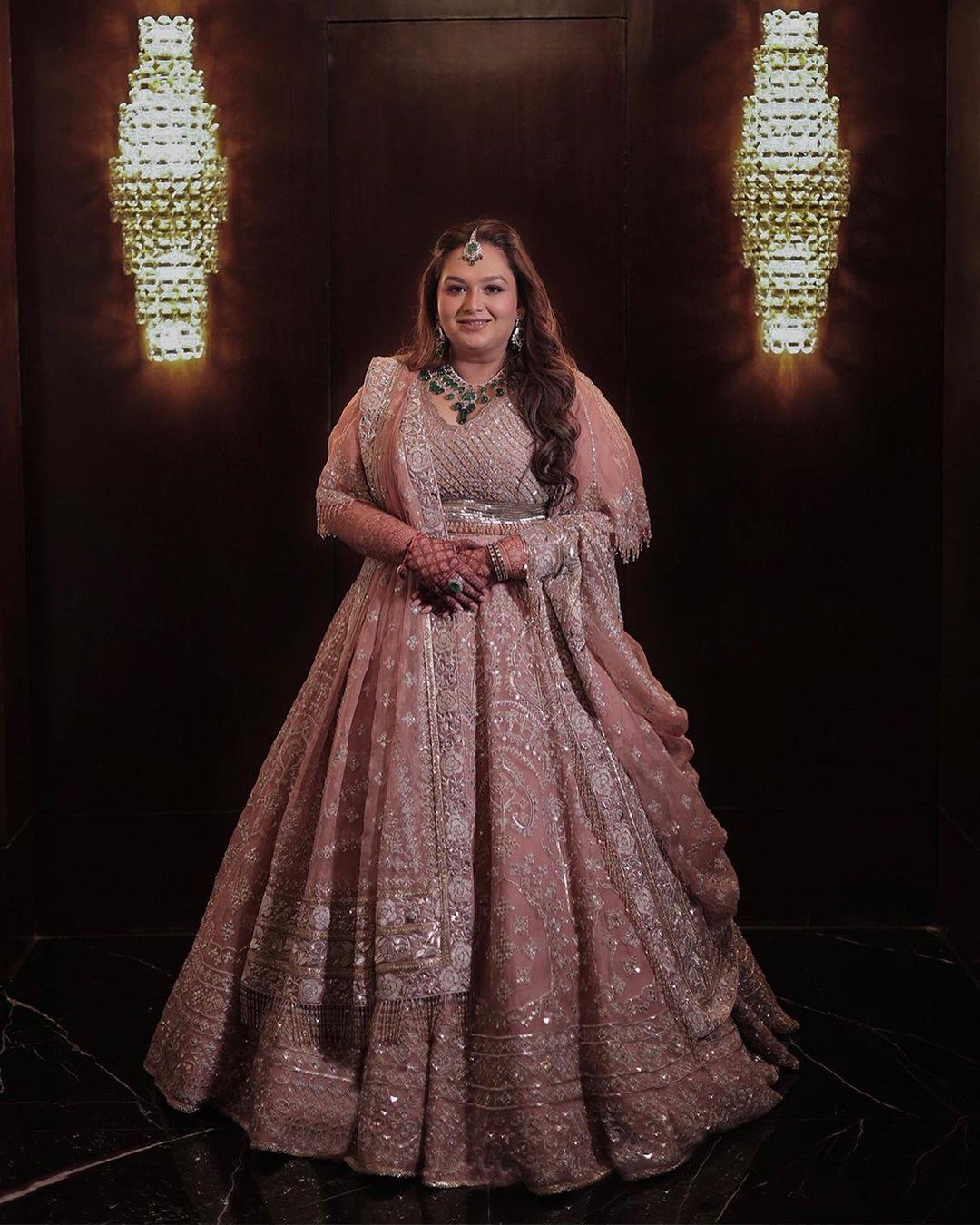 Bridal Lehenga: Manish Malhotra
Do you know why women love the color pink? There is a shade of pink for every personality. Arushi Rawal, Founder of the eponymous resort-wear label, is a Manish Malhotra Barbie bride in one of the most sublime shades of pink.
She chose this organza ensemble in a vintage pink rose shade that brings a classic swing to her bridal avatar. This beautiful bridal lehenga has the most stunning geometrical detailing with bugle beads and metallic threadwork. She reminds me of Princess Barbie from the movie Barbie as a Princess and Pauper as she carries the most popular color of the year with refined elegance.
Style tip for Barbie Brides: Opt for a pink lehenga or wedding gown for one of your pre-wedding events. Pink is not just the color for your wedding day - you can experiment all you want, it's your wedding after all. The metallic hints in this lehenga make it perfect for an engagement soiree. Let the bling do the talk-ing!
Delicate Pearl-fect Barbie Bridal Style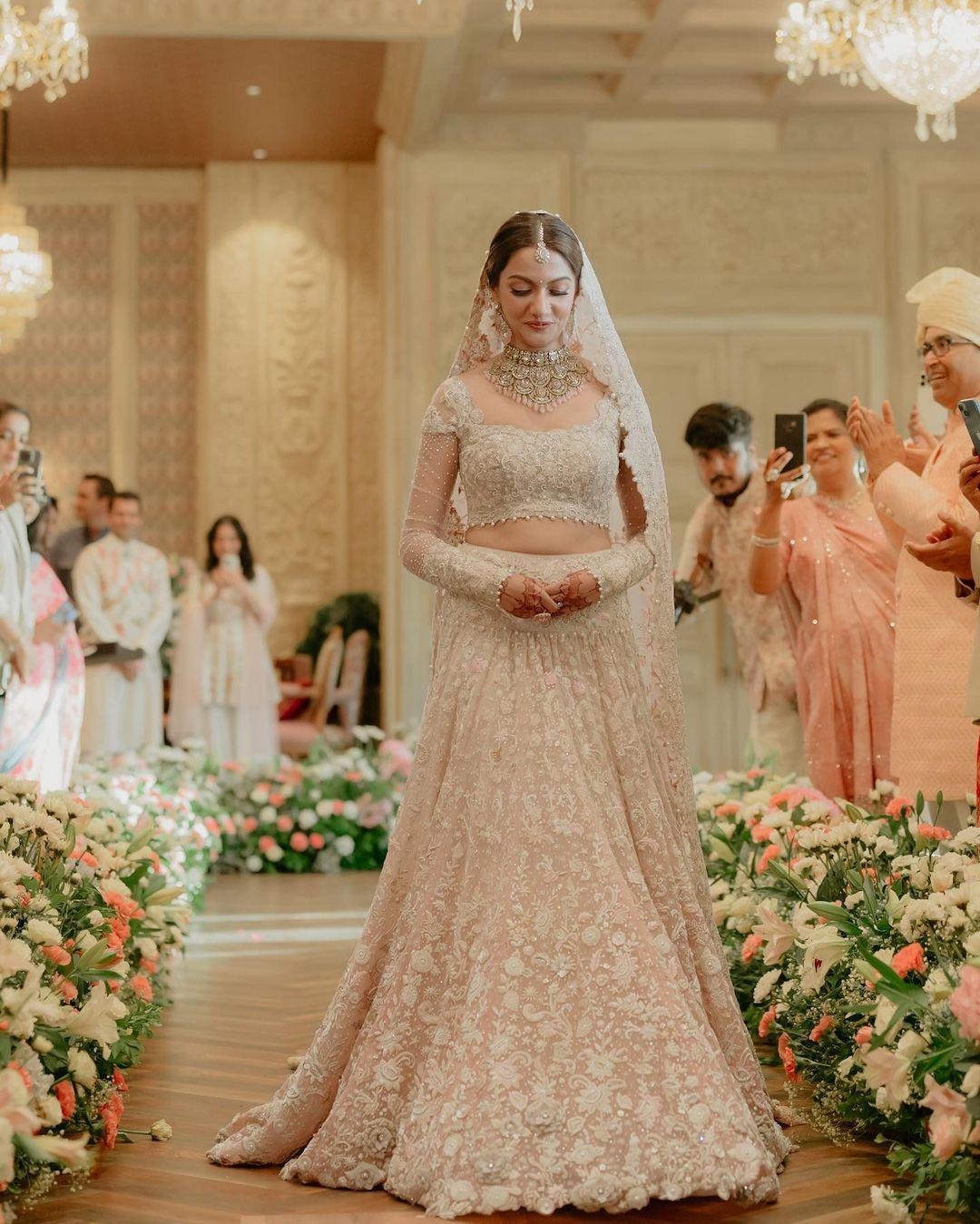 Bridal Lehenga: Tarun Tahiliani, Photography: Epic Stories
This Indian Barbie bride is the founder of Basics Woman, a health and beauty brand that offers ayurvedic solutions for mental health. Her definition of bridal style is delicate and intricate. The ombre lehenga, the pearls, and the sheer net called out to her and she said a definite 'yes'.
"Entering Tarun Tahiliani's store was a breath of fresh air. I had traveled to Delhi, and been to exhibitions but this was something else. I felt like a kid in a candy store trying on outfit after outfit until my eyes fell upon this beauty — The ombré, the pearls, the sheer net, the cutwork veil— at this point the mannequin was literally asking to be taken home," says Suchita Mukherjee who is currently busy going viral on social media for her one of a kind look.
Style tip for Barbie Brides: Opt for the lightest blush of pink you can find and let the flowy silhouette do the talking. Look as light as a feather, as you walk down the aisle towards your liberated Ken.
Best Wedding Photographers For Your Fairytale Wedding
Traditional Indian Barbie Bridal Style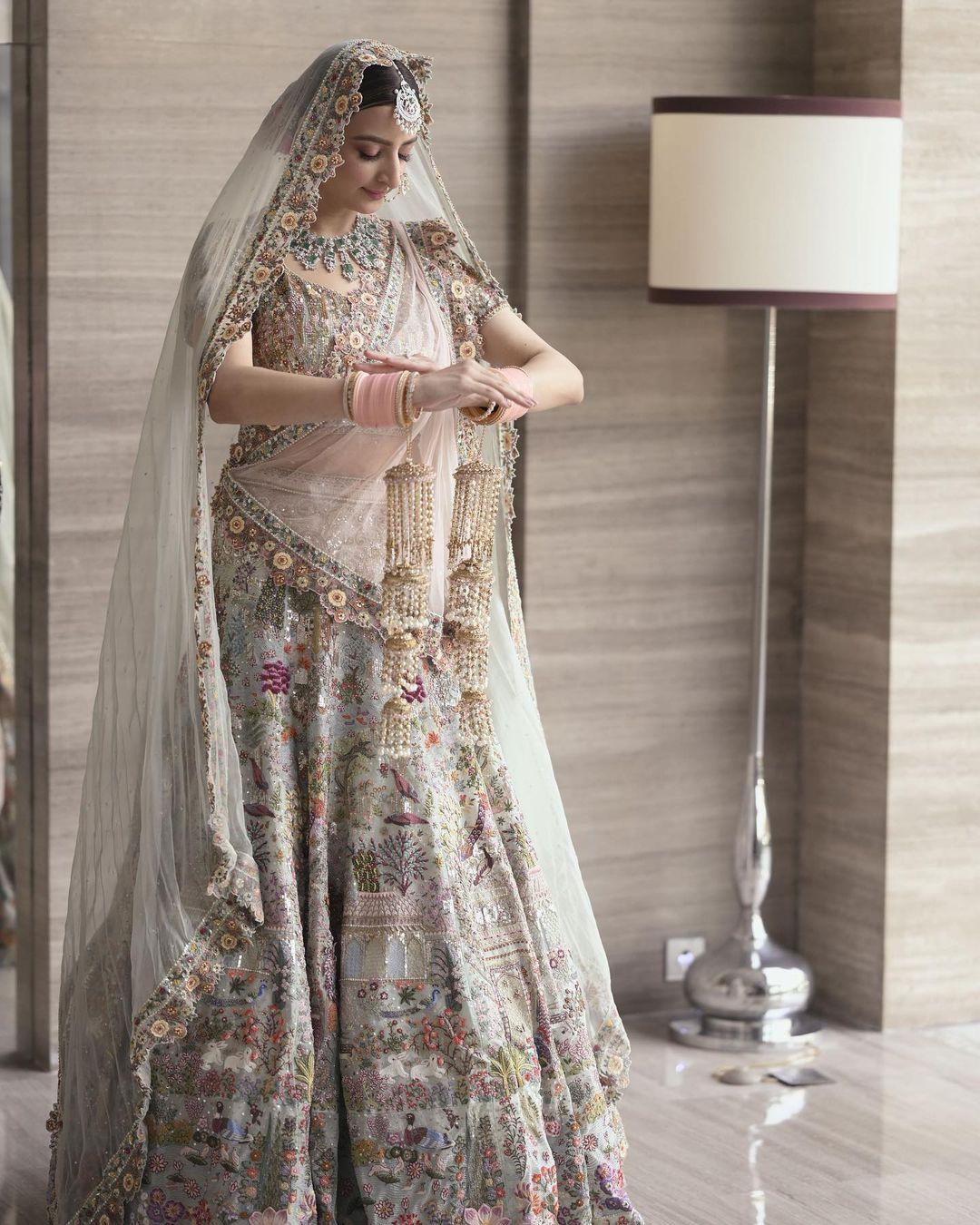 Bridal Lehenga: Rahul Mishra, HMU: Pooja Khurana
Rahul Mishra bride, Misha Sandhu Bahia is one of my favorite Barbie-style bridal picks because of what she stands for! Opting for a sustainable wedding couture designer should be one of the major goals for all brides in the years to come.
Her bridal lehenga flaunts the Navbhumi artwork presenting a 'new land' where diverse vegetation takes over humanmade architecture. Drawing inspiration from Mughal miniature paintings, her lehenga is rendered in over 115 hues of resham threads and weaved with over 3700 human hours of time.
Style tip for Barbie Brides: You can go OTT for your wedding look even if you opt for a lighter shade of the palette. Choose embroidery dreamier than the Barbie world - and do the best you can to be an eco-conscious bride.
Find Best Bridal Makeup Artists in India
Go ahead and tell us which of these bridalwear styles resonate with you. You can also drop a 'hi' at editorial@weddingwire.in if you would like to share your wedding look photos and outfit story with us for a feature.