Interesting Ombre Lehenga Designs for Brides Who Defy Being Ordinary
Amidst a range of monotone bridal outfits, the ombré lehenga designs are a much-needed breath of fresh air for brides in 2020.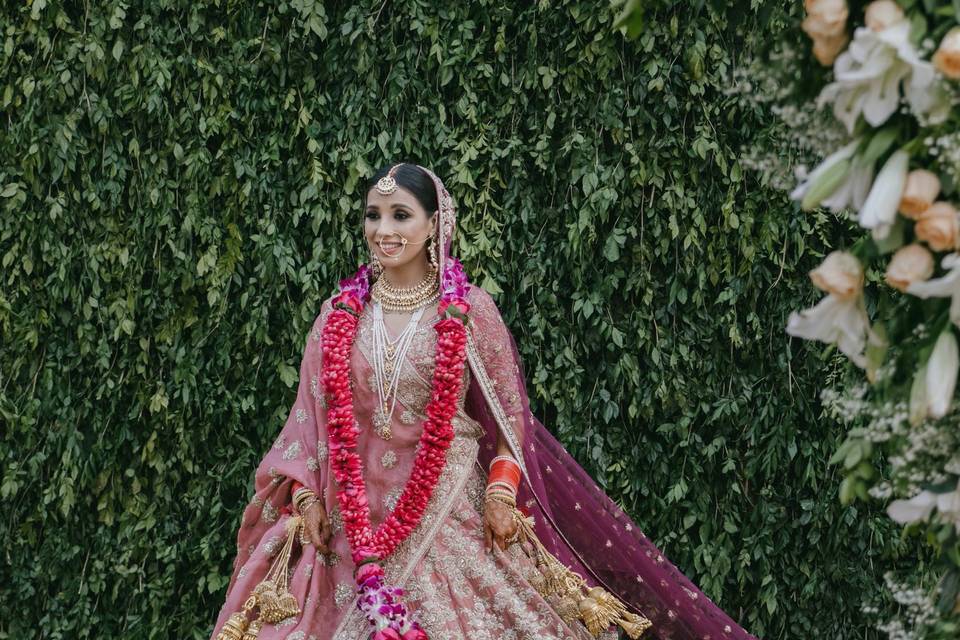 Picking a bridal outfit is one of the most difficult things a bride has to do, and over that, there are a million styles and trends they need to keep up with in order to make a perfect choice. However, not every new age bride is looking to follow the latest trends and rather believes in choosing the classics that work any time and every time. One such classic choice is that of an ombré lehenga that beautifully graduates in shade making for an even prettier version of the currently trending monotone lehengas.
So, for the brides who love the idea and do not how to get theirs designed, here are a few ombré lehenga options worn by real brides that are sure to be a great inspiration for them.
Classic Combination of Pink & Red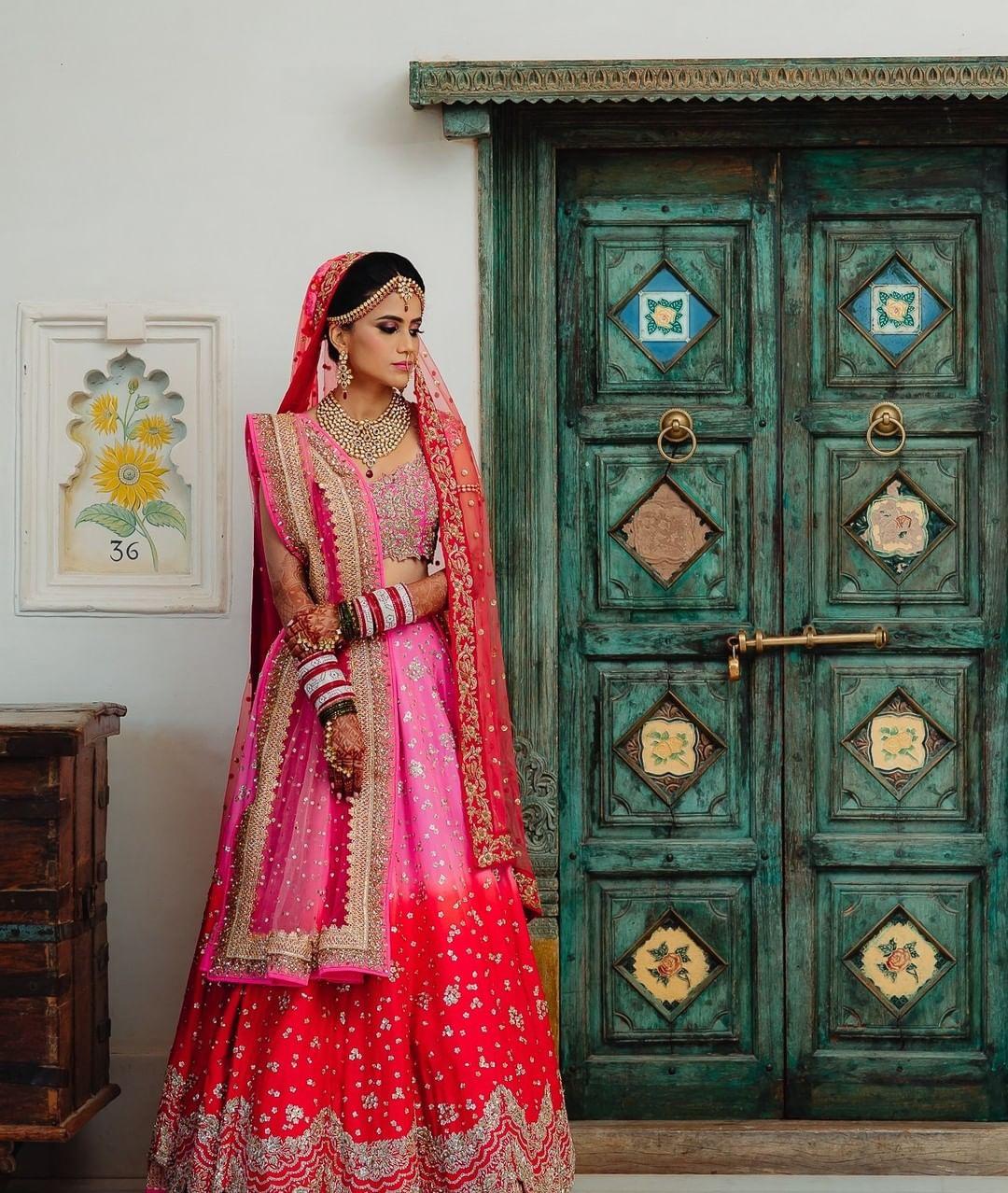 On top of our list is one of the classic ombré lehenga choices that brides go for. While there is nothing that can beat a classic red lehenga, the soft ombré shading of Fuschia pink just makes this ensemble look even more versatile and breath-taking. We guess it's safe to say that pink and red is an evergreen combination when it comes to ethnic ensembles.
The Shaded Mirror Work Lehenga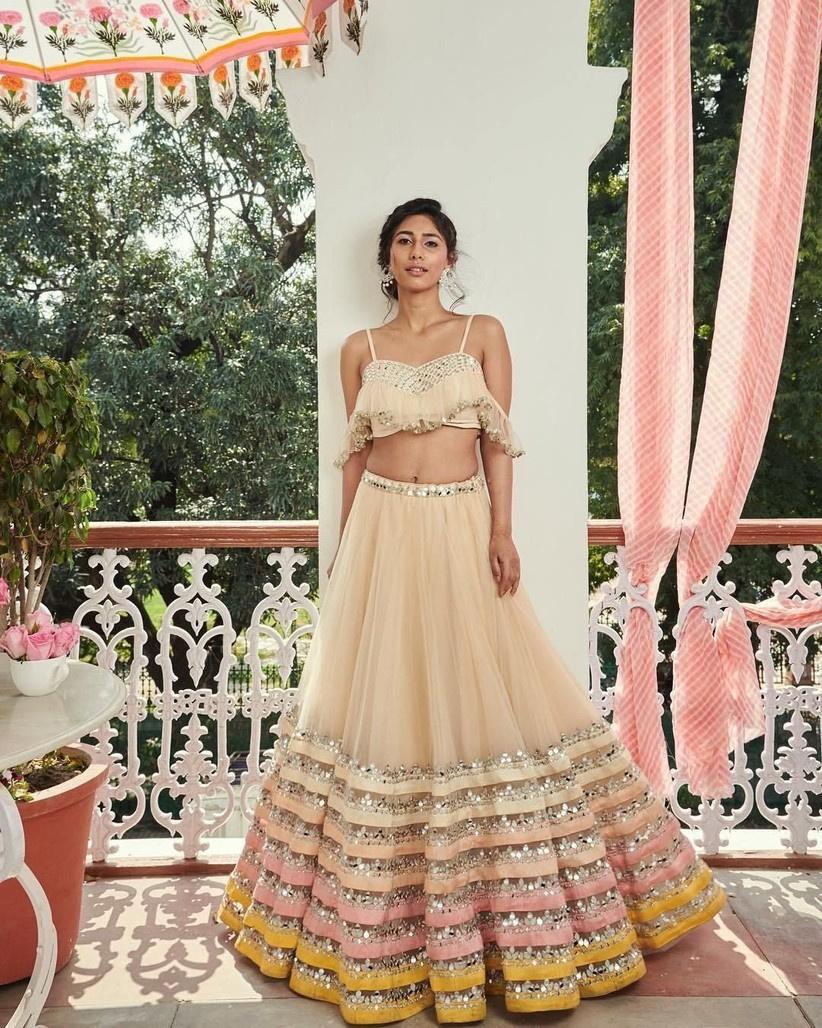 Image Courtesy: Abhinav Mishra
Now for brides looking for a combination of crop top and skirt for their day functions like Mehndi or Haldi, this net lehenga with a cold shoulder blouse looks extremely easy breezy while having the charm of a bride-like outfit. The mirror work around the design makes for an elegant touch while our favourite part undoubtedly is the shading at the bottom that makes for a perfect millennial ombré lehenga.
A Sultry Ombré Lehenga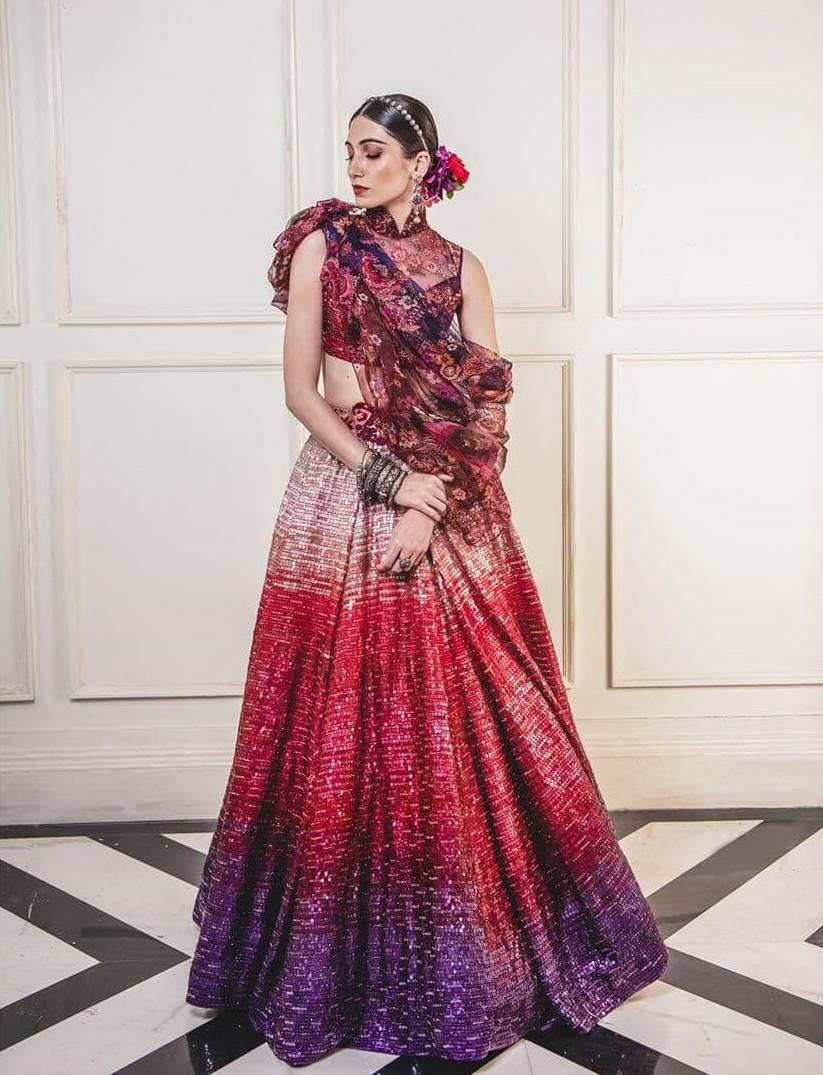 The next on our list is a bold choice most likely to be made by the brides that love to follow trends and don't have a minimalistic sense of fashion. From its rich colours to the sheathed ombré pattern, there is nothing subtle about this lehenga. However, the mandarin collared blouse does give this beauty a more relaxed and fun touch for the new age brides.
Heavily Embellished Rust to Red Lehenga

Another beautiful ombré lehenga on our list is this heavily embellished rust to red lehenga that looks charming as ever! With the embroidery placed in an ascending to a descending pattern, this ensemble creates a stunning visual appeal worth gushing over. This embellished lehenga paired with an intricately embroidered blouse and two delicate net dupatta is exactly what a summer bride needs.
The Sequinned Beauty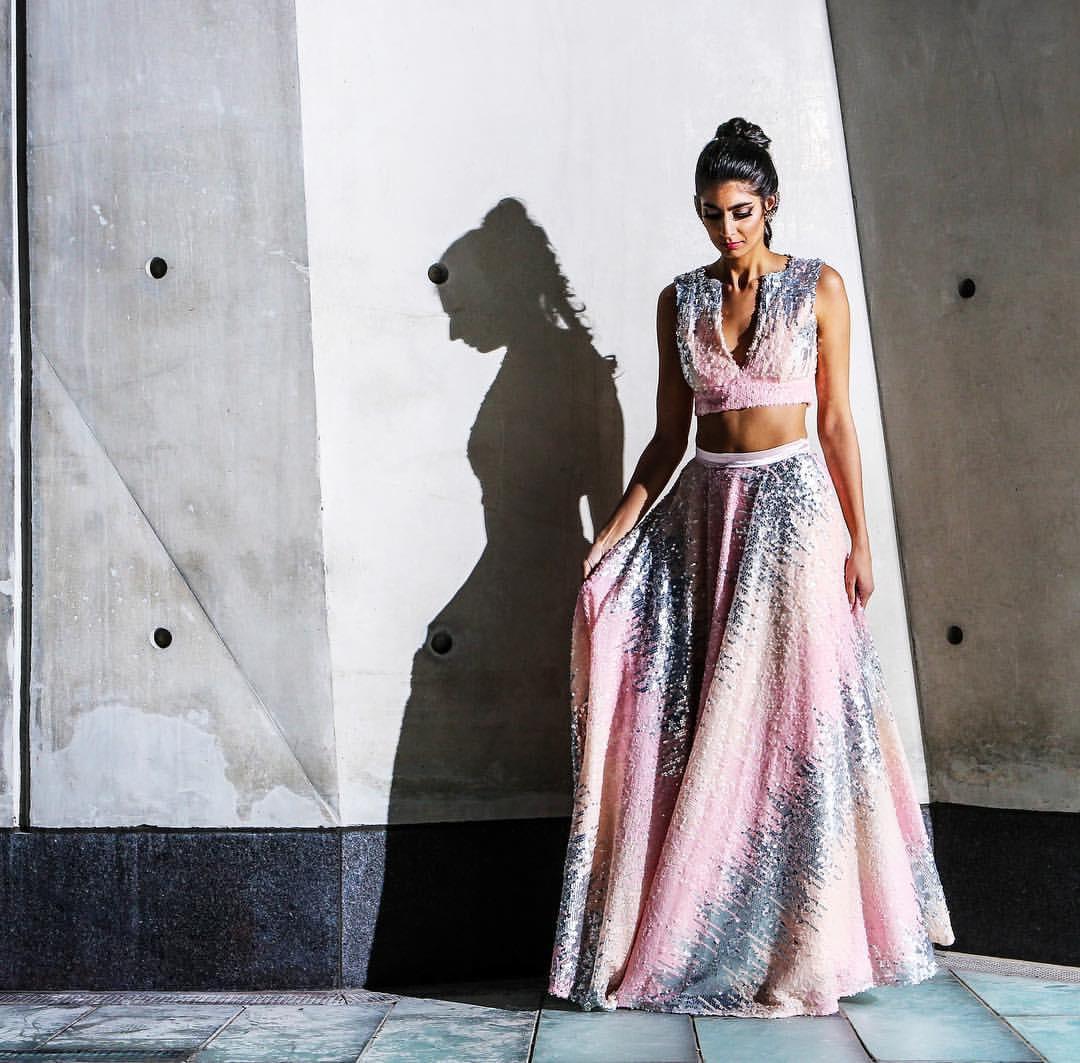 Image Courtesy: Harleen Kaur
Apart from being the most millennial choice amongst the list of ombré lehenga designs, this one has to be our favourite too. With very little detailing to focus on, this fully sheathed pink and grey ombré skirt blouse combination is definitely one of a kind and one that every new age bride would opt to wear for any one of their wedding functions.
From Lilac to Lavender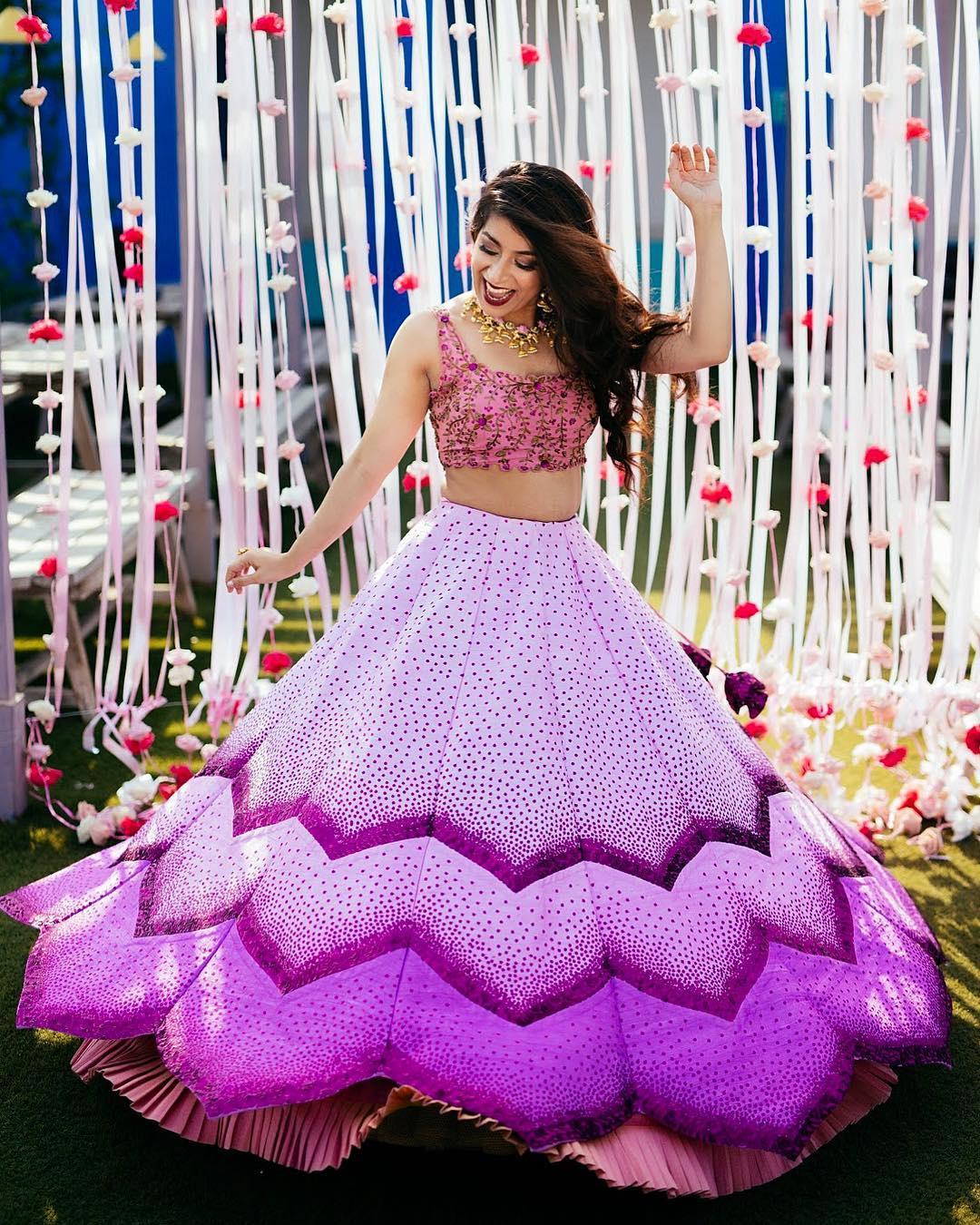 While lavender coloured outfits are a current rage amongst the new age brides, they are often seen getting confused about the perfect shade of lavender that works for them. Well, here's an ombré lehenga that uses the hue beautifully from lilac to lavender. A stunning cutwork blouse gives this outfit an unmissable charm. Exactly what brides are looking for!
Stunning Amalgamation of Ivory & Peach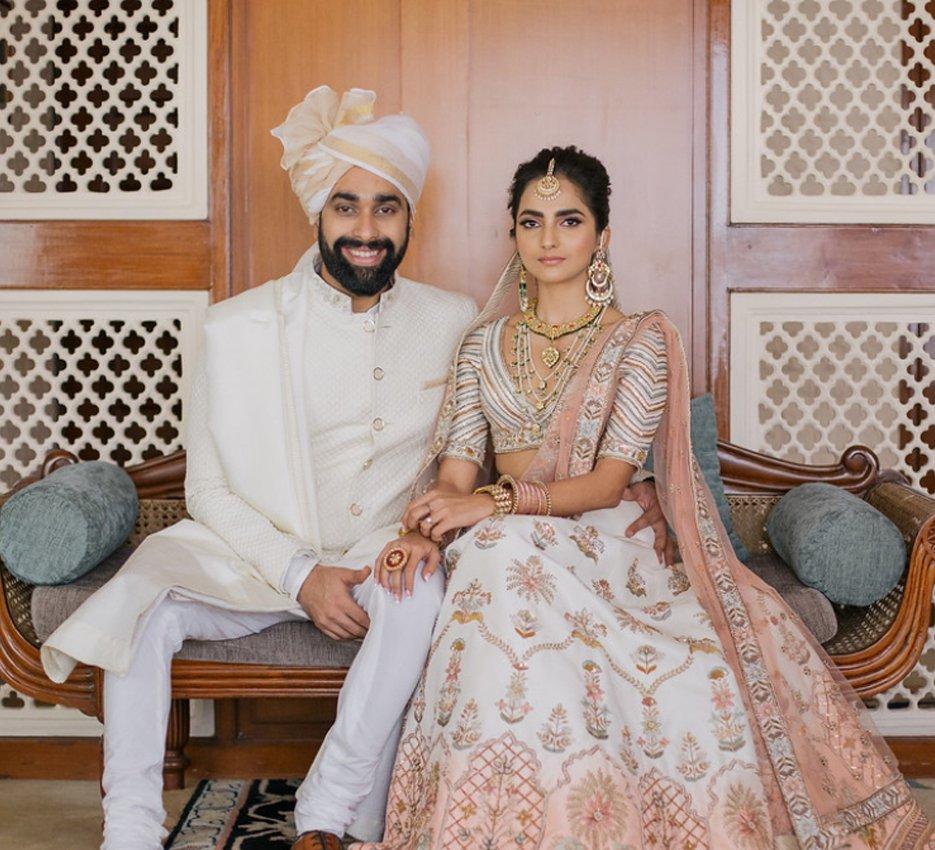 Image Courtesy: Rhea Pillai Rastogi
Next on our list is this beautiful fully embroidered ombré lehenga that is sure to catch everyone's attention. From its beautiful thread embroidery to the vivid combination of ivory and peach, this lehenga is pure bliss to look at. Brides who love unique designs must give this beautiful ombré lehenga a try for their big day.
Fluorescent with a hint of Sun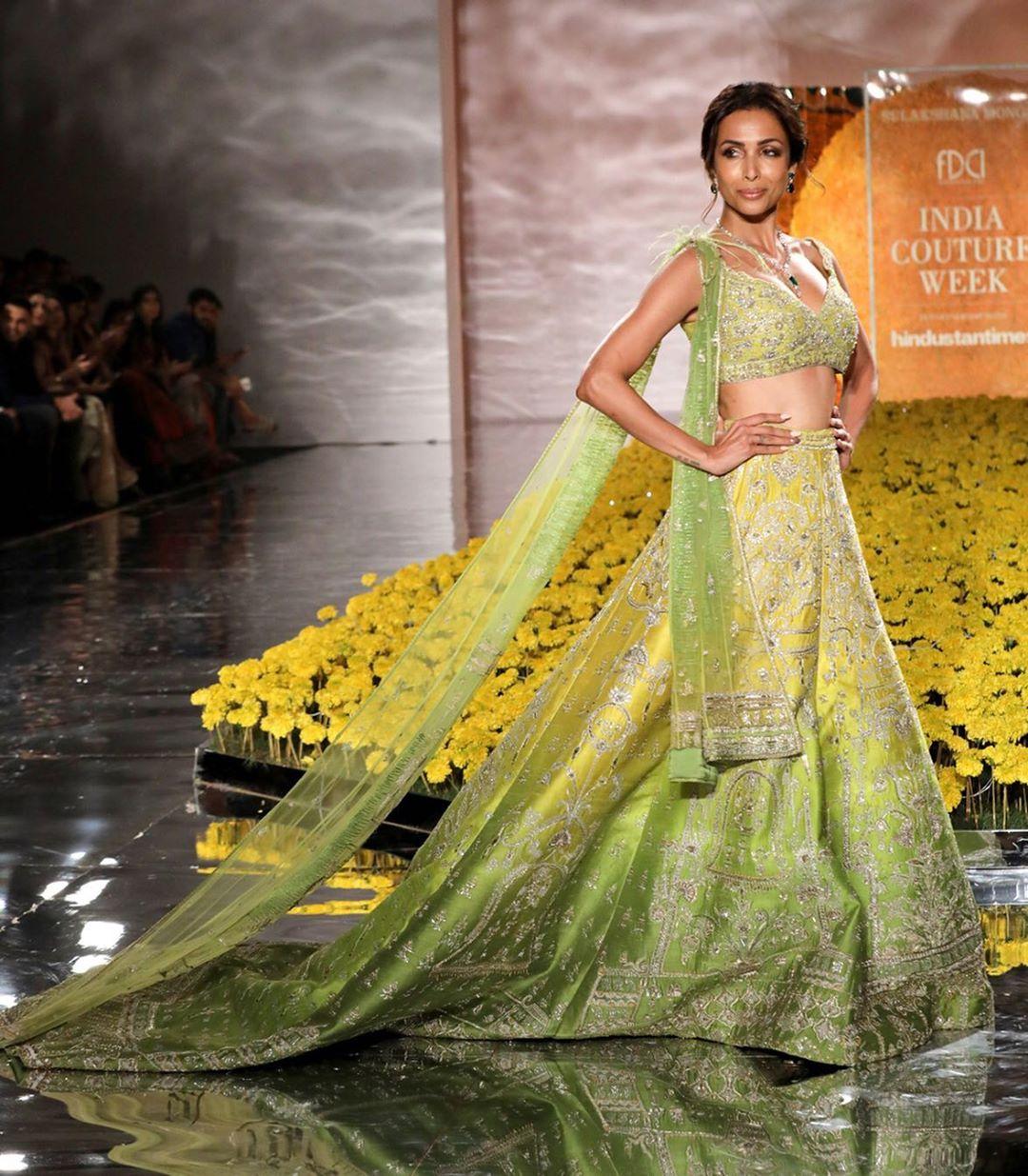 Last but not the least, this fluorescent green and yellow ombre lehenga by Sulakshana Monga which is inspired by the sunsets of Varanasi, is a dream come true for the new age brides. Laden with intricate zardozi embroidery, this lehenga talks the tale of the holy city like nothing else.
What do you think of these ombré lehenga designs on our list? Have you found inspiration for your own? If not, then pick attributes from each of these that you like and ask your designer to create something unique and one of a kind for you. From the colour palette to the work, the lehenga cut to the blouse design, and even the dupatta, everything a bride picks for her big day must be exclusively her taste and her style.
Tell us in comments, which ombré lehenga is the perfect inspiration for your big day.