Red Alert: 16 Real Brides Prove Why a Red Wedding Lehenga Is Absolute Bridal Outfit Goals
Wish you had a pool of red wedding lehenga images to choose from to flaunt at your wedding? Look no more and start bookmarking these red wedding lehenga images for some quick inspiration and an awe-inspiring feast for your eyes.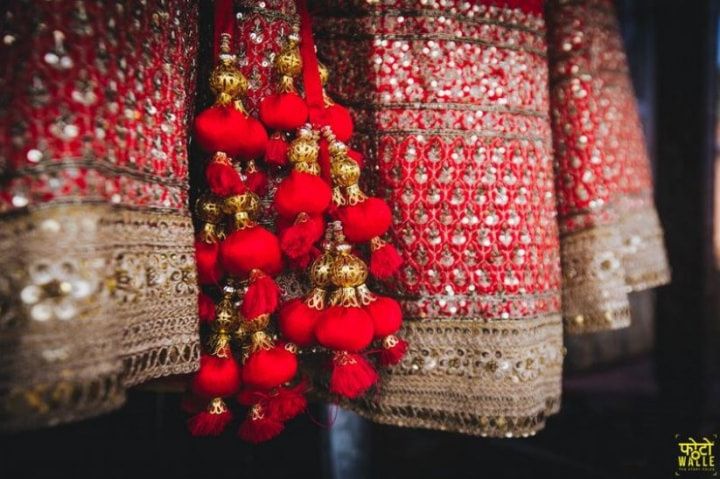 The red hot siren! While we are all game for experimentation when it comes down to wedding lehengas, but for some reason, we cannot let go of the blazing colour, RED! We are in awe of this colour and seem to always come down to stalking red wedding lehenga images to feast our eyes and soul. This season we have rounded up 16 red wedding lehenga photos that scream G.O.R.G.E.O.U.S. and will definitely make you look G.L.A.M.O.U.R.O.U.S at your wedding. To all the brides who are tying the knot anytime soon, this one is for you. Deep down into, this treasure trove of red wedding lehenga images and find inspiration in bulk!
16 Red Wedding Lehenga That are Blazing Red and Scream G.L.A.M.O.U.R.O.U.S and G.O.R.G.E.O.U.S.
Put your stalking skills to use and gawk at each of these red wedding lehenga photos till you find the one for yourself.
1. Eyes on the Prize - When Your Red Wedding Lehenga Steals the Show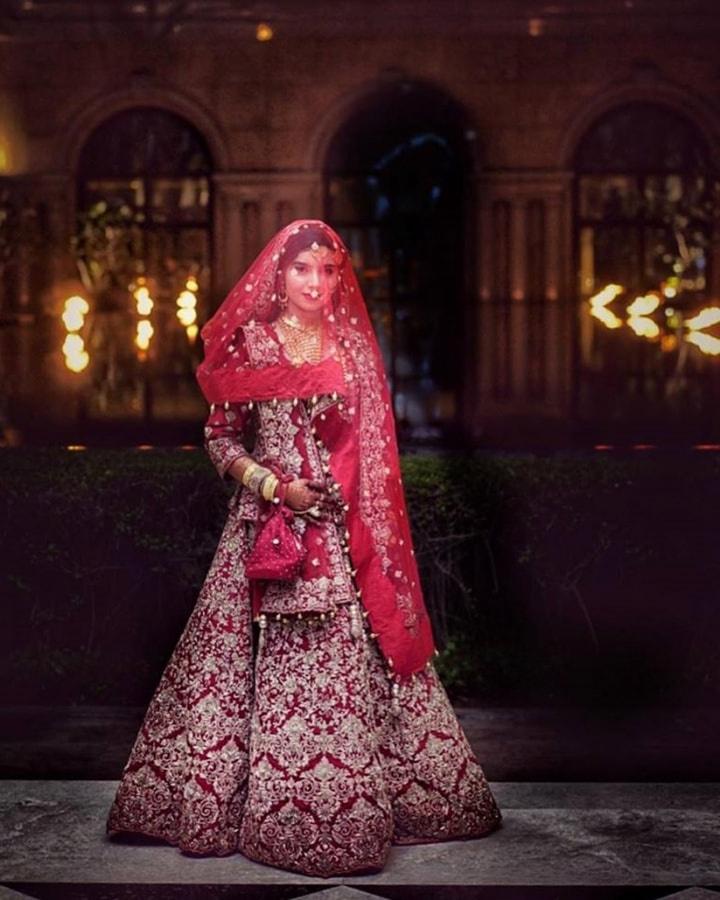 Who knew to look majestic was this simple? Red has always been a colour of power and confidence. And, if you are in need of instant morale boost to do away with your wedding jitters, then there is no better way of doing so than by donning a masterpiece such as this. This photograph caught our attention not only because of this stunning red wedding lehenga but also the way in which this bride is wearing her Dupatta as a veil.
2. When Symmetry Is Life - Geometry Tops the Chart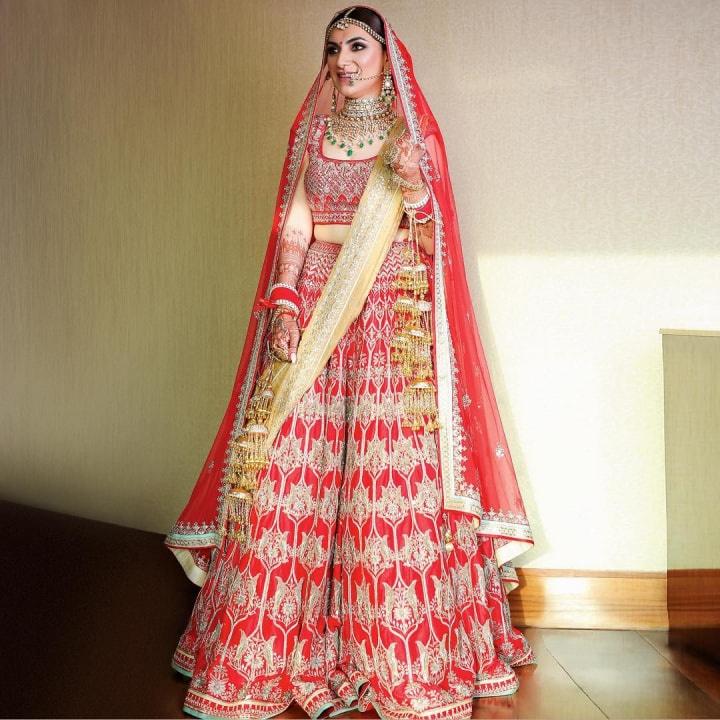 Every time we come across a bride who carries her bridal look effortlessly, we get immediately smitten by her cool attitude and serene expressions. What made us choose this red wedding lehenga to be featured in our galore of red wedding lehengas is the symmetry of design. If one pays attention, each and every inch of this masterpiece is a sheer replication of the gold design that is imprinted on the skirt. the vibrant shade, her extravagant jewellery with emerald and her mehndi design - she is legit #bridalgoals.
3. A Cocktail Spin on Your Red Wedding Lehenga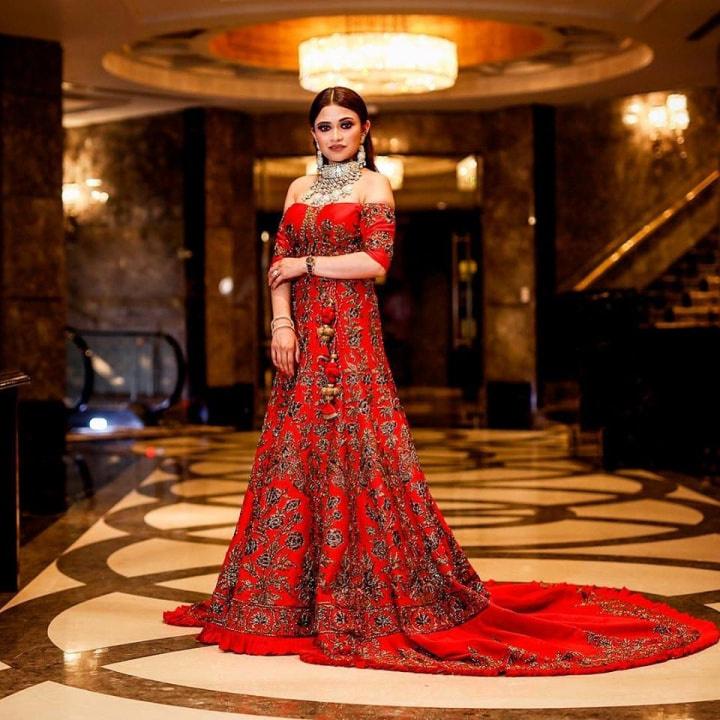 If you want your wedding lehenga to be red but not really traditional then this is how you do it! The trail that flows at the hem of her skirt is breathtaking and their rose embellishment makes this bride look absolutely ethereal. What catches our attention is definitely her off-shoulder blouse and the deep neckline that traces her shoulders and collarbones. Let's not ignore that stunning lehenga Latkan too!
4. The Living Example of Happy Brides Are the Prettiest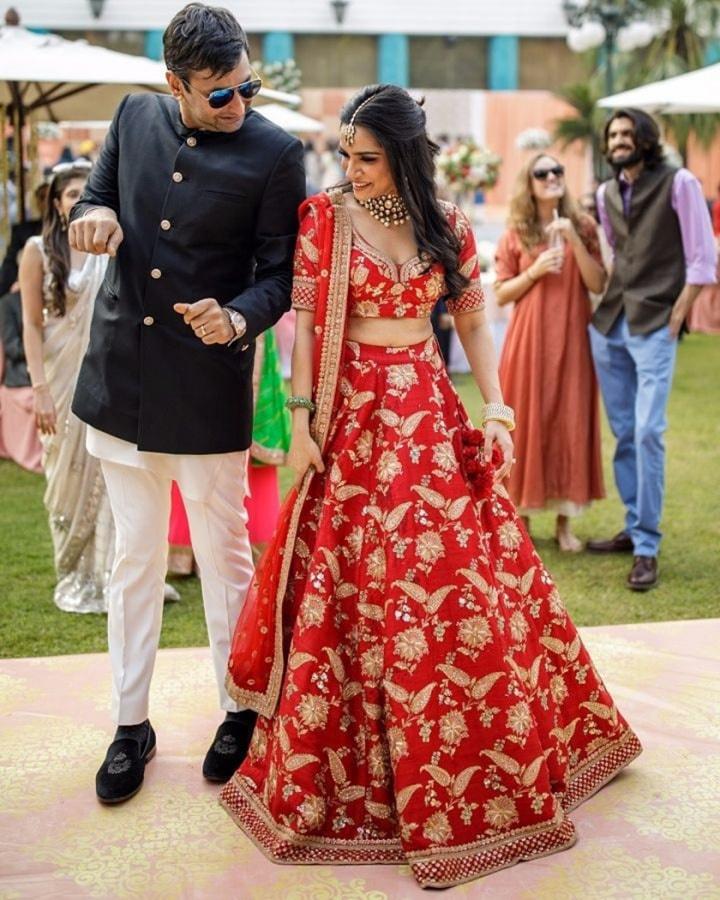 Thought Paisley pattern could only be used by mehndi artists as they donned a bride's hands with henna? We thought so too until we landed upon this real bride. She is literally prancing around in her red wedding lehenga at her wedding venue in what happens to be one of the most unique bridal silhouettes in terms of the design and embellishments. The cherry on the top is legit the neckline of her blouse - it is deep, fits her perfectly well and makes her jewellery look all the more stunning.
5. When Your Lehenga's Trail Is More Dramatic Than a Television Soap Opersoap opera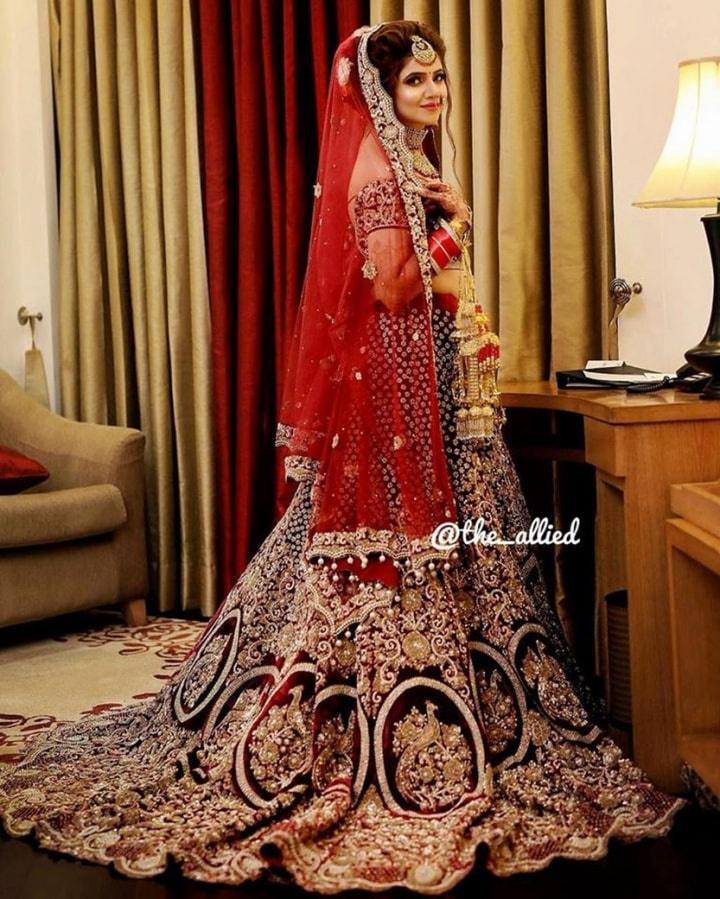 Red is all about giving your bridal look some edge with a touch of fierceness. But, this red wedding lehenga has multiple elements that make it a head-turning silhouette. For starts the trail of her skirt - it is absolutely dramatic, just the way we like it. Then, her blouse which clearly is backless - that is how you bring your sexy back to the front. And, the peacocks prancing at the hem of your skirt. If you are unafraid to bare it all, then this is how you do it right!
6. The Go-Getter Bride Who Makes a Run for It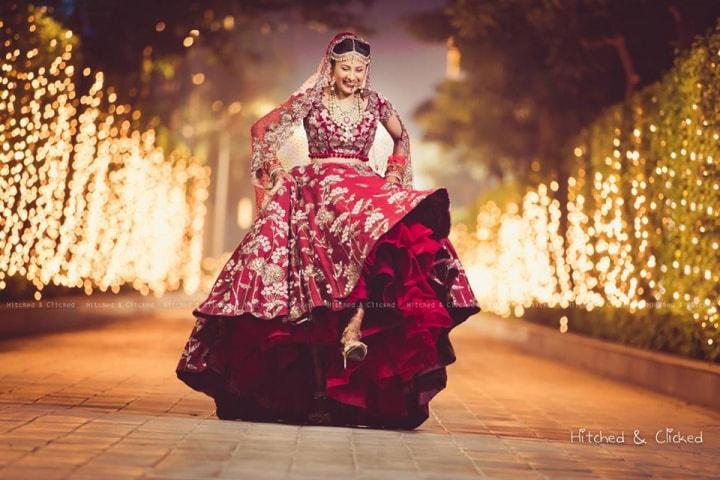 If you like it, if you love it put a ring on it - this is the song that comes to our mind every time we look at this picture and her lehenga. We can only dream to run around in high heels and she is legit doing it! And, we hope you did not miss those pom-poms at the hem of her blouse? They are the real deal, girls! If you want to wear a red wedding lehenga with that much cancan, then you better bookmark this photograph for inspiration.
7. Twirl Around till You Get That Perfect Shot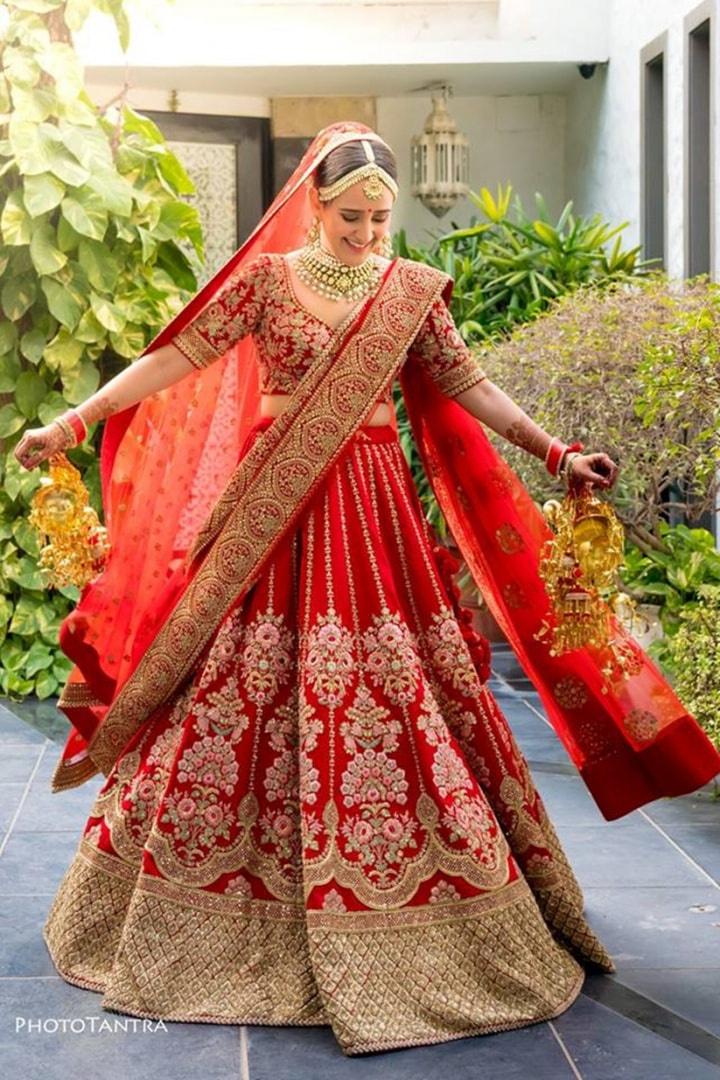 Until today we thought it was impossible to see red and pink together! But, well it surely is and it looks stunning, to say the least. Flowers in colour red is every bride's eternal dream and it sure comes to fruition when a bride carries such an ornate garment so effortlessly.
8. The Red Siren That Has Us Hooked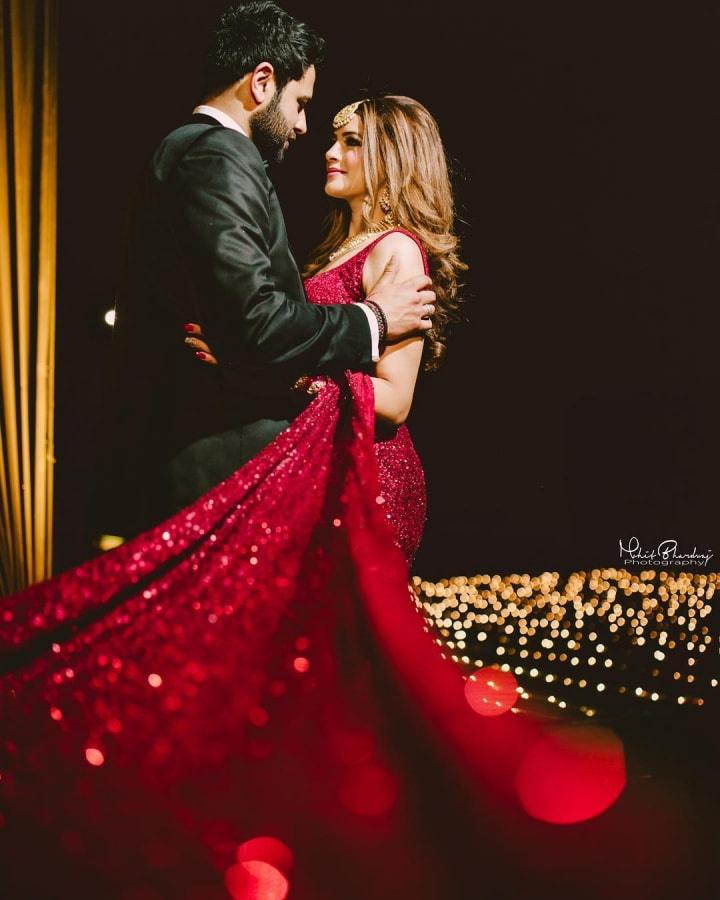 Is there any woman who does not love sequins? If glitter makes you happy, then take inspiration from this wedding silhouette. Add some sparkle into your newly wedded bliss by donning a head-turning outfit such as this one.
9. Beautiful Bride + Red Wedding Lehenga = Majestic Combo = GOALS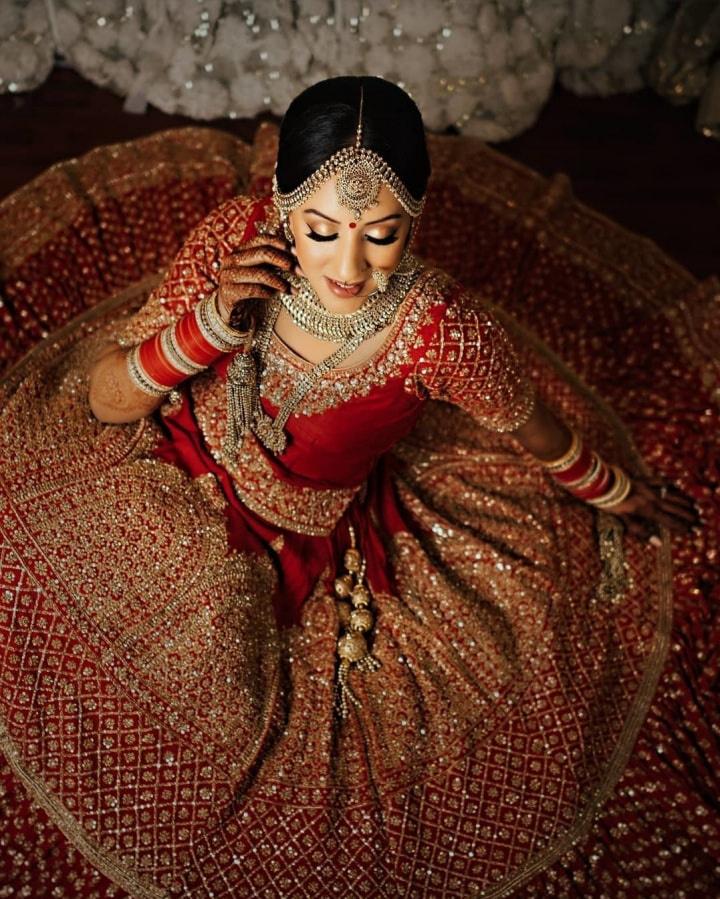 If your red wedding lehenga is even close to being this glittery and sparkly then please do justice to it by getting some fake candid photographs. Something as beautiful as this deserves all the attention it can get. Learn how to pose and nail it every single time from this bold and boss bride who left us spellbound with her glitz and glamour.
10. Sexy Back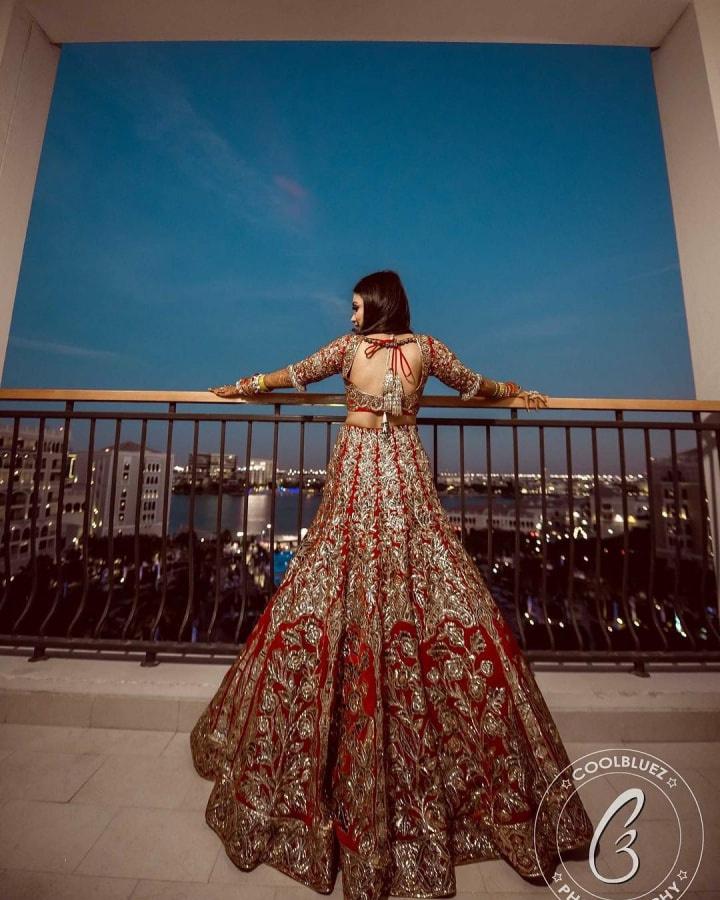 Shimmer, sequins and glitters - the ageless wonders that make any red wedding lehenga tick are your new best friends. A dose glitter with a dash of sequin, primmed with lots of boss attitude = to a killing machine full of oomph and glitz. Also, this blouse latkan is legit goals.
11. Some Nakhra & Some Swag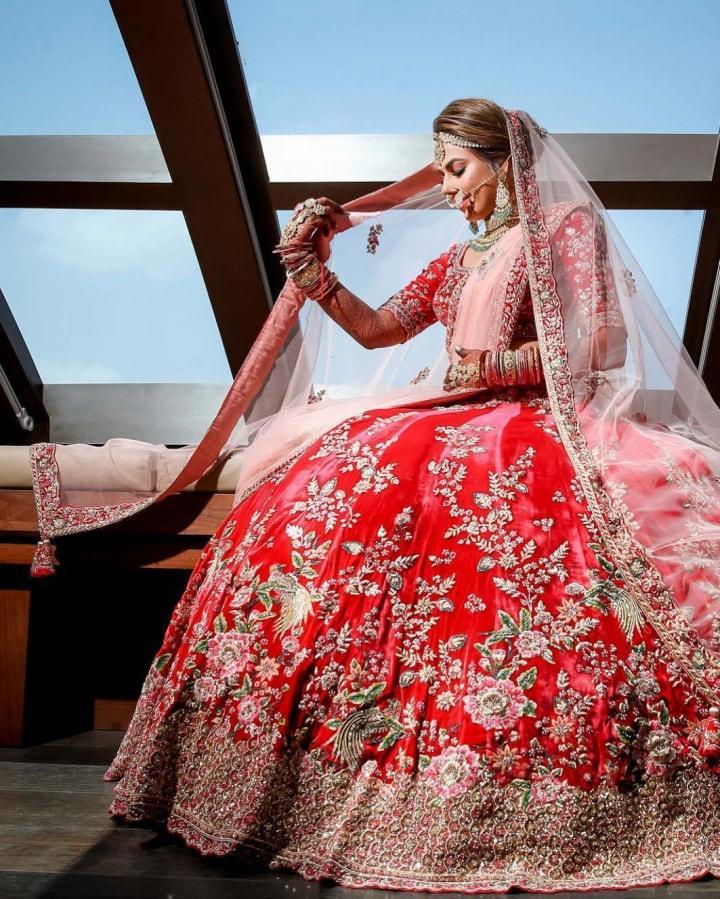 If looks could kill then we would be dead right now! This bride knows she looks absolutely spectacular and she is unafraid to bare it all. Her red wedding lehenga has some colourful elements which make it look even more stunning. The little green and pink that fills the embellished flowers and bords and her light pink and whitish tone net dupatta are what makes this red wedding lehenga one of the best ones in our list.
12. Staircase of Bridal Beauty and Grace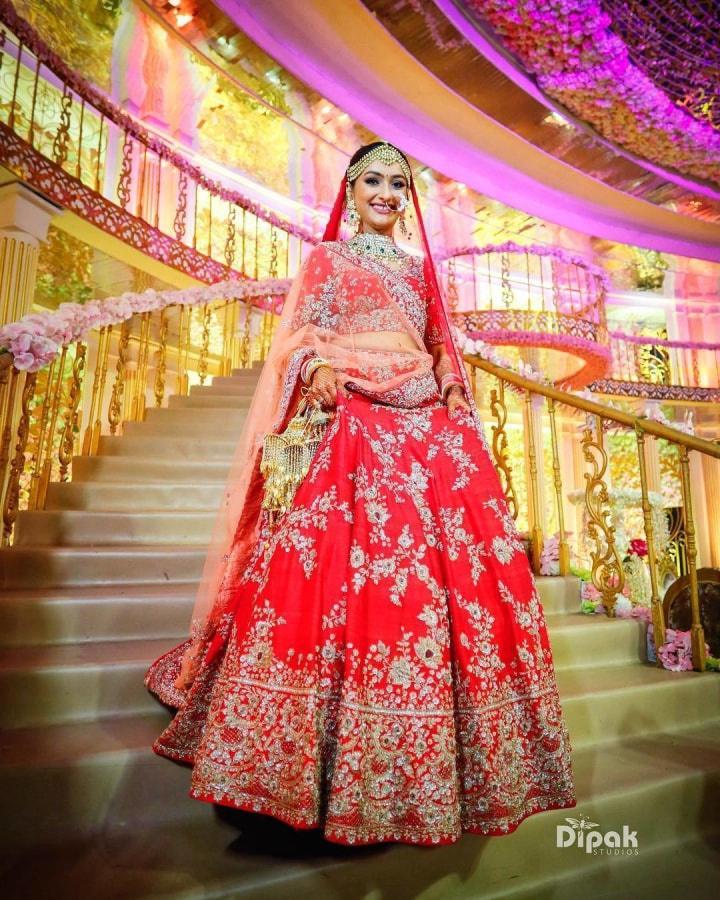 Yep, that is how you make a wedding statement by descending the staircase like royalty, in your heft yet glamorous red wedding lehenga. For more tips, just follow her trail and you'll know what we mean.
13. Is It the Necklace or Her Red Wedding Lehenga?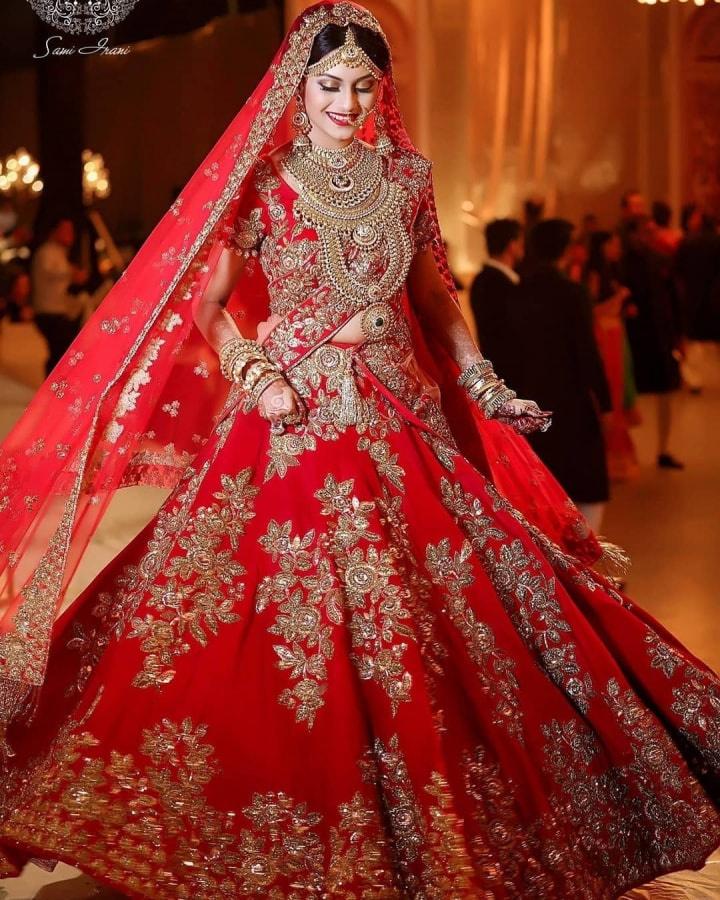 Image Courtesy: FotoArt by Sami Irani
We can't decide, what is more gorgeous, her wedding lehenga or that intense looking bridal Haar? What do you think?
14. That's How You Make an Entrance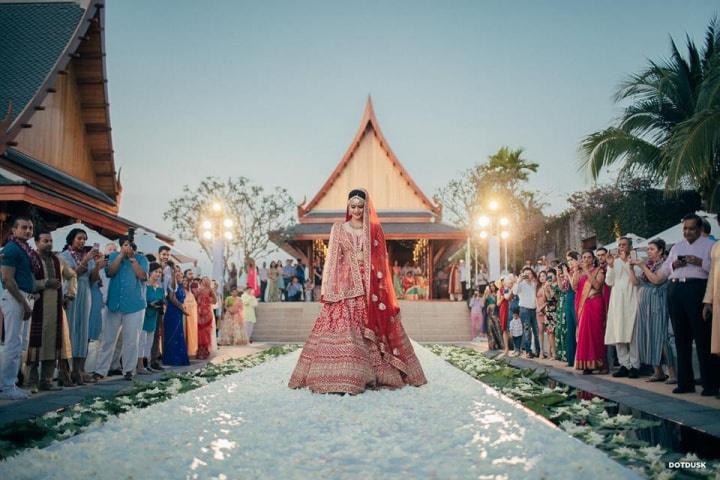 If you are wondering how to make an entrance so that no one forgets it, then this is how you do it! What strikes most in the photograph is the white snowflake path that this bride is walking on. The white underneath all that red, makes her red wedding lehenga pop out even more.
15. Sabyasachi Glamour Done Right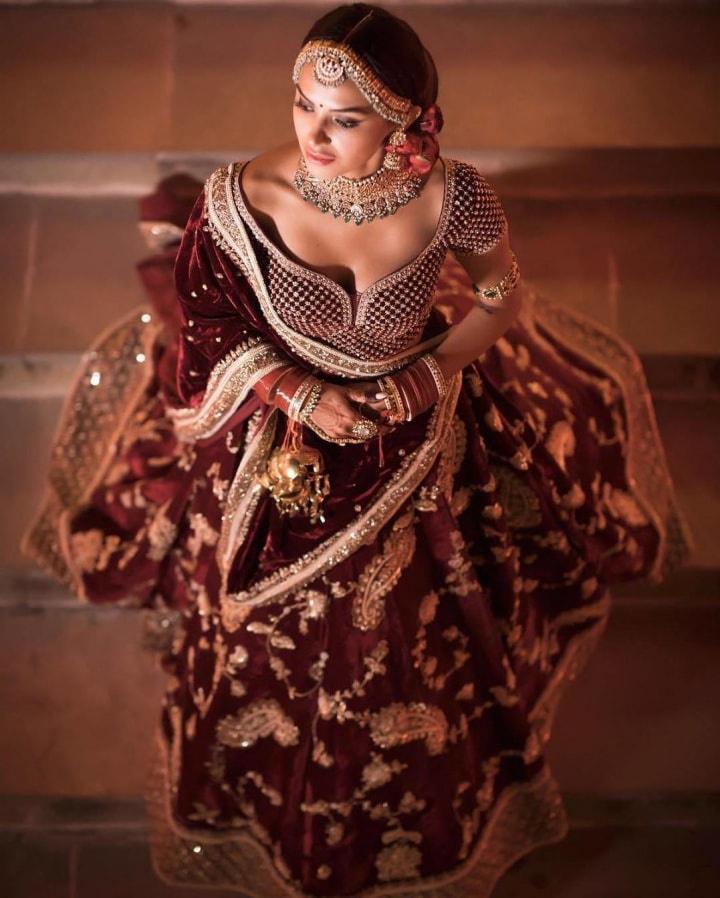 Image Courtesy: Sabyasachi
First, it is Sabyasachi and secondly, it is maroon! And, we cannot get over the stunning neckline!
16. Off Shoulder Beaty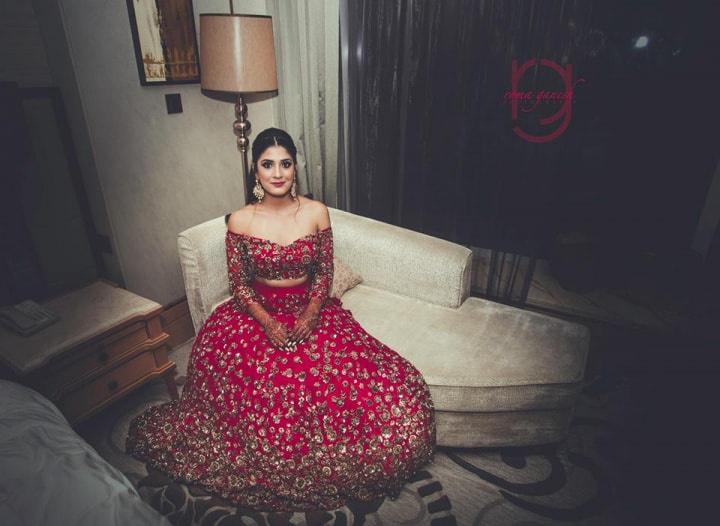 If you wish to bare your shoulders and accentuate your collar bones, then this is how you do it. Take inspiration from this bride and her stunning red wedding lehenga with copper embroidery which makes her outfit look more glamorous.
We hope this month's round up of the top 16 red wedding lehengas left you speechless, a little inspired and a whole lot for your own wedding.
We hope you enjoyed reading it as much as we enjoyed writing it for you. Which of these red wedding lehengas did you love best? Tell us through the comments!