Wedding Lehenga Images To Help You Plan Your Final Look
There isn't a woman who hasn't dreamt about her wedding day. We have listed trending wedding lehenga images to help you look like a vision on your big day.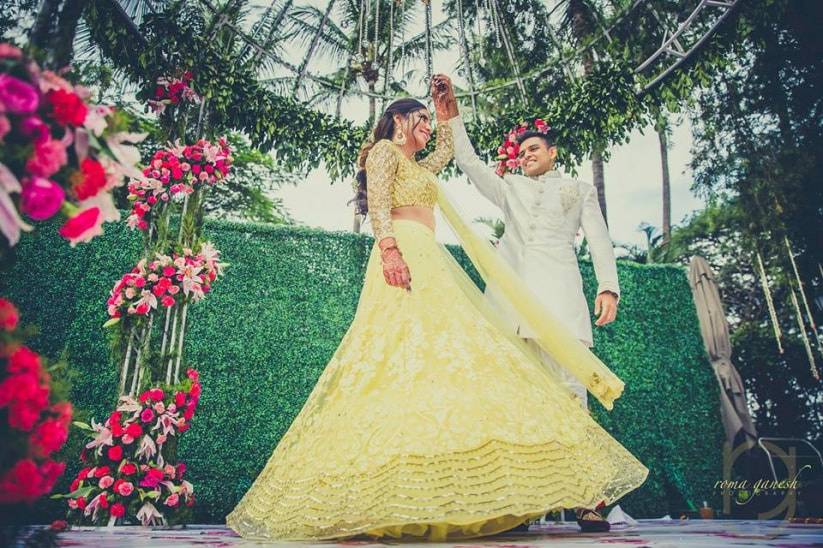 Congratulations on your big decision. We know you're excited but wait up. You still must find a bridal lehenga for yourself for your big day. We all have danced on Bole chudiyan about fifty times give and take and all those shararas and wedding lehenga images from the B-town divas have given us some serious benchmarks and goals to meet. To live your dream of walking down the aisle in style and making the heads in the room turn, the pressure to choose the best-fit wedding lehenga for yourself is real. Your album should flaunt the wedding lehenga images for years to come.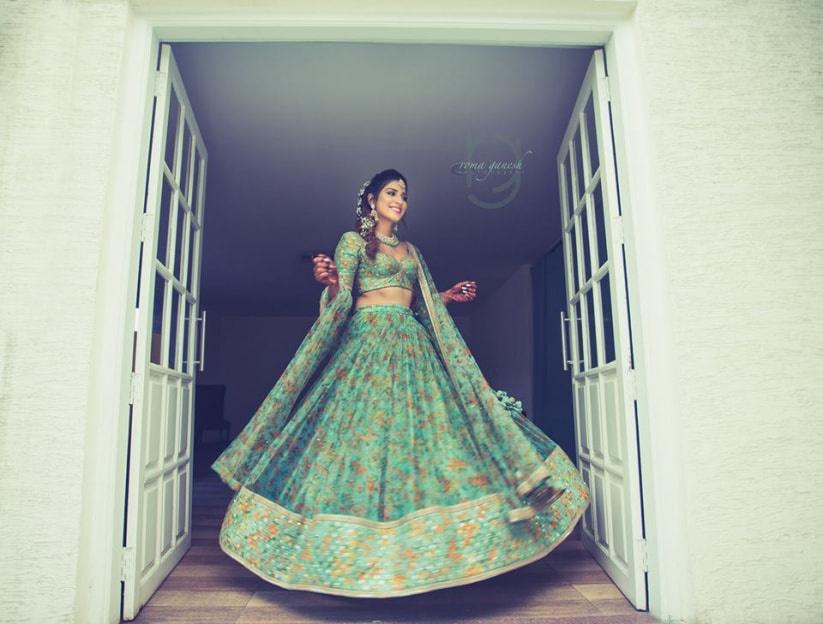 We know you don't want to sabotage your big day in a minimalistic outfit. A bridal lehenga is a once in a lifetime purchase a bride is ever likely to make. So, it is obvious that you'd want to give yourself ample time to pick out the best outfit.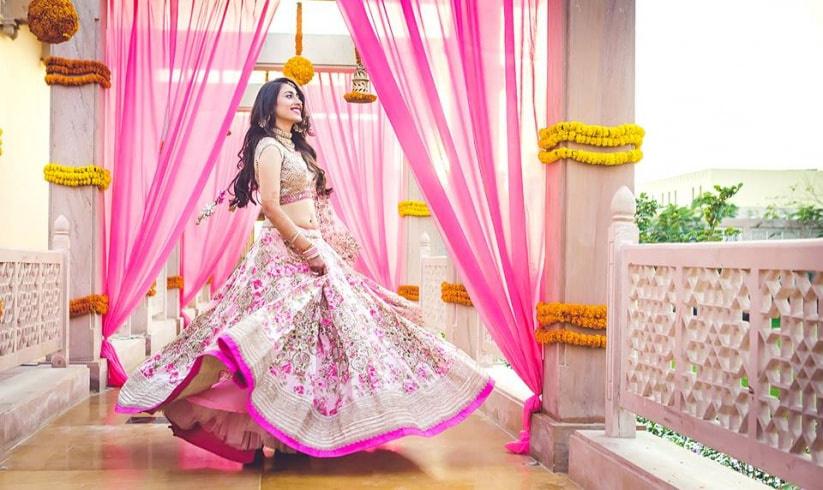 Image courtesy: Shades Photography by Ashwin M.
We have curated a list of some trending wedding lehenga images and silhouettes which will leave you spellbound as they are a sheer piece of art. This list has some timeless and bespoke wedding lehenga images and designs, one that will unleash the bomb and the boss in you.
1. Regal & plush velvet wedding lehenga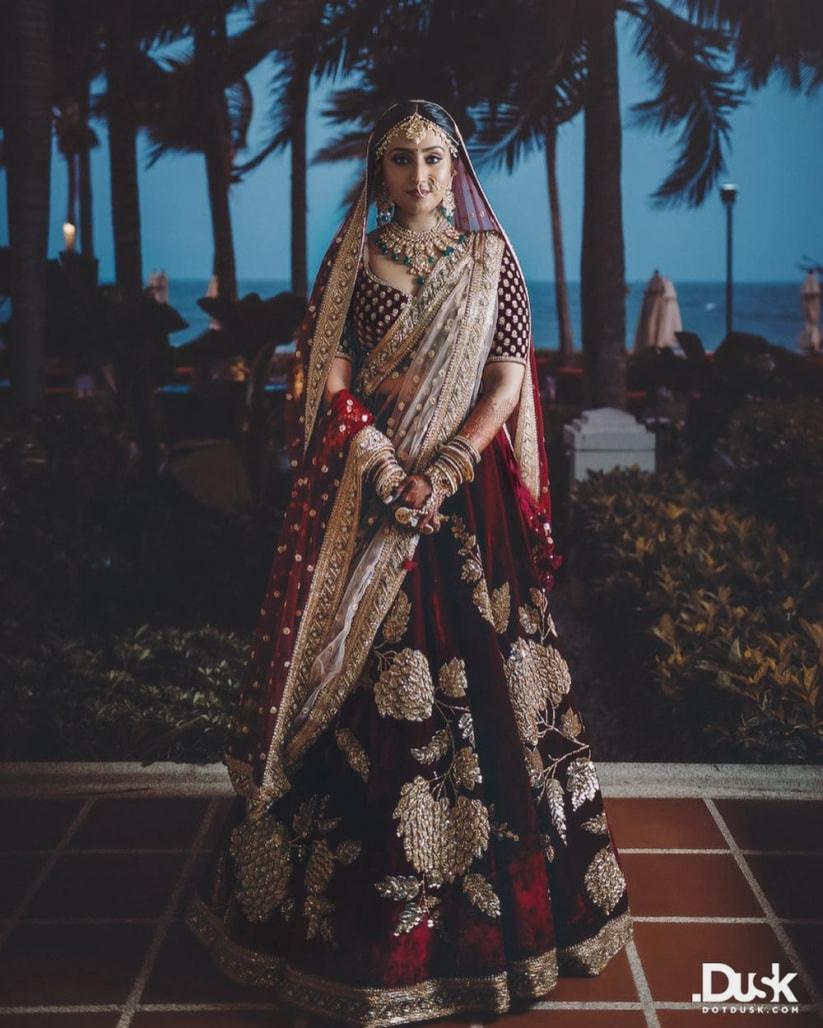 This one is a no-brainer. This year was fully dedicated to velvet. From Sabyasachi to Manish Malhotra Brides, real brides have been ruling this silhouette like it was curated especially for them. Velvet exhumes regal vibes, princely feeling and oozes charm. Remember Anushka Sharma's maroon Sabyasachi inspired velvet saree? Weren't we all head over heels with her overall look? From cocktail parties to wedding functions, this wedding lehenga is a hit for all occasions. You can amp it up by sifting between fabrics and type of embellishment and Zardozi work.
2. The quintessential beauty in hues of red & maroon
There isn't a bride who hasn't donned a red colour outfit on at least one of her wedding functions. It is one colour women can never let go of. For a go-getter bride, red will signify immense power, boldness and a sheer reflection of her confidence and boss attitude. Red makes you look like a quintessential damsel who is ready to take on the world as you know it.
3. Red lehenga with golden embroidery and a heavy dupatta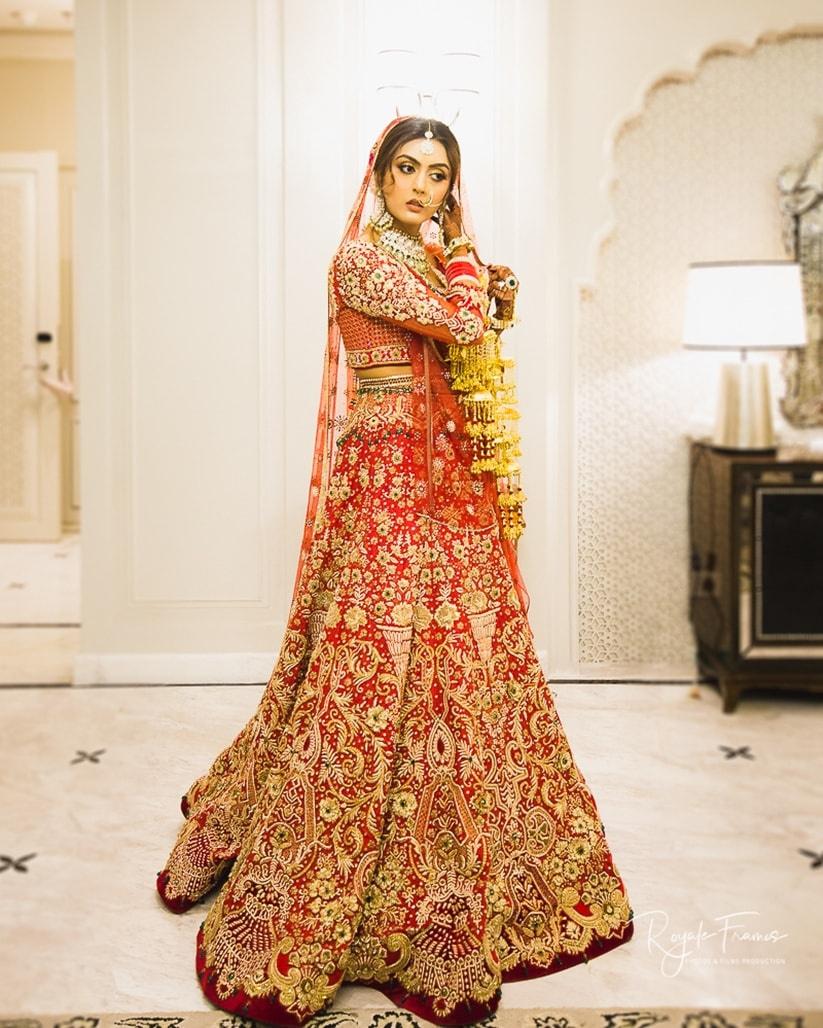 The evergreen and classic combination since the beginning of time. You can never go wrong with this one. Go for bold patterns with yoke work, patchwork, and cutwork to bring out the artistry of design. These wedding lehenga images will be the correct dose of inspiration you need to come at par with these exquisite bridal makeovers of all times. It is the perfect amount of gold on your big day that is needed to make you look regal on one of the most important days of your life.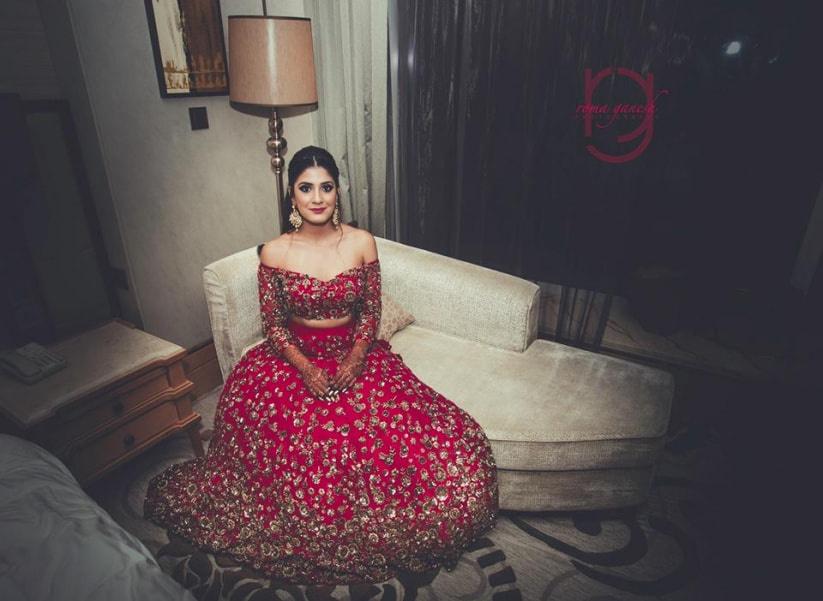 You can choose from deep red to blood red to a maroon blend of red as the options are endless. For that extra edge, use a sheer double dupatta with embellishments as your second dupatta to add that extra pop to your overall red attire. Look at the off-shoulder the bride is flaunting in the picture and be sure to burn the floor while dropping sass and glam all the way to the mandap. This is one of the drop-dead gorgeous wedding lehenga images to behold.
4. Proper Patola in Pastels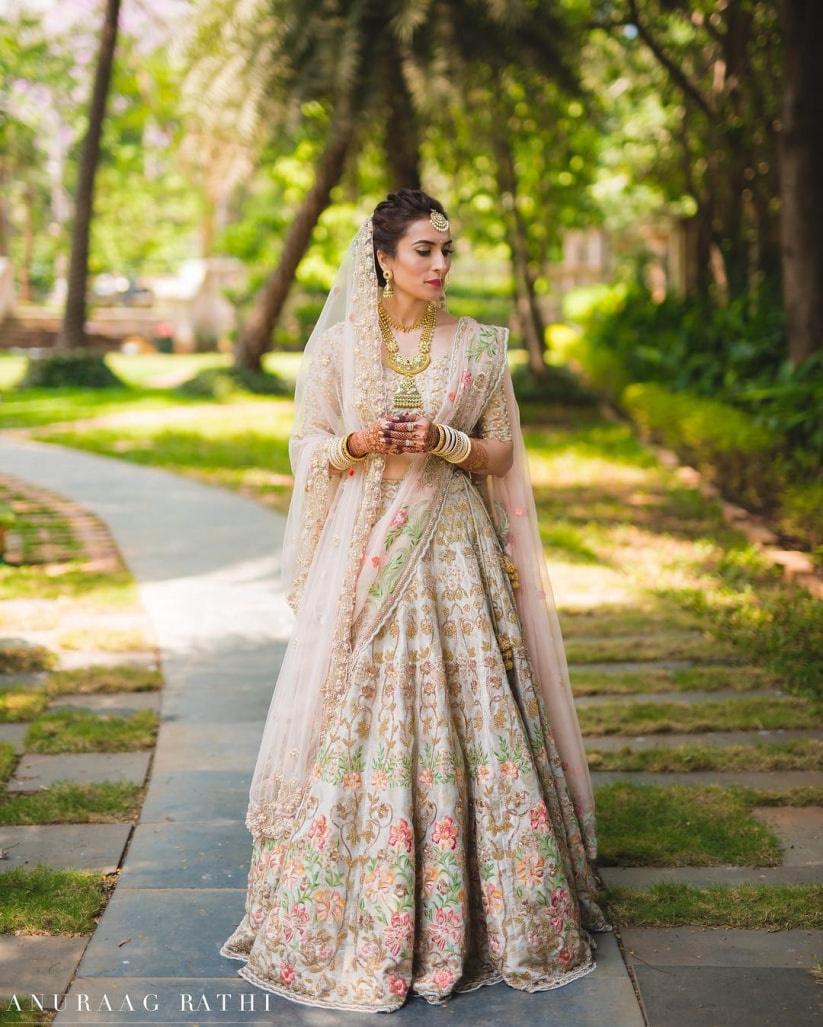 Wedding lehenga images are trending with offbeat colours, pastel shades and what not. Firstly, and most importantly, the right amount of shimmer and bling will elevate your fashion inspiration from ground level to seventh heaven.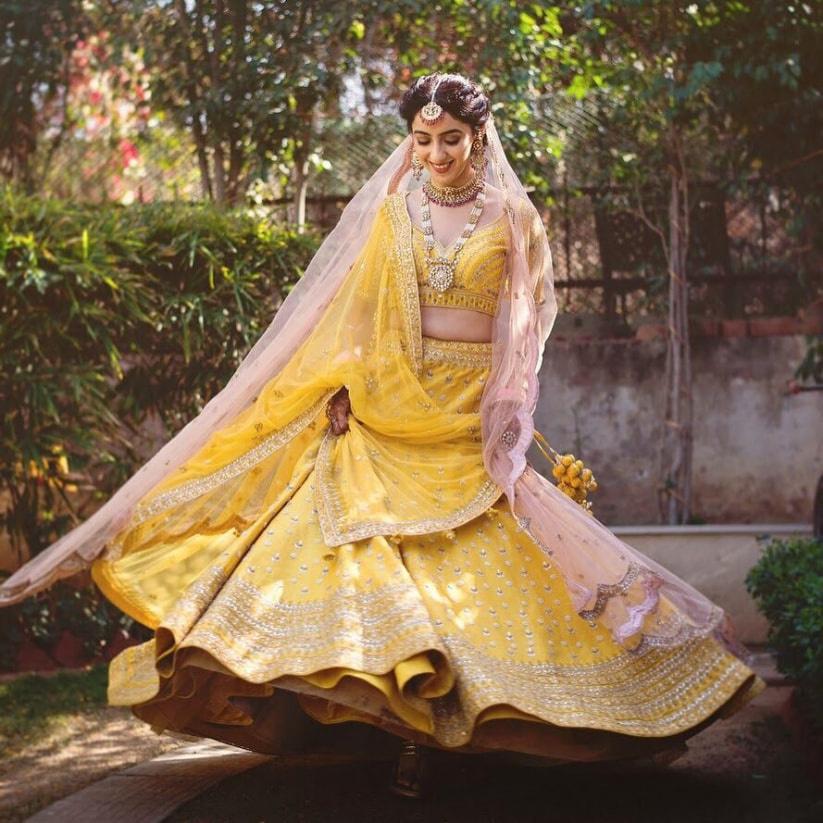 Pastels blend well with the Indian skin tone and look ravishing in both daylight and night vision. The best thing about pastels is there isn't even a possibility of you going wrong with this one. The subtle yet bright shades with the gorgeous embroidery is a treat for the eyes of the beholder. The earthy tones can never beat the sober yet beautiful appeal. Pastel wedding lehenga images are an inspiration to the millennial brides.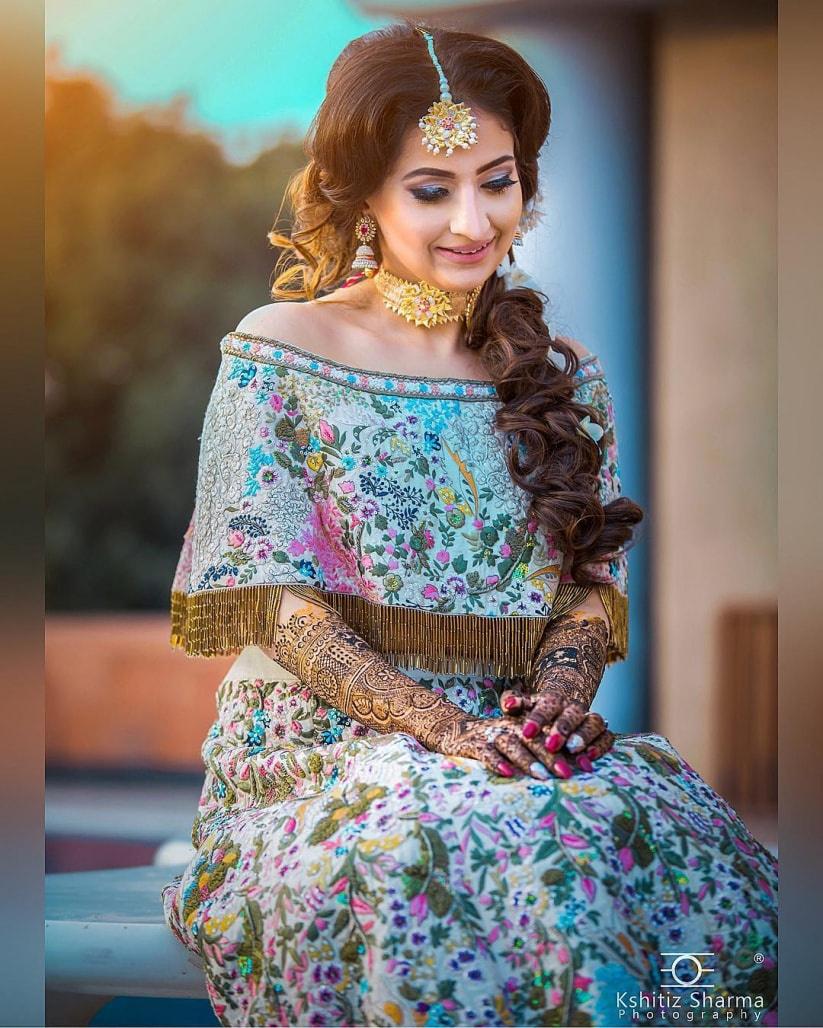 To take your look up a notch, play around with colours. Mix and match your attire which contrasting in trend colours. Go for a baby pink lehenga with mint green heavy dupatta. Wear Polki or Kundan jewellery to add the right amount of bling to your monotone outfit. What makes this a trending choice? The fact that you can wear the pastel lehenga with a crop top for a friend's wedding or family function is what makes it a versatile choice for clothing. Floral prints on pastels are everything wow when you flaunt it on your big day. They also make for perfect attires for your Mehendi and even for your sangeet.
5. Ruffled lehenga for the reception party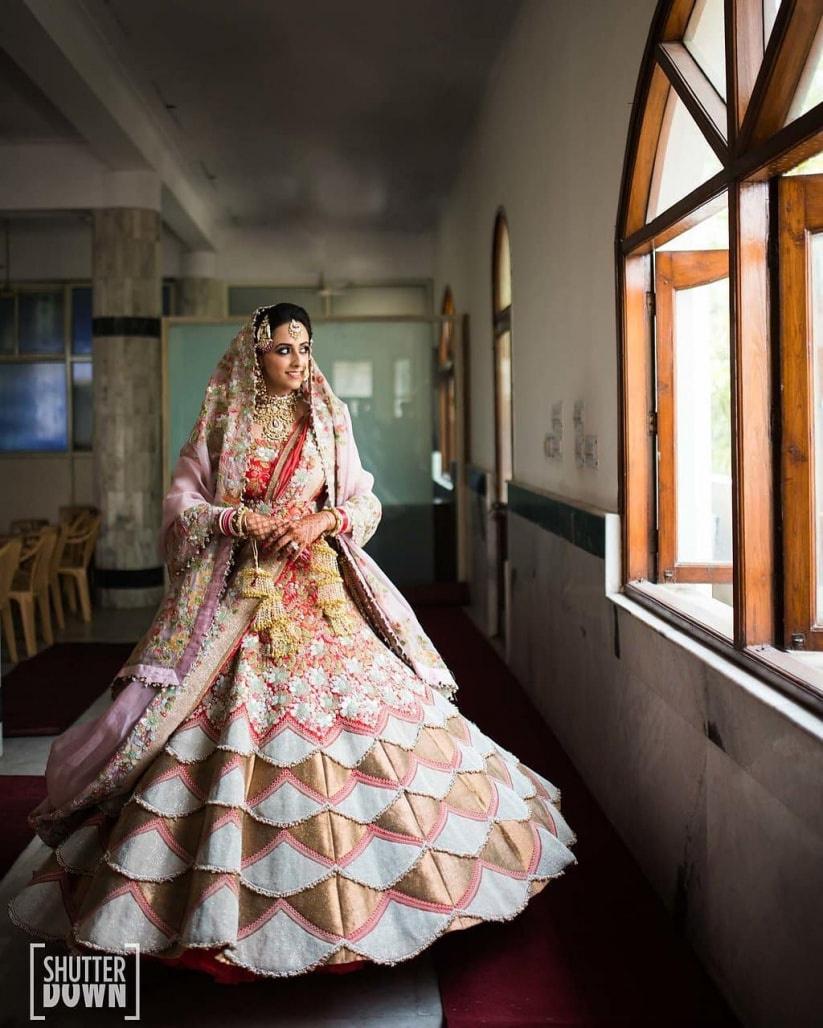 This year has been devoted to upbeat experimental looks. Ruffled lehenga is one such trend which picked up this year and is likely to stay for seasons to come. We've seen a lot of brides slay ruffle sleeves but how about that beautiful and enormous lehenga which sways full circle as you twirl around? Ruffle lehengas are a blend of sheer perfection in terms of technique and design. They add the right amount of drama and edge to your overall bridal look. The geometric ruffles as seen in the image is the bride's oomph factor and enhances her look to make it unforgettable.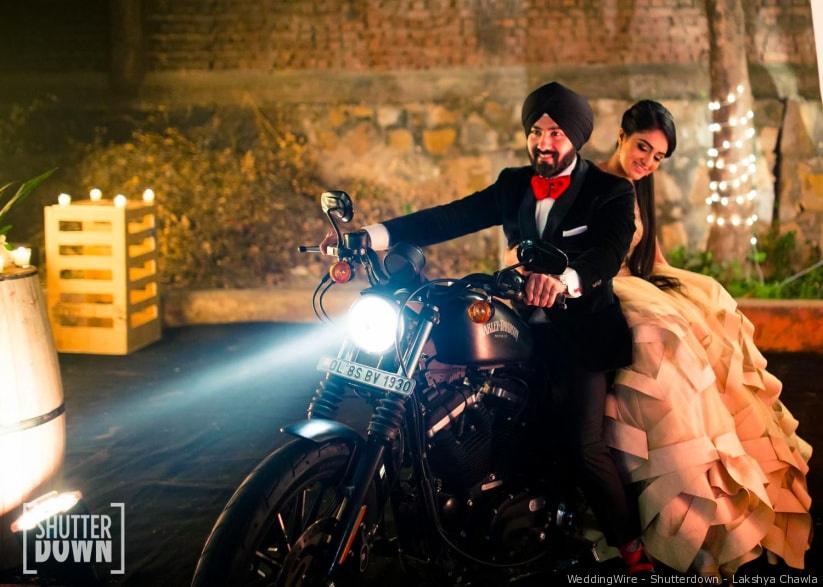 You can amp your look by ditching traditional blouse pieces and heavy dupattas, and instead, go for a head-turning bustier crop top blouse to go along with it. Your admirers will fall in love with how effortlessly the Kalis of your lehenga fall on your bodice and sway as you walk down the aisle for the first time.
6. Golden beauty: A sight to bedazzle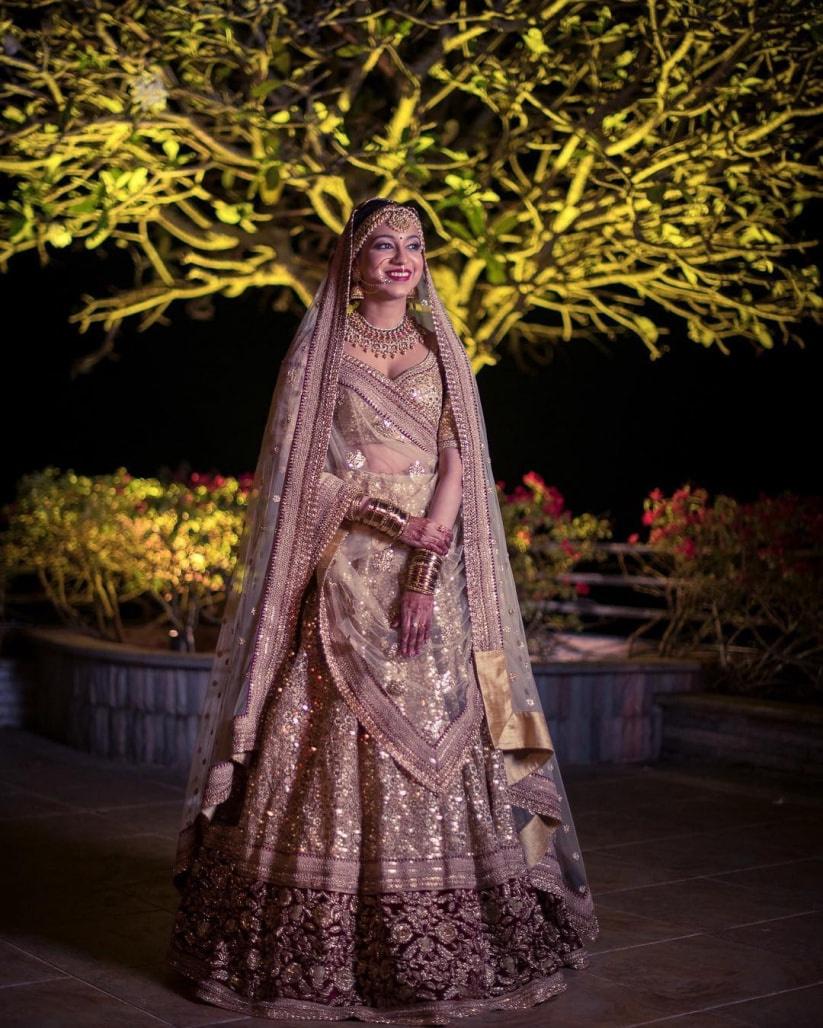 You can never ever go wrong with golden. This wedding season we've come across some stunning golden wedding lehenga images which will make you swoon. From Mehndi to Haldi to reception ceremony there is an appropriate golden lehenga for all possible occasions. Sure, it is a daring task but at the same time, the overall result is completely worth the risk you are willing to take.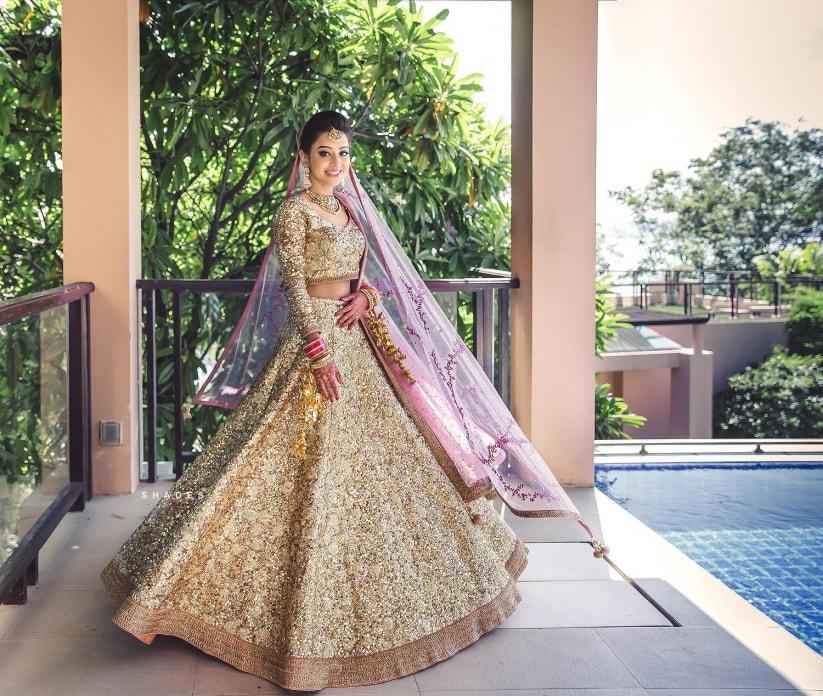 Image courtesy: Shades Photography by Ashwin M.
Ditch traditional blouse and go for a tassel design instead. Tassel-inspired blouses tend to fall effortlessly onto your skin making your look chic and classier at the same time. This blouse exposes your skin in all the right places and gives you a cutting-edge fashion inspiration. With bold red lips and shimmery eyes, you are ready to slay and break some hearts with your bridal appearance.
Unleash the bomb and the boss inside you by incorporating one of these above-mentioned wedding lehenga images which are a hit this wedding season. Make these outfits more personalised by incorporating your personal style aesthetics and breaking the niche for being the bride of the gen-next brigade.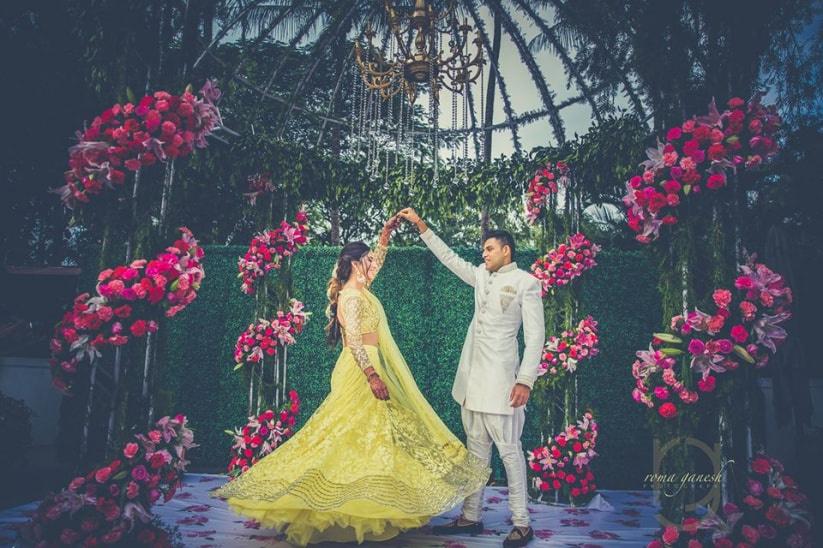 Bonus Tips:
Keep your skin sensitivity in mind when selecting the lehenga fabric. Get a layer of cotton stitched underneath the blouse and lehenga so that no rashes or skin reactions occur.
Select a lehenga shade that complements your skin tone. The undertone of your skin should be equally matched with your skin's. This way, your bridal lehenga would bring out your natural colour and make you glow.
Play around with the dupattas. You can choose to carry one, two or no dupatta at all with your lehenga. Pair them in matching or contrast with the rest of your ensemble. You can even make it a combination of 3 different colours if you're going for a single dupatta. With a double dupatta, you can either have one from the matching set of the lehenga and the other one in contrast or both of them in contrast to each other and the lehenga. If you want t ditch dupattas, your best bet is a cape lehenga where you don't have to bother carrying one at all.
Your blouse can be a statement factor of your entire look. Have it ruffled or off-shoulder, adorn it with tassels or pom-poms for that X-factor.
Accessorise these looks however you please and break a few rules if you must to be a proper Patola who is out for serving looks.
Keep us in the loop with your style story and how you incorporated these trending wedding lehenga images to slay at all your wedding functions.