Indian Bridal Lehenga Designs That Are Hot This Wedding Season
These gorgeous brides are winning our hearts and are taking the Internet like a storm. Bookmark this page and start your Indian bridal lehenga hunt to look like a stunning bride-to-be.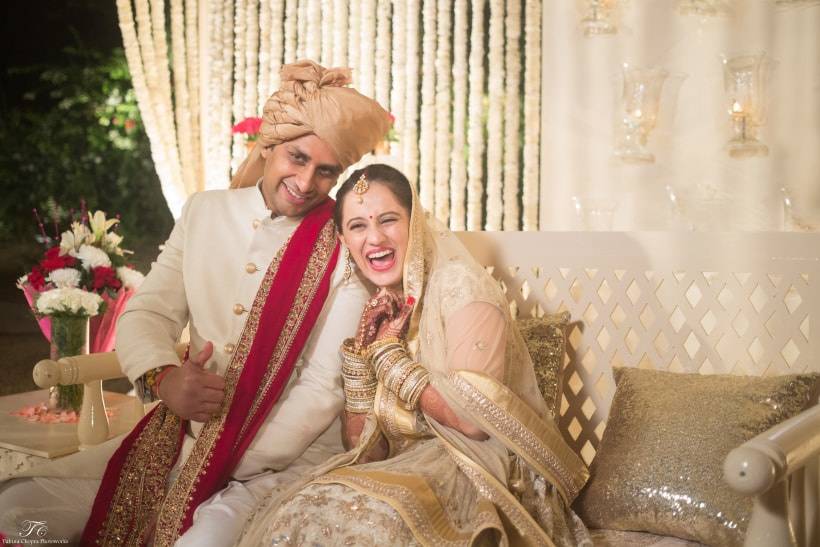 Every wedding season, we see some truly gorgeous brides who make a strong statement with their bridal lehengas. Traditionally, red was the colour of the Indian bride. But in 2019, these rules don't exist anymore. Don't get us wrong, we still love a red bride just as much as our moms did. But we cheer a little more, every time we spot a bride breaks these colour norms to wear something that truly represents her bridal style and spirit. Take cues from some of these trending lehenga photo galleries and trending lehenga image to ace your bridal fashion.
We've curated some of our favourite offbeat bridal lehengas of this season and the brides who pulled them off in style to convince you to think beyond the bridal red. Bookmark this page and start your Indian bridal lehenga hunt with a fresh mindset. So start by checking out these stunning bridal lehenga designs and we know for a fact that you won't be able to keep your hands off of them. So go ahead and take a long browse now!
1. Lilac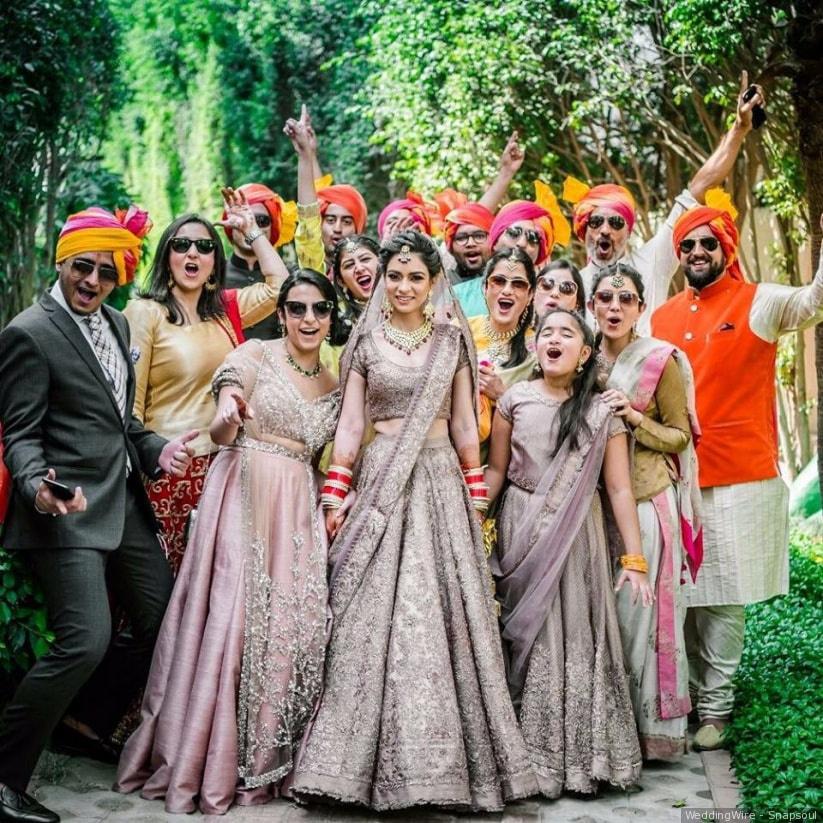 Vandya's lilac lehengas is a social media favourite. It complements her skin tone, her day wedding vibe and her groom's outfit too. This shade is a game changer and we can't wait for our bridal lehenga designers to experiment and produce more such gorgeous bridal outfits. You can also find a lehenga like this at an online store for a hassle-free shopping experience. Lilac is perfect for a summery or a day vibe wedding - light, effortlessly gorgeous and absolutely pleasing to the senses - a lilac lehenga is the hottest pick of the season and you should really check some stunning silhouettes in this colour palette.
2. Oxblood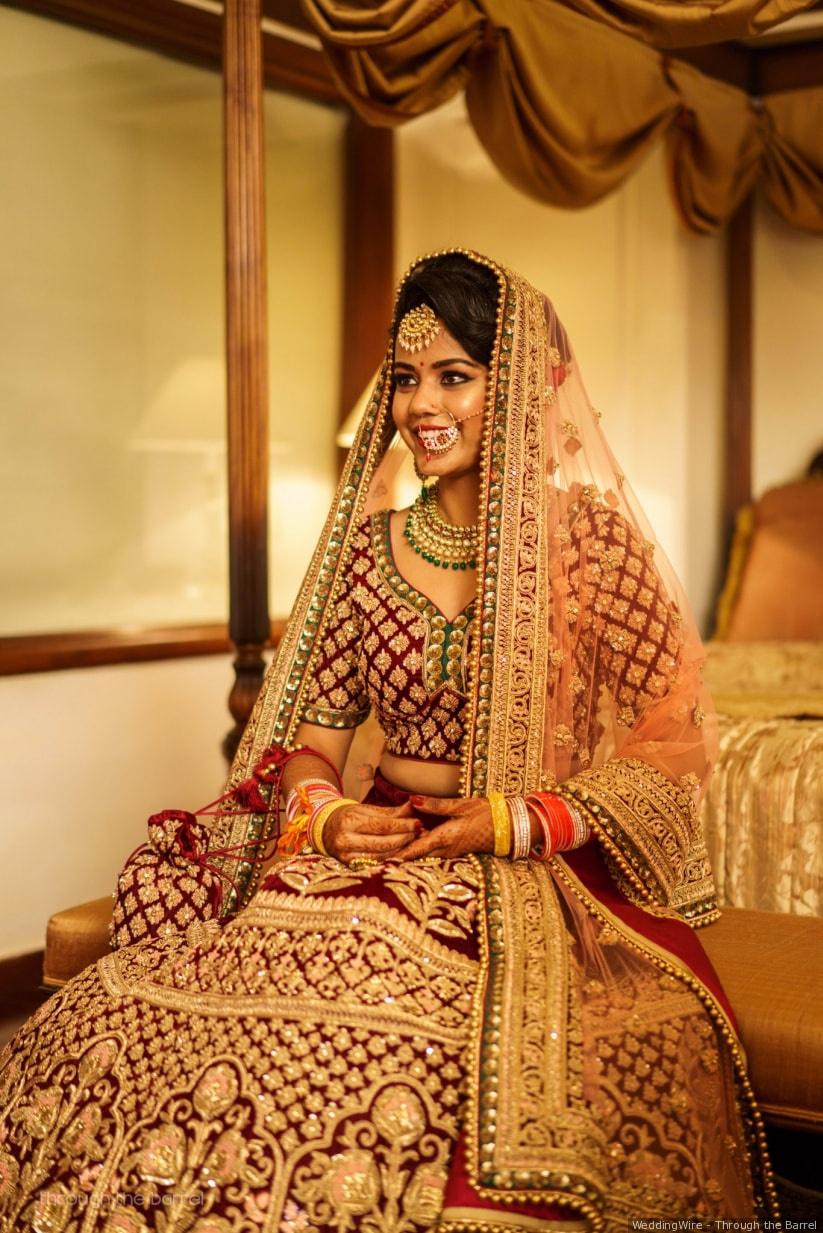 This shade is perfect for the modern bride who is not afraid to make a statement. Oxblood is the go-to winter wedding colour because of its royal vibe and impact. You can take inspiration from our other blog and find a lehenga that does justice to your look. A little different and a whole lot of fresher take on the hues of red and maroons - this bridal lehenga colour is for the braveheart woman who is unafraid to test waters when it comes to experimenting with personal style.
3. Champagne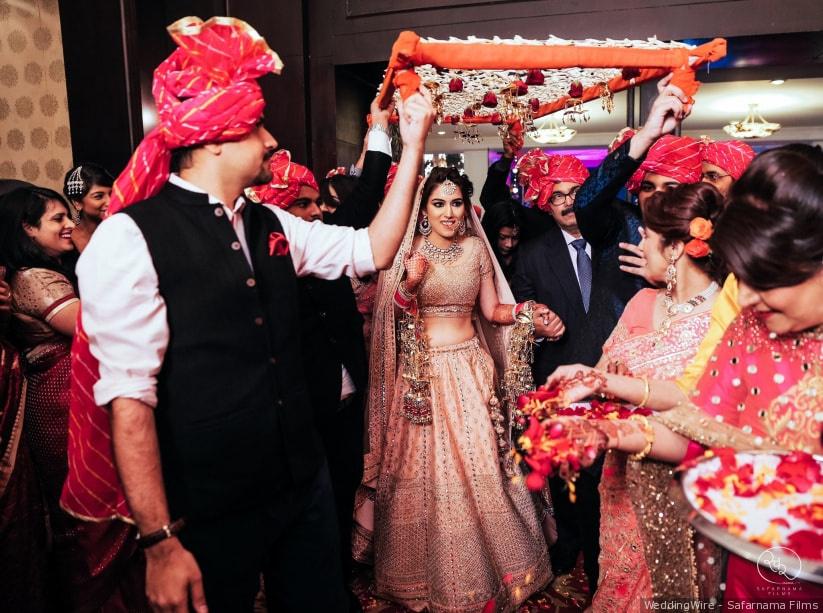 The global fashion industry loves this shade and so do we. A champagne lehenga is perfect for the minimal bride who wants to keep things classy. This works well for a wedding plus reception ceremony and is the perfect balance of traditional and modern. A little champagne magic is something we all need in our lives and this real bride just showed us why it works.
4. Ivory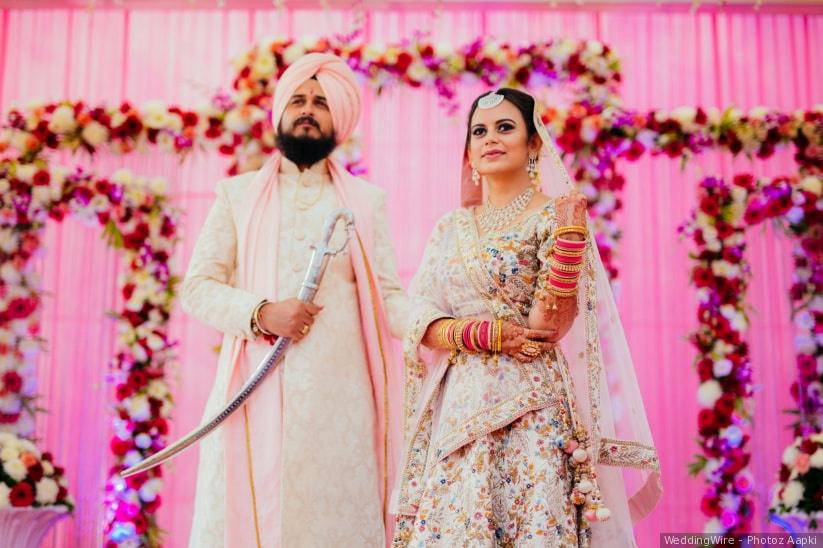 This year, we've seen some Indian brides bring their western wedding dreams to life by opting for ivory bridal lehengas. This is as unconventional as it gets because traditionally, shades of white on Indian weddings was a huge no-no. But each of these brides changed that giving us a brand new bridal favourite. Try some of our bridal lehenga vendors and slay! Feel free to own the night or day in an ivory bridal lehenga and your would be husband wot be able to take his eyes off of you. Don't believe us? Go try for yourself!
5. Raspberry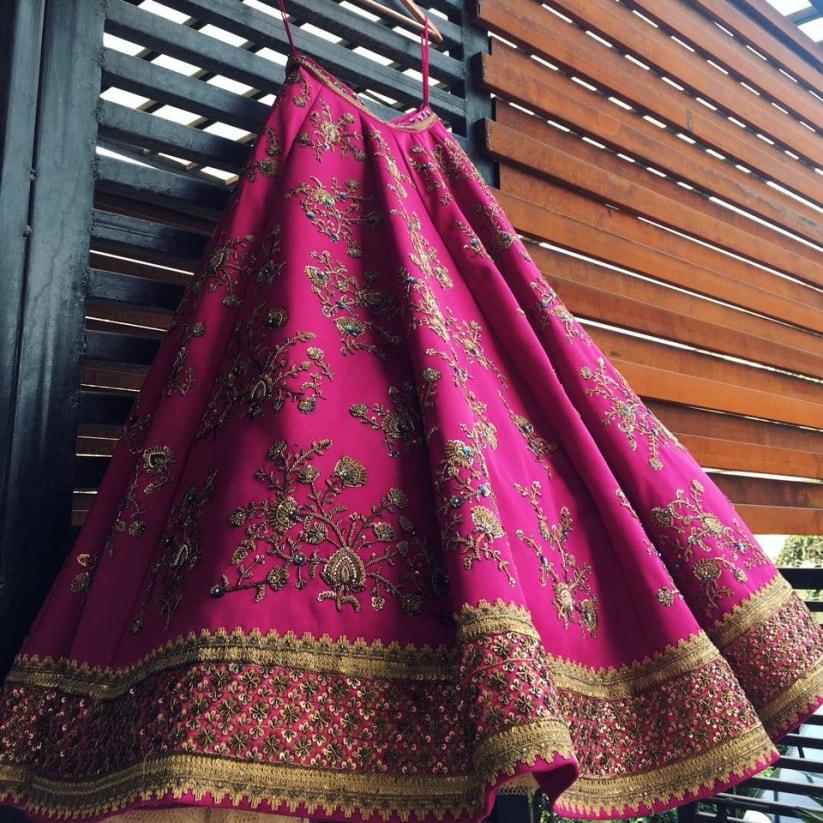 So far, we've seen this shade pop up in cocktail and reception gowns but this stunning lehenga shows that raspberry is ready to be a bridal colour too. Cosmopolitan brides are going to love this shade and we're expecting it to be the hottest bridal colour of next year.
6. Mint Green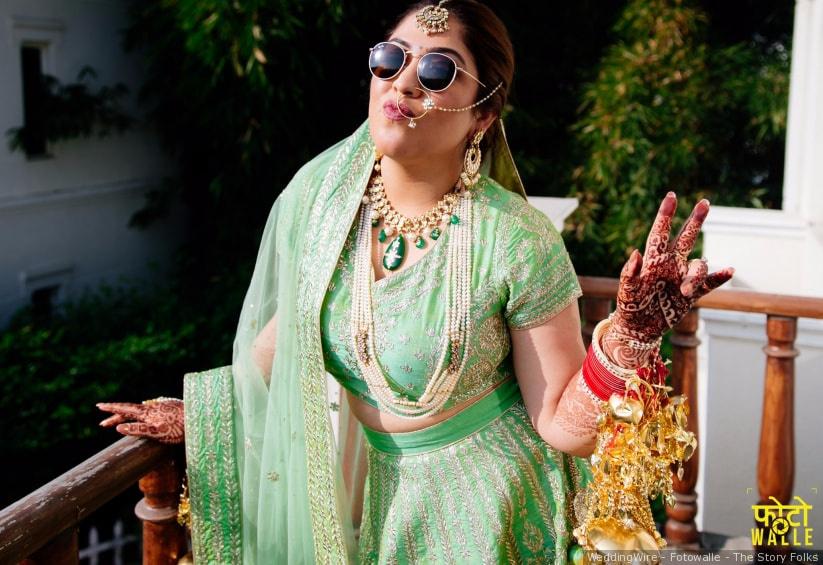 According to Indian traditions, green is a symbol of prosperity. According to Indian brides, green is glamorous! We like both versions because, at the end of the day, we love seeing brides making a statement in fabulous shades of green.
7. Powder Pink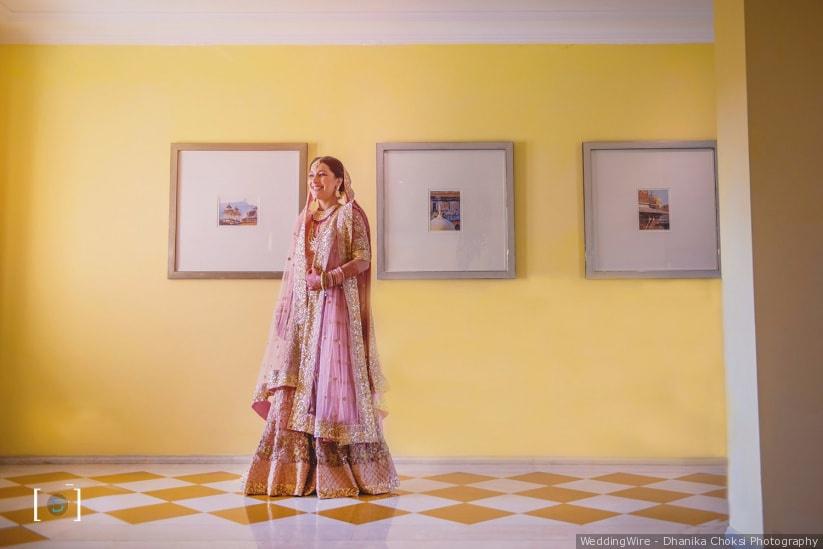 Why be a traditional old-school red bride when your personal style is fresh and bubbly? Pink is the shade for the happy bride who wants to have fun at her wedding. Best suited for winter day weddings and spring destination weddings.
8. Mustard Yellow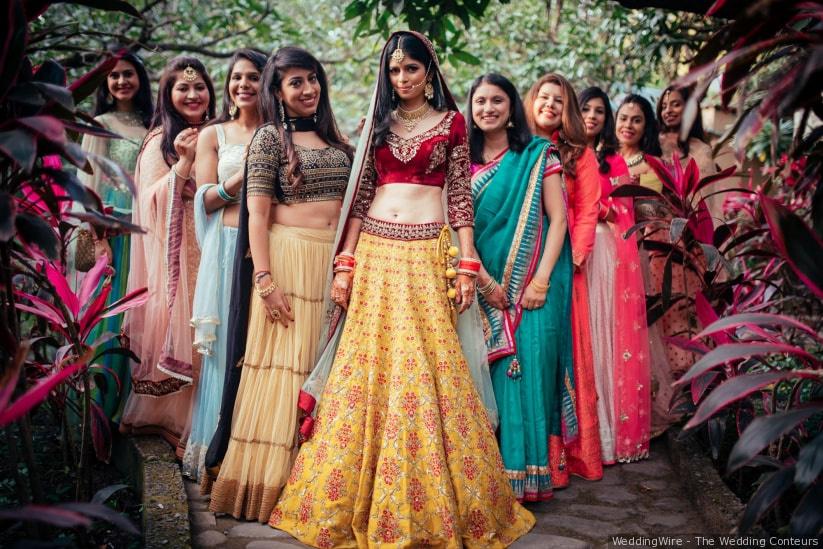 This is another winter wedding staple. Happy, bright shades of yellow add warmth to a wedding and stand out in front of traditional décor colours. Yellow is a hot favourite for destination weddings because who wouldn't gorgeous bridal photos like these.
Bonus Tips to Help You Select Your Indian Bridal Lehenga
Before you zero in on the shade, keep the fabric in mind. Choose the lehenga fabric smartly considering the season, its softness, durability among other things. If your skin is sensitive, it might be a good idea to get basic cotton fabric stitched at all the places where your lehenga would come in contact with your skin.
If you can't find the exact shade that you are looking for, find the fabric in white and get it dyed to your satisfaction. This will ensure perfection even though you will have to engage in some extra time with the fabric and dye vendors.
The cut of your Indian bridal lehenga should accentuate your body type. Selecting one that does that for you will require careful planning and some research. Try on different cuts to find out what suits you best.
Flaunt your style with the double dupatta. Most brides opt for two dupattas with their Indian bridal lehengas. You can either choose two similar ones or two contrasting ones to go with your ensemble.
Since you are not going for red, implying that you are an unconventional bride, choose the patterns and embellishments on your Indian bridal lehenga that scream the same.
We hope now you have a clear understanding of what colours are trending this wedding season. Also, spend some time in finalising you bridal jewellery that is complacent to your Indian bridal lehenga. Book a makeup artist and get a stunning bridal look.
Talk to us about your Indian bridal lehenga style journey through comments and snapshots.