9 Cape Lehenga Designs You Need To See To Shop For A Wedding
Looking for chic Indo-western dresses for the upcoming wedding season? We suggest you go for the latest trend in the bridal trousseau world - a cape lehenga.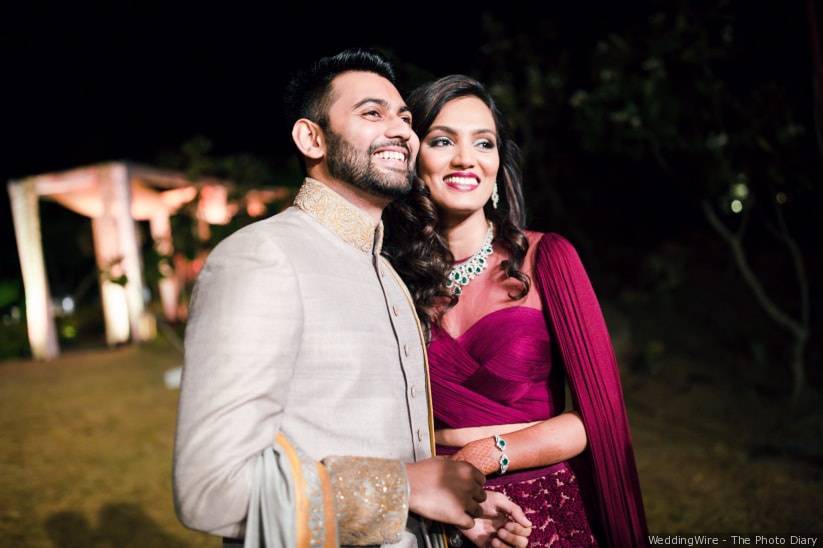 One of the snazziest of Indo-western dresses, a cape lehenga has become a rage among the millennial brides. We have seen so many designs on real brides and bridesmaids to confidently conclude that this trend is here to stay. Ranging from cape lehengas to cape sarees, you can flaunt it any way you like. Make cape sarees into cape crop tops with palazzo or Sharara and up your fashion game instantly. Need more ideas?
The regular lehengas have gotten a major upgrade in terms of style and silhouette to offer a style that is uniquely your own. The flowing vibe that this wonderful attire makes this a must-have in your wardrobe. If you are on a lookout for such a gorgeous ensemble, then we have curated a list of some of the most beautiful designs you should be pining for. Read on to know more about this beautiful set of attire.
1. Marvellous Maroon Cape Lehenga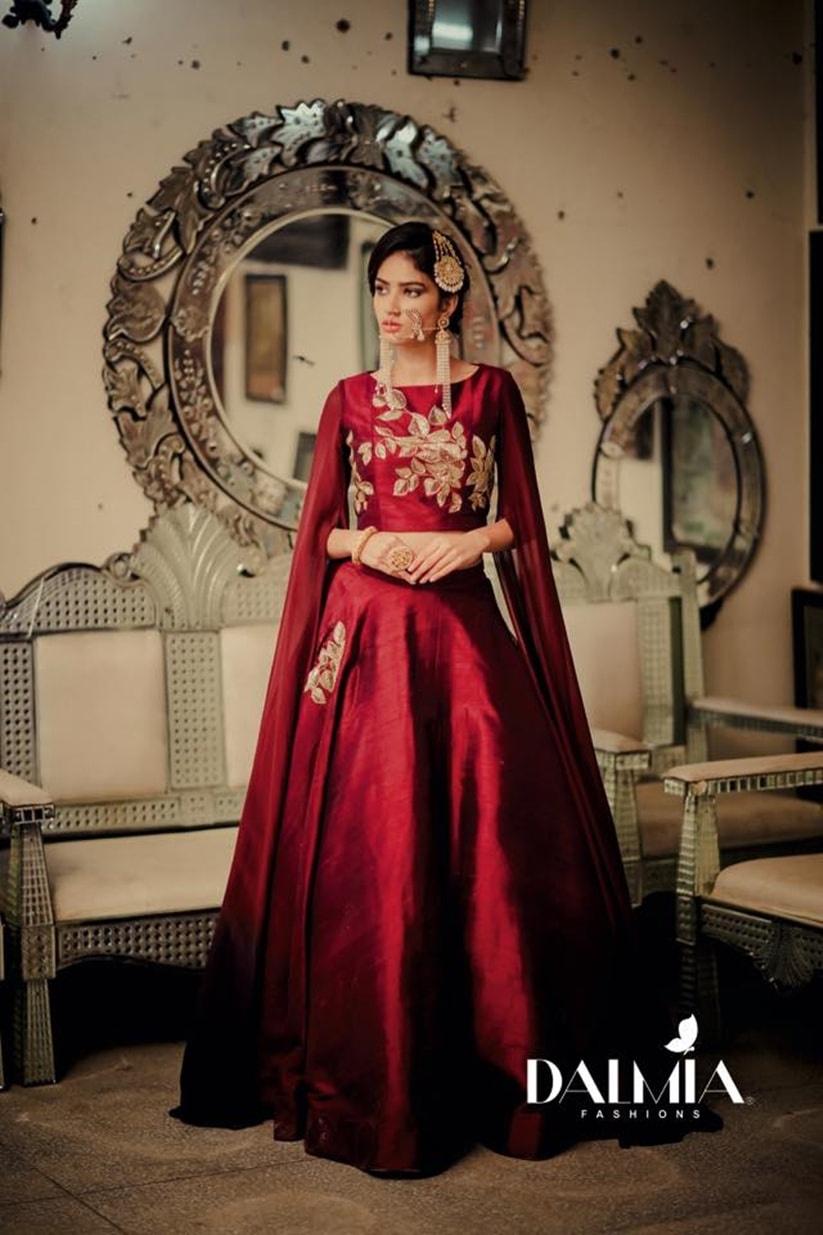 The boat neck of this cape lehenga's blouse gives it a regal look. You can sport a similar lehenga for one of your evening functions. The sleeves are slit from the elbow onwards giving the blouse a cape look. The embellished blouse and plain skirt are the contrasting elements that make it a spectacular must-have for your bridal trousseau. Wearing a range of statement jewellery with it will surely elevate your entire look.
Pair it with: Since it is a boat neck, you don't need a necklace. But for the rest of the bridal jewellery items, go all out.
2. Astounding Aquamarine Cape Lehenga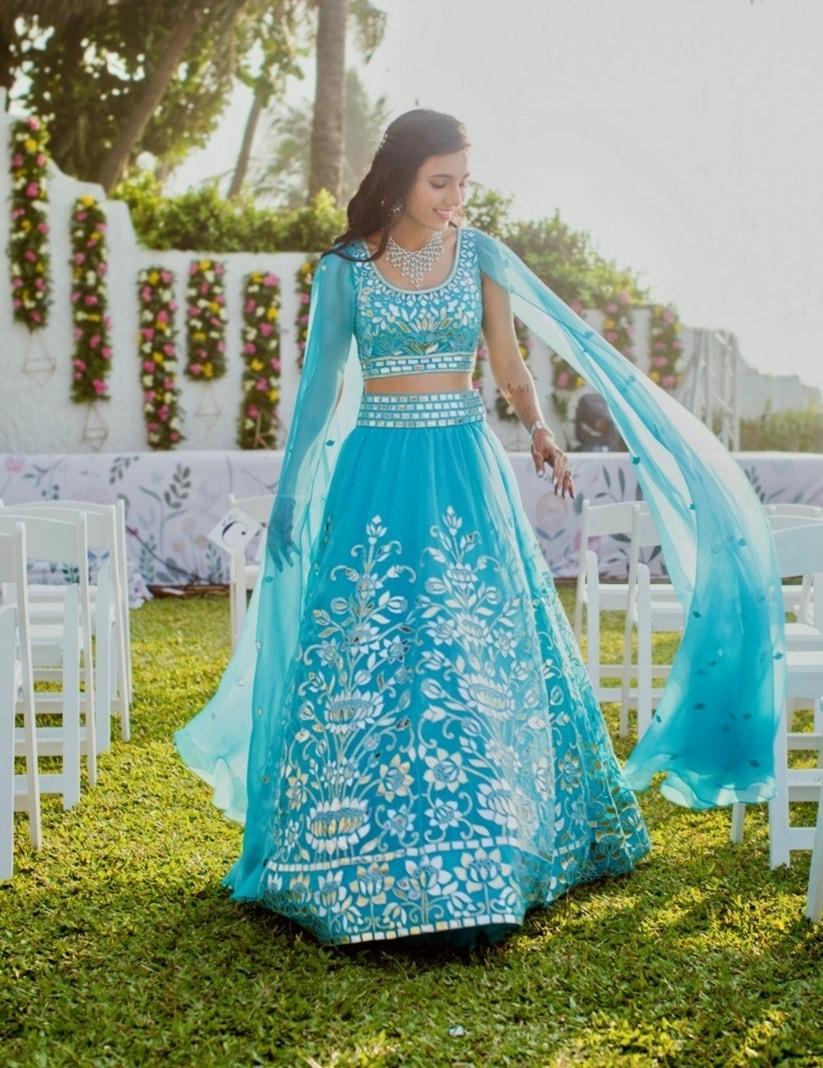 Miss Style Fiesta a.k.a. Masoom Minawala fueled this trend by flaunting a cape lehenga with a deep U-neck at her Sangeet ceremony. Her aquamarine lehenga looks spectacular with all the mirror-work. And you can add the similar flowy chiffon sleeves to make your attire the highlight of the ceremony. You can even go for a cape lehenga with Gota Patti work just like this one that will glimmer and outshine everyone else on your big day or any of your wedding festivities.
Pair it with: Add bling that complements the mirror-work of your lehenga. A necklace and earrings set are all you need.
3. Cold-Shoulder Pastel Peach Cape Lehenga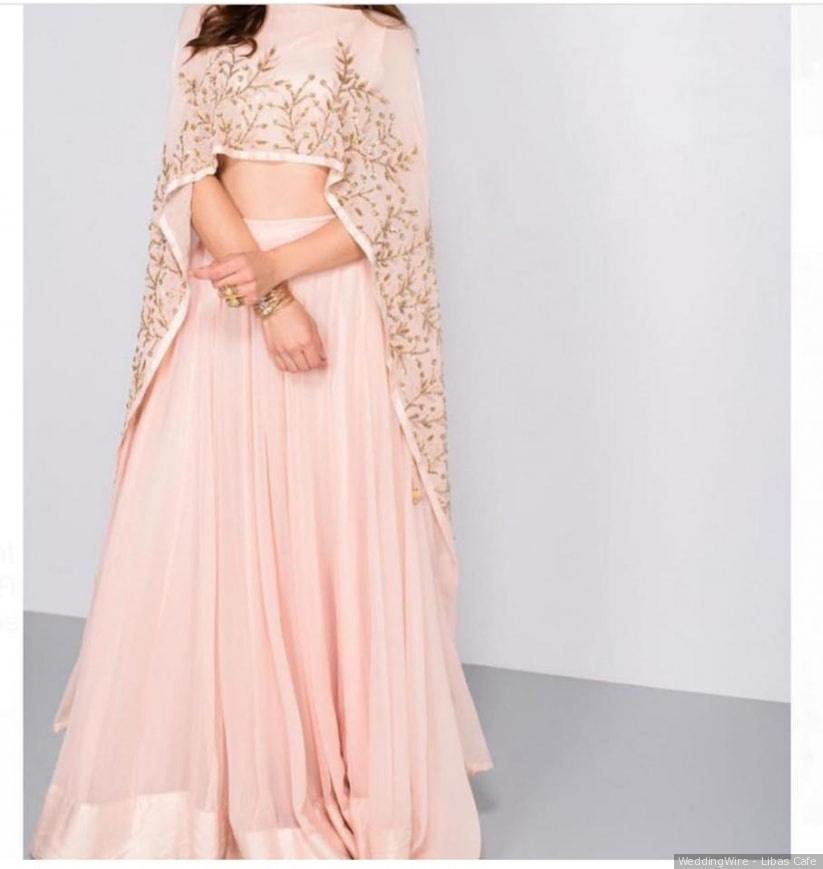 As it has been a season for pastel colours, this pastel peach shade has become a crowd favourite. Pair it with a cold-shoulder cape blouse to personalise it for a unique look. Imagine wearing this in the upcoming winters, you won't need a shawl (we're kidding). With light and pastel colours being all the range this wedding season, this beautiful attire will look gorgeous for your cocktail or sangeet ceremony, where you can be assured that all the eyes would definitely be on you.
Pait it with: Gorgeous bangles and statement earrings can easily complete your look.
4. One-shoulder Cape Lehenga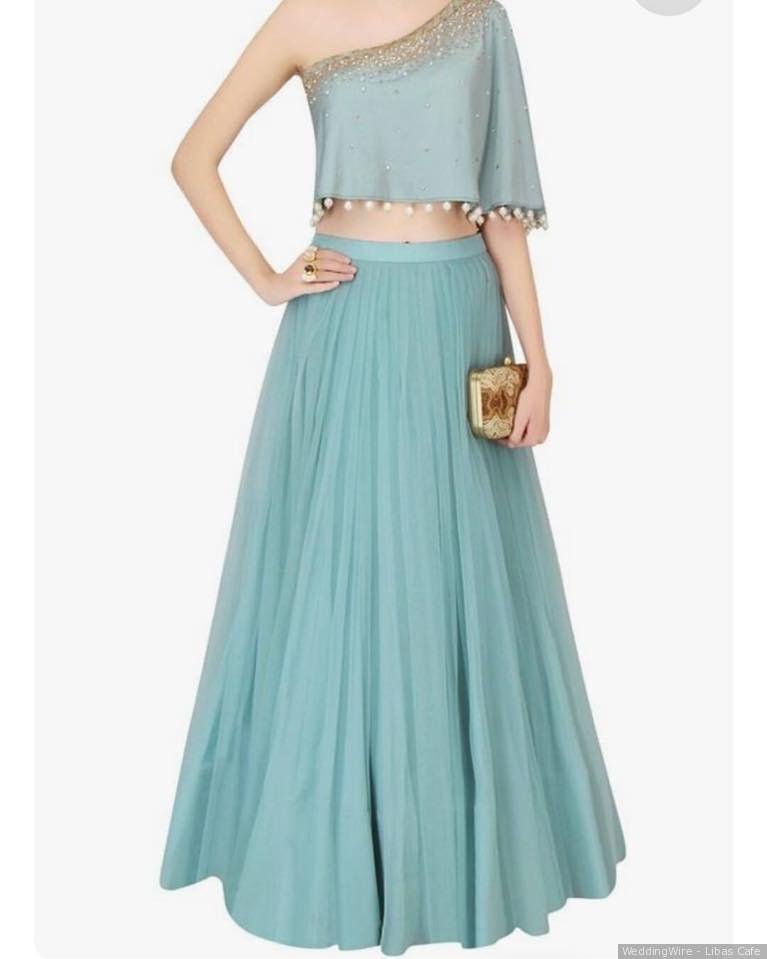 This one-shoulder cape blouse has fused together with the hottest of blouse styles. With the golden embellishments along the neck leaves no requirement for a statement necklace. The hanging beads at the hem of the cape add to its charm. And the powder blue colour is sure a hit if you're a fan of the pastel shade lehengas. A net skirt is a perfect companion for the thick fabric of the blouse. You can easily pull off something similar at a cocktail or even at your pre-wedding shoot. This would be perfect attire for any of the bridesmaid attending their best friend's engagement or wedding.
Pair it with: Statement earrings and a stylish up-do that showcases the length of your neck.
5. Tantalising Teal Blue Cape Lehenga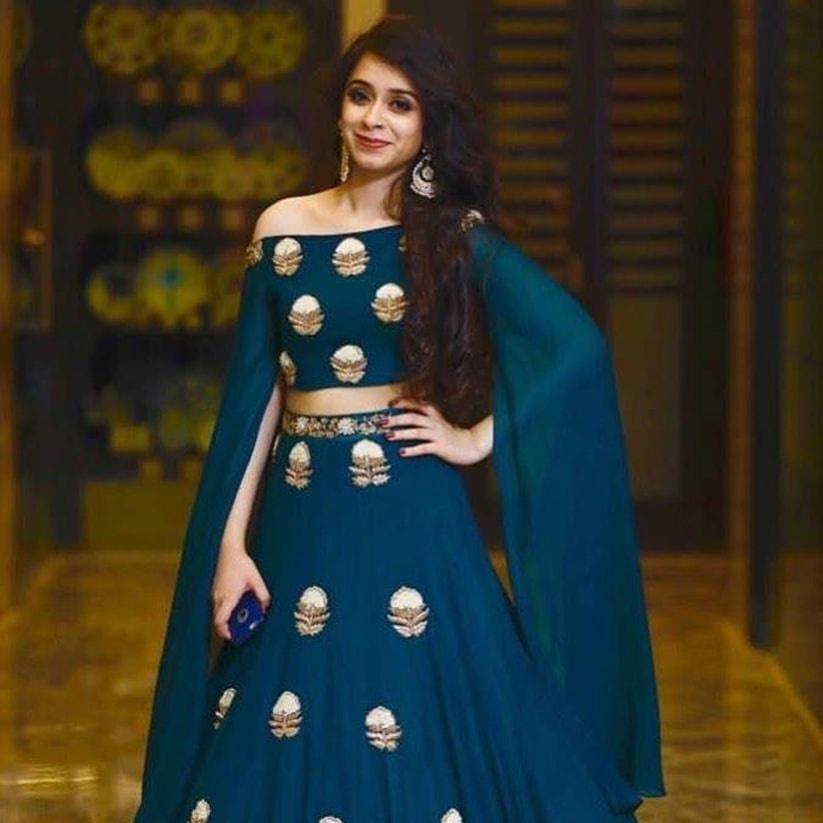 How about you try an off-shoulder cape lehenga? As you can see, this rich teal blue cape lehenga is the perfect balance between blingy and basic. The skirt and blouse have the same motif embroidered on them and the flowy hairstyle makes it even more graceful. This beautiful shade of royal blue looks exquisite on her while the subtle gold embroidery highlights the attire in just the right manner. Since it a gorgeous flowy design, you can go for minimalistic makeup and accessories and yet be assured that you would be the star of the event.
Pair it with: Since it is an off-shoulder blouse, skip the necklace and go for statement earrings.
6. Tangerine Cape Blouse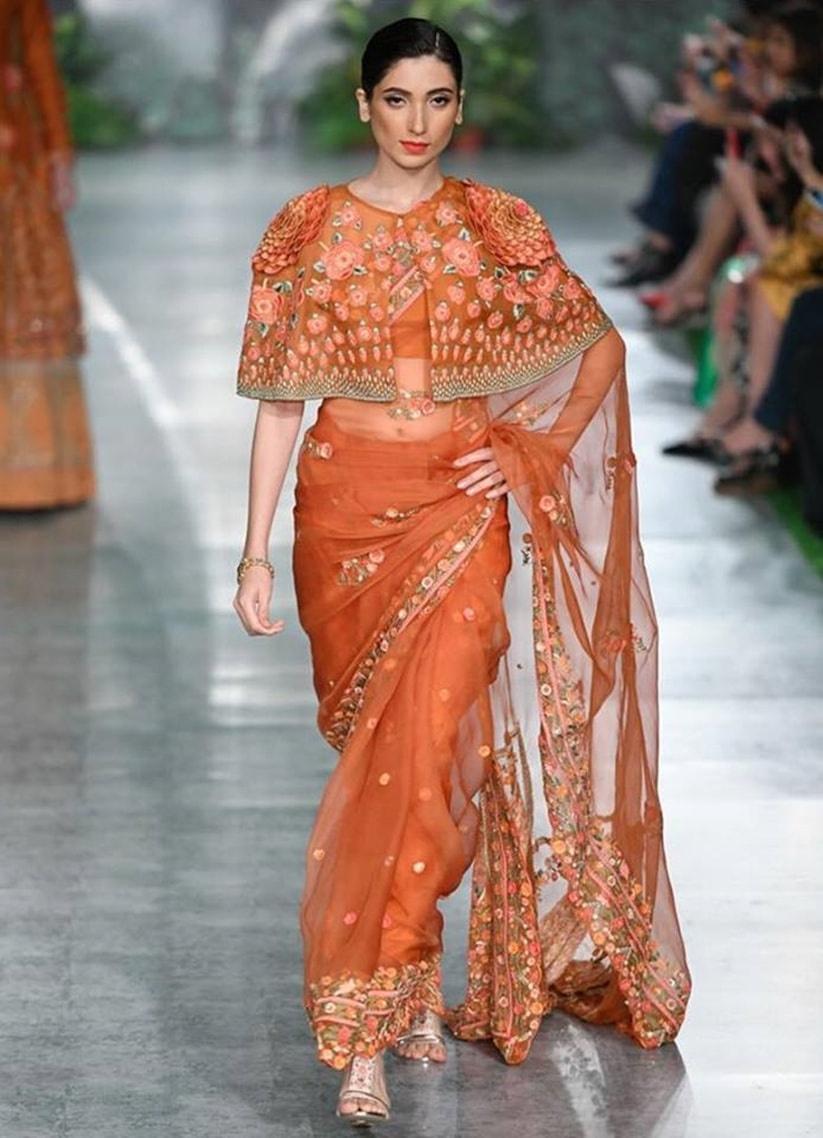 This divine Rahul Mishra creation takes the cape trend one level up. This tangerine cape blouse is loaded with embroidery and embellishments. The design looks like an extended collar giving it an unmatched elegance. This unique and creative design doubles as a cape lehenga as well as a modern saree which you can opt for any of your wedding festivities.
Pair it with: Since the cape is already heavy on designs, you can skip the jewellery altogether or put on just some blingy studs.
7. Powder Blue Cape Saree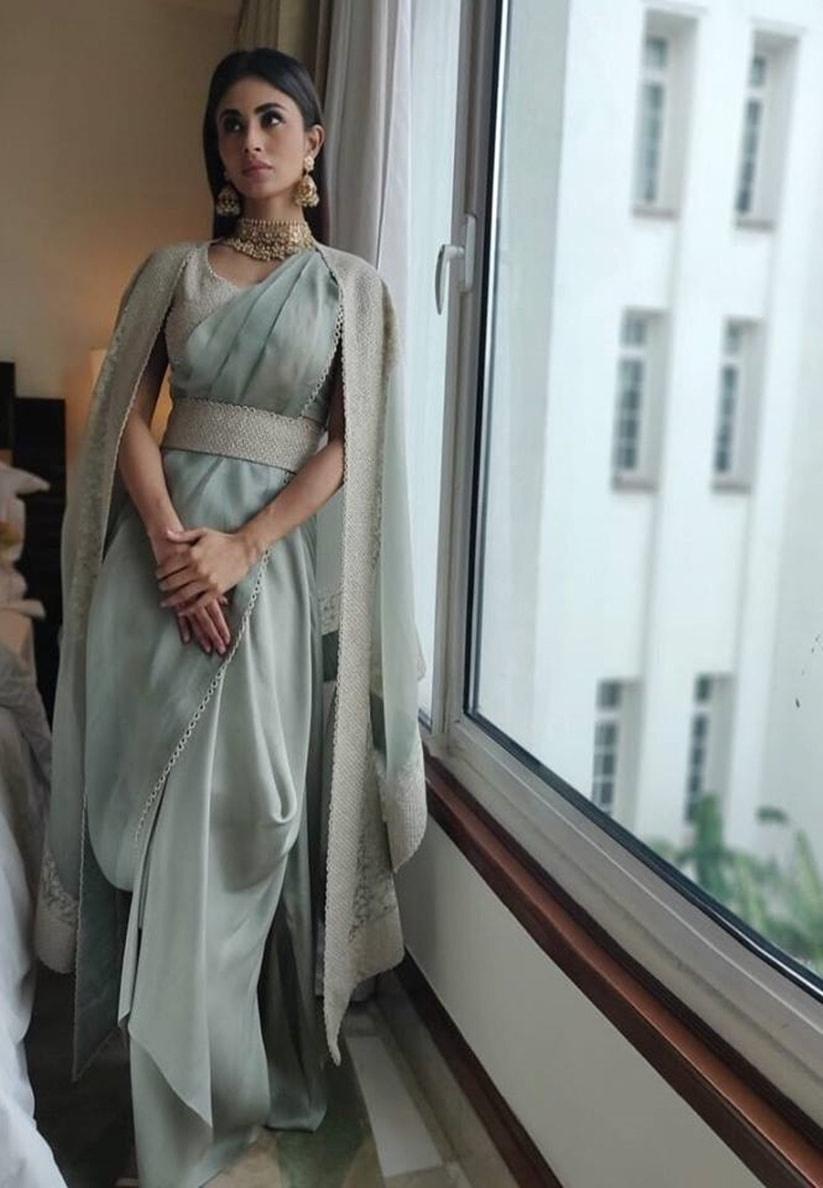 A chic royal affair reminding of Maharani Gayatri Devi, this Anamika Khanna design exudes sophistication and elegance. The cape is attached to the shoulders over the blouse giving it a phenomenal grace. This attire can easily be called the bridal attire goals.
Pair it with: Since the dress is light in colour, pair it with a darker statement jewellery set.
8. Printed cape lehenga sleeves on pastel notes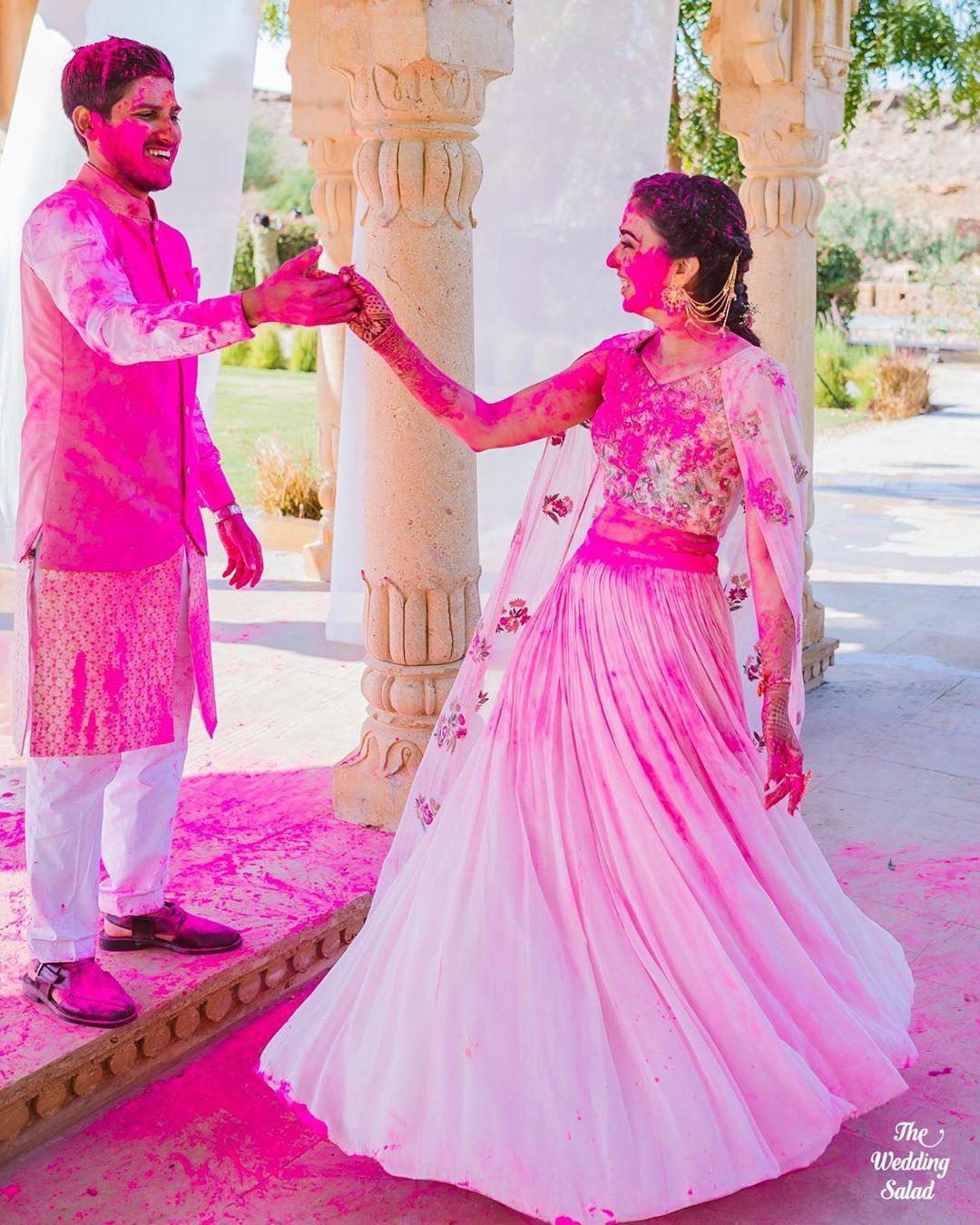 Cape lehenga concepts, simply for the sleeves are a beautiful way to ensure that you get around the need for a dupatta and still look your glossy, gossamer self. Observe the printed floral highlights on these cape lehenga sleeves to note the drama that they add to their baby pink pastel outfit. The addition of the sleeves is enough to turn this no sleeved outfit into a delicate layered piece.
Pair it with: Floral jewellery with a singular statement piece would be perfect for this outfit.
9. Ombre sequined Cape lehenga with sleeves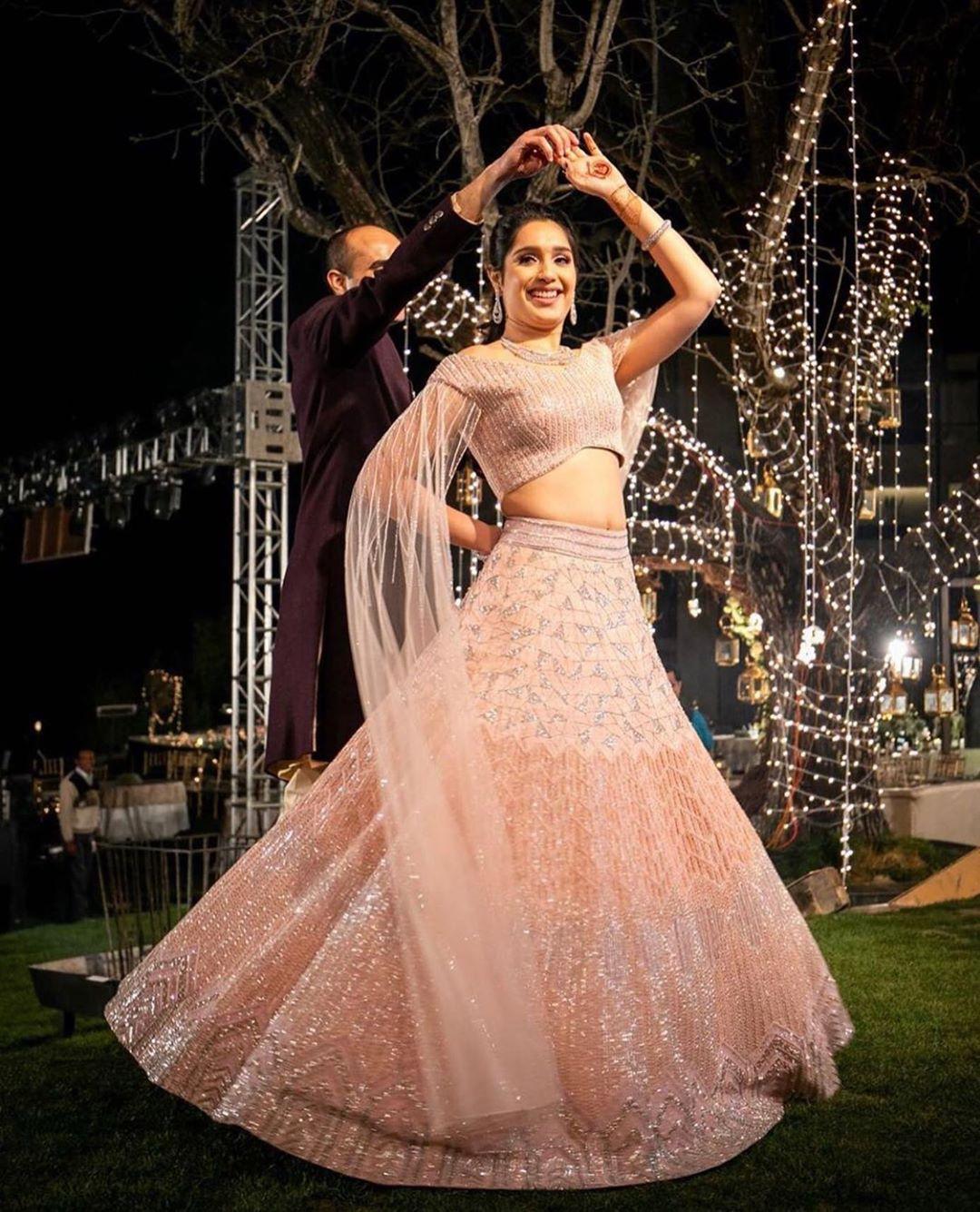 Image courtesy: Disha Patil Pret Couture
We love how this cape lehenga outfit creates an ombre appeal simply on the basis of the lehenga design, in different layers of embroidery and bejewelled sequins. The floor-length net blouse sleeves contrast spectacularly against the bejewelled masterpiece. Wear this look at a wedding reception, where it adds value as a formal outfit with expert ease.
Pair it with: Diamond jewellery that shines as spectacularly as this outfit. If you're feeling upto it, combine with a tiara as well.
Own this style by personalising it your way. Experiment with different lehenga fabrics to create a unique design for yourself. And in all the excitement of looking drop-dead gorgeous, you might as well practice some wedding poses that make for some gorgeous pictures.
Which style did you like best? Tell us in the comments below.