Slay at Weddings in These 14 Uber Stylish Latkan Design & More
Why wear the same old lehenga designs when you can do something new and totally unique. We spotted these uber cool latkan designs for you girls to slay in this wedding season. It's time you included one of these in your wardrobe!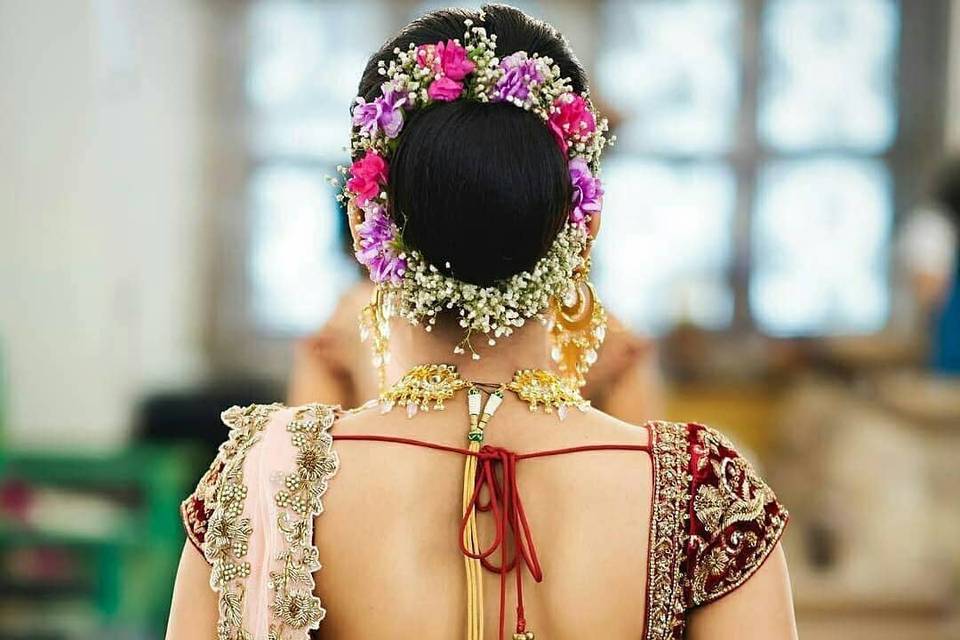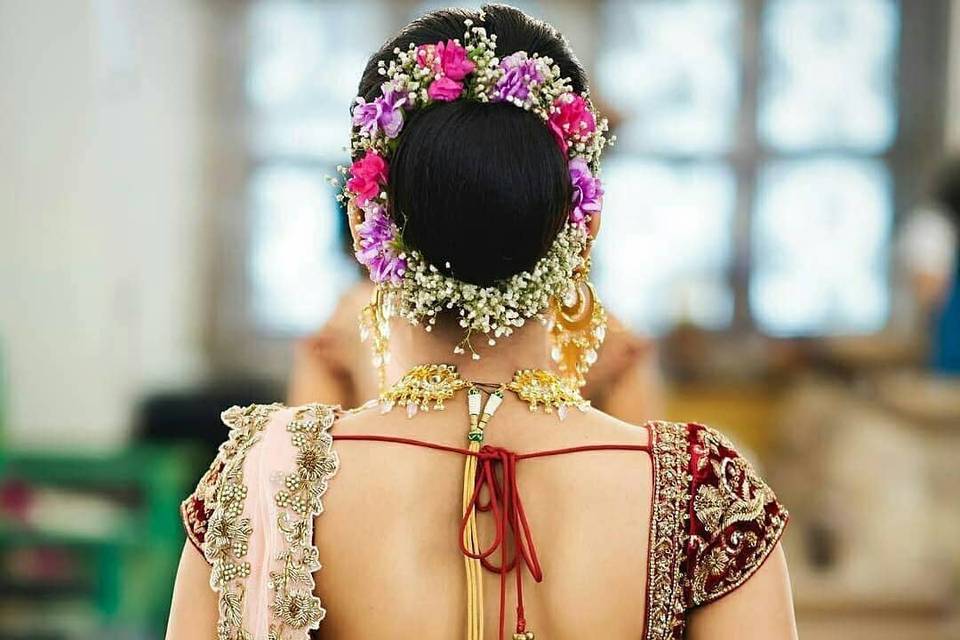 Image courtesy: Simmy Makwana on Instagram
Dearest Banno, if you believe it's all in the detail then you shouldn't be missing out on these latkan designs. What are latkans you ask? They're fancy ornaments and accessories made using fabrics, embellishments, beads. They are used to replace the drawstring of the blouse and align with your wedding blouse designs. Wedding season is upon us and you must be riding high on finding some trendy ideas to sport a unique look. Since it is these small details that play an important part in making a wedding outfit a hit or a miss, we present to you some trending latkan designs to raise the bar of your style quotient!
We spotted some really fancy and over-the-top latkan designs for you to take inspiration from. so take cues and shop along!
1. Personalised Latkan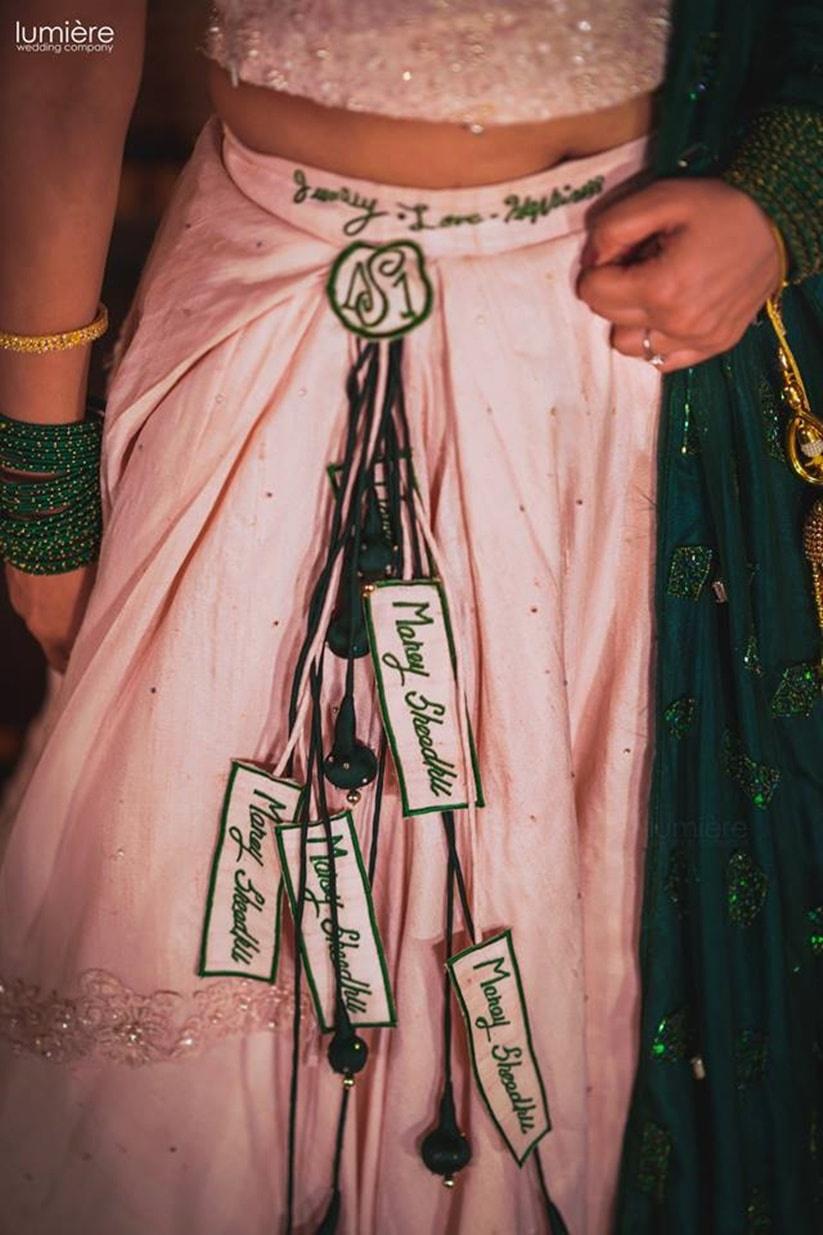 Banno tera swagger lage sexy! Show off some swag and slay with this latkan that carry with them a personalised message. From founding the wedding hashtags to the details of your wonderful love story, these personalised latkan designs can carry your little world on your waist.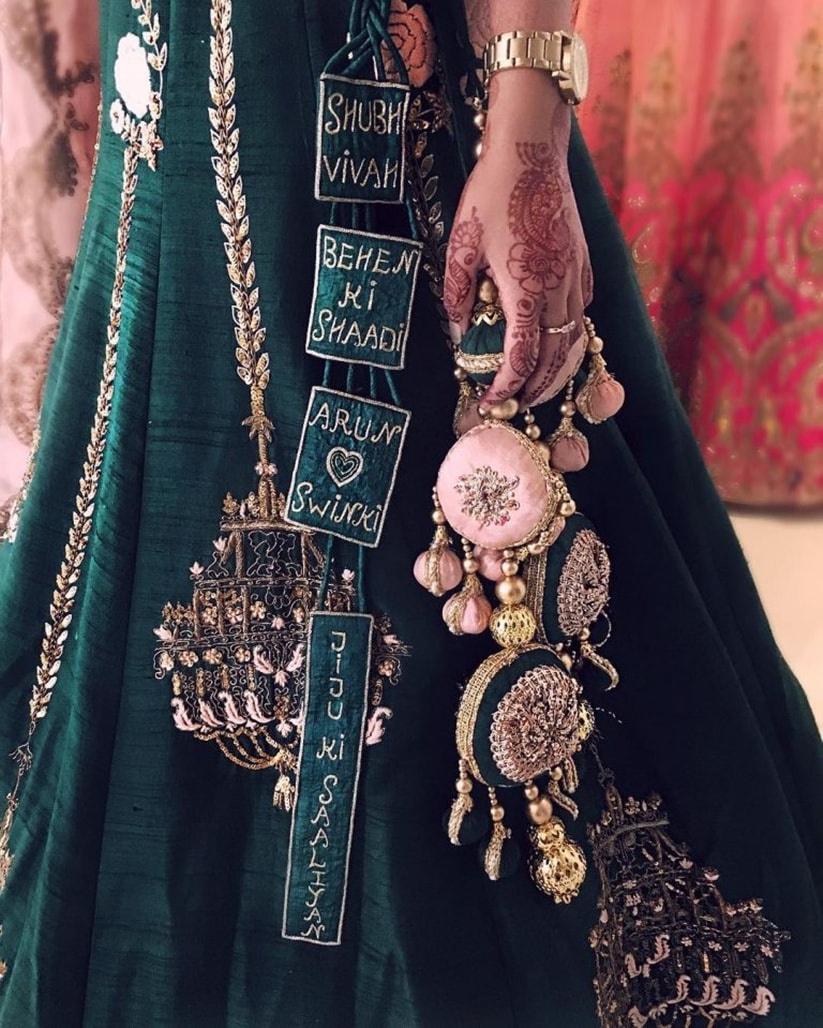 Photo Courtesy: Archana Rautela's Instagram Profile
An uber stylish latkan for the 'it girl' this will clearly make your outfit the talk of the town. This is for the atta girl, one that will exhume some good vibes and result in major fashion slayage! If your heart is bubbling with love and excitement for your big day then go ahead and incorporate these pretty latkan design in your bridal ensemble.
2. Pink Scallops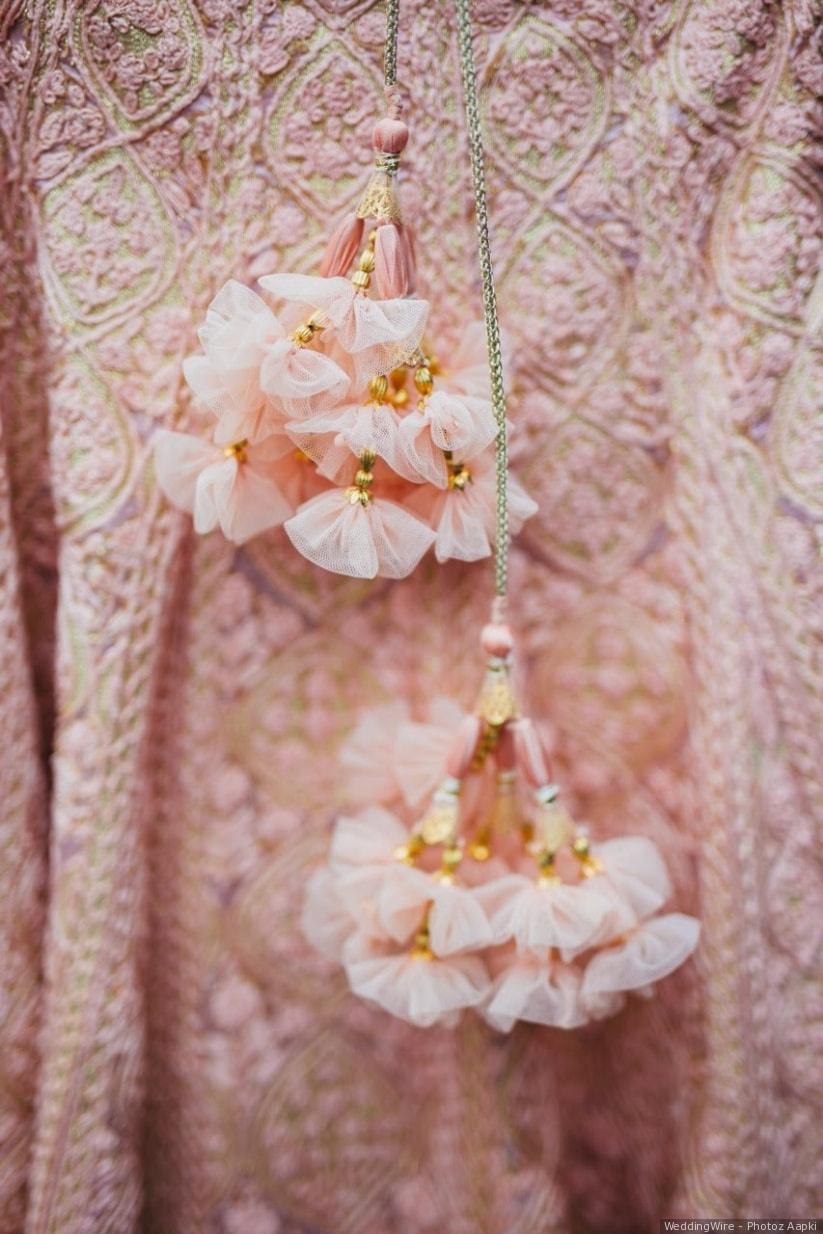 These soft pink flower shaped scallops with a golden bead to hold them in place are adept for elevating any pre-wedding outfit. These delicately interwoven cloth pieces have an earthy feel to it. This calm accessory is just what you need to make your bridal look pop.
3. Classic Pom-Pom Beauty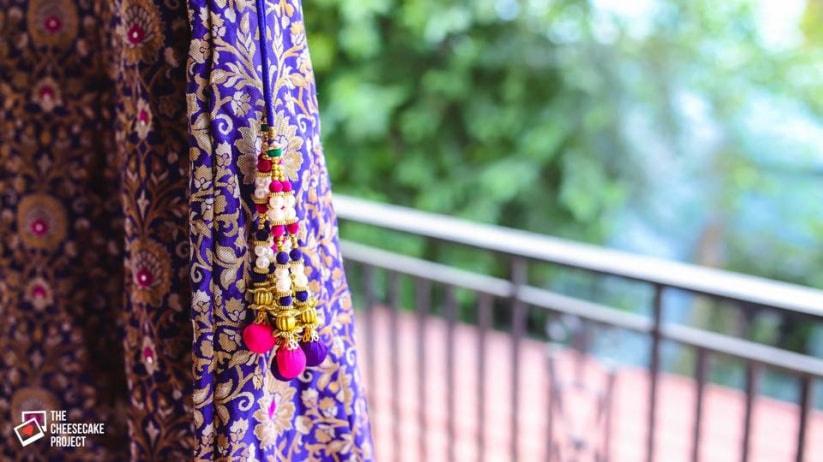 Thought pom-poms were only used to make earrings? Well, think again! These colourful bombs in pink, dark green and maroon are surely catching our attention. These beautiful accessories run high on bride chic-o-meter while helping you look the most stylish and trendy bride. Pom-pom latkans are woven with fine silk threads and this is what makes them comfortable, light and ever so stylish to add an edge to your bridal lehenga.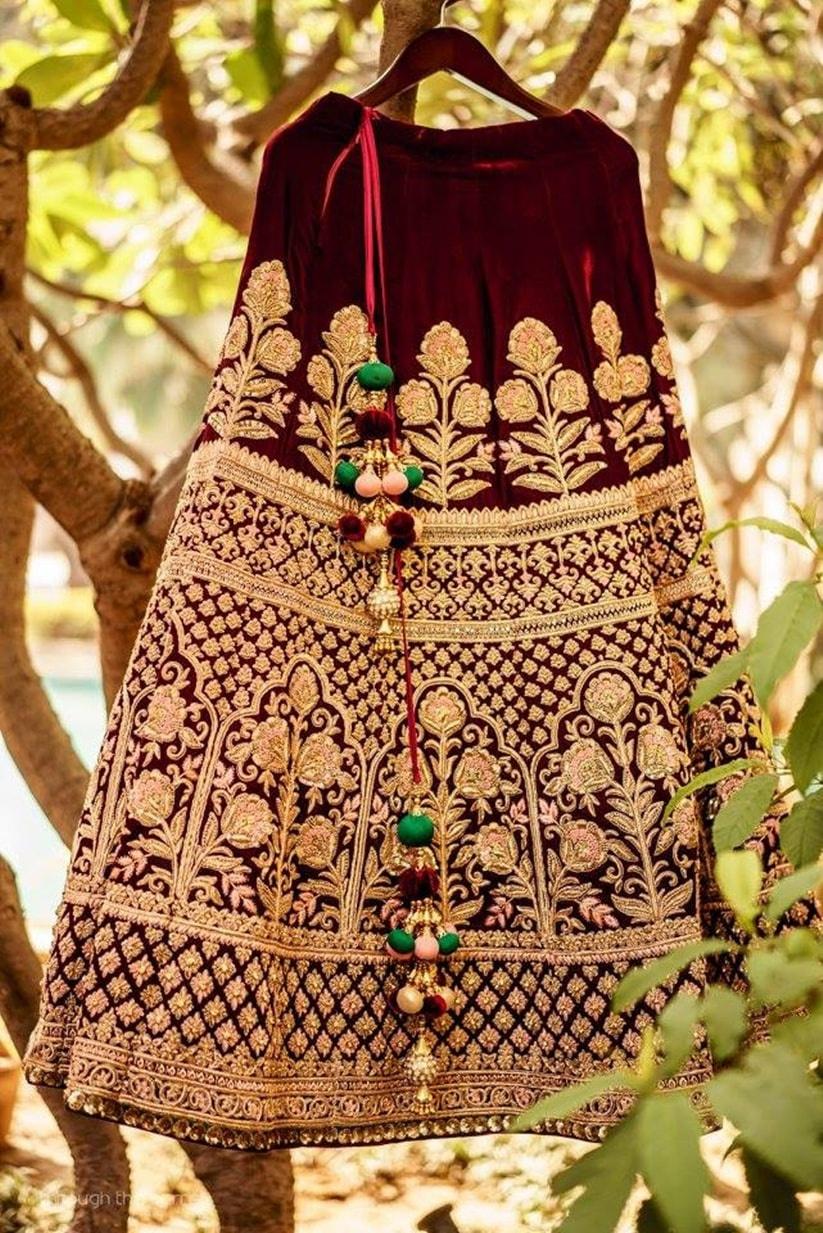 Make your velvet lehenga more chic by adding these latkans and turn some heads around as you walk. Available in a host of colours and variety, this will surely complement your bridal ensemble while keeping your lehenga light-weight.
4. Embellished Pom-Poms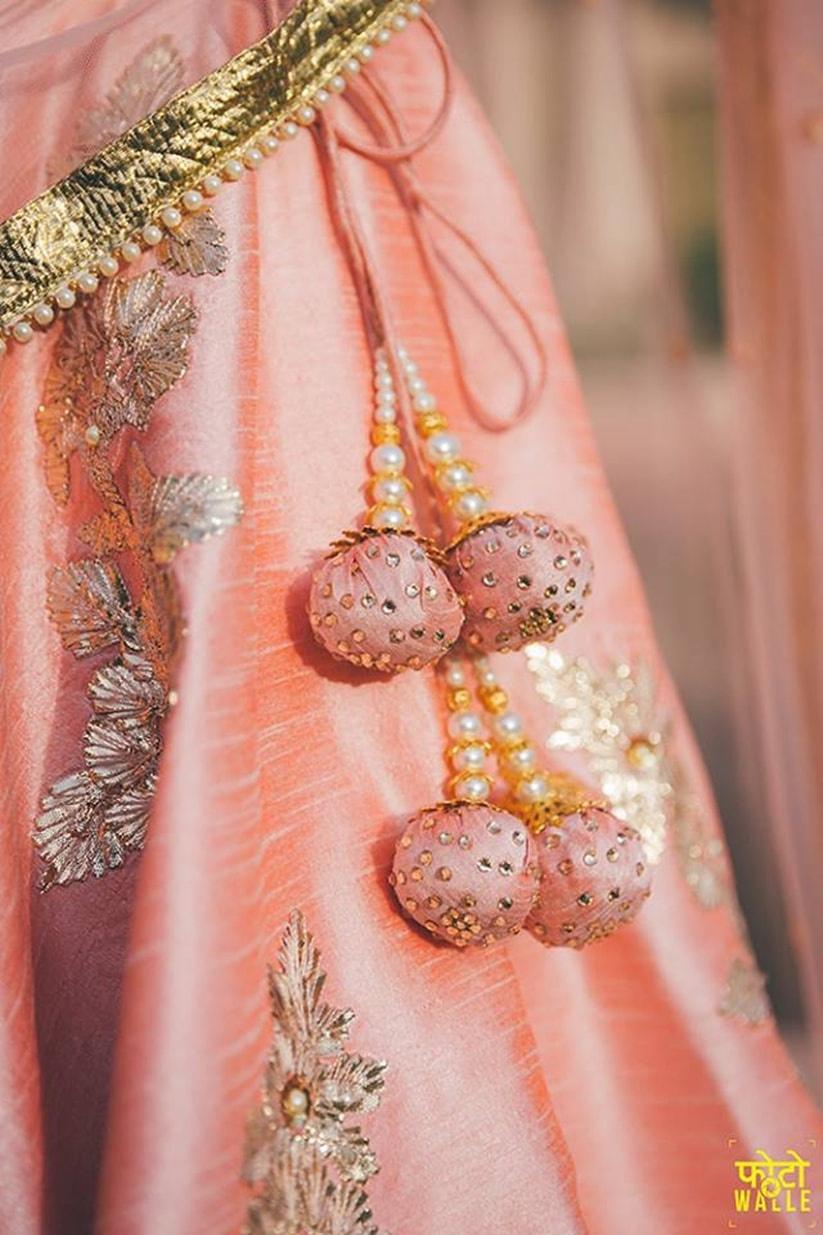 The more the bling the better it looks! Look at these beautiful baby pink ball style latkans with gold and silver rhinestones on top. They are delicately being held in place with a pearl string with golden beads to bring that oomph. Be a chic bride or a bridesmaid with these blingy latkan design. They are surely used to add a finish to your bridal lehenga.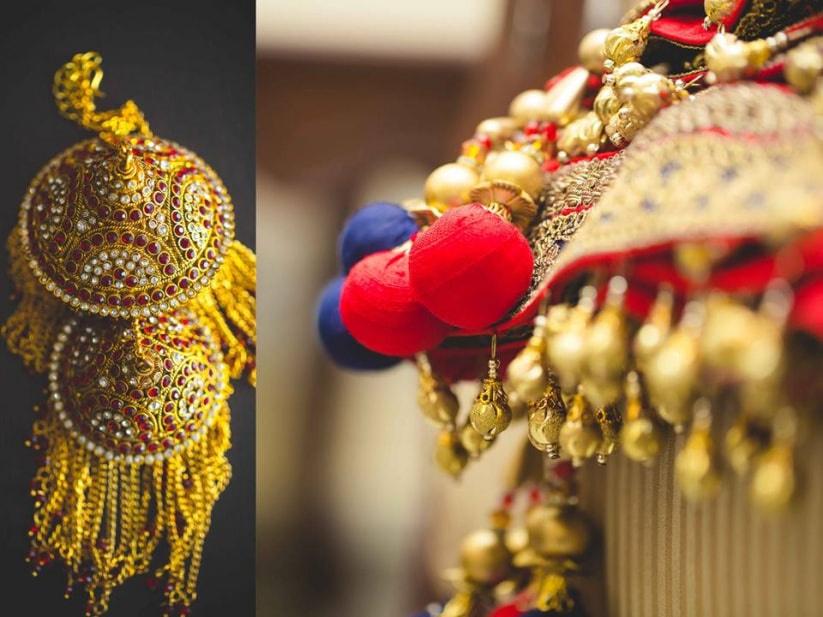 Or, perhaps a combination of Kalire and pom-pom inspired latkans is your cup of tea. A rhinestone-studded beauty dazzling in gold will be the right amount of bling to elevate your wedding outfit. You can even opt for a perfect combination of pom-pom latkans with ghunghroo, so that with their sweet sound everyone can be aware of the bride's entry.
5. Mirror and More Mirrors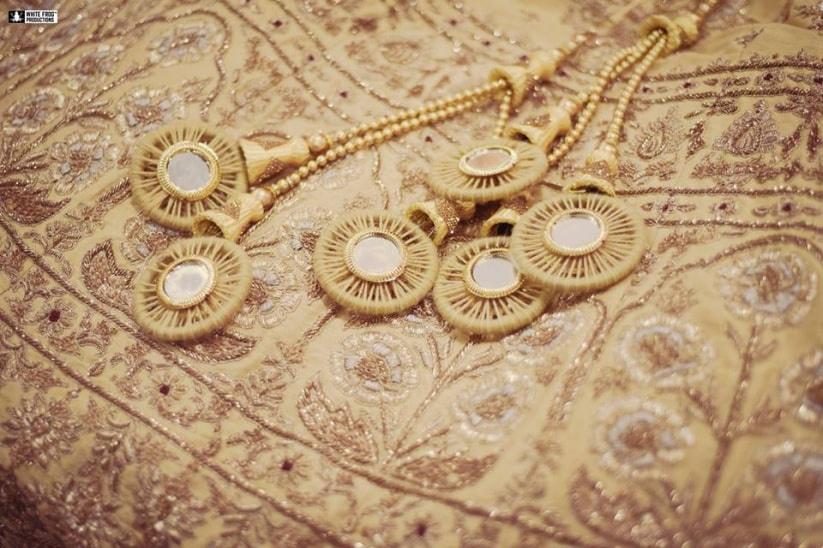 We've seen pom-poms, fabric cutouts, tassels, now it's time for mirror work latkan designs. Mirrors centrally placed in this beige colour thread-work design looks stunning. It will amp up your blouse and lehenga both, and make them eye-catching. While adding bling to your lehenga, their versatile nature makes them appropriate for any kind of bridal ensemble.
6. Beads and Stones Latkans for Blouse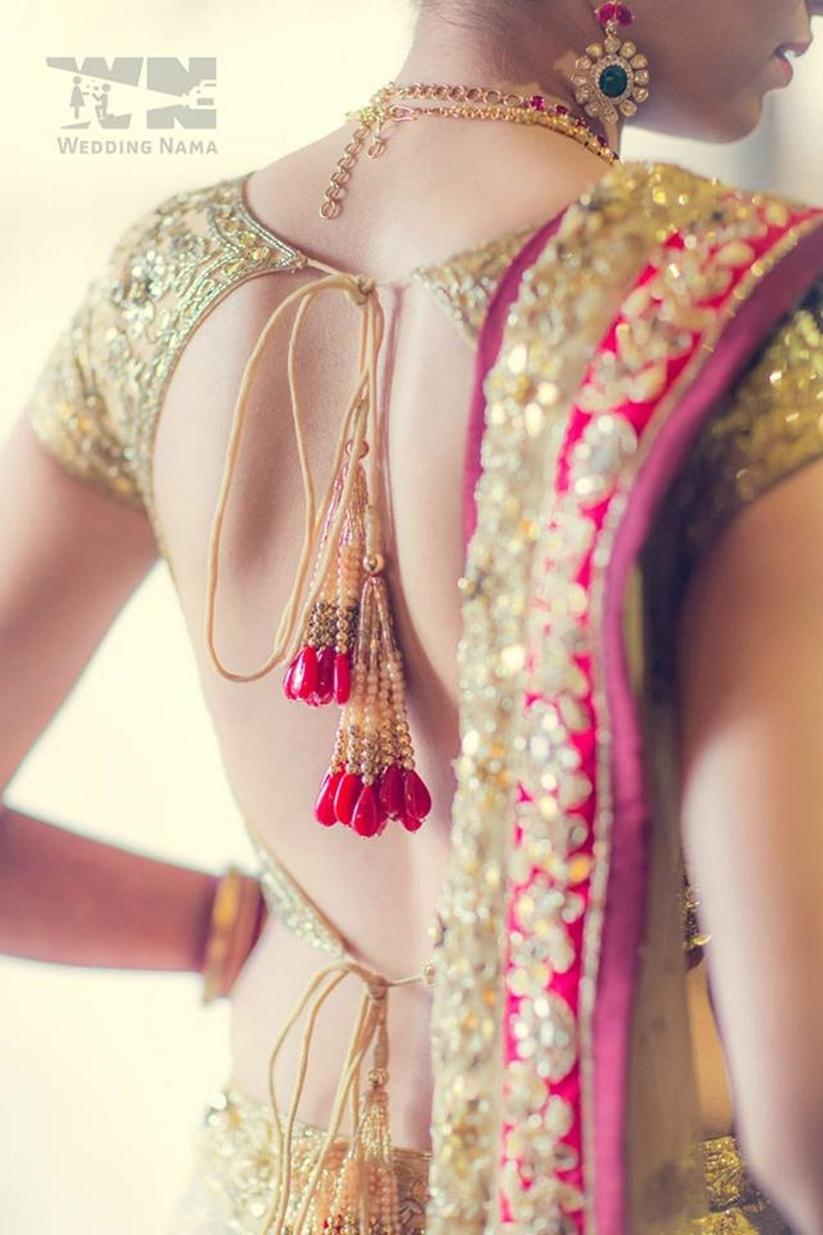 Latkans have the power to transform a blouse into an exquisite piece of garment. Brides don't leave any stone unturned to bring their fashion quotient up a notch! You can incorporate this magenta and golden latkan design in your attire to make it fancier than it already is. Your special day calls for a special outfit and equally special accessory that would complement your entire bridal look. If you are looking for something to amp up your look with the undertones of classy in each swirl, these beautiful beadwork latkans are something to opt for.
7. Metal Latkans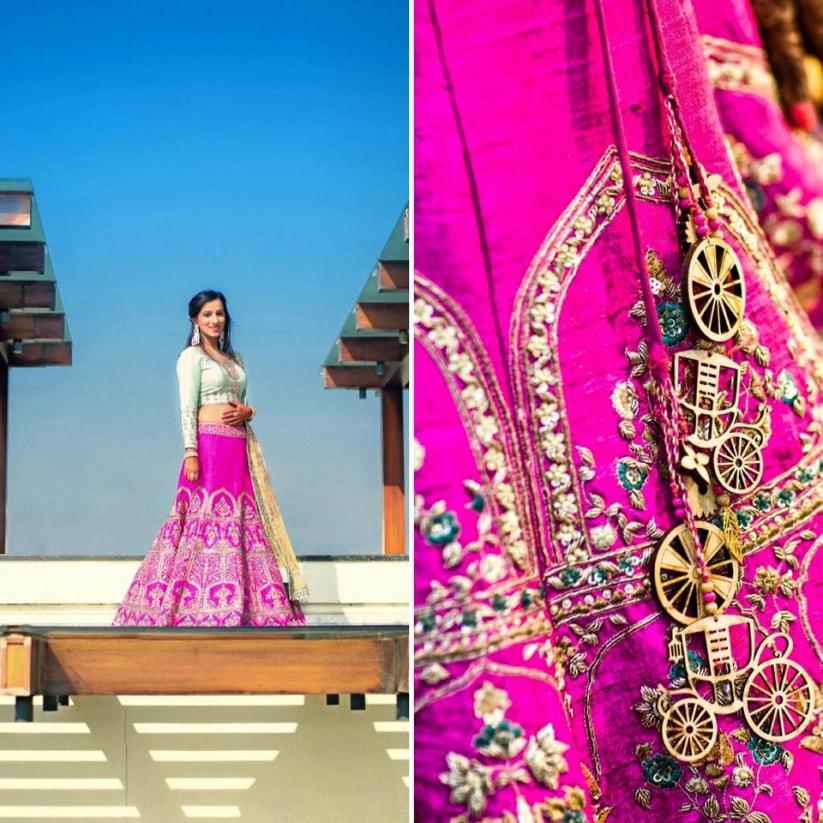 These copper colour metallic latkans are super-chic, an easy find and don't burn a hole in your pockets either. These have a rustic yet modern feel to it and are exactly what you need to perfect your bridal outfit. Unlike other latkan designs, they consist of customised shapes and designs which you can choose from an exhaustive range to add beauty to your attire.
8. Gota Patti Latkan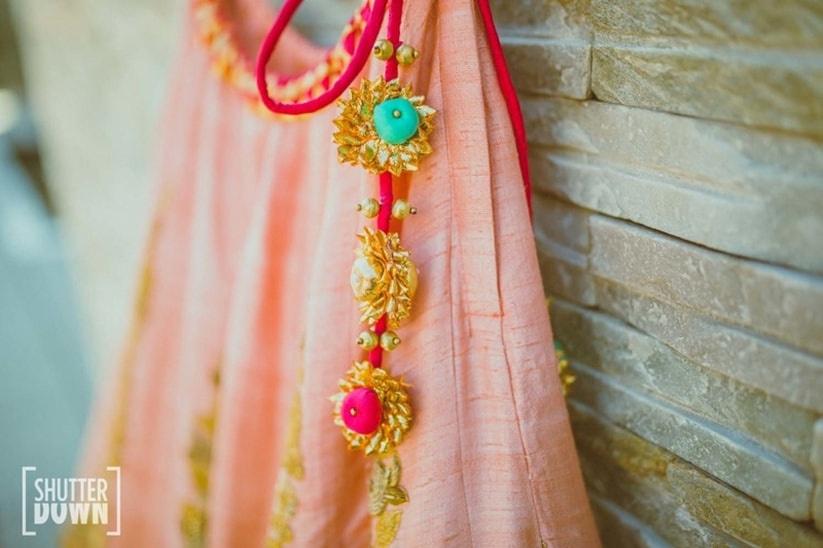 These Gota Patti inspiration with a circular pop of colour in the middle are a sight for sore eyes and are definitely catching our attention. They add a traditional touch to your lehenga or blouse while keeping it modern and contemporary. Gota Patti designs are the trendiest accessory this season and these one-of-a-kind latkans are inspired by them. You would definitely not be able to get your eyes off such pretty design.
9. Same-coloured tassles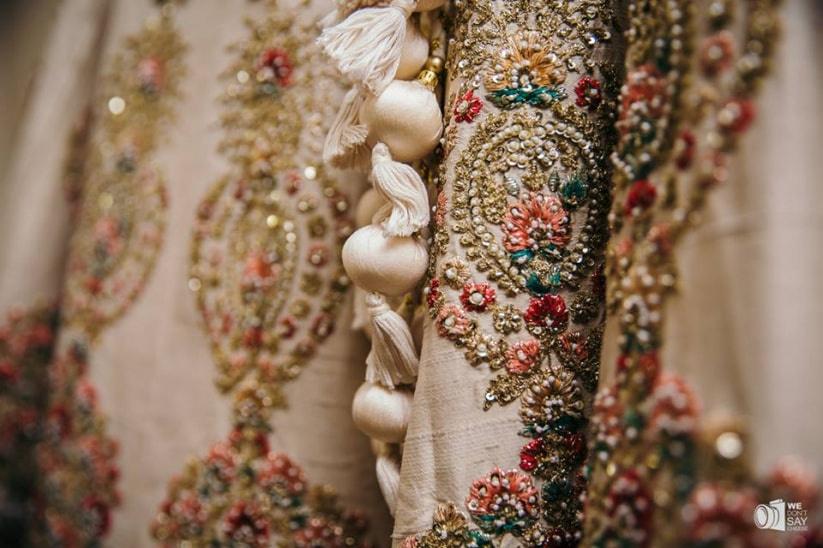 An old school and still acing the bridal latkan game. Matching your latkan to your bridal lehenga would add definition to your entire look and ensemble. With ease, they would become a unique yet a chic part of your bridal lehenga, while helping you get ready for the biggest step of your life.
10. Hot and Heavy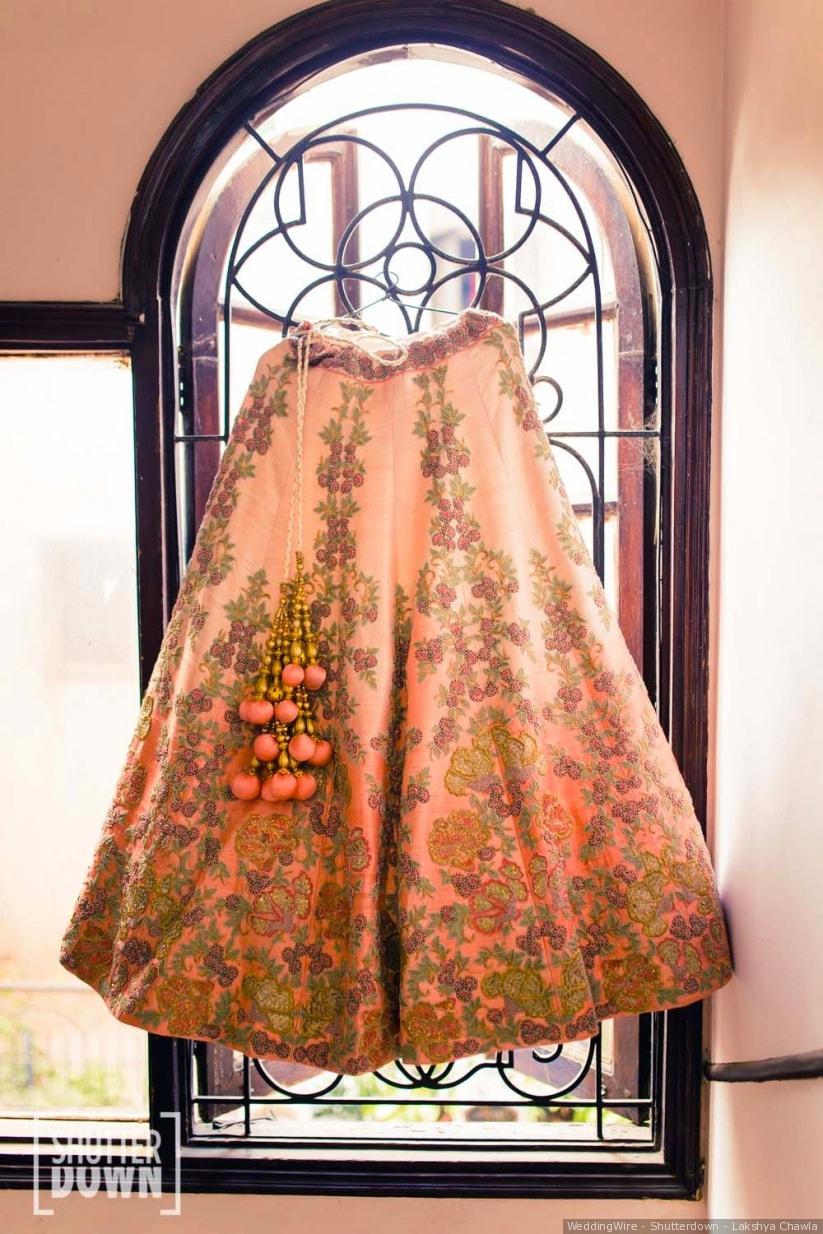 If you always wanted to be a bride inspired by Bollywood and live out your Karan Johar moment on your big day, then this is an accessory option just for you. These ever so pretty latkan design will surely transform you into a royal bride exuding regal aura in each and every moment of the biggest journey of your life.
You can choose to incorporate similar coloured tassels or go on a creative bend and choose different colours to add a pop to your bridal attire.
11. As a bangle accessory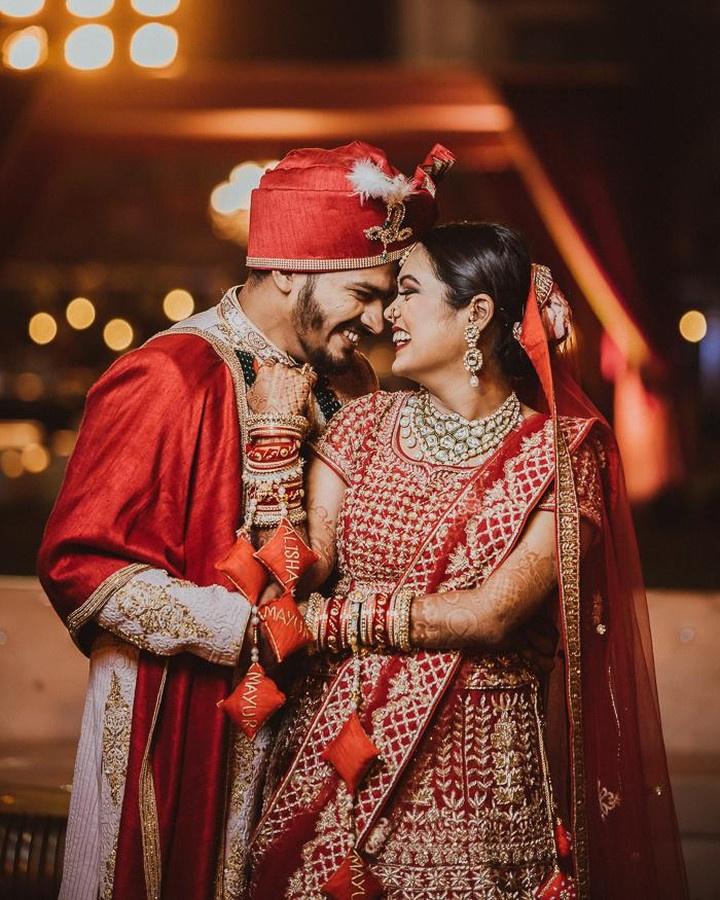 Latkan designs have been used perennially with a dashing blouse back (often with a deep back or a backless blouse design). However, the only limit to adding these accents to a bridal look are the ones which we ourselves place on our imagination. Case in point, these adorable, pillow-like, silk latkan design that's conveniently latched onto a set of bridal Churas.
Extra points for the personalisation - from the obvious names on these elements to the perfect colour match-up.
12. Beaded bunches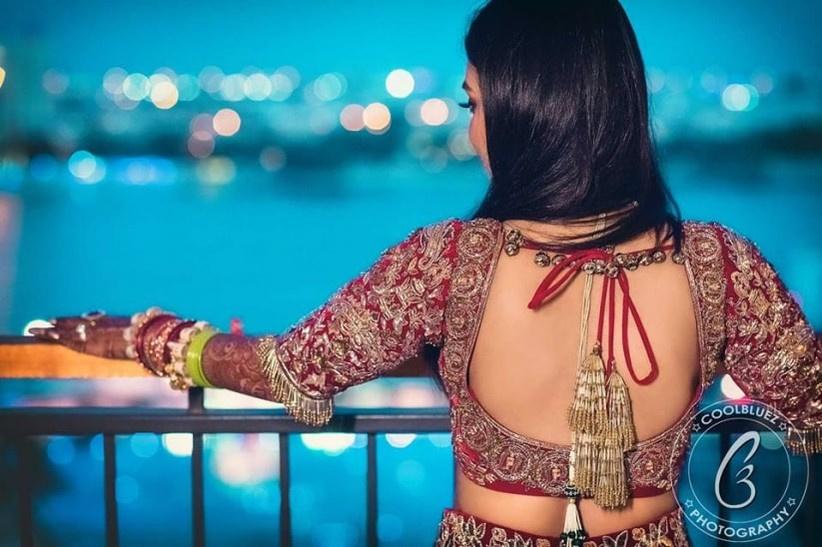 There would be showers of tassels and beaded details indeed! The beaded onsets work beautifully against the deep back design of this bride's embellished blouse. They also match perfectly with her fringed elbows and the beaded work all over her outfit.
Let's go heavy lehenga entirely with this look.
13. Bling and baubles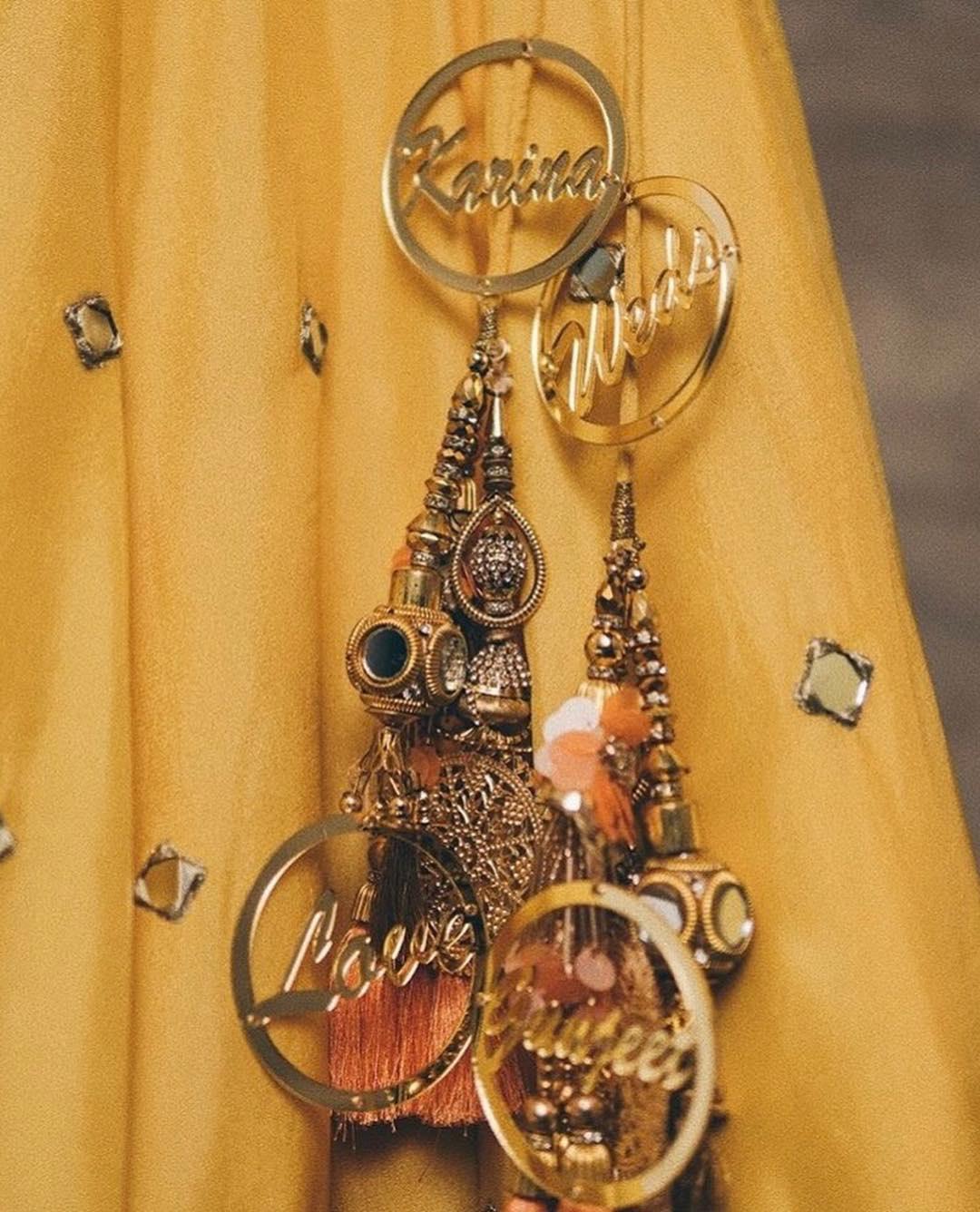 Image courtesy: Styled by Karina
Close on the whimsical threads by a Cinderella-like carriage on the magenta number above, is this cluster of baubles. I mean, what's not to have in this Latkan design? From the named danglers (proudly declaring Karina's nuptials to Gujreet) to mirrored spheres, silk thread pom-poms, large, disc-like details and even embellished beads.
Contrast such a set splendidly with a plainer, simple lehenga.
14. Lime green cluster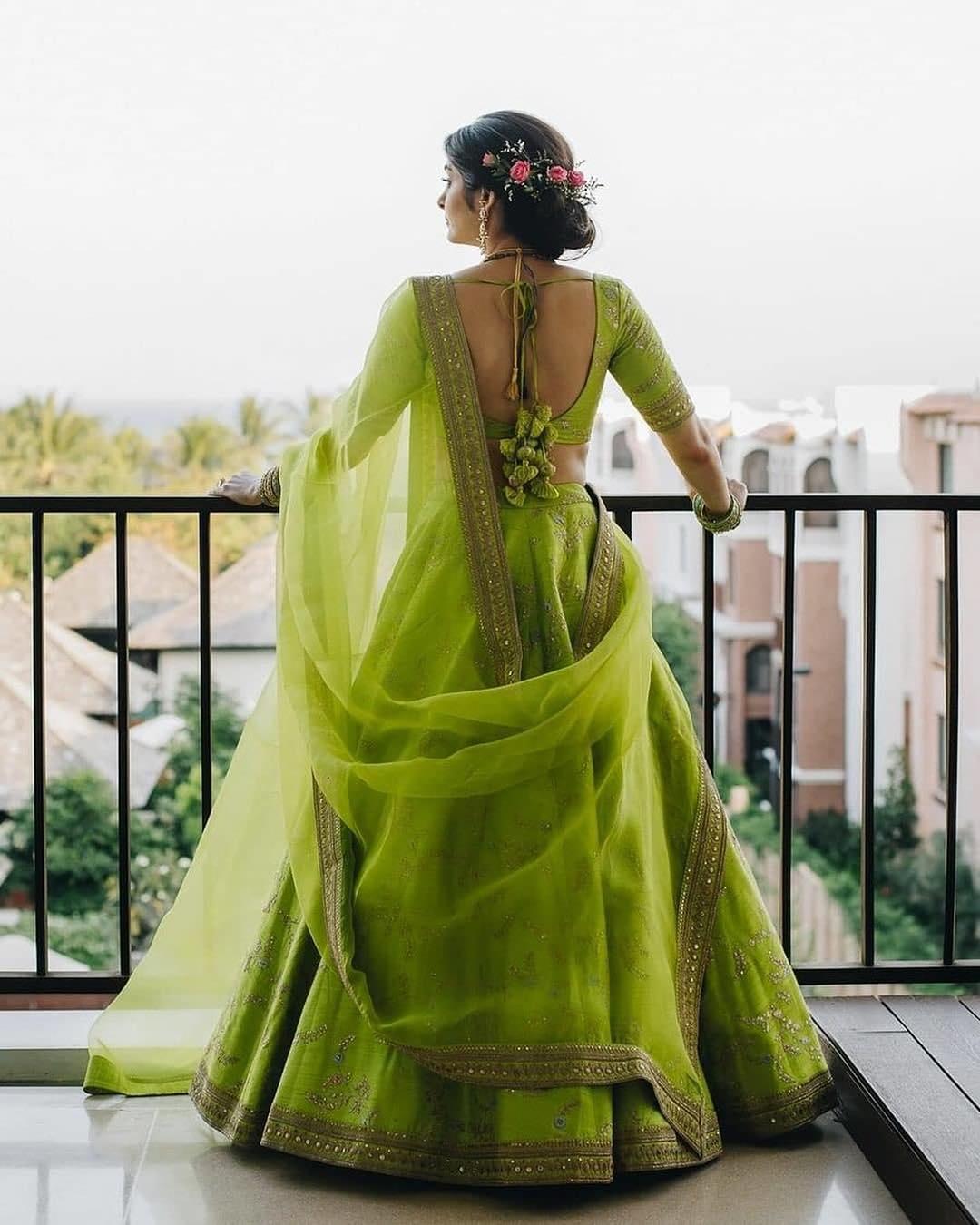 Image courtesy: Sabyasachi on Instagram
Cool as a cucumber, this lime green, summery Sabyasachi lehenga gets a sense of completion with a bunch of dori-like pom-poms at the nape of the blouse's back. The set stands in contrast to most latkan designs as they seem to be centred around the end of the blouse rather than rain down to the lehenga itself.
Latkans are the accessories for the gen-next brigade of brides and bridesmaids. No wedding attire or a party attire is complete in the absence of a designer latkan. No longer are they just some beads and pearls hanging from a drawstring. Now, they are crafted with just as much sincerity and personality as any other clothing related accessory. Show your swag with some stylish latkan designs this wedding season and bring your A-game to the front. Get ready for some major fashion slayage!
What did you think of these latkan designs? Tell us through comments.