Editor's Pick: Best of Wedding Fashion Spotted at FDCI India Couture Week'23
FDCI India Couture Week 2023 saw Indian couturiers reinventing fashion classics like mermaid lehengas, dhoti pants, and Chikankari embroideries for new-age brides & grooms. Find my top favorites here.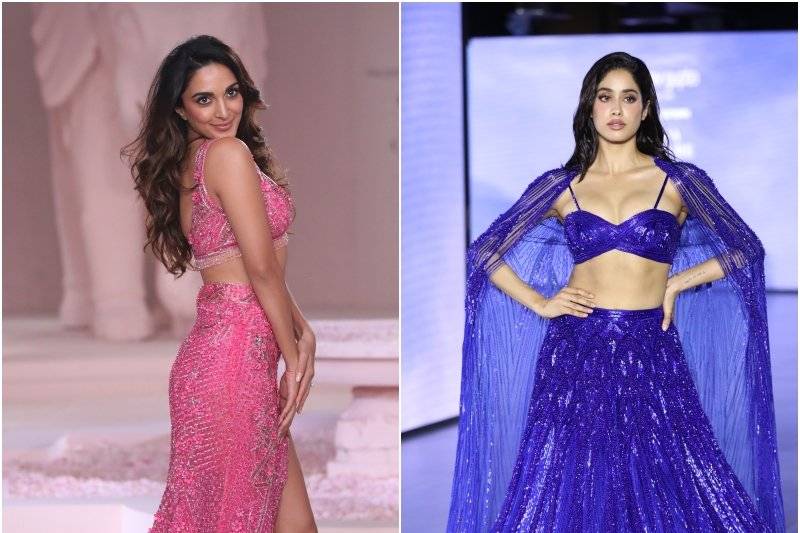 Image Credits: (L) Falguni Shane Peacock, (R) Gaurav Gupta
Spotlighting the latest work of 16 couturiers who are fashioning wedding wear must-haves for the new generation, The Hyundai India Couture Week 2023 in association with Reliance Brands presented a glistening fashion week from July 25th to August 2nd, 2023 at the Taj Palace Hotel and other offsite locations in the capital. While all eyes were glued on the Bollywood sweethearts who turned show-stoppers at ICW 2023, I was pre-occupied envisioning different interpretations of the lehenga designs, sherwanis, tuxedos, glistening gowns, and more on our soon-to-be brides and grooms.
Here, I type my interpretations to life and bring together some of my favorite ensembles and trends from the India Couture Week 2023 showcase that can set the bar of your wedding fashion game high!
The Barbie Core Mermaid Lehenga
Image Credits: Falguni Shane Peacock
As Kiara Advani strutted down the ramp for Falguni Shane Peacock's 'Renaissance Reverie' collection for India Couture Week 2023, the pink story was revived anew for fashion's new generation. With Barbiecore at the heart of this design inspiration, the mermaid lehenga cut made a much-awaited comeback with an intoxicating high slit. This flamingo pink two-piece set encrusted with crystals and beaded tassels is the reigning queen of all upcoming bridal wear trends for me. How many of you brides-to-be are ready to set your cocktail night ablaze in high-slit mermaid-cut skirts?
Find Top Bridal Lehenga Designers Near You
Celestial Approved Coordinated Couple Outfits
For the upcoming wedding season, wedding planners are awe-inspired by the idea of creating immersive experiences and using 3D mapping technology to transform plain surfaces into captivating displays. I imagined Gaurav Gupta's Hiranyagarbha ensembles dressing up our brides and grooms like celestial beings for their wedding welcome party or a glamor-struck cocktail night. I am digging not just the idea of these outfits but also the theme - 'The Universe Conspires' or something more celestial that creates an immersive space experience for guests, and couples shine bright in their all-white and lustrous wedding wears embroidered with iridescent pearls, crystals, and glass bugle beads evoking the glory of space.
Also Read: Most Popular Wedding Trends Around the Globe
A Timeless Warm Chikankari Lehenga
"A tapestry of covetable explorations in Chikankari, Kasheedakari, Byzantine art, Egyptian Jaalis, and Persian motifs," is how Tarun Tahiliani describes this work of art. Need I say more? Forward-looking yet deeply connected to our history, this warm and neutral-tone bridal lehenga design look blends modern reflections with the core of Indian heritage. In my opinion, the ebb and flow of this iridescent chikankari lehenga does much justice to the all-in-one personalities of this generation of brides. As our heritage continues to tug at our heartstrings, we hold them close in bejeweled trousseau trunks and adorn in at least one magnificent heirloom to celebrate our roots. However, this doesn't take away from the liberal and ever-evolving mindset we are proud to have. Tinges of gold and pearls adorned in the deep neck blouse design add to its overall royalty!
The Anti-Trend Bridalwear
Image Credits: Anamika Khanna
ICW 2023 had something for every bride! This Anamika Khanna design tops the list of my favorites for a free-spirited bride in love with the comfort-reigns-supreme dress code. Drape in a rose dust pantsuit that sets the bar too high for a new-age anti-trend bridal trend with the stunning Khinkhab brocade, and zardozi embroidery romancing with laces.
Top Luxury Trousseau Packers in Your City
The Modern Dhoti Look
Amidst the endless barrage on 'what's trending' - a groomswear design I would love to see do the rounds is the modern dhoti look presented by Tarun Tahiliani in his collection 'For Eternity'. A true embodiment of Indian fashion and celebration of classical manifestations, the dhoti look takes center stage replacing conventional style with sartorial drama. Drawing from the anecdotes of our history for groomswear, Tarun Tahiliani showcases a refreshing voice for fearless and experimental Indian grooms.
Nature's Princess Bridal Lehenga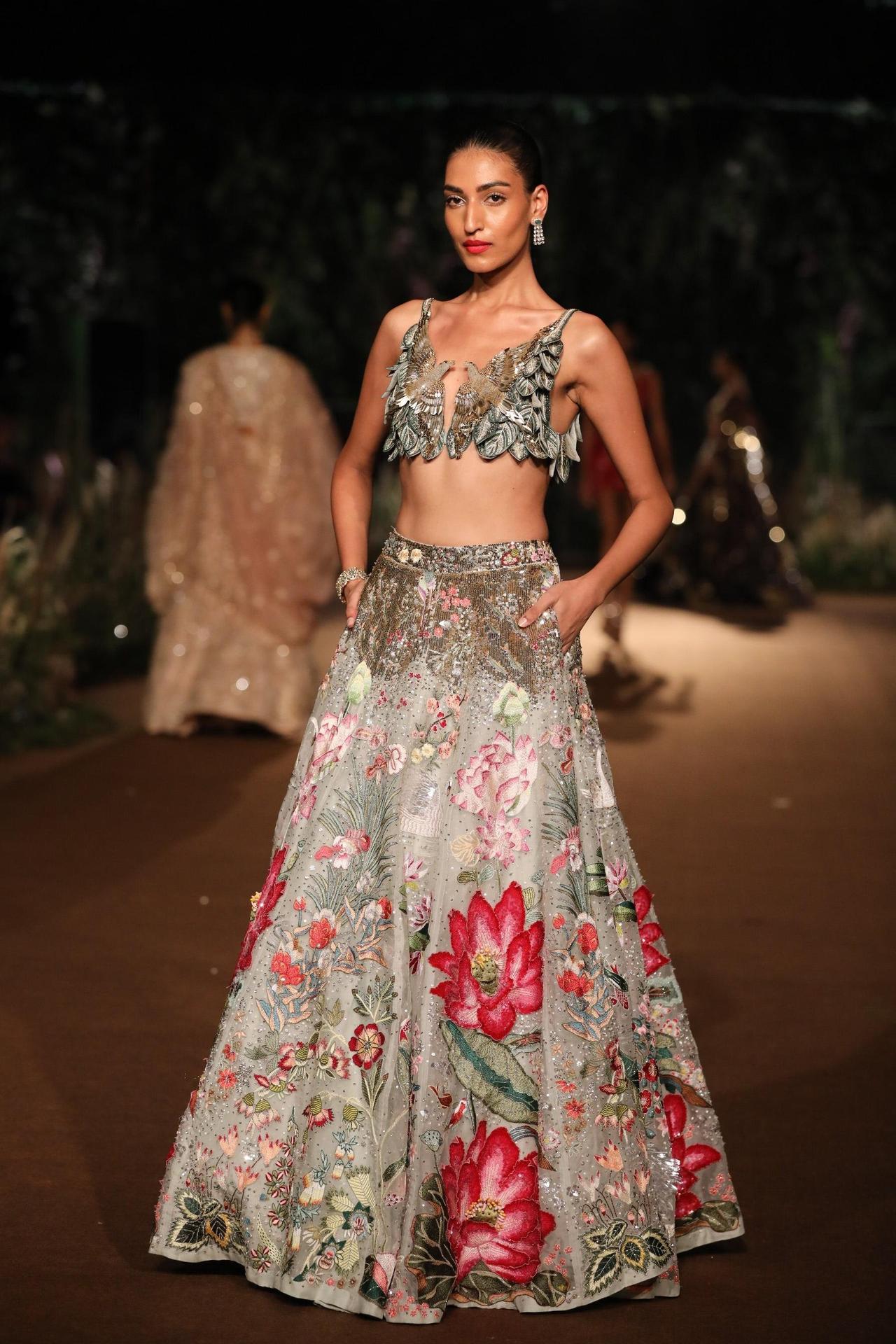 Image Credits: Rahul Mishra
Earlier this year, Alanna Pandey's Tropical Mehndi party look added this stunning Rahul Mishra design to the list of 'must-have' lehengas for wonderstruck brides-to-be. Call me a hoarder of all things flora and fauna but I am going to make room for this nature's princess lehenga design in my top favorite list from India Couture Week 2023. Pink and Fuschia flowers add all things merry to this designer dream as lotus flowers float effortlessly on the diaphanous silk organza. I would like to see more of this in the upcoming season, please!