Our Global TKWW Editors Talk About the Most Popular Wedding Trends Around the Globe
Goes without saying that Indian wedding celebrations are so much more than traditional rituals now. If you want to incorporate more global party/decor/food & more concepts into your Dday, take notes from our TKWW Editors around the globe.
Weddings are one of the most beautiful and monumental days for any couple that marks the milestone for your happily ever after. While it helps you create everlasting memories through beautiful moments spent with your loved ones, planning your wedding just as you envisioned can be a task. If you want to keep up with the latest wedding trends, especially while planning your big day, there can be so many wonderful wedding trends to bookmark that can help you transform your dream wedding into a stunning reality.
While every country is unique and diverse, with a different set of rituals and traditions, the wedding day for any couple is equally important and meaningful. Whether you want to throw a grand celebration or plan an intimate wedding with your close ones, we believe that it is a day that should be filled with happiness, beautiful moments and festive energy. To understand more about the weddings world over and to round up the top global wedding trends, we had an exclusive conversation with our global editors at TKWW from four major continents - Esther Lee, Deputy Editor for The Knot, US, Rumela Sen, Lead Editor, WeddingWire India, Laura Hernandez Tornil, Editorial Director, Bodas.com (Europe & Latam) and Rima Barakeh, Deputy Editor for Hitched, UK.
In this article:
1. Top Wedding Trends in the US
2. Top Wedding Trends in India
3. Top Wedding Trends in South Europe
4. Top Wedding Trends in the UK
Read on to bookmark your favourite global wedding traditions.
Top Wedding Trends in US
Venue of Your Choosing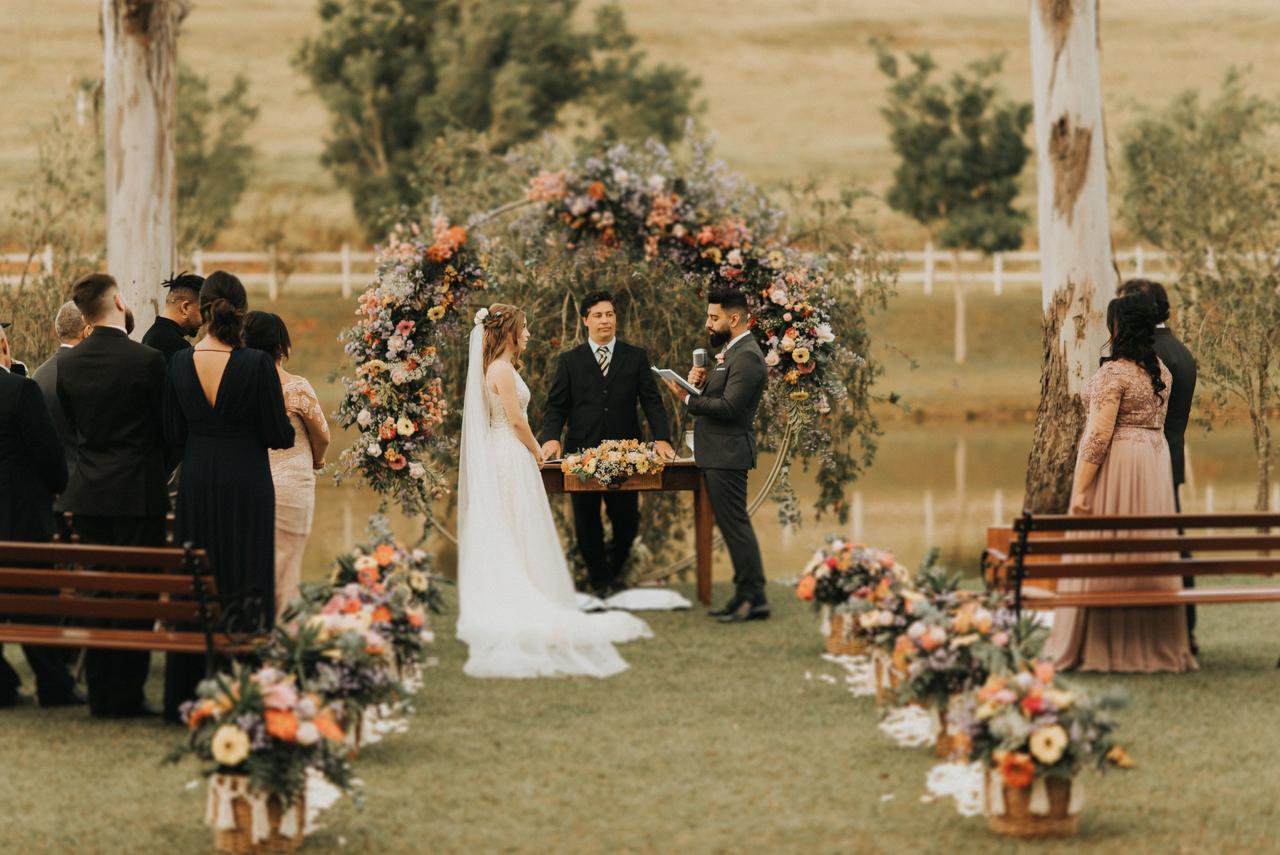 Image Courtesy: Espaço Shangrilá
The venue you choose for your wedding day matters a lot to ensure how your entire wedding feels. Whether you wish to plan an intimate backyard wedding or a beautiful celebration at a Church, to understand the millennial choices better, Esther Lee said, "Venues and churches are more popular than throwing weddings at home due to the average guest list sizes and the services most venues provide in the states. According to The Knot 2022 Real Weddings Study, 20% of all couples chose to marry in a banquet hall or a dedicated event space, while another 20% chose a farm, barn or ranch for their venue. About 13% of couples opted to marry in a historical building or home."
"It is worth noting, however, that backyard weddings were popular for a brief period of time during COVID. The reason for its meteoric rise in 2020 to early 2021 was due to group gathering restrictions and more intimate-sized guest lists for the protection of loved ones. Guest lists have since rebounded to average pre-pandemic numbers (about 117 guests in 2022), and the same holds true with couples turning to the professionals at venues to seamlessly execute their weddings", she further added.
Enhancing Guest Experience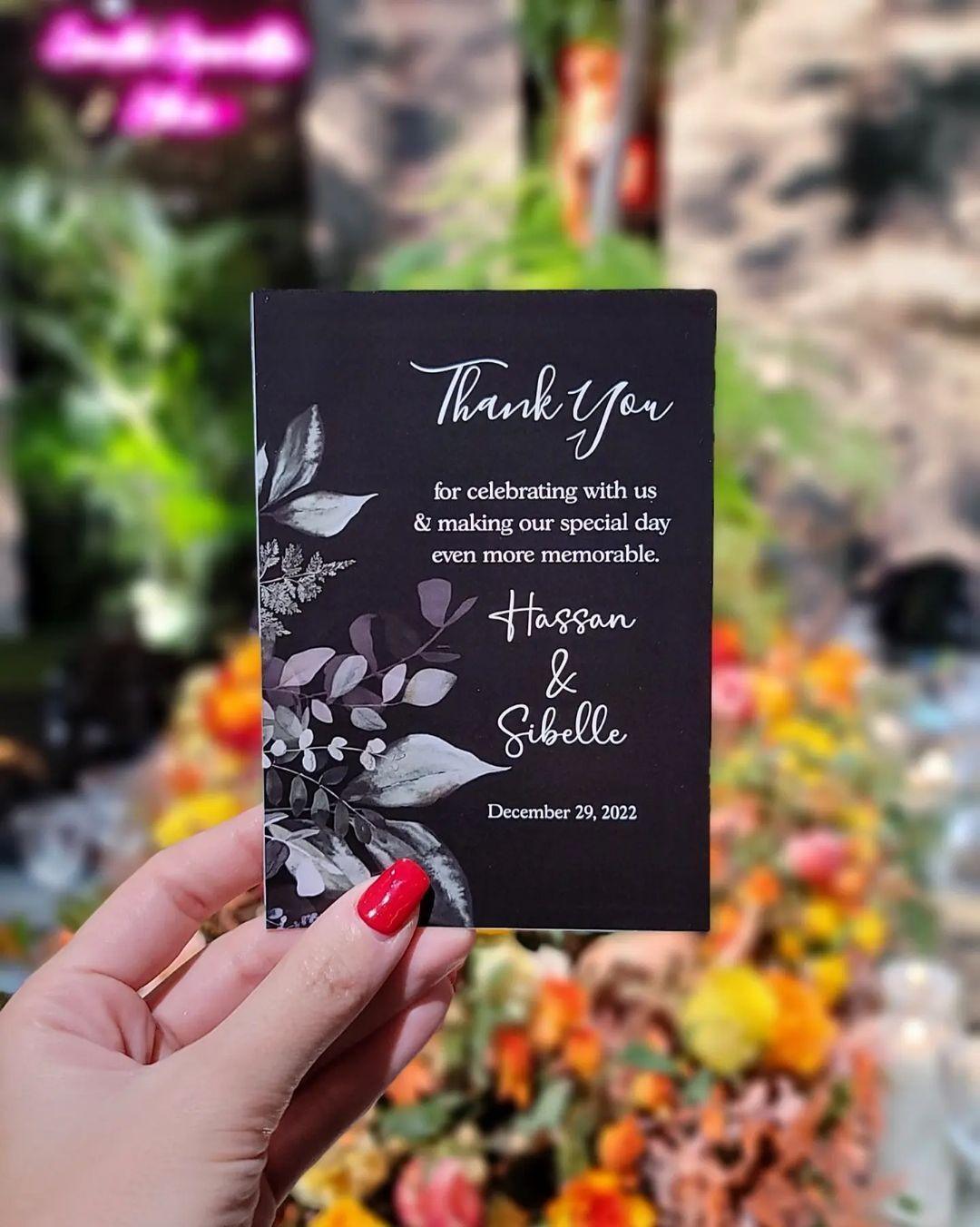 Image Courtesy: Lebanese Weddings
Millennial couples are investing a lot to ensure that their wedding guest experience is out of the world. From surprise performances and personalised notes to thank you gift bags, to exploring some of the popular wedding trends when it comes to guest experiences, Esther said, "A great host knows to put their guests first. In my first post-pandemic wedding, the couple had some unique twists to their museum wedding. The bride was on a popular reality show that handed out roses to its progressing participants. She and her husband took that concept a step further to honour engaged guests progressing to marriage in their own rose ceremony. After delivering a heartfelt couple's toast, they honoured each engaged couple in the room—each of whom, like them, dealt with wedding postponements during the pandemic."
She added, "The guest experience is rising and it's because our loved ones are valued. Other inventive ways this is showing up is through design elements like escort display walls or experiences. Recent favourites I've seen may involve a personalized note to each guest on an escort card, or a champagne glass inscribed with the guest's name and table number. As someone who must always have fresh flowers in the home, I appreciate the concept of recycling ceremony blooms and converting them into mini bouquets as escort cards for the reception. Similarly, we're seeing the driving force of creativity from vendors, who continue to innovate and showcase fresh trends to supplement the guest experience."
Breaking Traditions: The "Anti-trend" Trend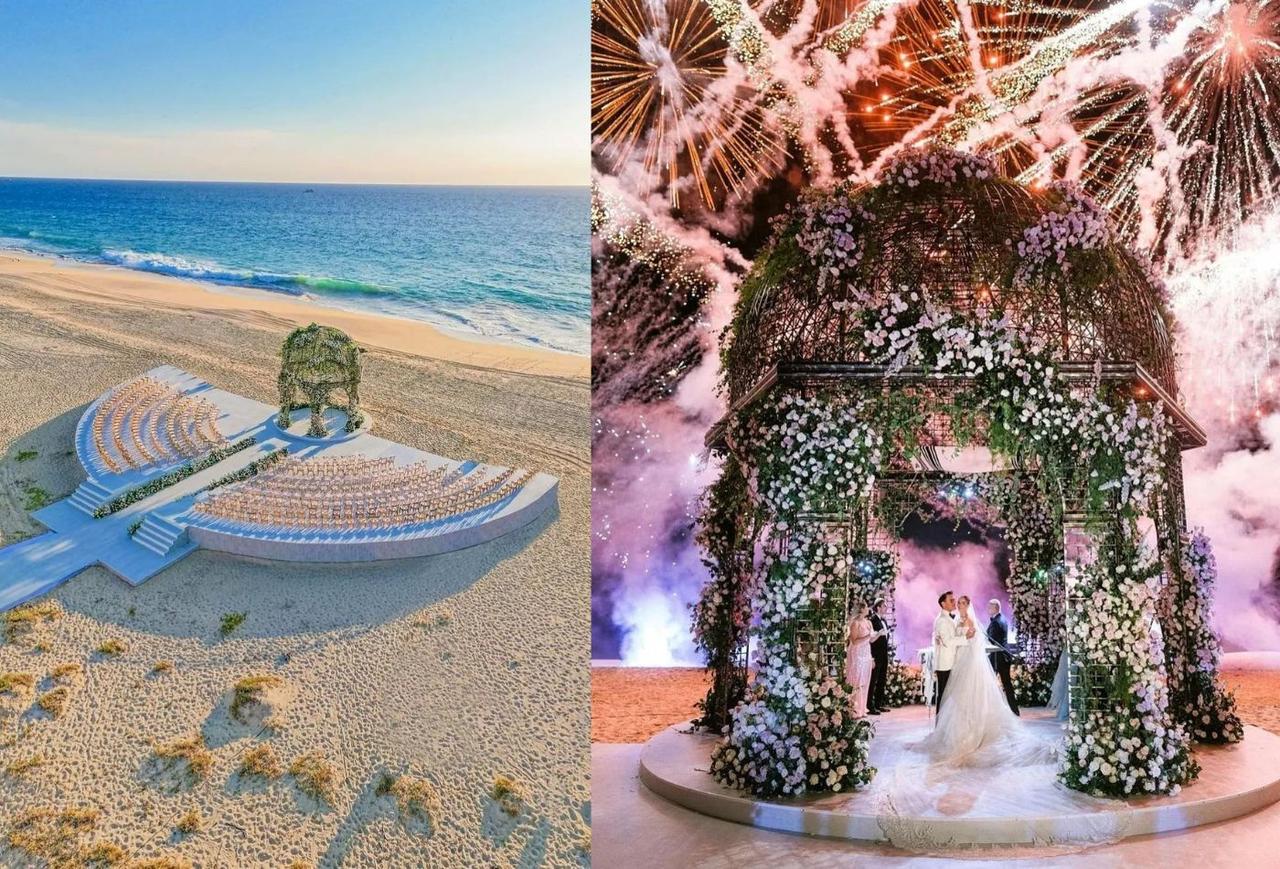 Image Courtesy: Josevilla
To understand the popularity of anti-trend weddings, Lee explained, "One of the most interesting evolutions in US weddings is modern twists on tradition. Rather than adhering to the same ubiquitous ideas, more couples are taking what is old and making it new—and true—to them. For example, the wedding guest book is a tradition that eight out of 10 couples had at their nuptials in 2022, according to The Knot Real Wedding Study. While a handwritten letter in a leather-bound book has long been the standard, we're seeing upgrades and refreshes on this traditional record-keeping concept. In fact, couples are 'phoning it in' with phone books (payphone-style guestbooks) to enhance the guest experience. (The latest iteration of the photo booth—the phone booth, instead, allows guests to record their congratulatory messages throughout the evening. Naturally, the "voice messages" get a bit fuzzier as the evening progresses, especially when an open bar is involved. In the end, couples have a keepsake of a converted audio file of their guests' remarks. Guests, meanwhile, enjoy an interactive element at the wedding.).
"We've also seen a rapid decline in the bouquet and garter tosses," Lee elaborates. "Instead of asking single female guests to publicly lunge after a bouquet at the reception (something many Millennial and Gen Z couples acknowledge is an outdated notion in modern US society), most to-be-weds are now overlooking the tradition altogether, or they're including a refreshing spin on it. This could show up in the form of an inclusive bouquet toss or a symbolic bouquet toss, such as throwing a stuffed animal and donating to a cause in the recipient's name. To us, modern registries are also representative of the 'anti-trend' trend. Traditionally, it was commonly encouraged that couples register for kitchenware, sets of linens, and bone china. Today, they can register for those same products—and more. In fact, our statistics found US couples are increasingly registering for products and experiences via cash funds (think honeymoon funds, a mortgage down payments, and even puppy funds). For couples who already have it all, there's special meaning in directing loved ones to donate to a charity (like Feeding America, VOW For Girls, Doctors Without Borders, Center for Disaster Philanthropy and more). Similarly, philanthropic-minded couples also have reneged the monogrammed party favour for meaningful take-home gifts: in some cases, donating to a worthy cause in each guest's name.
"Finally, the perfect example of the "anti-trend" trend is asking guests to put their phones away at the wedding. As our society is increasingly reliant on technology, it is still a distraction on meaningful life moments, where our full attention and presence are valued. It's why 45% of all couples are now hosting unplugged ceremonies. We expect that number to rise", she concluded.
Unusual Table Settings on Wedding Day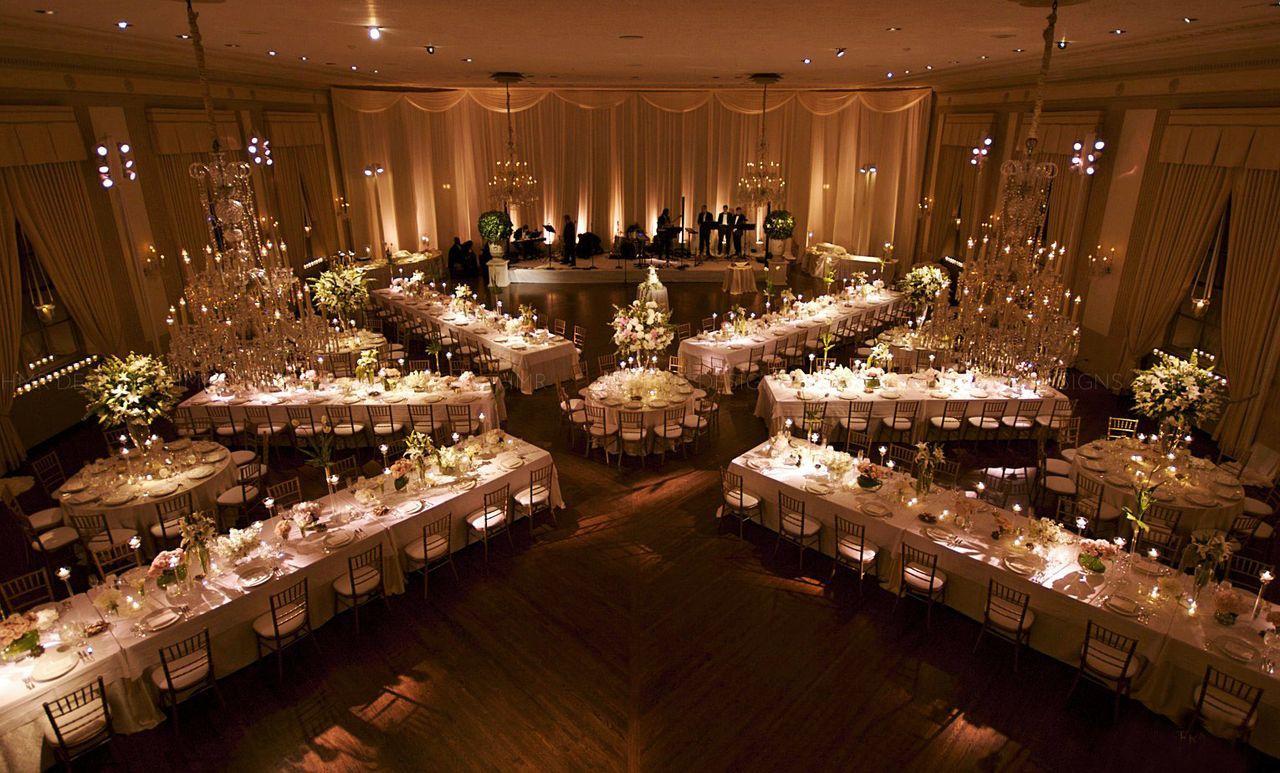 Image Courtesy: Pinterest
Gone are the days of boring table setups. Tis' the time to bring out the creative hat and try spicing things up with unique innovations. "It's always a pleasure to see the introduction of a new layout or seating concept. The changes reflected the need, at the time, for more space and open-air seating arrangements. However, many designers and planners created inventive new ways to illustrate these unique seating layouts in a vibrant and beautiful way. For that reason, we do see distinct seating designs as here to stay. It adds to the guest experience and the photos", said Lee.
Bold & Vibrant Colour Palettes for Wedding Decor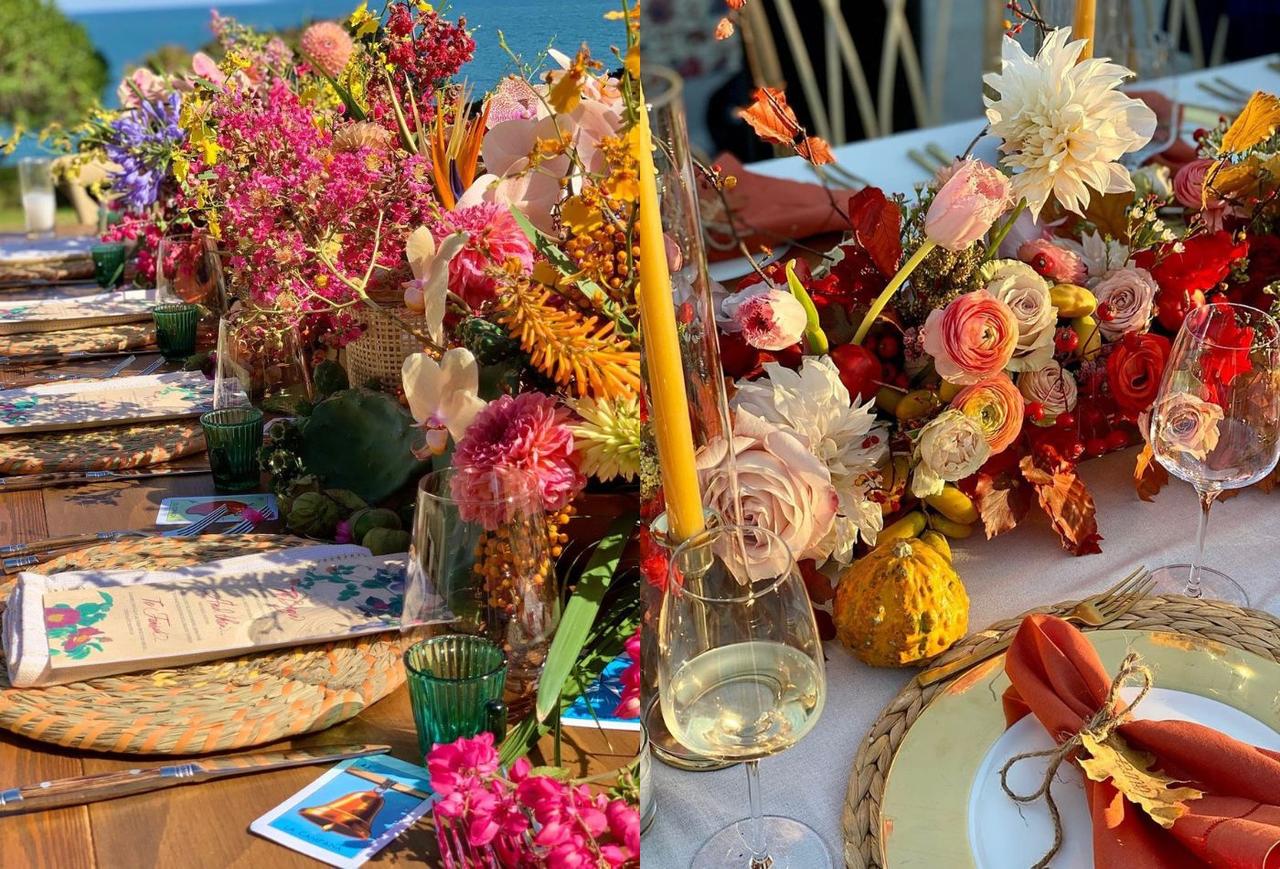 Image Courtesy: Stefanie Cove and Company
From proper white weddings, weddings in the US have seen a shift towards bold and vibrant colour palettes when it comes to wedding settings and decor. A neutral and pastel colour palette has always been the popular pick for couples, but now it's time for a bold and beautiful splash of colours. "Call it nature's inspiration. We live in a world that's teeming with colour: I find myself endlessly inspired by the colours of the Mediterranean or mesmerised by fig trees rustling in emerald hues. Though beautiful and simple, monochromatic and neutral colour palettes had their moment over the last five to 10 years. We're now seeing a fast and furious return to bold pops of colour that tell a story about the couple. In the US, a couple's tale is illustrated through tints of marigold or periwinkle. Some may choose a colour combo because it reflects their school's shades, while others may select a moss green because it reminds them of their favourite bonding activity of hiking. As personalisation continues to fuel each couple's wedding story, colour is part of that dynamic in 2023", added Lee.
Full Weekend Weddings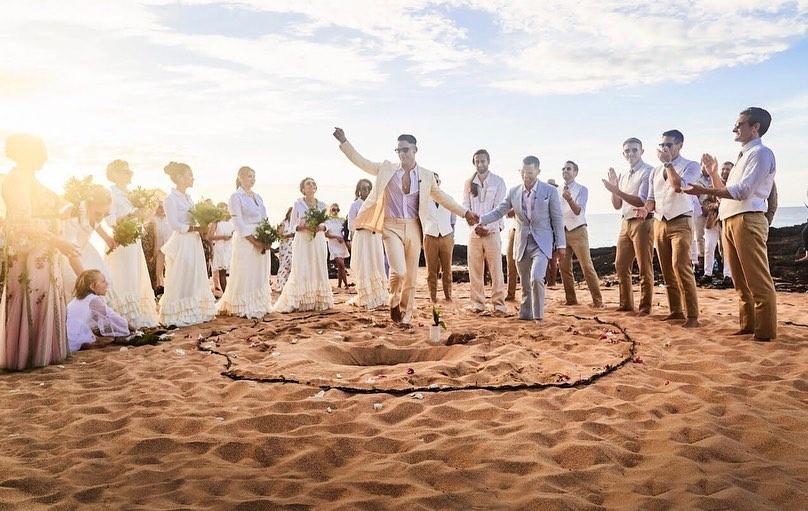 Image Courtesy: Stefanie Cove and Company
While weddings in India are usually spread across days, US weddings generally wrap up in a day or two. But recently, the concept of full weekend weddings or wedding chapters with multi-day experiences has been gaining popularity. Shedding light on this popular trend, Lee said, "Indian weddings do it well! We've long appreciated multi-day events, especially when cultural traditions are involved during a wedding week. By keeping the party going with celebratory energy across multiple events of significance, guests not only get to know the couple's distinct culture or pieces of a family's origin story; but they also get to mingle and bond with their fellow guests across multiple days."
"We call this 'summer camp energy.' The fact is guests are travelling the distance to celebrate you on the wedding day. Sometimes, it goes by so quickly without quality time at the destination. Multi-day experiences incentivise guests to enjoy all that your wedding weekend entails—the location, your love story, and the good company you've gathered together", she added.
Top Wedding Trends in India
Laidback Luxury Woven in Every Detail
Wedding Photography: Reels & Frames I Wedding Planners: The Crimson Circle
Planning a wedding in India is no small feat. With so many different functions, rituals and traditions spread over the course of days, each one of them has to be planned in the best manner while keeping the opulence factor in check. While considering all the nitty-gritty of an Indian wedding, having a wedding planning checklist will surely help you plan a luxurious Indian wedding.
Indian weddings are usually considered "big fat Indian weddings" with luxury woven in every small detail. To understand if this is the wedding trend that millennial couples readily adopt, Rumela Sen said, "The definition of big fat weddings in India is changing over time. Post-pandemic, there is a newfound love or appreciation for intimate weddings, where the wedding guest lists are now being cut down to 100. The demand for intimate weddings had grown by 30% in comparison to 2021 bookings on WeddingWire India. As per our 2022 survey, 285 is the average guest size for weddings these days which has come down from 500+ in the past four years. This doesn't necessarily mean that couples are planning affordable weddings with lesser guests now. On the contrary, we have seen couples investing their original wedding budget on a shorter quest list to focus on planning the best experience for their guests. Attention to detail is the trend of the year, and couples are spending on experiential venues, thematic decorations, designer outfits and finger-licking food."
Rulebook for Wedding Entertainment
Wedding Photography: Memento of Shades I Planners: Baraati Inc
Wedding entertainment and guest experiences are the heart of Indian weddings, where the host ensures that every wedding guest has great memories to look back at while being a part of their celebration. So much so that an entire wedding function of Sangeet night is dedicated to smashing performances on trending wedding songs to dance the night away and have the best time.
Indian weddings are nothing less than grand celebrations filled with entertainment. Talking about new entertainment trends being a part of Indian weddings, Rumela said, "Bride and groom performances are taking centre stage now. Call it the social media effect, but wedding choreographers have created an uproar (the fun kind) in Indian weddings. Weddings are now incomplete without a line-up of performances by the bride and groom, their closest siblings and family members. While Bollywood performances will continue to be special for big-fat destination weddings, it is not always a must-have for a sangeet or cocktail night now. An iconic DJ and disco themes are also doing rounds for engagement parties, sangeet nights or cocktail or reception parties this year. It's amazing to see how the focus of these events is on having fun. We have also seen many brides wear the protagonist's hat and dance on the stage with professional performers these days. This is their time to live their Bollywood dreams."
Day Vs Night Weddings
Venue - Taj Madikeri Resort, Coorg l Wedding Planner - Divya Vithika l Wedding Photography - Beginnings For You
Indian weddings traditionally occur in the evening, where the ceremonies continue till early morning. But many couples nowadays are opting for lighter-day weddings. Observing the shift in these traditional practices for Indian weddings, Sen observed, "Absolutely, and the credit goes to all Bollywood celebrity weddings for this trend. Day weddings have always been dreamy inspirations from Hollywood movies and series but celebrity couples brought the trend home by wearing pastel & white lehengas and tying the knot during winter mornings or sundowner events. More and more millennial couples (especially those who love minimal wedding decor & outfit styles) are opting for day weddings now. This is also a win-win for venues and photographers because day weddings focus less on the lighting and more on the decoration elements and natural set-up of the venue. And photographers get the most beautiful natural shots during the day. This is one of the major reasons why forts and palaces, resorts and open-air venues, gardens, pool-side venues and beachside venues are going to trend in 2023 and 2024."
Wedding Fashion Trends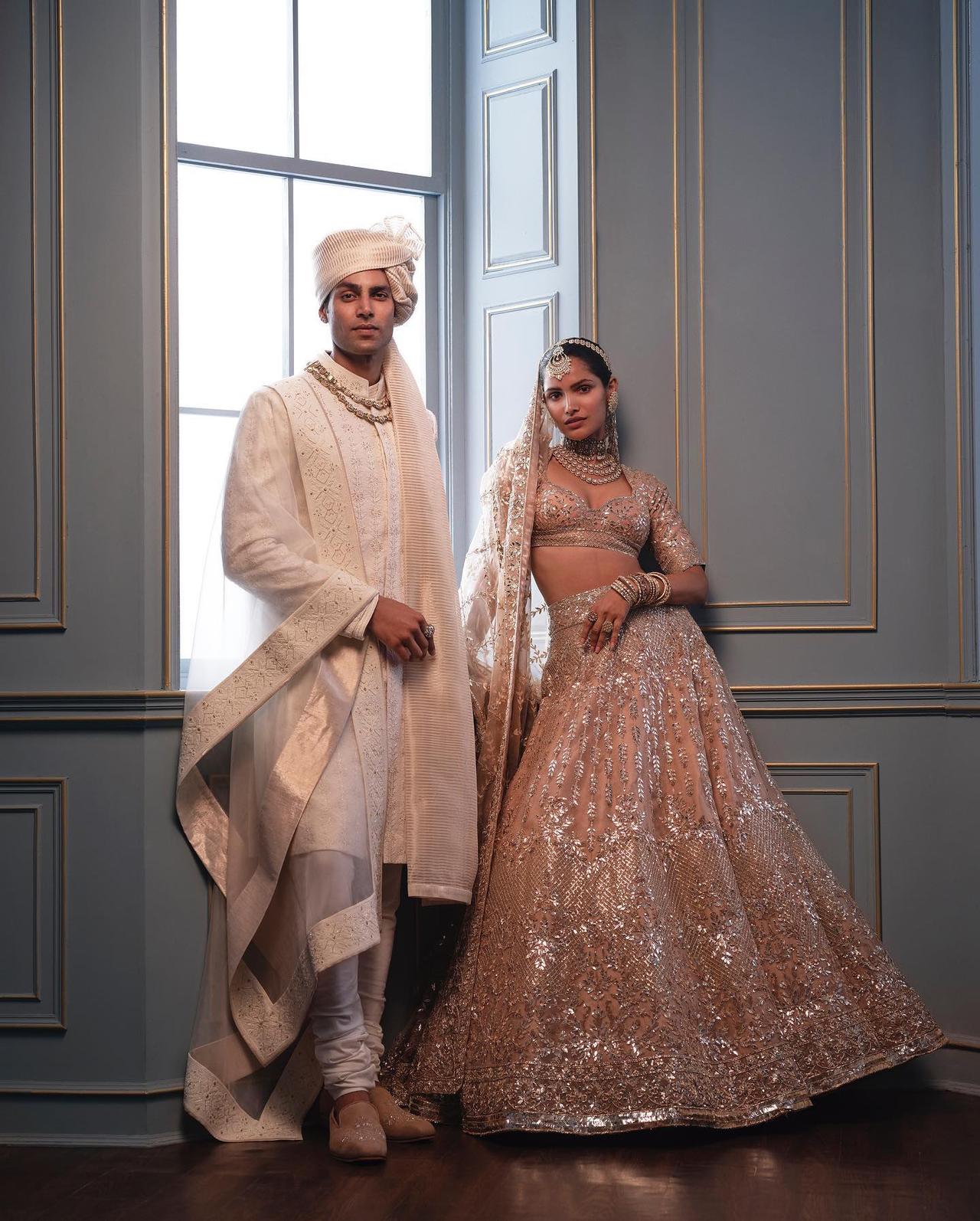 Image Courtesy: Manish Malhotra
From dreamy lehengas designs to wedding gowns, Indian weddings are nothing less than a beautiful fiesta of trending wedding fashion. "For brides, lehengas are here to stay, but newer pastel shades and airy designs are top of mind. We are also seeing lighter shades of the palette ruling sarees - including traditional Banarasi and Kanjivaram designs. Designers are also going all out with kitschy colours, multi-coloured lehengas and funky designs for mehndi parties. Red - the queen of the Indian wedding palette will make a come-back for winter weddings as always, but in varieties like silk lehengas, Chikankari embroideries, sequinned embroideries and more. Dazzling gowns/lehengas are a must-have for night events like cocktails or receptions, and brides are boldly experimenting with blouse neck and back designs now. The sheer veil is here to stay for some time, with more focus on customisations and matching embroideries", said Sen.
"There is no rulebook or standard colours for grooms now, and I love that! From pink to lighter shades of the palette - you will see millennial grooms experimenting with all of that and more! They are opting for interesting embroideries and also ditching the safa (if their religion allows) for a non-fussy wedding look. Coordinating with the bride's outfit seems to be their love language this year. (It's vice-versa for many couples)", she added.
Storytelling Through Exorbitant Food Palettes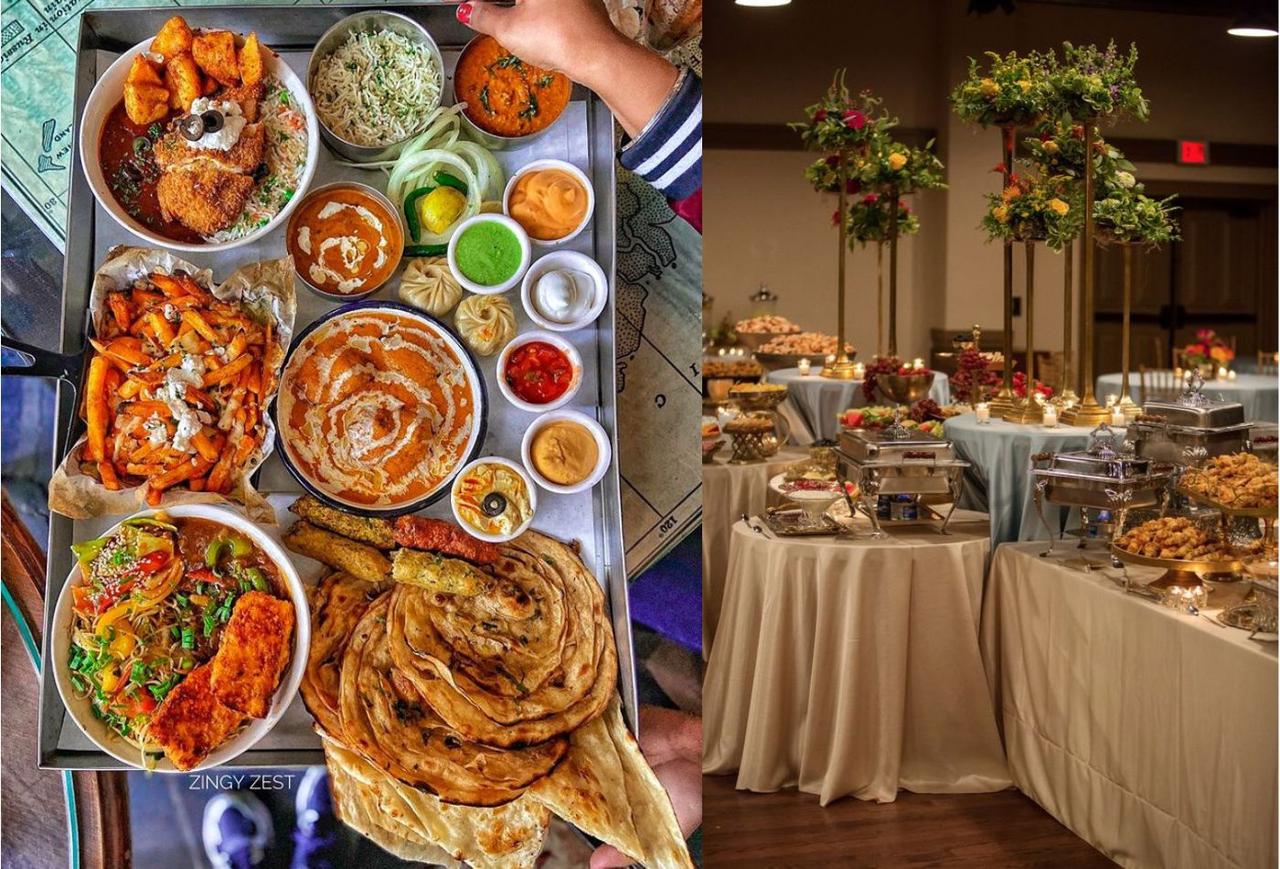 Image Courtesy: Zingy Zest (L), Pinterest (R)
One thing that remains a constant happy element for all Indian weddings is scrumptious food. They are a grand display of scrumptious food that is not only limited to delightful Indian and regional cuisines but incorporates a global palette. Talking about the top catering trends for Indian weddings, Sen added, "Not just the menu, global inspiration can also be seen in catering formats. European-style sit-down meals, for example, with artisanal table set-ups are a must-have, especially for the bride and groom and their immediate circle (be it family or friends) - this is mostly a favourite trend for intimate weddings. On the menu, delectable and cultural Indian food continues to be the first priority for Indian weddings but we see grazing tables taking over as a reception/cocktail favourite, many live stations that focus on Japanese or Chinese cuisine, miniature bites incorporated in food stalls and more."
Imbibing Popular Global Wedding Trends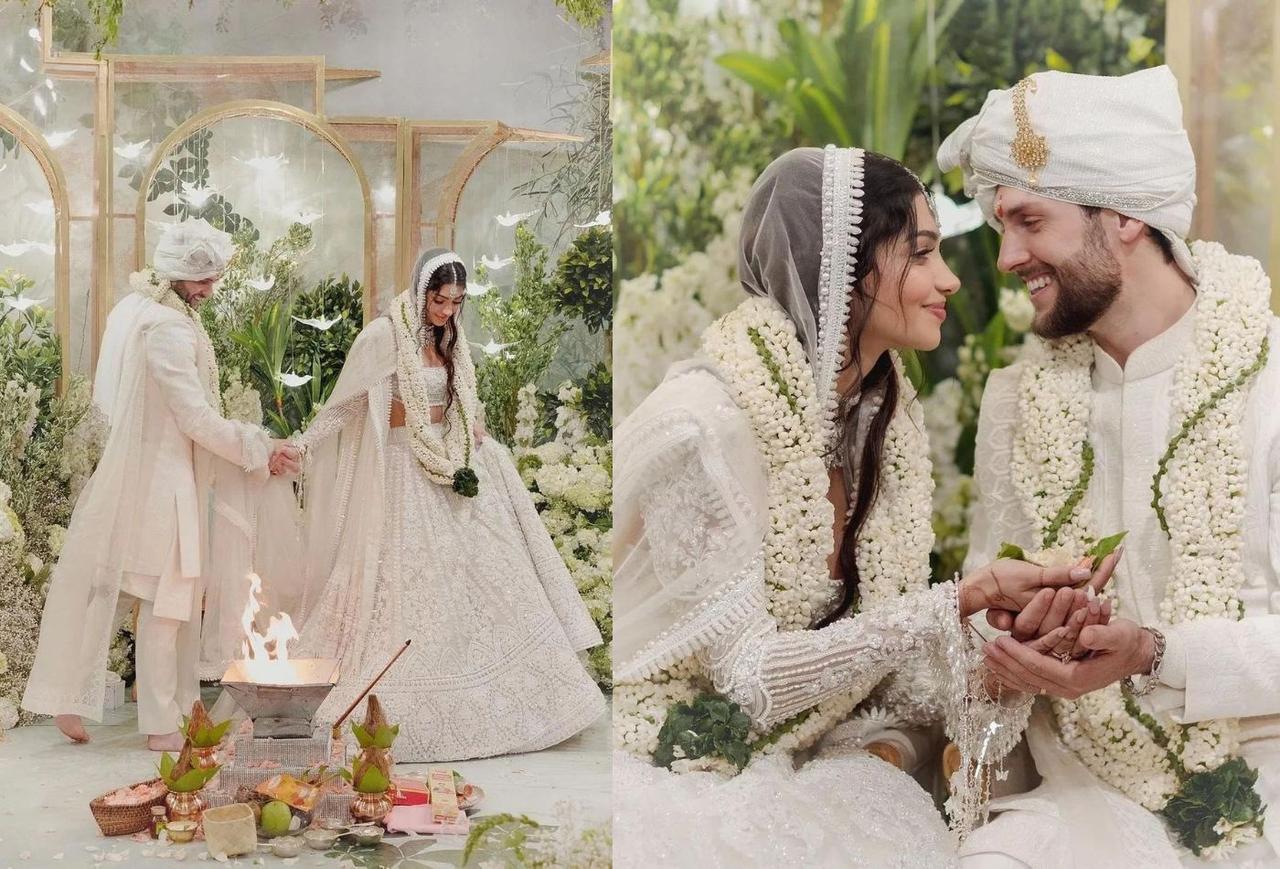 Image Courtesy: House on The Cloud
From white weddings to rustic Boho settings, Indian weddings are incorporating more and more global weddings. But whether it is a way to go for millennial couples is the question.
"I feel the essence of Indian weddings is more in the events and how they are celebrated rather than the wedding looks or decoration. Every region in India has their own set of traditions and pre-wedding events that are celebrated to mark the auspicious day of the wedding. I am awe-inspired by how more and more couples are now choosing their wedding outfit and decorations as per their personal style statement and taste. I wore red to my wedding because 'royal' is my personal style statement, but many bride-to-be's opt for ivory and white to keep their look minimalistic and unique (and white is not considered an in-auspicious colour by these families now so we are developing as a society here). Brides are also experimenting with all shades of pink bridal lehengas now and have their wish list designers. On the other hand, 2022 has been a game-changing year for wedding decoration. With so much inspiration from global weddings and Bollywood weddings in India, couples have opened their minds to aesthetic set-ups, curated mood boards, unique themes and whatnot! I am excited to see more floral inventions and unique mandap designs in the coming years. All of it - keeping the importance of sustainability in mind", Sen said.
Top Wedding Trends in South Europe
Old World Charm for Wedding Venues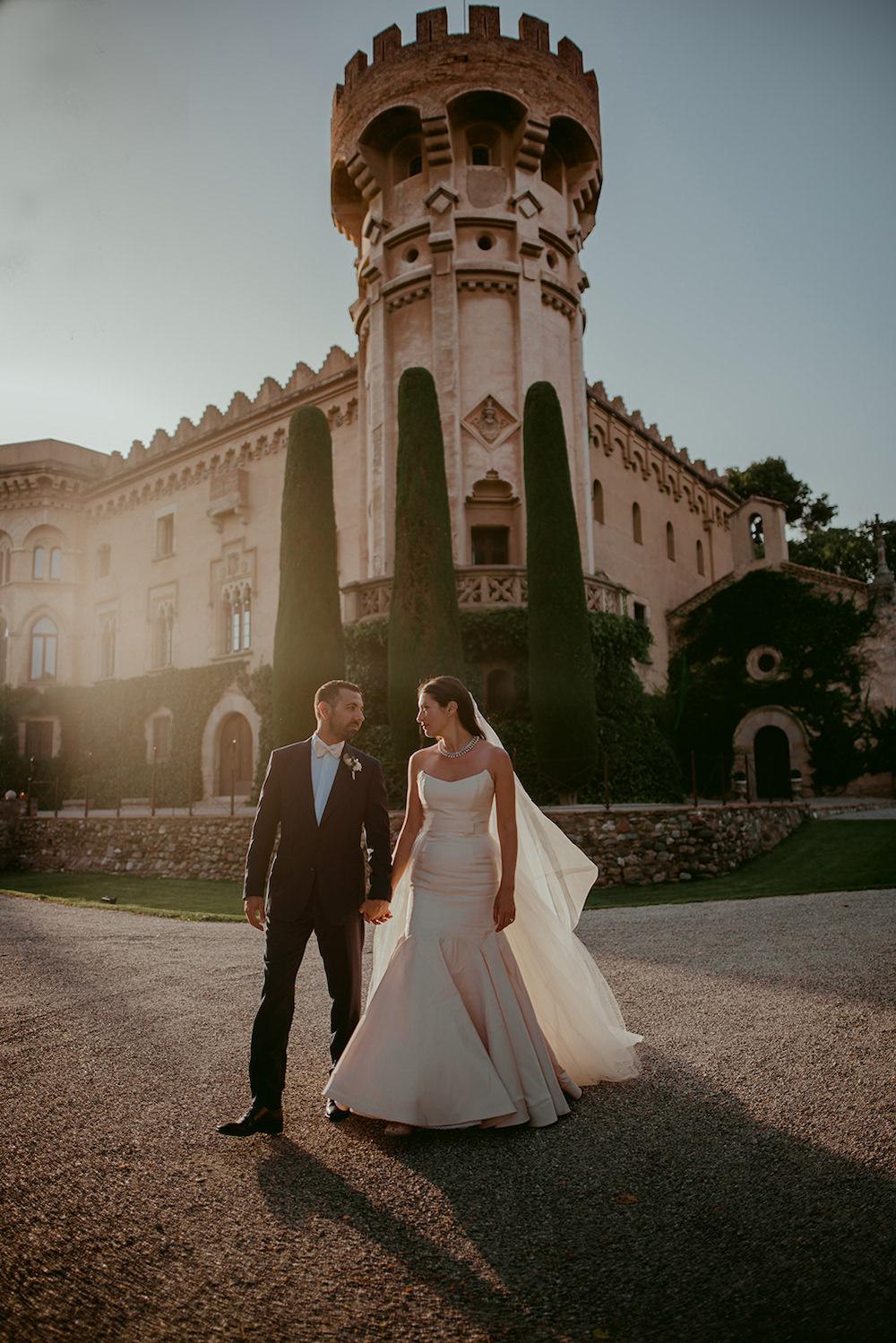 Image Courtesy: Dallas & Sabrina Photography
South Europe is known for some of the best wedding venues in the world, from chateaus in France to Spanish villas. To understand if this is a popular wedding trend that will continue to hold its place for millennial couples, Laura Hernandez Tornil explained, "The venue will continue to be chosen with care and looking for originality, but above all, personalisation. Special mention to wedding chapters. Couples are no longer satisfied with celebrating a single day but live their wedding in several days: pre-wedding dinner, the brunch the next day, the Engagement Party… For this reason, venues that can accommodate guests are especially important as also venues that have several spaces/rooms to celebrate these moments. The most popular wedding destinations seem to be Brazil and Mexico in Latam and Spain, France, Italy and Portugal in Europe."
Wedding Fashion Trends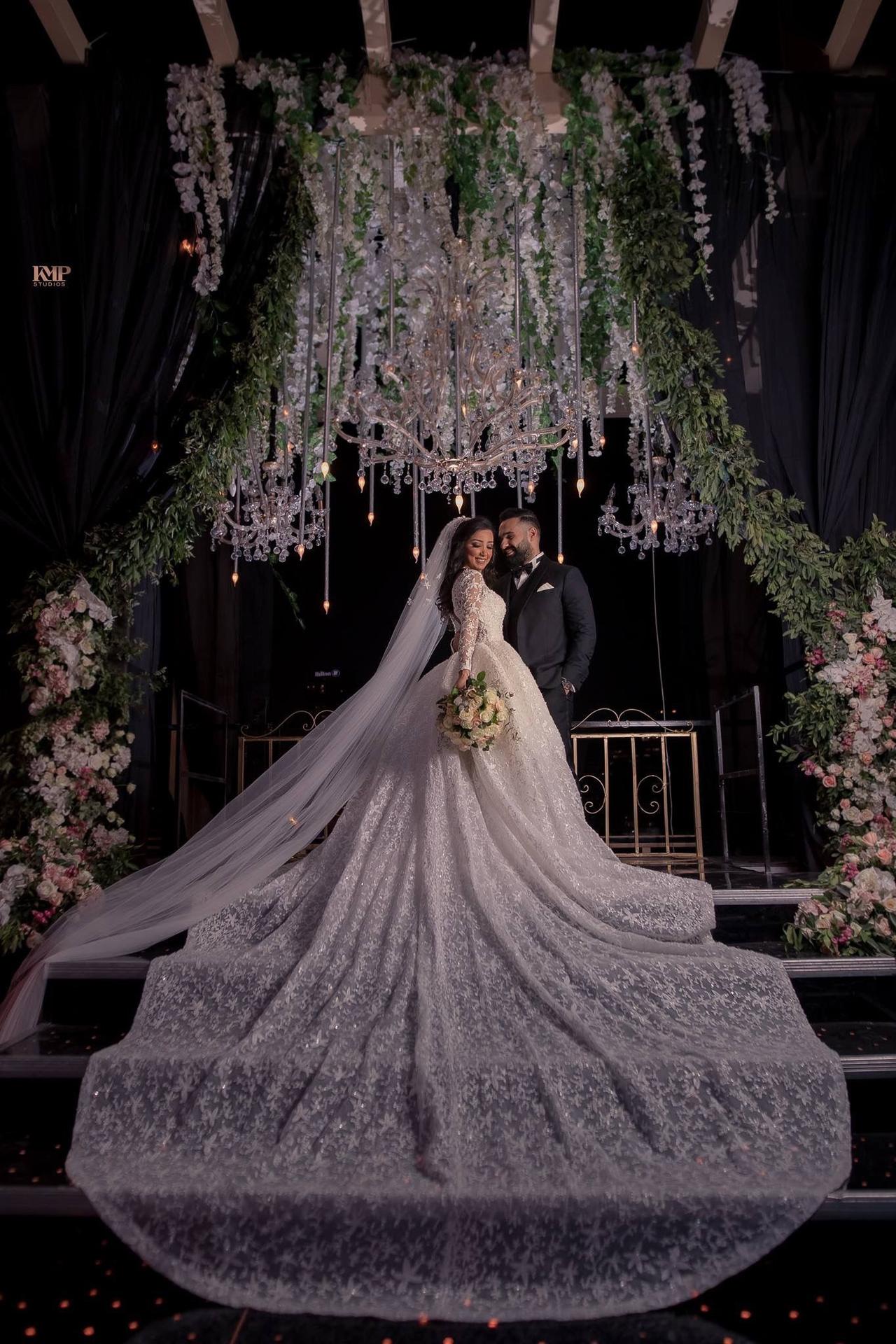 Image Courtesy: Pinterest
Giving us insights about stunning fashion trends for weddings in South Europe, Laura said, "White dresses with floral prints and 3D appliqués will add a touch of romanticism to the bridal look of 2023. Feathers, fringe and shoulder pads are the elements that will add the wow effect to the dresses of 2023. In 2023 we see the sexiest corset as another main element of the wedding dress, not only for brides but for guests. The second dress takes more protagonism. The aim is to surprise the guests with a more transgressive look for the big party."
"Bows, maxi accessories and classic accessories with a twist will add the final touch to a simple but more sophisticated look. Pearls are making a comeback in 2023. Capes for both brides and guests will not be missing at any wedding in 2023. Dress rental is an option. In some countries, such as Mexico, it's a popular option but we don't see a big trend for 2023 in Southern Europe. For the groom, Total White or B/W is back but with a wide and relaxed fit. Bye, bye skinny pants! The sash is also back. Other trends that we will also see in men's bridal fashion: colour block look in bright colours, transparencies and shine fabrics", she further added.
Wedding Decor Inspired by Nature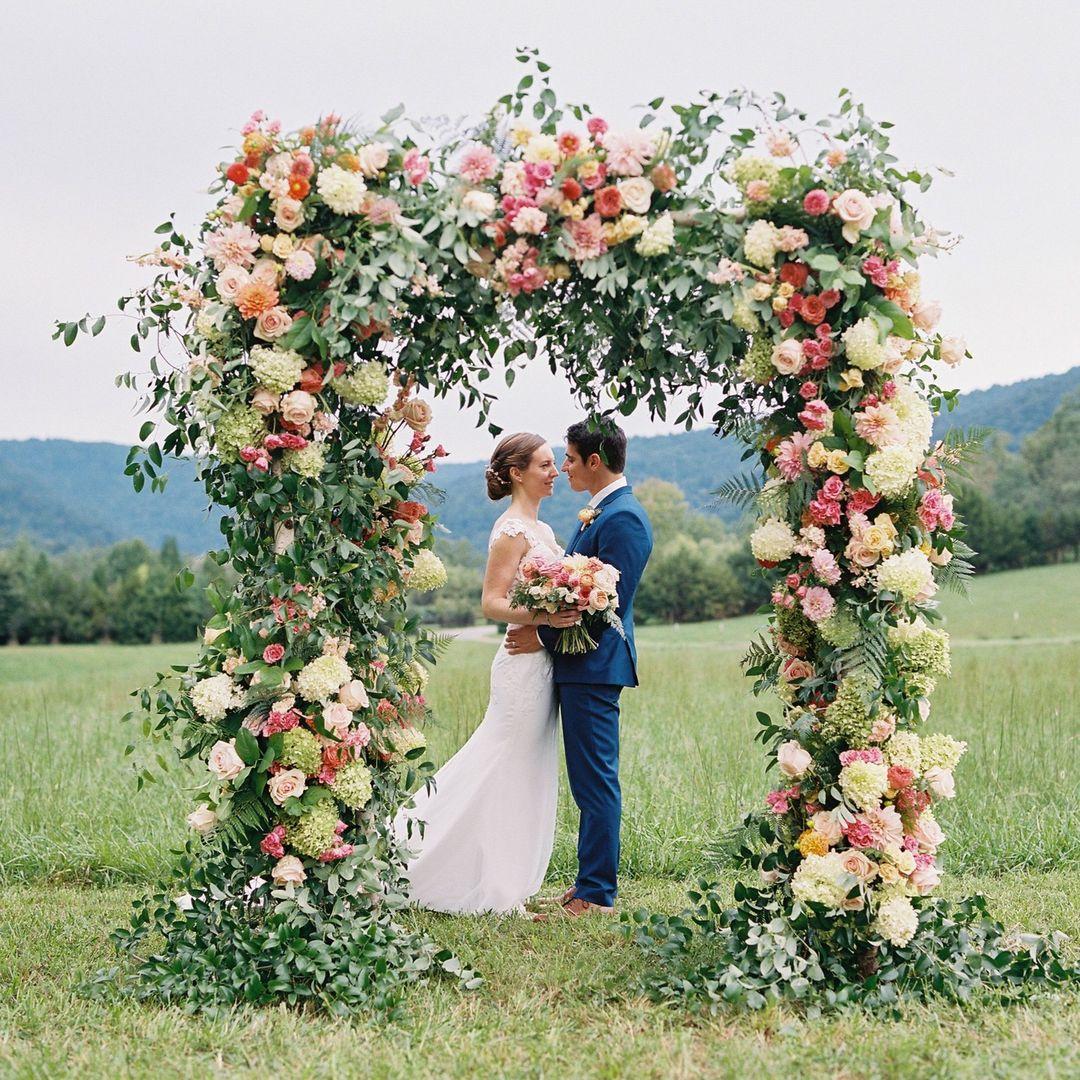 Image Courtesy: Tourterelle Floral Design
Weddings in South Europe see a lot of elaborate table scapes with romantic settings and wedding decor inspired by natural elements. On whether this trend is a defining element of weddings in the region, Tornil explained, "Simple and minimalist weddings are giving way to celebrations that mix everything: styles, formats, decorations, the countryside with neon lights, rustic with classic lamps. Vintage carpets and furniture, wicker items, velvet chairs on rustic natural wood tables, porcelain tableware on straw plate covers. Decorations will be much more explosive than in previous years. In Southern Europe, the wedding is spent mostly at the table and around food, its why table decoration is so important in these countries."
"Sand tones will continue to be present in practically all weddings but will act more as a base for other colours. Main colours will be dark blue, bottle green and lavender. Total White will also be chosen by many couples. When it comes to flowers and natural elements, we will see many plants, trees and flowers of all kinds, especially natural with their own pot or preserved. Aromatic plants, citrus trees, white flowers and other elements, such as the head planter, will have a strong presence in the weddings of 2023," she added
Home run for the Culinary Choices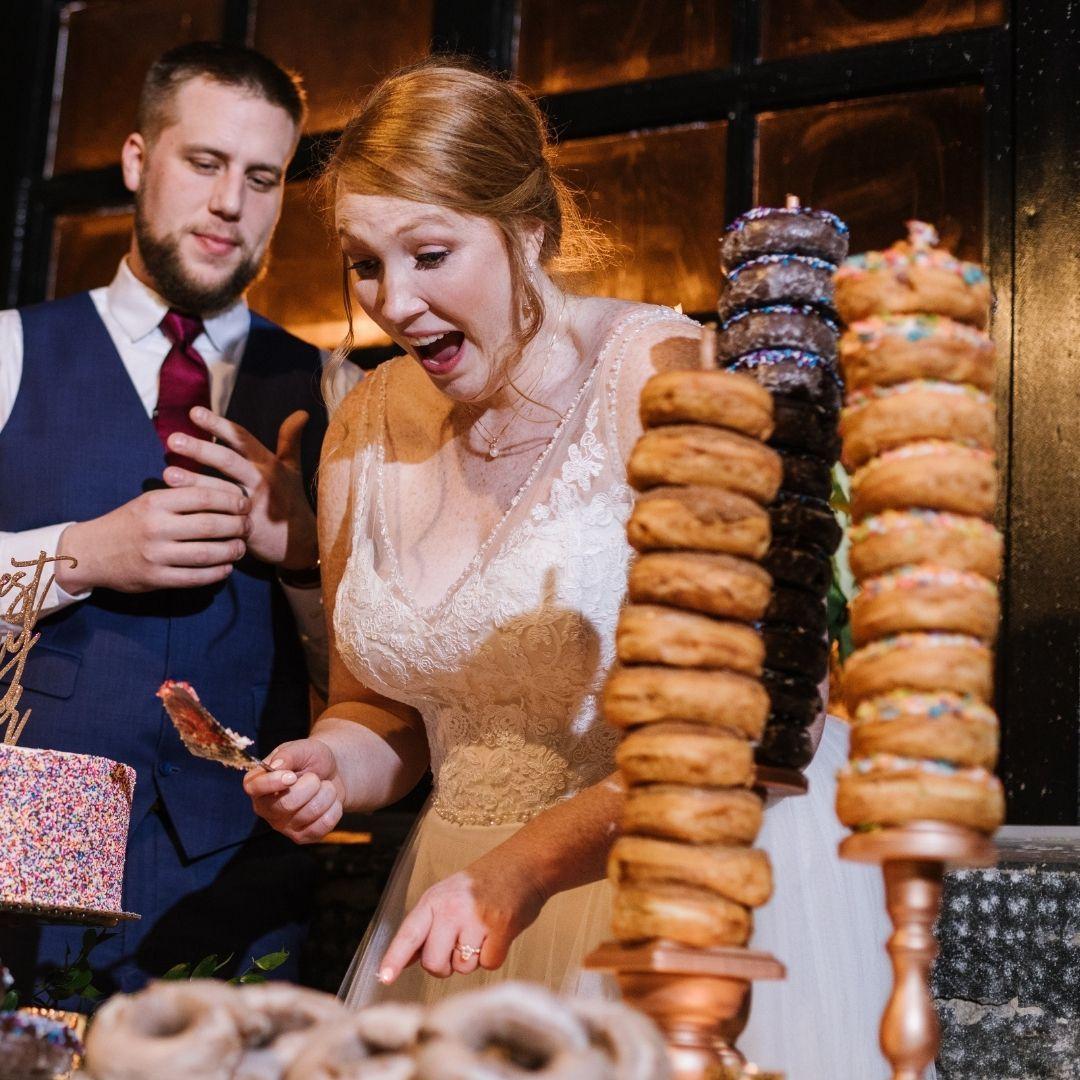 Image Courtesy: Eleven Courses Catering
From food trucks at weddings to dessert tables, some of the popular culinary trends for weddings in South Europe are not only inspiring but super interesting as well. Talking more about the raging food trends for South European weddings, Tornil said, "It will continue to be a trend to choose more and more local and ecological products, looking for the celebration to have the least negative impact on the environment. We will say goodbye to the classic banquet where diners are seated from beginning to end. In 2023, it will be very common to add various activities that bring mobility and animation to the reception. We also find different food stands, food trucks, beer trucks and coffee trucks. The sweetest trend comes as a cakesicles, a "false" ice cream that is actually cake or sponge cake."
Top Wedding Trends in UK
Intimate Weddings Are All the Rage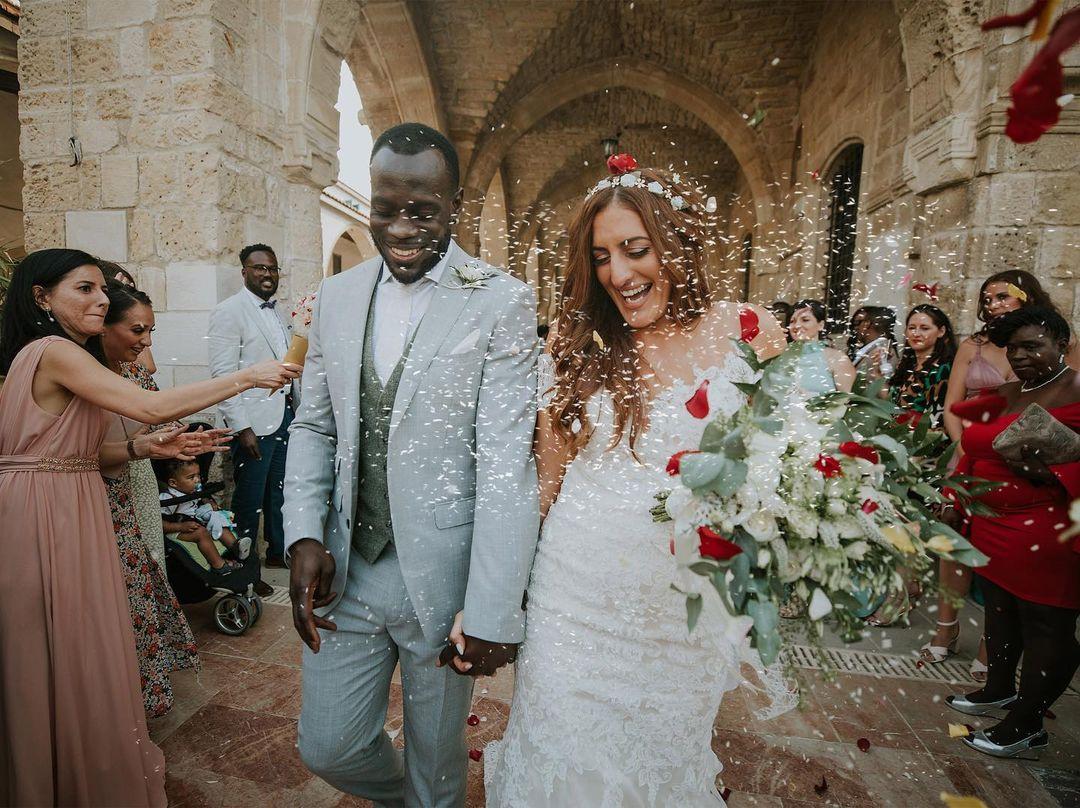 Image Courtesy: House on the Clouds
From rustic and chic wedding settings and guest entry through RSVPs to elopements, we have seen a lot around weddings in the UK. To help us understand the trends around intimate weddings, Rima Barakeh said, "Since the pandemic, we've seen a growing trend here in the UK for smaller, more intimate wedding celebrations. Couples seem to be adopting a 'quality over quantity' mantra, opting for a more elevated wedding experience with a slightly smaller guestlist. We've also seen a huge spike in personalisation and bespoke wedding plans, with more and more couples moving away from the one-size-fits-all packages in favour of wedding details that are unique to their relationship."
Personalised Elements in Wedding Planning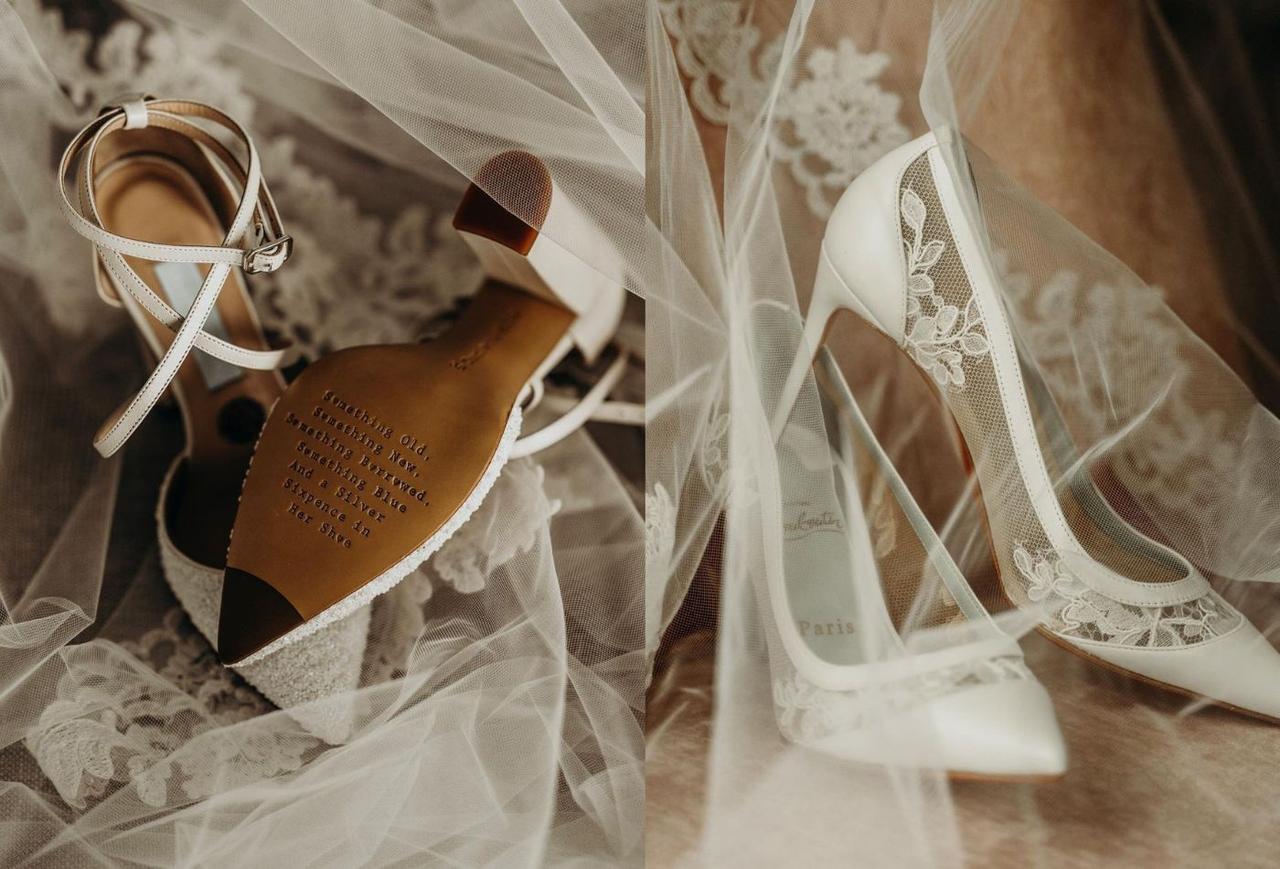 Image Courtesy: Fuse Media Studios
Sustainability is becoming a bigger conversation around weddings, where couples are choosing greener alternatives to incorporate into their festivities. They are nowadays more inclined towards upcycling when it comes to personalised elements for their wedding.
Talking about the same, Rima said, "Sustainability has been a growing trend in the UK for a couple of years now, with more and more couples conscious of their wedding footprint than ever before. Because of the shift in behaviour, we are also seeing more environmentally friendly and sustainable wedding businesses than in previous years, with many wedding venues and suppliers now putting sustainability at the forefront of their marketing. In our 2022 wedding survey, almost three-quarters of couples said they wanted to give wedding favours that wouldn't be left behind or wasted at the end of the night. With sustainability being a growing trend, it's no surprise that we also saw searches for 'eco-friendly wedding favours' rise by 1,500% last year."
Wedding Fashion Trends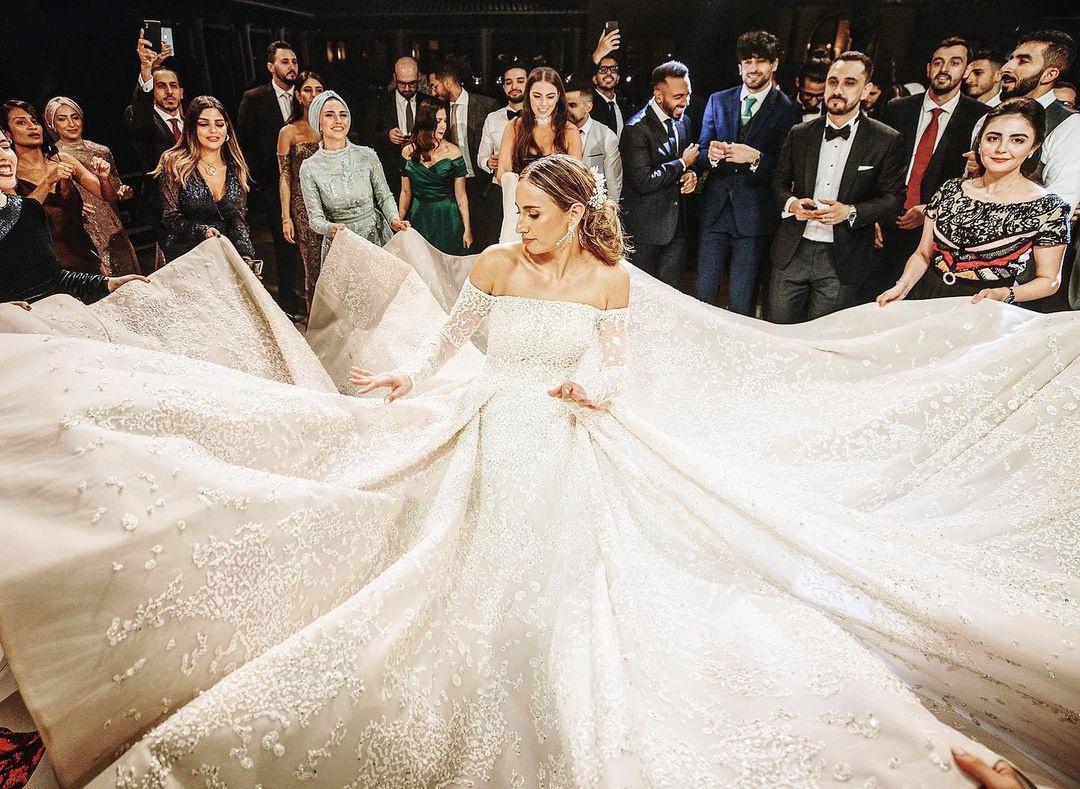 Image Courtesy: House on the Clouds
When it comes to wedding fashion, the options are limitless. "Searches for 'wedding dress hire' rose by 132% last year in the UK, with couples pairing cost-cutting with being more sustainable when it comes to their wedding fashion. And it's not just couples who are moving towards rentals. Wedding guests and members of the wedding party, such as bridesmaids and ushers, also have more choices than ever before when it comes to renting high-ticket garments in the UK. In terms of fashion trends, celebrities are always the trend-setters for UK-based couples, particularly those from the US. We've seen a spike in searches for 'embroidered wedding veils' after celebrities such as Hailey Bieber paved the way the year before. Wedding gloves are another trend set to be big in 2023 after they played a huge part in outfits worn to many of the big galas and celebrity events this year", added Barakeh.
Gift Registry: A Popular Option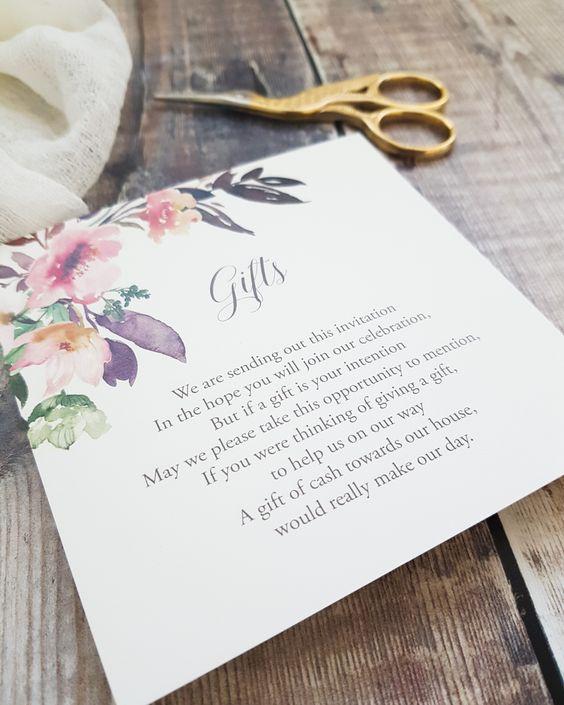 Image Courtesy: Pinterest
Aren't we always confused about what we should and shouldn't gift the newlywed couple as a gift that not only conveys our best wishes for their new journey but also ensure that it's meaningful for them as well. A wedding gift registry has always been one of the most popular global elements when it comes to weddings. "Couples are still using gift lists as part of their wedding day, but there has always been the question of 'How much should you give as a wedding guest?' - and that applies whether you buy a gift or choose to give cash as a gift. Many couples are now opting for cash or donations towards big-ticket items such as honeymoons in lieu of the more traditional items found on gift lists, but there's no denying that whatever gift a couple have asked for, The Knot World Wide's gift calculator will really help guests decide how much to give", said Barakeh.
Humanist Wedding Ceremonies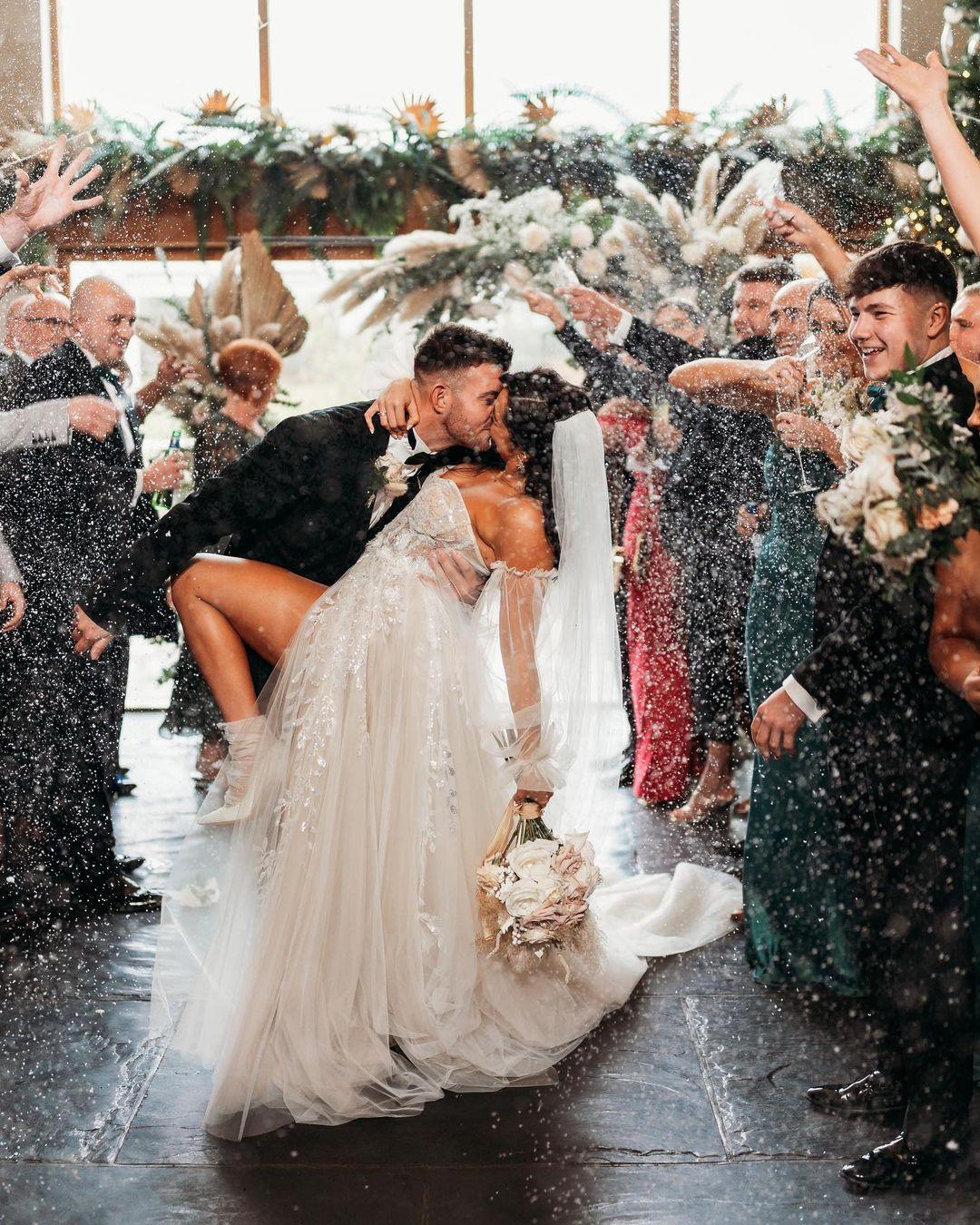 Image Courtesy: Fire & Ice
Weddings are much more about the couple taking the big step and ensuring that their big day is just as they want. Talking about what more couples are choosing in the UK, Barakeh says, "There will always be a place for legal and religious weddings. We have such cultural diversity here in the UK, and weddings are a time when many couples choose to celebrate and showcase their beliefs through religious traditions and legal ceremonies. Having said that, humanist wedding ceremonies have grown immensely in popularity in recent years. Humanist ceremonies mean that UK couples can get married in venues that don't have a civil ceremony license, giving them far more choice and creative control over what their wedding ceremony looks and feels like. Couples are more sure than ever about the type of ceremony and wedding they want, and humanist ceremonies really allow them the level of flexibility and creativity that civil and religious ceremonies don't."
First Look Trends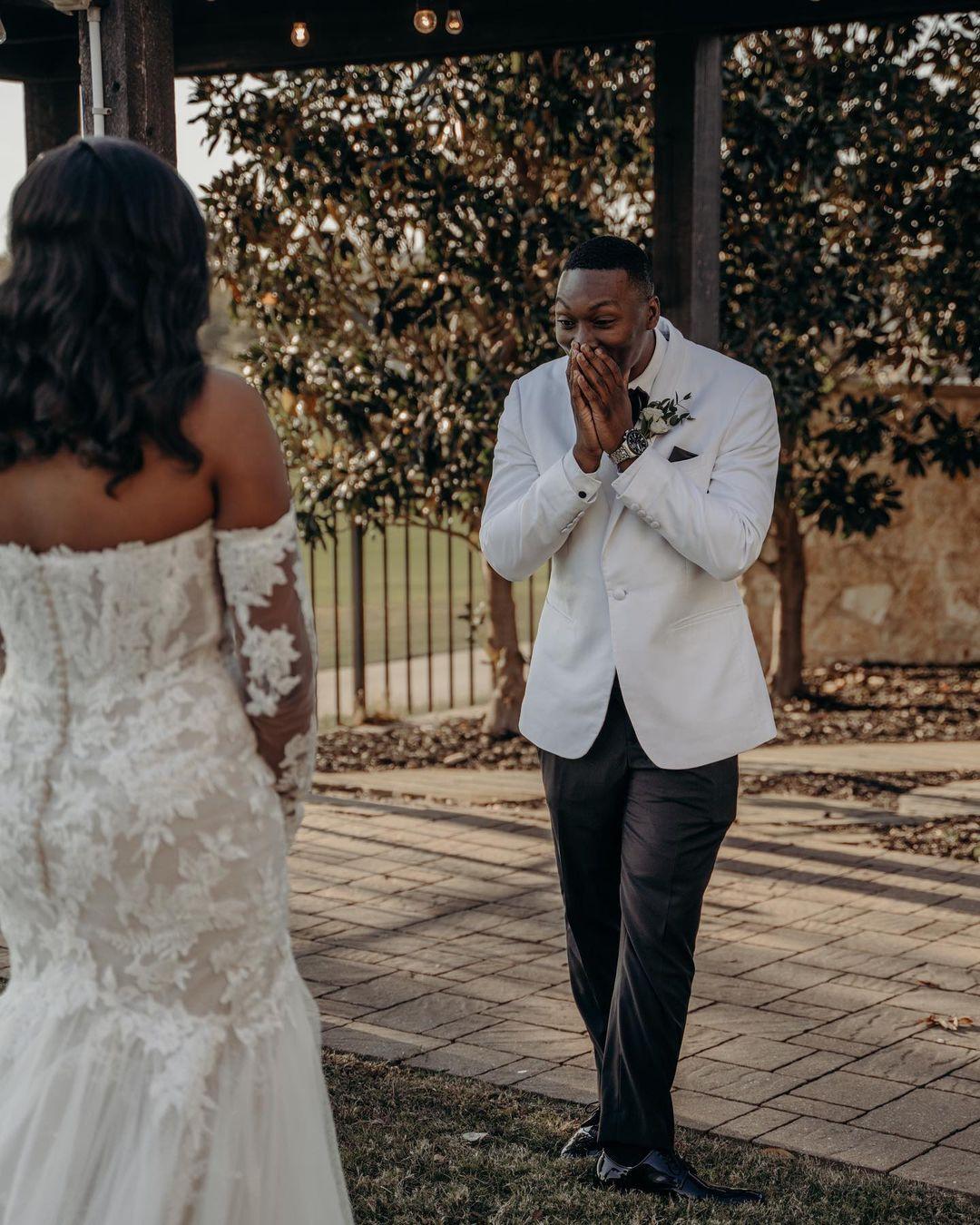 Image Courtesy: Fuse Media Studios
The first look rend is all about creating a special and emotional moment with your wedding photographer where you see your bride all decked up for the first time before the wedding ceremony begins. "The first look is definitely a trend trailblazed by social media, and UK couples, along with many around the world, are more keen than ever to get that social media moment on their wedding day. Along with first-look videos, we've seen a big spike in couple entrance videos online, with one of our own videos of a couple entering their reception going viral on TikTok and Instagram. Showcasing your wedding as being the unmissable party of the year is a trend that won't die down any time soon for UK couples - it's all about filming the fun for our couples", Barakeh added.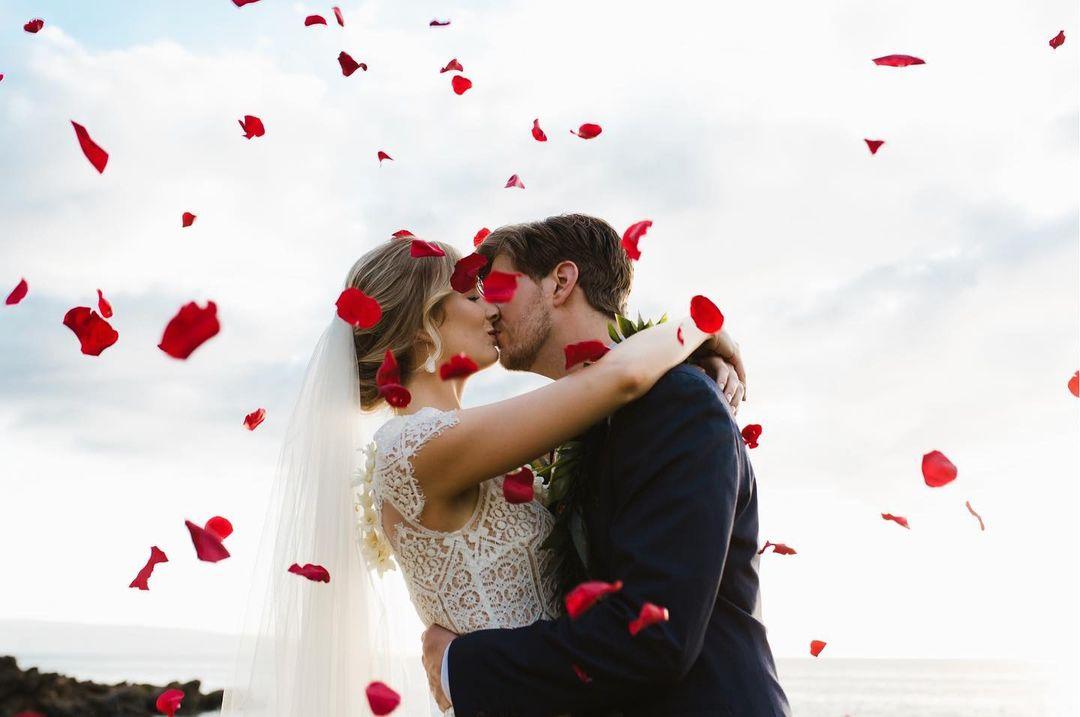 Image Courtesy: Makena Weddings
This round-up of amazing global wedding trends explained by the TKWW editors worldwide has added so many new elements to our wedding wishlist. Get in touch with amazing wedding planners in your city to plan your festive celebrations as per these inspiring global wedding trends.
Which one of these amazing global wedding trends would you make a part of your big day? Do let us know in the comments below.
Top Blogs on WeddingWire India