13 Reasons Why You Should Consider Hosting a Day Wedding
If you have to reschedule your wedding date, here are 13 reasons why you should consider hosting a day wedding.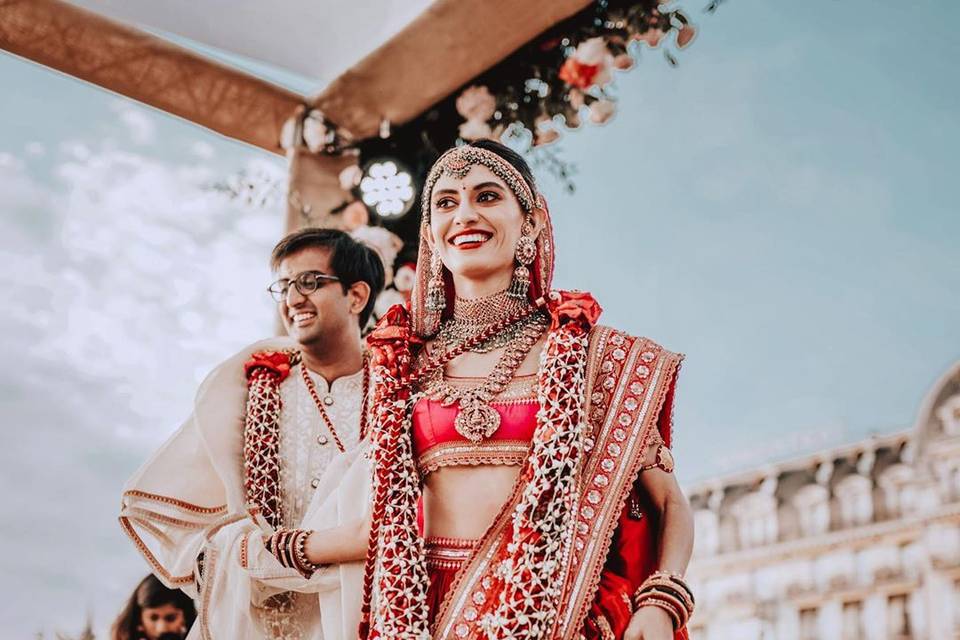 With more and more weddings being postponed and rescheduled to the latter half of 2020, most of our wedding vendors are suggesting a day wedding. The sudden unfolding of the pandemic and the unforeseen period of the lockdown has been the reason why many couples who had planned their weddings in March or the following months have rescheduled their wedding dates to the latter half of the year 2020 or to the saaya dates in 2021.
Indian families usually host an evening wedding on a weekend so that guests get to enjoy the celebrations to the fullest. However, with too many wedding plans moved to the latter half of 2020, evening celebrations might be off the books for many this year. It requires planning way ahead of time to be able to host your wedding the way you have dreamt of it. But since there is a lot of impromptu improvisations on the wedding dates, venues and other factors, a day wedding is an easier way out to fit into the calendars of all your wedding vendors and venue partner. Thoughtful couples and families have gone out of the way to consider day weddings as their option on a weekday too.
If you are considering hosting a day wedding, here is a list of pros that will help you decide better.
Less Competition for Venues
The common idea of a wedding timing is almost always in the evenings. This is the reason why the venues face high demand for evening weddings and the chances that your perfect wedding venue might not be available on your preferred date is pretty high. This is also the case with other vendors that you might want to hire like the photographers, videographers, catering, musicians and so on. It is one of the major reasons why you should consider a day wedding if you are rescheduling or planning for a new date. The availability of your preferred vendor partners is higher for day weddings.
Minimal Decor
Wedding decor plays a very significant role in a wedding as it sets the mood of the entire venue and celebration. While most evening weddings have been grand with velvet and satin drapes in dark and dramatic colours, a day wedding allows minimal decor. You can opt for subtle pastels and laces with lilies and pink roses for your day wedding decor. It is an aesthetically pleasing view even if you opt for minimal decor. The lack of giant chandeliers and centrepieces add a sort of intimacy and warmth to the venue.
Natural Lighting
There is no doubt that the professional photographers and videographers you have hired for the wedding will put their best foot forward and make use of the best technology to make your photographs absolutely stunning. But there is nothing that can beat the beauty of natural lighting. With the bright natural sunlight at noon makes everything look stunning, the sunset as a backdrop makes your wedding setup look dreamy.
Include Children with Ease
If your wedding guest list includes a lot of families with children, a day wedding on the books allows the kids to take part in your celebrations with ease. An evening wedding that extends up to midnight might be the reason why parents will probably leave their kids back home, meaning they will also want to be home on time for the kids. With their bedtime scheduled hours away, the kids can add to the cheerful giggles on your wedding. In fact, even the elderly guests at your wedding can attend the ceremonies comfortably without having to leave halfway to get some rest at night.
More Attention to Details
While the decor option includes minimal decoration, it is very important to keep in mind that the bright daylight and minimal decor allows more attention to the details. From the colour of the flowers in a vase to the bows on the drapes that cover your chairs - the guests notice it all. Minimal decor means usage of lesser objects that can deck up the place and gives more visibility to every detail. While the wine or food stain on your carpet can be overshadowed with dim lights in that area in an evening wedding, a day wedding has got to be a flawless one and more dreamy.
Post-wedding Shenanigans
The fact that your wedding will probably be over by post-lunch hours gives you a lot of time in hand to plan for some fun post-wedding shenanigans. It could be a surprise musical night, a beautiful cocktail party or even an after wedding party with just friends. For the newlywed couple too, a day wedding allows you to plan a relaxing spa session or plan and pack for an impromptu getaway before your actual honeymoon.
Suitable time for Guests
A wedding guest list has many residential guests from nearby places. You could also have guests coming to attend the wedding from places that are 3 or 4 hours drive away. For them, an evening wedding invitation gets difficult to attend as they might be hesitant to drive back after the wedding, especially when they are leaving the venue at midnight and have had too many cocktails to drink. A day wedding is a perfect and safest hour for the guests to drive to the ceremony and drive back later with ample time in hand. Day weddings are less chilly and open-air venues can be considered for winter weddings during the day.
Sunset Photographs
While all the flashes and graceful lighting that brighten up your venue for an evening wedding might give you glamorous photographs, nothing is better than the mellow lights of the sunset. A wedding is incomplete without some amazing photos that add to your memories. From beautiful, romantic pictures to fun and quirky ones, all of them tell a story when added to your album. The sunset is the best time to get a mesmerising photoshoot done for you as well as your guests. A day wedding must have sunset photoshoot in the books after lunch!
Same Day Reception
If the couples are planning on hosting a wedding reception on the same day as the wedding, a day wedding is an ideal plan. While the wedding is over by afternoon hours, you can skip planning any post-wedding activities and let your guests take some time to get decked up for your reception. In fact, you will also have ample time to change your wedding outfit to a beautiful wedding gown and get ready to make your wedding reception an unforgettable party for all! With so many weddings being rescheduled, there is a scarcity of resources, vendors, as well as venues and doing both on the same day, might just be the right thing to do.
Cost-Effective
Even when you plan for an evening wedding on a regular day, it is an expensive deal. With months of pre-planning in place too, evening weddings are always more about the glam and hence expensive. Day weddings, on the other hand, are indeed a cost-effective idea. From the decor, the lights to the venue itself, they all have different booking prices when it comes to a day wedding. The high demand for evening weddings makes everything extra expensive and extravagant. If you plan to opt for a day wedding there are a lot of things that can be simpler than the evening one. For instance, the centrepiece for the day wedding need not be heavy chandeliers with royal red roses. It can simply be a bouquet of pink roses or lilies to add to the ambience. Day weddings are easier to stick to the budget.
More Flexible Timings
Almost all venues allot an end time to your functions as they have to shut it down for the day. Since most wedding ceremonies tend to roll on to a beautiful dinner and then maybe cocktails and endless dancing and toasts, the timeline crosses midnight to early mornings too.
However, if you have a fixed time that you get to spend at the venue, the constraint makes you hurry it all up. But with a day wedding, the clock is not ticking. You have the entire day to host your celebrations and the venues mostly close at the end of the day or at midnight. This gives you the flexibility to enjoy your big day royally without going by the time. Make as many toasts as you want!
Formal or Informal
A day wedding also has the option for you to decide whether it will be a formal wedding or an informal one. While you decide the theme of your wedding, to wear polo tees with chino shorts for an evening wedding at a venue that is not a beach, seems pretty awkward. However, if it is a day wedding at a lawn of the venue that is not a beach, you can plan to wear a summer jacket with chinos and perfectly fit in. A day wedding can be made into a high tea themed outfit too with everyone in tux and gowns. The options to explore wedding themes are more when you decide to host a day wedding!
Intimate Weddings
As most day weddings in South India happen in the temples, they tend to be an intimate wedding. Apart from that, you can plan to host an intimate wedding during the day by keeping in mind the availability of the guests during the day and other such factors and plan for a grand reception in the evening. Planning for a day wedding can also be of help when it comes to cutting down your guest list.
Instead of the conventional red lehenga being a compulsion to look drop-dead gorgeous on your wedding, a day wedding extends the scope to flaunt a pastel lehenga or a multi-colour lehenga for your wedding. Ceremonies like Anand Karaj among Sikhs are a perfect example of how day weddings are a big hit and yet underrated among the couples. A day wedding is also the perfect setting for you to pick rustic wedding decor ideas and in case DIY decor ideas are your thing, it is more convenient to incorporate DIY decor in a day wedding than an evening one.
While evening weddings are all about OTT decor with the best lighting and martinis, your guests can flaunt their pastel and floral gowns comfortably while they sip some mimosas before a beautiful wedding brunch.
If you are planning to host a day wedding, let us know in the comments below why you picked a day wedding over an evening one. Get in touch with the professionals on board to make your wedding an unforgettable one.