Top Catering Trends for Indian Weddings 2023 for You to Pick Now for Your Big Day
Make your wedding celebration an event to remember for life by choosing some of the most eye-catching and top culinary trends for the year 2023. Read on to learn more about them!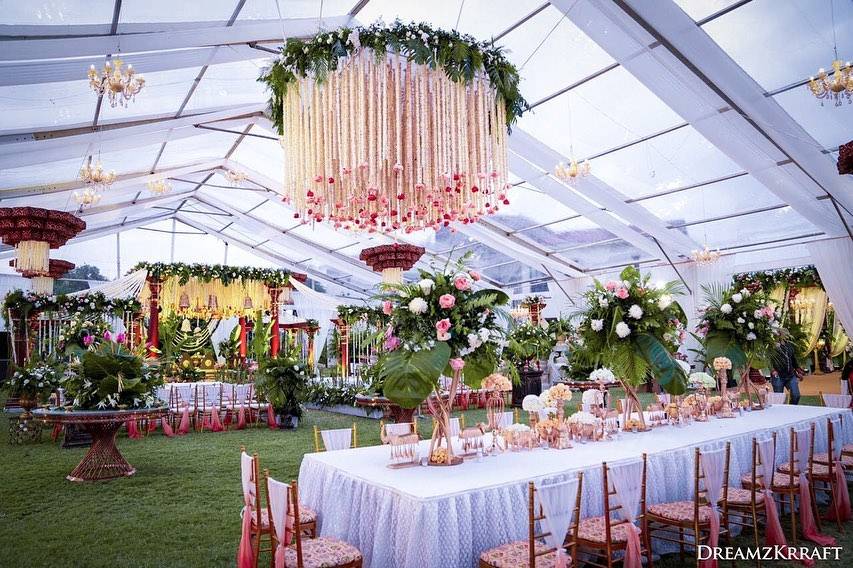 Indian weddings are a beautiful sight to behold. From different ceremonies rooted deeply in traditions and whimsical and stunning wedding decor to a gorgeous showcase of wedding outfits by not only the couple getting married but also the wedding guests. Everything around Indian weddings is larger than life, and one element that makes each of the wedding festivities the one to remember is the food and catering setup. Catering is one of the most talked about and memorable pillars that make any celebration one of a kind. While we have seen so many beautiful food setups around weddings, the catering industry will be taken by storm as we explore the top catering trends for 2023, as they are deeply ingrained in creativity, ingenuity and out-of-the-box thinking.
As the world is coming back to normalcy after the pandemic, the year has begun with full force, especially for weddings. While trends are forecasted every year, 2023 will not be any different. To understand more about the top catering trends for 2023 and what will popularly make rounds this year for weddings, we had an in-depth discussion with the leading luxury catering companies and their spokespersons, namely Manvir Singh Anand, Founder & CEO from Knight Gourmet and Sanjay Vazirani, Founder & CEO at Foodlink Luxury Catering.
In this article:
1. The Essence of Sustainability
2. Healthy Food Choices for Wedding Menu
4. The Concept of Zero Food Wastage for Weddings
5. Artisanal Tables & Serviceware
7. Personal Touch in Catering Services
Read on and find inspiration with popular and our favourite catering trends for 2023 and add them to your wedding festivities to make them much more unique and special.
The Essence of Sustainability

Image Courtesy: Pinterest(L), Martha Stewart Living(R)
Sustainability for your catering services not just means locally sourcing the ingredients with the concept of Vocal for Local but also being more conscious and mindful about hosting an eco-friendly wedding celebration. Whether it's choosing clay or mud pots for cooking the food or reducing food wastage to a minimum, each step counts for a better future and makes it one of the most popular catering trends for 2023 that many millennials are choosing.
Manvir said, "I absolutely believe that sustainability is the new fad in the current wedding generation. Gen-Z and millennials are more focused on the environmental consciousness that they have towards not only to the society but Mother Earth as well. For a quick example, we recently did the wedding of Richa Chadha and Ali Fazal for their Sangeet ceremony. It was so heartwarming to see the whole family focuses so much on elements of sustainability throughout the wedding. Elements like glass bottles were completely removed. To bring in the quirky elements, we bought the age-old water dispensers that you see on the streets. Water was dispensed in aluminium cans. The entire element of plastic was removed."
Find Top Wedding Caterers Near You

Image Courtesy: Confetti & Bliss (L), Lynnea Mudford (R)
"Sustainability is not only about removing plastic but also about the ingredients. I am seeing that the flavour of the local produce, which is homegrown and seasonal, is taking a much better shape. It eventually comes down to the innovation that a chef or a caterer can do for the wedding. All menus around weddings are changing to seasonal; while they are created as per the client's requirement, they are not more into the show-off element nowadays", he added.
Healthy Food Choices for Wedding Menu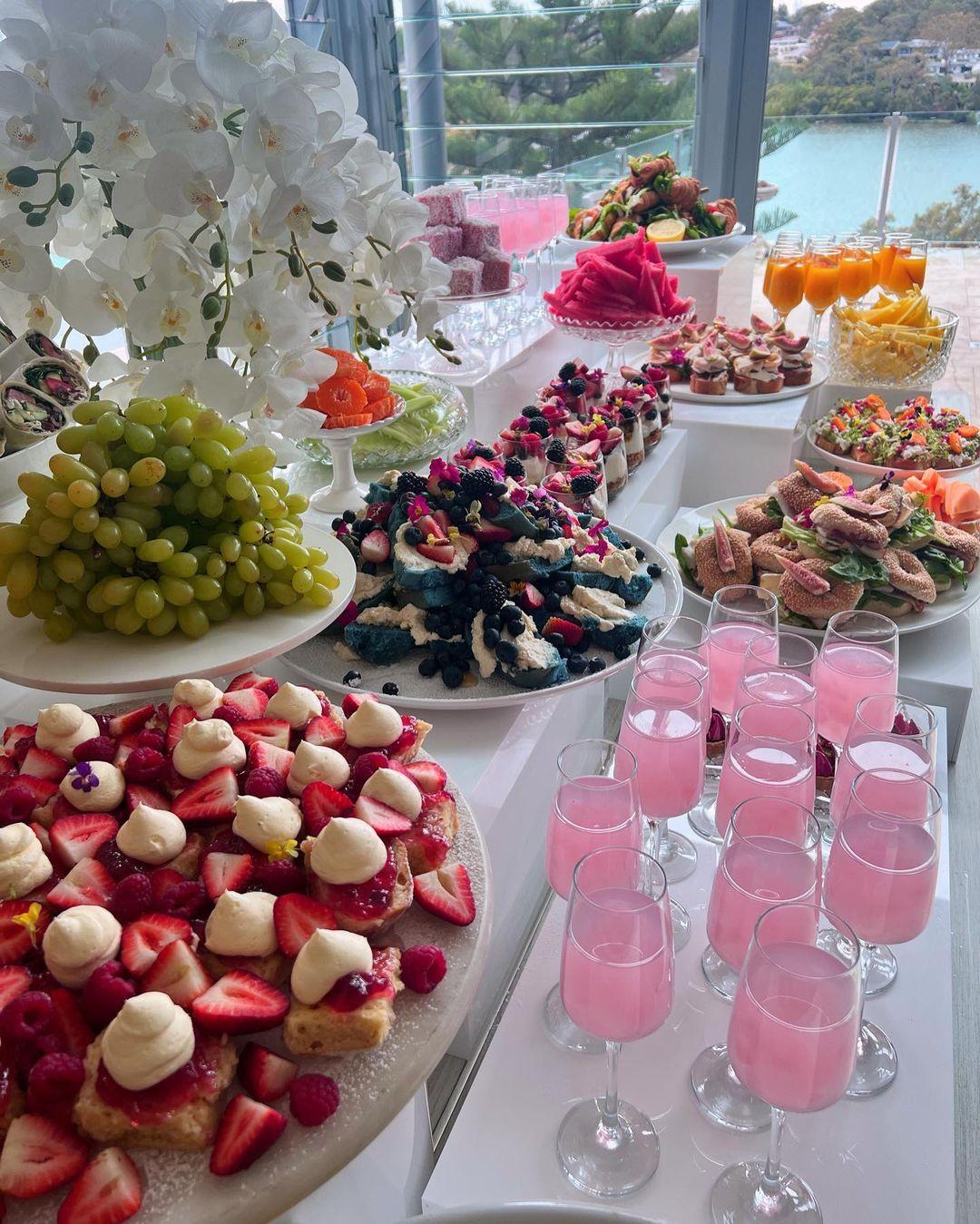 Image Courtesy: Hayat & Fay
Nowadays, people are more inclined towards a healthy lifestyle where they only want to choose organic and sustainably sourced ingredients but choose everything best that can benefit their health first. This trend has been a rising star not only for individuals in their personal lives but also for couples planning their wedding who want to add healthy alternatives and food choices to their wedding menu.
Talking about this being one of the top catering trends for 2023, Sanjay Vazirani said, "Absolutely it is. As luxury caterers, we must and do operate keeping in mind the client's nutritional balance and inspiring good eating habits, such as healthy snack alternatives and healthy ingredient-led stations. Making healthy options delicious as well as trending has a lot to do with a good food expert's ability. Guests want to revisit forgotten ingredients, which in fact, are not just making a comeback but have started trending. The old 90's ingredients are back. For example, concepts having ingredients like Halim seeds in meals, turmeric in drinks and the like are taking off."
"Caterers must be more mindful of ethical sourcing by choosing ingredients grown/ produced with care. We follow stringent standards for all raw materials procured. We do in-depth market surveys to check on quality and then empanel vendors who are quality conscious. We undertake testing of the raw materials to ensure compliance. Random visits are made to the manufacturing or processing units to check for all compliances." he further added.
Thematic Food Setups

Weddings nowadays are all about presenting everything creatively, so how can catering be left behind? From thematic food experiences, to food mood boards, new-age couples are going all about when it comes to selecting their menus around their wedding ceremonies.
Talking about thematic food setups, Vazirani said, "Innovations are always an important part of uber luxury experiences. This includes the introduction of lesser-known cuisines, especially hyper-regional cuisines, new styles of plating, and unique styles of service with a lot of drama or gimmicks that engage all the senses. Speciality cuisines from Jammu & Kashmir, Himachal Pradesh and, the North East are seeing a rise in demand, in recent times. Also, healthy delicacies of specific regions such as 'Thukpa' is becoming popular as it serves as a wholesome meal with a healthier proportion of carbs and proteins. Themes definitely are a trend, although not a new one. At a recent wedding in Barcelona, one of the pre-wedding events was done in a Spanish theme with Spanish singers and tap dancers, etc. To complement the theme, we had a chef dressed and posing at Picasso and painting the bread with spreads for the guests. Our chefs regularly undertake research and experimentation to create unique menus which are influenced by global culinary trends alongside art, fashion, film and popular culture. We must love to push boundaries and set trends, creating incredible experiences that stimulate the senses."
"There are regular in-house creative competitions amongst the chefs and kitchen staff to come up with innovative menus from the trimmings and leftovers. Many interesting creations have been a result of this experimentation. E.g. a kofta made out of broccoli and cauliflower stems. Of course, these are for internal consumption, but it keeps the spirit of experimentation alive. Another trend observed world-over is a change in food preferences and a shift towards Veganism, Reducetarianism and Flexitarianism. While consumers will not give up meat entirely, they will now be more and more inclined than ever to explore alternatives like plant-based protein sources. Fusion cuisines or food mash-ups combine contrasting culinary traditions or techniques into a single dish, and this is one of the fastest-growing food trends that we have incorporated into our offerings. It allows for experimentation and freedom in exploring a contrast of flavours and textures", he further added.
According to Anand, "The top thematic trends for catering, as per me, will come back to my speciality, which is European-style plating but desi food in texture and taste. This will be a trend that people would want to leverage. It's all about offering an experience but not playing around with flavours too much. In the name of fusion, you would not want to deteriorate the flavour of the dish that you are serving. Weddings nowadays are about building restaurant setups in different corners and serving dishes in a plated setup. To really enjoy the essence of catering is to try all the flavours throughout the evening while they are served in bite-size portions.
The Concept of Zero Food Wastage for Weddings

Image Courtesy: Pinterest
While everything around Indian weddings is about abundance, we need to be more careful about food wastage. After the pandemic, couples hosting their weddings are aligning more with the concept of zero food wastage. While it is one of the top catering trends for 2023, we are amazed to hear about the different measures and practices that catering companies are undertaking to ensure its success.
"Yes, it's great that new-age couples want to celebrate their weddings within the parameters of their value system. There is a strong move towards sustainability and minimalism. We all must look inwards and examine why we are addicted to abundance. In the age of overproduction and over-consumption, whatever steps we take, we must ask ourselves why we have so much food waste to begin with. Just like the trends are changing in interior design, fashion, et al., we need to expand on the current minimalist aesthetic in the food realm as well. We take several steps to avoid food wastage. We offer an eco-friendly dining experience to our guests using reusable tableware or eco-friendly leaf and clay bowls. We offer live cooking stations as much as possible to minimize food wastage." Vazirani said.
"We have also started the trend of serving in mono portions with unique plating to add a dimension of drama in food while enabling the guests to try a variety of dishes to be able to satiate their taste buds. This reduces food waste while keeping the experience quotient high. We practice this not just for starters but also for the main course and live stations to cook fresh and mini meals like Laccha paratha with small portions of dal, butter chicken with mini garlic naans etc. We have specially designed plating platters and bowls for mono portioning, e.g. we serve a fancy wok box containing 50 grams of noodles."
Vazirani further said," Absolutely, and I am glad to see the growing environmental consciousness of couples & families to opt for green weddings. Roughly 931 million tons of food produced for human consumption is wasted each year. There are solutions to reduce wastage without affecting the experience quotient. In fact, we have developed a style that not only reduces waste but also makes catering more experiential and personalized. Celebrities enjoy a lot of influence which naturally comes with social responsibility, and I applaud Richa & Ali for the thought of having an environmentally friendly wedding celebration. It's been a growing trend, and at Foodlink, we ensure that the smallest of things are planned in a sustainable manner with minimal wastage. This is demonstrated by offering our guests an eco-friendly dining experience using reusable tableware or else eco-friendly patte ka donas (bowls made out of leaves) and mitti ke sikores (bowls made with clay), bamboo plates and cutlery. We collaborate with various NGOs working for rural women's welfare and economic upliftment. They are given vocational training to create beautifully handcrafted recyclable products that we actively use in our projects."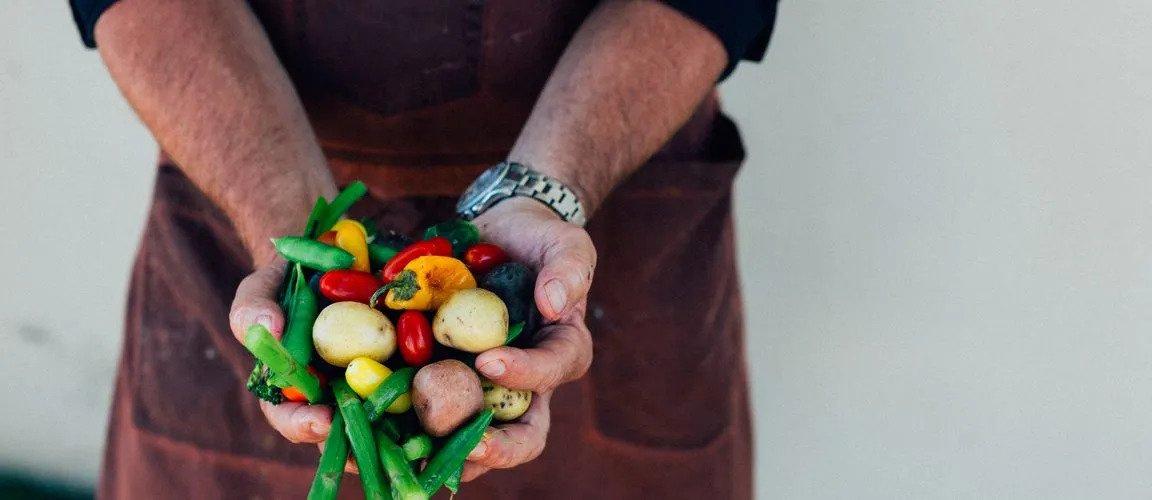 Image Courtesy: Roundabout Catering
"We use specially designed plates and bowls to serve food in mono portions. These are beautifully plated and thus are fancy as well as prevent food wastage. To refrain from using plastic bottles, the water is provided in fruit-infused glass canisters with lids. We use a maximum of live-action stations in our buffet, which involves 30% Mise en place, and the rest 70% is cooked live in front of guests as per their preferences. Over the years, we have developed thumb rules to foresee the quantities required for events which are mostly always precise. But just in case there is a shortfall due to higher than anticipated turnout, etc, we analyse real time and use our resources of restaurant kitchens to address the needs. This way, we also use the synergy between our catering and restaurants to ensure minimal wastage.
Portion size control is also a big way food wastage can be reduced while keeping the delivery fancy and the guest ecstatic. We serve in plated mono portions. This is not just for starters but also for main courses we do fresh and live mini meals like laccha paratha with small portions of dal, butter chicken with mini garlic nans, dal baati churma bowl, Thai curry bowl with a scoop of jasmine rice. These are presented in a fancy way with unique plating so the guests feel satisfied and can save their appetite to try all the amazing dishes on the menu. We have especially designed our plating platters and bowls for mono portioning."
As per Anand, "To ensure zero food wastage around weddings, there are always three things. Firstly, we are sure about what you want. Weddings nowadays are more thematic. It is not about the lavish spread of the buffet, including 20 different cuisines that we used to see. I really feel that new-age weddings should really focus on ensuring a zero-food wastage policy to stick to one cuisine and scale it to one party itself. For example, if you pick an Awadhi cuisine, you should do the entire menu around the same cuisine. It not only reduces food wastage but also gives you an opportunity to do multiple things with the same cuisine. The more you add pasta or a ravioli station to it, it boils down to nothing but a confusing menu of sorts. Similarly, if a Sangeet is a Sufi night, it can be an Awadhi cuisine, or for a Cocktail sundowner, it can be a pure Continental spread or an amalgamation of European cuisines. The second aspect is portion control. What we have seen is that the focus has shifted from a buffet to a flying buffet. It is basically the bite-size portion of everything being circulated around like even for a biryani; it will be served in a Kulhad. It's a really good trend that I have seen to control food wastage. Thirdly, the planning of the menu has to be done in a manner that incorporates ingredients that are locally produced. Not every function has to have an Al-fungi or fresh Truffles. Trying not to overdo the ingredients that we typically tend to do will definitely curb the food wastage around weddings".
Artisanal Tables & Serviceware

Who doesn't like stunningly decorated tables, and when the setup is straight out of a fairytale, the whole guest experience can be taken to the next level? While artisanal tables have been in trend forever, it is one of the top catering trends for 2023 to enhance the guest experience for sure. While food is all about sensory perception, when the flavours, fragrances and presentation play key roles, the artisanal tables definitely add to the entire experience.
As per Vazirani, "Absolutely, this trend has mass appeal as it wins over minimalists and the most extravagant alike. It creates an inviting atmosphere that encourages interaction and brings us closer. It is visually appealing and has a soothing effect on the senses. Guests prefer more starters and grazing tables to main course now. There's also a lot of focus on after-party or drunken food. Grazing tables can include anything from speciality cheeses, cured meats and antipasti to dips, Mezze spreads, bread, crackers and chutney, dried fruit and nuts – the possibilities are endless. Unique and out-of-the-box concepts of service ware are very important as it breaks the monotony and leads to a whole lot of awe and excitement for the guests. "

Image Courtesy: Makena Weddings
According to Anand, "Artisanal table setups are not only in trend now but have been from the yesteryears. The quality of a caterer is seen in how beautifully he can decorate a buffet table. While buffets have become passe, elements like grazing tables, cheese boards, and sit-down dinners have much room for innovation that will please the eyes. Beautifully decorated tables are something that will never go out of fashion. The tablescaping aspect is not only relevant today, but will be relevant 20 years from now."
Unique Culinary Concepts

Image Courtesy: Pinterest
While we have seen beautiful innovations around catering services, what always tops the list is how well they are presented. Catering nowadays has become all about the experience and if you wish to know more about the unique culinary concepts and top catering trends for 2023, read on to know what our experts think.
According to Vazirani, "DIY stations are not only mesmerizing, but they are also truly engaging. The guests can DIY or our staff can cook as they like with ingredients that they love on the teppan table right in front of them, putting together amazing options such as DIY okonomiyaki, Salads and Izakaya dishes. We can also offer DIY mocktails & cocktails stations. Miniature food bites is definitely a cool trend. Our fascination with tiny things begins from childhood when we have our tiny kitchenettes, small ladles, pots and pans. It stays a part of us even after we grow up. While the creations on social media are taking it to another level, for catering, we are talking about something that can be eaten in one bite, which is not particularly new and is commonly known as finger foods that form a standard offering at events."

Image Courtesy: Pinterest
As per Anand, "The focus has pretty much shifted towards the elements of thematic bars. You end up creating bars that are botanical in nature, making them more sustainable. The details that go into it what people are choosing, from the dirty cocktails to the menu detailing what they need, are taken to the next level. The second element that is being much popular with couples nowadays is the level of personalisation they incorporate. Our focus is to offer something that has not been seen before. The buffet-based catering has what weddings are all about. But we have tried to pick up a niche of eclectic catering with destination and curated weddings. Today catering is not only about the food but also an experience."

"Another trend is the element of Live-cooking. Gone are the days when we could say that buffets are the real charm of an event: today, it's all about live counters. One of the things that we are really proud of in Knight Gourmet is that we go for the plated desserts and dishes. I believe that to do a sit-down for an Indian dessert, especially for a 500,000 pax, is a different devil altogether. But if you come up with a European-plated Biryani or a Palak Patta Chaat in a martini glass, which has been done for ages now, this is what is really taking shape now. Live counters now have individually plated items which are being served to give guests a Michelin-star experience out of a catering event. Another trend that we have seen which is surely come up, is the Eureopen-style sit-down dinner, especially with a guest list that is between 100-150 for close-knit pre-wedding events that want to add a boutique and chic element to their wedding." Anand said.
Personal Touch in Catering Service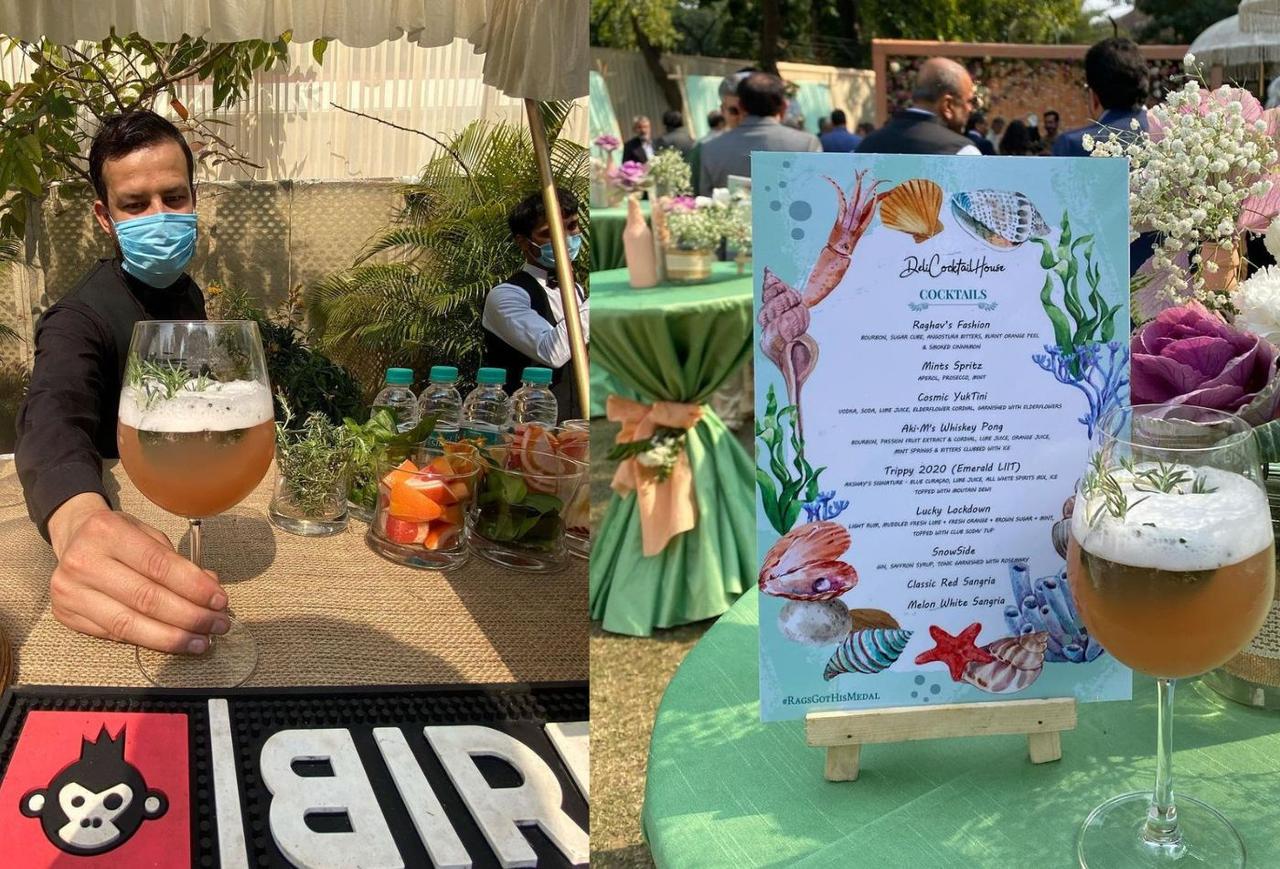 Image Courtesy: Delhi Cocktail House
Every couple wishes to imbibe their personal elements into their wedding celebration. After all, it is their big day that they intend to enjoy to the fullest. While we have seen so many quirky ways to add personalization through wedding decor, you can do even more through your food setup and catering services. Adding the touch of personalisation is definitely on the list of top catering trends for 2023.
"Over the last decade, weddings have been shaped by a number of factors — social media, wedding websites, societal trends, and celebrity weddings to name a few. It's really important that all elements of the wedding reflect the personality of the couple and that special memory are woven into the F&B experience at the wedding. We must let the curation reflect the thought process and the journey of the couple, associating the experience with their memories, their discoveries and their identities. We make it about personalized touches that resonate with their relationship and their loved ones. This can include sometimes adding their favourite dishes made by their special recipes or a whole cuisine dedicated to a loved one with special names like Dadi ki special khichdi. The team brainstorms with the clients and our culinary experts on how to personalize the menu for each event by incorporating the best thoughts and inputs. After all, we are here to craft tailor-made experiences for them", as per Vazirani.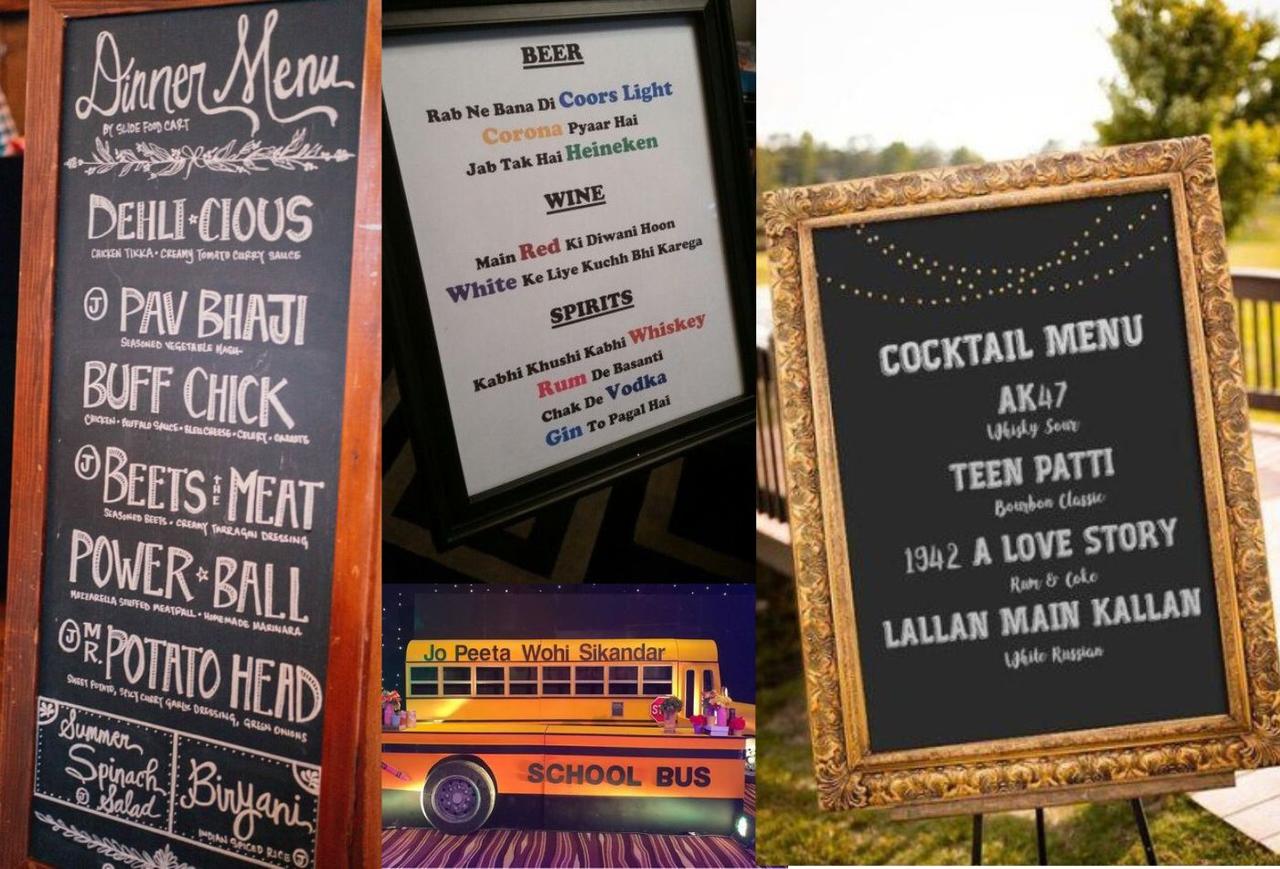 Image Courtesy: Pinterest (L), Design by PeeraPach (M), Witty Vows (R)
"From a recent wedding, we saw that the focus is not only on the food but also on the quirky names that you can add to it with the element of personalisation, like Guddi ka Bal, Jija ka Pizza. For the Richa-Ali wedding, a lot of food names revolved around their movies or what they have been doing across. The favourite drinks of the bride and groom to His & Her drinks is also a personalisation element that is picking up with millennial couples", as per Anand.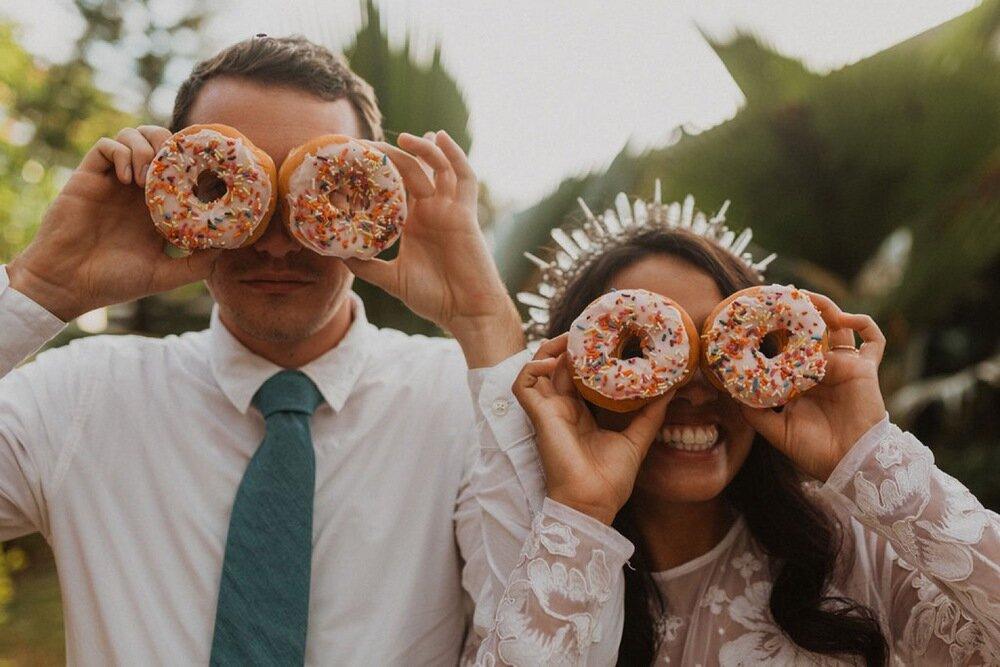 Image Courtesy: Sheyanne Lyn
We surely are impressed and in awe of these super amazing catering trends for 2023 and just cannot wait to try them out ourselves. Get in touch with our list of experienced caterers and discuss the top catering trends for the year that you would want for your wedding functions today.
Which one of these top catering trends for 2023 would you like to add to your wedding celebrations? Do let us know in the comments below!
Top Blogs on WeddingWire India