Top Minimalist Bridal Wedding Dress Trends for 2023
If you are a minimalist bride who loves fuss-free and elegant designs, here are some expert approved trends and stunning picks from pastels & ruffles to pristine whites, to make your heart skip a beat!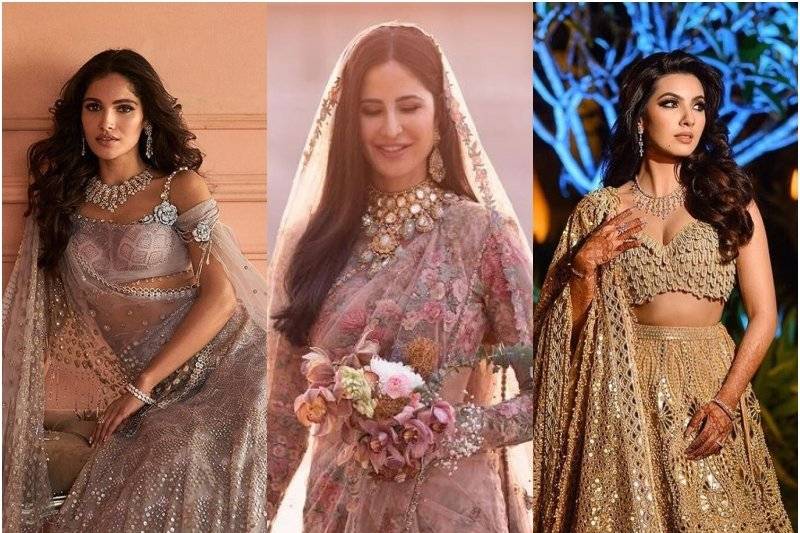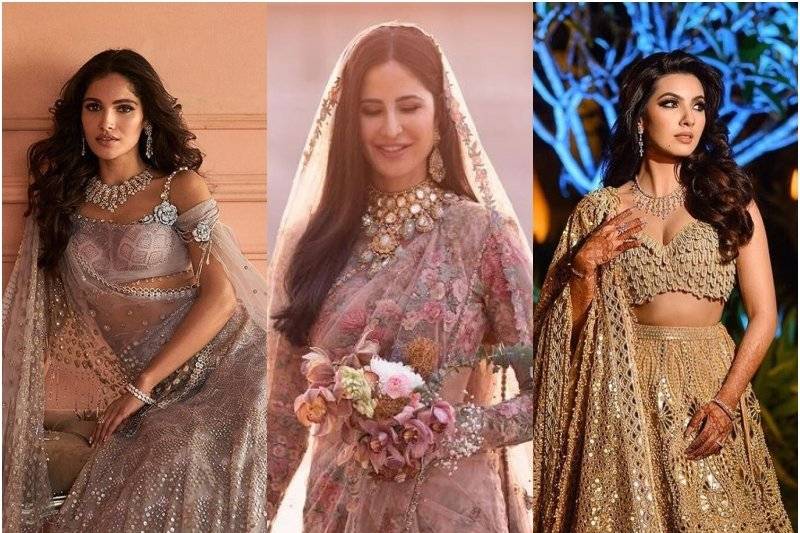 Image Credits - (L) Sabyasachi, (C) Tarun Tahiliani, (R) Dabiri Couture
Picture a bride strutting down the aisle like a feather with elegance wrapping her persona in whole - oozing divine aesthetic wearing an absolutely stunning, light-weighted wedding wear. Heavy embroideries and jewellery cannot outweigh the grace of this bride. She has chosen a look that brings the beauty of less is more to the fore.
Spotlighting the changing face of trends, WeddingWire India chats with key fashion designers to create an easy fashion guide for the minimalist brides-to-be. With expert inputs from Couturier Ridhi Mehra, Couturier Anjul Bhandari, and Luxury Designer, Karan Torani - Founder of Torani India, we bring to you an ultimate guide to follow if you are a minimalist bride currently on the lookout for minimal bridal fashion inspiration.
In this blog -
Book Your Dream Wedding Lehenga Here
A minimalist bride's trousseau must-haves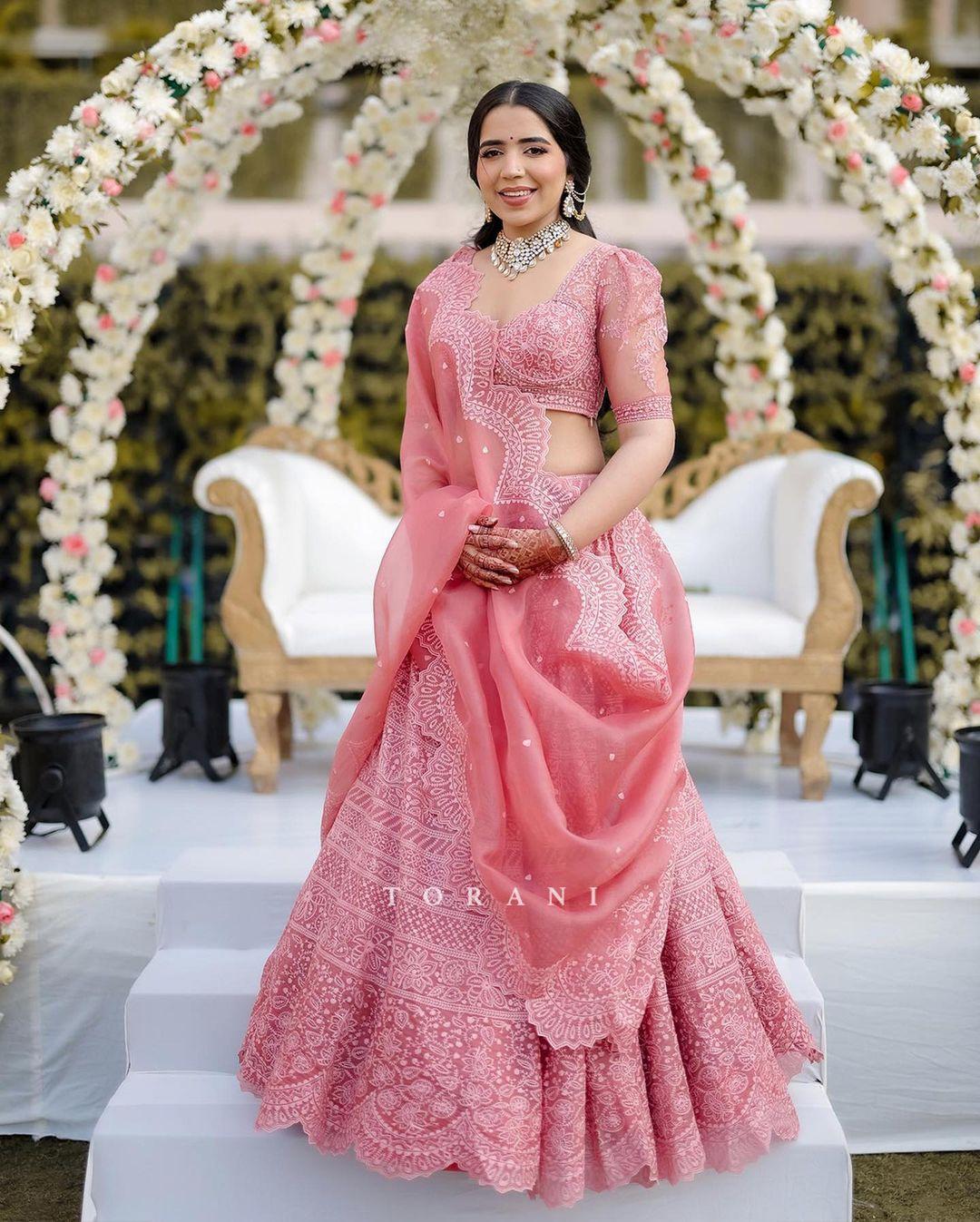 Image Credits - Torani, India
OTT bridal looks are passe! Millennials are going beyond social constructs and have now carved out a space for elegant wedding fashion. A minimalist bride doesn't swear by the abundance look to swing in the whole traditional spectrum of wedding fashion. They carefully curate looks with statement pieces that can stand out as wedding ensembles and can also be re-used during other milestones of their lives.
Talking about must-haves and trends, Karan Torani shares, "I don't believe in trends and my idea of style is personal, classic, nostalgic and memory driven. We have done a lot of capes with hoodies, and we also suggest draping a saree instead of draping the usual red lehenga for your wedding."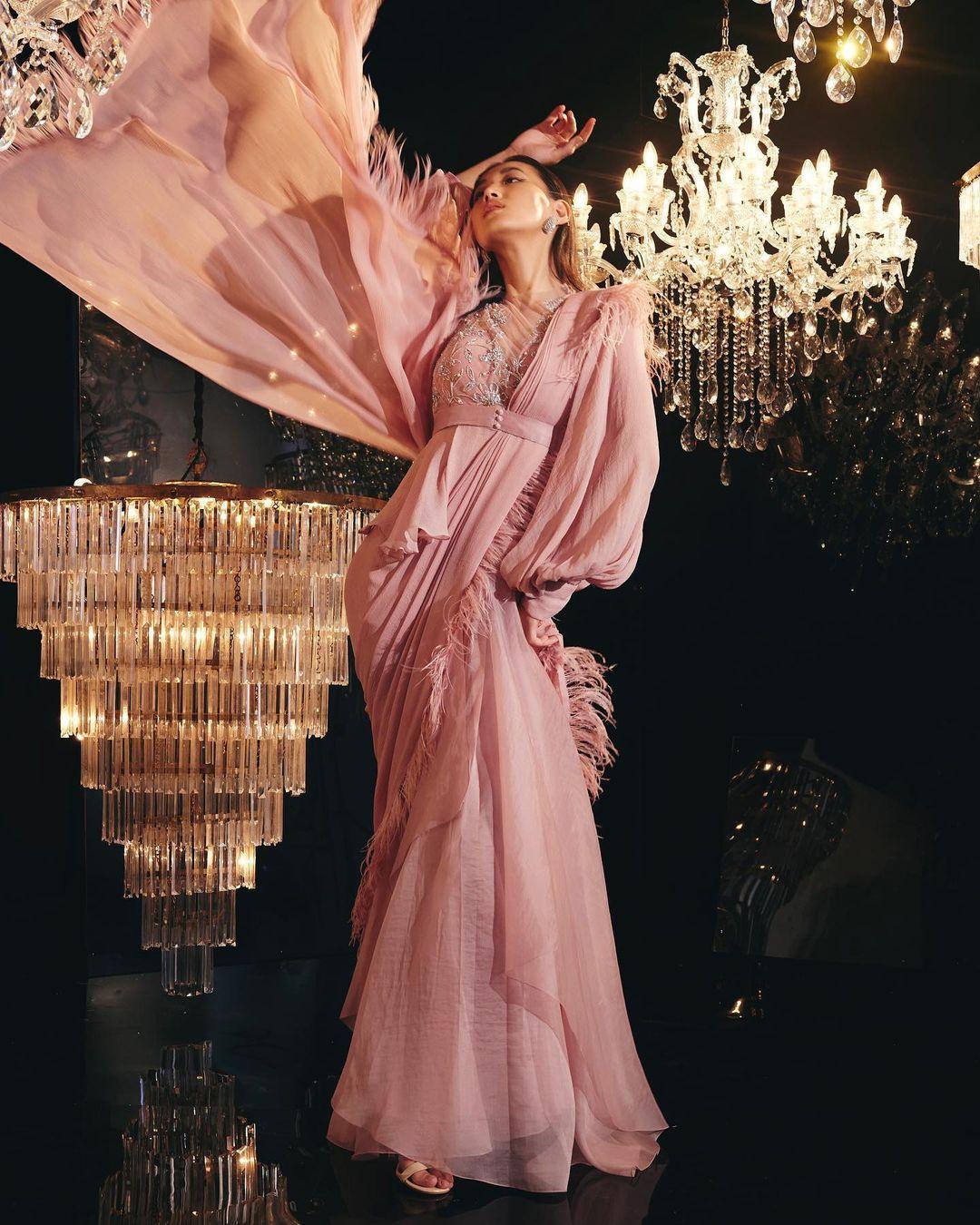 Image Credits - Ridhi Mehra
Designer Ridhi Mehra enlists the dream trousseau list for minimalist brides below -
A minimal, lightweight bridal lehenga
Few statement jewellery pieces
A single statement dupatta
Effortless pre & post-wedding outfits like jumpsuits, kurta sets, palazzo sets and so on
Stylish yet comfortable footwear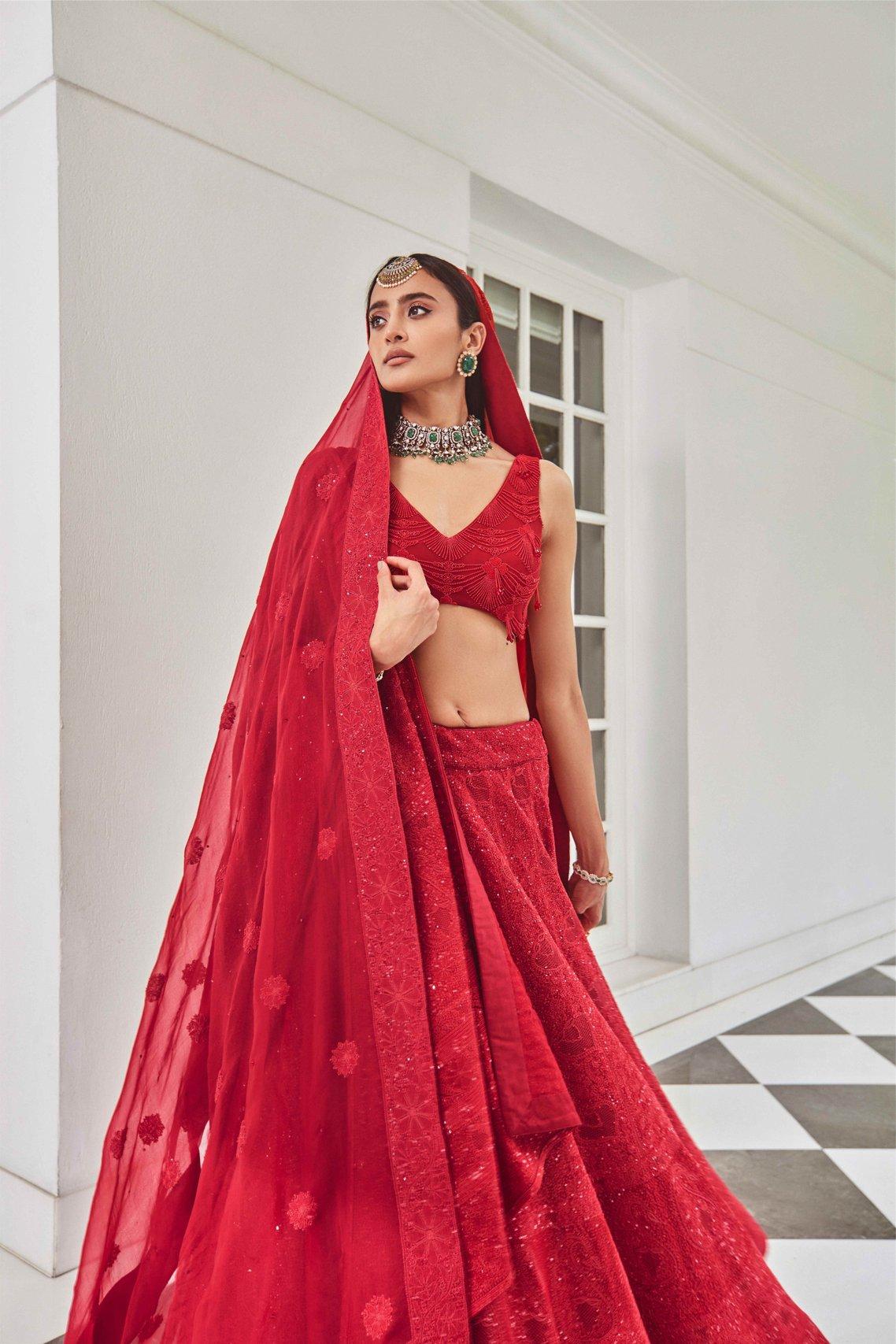 Image Credits - Anjul Bhandari
Bhandari further adds to the list, "According to me a rich, handcrafted piece always looks elegant without being over the top. Outfits that are versatile and can be paired with different outfits too will be a big plus. So the most important thing for the minimalistic bride today is that whatever she chooses to have in her trousseau should be sustainable, made in India, and something that supports the artisans and the art forms available in our country. They must always think realistically about where they're putting their money and if it's sustainable and going to a good cause. A trousseau 'must-have' is something that should make you feel like you want to pull it out for every occasion. According to me, supporting an artisan, for a dying art like Kaamdani is a must have so that the artisan and their craft gets its due. And of course, chikankari embroidery for any collection, any bride, minimalistic or OTT is a must have."
WeddingWear colours for 2022-23 minimalist brides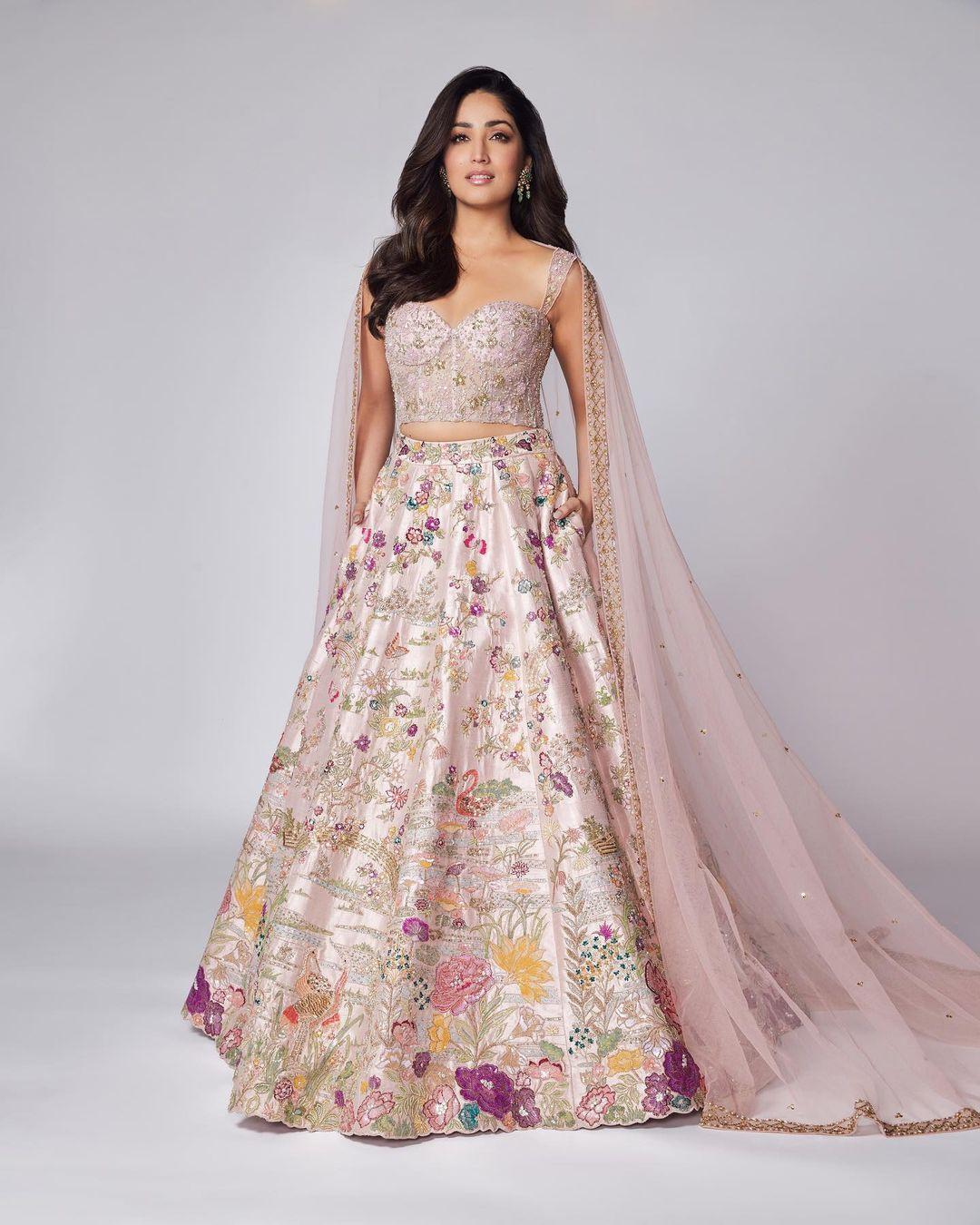 If you take a trip down the memory lane and scour through the wedding albums - Hindu brides were mostly painted in the traditional red (across India). The strong influence of westernisation in Bollywood gradually changed the narratives for us. Bhandari shares, "For minimalist brides, our pastel palette is always the best option. Pastel lehengas can never go wrong, but if you look at the colours that are going to be used extensively for bridal looks in 2022 - 2023, they are going to be very earthy colours, starting from a champagne all the way down to ivory or white – a staple for a minimalistic bridal look." Mehra adds a few more colours to the list that we can't get enough of, "A soothing combination of peach and blue, a classic gold & black combination, whimsical jewel tones, the sublime white & yellow combination, and ombre pinks are perfect for minimalist brides." Torani loves 'playing with colours' and points out how it complements our traditional culture, "India is a country of colours and defining red as the only colour for brides is passe now!" He enlists Ivory, blush pink, purple and electric blue as some of the finest picks for minimal brides.
Guide to wearing Ivory/White for your wedding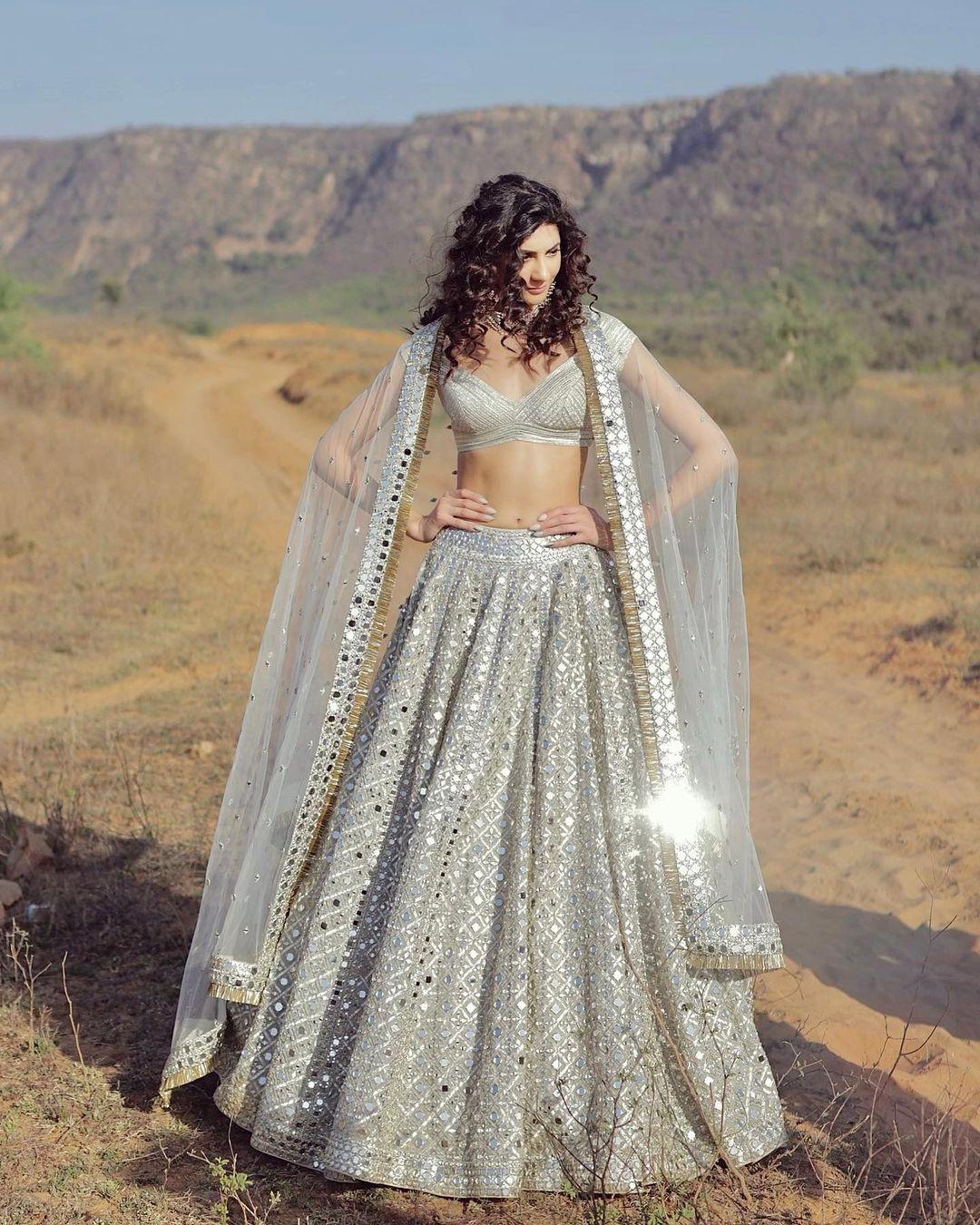 Are you one of those brides who naturally gravitate towards the ivory wedding look? You are aiming for bridal wear styling to add an edge of functional while it also garnishes the looks with a traditional flavour.
Bhandari opines, "Ivory and white are here to stay. It has been around for as long as we've considered bridal fashion. These colours are not going anywhere. When it comes to chikankari, a type of hand embroidery, the colours white and ivory are among the purest. Another option is to do Kaamdani, which would result in a minimalist bride wearing an ivory lehenga with gold Kaamdani. The Kaamdani will add a touch of bling to the subtleness of the ivory colour, and traditional gold or polki jewellery will complement it beautifully."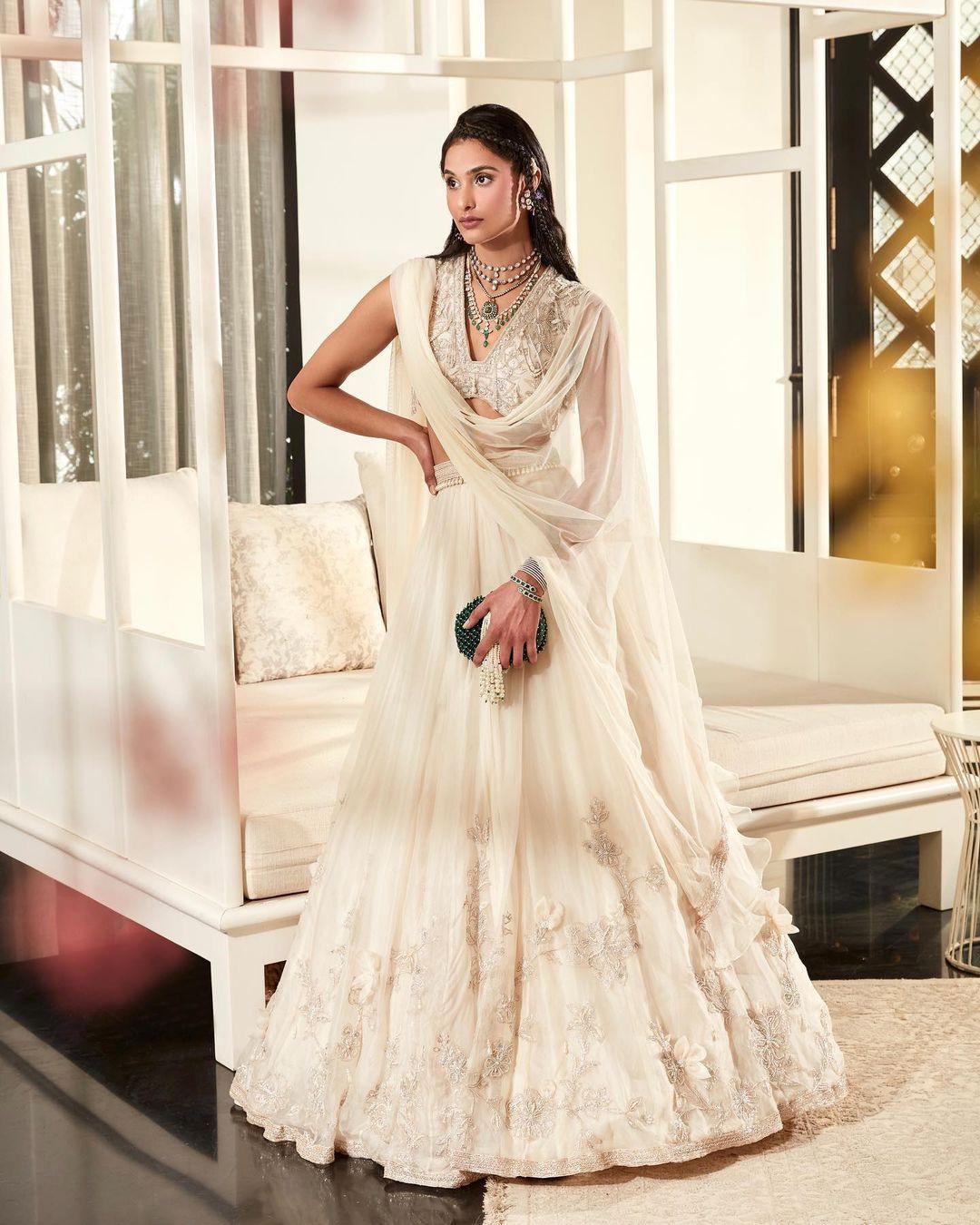 Image Credits - Ridhi Mehra
Styling tips from the experts -
Mehra adds the perfect styling tips for brides who want to flaunt the ivory/white look -
Pair that gold shimmer with your ivory. A combination that's forever love.
You can wear an ivory organza saree and team it with a traditional weave, be it a blouse design or a dupatta.
You can also incorporate spurts of colour with borders and finishes in jewel tones.
Bhandari further adds, "If you go for an ivory or white chikankari lehenga, you'll look stunningly minimalistic thanks to the sparkling sequins and crystals that we add before the play of your bridal jewellery —diamonds, emeralds, rubies, the list goes on and on. Consequently, styling an ivory or white ensemble is very easy."
The ultimate Splurge list for minimalist brides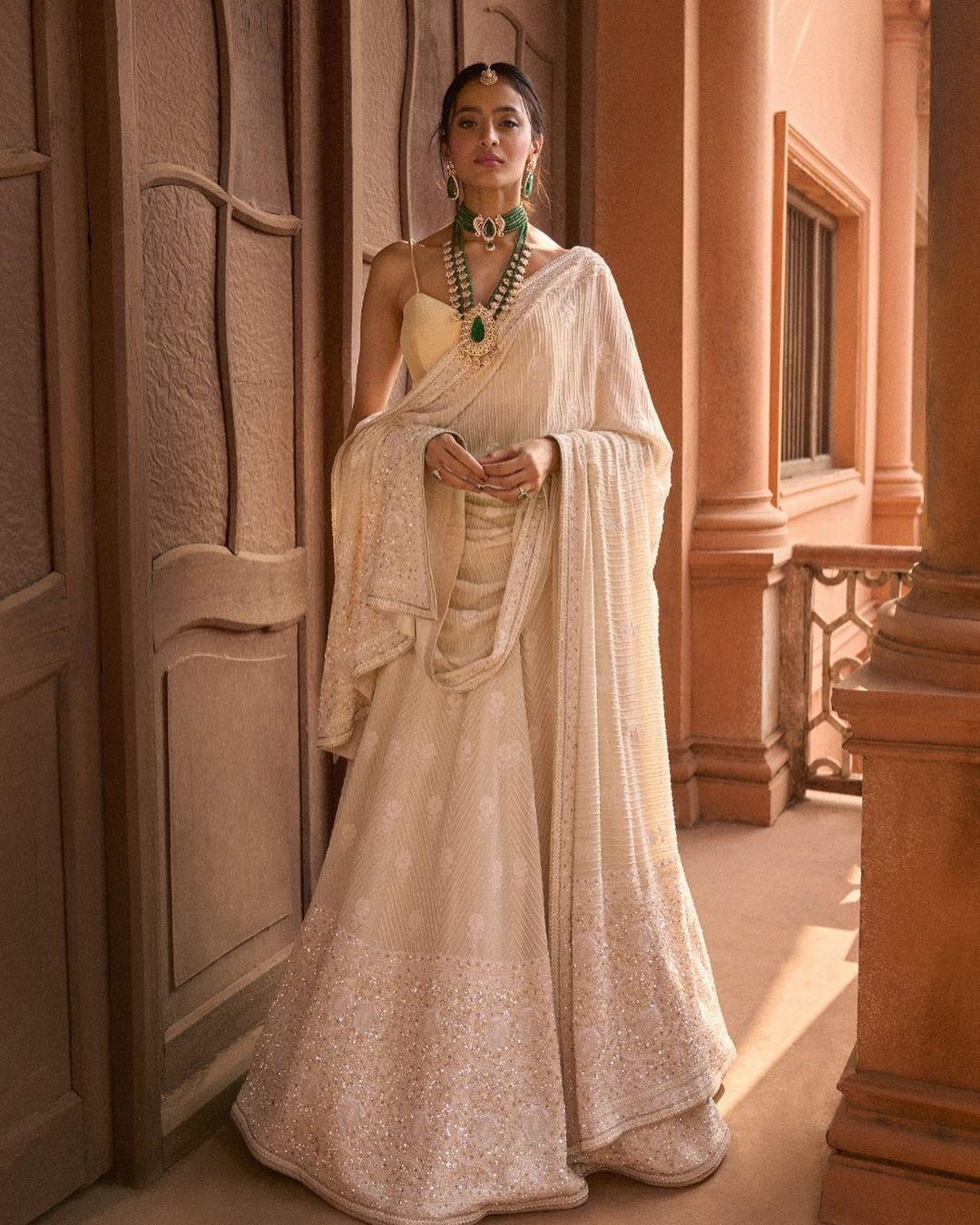 Image Credits - Anjul Bhandari
Fabrics to choose from:
Chiffon
Georgette
Organza
Expert tip: "The most crucial aspect of fabric selection is that it has to be a pure fabric. Since we are creating heirloom embroideries by hand, the fabric we use is of the utmost importance. To achieve the perfect drape and embroidery quality for our sarees, we use a 500 count hand-woven mul."
The blouse designs to bet on -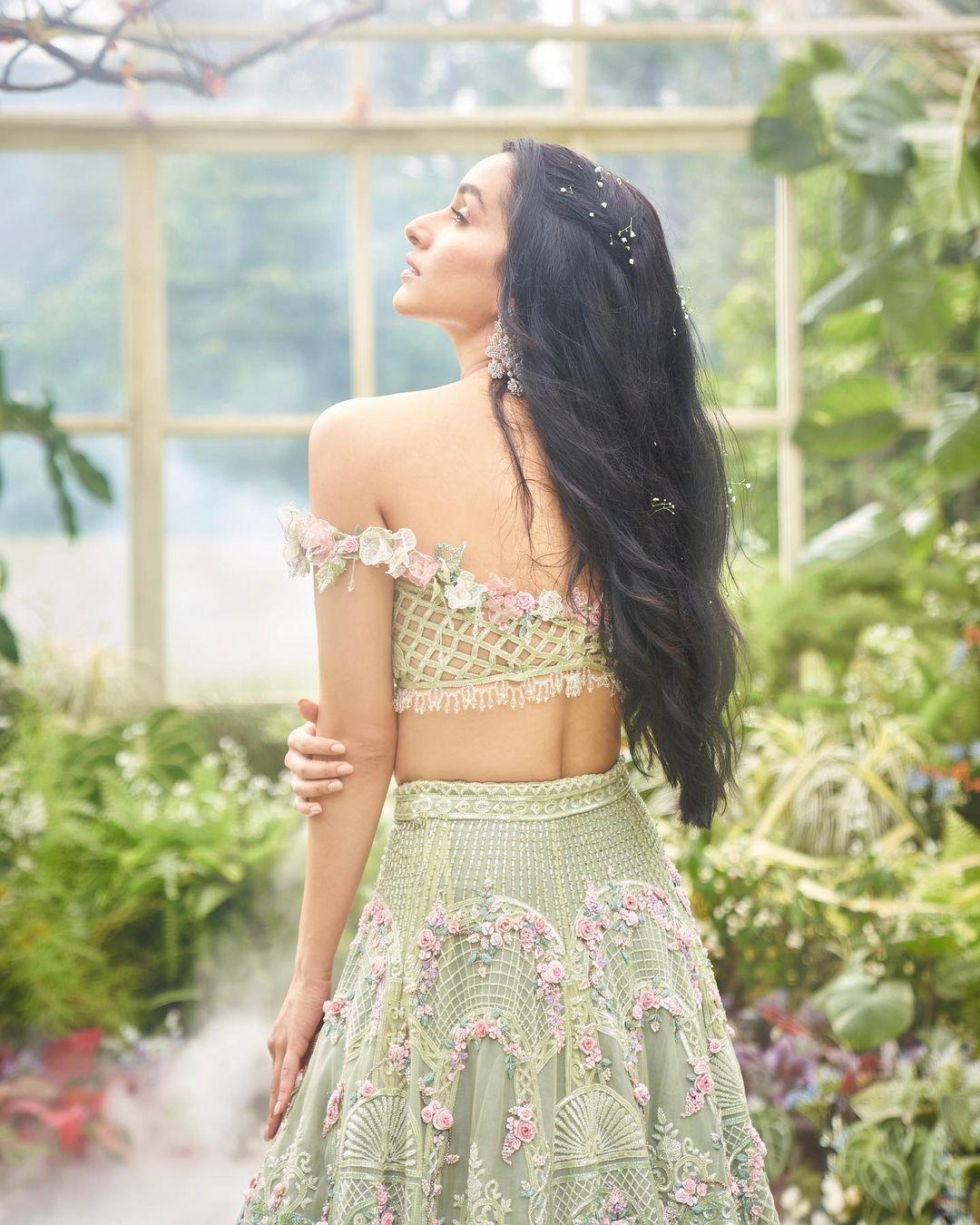 Image Credits - Kresha Bajaj
Designers and brands present a diverse vision of blouse styles for lehengas and sarees that are designed for the traditional as well as the cosmopolitan wardrobe. Blouse designs are a perfect ensemble to place emphasis on personal style and customisation.
The experts enlist the most popular blouse design trends below -
A traditional blouse with a sweetheart neckline
11" sleeves that end just above the elbow, a low back
A beautiful tie up is your best bet if you want to go for a more traditional look
A sharp V-neck blouse with a beautiful tie at your waist or back.
Blouses covered in embroidery and stonework are an all-time winner
Off-shoulder blouses to carry that bold oomph
Velvet blouses embellished to the T
Backless boldness
Old-fashioned tasselled blouse with a contemporary twist of colour
Top trending motifs:
Peacock motifs
Floral motifs
Chikankari
Ornate minarets
If you've reached the end of the article, we assume you have a taste for understated, modern silhouettes. We hope you were able to set your heart on some of these latest Bridal designs from India's finest couturiers!
Top Blogs on WeddingWire India